For the past seven years Brendan Bayliss and Jake Cinninger have given Umphrey's McGee fans an extra holiday treat: a holiday acoustic show. This year's sold out show was held at the Park West in Chicago.  The proceeds of the show are donated to the USTORM (United So Together Our Reach Multiplies) Foundation which was co-founded by Bayliss.  USTORM is a non-profit organization which raises funds to help provide access to music and art educational programs.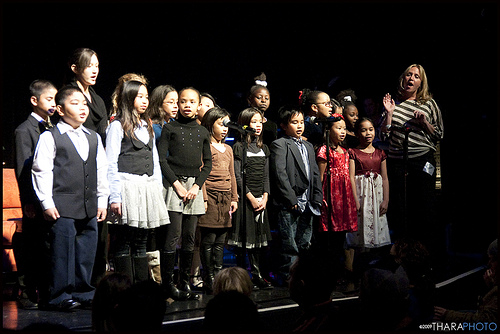 As I walked into the venue I could feel the holiday season in the air, Christmas decorations adorned the venue, people dressed in Christmas sweaters and Santa hats and the USTORM raffle girls dressed as elves.
The show began with a choir of children from the People's Music School performing holiday classic "Christmas Time Is Here" and a take on The Beatles "Hello Goodbye."
Bayliss and Cinninger opened with "Gulf Stream" a fitting song for such an intimate event.  Although "Gulf Stream" was a warm up for what was to come the rest of the night.  "The Pequod">"Simple Gifts">"Pequod">"Turn and Run" was a nice segue way to keep the crowd on their toes.  The first of many surprises of the night came when Bayliss put down the guitar to make his mandolin debut during a rendition of Led Zeppelin's "Going to California."
Umphrey's percussionist Andy Farag sat in on drums during "End Of The Road" and "Made to Measure" in which Cinninger played grand piano on the latter song and remained for a take on Journey's "Who's Cryin' Now."  Another pair of Umphrey's songs "Resolution">Hajimemashite" appeared featuring Steve Krojinowski accompanying Farag on percussion.
An interesting and daring pair of mash-ups appeared mid set; "Dreams (Fleetwood Mac)/From The Beginning" (Emerson, Lake and Palmer) was  followed by a short but sweet Umphrey's staple "Nothing Too Fancy."
Since it was a holiday show one could expect a nod to a few holiday songs,  "Carol of the Bells/Greensleeves" did just that.  Longtime Umphrey's collaborator Jen Hartswick emerged to lend vocals to "Bullhead City"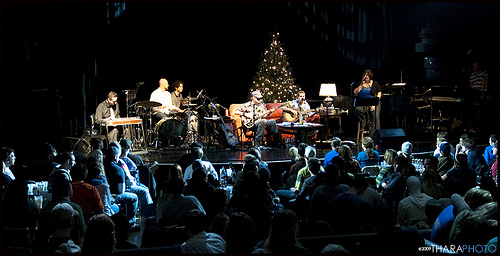 Tis' the season, Bayliss and Cinninger dedicated "Unknown Legend" by Neil Young to former lighting director Adam Budney who sat in on lights for the evening.  Perhaps one of the more interesting moments of the show was Bayliss's solo piano performance of "Human Nature."
Upon returning for the encore, Mike Rackey pulled out a saw and bow for "Mona Lisa's and Madhatters." The night closed with a full stage performance of the Rolling Stone's "Far Away Eyes" and Paul Simon's "Graceland."
"All your friends are here now, they could be our friends too" sums up the night.  As we were leaving the venue, old and new friends were stopping to talk about the night and future plans.  The holiday season truly is upon us.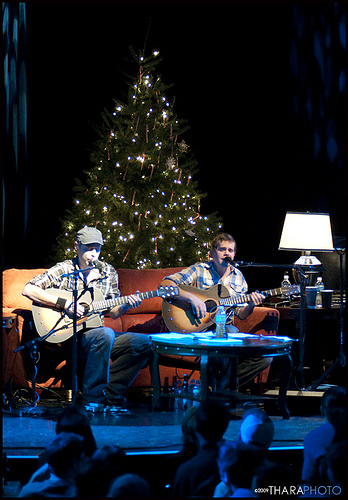 Setlist: Gulf Stream, Words, The Pequod> Simple Gifts> The Pequod> Turn and Run, Going to California^, End of the Road#, Made to Measure#,>Who's Cryin' Now, Resolution#$> Hajimemashite#$, Dreams/From the Beginning#$, Nothing Too Fancy#$> Carol of the Bells/Greensleeves#$, Bullhead City#$&, Unknown Legend#$&*, Great American#$&=, Human Nature, In My Life#$&
Encore: Mona Lisas and Madhatters+, Nemo, Far Away Eyes#$&*%+, Graceland#$&*
# with Andy Farag on drums/percussion
$ with Steve Krojinowski on drums/percussion
& with Jen Hartswick vocals
% with Jen Hartswick on trumpet
* with Mike Rackey on pedal steel
= with Mike Rackey on saw and bow
+ with Barry Brown on grand piano