Today, trance-fusion rockers The Disco Biscuits announce Camp Bisco 6 - the sixth year of the band's always-anticipated annual music festival.  Reputed for each year offering music's most cutting edge and experimental innovators, Camp Bisco 6 will host three nights of music and camping at the Indian Lookout Country Club in upstate New York.  With their initial artist line-up announcement, Camp Bisco welcomes in a new-era of internationalism and diversity.  In addition to three nights of epic Disco Biscuits sets, Camp Bisco will host Simon Posford, OTT and YOUTH as they bring their dub circus project, Hallucinogen: In Dub to the states for its first ever U.S. appearance! Also confirmed: Israeli trance band Infected Mushroom, the stretched and skewed soundscapes of Brazilian ex-pat Amon Tobin, stunning sample craftsman Girl Talk, dance-punker The Juan Maclean, Sound Tribe Sector 9 (playing a live set one night and a PA set the other), underground heavyweight Bassnectar, a soulful DJ set by King Brit of Digable Planets fame, incognito favorites Hanging Brains, plus Zilla, EOTO, The Join (featuring Jamie Shields & Darren Shearer of The New Deal and Tom Hamilton & Clay Parnell of Brothers Past), Telepath, Psylab, Orchard Lounge, and others still to be announced.
In addition to three nights and two full days of music, Camp Bisco 6 will offer unlimited car camping, plus RV and family camping areas, daily "Color Wars" festivities which have become a signature Camp Bisco pastime, and of course plenty of food and craft vendors.  Indian Lookout Country Club, located in Mariaville New York just ½ hour from Albany and 3 hours from both Boston and New York City, boasts 200 acres of serene rolling hills and natural beauty, and such amenities as flush toilets and showers . As always, Camp Bisco will work with various local officials, venue managers and The Camp Creek Organizers to ensure music fans a fun and safe weekend.
Also this year, Camp Bisco will "Go Green."  Camp Bisco 6 will be powered by 100% renewable energy, thanks to sponsors Green Mountain Energy Company and Sustainable Waves.  Green Mountain Energy Company and Sustainable Waves are pleased to offer Camp Bisco attendees the opportunity to "green up" their concert experience by purchasing a "Green Ticket." When you buy a Green Ticket, Green Mountain will green-up the Camp Bisco concert experience by providing, on the ticket buyer's behalf, 250 kWh of green-e certified renewable energy made from sources like wind and bio-energy.  By purchasing a Green Ticket, each individual can help offset an estimated 348 lbs of CO2 created by activities like driving their car to the show. For more information please visit www.begreennow.com/greenticket250 and visit www.campbisco.net to purchase a Green Ticket to Camp Bisco 6.
Not-for-profit Conscious Alliance will also be on site to host a food drive.  As in years past, food donations collected will go to benefit local food pantries in their effort to help feed America's hungry. Attendees are encouraged to bring 10 non-perishable food items redeemable for a limited edition Camp Bisco 6 / Conscious Alliance poster.  Visit www.consciousalliance.org for more information.
Event Information is as follows:
CAMP  BISCO  6
August 16-18th 2007
3 nights of music and camping
Indian Lookout Country Club
Mariaville, NY
Presale tickets available now at www.campbisco.net, www.discobiscuits.com and http://biscotix.musictoday.com
Tickets on sale to the general public on May 10 at 10 am
Early bird special available for $115.00 while supplies last
Ticket prices will raise without notice as allotments sell out: $130.00 / $145.00 til 5 PM on August 15 /$160.00 at gate (ticket prices include car camping for all three nights)
Visit www.campbisco.net, www.meatcamp.com, or www.discobiscuits.com  for tickets and information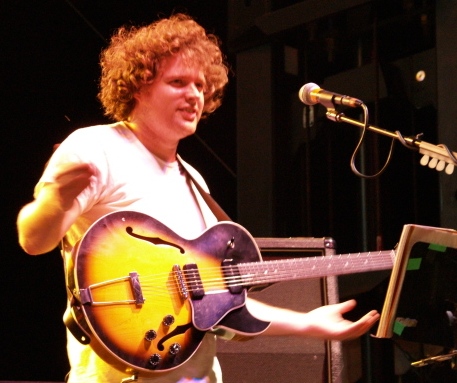 Long recognized as the preeminent trance-fusion band in the United States, the Disco Biscuits have forged a new path in the improvisational music scene, leaving in their wake dozens of imitators while leading the charge in the now dominating live-electronic touring circuit. In the twelve years that the Biscuits have been around they have created a huge following and garnered a great deal of critical success.
SPIN magazine has dubbed them the "forefathers of Trance-fusion", while Entertainment Weekly called 1998's "Uncivilized Area" the #1 Jamband Album of All Time. "Señor Boombox," released in 2002, was named one of the Top Ten Jam Albums Ever by Guitar Player and 2002's Best Studio Album by Relix.
Highlights of this last year include playing to 25,000 people at i l and 20,000 at Lollapalooza, the hosting of their 5th annual Camp Bisco (whose line-up included The Roots, Brazilian Girls, and Thievery Corporation) at Hunter Mountain, and the release of their "Caterpillar" video on MTV Latin America. TDB sold out 15 shows in a row on their spring tour & closed out the year with another nine sold-out shows, culminating in a three show New Year's run.  New Year's was filmed in an HD documentary, titled Progressions, depicting the band's rise from club/theatre band to arena headliner in the Biscuits' hometown of Philly. 2006 saw them reach new heights and this year only promises more.