So you've scored your passes to Sacred Rose Festival and you're ready to make a game plan. Gone Gone Beyond is at noon thirty on a Friday. So you check into the Super 8 on 79th and Roberts on Thursday night before (8/25/22), and you get a pie. It's Thirsty Thursday and there are several options for fun depending on what you're into. But first, get a pie. Depending on when you roll into town there are so many workingman specials throughout the city on a weekday that it's ridiculous.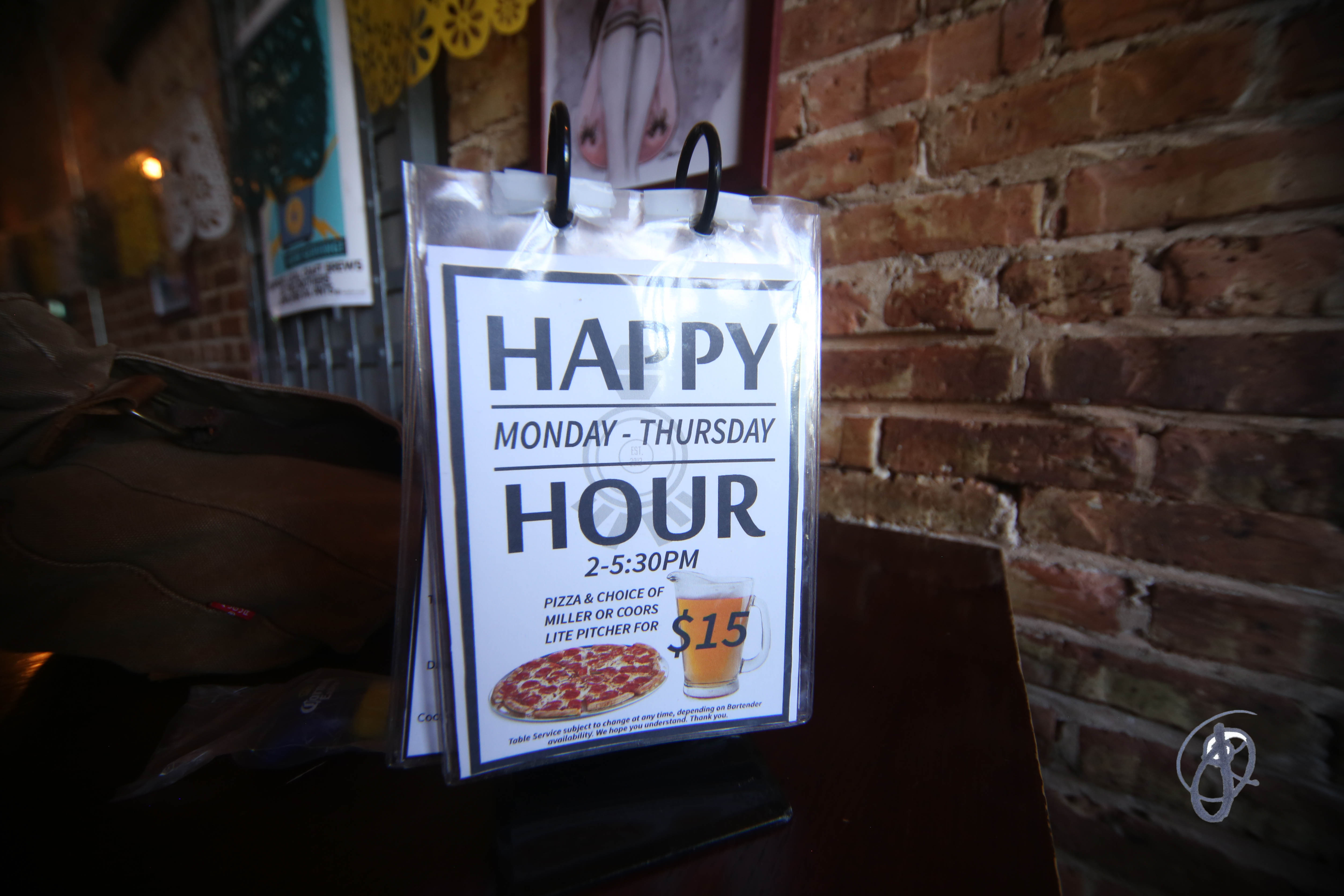 Welcome to the South Side of Chicago!
Now there is one entry/re-entry per day, so you have to maximize and strategize the plan if you want to hit the maximum pie. While in Chicago, particularly on the south side, you have to hit these must-have scavenger hunt items:
In case I haven't mentioned it, Chicago pizza pie. You may want a deep dish but really the true manna of heaven is the cracker-thin crust. Oooh! The ooie gooey, cheesy, greasy, and saucy slice of perfection, it's gotta happen.
Chicago Blues. Get your Blues fix while you're here. All these clubs are open until 3 am. I want to see you fixed in the bliss of a Chicago Blues club where everyone and no one is talking, transfixed on the glory that is an ax of justice where music cures all ills. Now you can say you have been to Chicago. 
Some type of Italian beef or Chicago Dog. If it says Vienna, you know it's good. Don't even think about skipping this because there are veggie versions available. It's a thing, you need to try it. Mustard. Mustard only. We are a city of onions and mustard. Now you're doing it! 
Malort. Old Style. Wash it all down with our pride & joy. These two fine beverages will really give you the flavor of Chicago. 
South Side Irish or South Side Polish. Give 'em your love. These neighborhoods are some of the most hard-working people you will ever meet. Find oddities. Get your shoes repaired after the festival miles. Buy some Chicagoland art. 
Anthony Bourdain once said about Chicago, "Chicago is big — not just any kind of big — I'm talking major metropolis big. I love this city. In my opinion, it's the only other real metropolis in America." — No Reservations, 2009
The south side is the big shoulders of what Bourdain was talking about. I know it's trite to say "Shop Local" but here on the south side, I think you'll truly enjoy the experience as well. There is such history to be found in every treasure. There's a story behind every stroke. 
On that note, let's talk about getting around. Seat Geek Stadium is not really near anything. It's in the heart of everything but you'll want to ride the public transportation or perhaps check the apps for a cheaper parking spot. I'm just saying. There is parking at Seat Geek Stadium. Sacred Rose allows you one entry/re-entry per day, but getting around will take longer than you expected. It's a big city. You've been warned. 
There is the Blue Line or the Green Line CTA to get you between Oak Park, Cicero Ave, and Harlem Ave. There are also the Pace buses. There are Metra trains out to the burbs in any direction. There is a fantastic network of Uber & Lyft rides. I highly recommend using transportation already available to you. Every Uber driver is going to talk to you. That's just how it rolls. We're a friendly bunch. We usually just want to know where ya grew up. If it rings any bells you are in for a quick ride with stories about every uncle cousin or momma's best friend and where they lived in relation to where you grew up. I'm just thankful for the door-to-door service.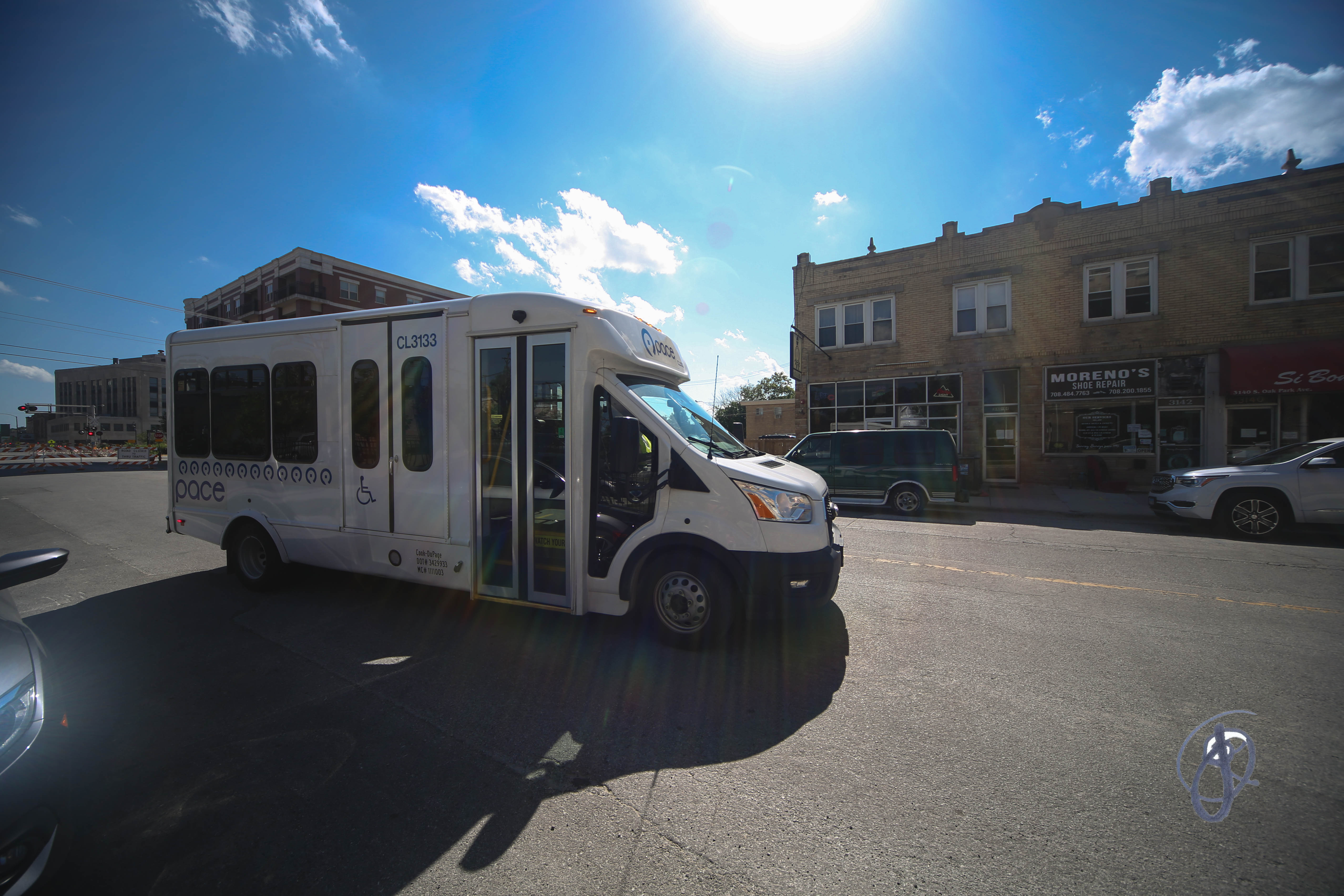 I'll be staying at a variety of locations so as to not put any of my family members out more than one night at a time of me arriving home too late and too loud. 
Summit, IL - Right off the Stevenson IL55 on Harlem Ave, you can smell the spice when you exit the highway. Summit has the best burritos and it is 6 minutes or 2.5 miles away from Seat Geek Stadium. Get yourself a burrito that is served with a roll of paper towels. 
Berwyn, IL - If you're into a DIY vibe and that camaraderie of self-sufficiency, you will love Berwyn. It's 6 miles from Seat Geek Stadium and maybe about 15- 20 minutes away depending on how many lights you hit further down Harlem ave after you head north from the stadium and Summit.
The Northside - Further north on Harlem Ave and you'll pass Seat Geek Stadium thru Oak Park and all things Frank Llyod Wright. Onward from there hook it east, head towards Lake Michigan, and enjoy the sights and sounds of the Magnificent Mile. Any excuse to be in the loop is a great excuse. Visit the John Hancock or the SEARS TOWER. (otherwise known as the Willis Tower. Ppsshhh. whatever.) Logan Square and the lovely northside burrows are 45 minutes away from Seat Geek Stadium. I'm looking at Saturday night to maybe mix and mingle with the upper crust. Nothing wrong with a Sunday brunch before Holly Bowling begins my Sunday at 12:45. I can take public transportation between all these spots.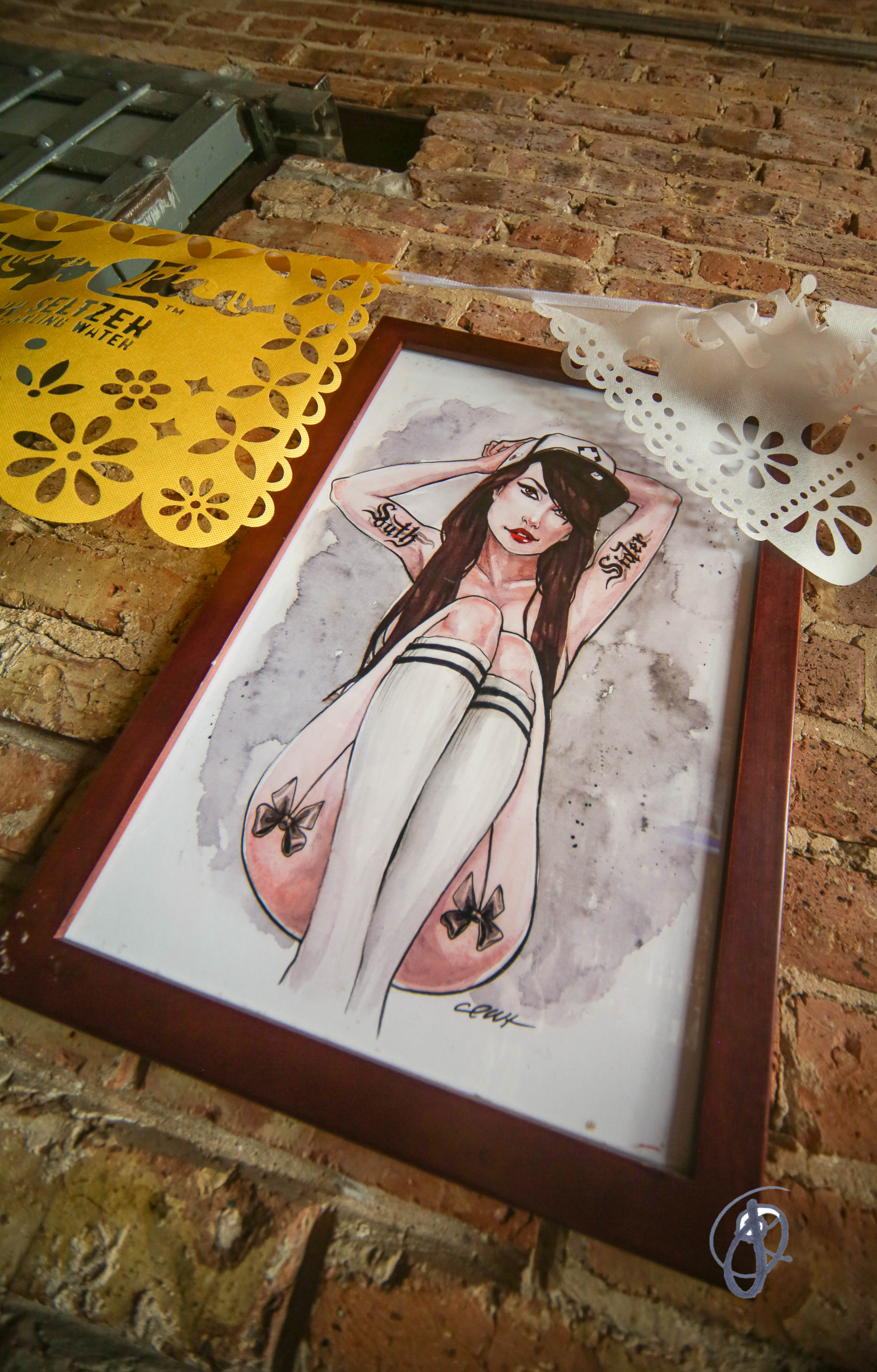 For the real insider scoop though I highly recommend Berwyn, IL for the duration of your visit. Hotel rates run below $100 a night and they are clean. Check out the most humane zoo in the country - Brookfield Zoo is not far from here if you'd like to extend your stay. Go to the Outta Space at 6840 32nd St. There is an open mic night on Thursday 8/25. It's a great taste of the local art scene. It's just far enough away to be cheaper and more readily available as I'm sure Bridgeview will be booked with all the out-of-towners in for the inaugural Sacred Rose Fest. 
You can get your blues fix at the Harlem Avenue Lounge at 3701 South Harlem Ave. It's a juke joint atmosphere with live blues including a live blues open mic also on Thursday 8/25. They are open till 3 am so you can definitely check that off your scavenger hunt list. Plus, you are now on the corner of Harlem Avenue and Odgen which is also the old Route 66. Get your kicks! Also, it is conveniently located next to a White Castle for late late-night snacks. Sometimes ya do what ya gotta do. 
Listen to Green Onions by Booker T and the M.G.'s while you get on down to any of these fantastic gritty art-enhanced spaces. There is Cigars & Stripes BBQ Lounge. There's Galloping Ghost Arcade. It is Illinois' largest arcade and the third largest arcade in the nation. Duck out of the sweaty heat and chill with some games. It's open till midnight.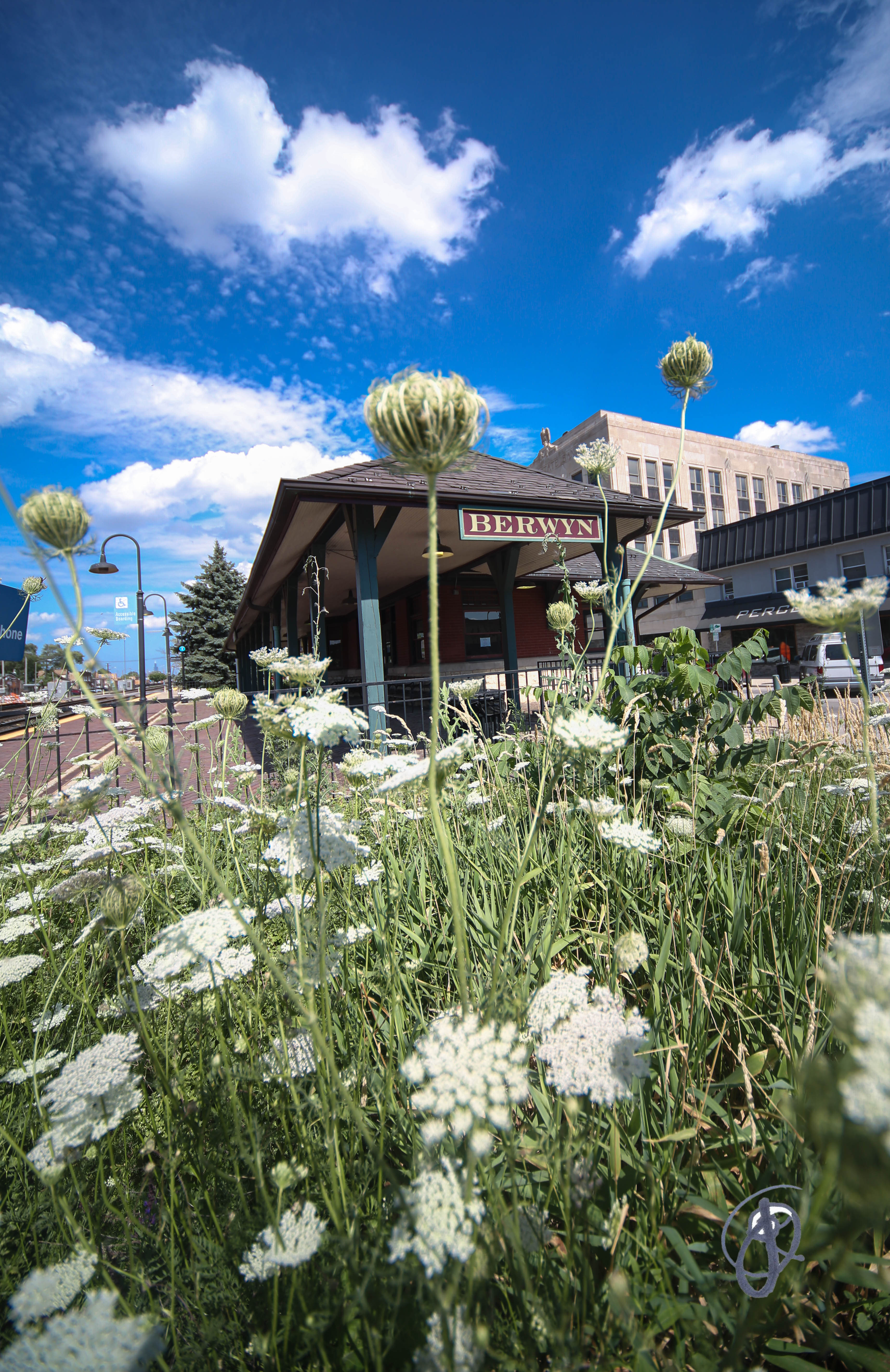 There's everything you could need at each lil train station along the BNSF train line. Union Station is the last stop east into the city. From there to all the way out west to Aurora, each stop has its own unique adventure to have. Berwyn has a nice selection of workingman specials. Plus, the El is right there to catch a ride to the stadium. Killer pizza and light fare await you at the new JC Stacks on 6838 Windsor Ave along the tracks. It's a gaming joint but they have delicious mules, luxardo cherries and Joe makes a mean pie. Grab that shot of Malort and now you're checking all the boxes.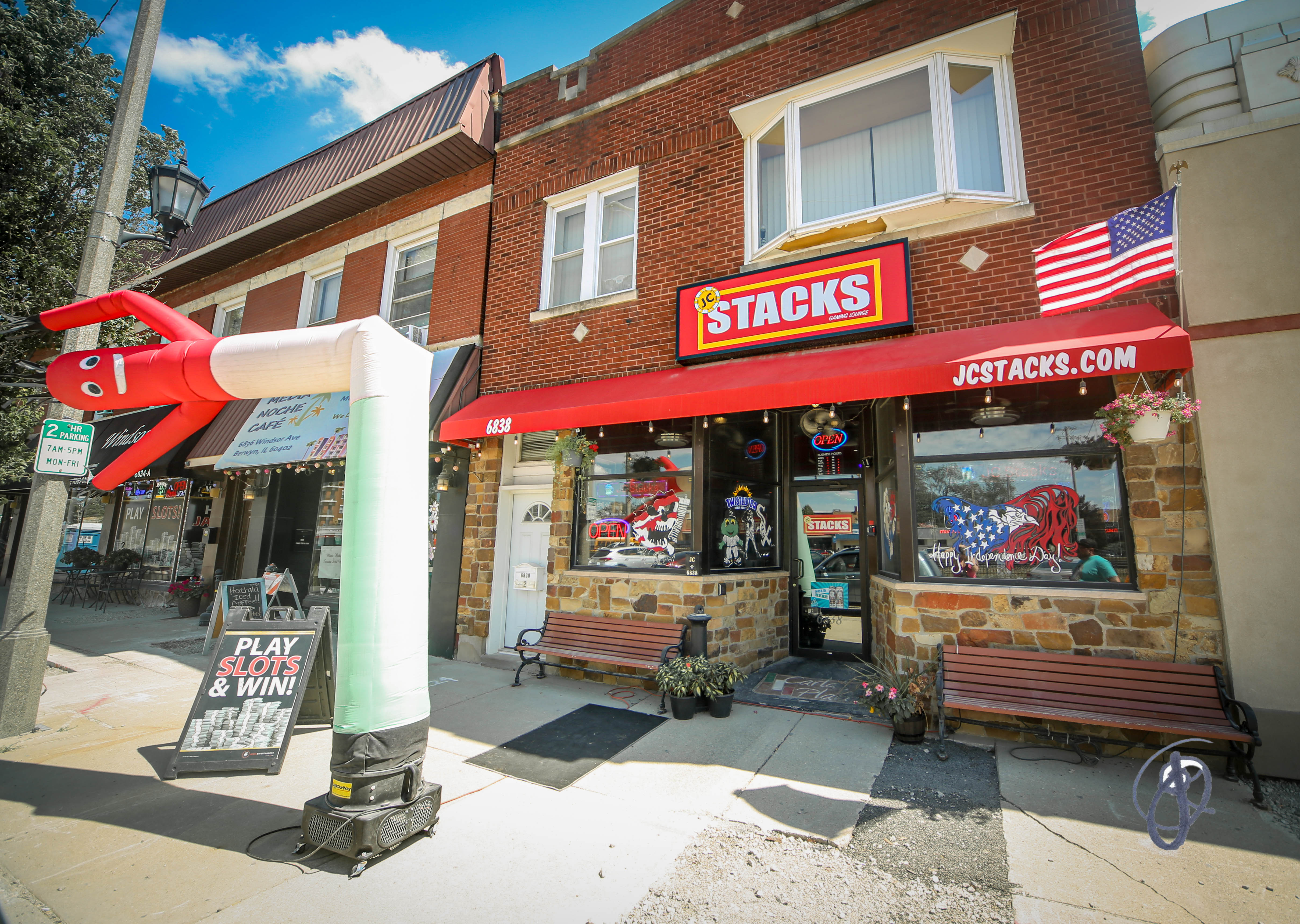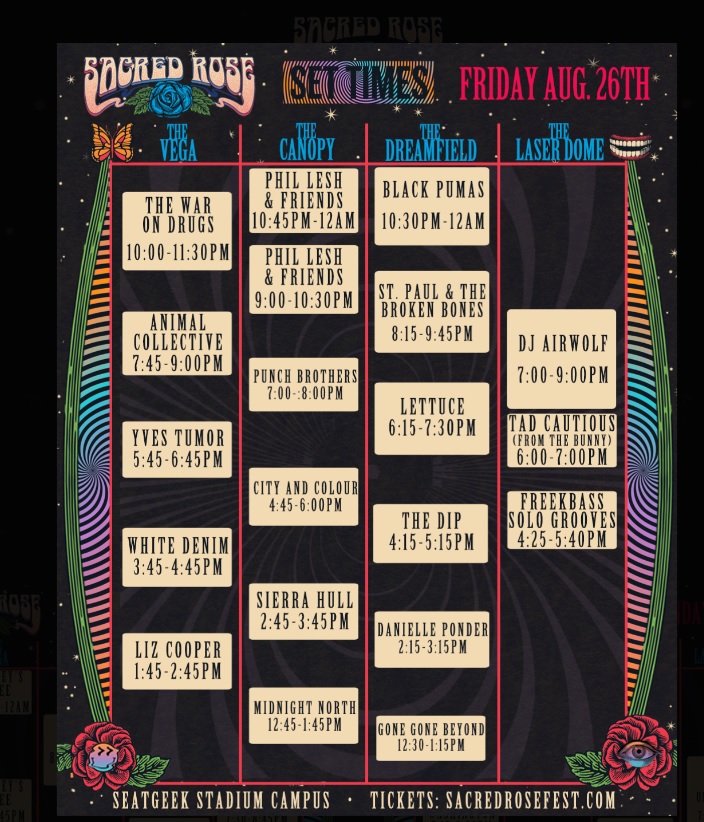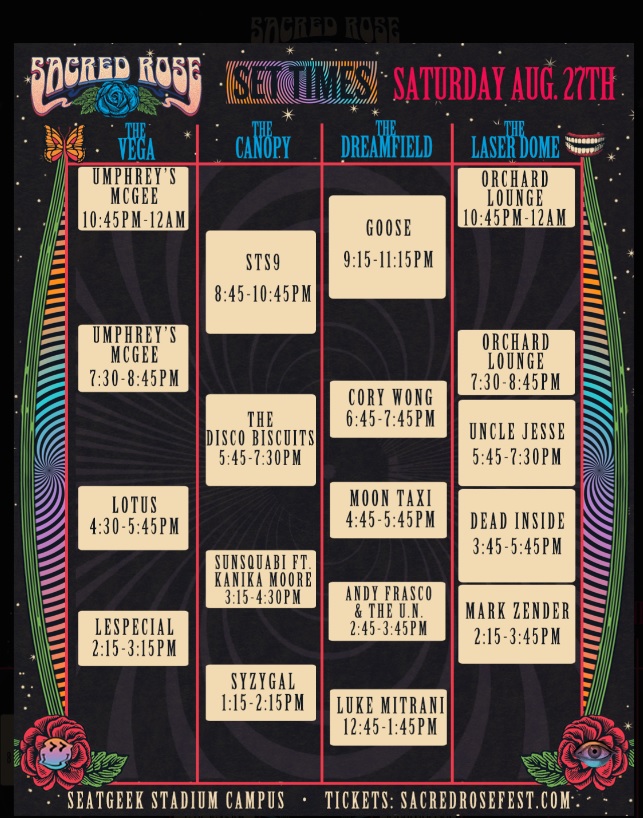 It's 106 miles to Chicago. We've got a full tank of gas, a half pack of cigarettes, it's dark and we're wearing sunglasses. Hit it! Come on down to that same ol place, sweet home Chicago. You are on the outskirts of the city when you come in for Sacred Rose Fest. It's love on a two-way street here. Check out Cermak Woods or Ottawa Trails and see what the Southside Cook County Forest Preserves are really all about. There's a Salerno's pizza and the Chicagoland Motel waiting to ground you as you blast off for the inaugural Sacred Rose Fest. It's electric relaxation at its best. 
Come for the swag, stay for the pizza! Whatever you choose to do, I hope you come hungry. We will see you there at Seat Geek Stadium on Friday, August 26th thru all day Sunday, August 28th. There's a hard stop Sunday night at 11 P.M. for the working folks of Bridgeview so we can all filter out into the night and slip on over to Berwyn because most things will stay open until 1 A.M. on Sunday night. I'll still be gushing over Laura Leezy and the sure to be fantastic Khruangbin set perfect for dancing, dancing, dancing in the streets!