Any Questions?  If you have not been to a David Bazan show, you might be caught a little off guard when he solicits questions from the audience. His show with Say Hi at the Hi-Dive was reminiscent of the times I have seen him in the past. He answered questions, joked around and eliminated any barrier that traditionally exists between musicians and their fans.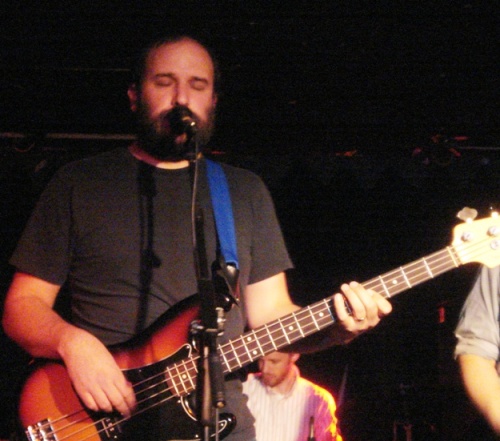 The show opened with Seattle based Say Hi, formerly known as Say Hi to Your Mom. They played a set that offered a good variety of songs from all of their albums.  For the most part, it was an upbeat set. Bazan could not have chosen a better band to accompany him on tour. They were equally engaging with the crowd. Front man, Eric Elbogen told jokes and spoke about vampires. Elbogen and the other two touring members, Andy Fitts and Alex Westcoat, have strong stage camaraderie. Half way through the set someone in the audience dropped a drink on the floor. Elbogen gave the audience member a drink ticket to go get another one. When the same audience member clumsily spilled again Fitts gave him one of his drink tickets. You do not find many bands that go out of their way like this for their fans.
David Bazan's set primarily focused on his latest release Curse Your Branches. He also played tracks from his EP Fewer Moving Parts. There were a couple Pedro the Lion songs worked into the set as well. The strongest part of the set was his new material. He toured with a band which gave the material the necessary depth. Bazan seemed to be in good spirits. During the question and answer sessions he disclosed the meaning behind some of the song lyrics, what he would do if he were attacked by a zombie, his favorite brown liquor and turned down a dinner invitation. What I have always enjoyed about seeing David Bazan is his genuine personality. I have never had the opportunity to meet him, but feel as though I know a little about him based on his stage demeanor.
The show closed per status quo without an encore and the house lights illuminating the cozy bar. Bazan and his band mates said goodnight. The impromptu moments during the concert proved that seeing a great show is about more than hearing talented musicians perform.