Pianist David Leonhardt and his respective band-mates have performed and recorded with some of the finest jazz musicians in the business, and it's no wonder that they would be called upon by numerous jazz artists after listening to this polished and nicely-flowing trio set, where Leonhardt steers the unit through standards and pop/rock favorites.
An all star trio's exciting new eclectic collection of jazzed up arrangements showcasing their improvisational abilities in a creative journey set to songs by James Taylor, Eric Clapton, Elton John, George Harrison as well as Horace Silver, and Jerome Kern.
The musicians generate dynamics while tempering the various currents when required.  For example, on the pianist's comp "Whispers of Contentment – Shouts of Joy," the trio renders gradually ascending choruses, abetted by Leonhardt's powerful block chords and drummer Alvester Garnett's display of rhythmic ferocity.  Yet, melody is a key ingredient throughout, as the band tackles George Harrison's "While My Guitar Gently Weeps," and Elton John's "Your Song," with panache, and a jazzy vibe.
On James Taylor's "Fire and Rain," Leonhardt injects jazz fills and a loose-groove motif amid lyrically resplendent phrasings, while the band also explores via an improvisational approach.  However, the musicians do find time to up the ante with bluesy moments and heated workouts.  In addition, Leonhardt looms as a vivid storyteller here and alters the overall tone of the album with his North African modal piece "The Dawn Over Morocco." Ultimately, it's a superfine effort that is topped off with an irrefutably appealing track mix and all executed with a melding of eloquence and passion. by Glenn Astarita JazzReview.com
David Leonhardt has always been a jazz pianist first, while enamored with the realm of contemporary popular songs. This duality is reflected in this set of standards, originals, and rearrangements of well known hit tunes. While one wonders if there is a real need to do numbers out of the repertoire of The Beatles, Elton John, Cream and James Taylor, Leonhardt and his trio do them with a modified flair and at times thoughtful repast. The extraordinary bassist Matthew Parrish and hot drummer Alvester Garnett help Leonhardt greatly in lifting all of these tracks to a higher interpretive level. The originals of the pianist are, to say the least, interesting. "Whispers Of Contentment - Shouts Of Joy" is a definitive spirit song, lovely in its Zen like invention. "The Dawn Over Morocco" sports impending heavy dramatic modality leading to a brighter day, the title track is a free bop true to its title, and "Winter Waltz" a quicker ice skating number reminiscent of a Vince Guaraldi Charlie Brown tune. "Late Night Blues" is pretty straight laced, and "Iberian Lament" organic, pretty and pensive. The trio does a splendid sprinting version of the Jerome Kern standard "Yesterdays" moving quickly from sideline to sideline, and a gorgeous, near perfect interpretation of Horace Silver's "Peace." Then there's the block chords and light Brazilian take of "While My Guitar Gently Weeps," a waltz to 4/4 saccharine "Your Song," hard bopping and scattershot but barely recognizable "Sunshine Of Your Love," and off melody phrases but otherwise true to form "Fire & Rain." As honest, balanced and flexible a musician as there is in jazz, Leonhardt and this truly excellent trio needs to be heard by a general populist mainstream audience, and likely stretch these tracks out in more intimate live performances. - by Michael G. Nastos AllMusic.com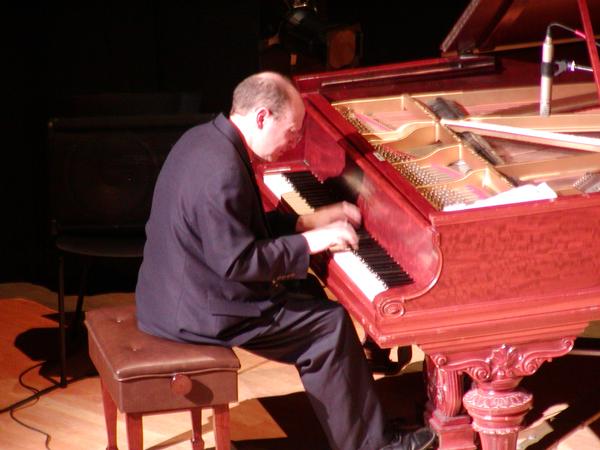 David Leonhardt Trio - EXPLORATIONS: Simply superb piano from David, bassist Matthew Parrish and crisp/clear drums by Alvester Garnett on this gem of a CD.  There are several originals; all packed with talent that shines from all 3 players, but in this case, the most notable tracks are David's arrangements of tunes like George Harrison's "While My Guitar Gently Weeps", & Clapton's "Sunshine Of Your Love"!  He breathes new life into those tracks & elevates them back into their proper place... far above Muzak, & in the Universal realm... I can tell you without qualification that you've NEVER heard interpretations as spirited as these!  The recording is excellent; you're able to hear every little nuance, especially on tunes like the opener, "Whispers of Contentment - Shouts of Joy", definitely my favorite on the album; though in semi-ballad mode, power emanates between Leonhardt's phrasings here!  A great jazz album with a new approach to standards that merits our MOST HIGHLY RECOMMENDED! - by Rotcod Zzaj