My feet are aching, my throat is hoarse, and my ears are muffled. That can only mean one thing: Outside Lands day one was a success.
I went into the day not knowing what to expect. The map looked enormous and scary, and the amount of schedule conflicts led me to adopt an ignorance-is-bliss attitude. I decided to start with a Bay Area band to get into the right groove. The only thing I knew about Two Gallants (pronounced gal-launts) other than their city of origin was that the band is made up of two guys.
So you can imagine my surprise when I walked onto Polo Field during Two Gallants' first song and I heard a woman's voice. As I moved closer, I realized that it was in fact the male lead singer's voice that I was hearing, and damn does he have range. He alternated between a higher pitched plane and a gruff growl slightly reminiscent of Scott Weiland. Band members Adam and Tyson commanded the guitar and drums throughout the entire set, proving to the 10-piece bands out there that music is about quality, not quantity. They powered through their set with a harder sound than I would have expected from a Saddle Creek-signed band, although a nearby fan informed me that they do have a softer side too. Their San Francisco roots were apparent: the crowds were swarming, even during the early set time, and singer Adam boasted of being "born and raised" here, remembering the time his team won the 8th grade soccer championship on that very same field. Partly their love for the city but mostly their passion for the music will drive me to see Two Gallants play again next time they come to town.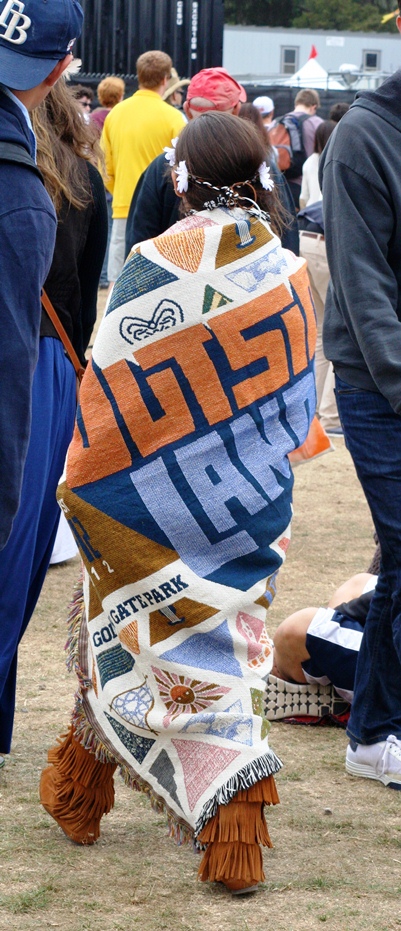 After Two Gallants left the stage, the music took a definite upbeat turn with LA natives Fitz and the Tantrums. The band's high-energy sound is very much created by the energy and emotion the members bring to the stage, but rounded out by the addition of keys, a trumpet, and a saxophone. Lead singer Fitz reminded me of a less-tripped-out Wayne Coyne, with a streak of gray in his hair and a snazzy suit. He was all over the stage, urging audience members to jump, clap, scream, and get in on the action. His sidekick, Noelle Scaggs, was a big, soulful voice with a woman attached to it. While Fitz was moving it, she was shaking it. I have never seen a woman move her body like that, jerking every inch along with the beat. Scaggs was the embodiment of female power, constantly reminding the girls in the audience to "put your hands together for YOU!" The rhythm was infectious, and it was difficult not to move along with the crowd. For someone unfamiliar with their music, the highlight of the set was guaranteed-crowd-pleaser "Sweet Dreams," originally by the Eurythmics. The soul and the passion that Scaggs and Fitz brought to the song almost rivaled the original, and ultimately left the crowd wanting more.
I accidentally hung around Polo Field for Beck's set, because I got trapped in the swamp of concertgoers waiting in line for the porta potties. Like most bands I saw that day, I knew next-to-nothing about Beck. I've heard that he's a loser, and I love "Everybody's Gotta Learn Sometimes" in Eternal Sunshine of the Spotless Mind (although it's quite a downer). He took the stage wearing his signature black hat and delivered a chunk of faster, peppier songs than I had expected. (I never realized that Beck was such a white rapper. I'm intrigued, to say the least.) About halfway through his set, the songs took a sappy downturn, with the music slower and the lyrics sadder. I hesitantly decided to exit the set early with some friends, wondering what switch Beck had flipped to make such a definitive change and contemplating if I shouldn't have given him a better chance for redemption. As we were heading to Sutro stage, a girl in a fur coat flew past us solidifying my decision, screaming, "No more Beeeck! No more Beeeck!"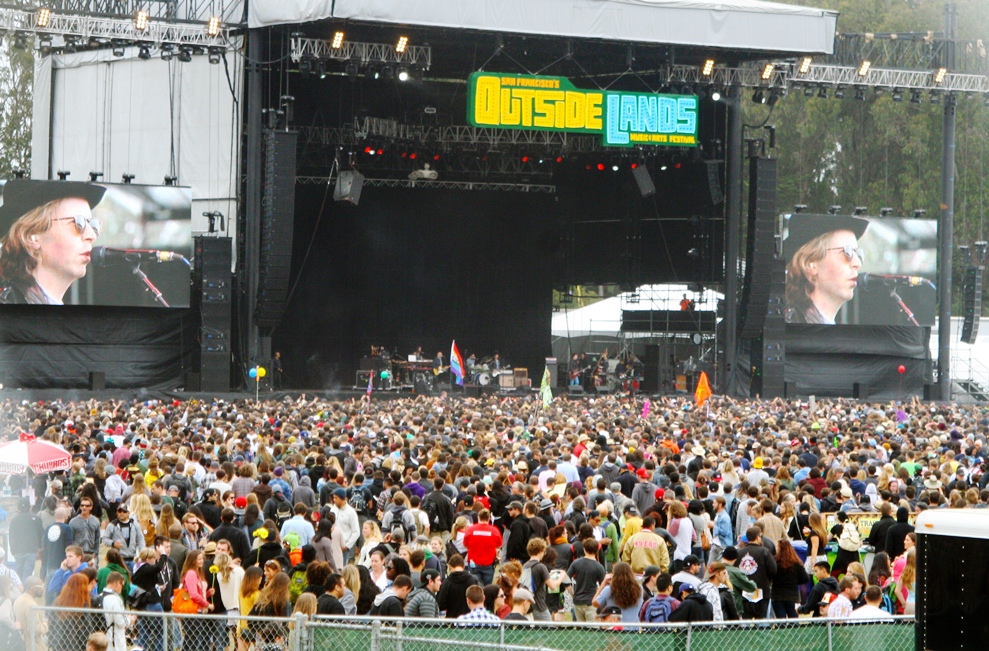 The next set I attended was one that I had been excited to see for a while: Of Monsters and Men, a 6-piece indie-folk band from Iceland. I weaseled my way pretty close to the front (considering how many people were packed into Lindley Meadow) and waited. The anticipation was palpable--not only was their earlier set time moved last-minute, but as the lights came on and the 5:40 start time ticked slowly by, the crowd began to itch collectively. Everyone was talking in hushed voices, like it was a rumor that this band was really playing. The members walked onstage and drew the anticipation out a few minutes longer, starting off with an ambient almost-jam before launching into "Dirty Paws" from their self-titled album. The band's sound is spearheaded by the male singer's unique, nasally vocals, complemented by his female counterpart's angelic, chilling-in-the-best-way croon (and let's not forget the accordion). You could hear the band's excitement as they cruised through their songs, but it came nowhere near the vibes the crowd was giving off. Clearly thrilled to be there, I couldn't find a person who wasn't dancing. A guy donning a pink cowboy hat led a do-si-do and the Cotton-Eyed Joe during two separate songs, while his nearby friend got lost in a personal yoga session. Of Monsters and Men gave off a different sound to every pair of ears listening, but touched everyone in the same pleasant way.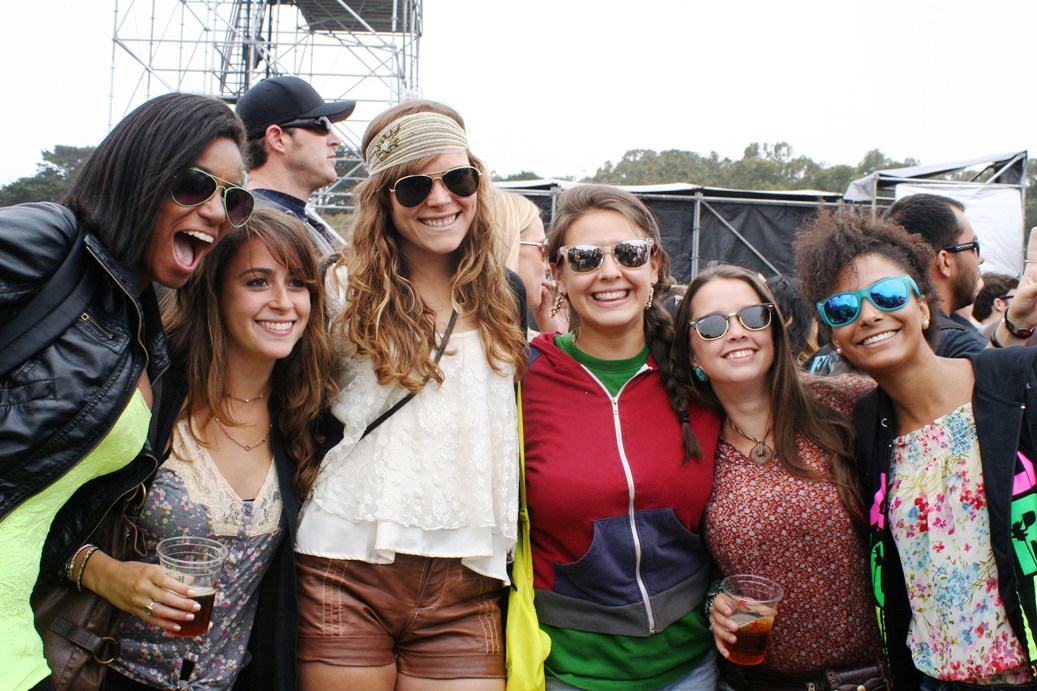 At this point, the heavy fog that had threatened the festival all day had descended, giving the fields an eerie glow. I ducked inside the Barbary tent (ok, I waited in line for 45 minutes amid much nail-biting, unsure if I would make it in) to catch David Cross' last set of the night. Michelle Buteau, a comedienne who has appeared on a handful of comedy shows (including Last Comic Standing), had already started when I made it into the tent. She was all hair and hips, riffing on black stereotypes to a mostly-white audience who ate them up. Hilarious is an understatement--if you ever have the chance to see this girl, do not pass it up. She was followed by a slim, mustached David Cross. The famously crude comedian kept it light at first, but reminded us of his roots when he delved into a detailed account of a recent colonic his fiancée suggested they get "as a couple thing." Unfortunately for this Arrested Development fan, he made no mention of the return of the popular cult show that started production last week, but he still delivered a solid set, and he seemed genuinely happy to do so.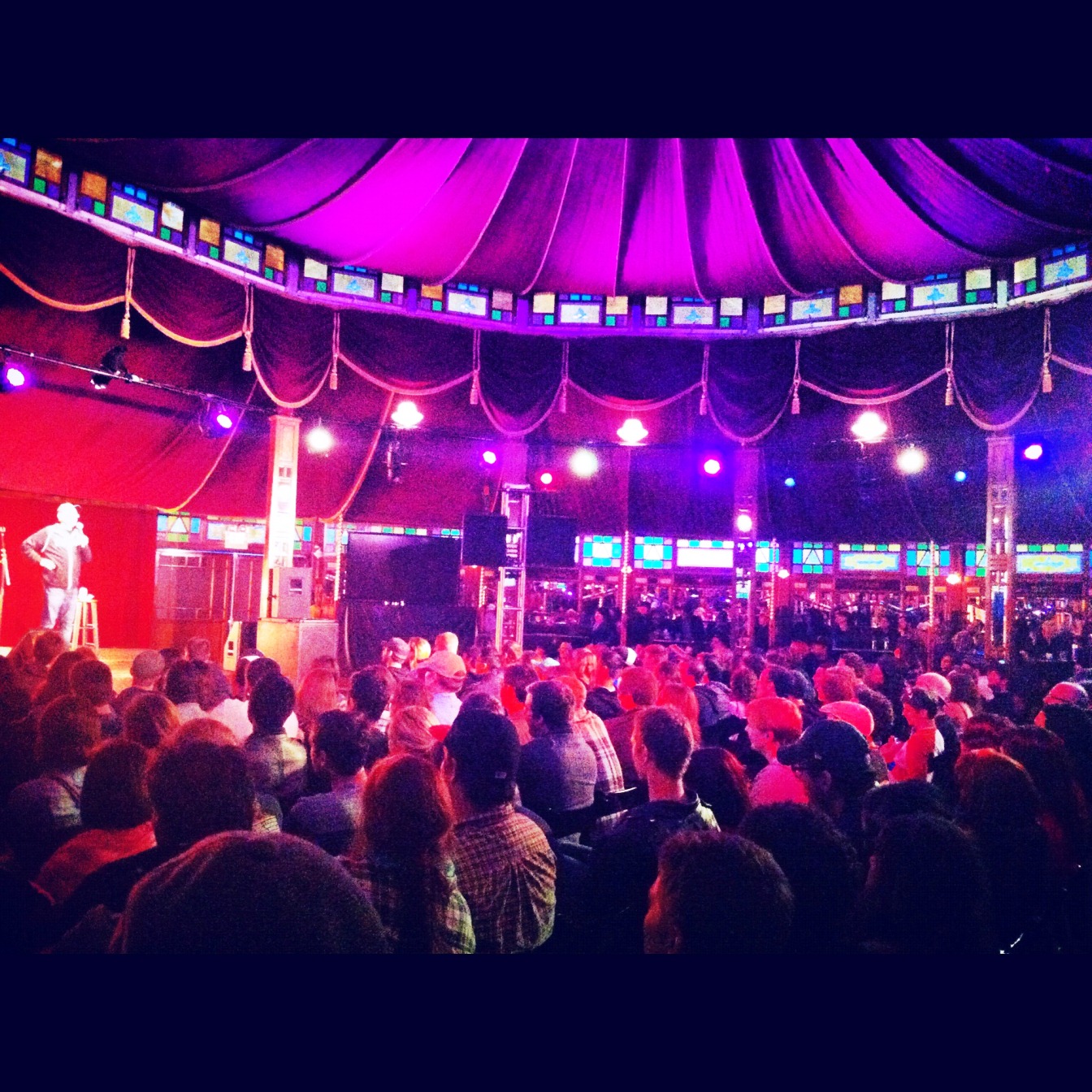 I ended my night with an ethereal set by Neil Young & Crazyhorse, shrouded in a gloomy mist and accented by colorful strobe lights that managed to streak across the ground despite the heavy fog. While I grew up on classic rock, for some reason Neil wasn't a huge presence in my life, so I attended his set purely as a spectator. The 66-year-old shredded like he was 25, and if it wasn't for the ever-advancing technology zooming in on the big screen, I might have believed I was watching Neil 30 years ago. While age can defy even the hardest of rockers, his sound remains timeless. He took a break only once, simply saying, "More meditation. Now," and then leading a minute of head-bowed deep thought. As he segued into 1969's "Cinnamon Girl," he baffled the audience slightly, stating, "Here's one I wrote this morning. It sounds like another one I wrote but I can't remember what it is." Perhaps he didn't know what year it was, but regardless, Neil still rocked like it was 1969.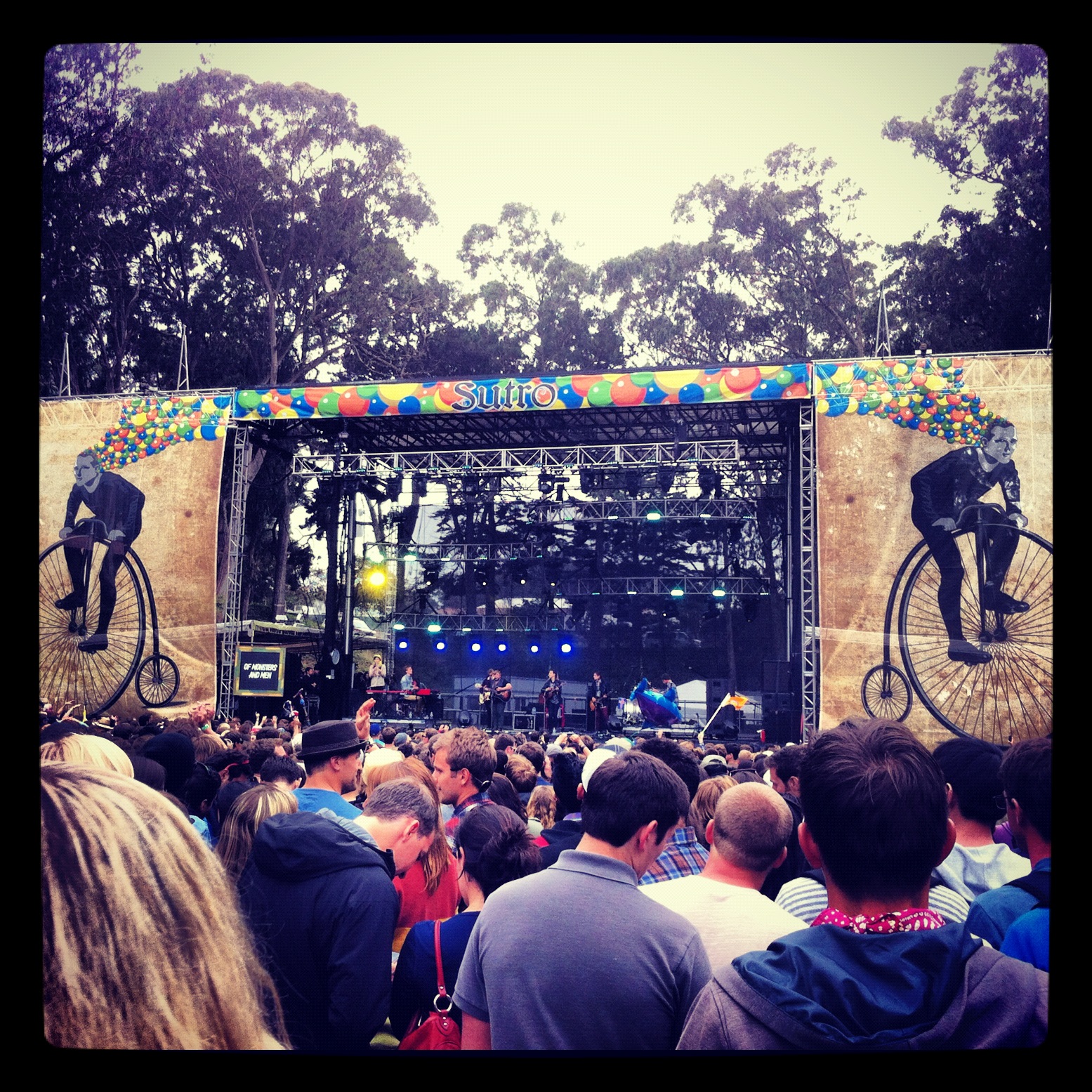 The weather was worse than it normally is on an August day in San Francisco--cold, windy, and filled with the kind of fog that sticks to your freezing fingers and dances as it moves through the trees. I couldn't help but laugh at the girls in shorts, but if you let the music take you over, the weather wasn't an issue. After all, this is San Francisco (the city of microclimates), and it was just another day in the park.