The final day of Outside Lands came and went, and I have never been more upset to see a festival end. My body, on the other hand, is thrilled. I spent the cloudy "Sunday Funday" of Golden Gate Park's music festival planted at Land's End Stage in Polo Field, determined to see Jack White with my own eyes as opposed to on the Megatron screen. It became one of my more dedicated fangirl moments and I would do it again in a heartbeat, but it was a brutal journey to the end.
I walked onto Polo Field a few minutes past noon, surprised at the amount of people who had already piled in front of the barricades (this should have been my first warning of what was to come). I shouldn't have been too shocked, since Land's End stage had arguably the best lineup of the entire festival. This factor made it much easier to stand and wait the five and a half hours until Jack White's set. Allen Stone, a soulful Seattle group headed by funky vocalist Stone himself, warmed up the crowd with a slew of rhythmic R&B songs. Watching Stone interpret the music onstage was like watching a pleasant human exorcism. His body rarely stopped moving, with his hands frequently tapping out a beat on an invisible air drum. You could almost see the notes shooting out of his curly blonde hair as his body writhed like a human composer, wordlessly directing the music. They did justice to Bob Marley's "Is This Love?" and the Rolling Stone's "You Can't Always Get What You Want," and Stone even pitted the audience against each other in a dancing competition. It was an unexpected, enjoyable start to the day.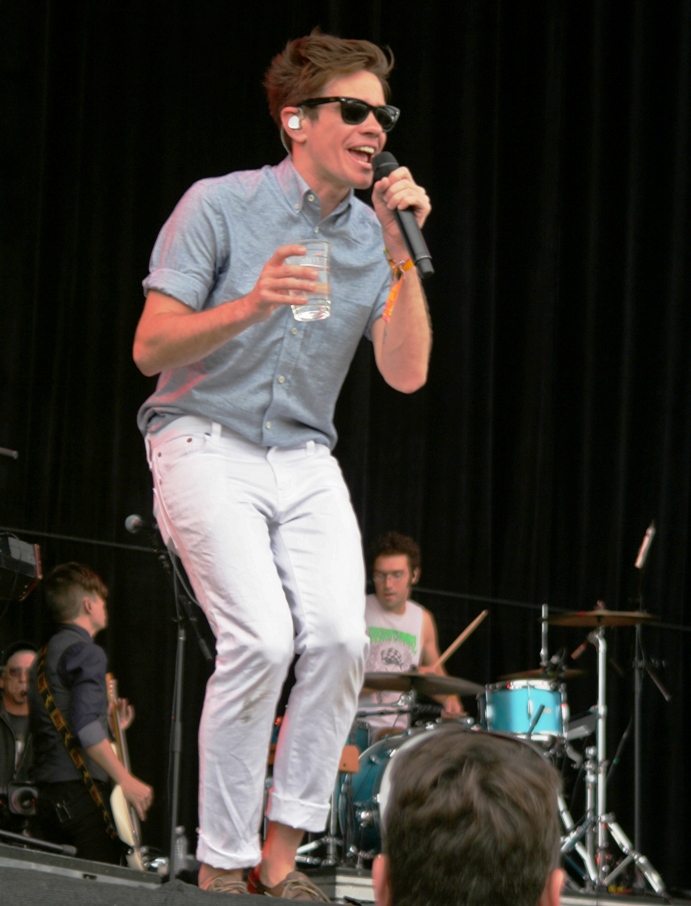 Up next was fun., a group that has recently skyrocketed to fame thanks to their hit "We Are Young." While I admit I found myself whistling the tune every now and then, the power-pop song had me envisioning drunk Jersey Shore hippies flooding the stage for fun.'s performance. Luckily I was wrong, as most of the crowd was genuinely enthralled with the music, and once I saw the band perform, I understood why. The fast-paced, uplifting lyrics seamlessly bonded the audience together (check out "Carry On" and "It Gets Better"), and even the songs with heavier tones had hints of pop-punk beats, keeping the crowd moving. Frontman Nate Reuss (ex-member of The Format) was thrilled to be a part of Outside Lands, and it showed through the entire set. He ran around the stage like the Energizer Bunny, reaching out to every inch of the audience, a smile breaking through between lyrics (and even, a few times, interrupting lyrics). Reuss' only instrument was his voice, but it was easily the most powerful instrument onstage. He belted out song after song, holding impressive notes while exerting so much energy and passion. The amazement he felt for the sea of people clapping their hands and waving their arms along with him was prominent; he did a "repeat after me" with the audience, cracking a huge grin and exclaiming to the crowd, "You have no idea how cool that is!" Their songs were actually a lot of fun and easy to dance to, but it was Reuss' presence and open emotion that labeled me a new fun. fan.
Franz Ferdinand took the stage after fun., continuing the streak of energetic rock and prompting more than a few crowd-surfers (even one on a pool raft). Keep an eye out for my fellow Grateful Webber's in-depth review of Franz Ferdinand, but I will say that the multi-member drum jam at the end of the set was pretty fucking cool. As the clock inched ever closer to Jack White, somehow stuck into a day filled with males playing feel-good and guitar-heavy rock came Regina Spektor. I wasn't always a Regina fan, but after being converted by Far, I saw her in Boston and she was precious. Her voice is every bit as real as it sounds; she looks like a China doll and giggles like a little girl after every song; and her piano-playing is always effortless and angelic. Sunday was no exception, although her set list could have been a bit more varied. (I will admit that I spotted Jack White backstage at one point and spent the rest of her set playing a distracted, lonely game of "I Spy.") Regina played the standards—"On the Radio," "Fidelity," "Blue Lips," "Eet"—but the majority of her show was dedicated to sappier songs. The crowd was ready to dance (and they did, wildly, especially to "Dance Anthem of the `80s") but resigned to swaying for the most part. She ended her set with one of her more heart-breaking songs, "Samson," which was definitely appreciated by her fans, but again encouraged little movement.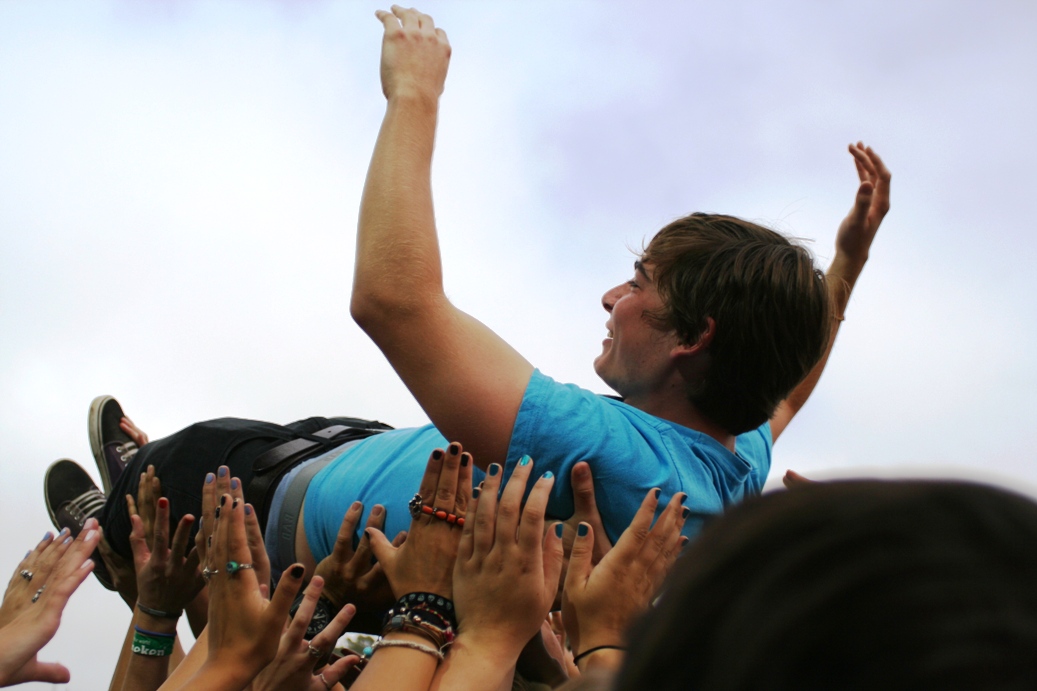 At this point, the crowd was so smushed together, eager to get closer to Regina, that I had constant elbows in my ribs. I couldn't move my feet, and a few times they weren't even touching the ground because of the force of the mass surrounding me. I'd brought lunch, but there was no way I could even reach down to grab my purse (which I hoped, desperately, was still down there somewhere—I couldn't see past my waist). I witnessed a handful of panic attacks and near-fainting spells, and more than a few people opted to be pulled out of the crowd by security (and escorted to the exit of the festival, not allowed to return) than stay and endure the bone-crushing environment. I stuck it out, obviously, because I wasn't going to put in four hours of physical torture just to pussy out at the end. But it was rough, and I have a smattering of questionable bruises that I'm still discovering on my body.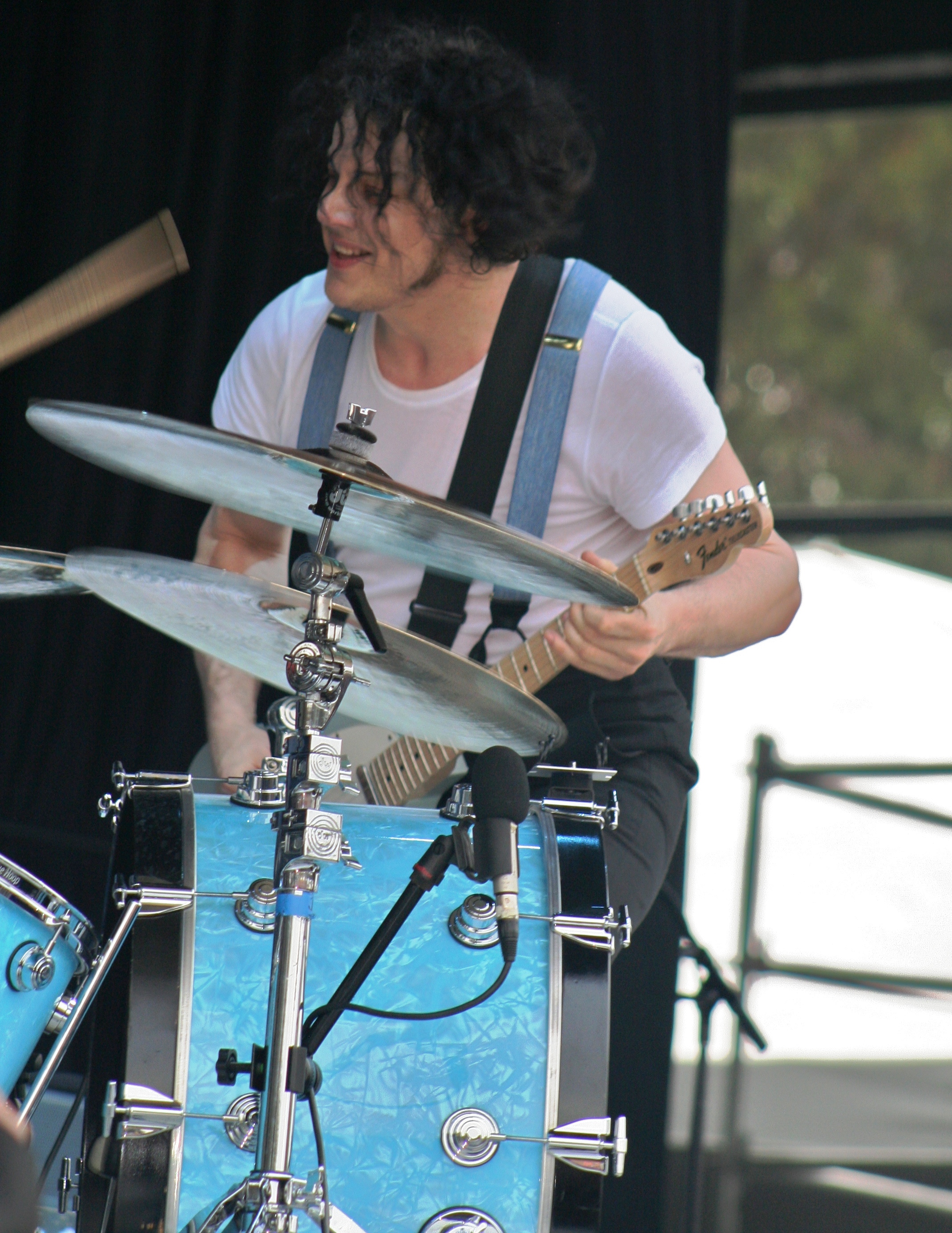 And then the moment I had been waiting 23 years to experience arrived (ok maybe not quite 23 years, but it sure felt like it). What is there even to say about Jack Fucking White? We all know he is a rock god, and he filled a hundred pairs of those shoes on Sunday (even drawing legendary rock god Tom Waits to the side of the stage). His set list was an even mix of Dead Weather, Raconteurs, Blunderbuss, and White Stripes hits, and his delivery was raw and natural. White travels with two bands, one all-male and the other all-female, and the men (also known as Los Buzzardos) backed him this time around. (I heard that White played a surprise set in the woods with his females, while I was wasting away in an effort to see him up close, but I'm choosing to ignore this heart-wrenching rumor.) The members of Los Buzzardos followed White's lead effortlessly, with minimal communication. He just concentrated on the songs, encouraging the audience to join in every now and then, but even that hardly required effort. White would flick his hands at the crowd, but knowing that his job was done (as the audience was already screaming along) he would walk away from the mic and direct his attention elsewhere. Clearly, this is Jack White's world and we just live in it. His energy was electrifying, his sideburns were sexy, and "Dead Leaves and the Dirty Ground" was every bit as magical as I dreamt it would be (and "Seven Nation Army," and "Hotel Yorba," and "We Are Going To Be Friends," and "Freedom at 21"...I could go on). Noticeably absent were "Love, Interruption," "Sixteen Saltines," and White Stripes live staple/Dolly Parton cover "Jolene." (I know I wasn't seeing the White Stripes, but a girl can dream). Regardless of what was played, Jack White was the one playing it. And that was enough to keep me squashed in between hundreds of sweaty strangers for days to come.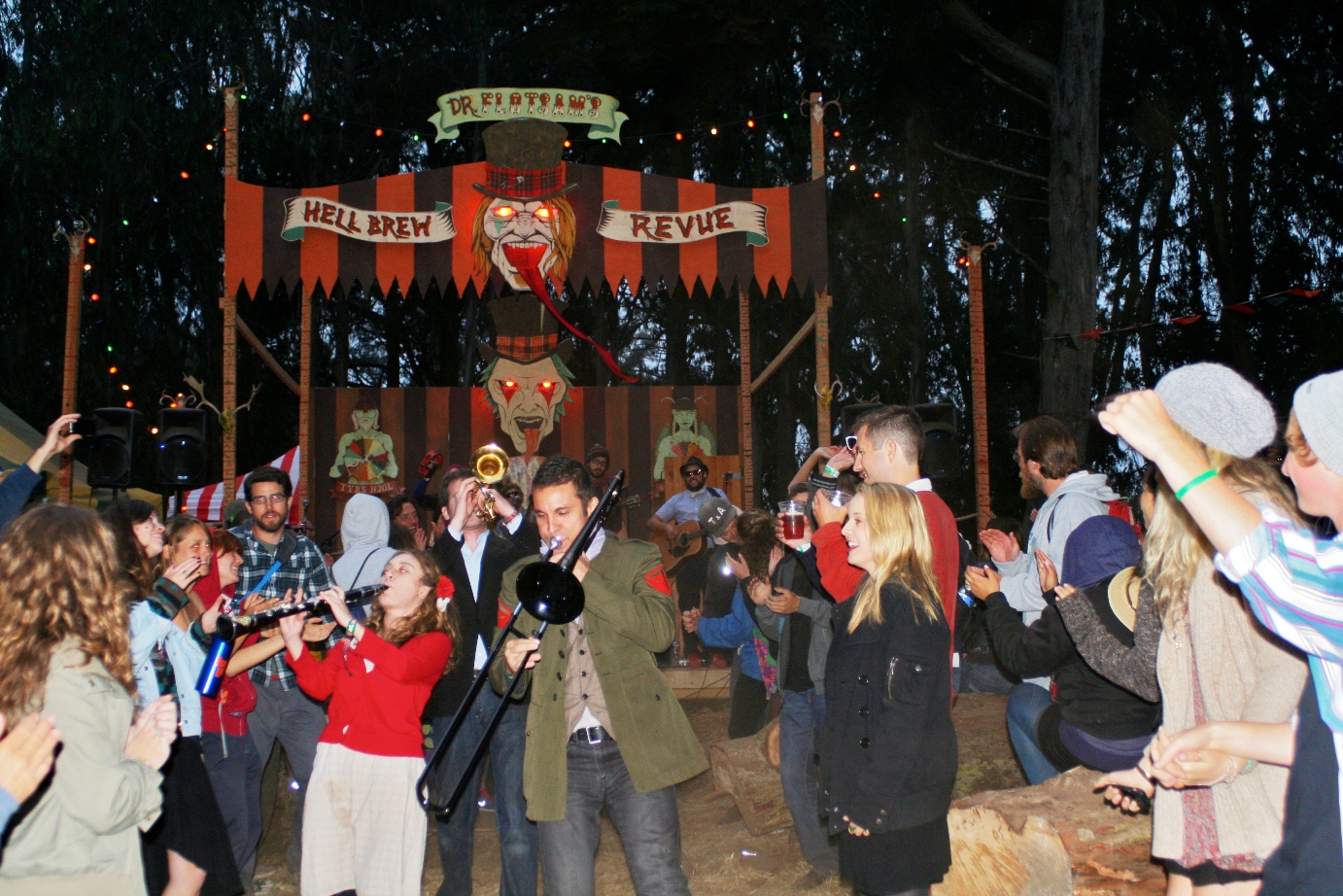 Unfortunately he didn't play for days, and Stevie Wonder doesn't have the same staying power for me, so I latched onto a stranger and allowed myself to be painfully dragged out of the suffocating crowd. My legs were literally shaking and unstable after standing uncomfortably for so long, so after a brief resting period, I put my dancing shoes back on for some Stevie Wonder (which I enjoyed from far away, basking in my own sweet air and full movement of my limbs). Stevie was surreal, but I wanted to walk through the festival one last time. I stumbled across Dr. Flotsam's Hell Brew Revue, a stage tucked away in the woods that was mysteriously absent from my festival map and the "Now Playing" section on my Outside Lands app. I had passed it once before and caught the tail end of a brass band, but was thrilled to discover a mysterious folk band closing out the festival (preferable to Skrillex in my mind). I shook the very last of what my momma gave me before resigning myself to the unwelcome end of a very successful festival. This was my first year at Outside Lands, but you can bet your sweet ass I'll be back in full force next year.