Dead Floyd is an important part of today's musical landscape. They are a one-of-a-kind band much like their predecessors the Grateful Dead and Pink Floyd. Dead Floyd recreates the music and magic of these two magnificent bands by combining them together in one wild musical adventure of historic, adventurous mind-bending joy. They present an explosive array of the what the Grateful Dead and Pink Floyd created by carefully and methodically putting them together in the same set. Imagine if you will the Grateful Dead and Pink Floyd playing the same gig and each band taking turns presenting their songs, mind-blowing, right?!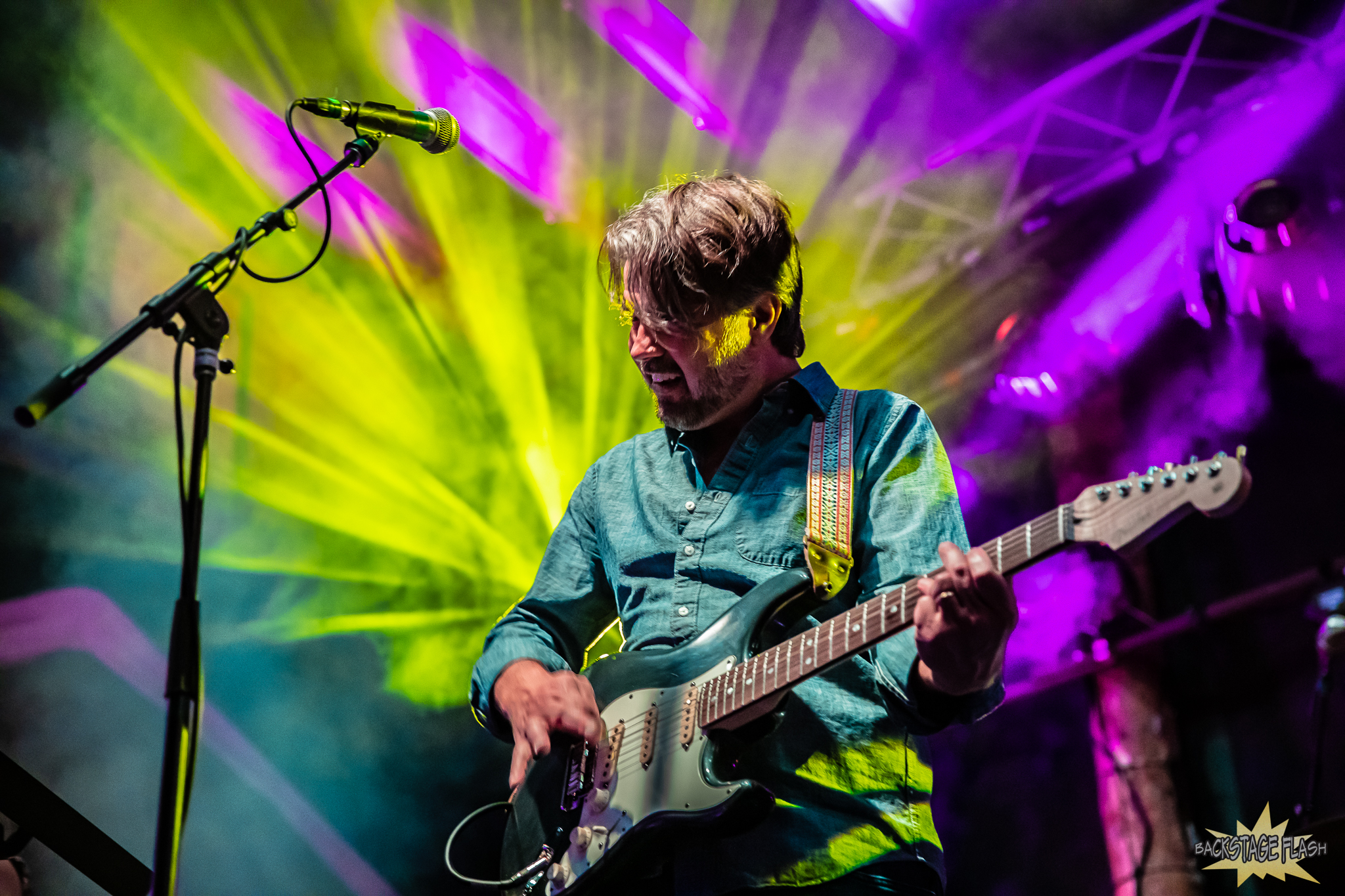 As I mentioned the importance of Dead Floyd is relevant in many ways. They are giving a younger generation an opportunity to hear the music of The Grateful Dead and Pink Floyd in a live setting in one magical show. Many people who come to Dead Floyd's shows were not old enough or even born when both the Grateful Dead and Pink Floyd were touring giants. Other people who attend are well seasoned when it comes to seeing live music including having seen the Grateful Dead and Pink Floyd numerous times, they are the ones who come to relive the magic and wonderment both bands have left us by enjoying this conceptual live music experience.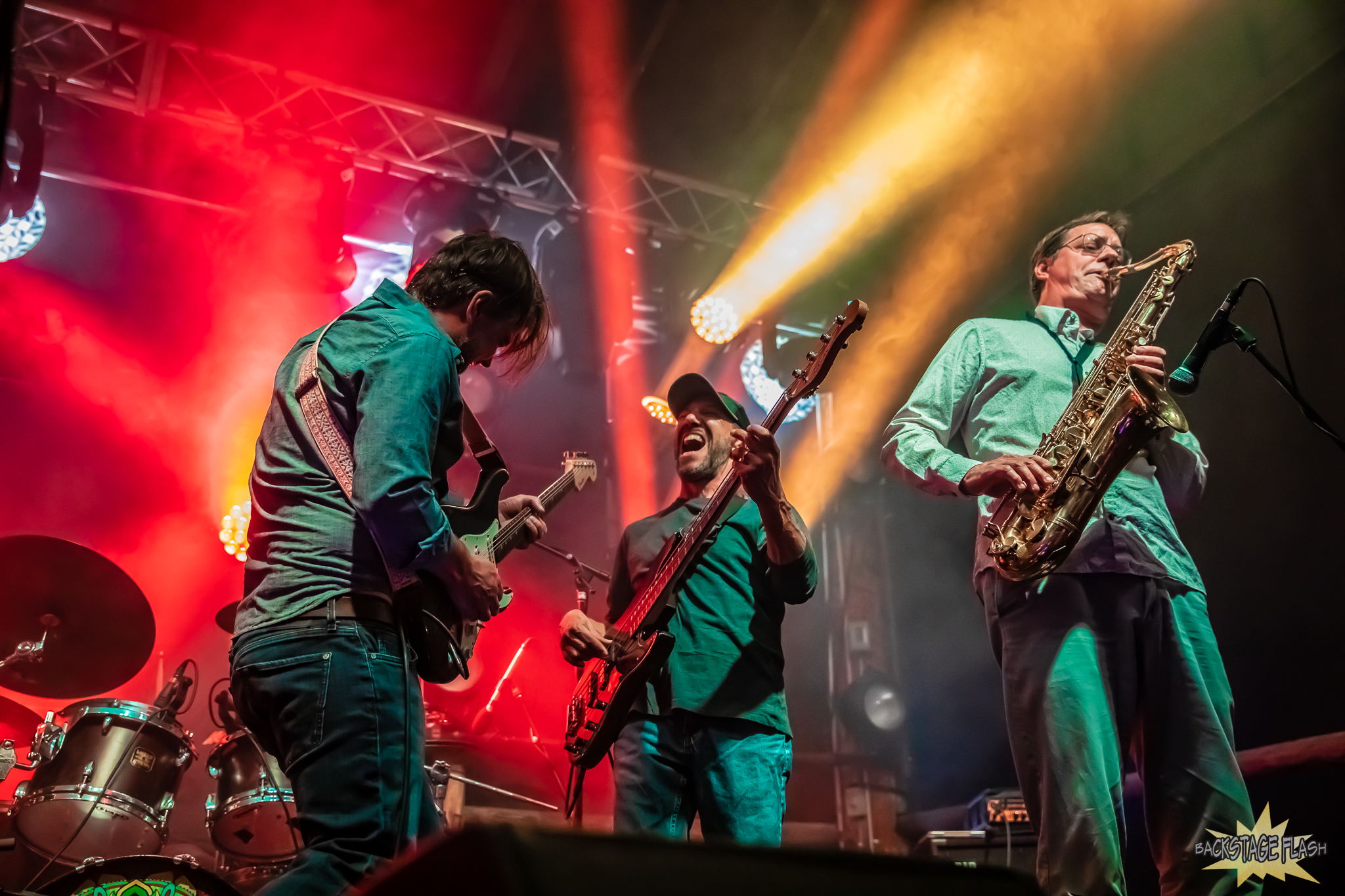 Dead Floyd has expansive, innovative qualities and ideas combined with amazing musicianship. All of these key factors propel their sound and visual experience to dizzying heights. They are constantly exploring and improvising as the show goes on which is exciting for everyone in the band and the audience as well. Keeping the music fresh is key to their sound and their mission of representing these two magnificent bands with love and respect. Dead Floyd also implements the Grateful Dead's long-standing history of never repeating the same show twice. This concept stretches way further when you have material from two bands mixed together among two sets of music at each live performance.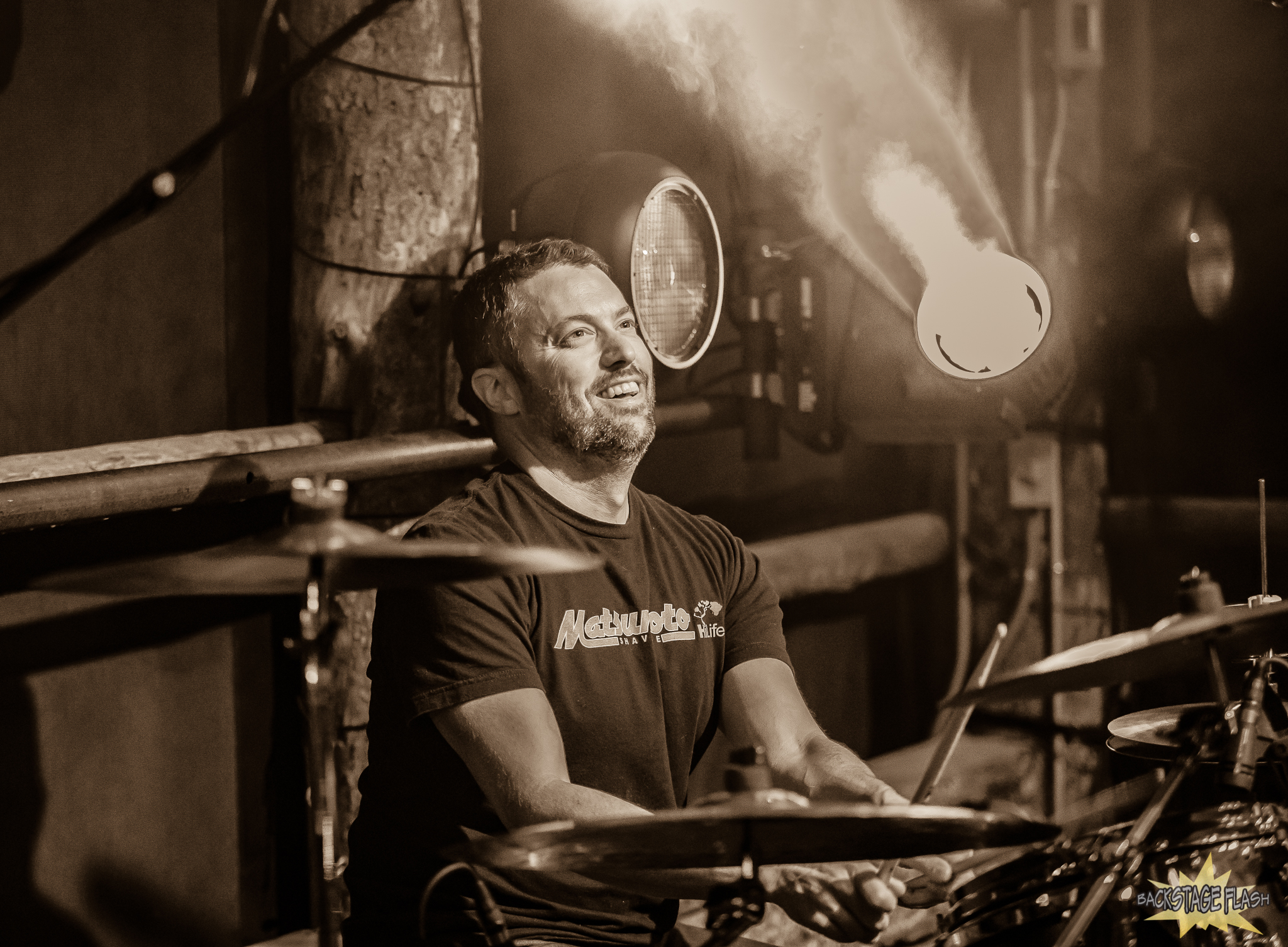 Speaking of expansive ideas and innovation Dead Floyd has recently transitioned from a four piece to a six-piece band. The core members for the past thirteen years are Charlie Humphreys on guitar and vocals, Stu Crair on drums and Matthew Goldberg on keyboards. They are now joined by Laniece Schleicher (Mama Lenny & The Remedy) on vocals, Todd Smallie (Derek Trucks Band & JJ Grey & Mofro) on bass and Andrew Vogt (Just Jazz) on sax. This evolution of the band is exciting to witness. Adding these talented musicians to the solidness of the core three is kinda mind-blowing, in the sense of the overall fullness of the sound. Laniece is a powerful singer adding all kinds of magnificent vocal qualities and tones to primarily the Pink Floyd songs and backing vocals on the Dead tunes. Todd Smallie is just a beast on the bass as he never lets up on the groove, and he and Stu on drums are a cohesive rhythm section. Having Andrew Vogt on sax opens up the sound of the band even more. Vogt has mad chops on his sax and when he takes a mind melting solo it gives Charlie room to explore the arrangement by playing rhythm guitar. Then when Charlie is melting your face with a searing solo Vogt can do the same which adds that fullness I mentioned earlier. It's a great fit having these six musicians on stage together and IMHO Dead Floyd is just getting started and it's exciting as hell.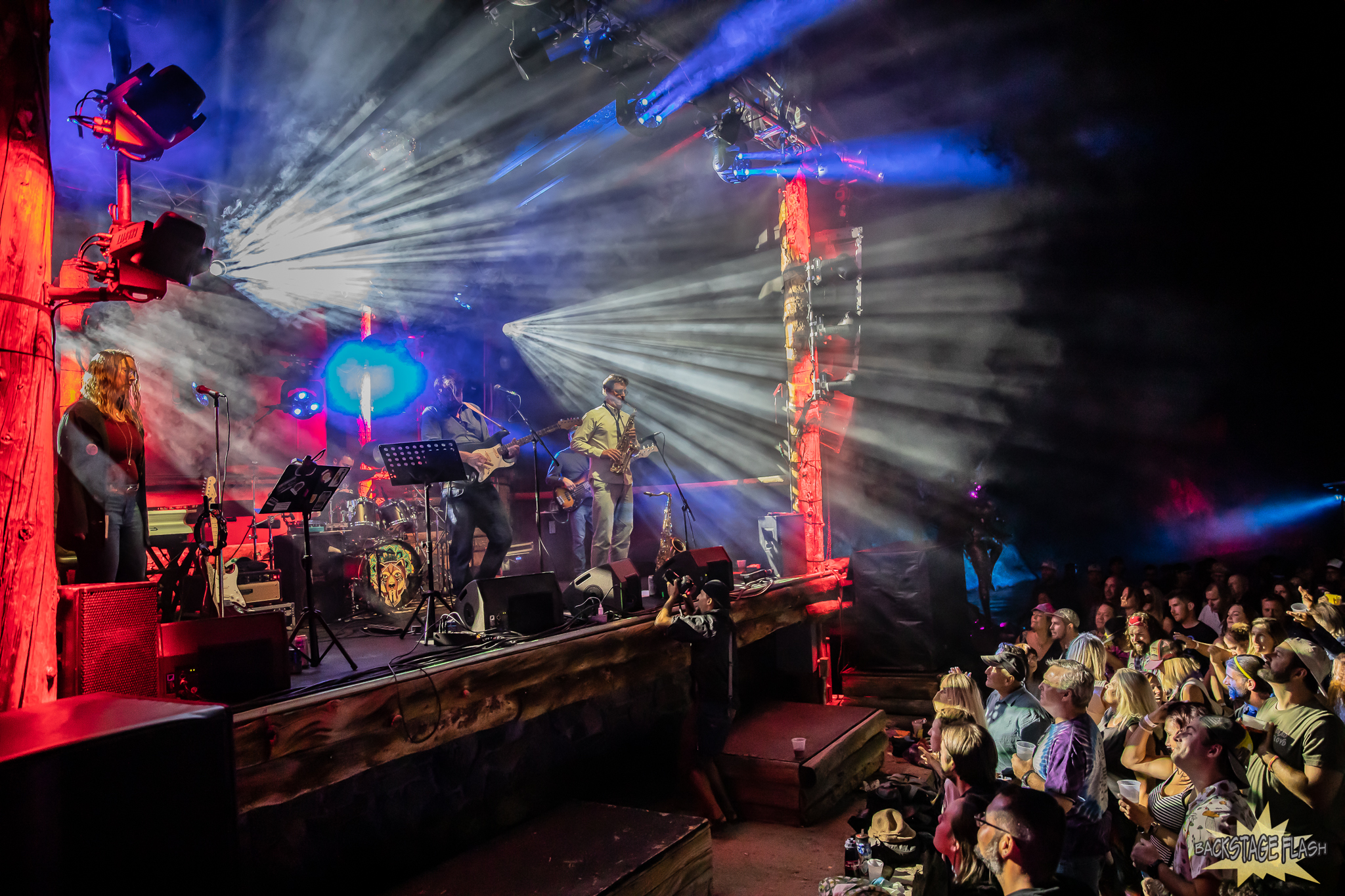 Grateful Web had a chance to talk with Laniece Schleicher of Dead Floyd and here is what she had to say.
GW: Dead Floyd has been together for thirteen years with the same line-up since 2009. How did you becoming a recent addition as one of the vocalists in the band transpire?
Laniece: I've had the chance to perform with most of these guys as a backing vocalist for shows with Dead Floyd and Musketeer Gripweed. I was also in the Velvet Rope with Stu, Andrew and Charlie. Stu reached out to me with the opportunity to sing with Dead Floyd for some upcoming shows and I was interested right away just based on who and how they are as people. I knew that in spite of how much time and energy it would take that it would be a really good time.
GW: Sharing the stage with such talented diverse musicians, yourself included, how have you adapted to the overall experience of being in the band?
Laniece: I feel really comfortable with all of them as friends and as band mates so it feels like a natural fit for me to play with them. I can always count on them to have their shit together in practices and during performances which is hugely helpful. I know that if I miss something or forget how a certain part goes, that they have my back and that everything will continue to play out smoothly.
GW: Have you always been a fan of the Grateful Dead and Pink Floyd, or has this opportunity of being one of the vocalists in Dead Floyd opened up a whole new world of music to you?
Laniece: I'm a Floyd girl for sure. The music of the Dead and Pink Floyd has been a part of the soundtrack of my life since I was a teenager, but learning the songs in this way has been an eye-opening experience. A lot of these songs were in the background of my life, familiar but not necessarily known very well, so it has been really fun to do the deep dive into each of them lyrically and musically.
GW: Dead Floyd keeps the tradition of the Grateful Dead alive by never playing the same set twice. This means there are many songs to learn so what has been your process of absorbing and learning so many songs?
Laniece: So many songs! When Charlie sent out the initial song list I may or may not have had a slight panic attack. I tend to learn songs best by listening to them over and over again so my Floyd and Dead playlists usually accompany me during my time in the woods. Since I try to get out into the woods every day, I'm listening to these songs a lot.
GW: Are you singing both Grateful Dead and Pink Floyd songs or splitting up the vocal duties with Charlie Humphreys?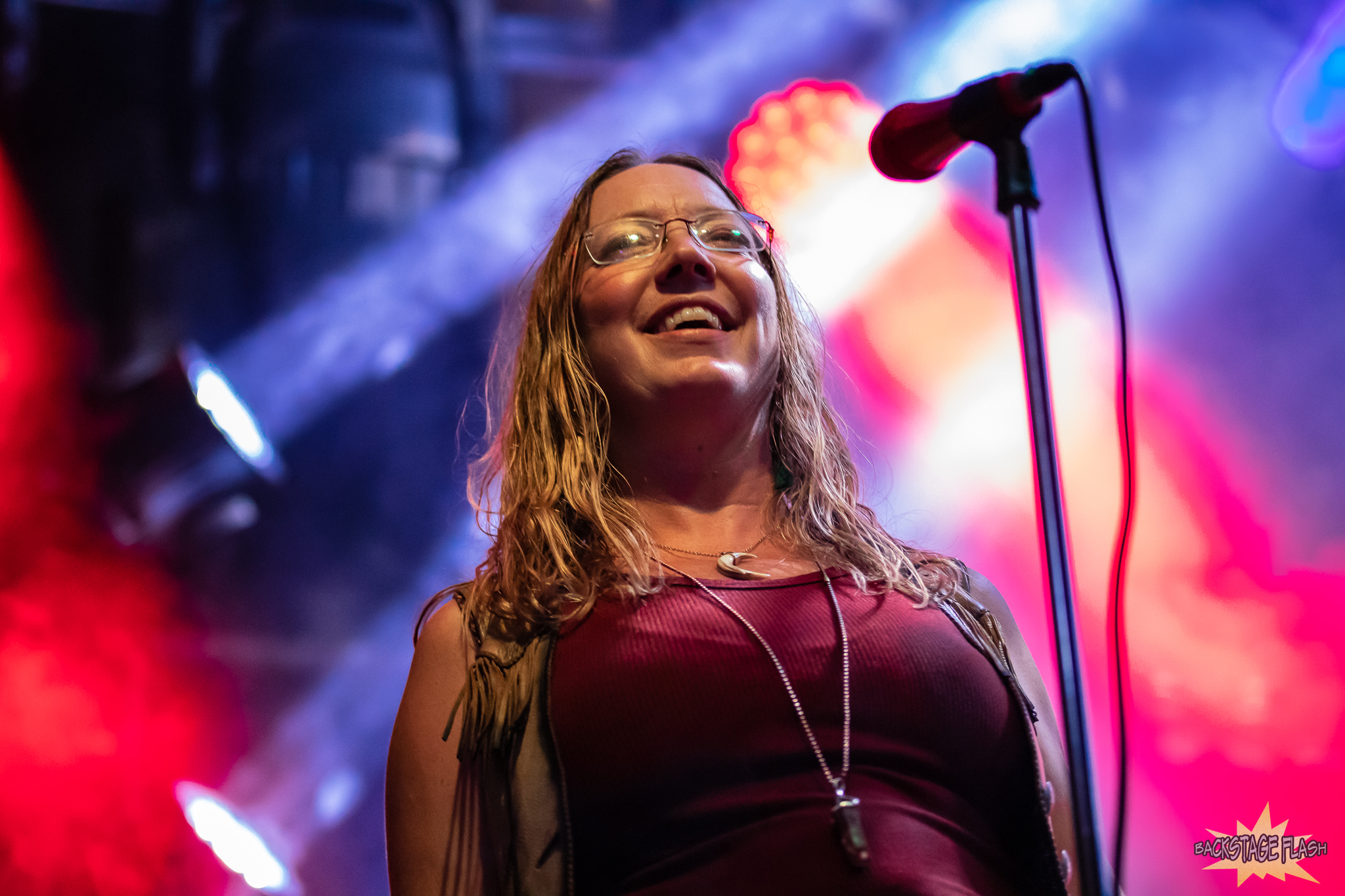 Laniece: I'm singing most of the lead vocals during the Pink Floyd tunes and backing vocals during the Dead songs. Charlie will occasionally ask me to sing a lead part on a Dead song or he'll jump into a lead part for a Floyd song. I'm pretty happy to sing whatever they ask me to sing.
GW: As a female vocalist are there any challenges in singing songs that were originally written and performed by male singers?
Laniece: In some ways yes but a lot of the songs, especially the Floyd songs, are in my vocal sweet spot so I can just let loose. I always want my vocals to enhance the audience experience rather than distract from it. People know these songs like the backs of their hands so I spend a lot of time trying to figure out what would sound the best for folks. The fellas have been really supportive and I trust them to let me know when things sound good or if something isn't quite working.
GW: Has the overall vibe of the audience and their love for the music of the Grateful Dead and Pink Floyd enhanced the live performance experience for you?
Laniece: The fans of this band are very cool and they are really invested in the shows so they are really fun to play for. I feel a lot of joy when I get to see people swaying in the lights and singing along to each and every tune and I love how excited people get when we play something that they haven't heard in a while.
GW: You have been very generous with your time and we really appreciate your answers. Is there anything we have not asked you that you wish we had?
Laniece: I can't think of anything, thank you for taking time out of your day to chat with me.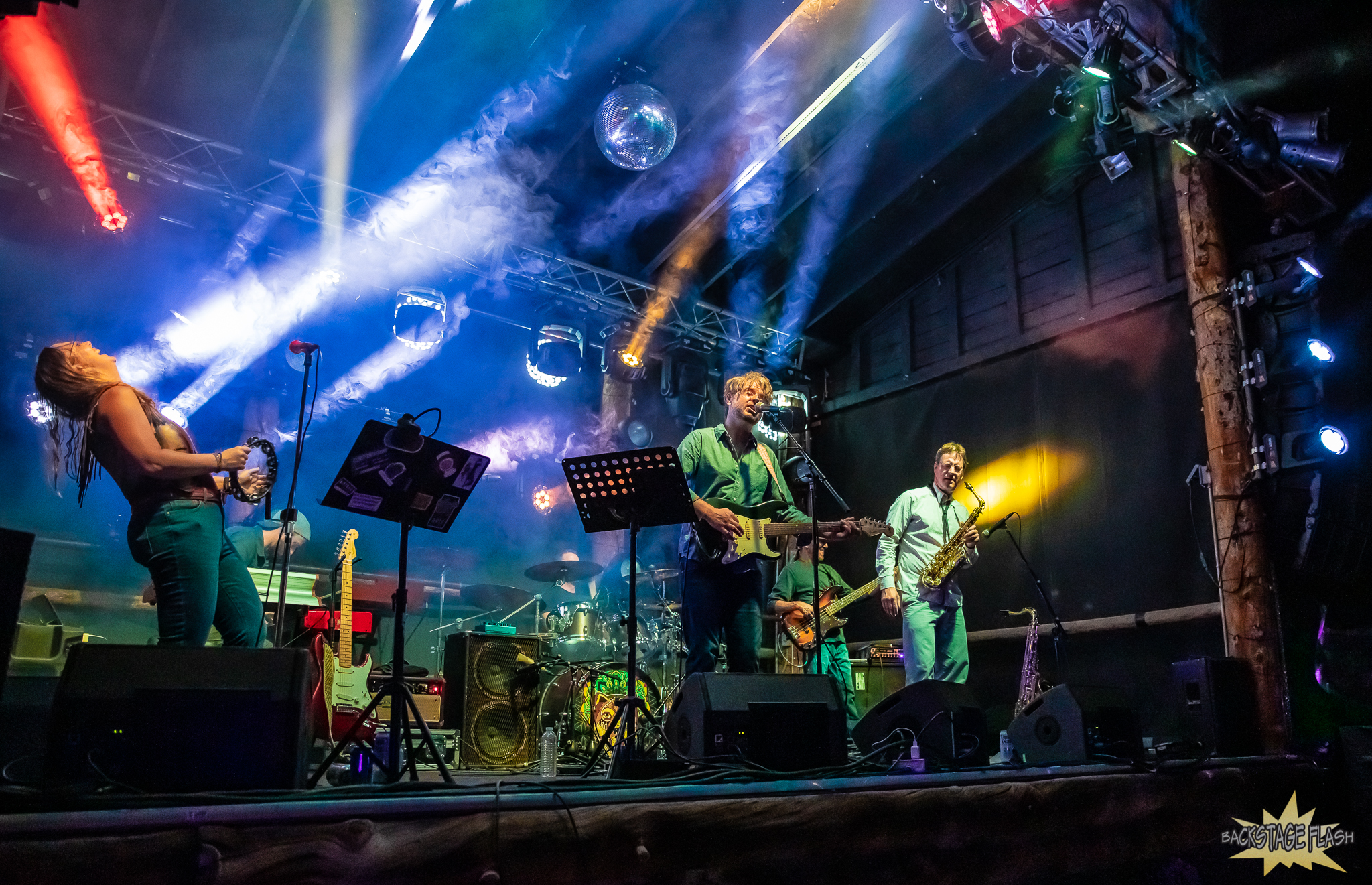 Colorado music fans came out strong last night and packed the mighty Mishawaka Amphitheatre for Dead Floyd. The band was excited to play this home town show and the guests were equally as excited to be there. I spoke with Dead Floyd's keyboard player Matthew Goldberg before the show and he said the band is always honored to play at the Mishawaka as it's one of the best venues on the planet. The vibe was high as the band took the stage and the audience was ready for whatever Dead Floyd was serving up for the evening.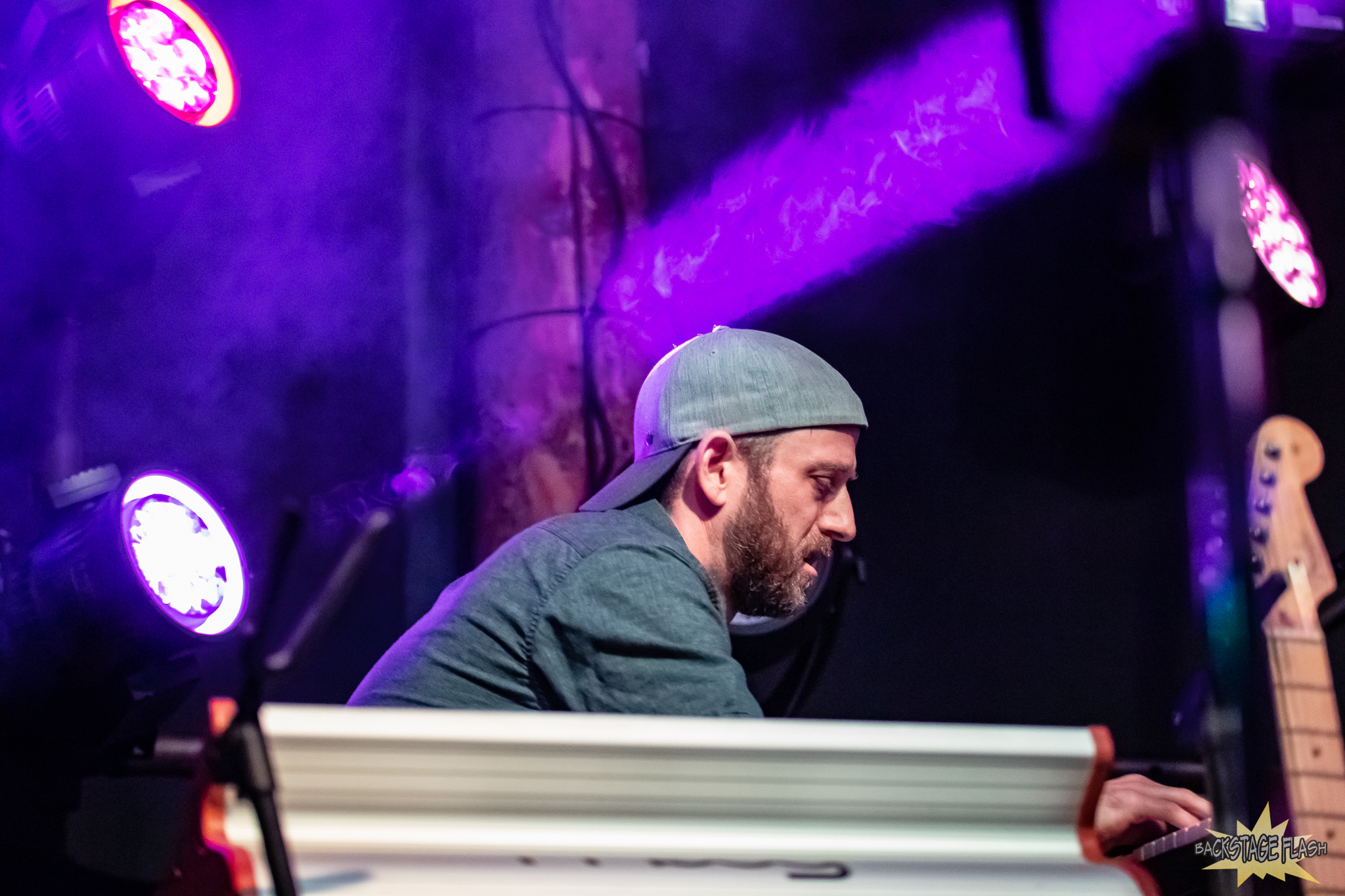 From the first notes of Hey Pocky Way, the evening's opening number, you got the immediate feeling of joy and love for this band and the music they play. Charlie Humphrey's voice was clear and crisp and the tone of his guitar had a nice soulful funky vibe that ripped through the canyon crowd. Laniece Schleicher took the vocal lead next on Pink Floyd's Learning to Fly and she absolutely nailed the moody tones of the song. The band sounded tight and you can tell they were having as much fun as the guests. West LA Fade Away followed and it had a that moody Garcia feel and once again the tone from Humphrey's guitar was on point. Todd Smallie provided the unmistakable bass line of Pink Floyd's classic hit Money. The band took this song on a wild ride exploring and improvising on the tempo changes it's so well known for. Going Down The Road Feeling Bad followed by Wish You Were Here and Bertha was a crazy cool combination of songs to round out the first set.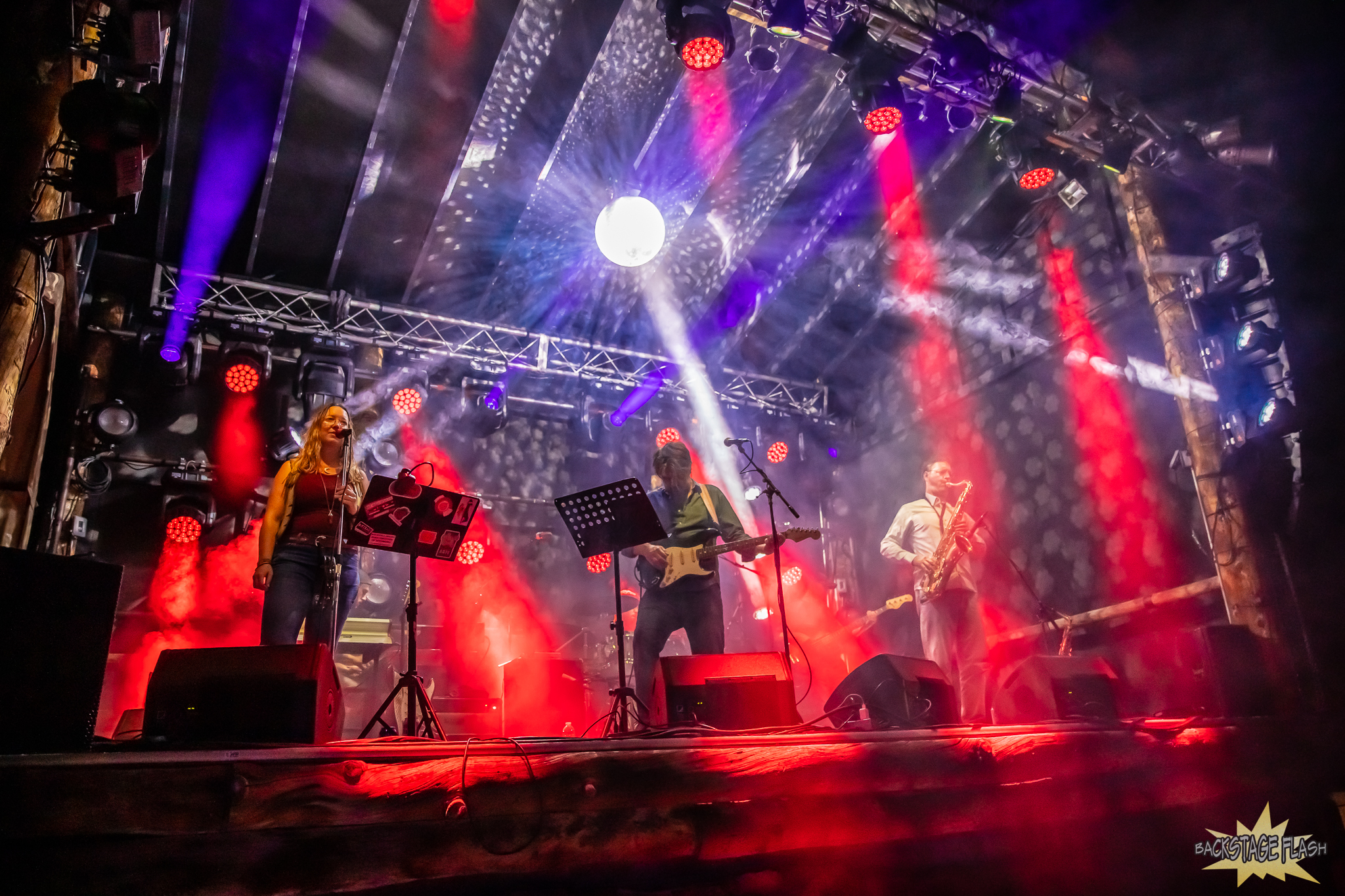 Pink Floyd's Have A Cigar opened the second set with Laniece on lead vocals. The band sounded amazing and working together like a wheel that can't slow down they ripped into Not Fade Away, always a crowd favorite. Crair on drums and Smallie on bass are a serious strong rhythm section - they are always in communication on stage without uttering a word to each other they know exactly how to hold the bottom of the band together and you can feel it and see it in the fullness of the sound and the smiles on their faces. Goldberg was hammering out his solos with surgical precision and keeping the arrangements tight and flowing. Vogt on sax played very soulful notes and his placement of power and softness work really well together. Charlie's stage presence was front and center, he has mad energy and impeccable guitar and vocal skills, he can feel the audience energy and just pushes it right back at them. Laniece on vocals has perfect range for the Floyd songs and she is fully embracing singing with all of these talented musicians. I heard people in the audience talking about her vocal abilities and how impressed they were. Instead of rattling off the remaining songs in the second set, I will leave you with this lovely picture of the set lists and you can let your imagination run around the amazing second set.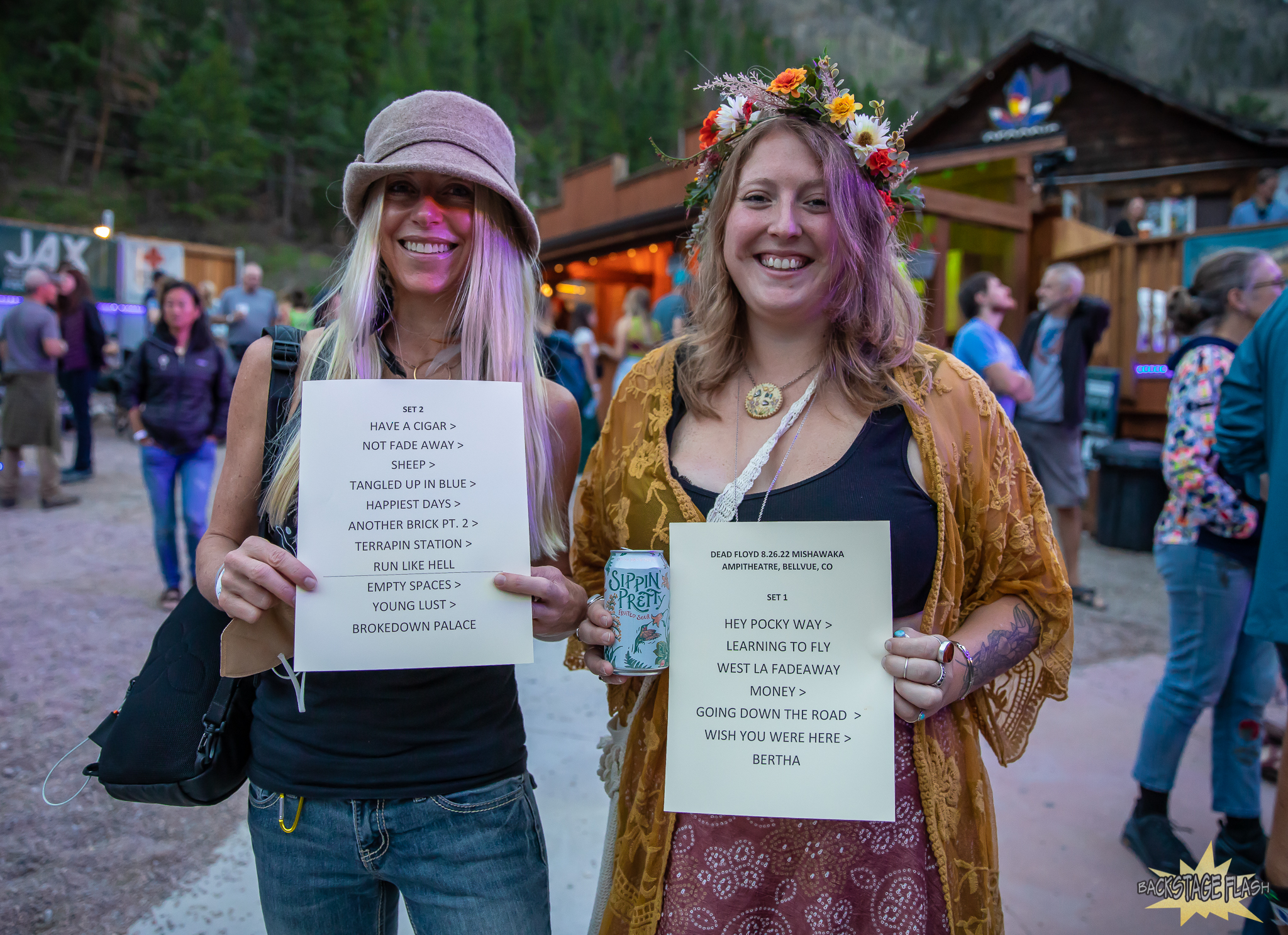 Thanks to the Mishawaka Staff and the amazing production staff for always providing top-notch sound, lighting and general coolness. Thanks to Pilgrim for hooking up the disco ball. Thanks to Dead Floyd and all of the guests in attendance. Go see this band!