Have you ever been to the Taste of Chicago? All in all it is a fantastic experience, one not to be missed but there are always headaches that go along with attending, ie the heat and humidity, long lines and traffic. Every year even if it is just for a moment you ponder how nice it would be not to have to deal with the headache. This is the best way I can describe the Death Cab for Cutie show at Red Rocks in Morrison, CO on July 14th 2009.
Death Cab for Cutie was on my short list of bands I absolutely had to see before I die. I have liked the band since I first heard, "We Have the Facts and We're Voting Yes" but knew I would have to make some compromises. The first being that TicketMaster charged an exorbitant amount for its service fee. There was also the issue of the crowd. I had avoided last year's show of theirs at Red Rocks due to their commercial success for their album, "Plans." I secretly hoped that their popularity would wane a bit and they would play at a smaller club this year. It did not happen but I am glad I decided to suck it up and deal with the minor annoyances.
Death Cab was fantastic. They played a nice mix of old and new. Opening with Employment Pages was a brilliant move. The best thing about their set was that you could tell that they really enjoy playing live together. They chatted a little with the crowd and were appreciative of the big turnout. I was amazed with how crisp Ben Gibbard's voice sounded. Death Cab really knows how to make its fans feel special. The set ended with Transatlanticism and Ben Gibbard saying goodnight with the band's signature, "We're Death Cab for Cutie from Seattle Washington."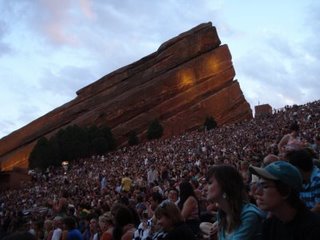 Ra Ra Riot and Andrew Bird were also very good. It has to be hard playing at a large venue where so many people are not paying attention. I felt bad. Ra Ra Riot and Bird are both incredible musicians and the majority of the crowd did not seem to care. The crowd was the most difficult part of the show. I have never been to a show where the crowd cheers louder for the newer material than the old classics. The crowd appeared to be lost when Death Cab played anything earlier than Transatlanticism. In short, I would highly recommend seeing Death Cab but understand that in a large stadium setting the crowd leaves a little more to be desired.
I realize I sound like a music snob but a good crowd can make or break a show. Still, the opportunity to see 3 bands that are as musically talented as these are well worth the minor annoyances. Dealing with headaches that are out of your control is just apart of being a good fan.