Denver's Fox Street Allstars (FSAS) are back on tour behind their highly acclaimed sophomore album Tough Talk and have announced their Fall 2013 Cowboys & Astronauts Tour. The tour will see the band return to Utah, Montana, Idaho, Washington, Oregon, Colorado, Nebraska, Missouri, Tennessee, North Carolina, South Carolina, Georgia, Florida and Alabama. Additional dates are expected to be announced soon including new Florida shows and a return to Texas in November.
--
Tour Dates:
9/6 & 9/7 - Woody's - Moab, UT
9/20 - The St. Julienne - Boulder, CO
9/28 - Connor O'Neils - Boulder, CO
10/2 - Garage at Yellowstone Brewing Co. - Billings, MT w/ Wes Urbaniak
10/3 - Filling Station - Bozeman, MT - w/ Wes Urbaniak
10/4 - Murray Bar - Livingston, MT
10/5 - Stage 112 - Missoula, MT w/ Wes Urbaniak
10/6 - Crush - Whitefish, MT
10/7 & 10/8 - John's Alley - Moscow, ID
10/9 - Nectar Lounge - Seattle, WA
10/10 - Good Foot - Portland, OR
10/11 - Sweetwater Grill - Steamboat Springs, CO
10/18 - Nathan Yip Foundation - Stoney's - Denver, CO
10/19 - Little Bear Saloon - Evergreen, CO
10/23 - Loui's Live - Omaha, NE
10/24 - Gramaphone - St. Louis, MO
10/25 - Soulshine - Nashville, TN
10/26 - Thomas St. Tavern - Charlotte, NC
10/30 - Hummingbird Stage & Taproom - Macon, GA
10/31 - Smokehouse - Hilton Head Island, SC
11/1 & 11/2 - Midtown - Charleston, SC
11/4 - TBA - Florida
11/5 - TBA - Florida
11/6 - Bradford Blues Club - Tallahassee, FL
11/7 & 11/8 - Funky Blues Shack - Destin, FL
11/9 - Green Bar - Tuscaloosa, AL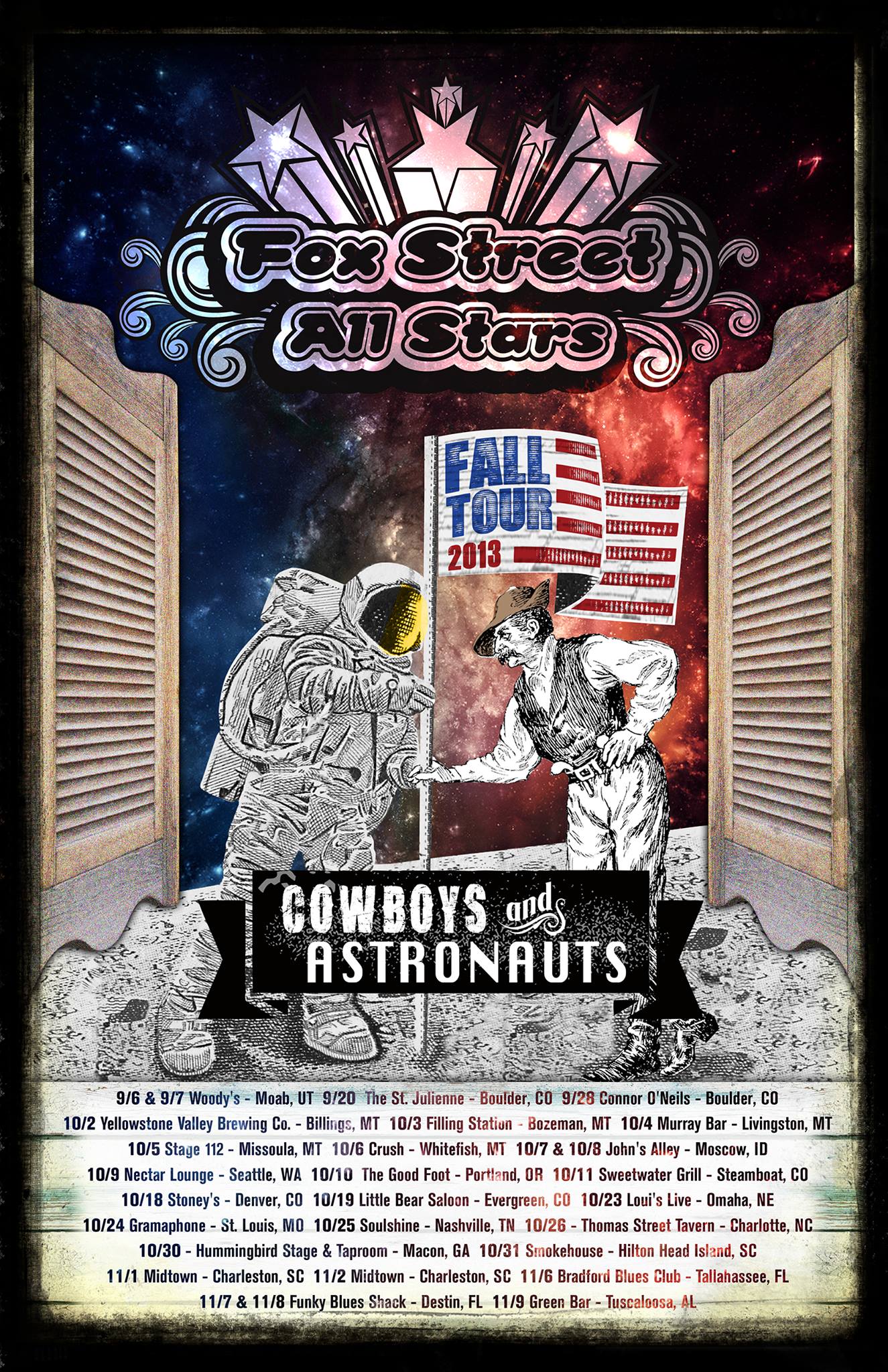 Tough Talk was recorded over the summer of 2012 at Scanhope Sound in Littleton, CO and engineered by Josh Fairman (New Mastersounds, Ivan Neville, Kinetix). The album features Joe Tatton of The New Mastersounds on organ, piano from Bill Mckay and pedal steel by Grammy-award-winner John Macy and The Black Swans on backup vocals. The album is a rich roller coaster of funk with super-sized helpings of rock, blues, soul and even alt-country.
"We're really excited to return to some of our favorite places" frontman Jonathan "Skippy" Huvard says. "We're very proud of our second album and think it really showcases where we are as a band and our live show is bringing an energy like we've never seen. We're so excited to be hitting up places like Montana and Washington state again and especially for our fourth trip through the Southeast."
Make no mistake, FSAS reeks of the roadhouses and West Texas honky-tonks of the Deep South that inspired their signature sound. The band features a pounding rhythm section, stellar lead guitar work and whiskey-soaked lead vocals.
If their opening slots on multiple national tours with funk legends The New Mastersounds are any indication, FSAS is a band that is poised to break through on the national scene at any moment. There's a reason why artists like Papa Mali, Robert Randolph, Brian Jordan, Nigel Hall, Stanton Moore, Tony Hall, Corey Henry, The Motet, George Porter Jr., and others have sat in extensively with the band: musicians realize these guys have serious chops and the sound is some serious fun.
For a complete list of dates, please visit www.foxstreetllstars.com.