After their critically acclaimed last album, Electrified, Dressy Bessy will release its highly anticipated new album, Holler And Stomp, on September 30th, 2008 via Transdreamer Records. Combining uber-indie sensibilities mixed with bombastic style, the band remains inspirational, hook-laden and upbeat. 13 songs will have you dancing and singing in seconds.
"Personal, as well as impersonal experiences over the past few years have helped inspire my urge to HOLLER and STOMP!" – Tammy Ealom
Driven by vocalist Tammy Ealom and guitarist John Hill (who also moonlights in Apples In Stereo), along with groove-meisters Rob Greene on bass and Craig Gilbert on drums – Dressy Bessy bring a sense of style and uniqueness to the rock world. A full tour will commence in September.
Dressy Bessy are about power-pop chords, a dancing rhythm section and the compelling vocals of Tammy Ealom. Her witty lyrics hug the addictive melodies with true style. Backed by guitarist John Hill, whose guitar work helped propel Apples In Stereo to the forefront of the indie rock world and the thundering rhythm section of bassist Rob Greene and drummer Craig Gilbert - Dressy Bessy have the true spirit of underground rock.
Following extensive touring behind their last album, Electrified, Dressy Bessy needed some well deserved time off. For Tammy this meant getting down to writing a new batch of songs. Tammy's always been a self-proclaimed "melody first" sort of gal and wanted to try her hand at a "beats first" approach, sitting down at a drum kit knocking out groovy beats one drum at a time.
Tammy demoed the songs for HOLLER and STOMP at home. After about a year of recording she and the band realized that the songs had taken on the organic grass roots sound that Dressy Bessy was originally built upon and decided that these recordings, with proper mixing, additional guitars, bass, drums & lead vocals, would be the actual album tracks.
The band first met Trent Bell (The Flaming Lips) in 2003 while touring with the Starlight Mints, and had talked briefly about having him mix a record. Once they decided to go with the home recordings for this album, it was obvious that Trent should mix it ... and the rest is history!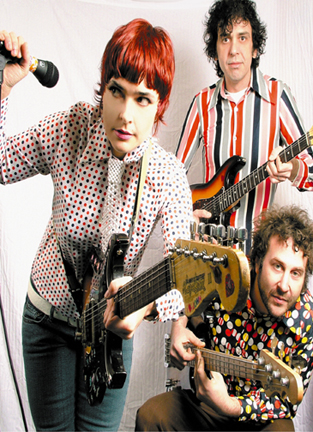 The results are obvious with infectious and danceable grooves that dominate the album. Every song leads into the next with a driving authority – it's almost impossible not to move and shake it to these songs.
"Lyrically this album defines MY world. Personal, as well as impersonal experiences over the past few years have helped inspire my urge to HOLLER and STOMP! all over yo' ass! Listen up high!" ~! Tammy Ealom
The Live Experience…
Dressy Bessy are no ordinary band, nor are their fans ordinary. The atmosphere is a non-stop party and the music is relentless. Their compelling live show has left them with loyal and fanatical fans around the world. This band refuses to compromise and continues to push the envelope towards blissful entertainment.
"We rock our hearts out! We try to inspire as much dancing as possible," comments Ealom.
During their shows, with the lights flashing and the music pounding, people lose themselves in the Dressy Bessy experience. All this is standard fare for a band whose unscripted performances make for an unpredictable and euphoric atmosphere. "We'll rock the socks off anyone with an hour to spare. Both the band and the fans walk away sweaty and happy," says Tammy.
 
History...
Dressy Bessy have enjoyed great success in their hometown of Denver, where the band lives and plays.
"I decided to pick up the guitar in '96 when John Hill loaned me his four track while he was out touring with The Apples In Stereo, and soon I discovered I had a knack for writing songs and the rest is history," says Ealom.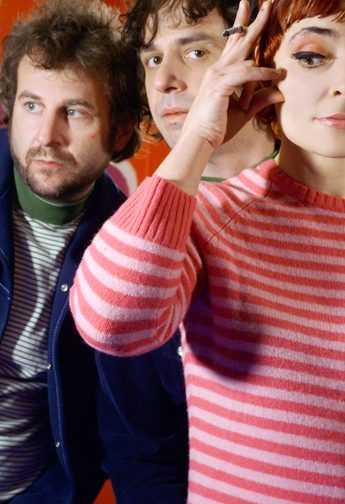 In 1999, Dressy Bessy released Pink Heart, Yellow Moons, which was highly acclaimed and hailed as "virtually perfect and by far, the catchiest indie-pop record of 1999," by The Stranger. Continuing their run of indie-pop ecstacy, 2002's Sound Go Round, saw the band continue to develop its sound. In the spring of 2003, the band released a collection of rarities called Little Music. Later that year, their self-titled release, Dressy Bessy, expanded the band's base into bona fide indie rockstar status. Dressy Bessy has had numerous songs on soundtracks such as The Powerpuff Girls on the Cartoon Network and But I'm A Cheerleader. In 2005, Electrified shed some serious groove-tunes and caught people's attention when the album was highly praised by.
"We live in a world where upbeat pop, groove, and rock & roll reign supreme. We are just determined to never let anything slow our momentum.  We're always pushing forward, what else is there to do...hopefully in the end, the world will be better place. But you can always find us, just follow the trail of smiles." says Ealom.
Fans will be all smiles as Dressy Bessy release their most accomplished and infectious effort, HOLLER and STOMP.