Embark on an exciting journey with Eric Lambert's new CD, "Maiden Voyage," officially being released on October 26, 2013. The feel-good record is pure Americana, featuring eight new, original songs inspired by Eric's life and unique views on musical expression. It aims to capture the energy and raw expression of a live performance, backed up by high-quality studio recording. The new album gives listeners a glimpse at who Eric Lambert really is and points to the direction in which his new music path is heading.
The "Maiden Voyage" CD Release Celebration will also take place on Saturday, October 26 at Down Home Guitars in Frankfort, IL. The all-ages show will highlight Eric's fun-spirited new music and include special guests, making it a night not to miss! "Maiden Voyage" will be available to be purchased for the first time, and at a discounted price at the show. Tickets are on sale now for only $10 and can be purchased by contacting Down Home Guitars at (815) 469-6321 or www.downhomeguitars.com.
It has been five years since Eric's last record, "Doin' Alright," was released. He has been busy touring the world playing guitar with national/international bands such as Valerie Smith & Liberty Pike, and The Henhouse Prowlers. But the yearning to write and perform his original music stayed ever gentle on his mind. In 2012, Eric decided to put his focus back on his music, and creating a sound and style of playing that fit his vision and spirit. He launched a band, Eric Lambert & Friends, and began his maiden voyage.
This album marks the beginning of a new chapter in Eric's life and music, and is a launching pad for his own band. "This is the maiden voyage of what I'm going to do for the rest of my life," Eric shared. "I'm not exactly starting over, but in some ways I am."
"I've been a side man in other bands for years," he continued. "It's time for me to focus on writing, composing, and performing my music, and telling the story of my life. I have things to say lyrically and through my guitar," he said. "I also enjoy having the freedom to pick with the musicians I think are great."
Eric has never recorded an album like this before. "The focus of the new record is the feeling of it. There is more improvisation and freedom in the music," he said. "I like to provide the framework for a song, while leaving room for expression. I love to hear musicians play their instruments; to stretch out and really play."
He considers the new record to be a measuring stick. "It shows how much I've grown as a musician, composer, and a person," Eric said. "It's not perfect, and I like it that way. I wanted it to be fun and inspire people to dance and feel joyful."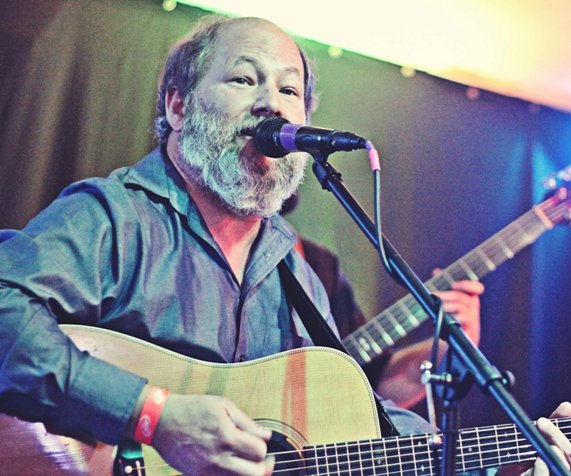 A majority of the album was recorded live to capture the feeling, freedom, and excitement of a live performance. The musicians sat in a circle in the studio and played. "The music is full of energy and realism, bridging the gap between straight out studio and live recordings," Eric said. "I like to let musicians play and do what they do."
Eric Lambert has been pickin' and grinnin' his way into people's hearts for over 40 years. Specializing in the fiery art of flatpicking, he has built a distinguished career writing, performing, recording, and teaching Americana music. Traces of rock, folk, bluegrass, country, and blues can be detected throughout his music, delivered with energy, soul, and inspiration. His voice, presence, and precision moves audiences to their feet, while his playful spirit and warm sense of joy makes people feel right at home.
Eric's music resonates the old school philosophy of the groundbreaking musicians who inspired him; music should know no boundaries. Influenced by Duane Allman and Dickey Betts at an early age, Eric discovered country and bluegrass music through the Nitty Gritty Dirt Band album, "Will the Circle Be Unbroken." Raised on Chicago's south side, he cites diverse influences as catalysts in shaping his unique roots music sound. His original voice was crafted by blending the bluegrass approaches of Tony Rice, Clarence White, and Norman Blake with those of his main influences such as B.B. King, Bob Dylan, Jerry Garcia, and Old & In The Way.
Eric Lambert's new record, "Maiden Voyage," features Steve Haberichter on mandolin, Pat Fiddle on fiddle, Dan Rogers on bass, and Eric Lambert on guitar, dobro, and lead vocals. It was recorded at Thunderclap Recording Studio and produced by John Carpenter and Eric Lambert. Learn more at www.thunderclaprecording.com. The album artwork was hand-drawn by Jon Griffin; www.jiveafro.com.
Set sail with Eric Lambert & Friends for an epic "Maiden Voyage" beginning October 26. It is sure to warm your heart, ease your soul, and get your body moving to the groove. Fill every day with a smile and a song. "I'm grateful to have this opportunity for a new beginning in my life," Eric said. "And I'm thankful for all those who listen and support what I do," he concluded.
Learn more about Eric Lambert and buy the new record "Maiden Voyage" on Oct. 26 at www.ericlambert.com.
Enjoy this new song from the album by Eric Lambert, "Cumberland Blues."
Song link: http://www.reverbnation.com/ericlambert/song/17647180-cumberland-blues