Farm Aid's annual benefit concert took place at the Coastal Credit Union Music Park at Walnut Creek in Raleigh, NC on September 24th.  The sold-out crowd was treated to sets by headliner Willie Nelson and co-founder John Mellencamp, board members Dave Matthews and Margo Price, and featured artists Sheryl Crow and Chris Stapleton, among others. One significant absence at this year's event was co-founder Neil Young.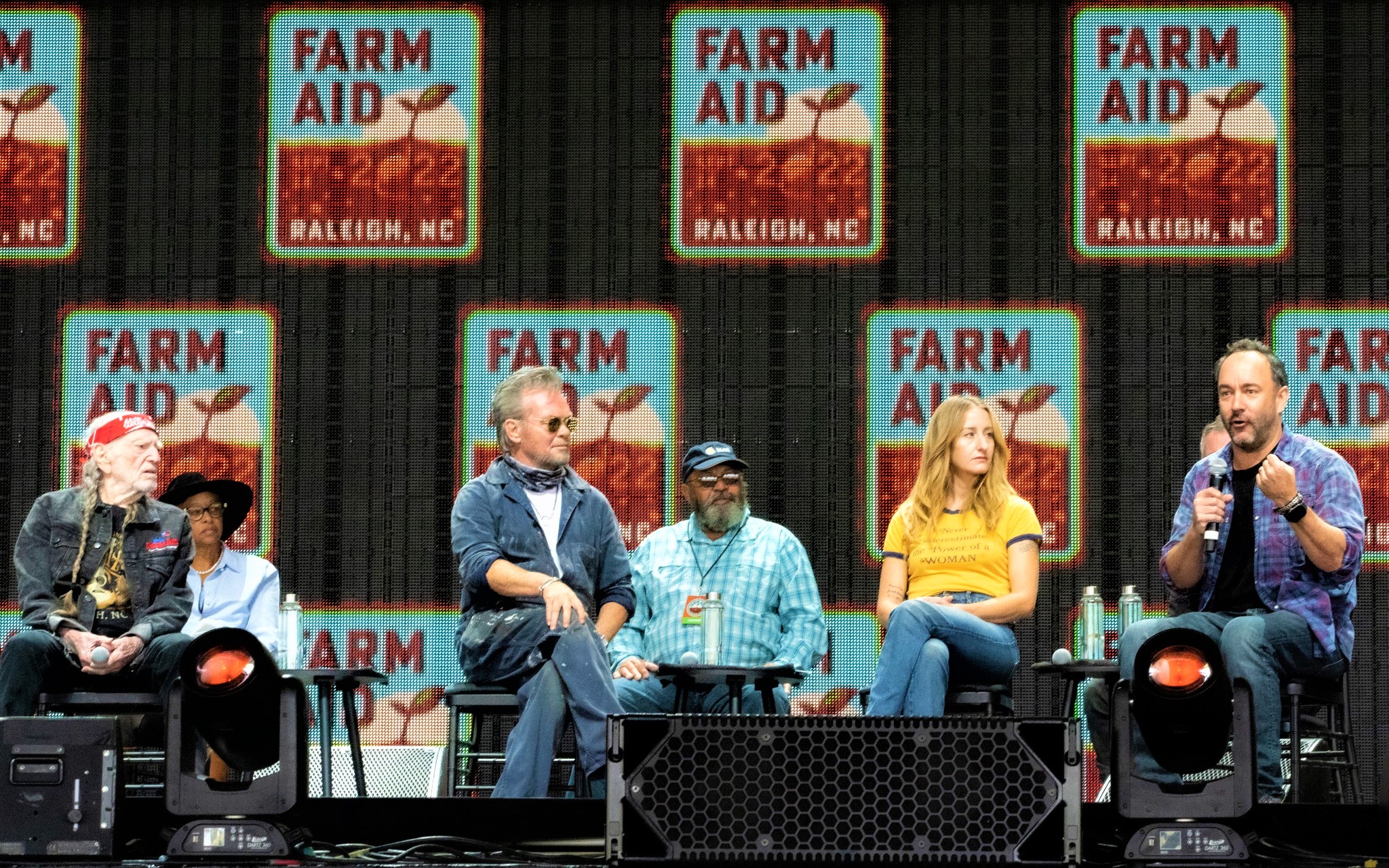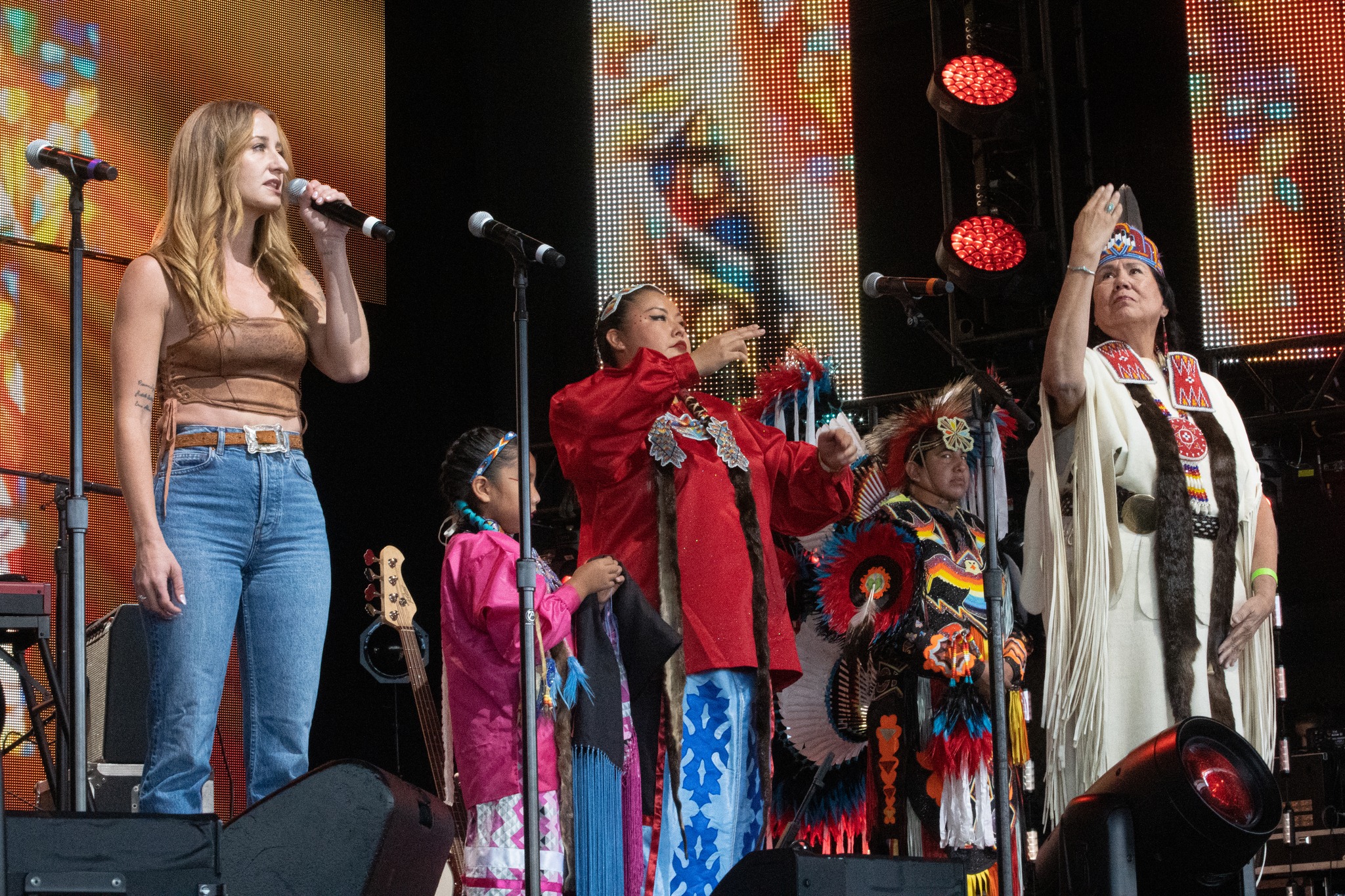 Founded by Nelson in 1985 after Bob Dylan made an on-stage comment at Live Aid that "maybe some of the money raised could be used to help the family farmers." Thirty-seven years later. Farm Aid has raised more than $60 million to assist family farms. At the concert on Saturday night, Indianapolis Colts owner Jim Irsay, a noted music memorabilia collector, owns Jerry Garcia's "Tiger" guitar as well as guitars previously owned by Elvis Presley, John Lennon, George Harrison, Paul McCartney, and Les Paul.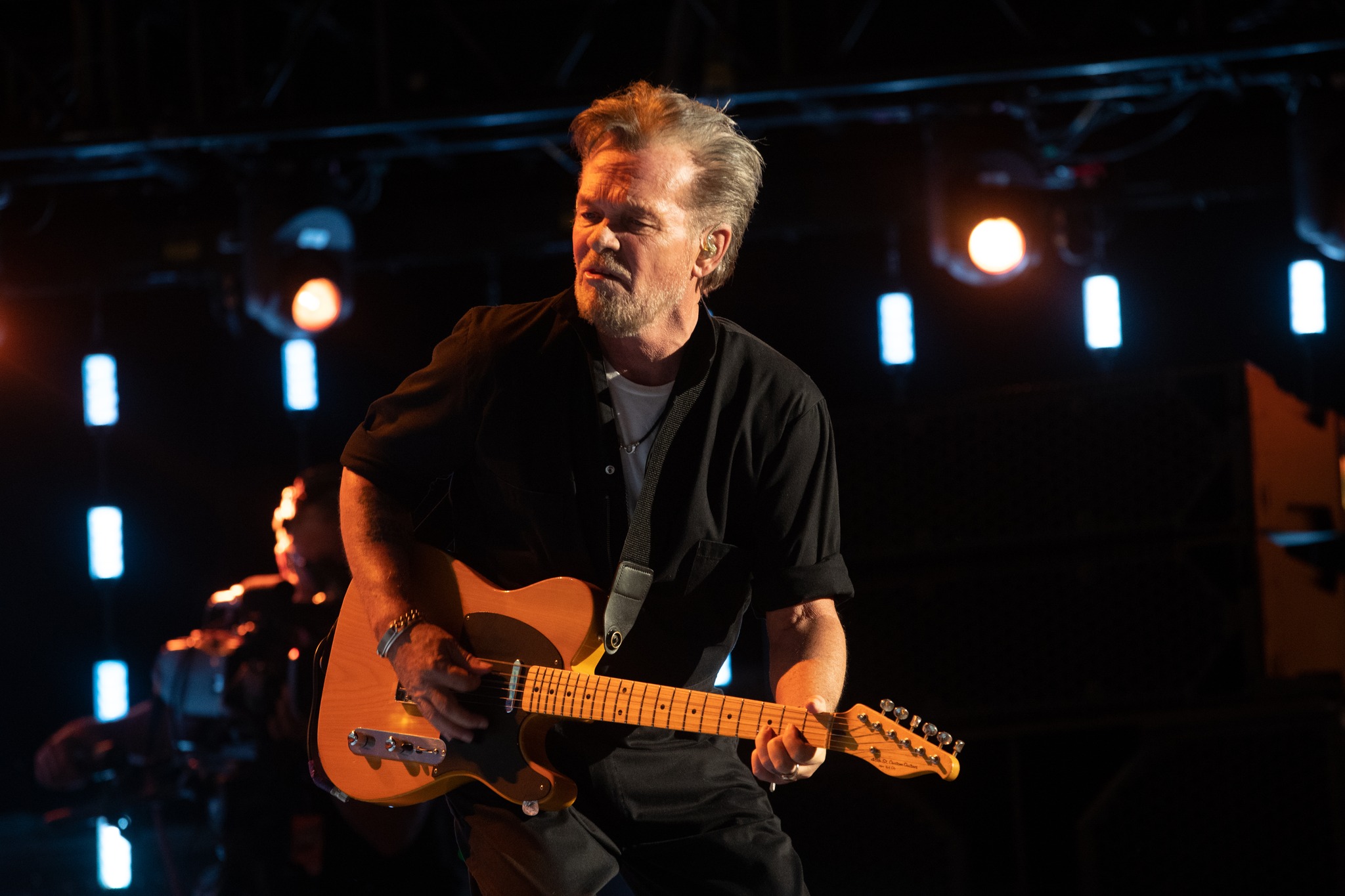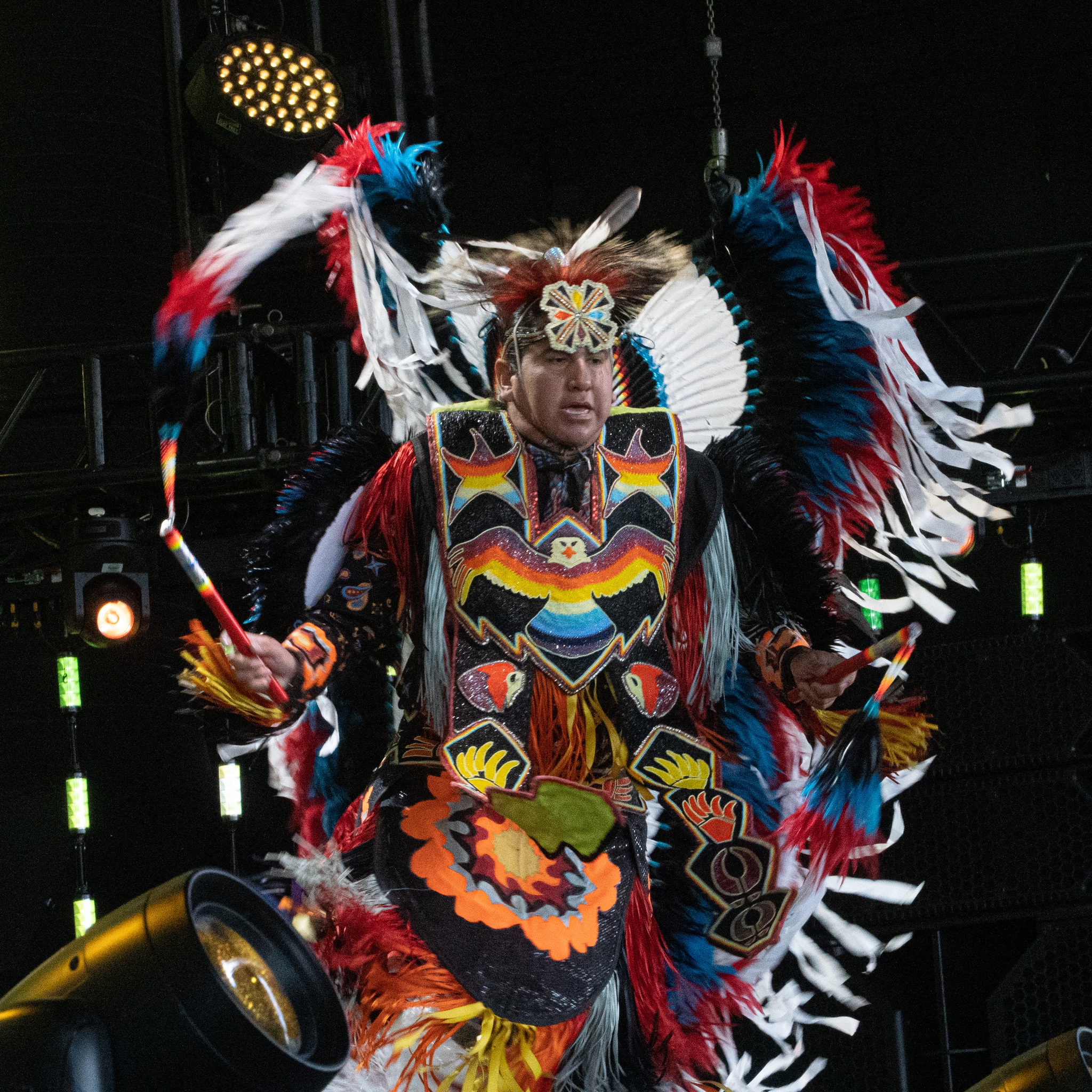 Farm Aid announced at their Saturday morning press conference, a major rally is planned for the week of March of 2023 in Washington DC. The event, tentatively called "Farmers for climate, a rally for resilience" to obtain federal support for climate resilient based agriculture. Mellencamp quipped ..."We'll get a school bus, and we'll all go down together".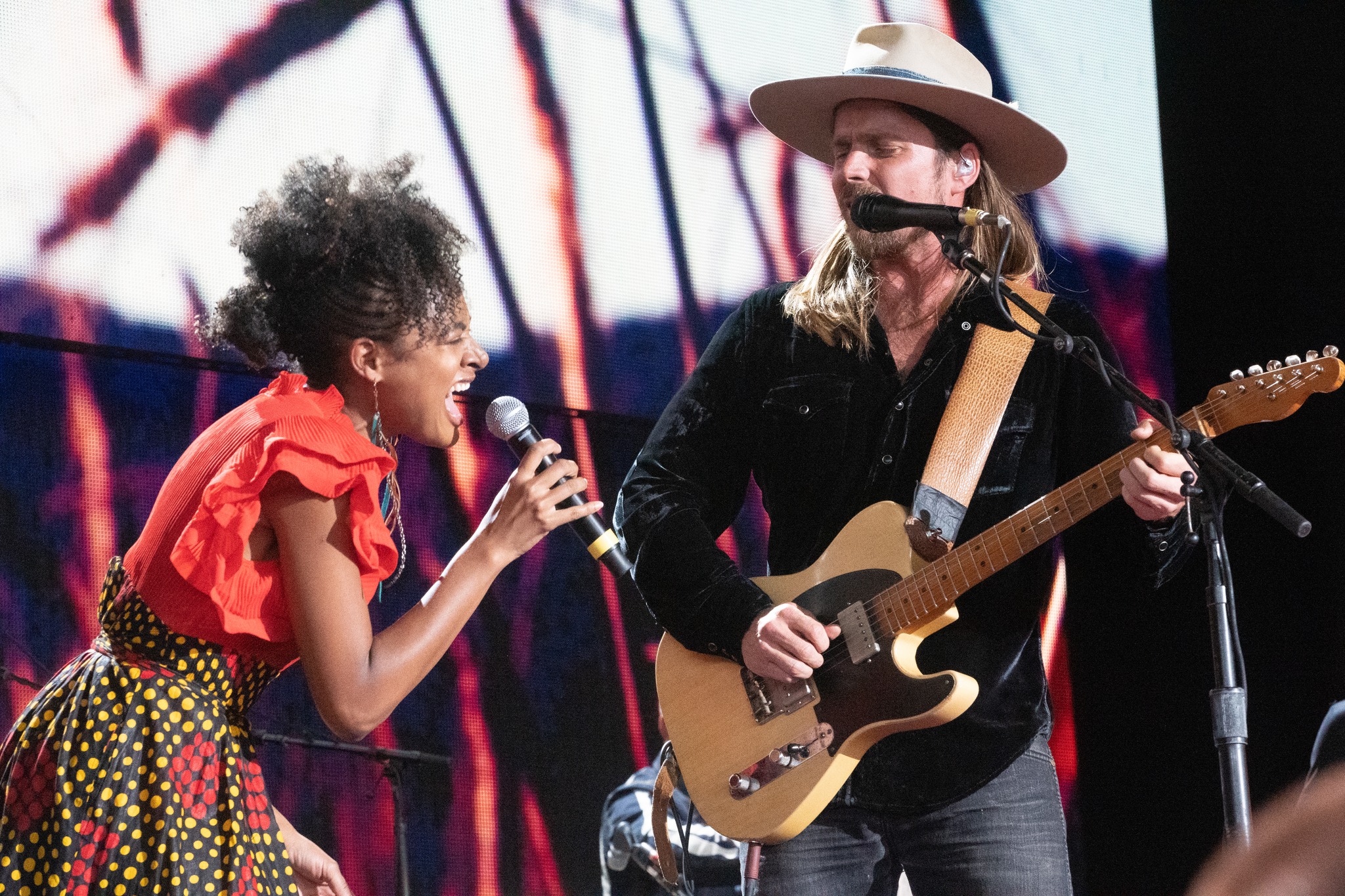 As we noted earlier, this year's festival was sans co-founder and board member Neil Young, who last performed at the event in 2019. Mr. Young has cited Covid concerns for not performing live in recent years. Also, Nathaniel Rateliff and The Night Sweats canceled at the last minute as per the band "Unfortunately, COVID has found us on the road."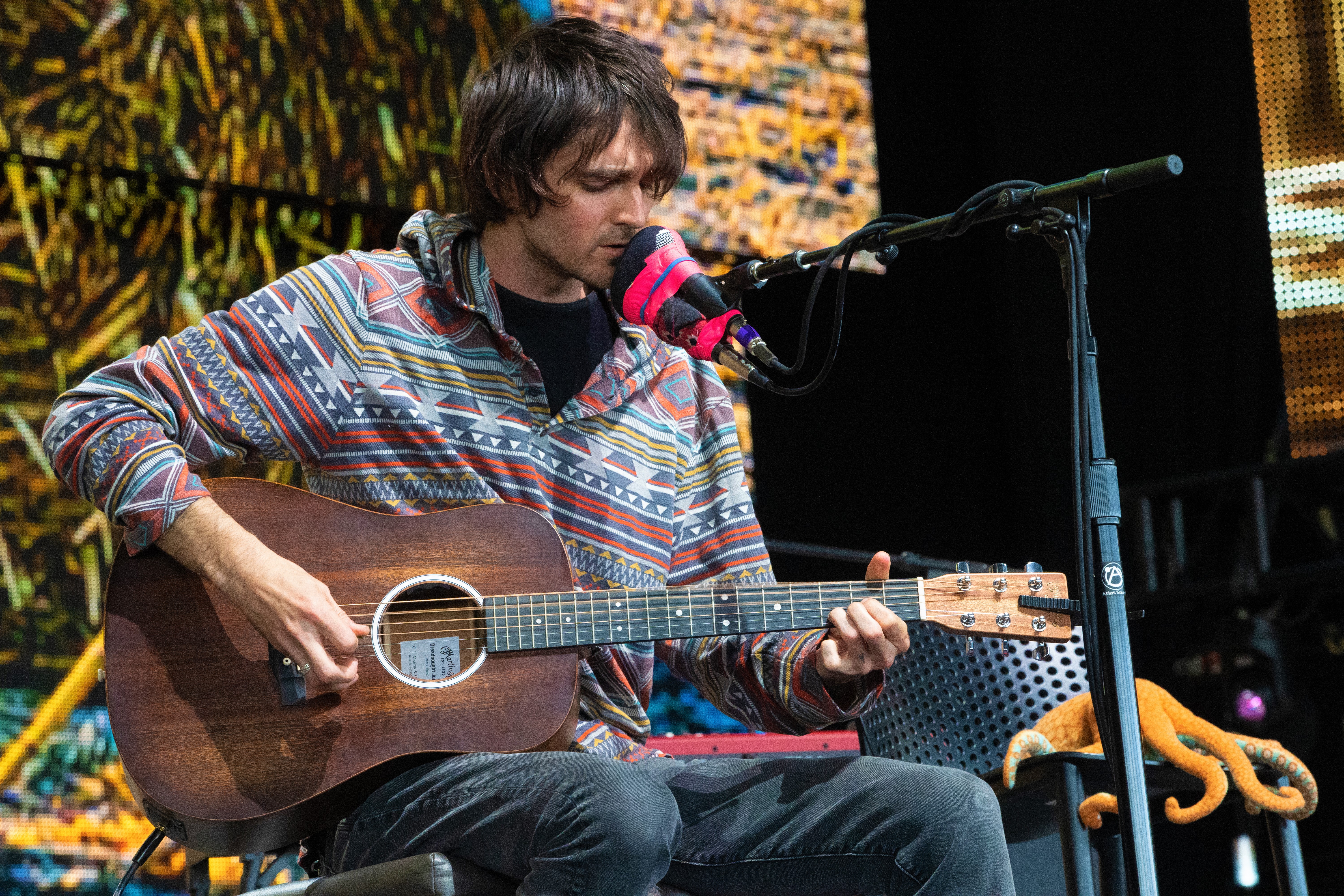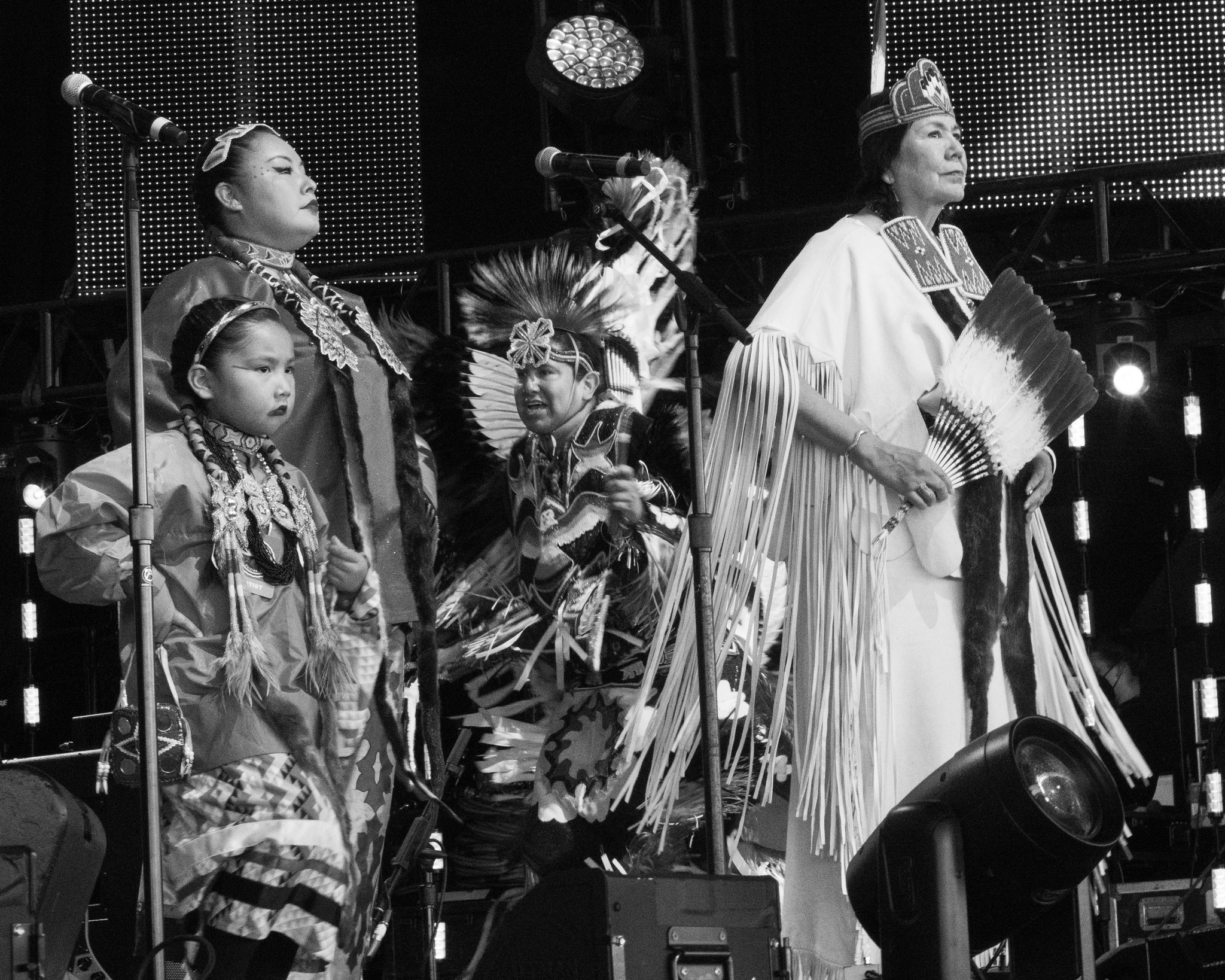 After a land acknowledgment by the Red Clay singers and a dance performance by the Native American group Wisdom Indian Dancers, Particle Kid (aka Mica Nelson) kicked things off with a short acoustic set. Performing as a duo with Gabe Burdulis, their set included a cover of Neil Young's "Angry World."
Here is a recap of the remaining festivities
Willie Nelson & Family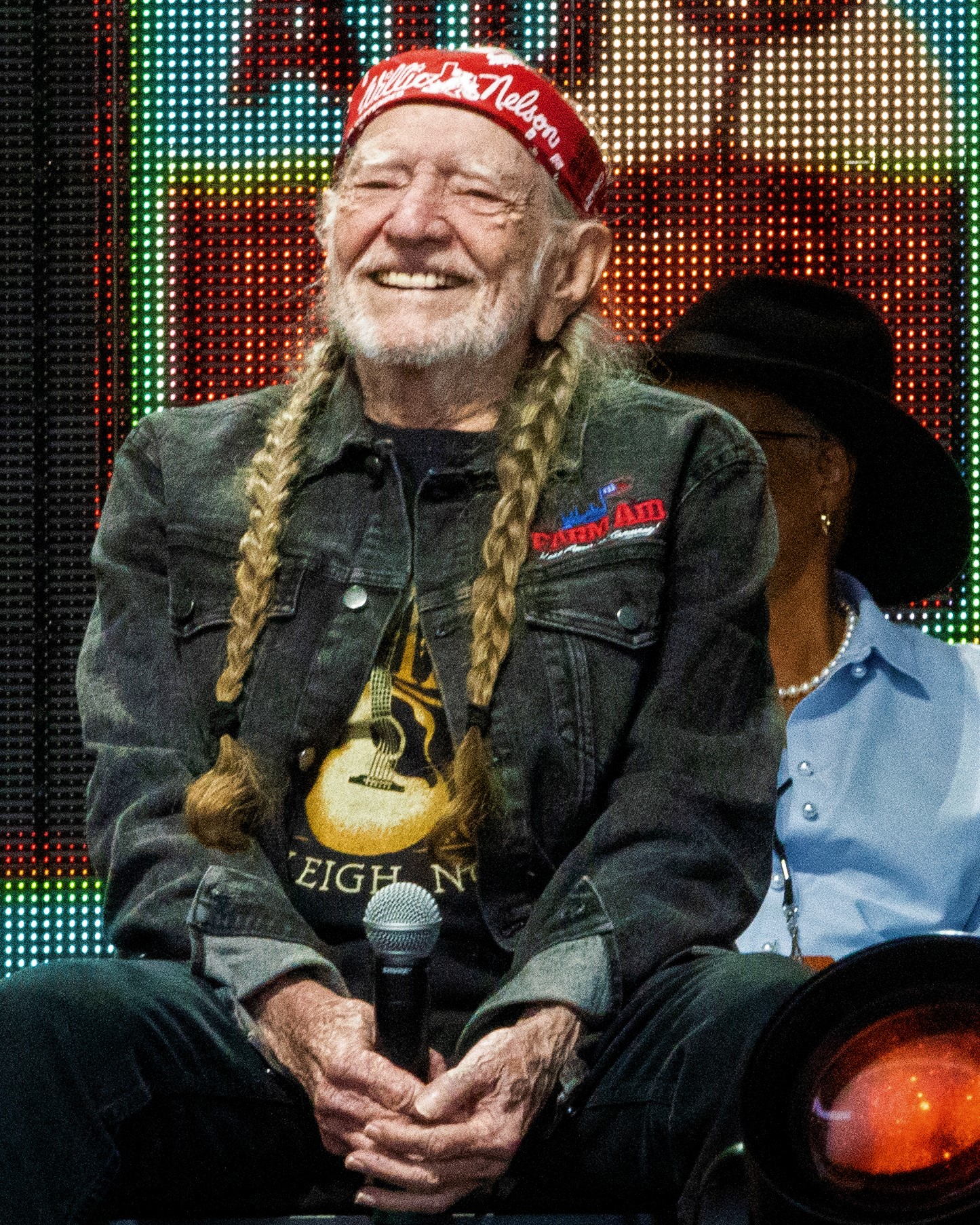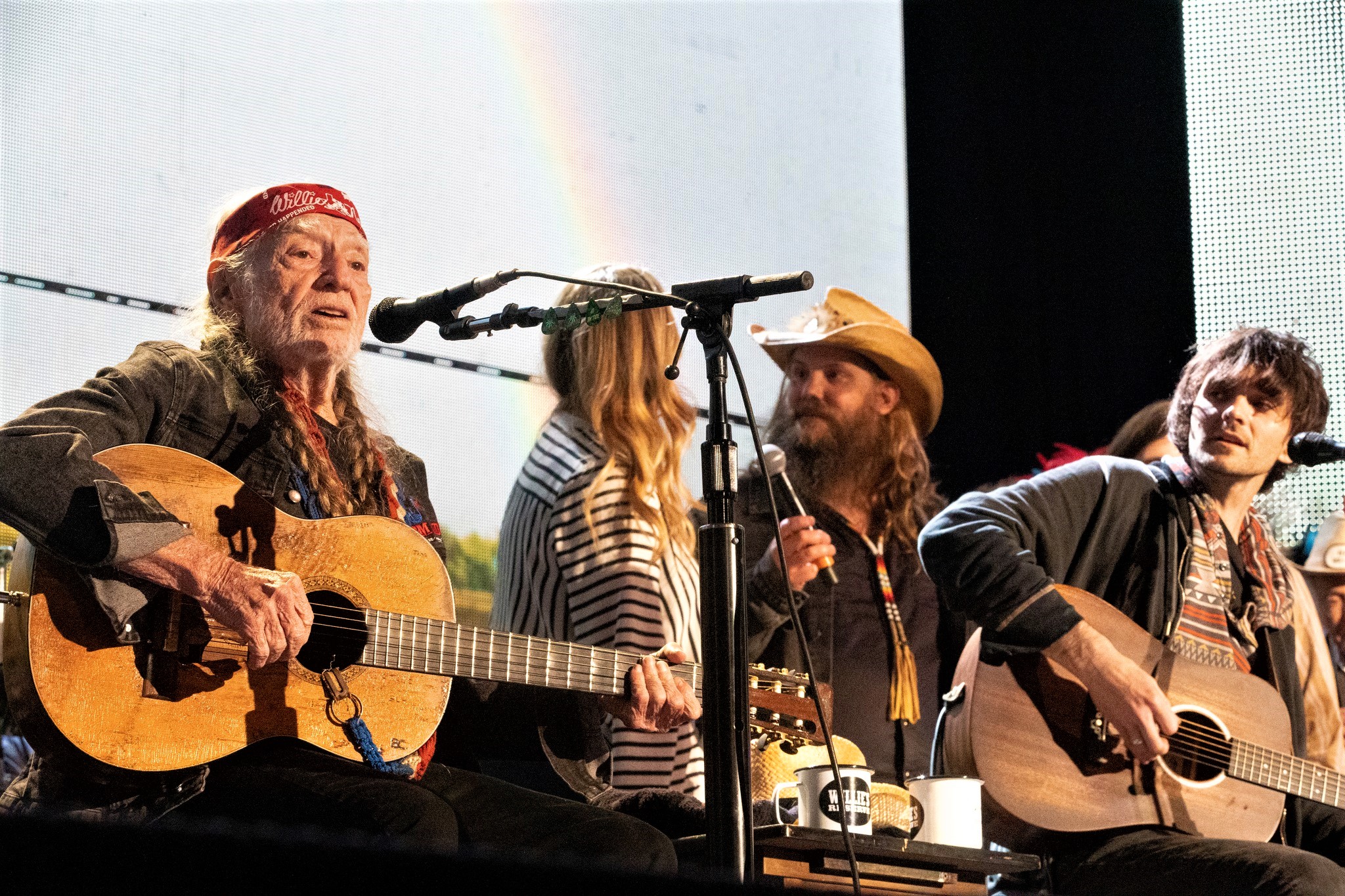 This was truly a family event with sons Lukas and Mica Nelson joining Willie Nelson & Family for their set. Willie was seated center stage and bookend by his sons for their set that included the traditional Whiskey River opener and other Nelson gems such as Angel Flying to Close to the Ground, On the Road Again, and Always on My Mind.  Lukas covered "Texas Flood" and the self-penned Forget About Georgia. Mica chose Everything Is Bullshit from his Particle Kid catalog. They closed out the set with an all-star-studded version of "I Saw the Light."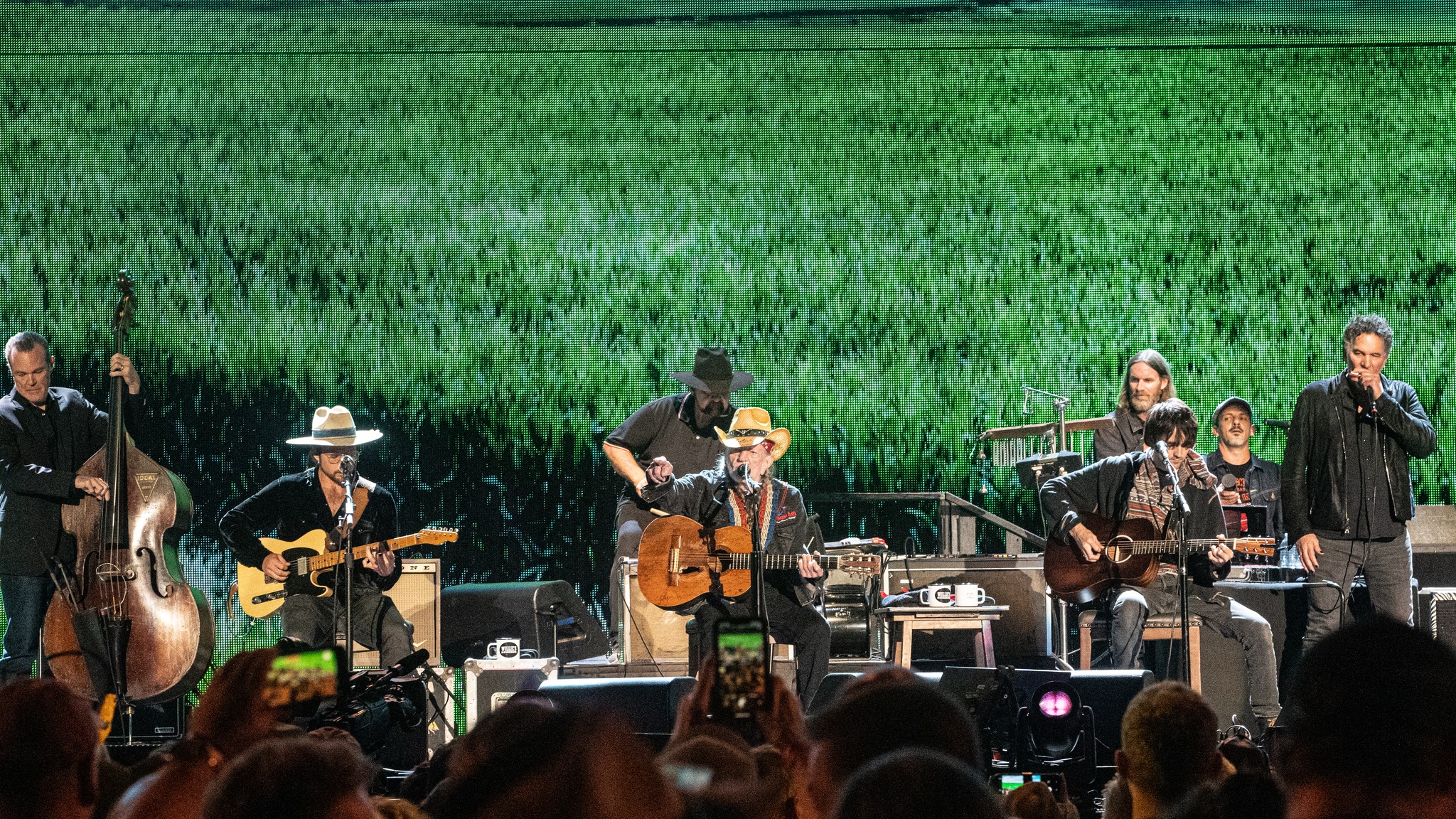 Anytime you get to hear the eighty-nine- year Willie Nelson and his legendary sidekick guitar, Trigger, it is a treat, and both were literally music to my ears.
John Mellencamp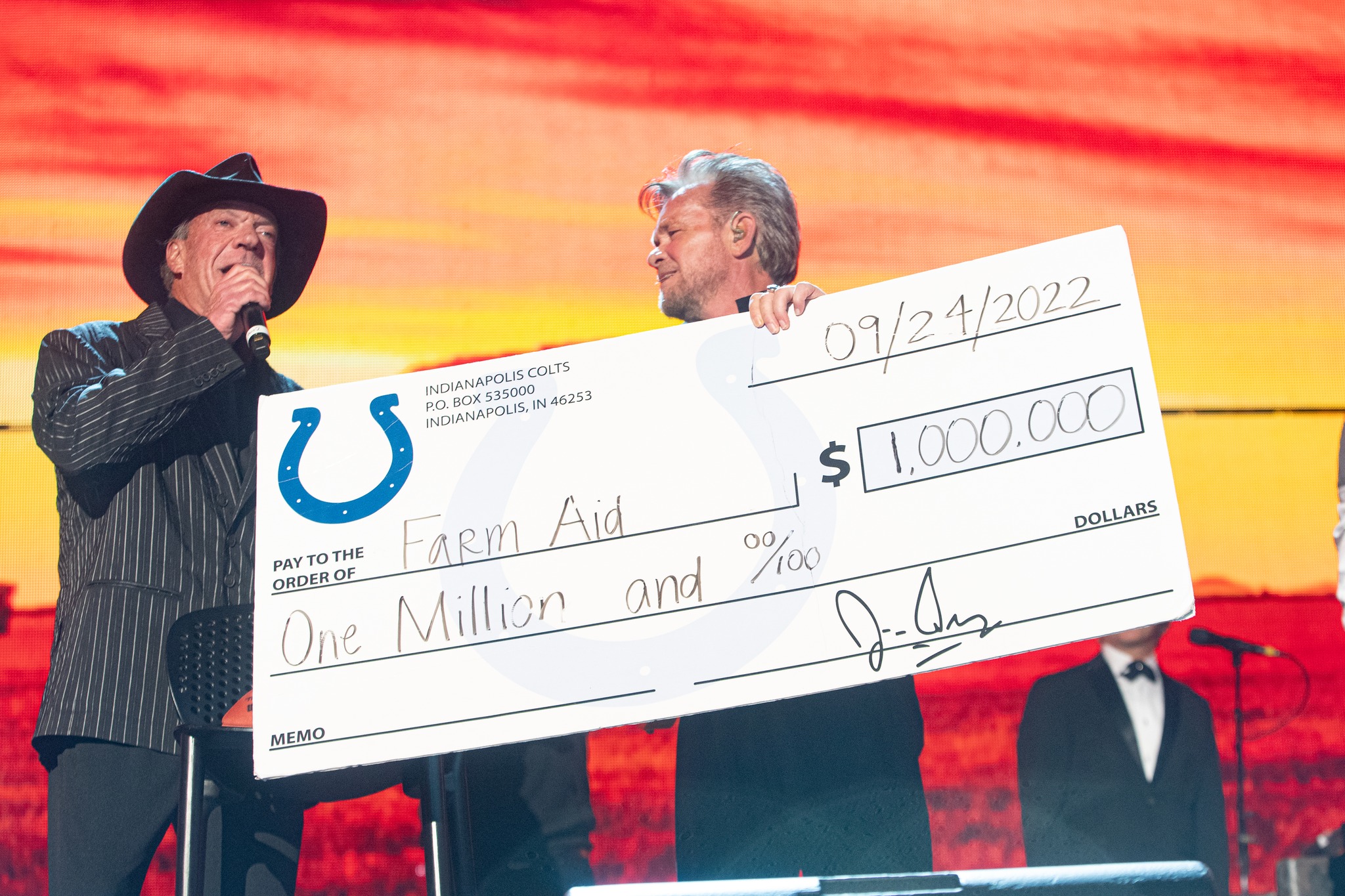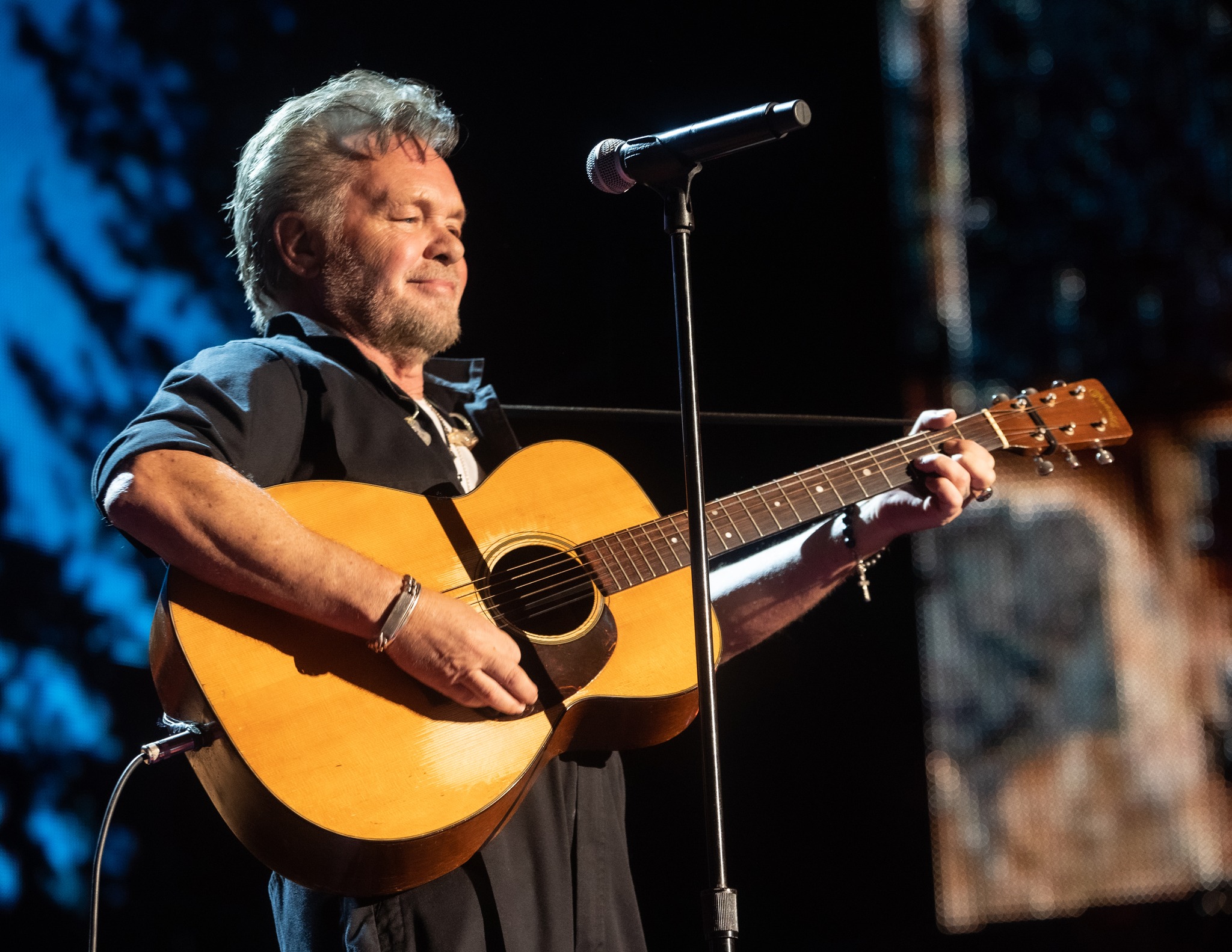 After receiving the $1 Million check from Colt's owner Jim Irsay, Mellencamp led his band through a string of his hits including Rain On The Scarecrow, Paper In Fire, Small Town, and Check It Out. After a solo acoustic performance of Jack & Diane, Mellencamp closed out the set with Crumblin' Down and Pink Houses.
Dave Matthews & Tim Reynolds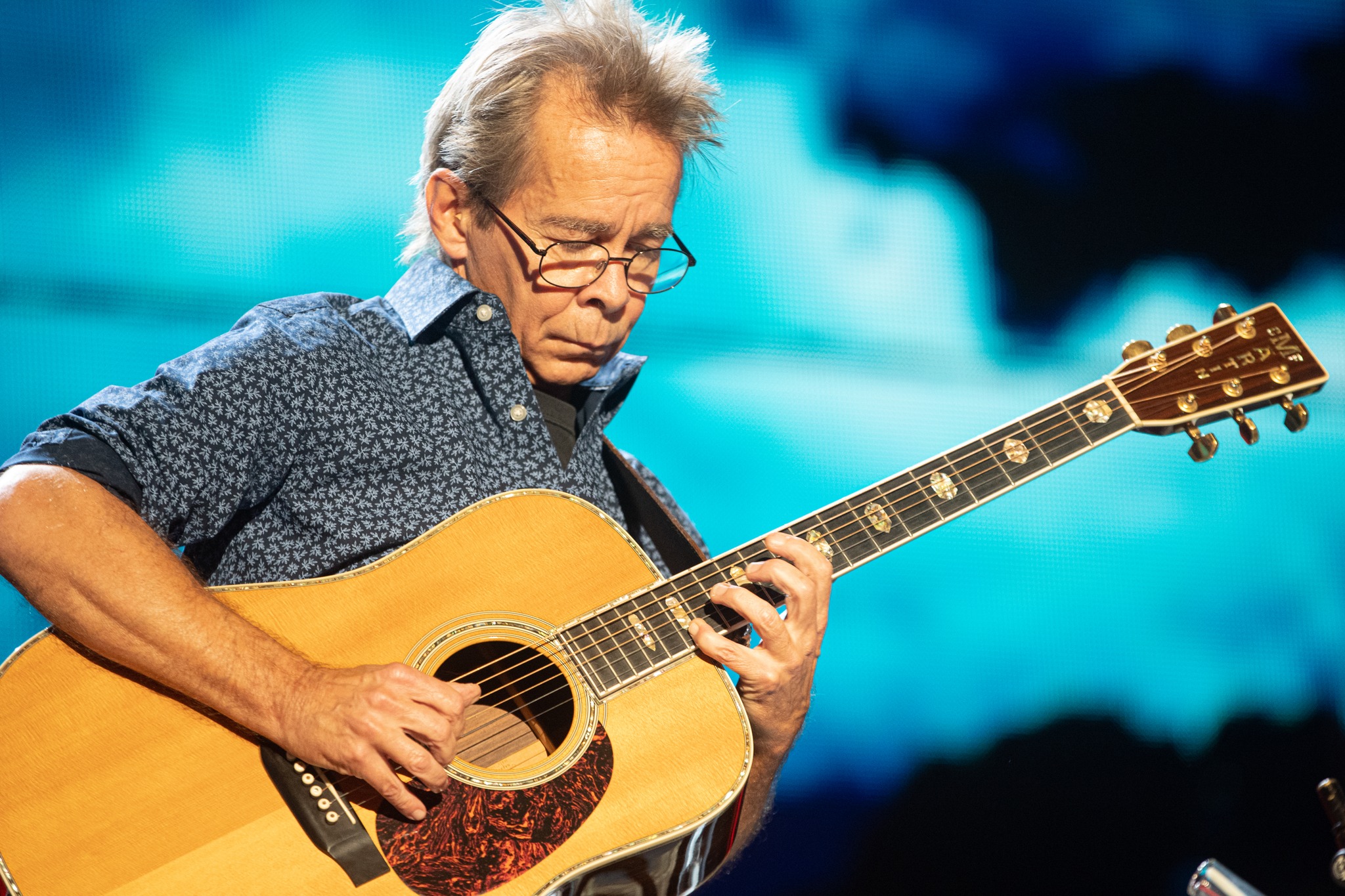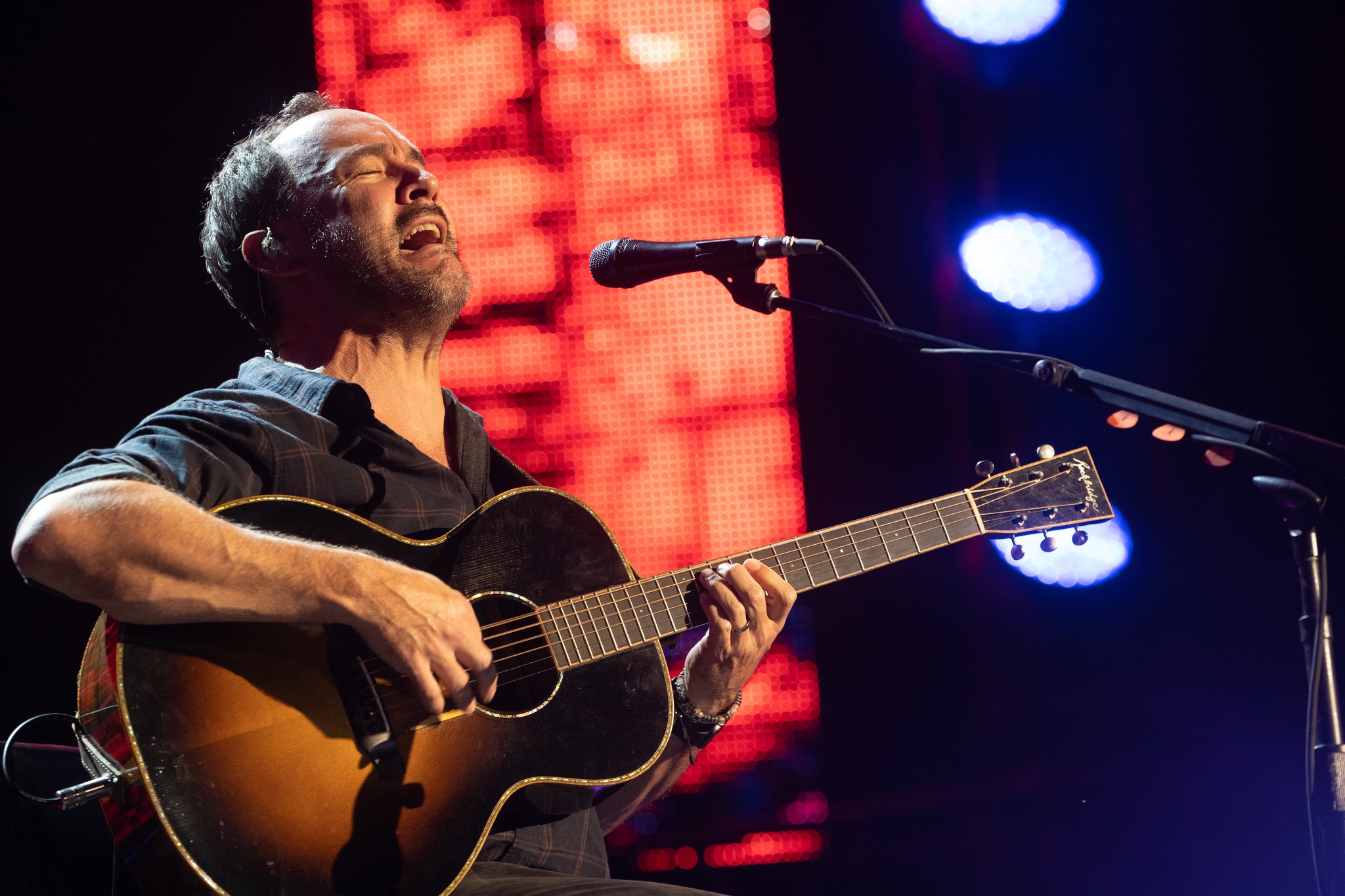 Farm Aid Favorites Matthews and Reynolds took center stage for an eight-song set that features Mr. Reynolds displaying some sophisticated guitar work including some nifty slide guitar. Mr. Matthew's passionate vocal style and guitar prowess delighted his legion of fans with a set that included Don't Drink The Water, Lie In Our Graves, and DMB fav Crush. They closed out their set with Grey Street.
Margo Price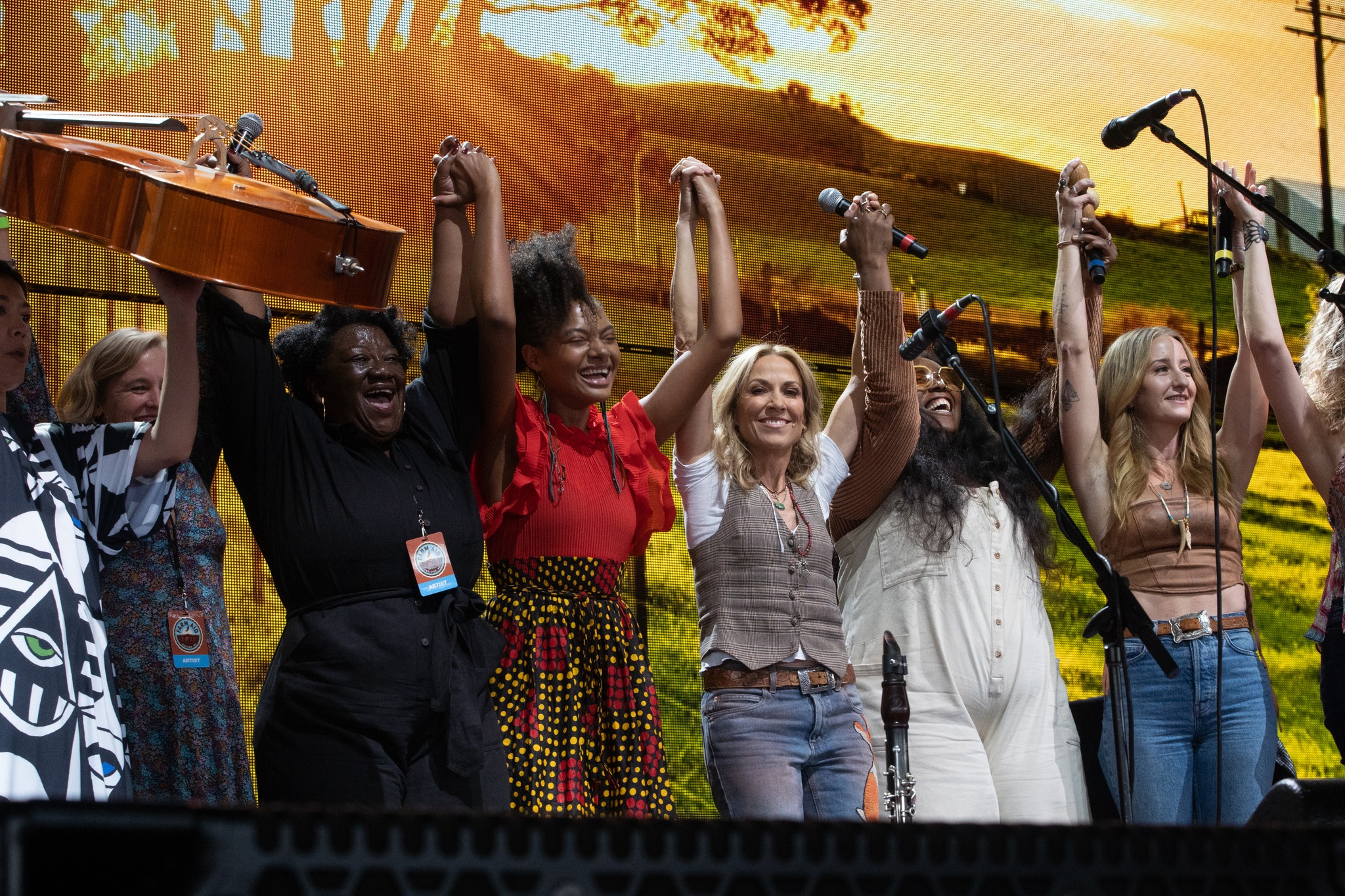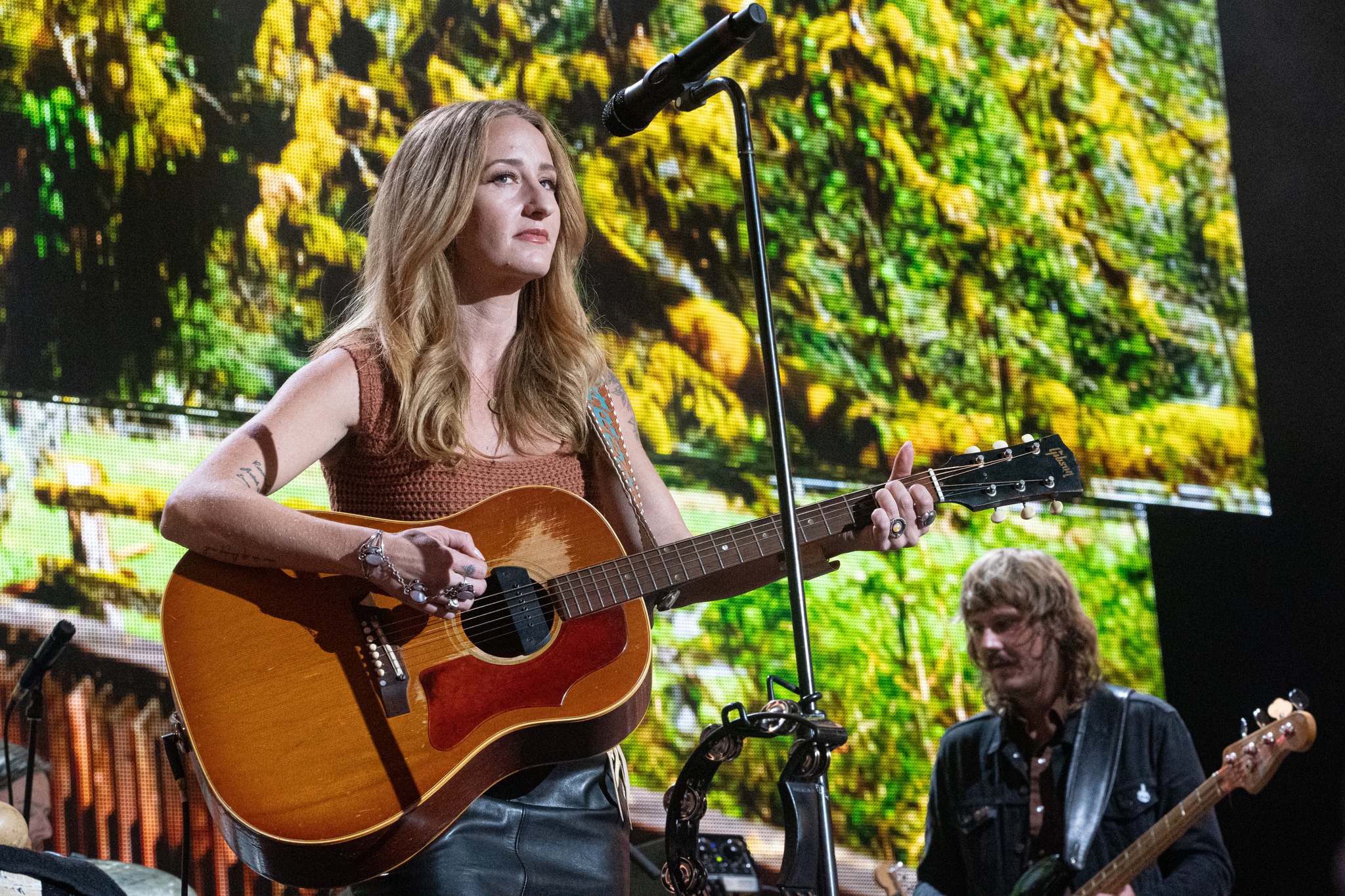 Price had a busy day as a Farm Aid board member, she participated in the Saturday morning press conference as well as the opening ceremonies, sat in with Allison Russell during her set, and joined the encore with Willie Nelson. She also introduced Dave Matthews and remarked how she used to be in the audience at his shows earlier in his career. Her fantastic set with her own band included Hands of Time, Letting Me Down, County Road, Tennessee Song, and Heartless Mind.
Chris Stapleton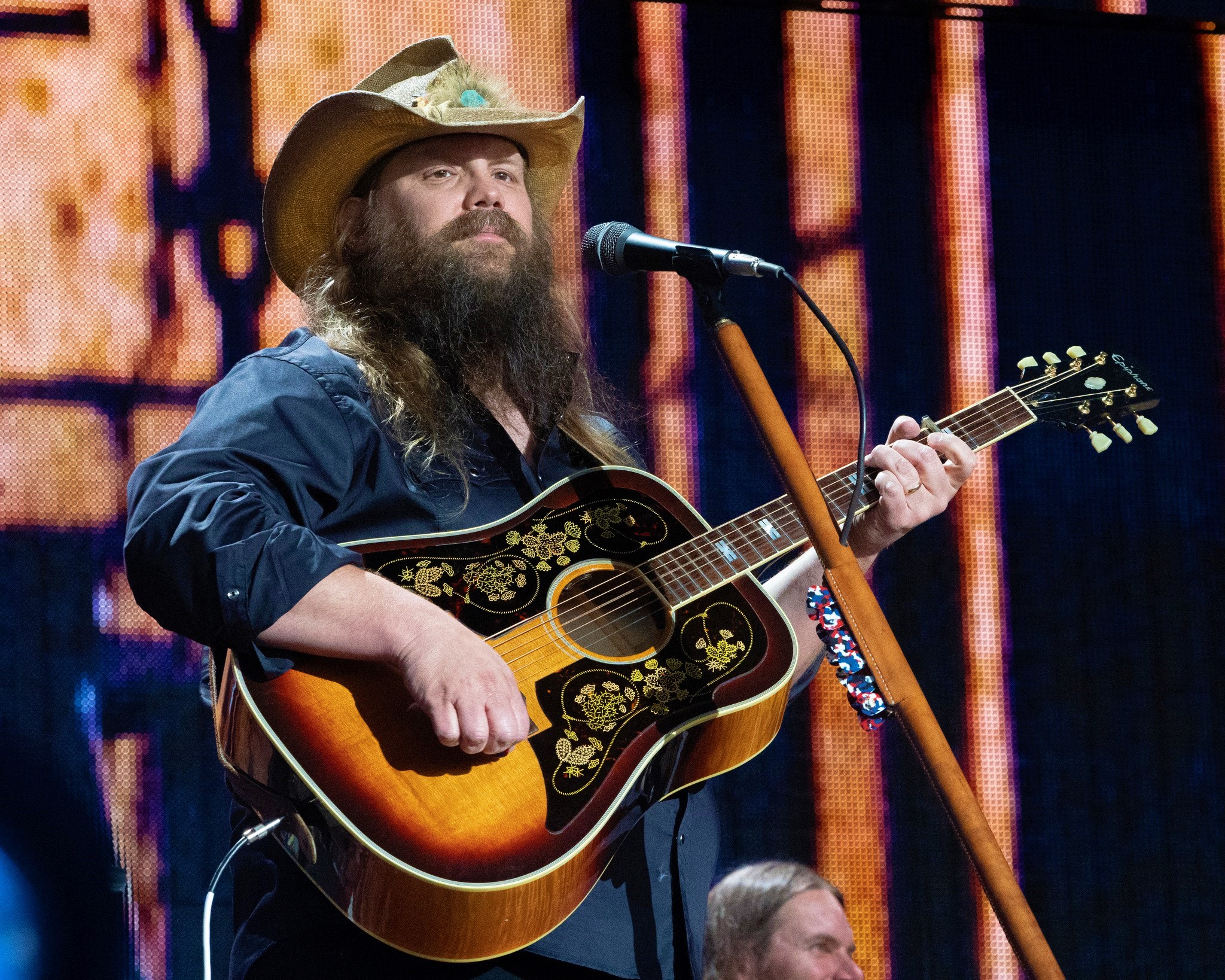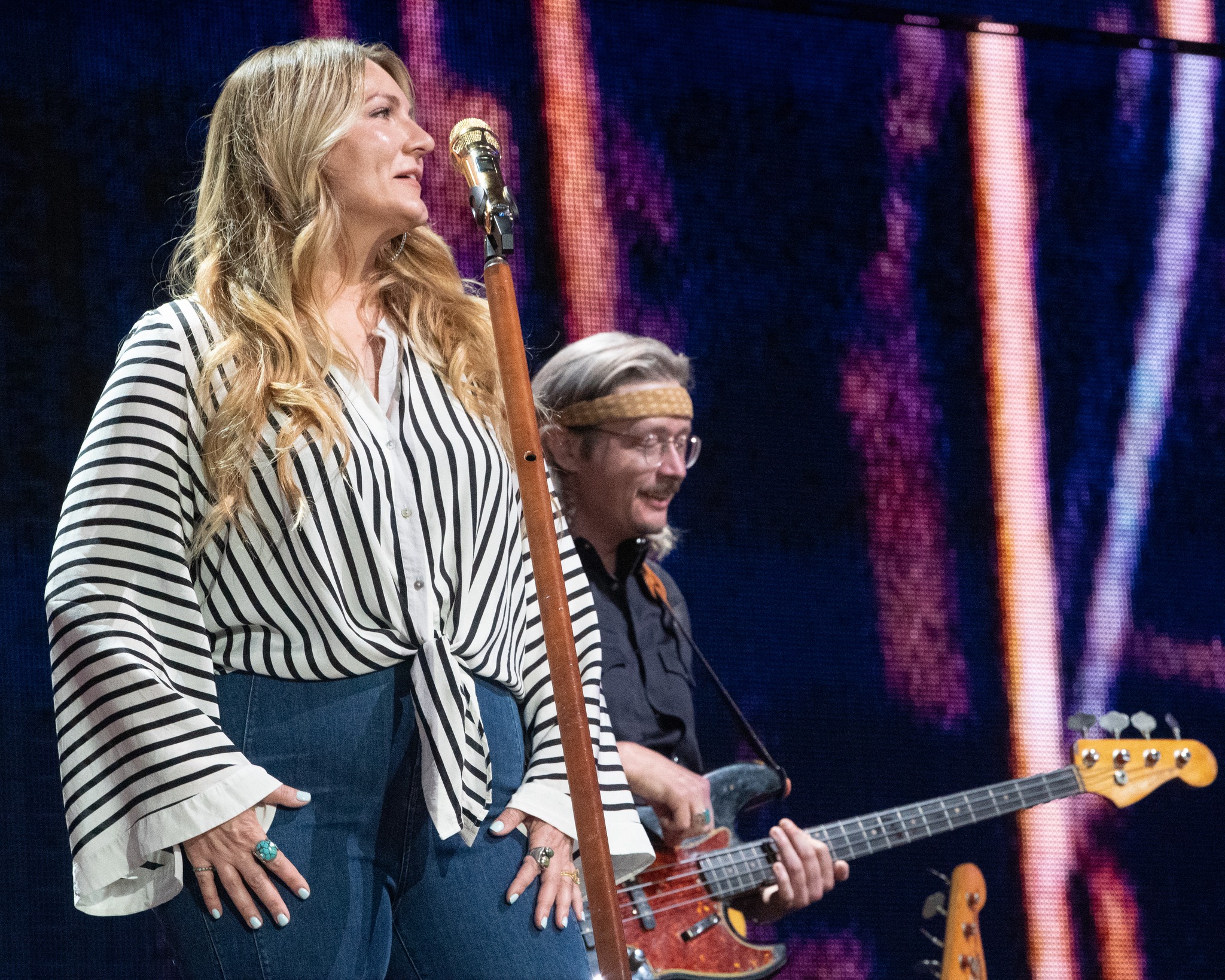 Eight-time Grammy award winner Chris Stapleton and his band (including wife Morgane) delighted the crowd with his ten-song set. But it was his mega-hit cover of Tennessee Whiskey that whipped the crowd into a frenzy and may have been the musical highlight of the day. Other songs included Parachute, Starting Over and You Should Probably Leave.
Sheryl Crow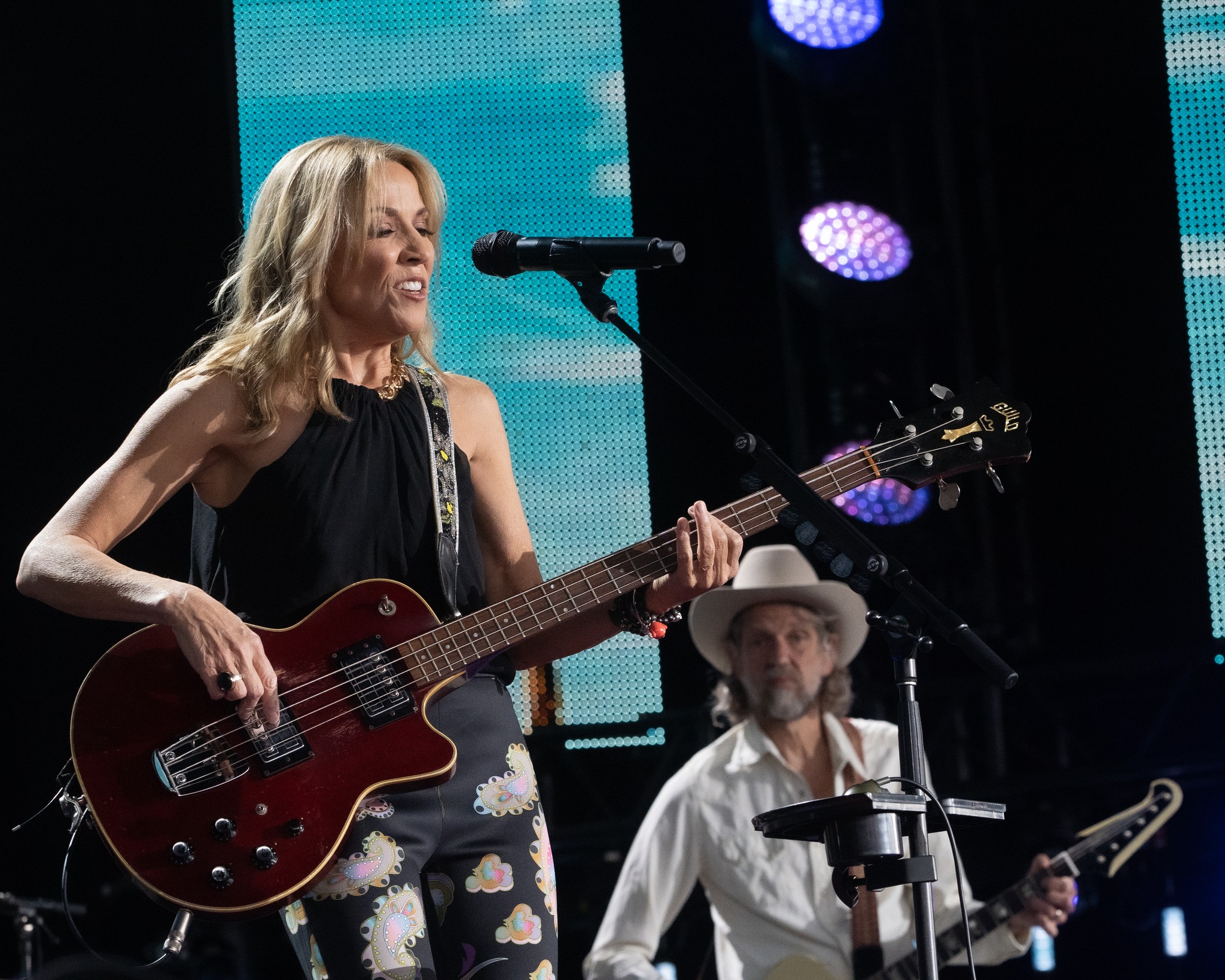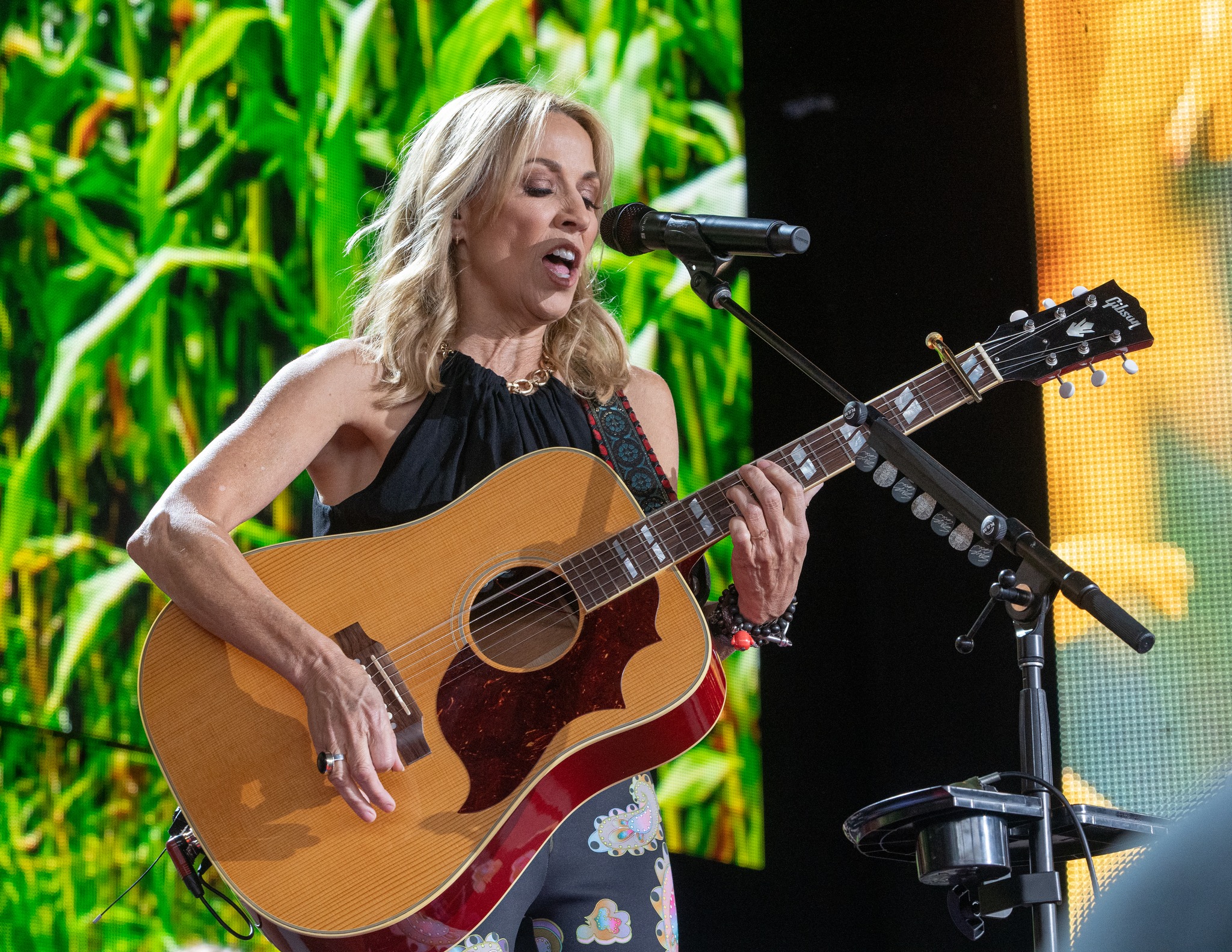 Due to scheduling conflicts, Sheryl Crow volunteered to take the stage earlier in the day to allow Lukas Nelson & Promise of the Real to take the later slot as they were arriving late. Crow joined Allison Russell during her set before taking the stage with her own band that includes guitarists Audley Freed, Peter Stroud, and bassist Robert Kearns, all North Carolina natives with the latter donning a NC State Wolfpack shirt during the set. Crow's set included a rockin' version of the Rolling Stones' Live With Me as well as a cross-section of her own hits including that featured Crow on guitar, bass, and harmonica. Her set included her hits Everyday Is A Winding Road, If It Makes You Happy, My Favorite Mistake, and Soak Up The Sun.   
Lukas Nelson & Promise of the Real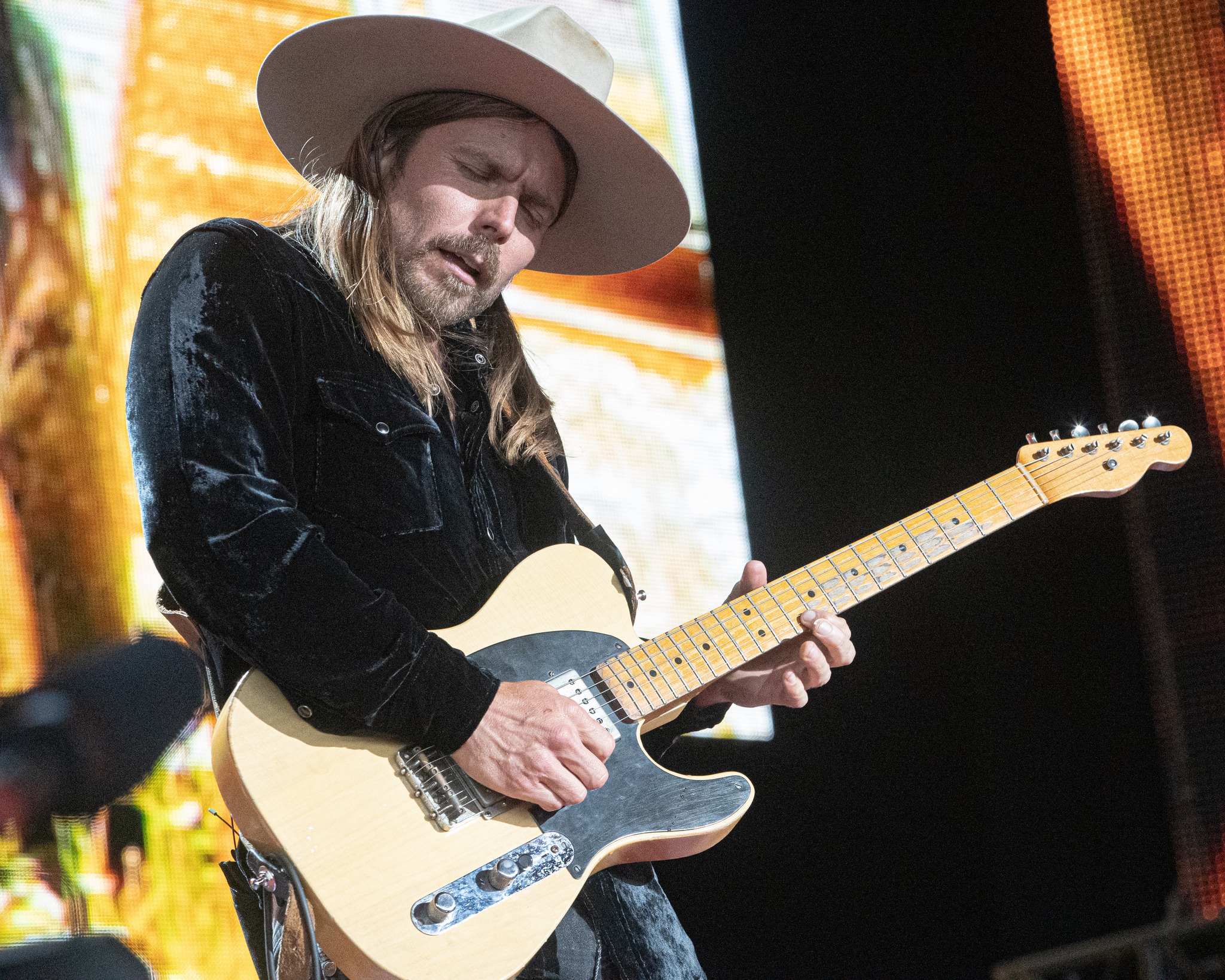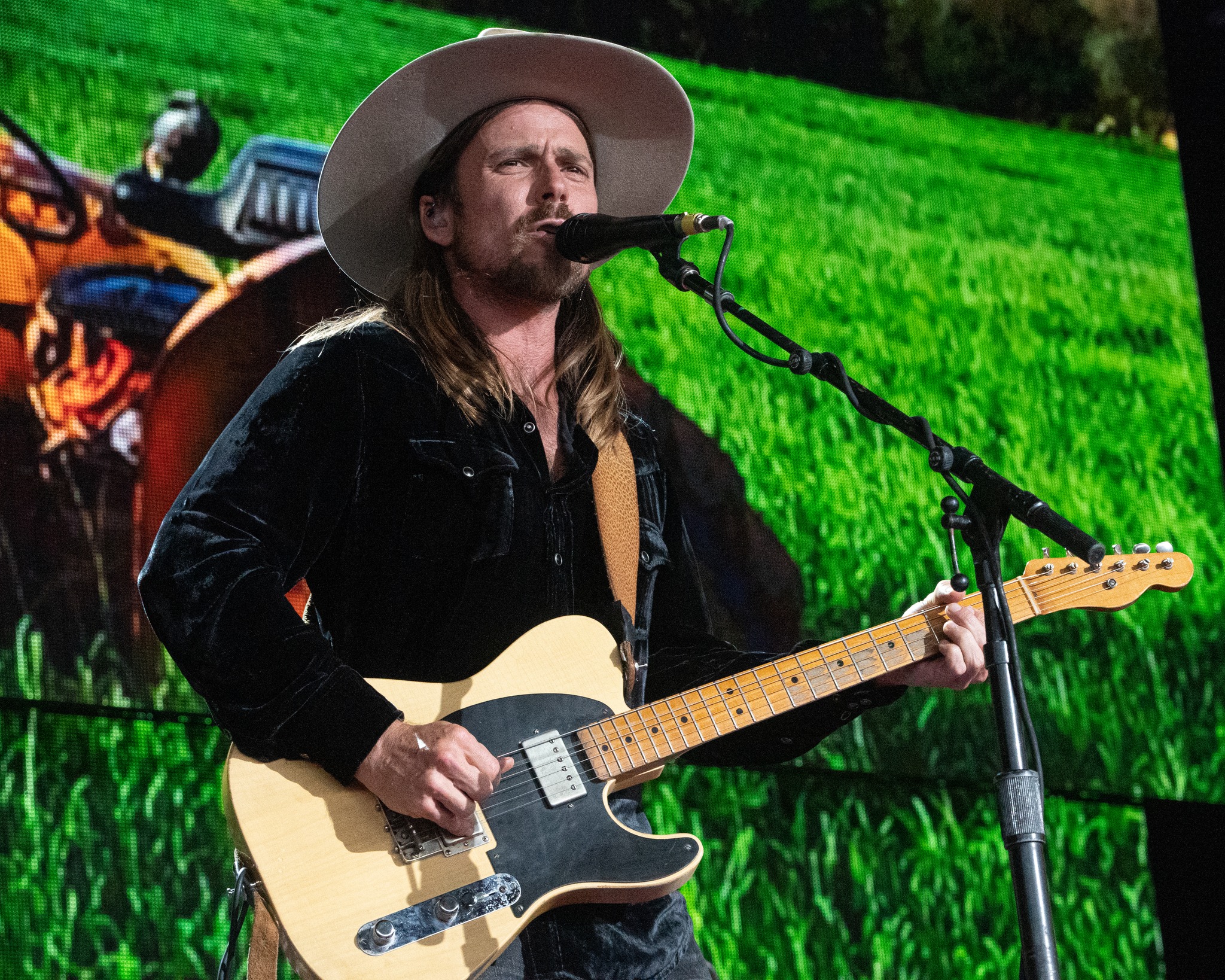 It is no wonder Neil Young picked Lukas Nelson and POTR as his backing band. The band's set included a mix of songs that ranged from Country Rock with soaring guitar solos (Fool Me Once) to the poignant acoustic Just Outside Of Austin, that harkens back to days gone by. Nelson's songwriting more than stands on its own while his beautiful vibrato vocals evoke emotions that remind us that the apple has not fallen too far from the Willie Nelson tree. The band invited Brittney Spencer, Allison Russell with her band, along with Tim Reynolds for a Robert Johnson tribute, and also covering Delaney and Bonnie's Poor Elijah.
Allison Russell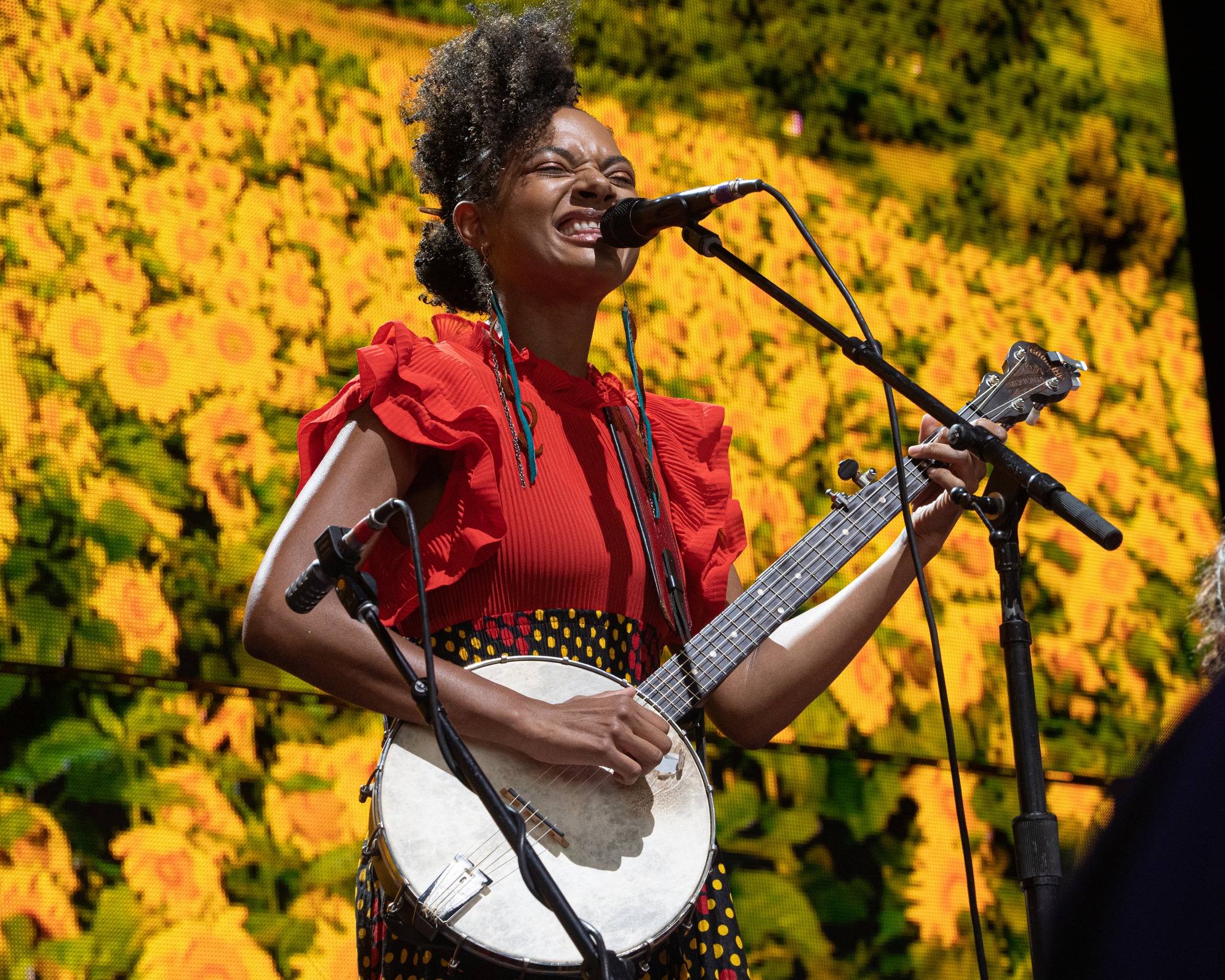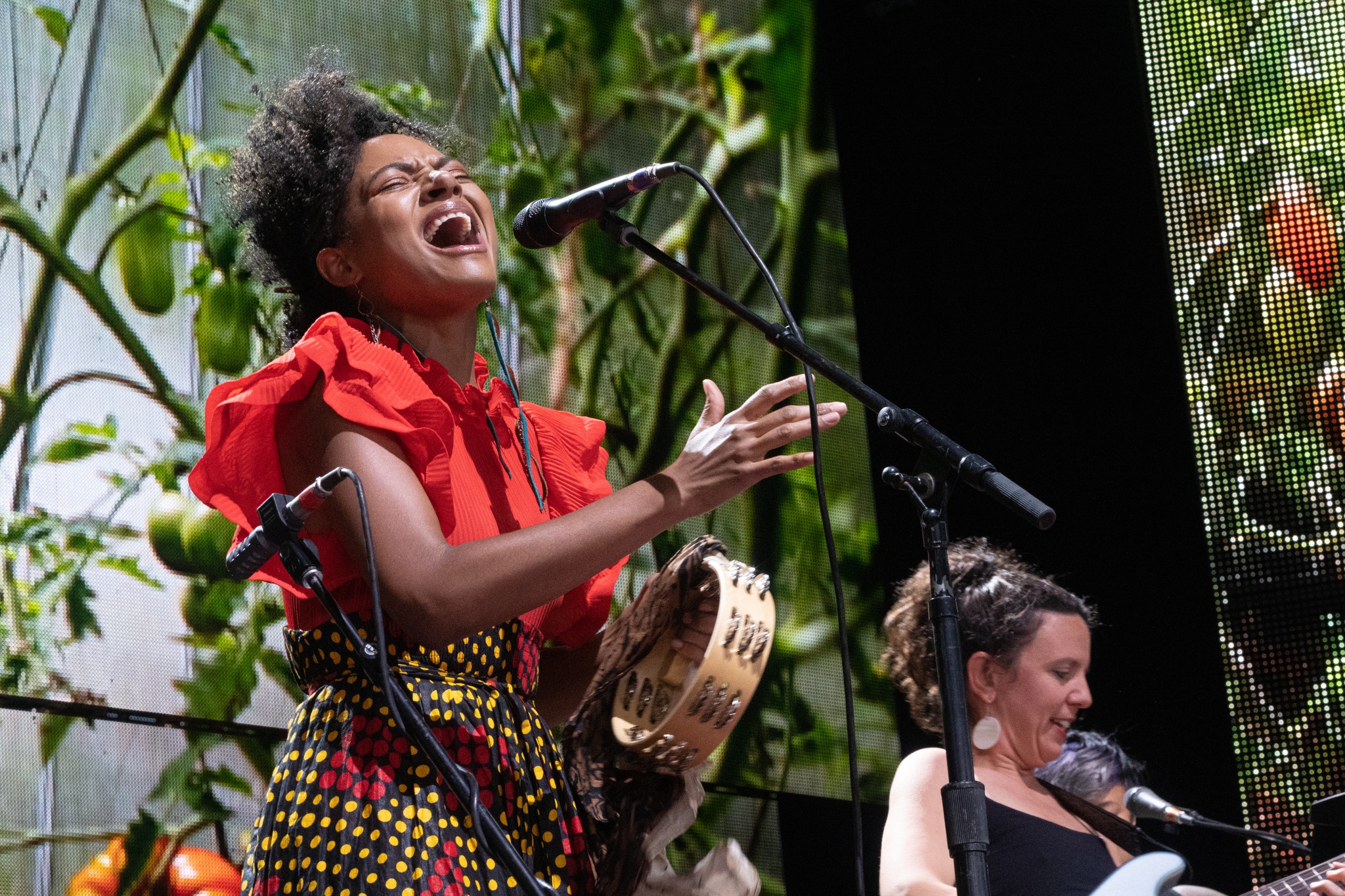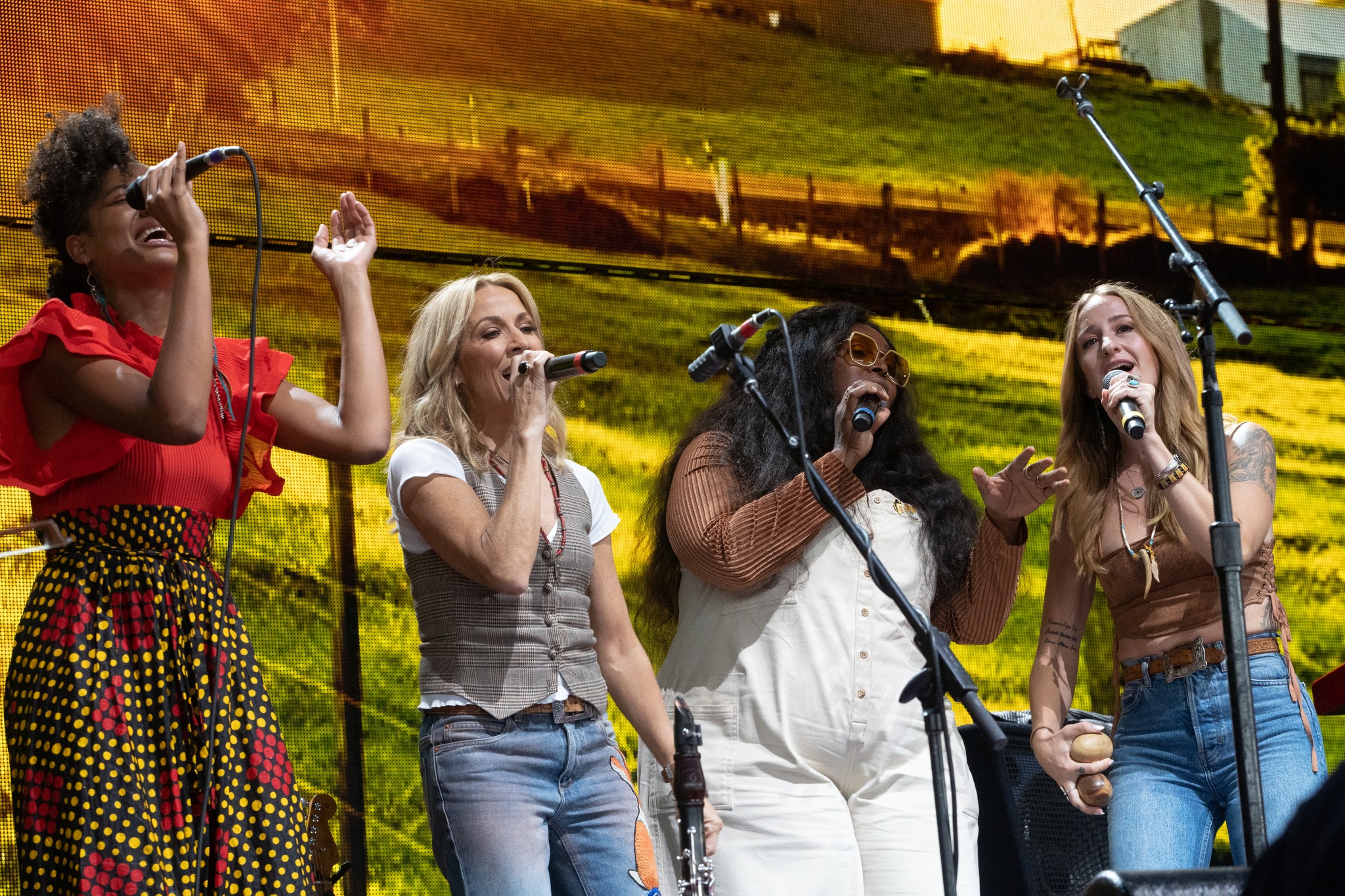 Russel delivered the most passionate set of the day. She channels her issues as a victim of abuse and turned them into a musical crusade, inviting everyone along for the ride, all while imploring other victims that they are not alone. Her enthusiasm and joy are infectious to all.  Her set included a new song Georgia Rise about the impending political situation in that state. She was joined by Tift Merritt, Sheryl Crow, Tressie McMillan Cottom, Brittney Spencer, Tim Reynolds, and others.
Charley Crockett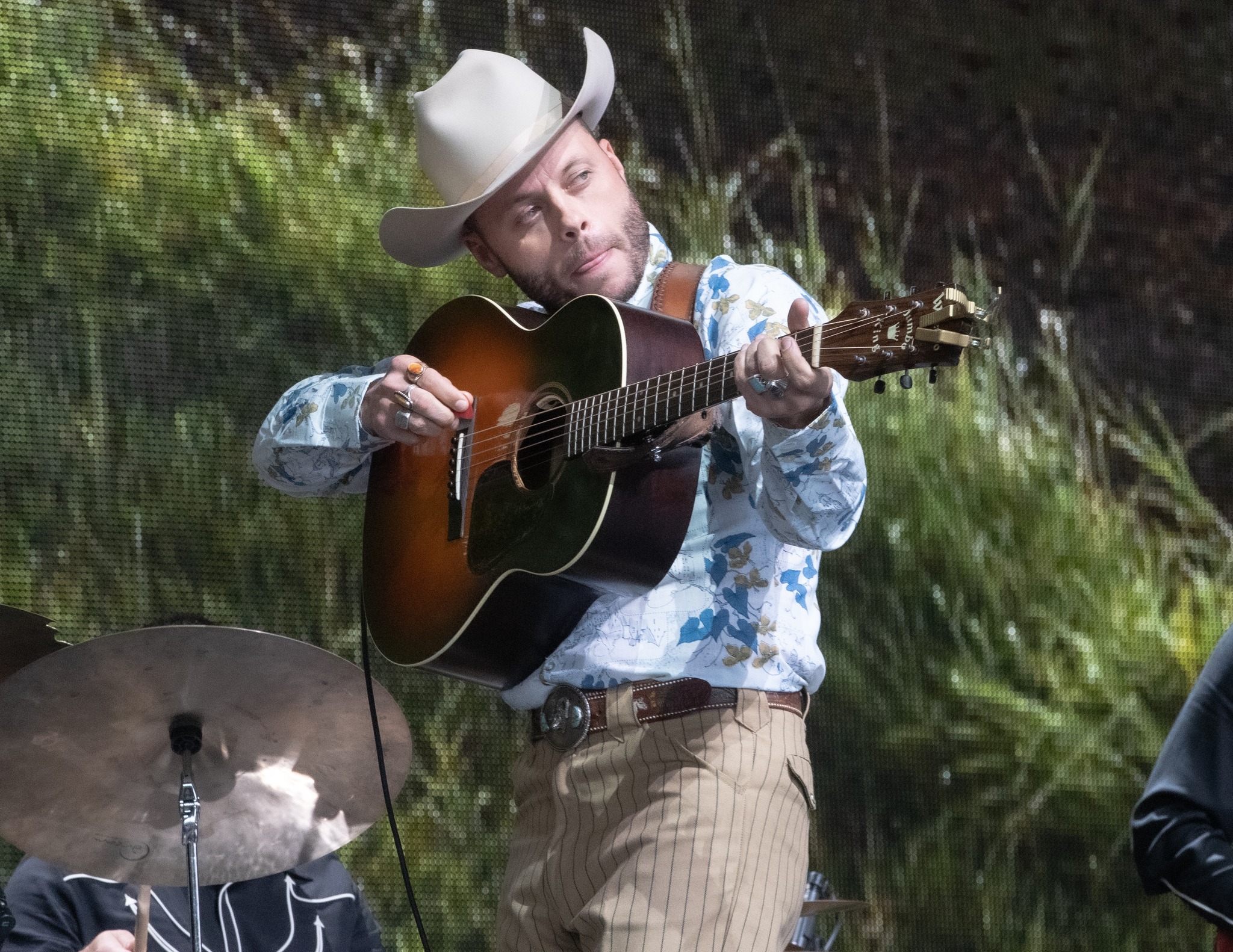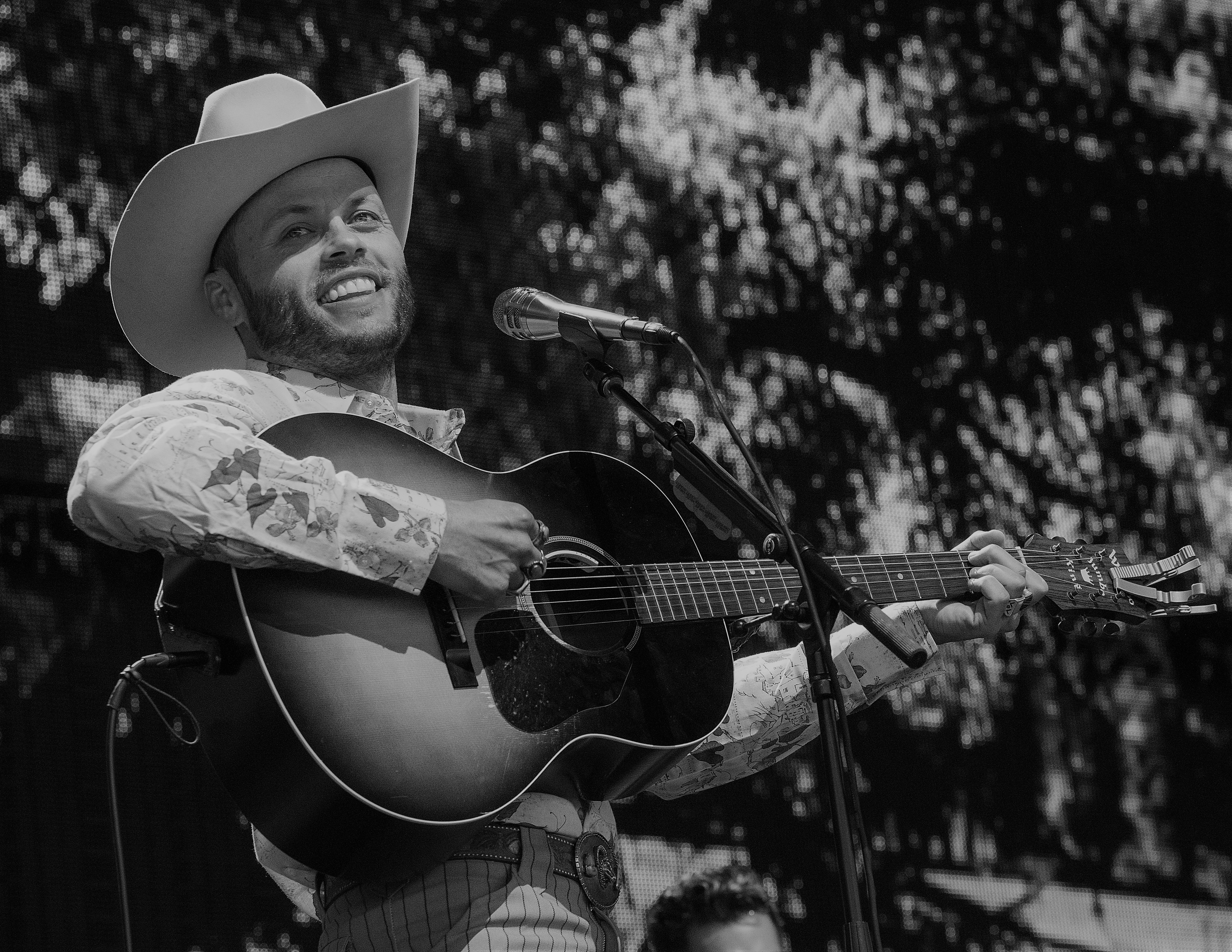 This Texas-born troubadour delivered this reviewers' favorite set of the day. Crocket and his band, The Blues Drifters, served the audience a musical gumbo. A bit of New Orleans jazz, Deep Elm blues, and Soul, complete with a saloon-style upright piano, or as he calls his sound ...Gulf and Western. Visually he appears like a cross between modern-day Hank Williams and Dwight Yoakam. Crocket has finally been enjoying recent success after years of perfecting his craft in places such as New York, San Francisco, Paris, Spain, and Morocco. While his back story is impressive, it is the songs and music that have audiences flocking to his shows. Props to The Blue Drifters as they sound like the perfect vehicle to showcase Mr. Crockett's Texas Hill Country twang and soul-infused songs. His cover of Bobby Borchers and Mack Vickery's Jamestown Ferry was a set highlight.
Brittney Spencer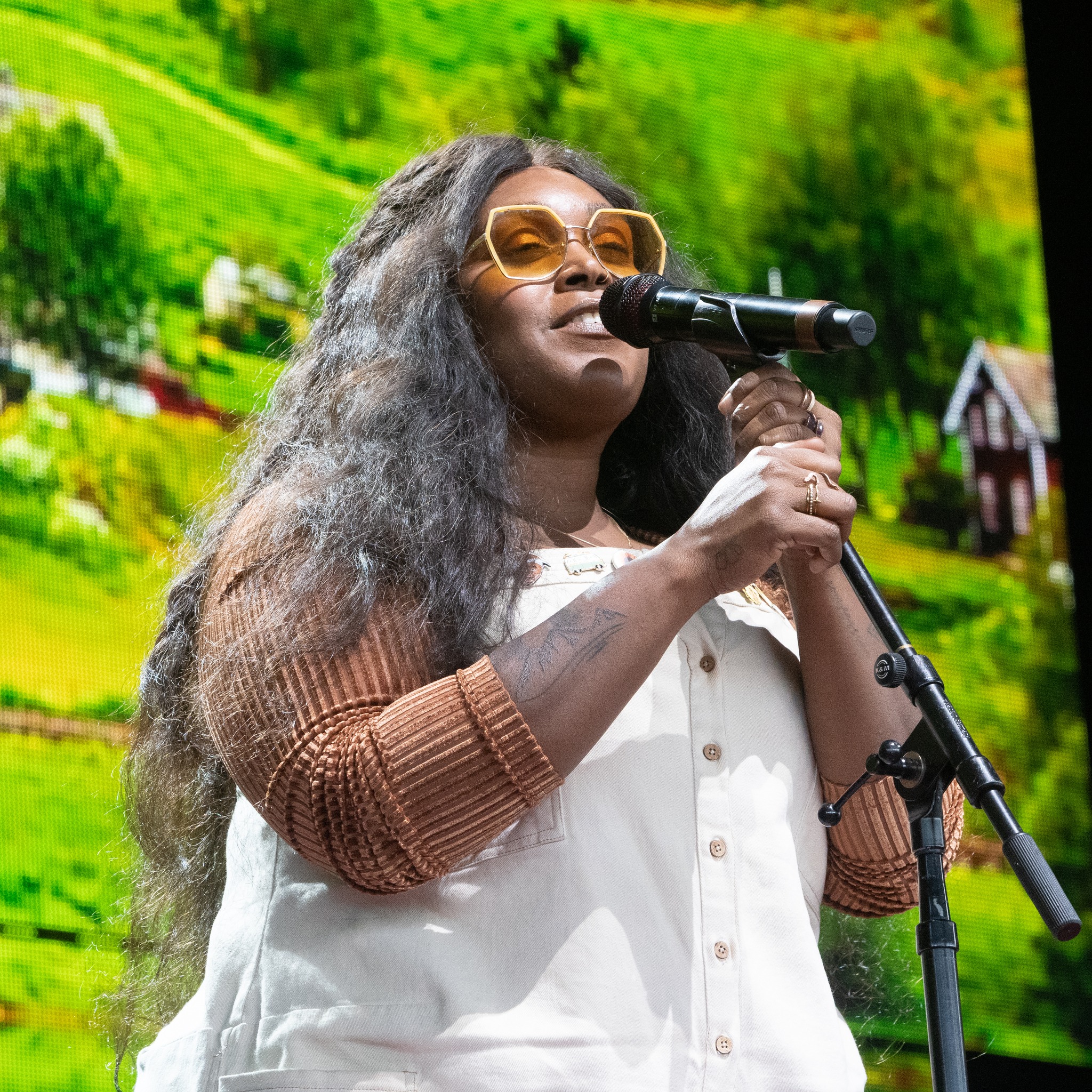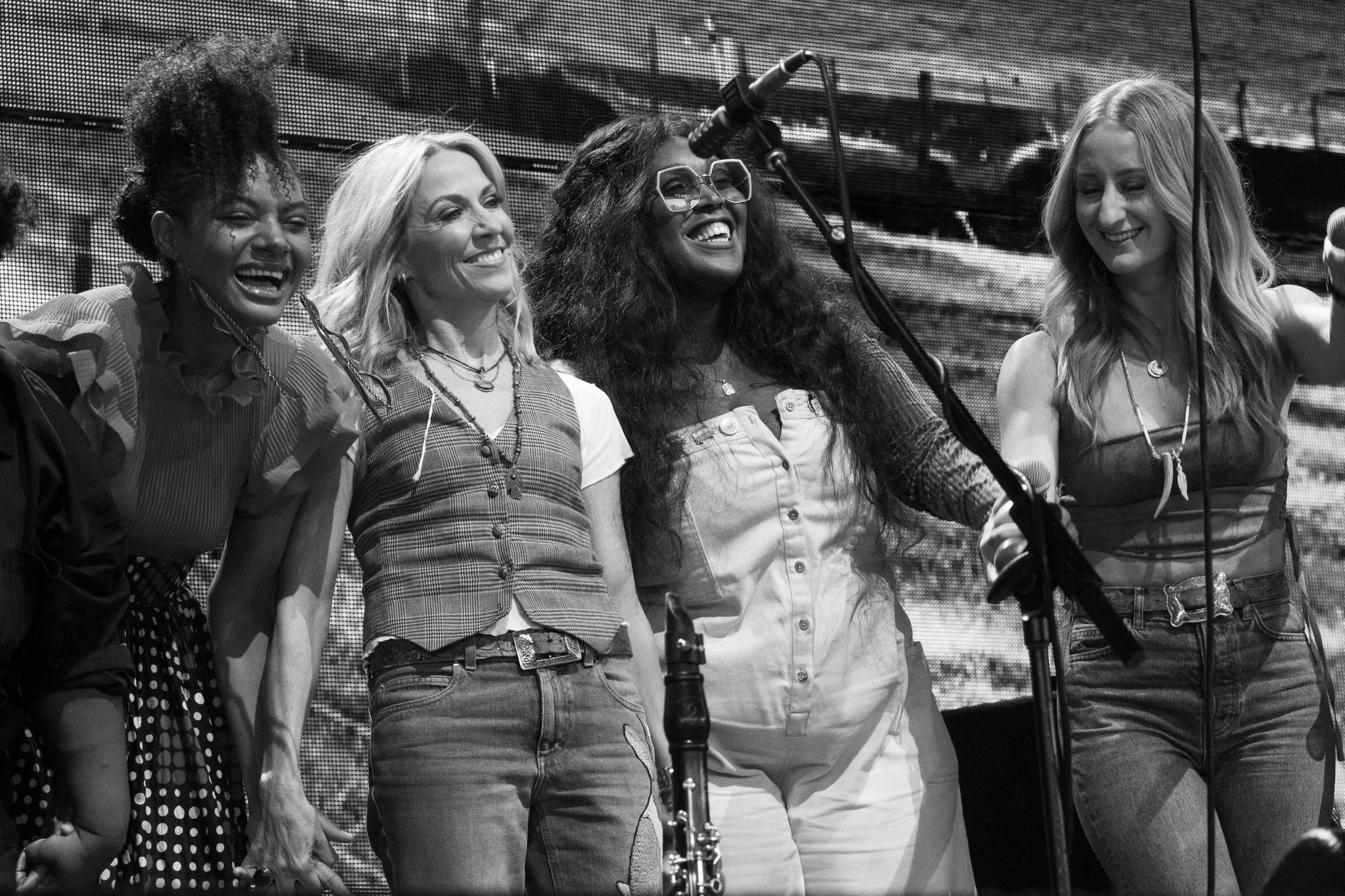 The Baltimore native and vocal powerhouse is the current darling of the alt-country music scene. Her gospel-tinged vocal style caught the attention of Bob Weir as she sat in on his Radio City show in New York in April. Her Farm Aid set highlights included Sober & Skinny and her cover of These Boots Are Made for Walkin'.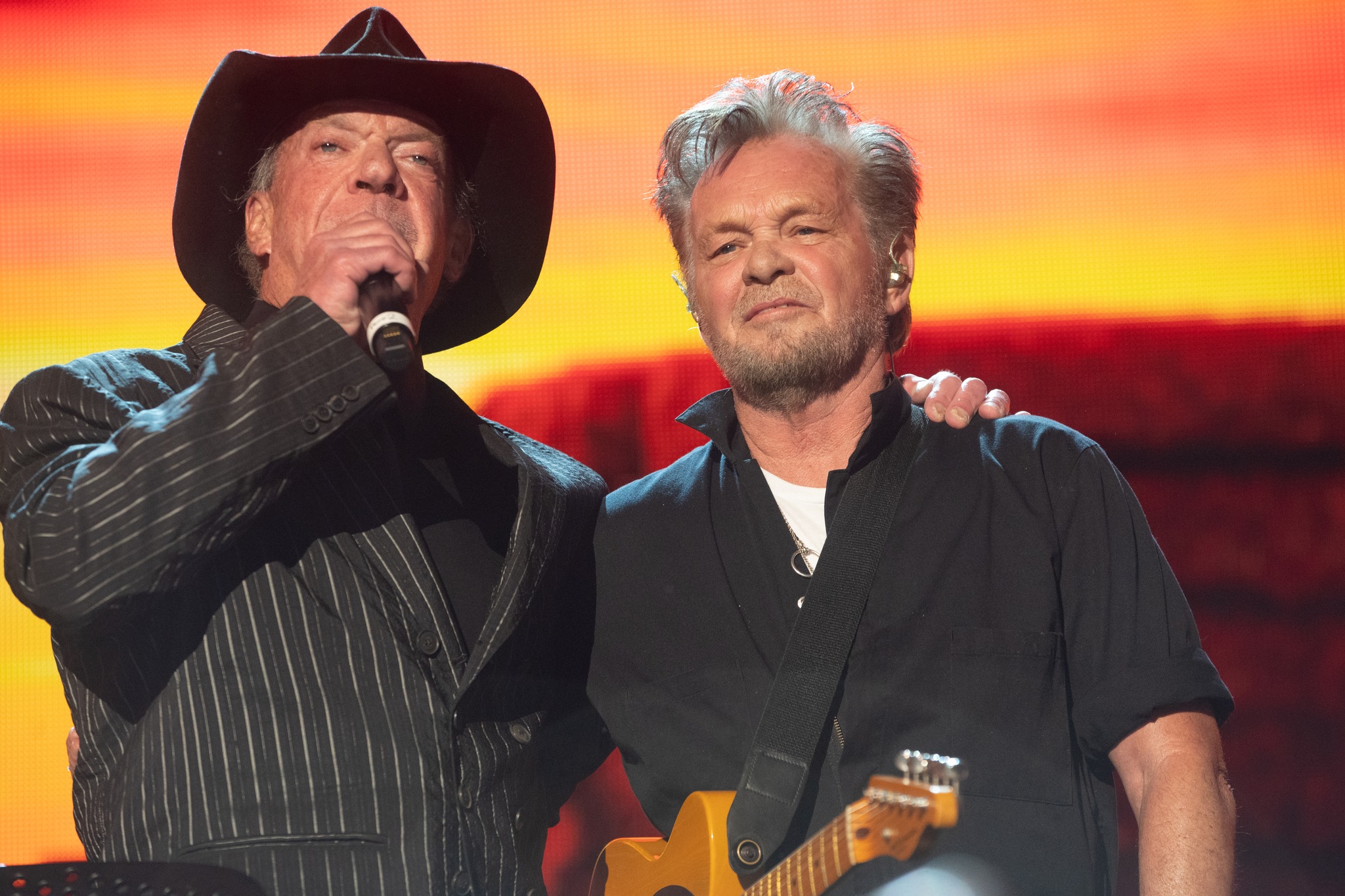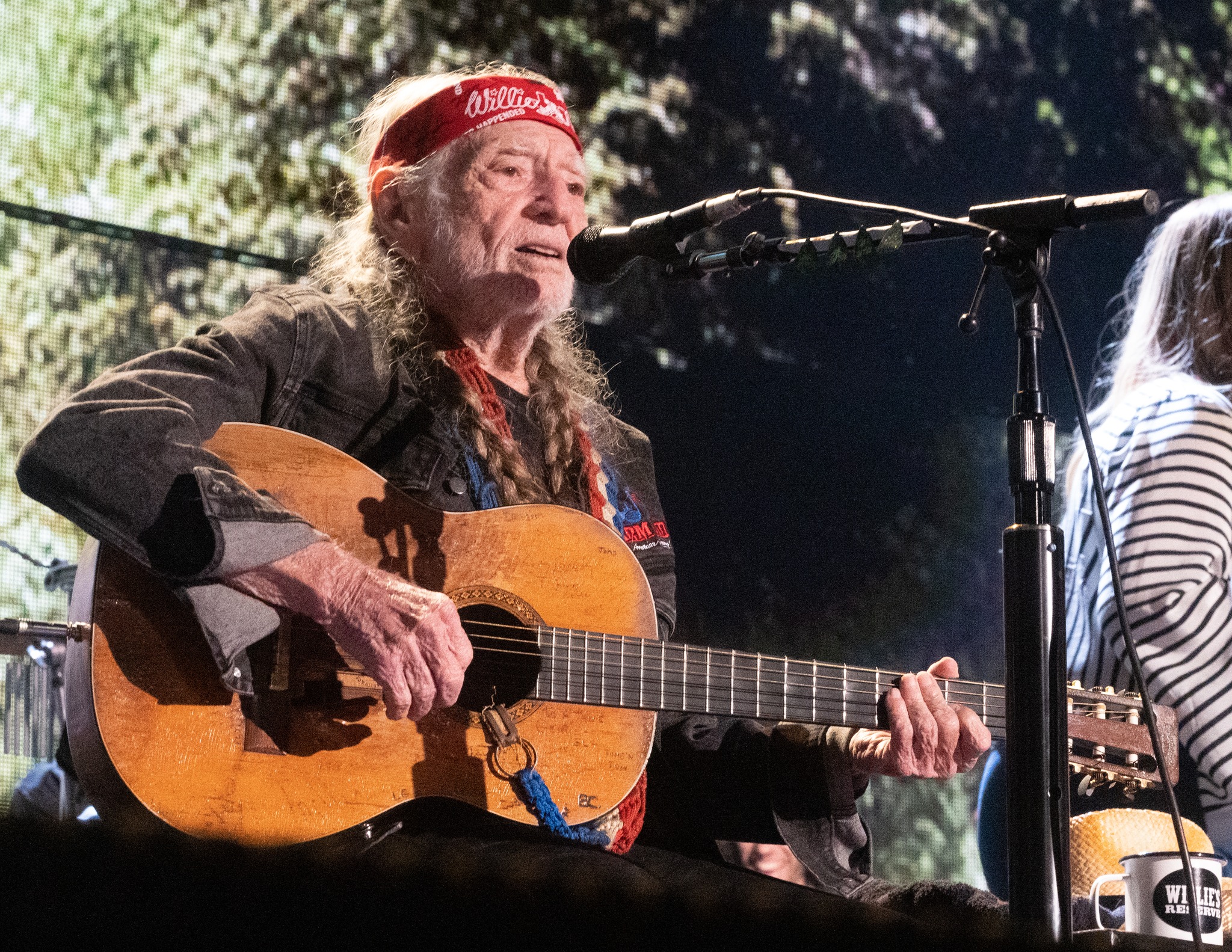 ...While Mr. Young and Nathaniel Rateliff & The Nightsweats were missed, we wish them well and hope to see them back on stage shortly. The event still proved to be successful in continuing to not only raise funds but also awareness for the plight of the family farmer, including the struggles of farmers of color. Climate change was a big topic at this year's event as well and it no doubt it will be the focus for years to come. The concert itself was a wonderful mix of iconic and well-established artists mixed with some of the next generation's best artists. This in and of itself should sustain the concert event for years to come.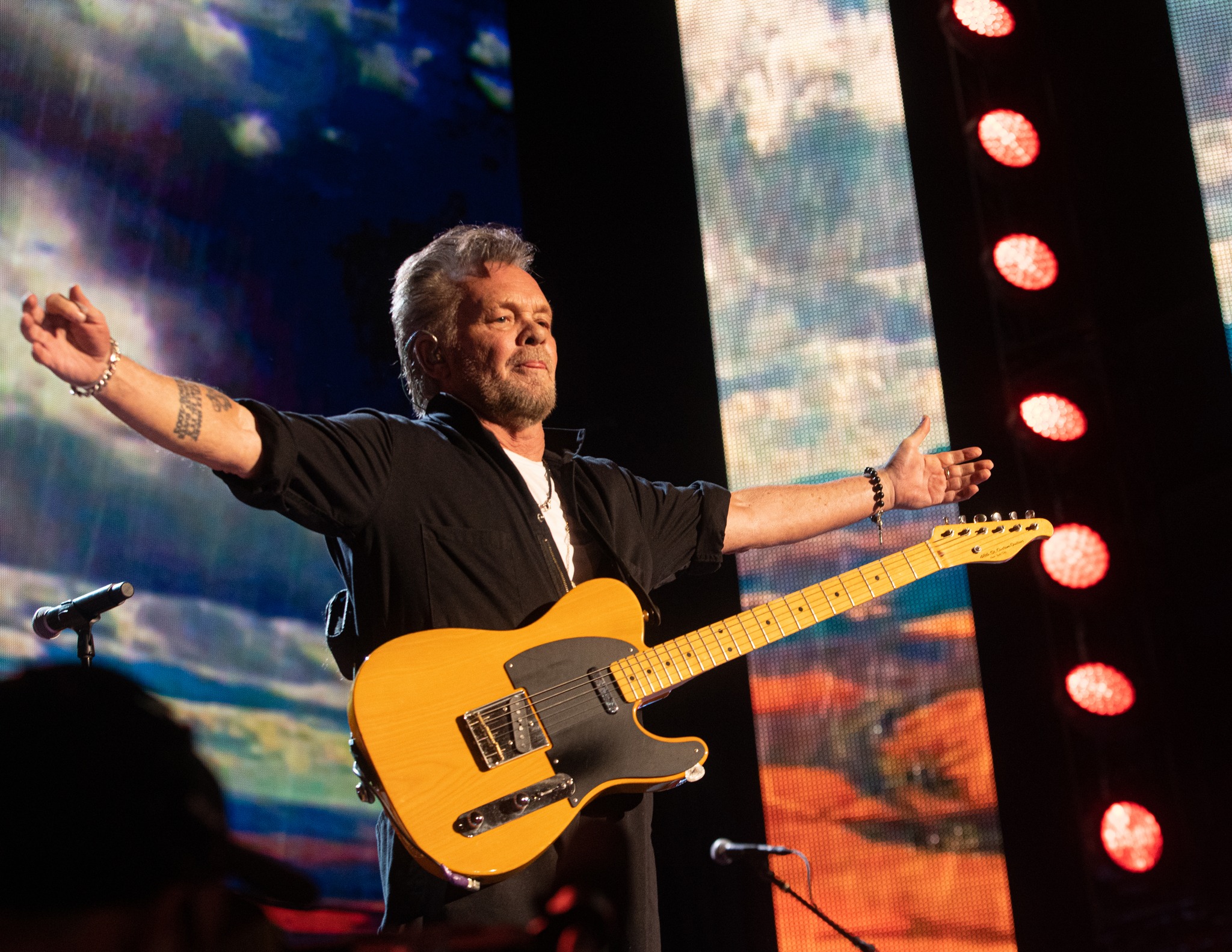 Check out more photos from Farm Aid 2022.