Today, Georgia-based nine-piece band Funk You announced its plans for an upcoming album titled "Moving Forward." Scheduled for release on September 10, 2021, the eight-track project is the band's sixth studio release. "Moving Forward" was recorded at Prana Recording Studio by Will Clark and Andy Headland. The album was mixed by Andy Headland and Will Clark and mastered by Chris Griffin (Eric Clapton, Madonna).
Moving Forward, the album's first single, puts the band's knack for instrumentation on full display, as the track slowly builds toward an epic, horn-driven, danceable groove.
PRE-SAVE Moving Forward Album
LISTEN to Moving Forward Single
In support of the upcoming album release, the band plans to hit the road for an extensive fall tour running from September through December. In addition to a slew of shows in the southeast, the band will make stops at Summer Camp Music Festival, Resonance Music Festival, Brooklyn Bowl (NY), Georgia Theatre, Hulaween, Cervantes Other Side, and Old Town Pub.
Tickets to all shows are on sale now.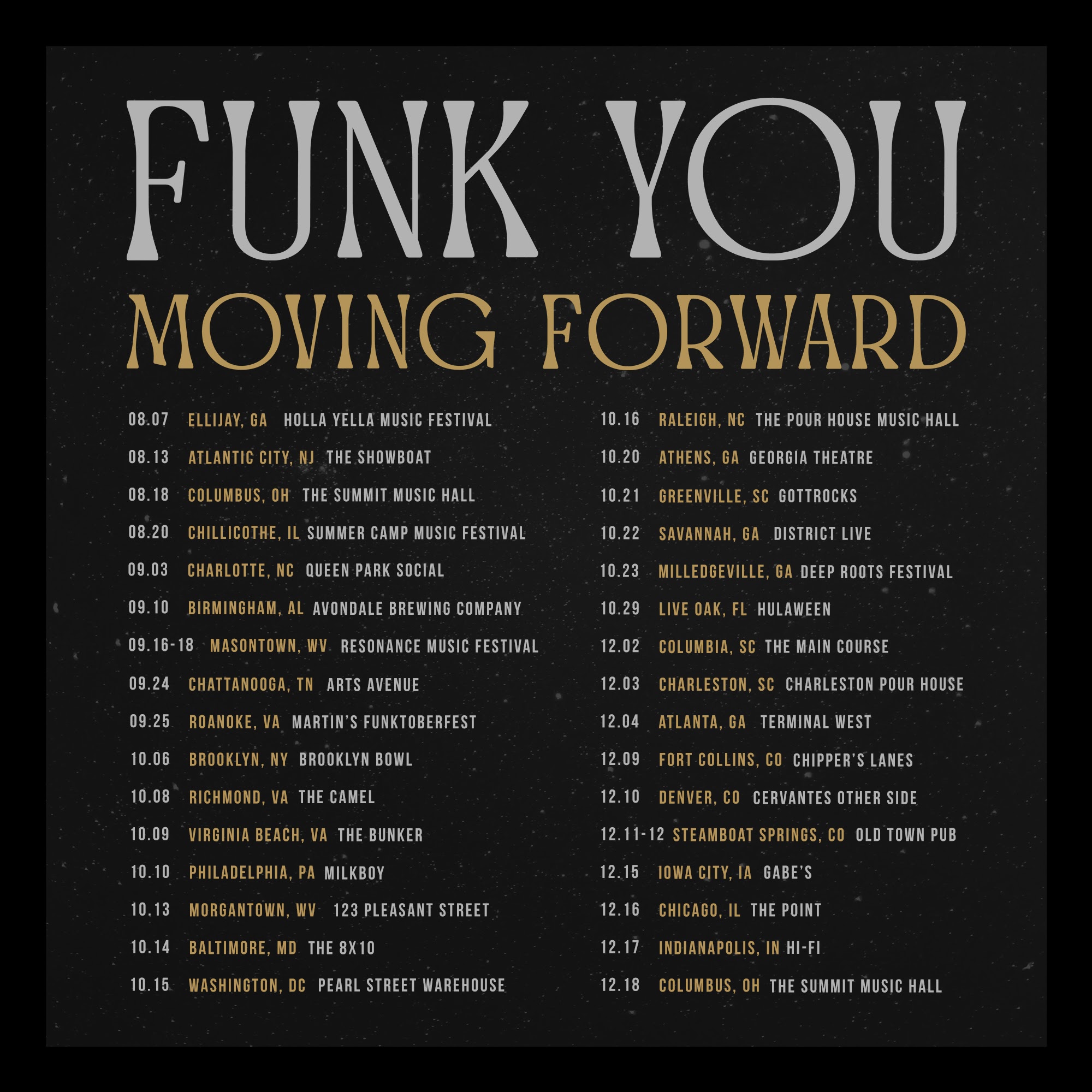 Funk You is a musical manifestation of nine kindred spirits from an east Georgia city. Motivated by a love of live performance and armed with a captivating sonic presence, the band places a healthy helping of soul atop a funky backbeat. The nonet, featuring Gavin Hamilton (Lead Vocals), Evan Miller (Guitar), William Foster (Vocals, Keys), Will Clark (Vocals, Drums), Palmer Owens (Percussion), Mark 'Earl' Dykes (Vocals, Bass), Gnarly G (Saxophone), Josh Spilliards (Trombone, Sousaphone), and Geoff Wood (Trumpet, Guitar), combines modern musical sensibilities with the last vestiges of the chitlin circuit, resulting in an ever-evolving sound that continues to draw crowds nationwide.
Ten years on the road is no easy undertaking for any musical outfit, much less a group anchored by a group of childhood friends. As Funk You plans to dive into what comes next - they invite friends and fans alike to enjoy their newest musical offering, Moving Forward.
"Moving Forward really is exactly what it sounds like," says Will Clark. "We're truly proud of what we've accomplished over the last decade and we can't wait to see what is coming next."
With progress comes hard work, time, and ultimately sacrifice - a powerful trio that inevitably yields change. "I think, even though the last year has been tough, we're happy to be pushing ahead and playing more shows. We're just happy to be back out there," Clark added.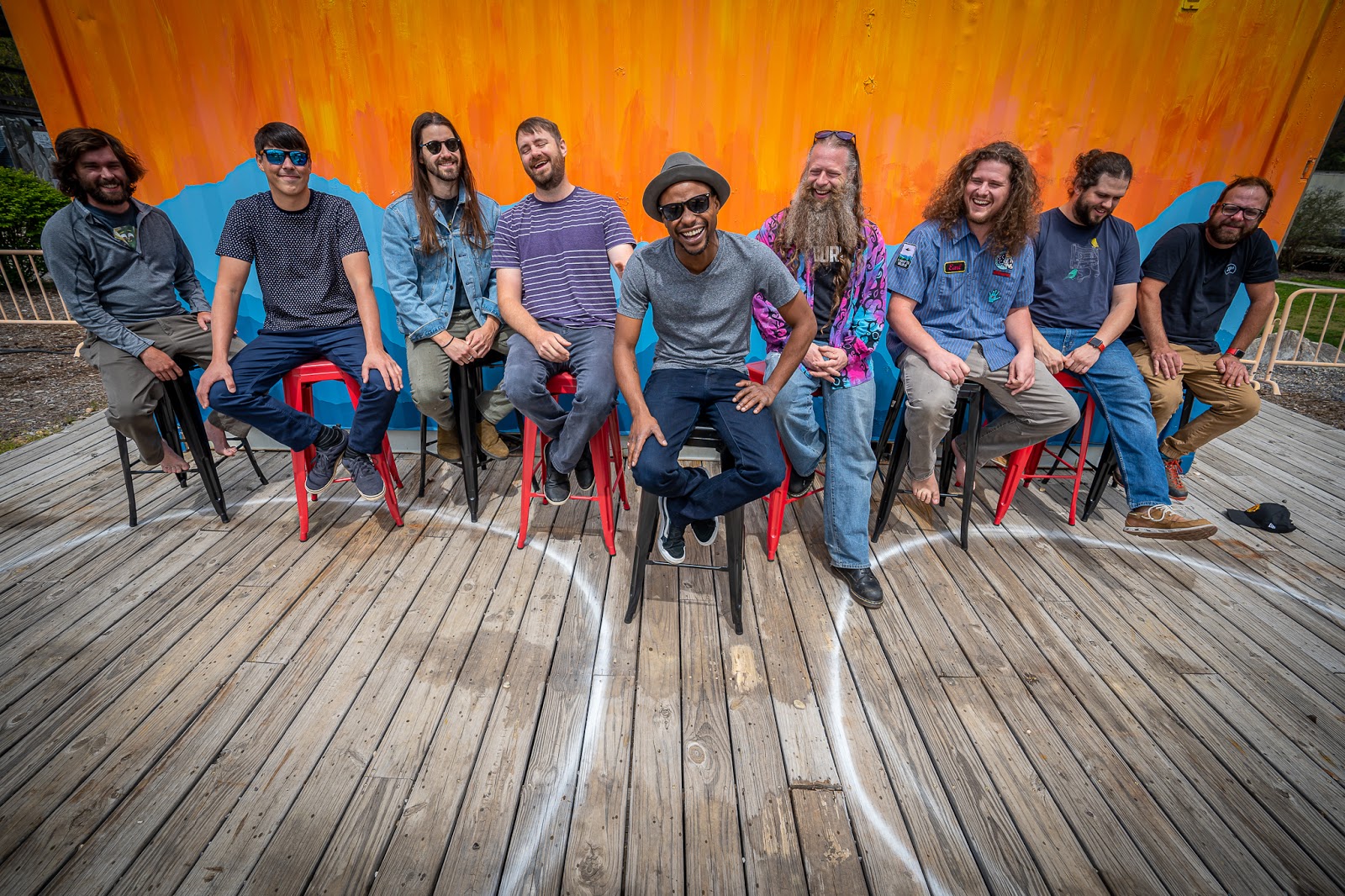 The myriad challenges presented by the COVID-19 pandemic simply did not deter the nine-piece musical juggernaut. After a year of planning, songwriting, and frequent virtual live streams, the band hit the road for a nine-date southeast spring tour, with seven sell-out shows along the way. Happily readjusted to life on the road, and plotting for an extended fall tour that will take the band to uncharted territory, Moving Forward will certainly be the soundtrack to the band's upward trajectory in late 2021.
Listeners can expect Funk You's signature high-octane funk, driven by a hard-hitting rhythm section and glistening horns. Although the work presents the same flavors contained in the band's recipe for success, "the music is a big step ahead, we really took time to focus on our sound in the studio," said Evan Miller (Guitar).
For more information, visit funkyoumusic.com.