For the entire first set of Furthur at the horribly oversold Hammerstein Ballroom on Wednesday night December 9th, I could not see the band at all. Lucky me.
While it might seem counter-intuitive at first, being "ears only" allows for true liberation to experience and liberation by experience. This blindness led to the lightness of a pure listening experience at the mercy of what is a wonderfully tight, if not less than completely daring, incarnation of good ol' Grateful Deadness.
At this moment in the "long, strange trip" all ears are on lead guitarist, singer and Dark Star Orchestra "graduate" John Kadlicek. JK has quickly shown that he welcomes the benevolent scrutiny - and that he can shatter expectations, hearken the spirit gone by, and flat out shred en route to some exciting musical spaces.
Out of the box, JK took full advantage of his opportunities. With his tone properly rounded and "wahhed," he pushed the jam in "Feel Like a Stranger" as far as it could go, laying effervescent scales one on top the of the next, milking the closing theme and descending climb for all it's worth.
From that thunderous closing downbeat, he immediately jumped on the good time shuffle of a rollicking "Deal," once again using the basic and wonderful Garcia blueprint, lots of perfectly articulated, shapely, diamond-like notes rolled in waves of arpeggios that pianist and Ratdog alum Jeff Chimenti was all too glad to serve and volley.
The flawed sight line truly paid off during a stand alone "Crazy Fingers."  The delicate intro was given special care; with anchors Phil Lesh and Bob Weir weaving their 40 year old magic as Kadlicek once again took the "Jerry ness" to great heights.  The vocal harmonies (Gone are the days we stopped to decide/where we should go/we just ride) were true religion, and the soaring outro benefited from the same treatment as the intro – woven, complex, light as a feather in it's perfect psychedelia.
"Birdsong" did well to break free from its twin brother "Cassidy" for a change (Weir's Ratdog has been beating this couplet to death for a decade now) and received some wonderfully new tweaks to its arrangement and approach. At this point Weir was doing his best Peyton Manning, quarterbacking the band through some small, quiet corners – whispers turning to sweeping winds and back again.  Pretty - and pretty unforgettable.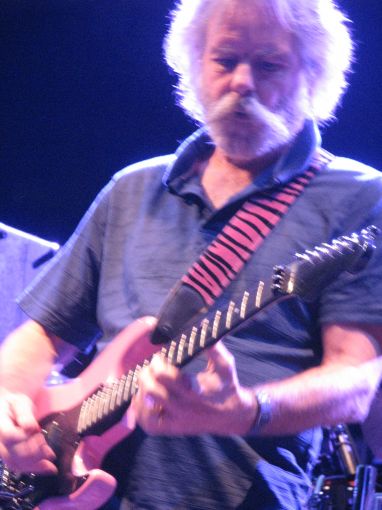 At the break, my guardian angel tapped me on the shoulder with a simple "follow me." A quick shuck and jive here, a dart and weave there and I found myself 10 feet from the stage. Where I once was blind, I now could see! For this sensory expansion the second set would be not better, not worse – but certainly different.
"Jack Straw" was furious and passionate.  At the foot of the master, all things seem powerful and possible.  Weir was at the height of his powers, JK once again pushed the envelope – making everyone remember and forget at the same time in the same breathless passages.
An elegant, always inspiring "Wheel" gave way to the new "Welcome to the Dance," which is finding real legs under its wonderfully unique, angular Caribbean meets "The Eleven" feel.  While the lyrical passages may be forgettable, the jams are not.  The alchemy and geometry was visceral, the band breaking off into sub-sections of polyrhythmic bliss, telepathy at a premium in that ever sought "moment of blinding brilliance."
Those Calypso underpinnings segued nicely into a well executed "Uncle John's Band," with JK once again stepping easily into big shoes. The jam got tied up in a nice vocal bow circa '71 – thus paving the way for the highlight of the affair; an epic, well paced, air tight "Unbroken Chain." Phil's attack is clean, precise and penetrating as ever, his choices endlessly unique. He's all bottom, but his approach is bottomless. "Searching for the Sound" indeed.
With the sonic math at it's collective peak in these coolest of cool riffs, Chimenti once again stepped to the fore, pushing JK where (sadly) Jerry never did get a chance to go. (When "Unbroken Chain" was re-introduced to the Grateful Dead repertoire in the mid-nineties, Jerry was mired in his struggles and rarely – if ever – got off a good one).
Rock star Bobby killed it the rest of the way with a ballsy "Satisfaction" (pink Telecaster and all).  Then a jaw dropping and uniquely placed "Let It Grow," replete with all its goose bump inducing "I Am" ness and bone shaking progressions.  A jubilant if not requisite, "Sugar Magnolia" took us around the final turn and a fine "Johnny B. Goode" encore finished the bidding.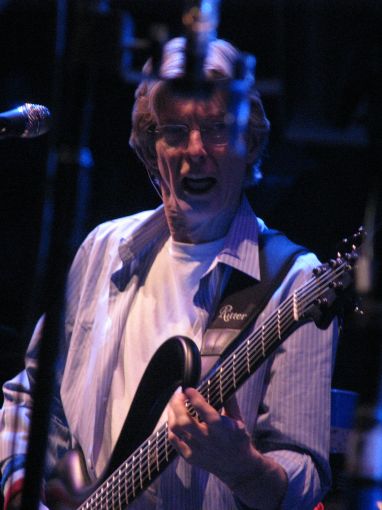 In Furthur, the infusion of youth and chops provided by Kadlicek, Chimenti and rhythm machine Joe Russo has clearly lit a fire under Weir - who look/sounds lean and mean and remains predictably unpredictable and enigmatically frustrating at times. Only when he botched an entire verse of "(Stuck Inside of Mobile) with the Memphis Blues Again" did it really feel like a Dead show.
My only question? Will the real Jay Lane please sit down? His stand-up pogo percussion routine was a (nice?) diversion at first and his eclectic instrumentation lent some nice touches to the quieter jams.  But this scene knows and loves him as a swingin', forceful jazz based drummer, whose more conventional sit down style would surely complement Russo's muscle and push this whole shebang ever higher.  But for the time being, we're left to watch him bounce around like a Rasta Muppet, overplay his weird rig and wish he had a throne and a kick drum.
If/when he gets that message I am all but sure that Furthur will go where they seem to be headed. For the ride, I'm all ears – and if my guardian angel insists - even eyes.