We need not recap the 11 year history of this wondrous event, held for five years now at the Indian Lookout Country Club in Mariaville, NY.  We need no account of the heartfelt and soulful preparation put in by the original "Deadhead Heaven" promoters, Terrapin Tapes and Dupree's Diamond News, to commemorate the life and music of Jerry Garcia.  These details have been covered numerous times in other reports.  All we need is to be here now, or at least to have been at the ILCC the weekend of August 18-20, 2006.
Wavy Gravy, an original Merry Prankster affiliate, returns each year to emcee the fest, usually garbed in electric koolaid colors with clown-like overtones.  Wavy reminds us that this is a family-friendly event by inviting pre-adolescents to offer commentary via microphone, many of whom accept the invitation with whimsical musings about the Tooth Fairy's gift from the night before.  His brand of acerbic political wit and down-home authenticity causes broad smiles across generations.
The check-in process, understandably delayed by the search for dangerous glass containers and such, was nonetheless pleasant.  After this, I was led to the Golden Road to Unlimited Phun; my illustrious camping home for the next few days.  The Road to Bliss is Paved with Good Vibes!  By Friday late morning, very few were still scurrying for prime camp space; I was fortunate that some friends had come early and held a spot for me.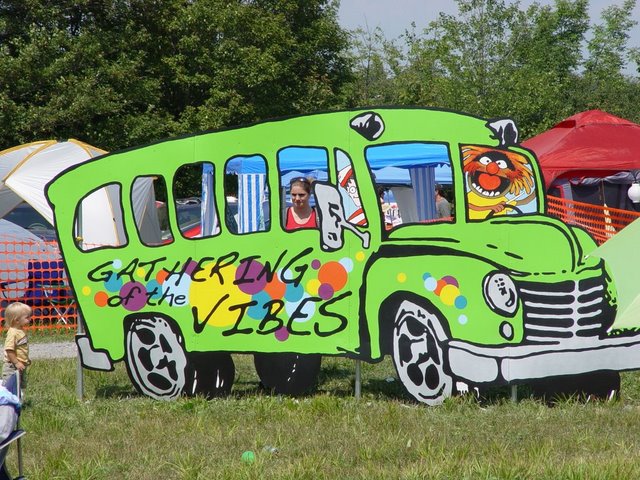 I arrived at the Cosmic Casbah campsite on Friday just before Noon, with enough time to set up camp as Scarecrow Collection kicked off with a solid set from the Terrapin Stage. The heat and humidity cranked up a few notches as I ran to the Concert Field to stake out my best vantage point.  Opposing stages allowed for virtually seamless segues between bands, and the Rafter Bats wasted no time jumping into their jamming bluegrass set onto the Inspiration Stage.  By the time Strangefolk took their energetic rhythms to the main stage, the Karma Wash folks had completed the metaphysical construction of their brushless walk-through spiritual cleansing apparatus just behind the soundboard.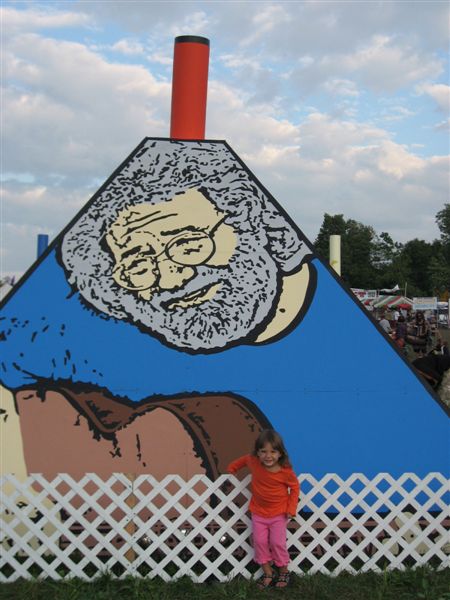 It followed logically that I'd park my ABO Tripod Sun Shelter just behind the intriguing Karma Wash, knowing there'd be photo-ops galore.  Coincidentally, artist Ron Gennaro had just finished painting a girl's midriff, and was looking pretty sunburned.  After I snapped a few pictures of the beautiful canvas, Ron took shelter in the Tripod, and stayed for a coupla daze.  Needless to say, I spent much of my weekend in the Concert Field taking photos of freshly painted happy hippy bodies.  And the Music Never Stopped!  Juggling Suns, North Mississippi All Stars, and Ryan Montbleau all got stellar sets in before a gorgeous sunset led to a tweaking twilight.  As dusk settled into darkness, generators kicked up the power a few notches and AOD lit up the main stage.  Martin Sexton showed off his vocal range and acoustic prowess, followed by an inspired re-re-reunion of DBB.  The Bay Area's Tea Leaf Green was an energetic send-off to a horizontal nap in my tent.
Saturday's musical musings began with a jamming set from Donna Jean Godchaux-Mackay & Zen Tricksters, including a moving rendition of Cosmic Charlie that mesmerized the crowd.  Chuch rocked out the Inspiration Stage for a dizzying spell, after which G Love & Special Sauce got totally funked up on the Terrapin Stage.  David Gans and Keller Williams each provided enthusiastic sets of thoughtfully composed and/or performed music, bringing us to a misty nightfall.  The increasing steadiness of the rain didn't deter the old school Heads from flocking to catch NRPS, followed by a warm, fuzzy acoustic set from Hot Tuna.  Bill & Mickey's Rhythm Devils smoked the stage with layer upon layer of complex, heart-racing beats, joined by Bob Weir for a couple of songs in a tear-jerking reunion.  RatDog followed with a set reminiscent of days gone by, but the stormy night curtailed the Everyone Orchestra set, and I rolled back to my flooded campsite where my Casbah and Karma friends were taking in the lightning show with vigorous laughter.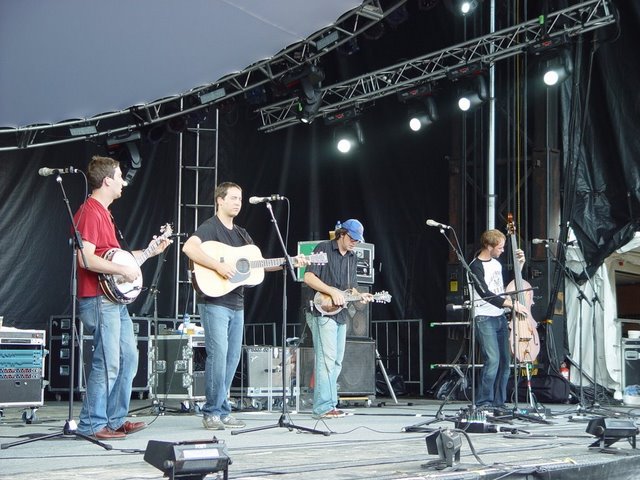 Sunday morning breakdown: I awoke to grey skies and a full bladder & digestive system, which was exacerbated by a shiver-inducing wind.  Nevertheless, I managed to get to a freshly cleaned porta-potty and then to some much-need coffee to start the cycle all over again.  Rebirth Brass Band was nowhere to be found, so King for a Day stepped up a bit early and put forth a kick-ass set.  Burning Spear invoked primal urges with his deep bass and earth-quaking drums, followed by an intriguing set from New Orleans' Walter "Wolfman" Washington.  Shifting gears to a delicious jam-grass set from Yonder Mountain String Band wasn't difficult, nor was jumping into the searing guitar work of the very funky Papa Mali.  For the DieHard VibeTribers, Zero aptly concluded a mind-altering weekend of incredible improvisation and festive celebration!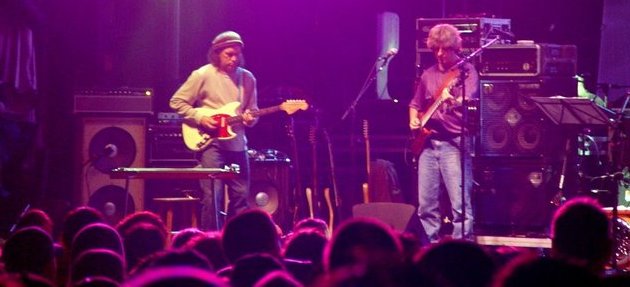 Check out more photos from Gathering of the Vibes 2006.