Step by step, summertime is getting closer … the most beautiful period of the year with many festivals to choose from. One of those splendid festivals, is GentJazz, which takes place from July 8 to July 19 in the gardens of De Bijloke, one of the most beautiful sites of the city, an ideal environment for those who like to be busy with music, dance and other forms of art.
Nowadays, many different musical styles are often categorised as jazz. However, these styles can be divided into two distinct sections: on the one hand, jazz based on tradition (traditional jazz, mainstream, bop, avant-garde, free...); on the other hand, jazz which has developed from diverse forms with more popular musical trends, the so-called fusion with funk, soul, singer-songwriter, techno, world, hip-hop,…
The Gent Jazz Festival aims to give a true and present-day representation of both movements, with a progressive approach, presenting both legends and newcomers, both national and international, allowing musicians to convey their artistic adventure.
The festival consists of two parts, both created around their own musical idiom. The theme of the first part of the festival is pure, genuine and classic jazz. Today's jazz with a recognition for the past. Today's jazz confronting the past. Senior jazz musicians looking at today's society. Fusion is the keyword for the second part of the festival. This section aims to present jazz as a living genre with influences from many musical styles.
This year, the Gent Jazz Festival opens with a Special Night featuring BB King.
Other highlights this year are: Brussels Jazz Orchestra International Composition Contest, Sing The Truth Nina Simone Tribute, George Benson, Jamie Lidell, Lambchop, Rodrigo y Gabriela (photo), Marianne Faithfull, Jamie Cullum, etc. Line up: www.gentjazz.com
New things on the festival this year: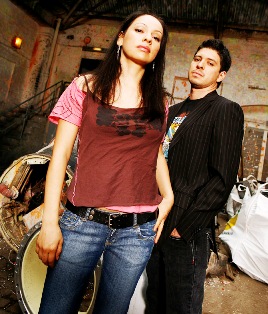 the Gent Jazz Festival café, which opens at 12 o'clock at noon and is accessible for free. On July 8, a special concert will be given to open the festival café musically. From July 9 to 19, Young Jazz Talent Ghent will also take place in this café. Line up: www.gentjazz.com. These bands will also perform in the Duvel Droomschip during the Ghent Festivities (July 18 – 27: www.gentsefeesten.be).
From this year on, the Gent Jazz Festival will also organize jam sessions in the evening in collaboration with NH Hotels and the Ghent Conservatory. These jam sessions will take place each festival day in the medieval basement of the NH Hotel Gent Belfort and begin at 11.30pm.
Info & tickets: www.gentjazz.com. Gent Jazz Festival from July 8th to 19th, Bijloke, Gent, Belgium. Tickets cost 27 euros per evening (excl. booking costs), except for those for July 8 (concert day with BB King) which cost 37 euros (excl. booking costs). A Three-Day Pass costs 68 euros (excl. booking costs). Tickets can be booked via www.gentjazz.com, via Uitbureau Gent (www.uitbureau.be or +32(0)9 233 77 88) or at FNAC. Just as it did last year, the final festival weekend coincides with the opening weekend of the Ghent Festivities.
Hope to meet you there!