Today, acclaimed Connecticut-based rock quintet Goose announced Spring Tour 2023, an expansive foray that will bring their unparalleled sound to stages across the nation. From Boston to San Diego, the band will traverse a winding path of fourteen cities, showcasing their unique brand of rousing songwriting and spirited improvisational performance. The five-week journey is set to begin at Boston, MA's Roadrunner (3/23) and culminate at San Diego's Cal Coast Credit Union Open Air Theatre (4/29).
The band will have the opportunity to perform on some of the most storied and iconic stages in the country. Notable stops include Philadelphia, PA's The Met (3/24-25), Nashville, TN's Ryman Auditorium (3/31-4/1), Madison, WI's The Sylvee (4/13), Seattle, WA's Paramount Theatre (4/22-23), and San Francisco's The Warfield (4/27-28).
In support of building a safer and more supportive music industry through access to quality mental health care providers, Goose will donate $1 from each spring tour ticket to Backline, a 501(c)(3) non-profit that connects music industry professionals and their families with mental health and wellness resources.
TICKETS | GOOSE SPRING TOUR 2023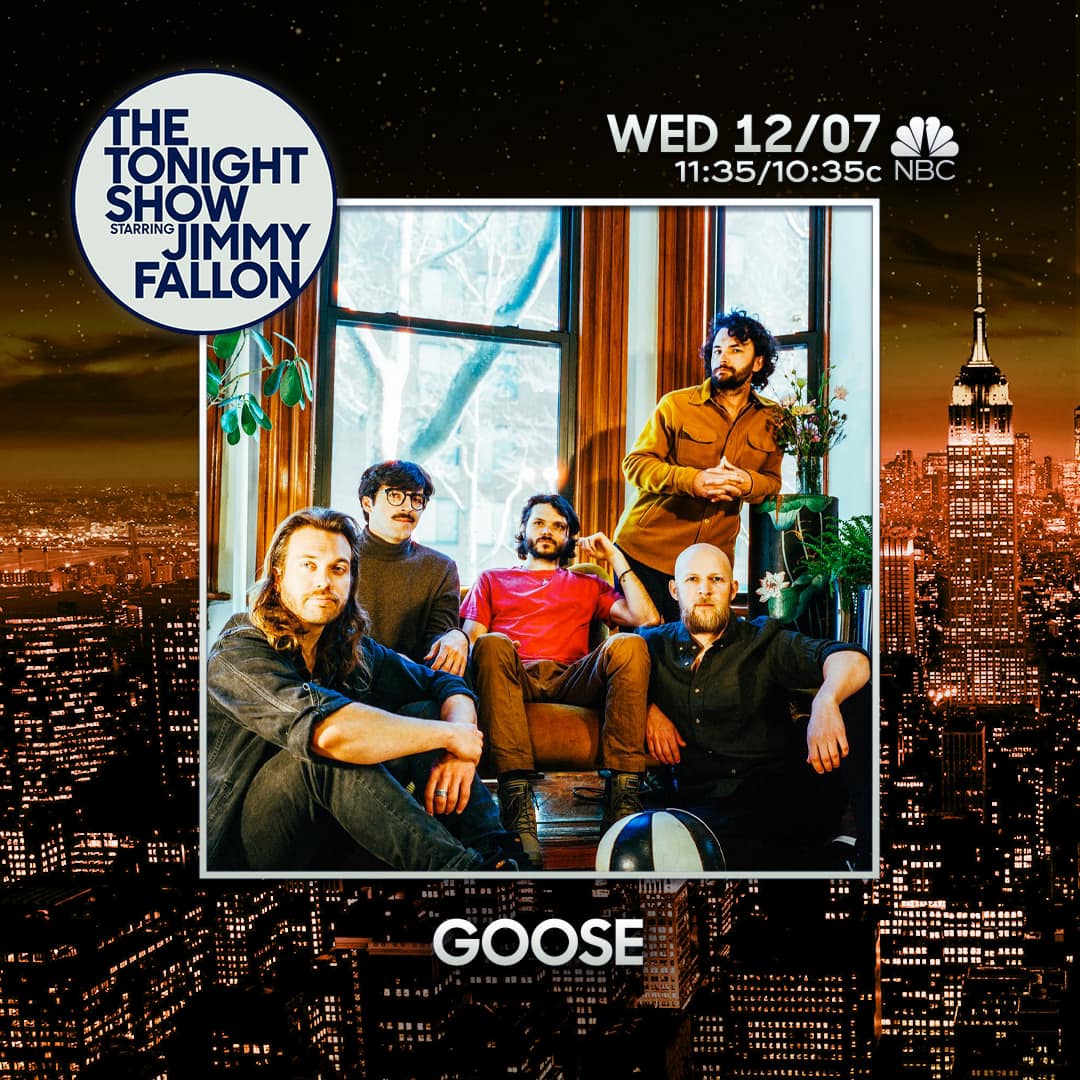 Closing out a career-defining year featuring performances on Jimmy Kimmel Live! and CBS Saturday Morning, a sold-out show at Red Rocks Amphitheatre, and an eight-show November tour with Trey Anastasio Band, the band will take the stage on The Tonight Show starring Jimmy Fallon tomorrow night at 11:335 PM ET on NBC. Goose looks forward to continuing their momentum into their remaining 2022 shows, including their group's highly anticipated annual Goosemas event— a two-night run at Broomfield, CO's 1STBANK Center—followed by a New Year's Eve run at the Andrew J Brady Music Center in Cincinnati (12/30-31).
Initial spring tour tickets will be distributed through a lottery with a request period running from Tuesday, December 6th at 12 PM ET to Wednesday, December 7th at 5 PM ET. Winners will be notified via email before a venue presale on Thursday, December 8th from 10 AM – 10 PM venue local time. Remaining tickets will be available on Friday, December 9th at 10 AM venue local time. VIP ticket packages and discounted hotel rooms will also be available. For more information, please visit goosetheband.com/tour.
GOOSE SPRING TOUR 2023
3/23 - Boston, MA - Roadrunner
3/24 - Philadelphia, PA - The Met
3/25 - Philadelphia, PA - The Met
3/26 - Cleveland OH - Agora
3/31 - Nashville, TN - Ryman Auditorium
4/1- Nashville, TN - Ryman Auditorium
4/2 - Birmingham, AL - Avondale Brewing Company
4/13 - Madison, WI - The Sylvee
4/14 - Chicago, IL - The Salt Shed
4/15 - Chicago, IL - The Salt Shed
4/16 - St. Paul, MN - Palace Theatre
4/18 - Bozeman, MT - The Elm
4/19 - Bozeman, MT - The Elm
4/21 - Boise, ID - Knitting Factory
4/22 - Seattle, WA - The Paramount Theatre
4/23 - Seattle, WA - The Paramount Theatre
4/25 - Eugene, OR - The McDonald Theatre
4/27 - San Francisco, CA - The Warfield
4/28 - San Francisco, CA - The Warfield
4/29 - San Diego, CA - Cal Coast Credit Union Open Air Theatre
GOOSEMAS 2022
12/16 - Broomfield, CO - 1STBANK Center (Sold Out)
12/17 - Broomfield, CO - 1STBANK Center (Sold Out)
12/19 - Boulder, CO - The Fox Theatre (Sold Out)
NEW YEAR'S EVE
12/30 - Cincinnati, OH - The Andrew J. Brady Music Center (Sold Out)
12/31 - Cincinnati, OH - The Andrew J. Brady Music Center (Sold Out)
GOOSE TOUR 2023
1/14-17 - Riviera Cancun, MX - Playing in the Sand (Sold Out)
3/8 - Port Chester, NY - The Capitol Theatre (Sold Out)
3/9 - Port Chester, NY - The Capitol Theatre (Sold Out)
3/10 - Port Chester, NY - The Capitol Theatre (Sold Out)
3/11 - Port Chester, NY - The Capitol Theatre (Sold Out)
3/12- Port Chester, NY - The Capitol Theatre (Sold Out)
SUMMER 2023
6/22-25  - Rothbury, MI - Electric Forest
6/29-7/1  - Garretsville, OH - Resonance Music and Arts Festival
7/2 -30 Floyd, VA - Floydfest