The road to Golden Shoals has been a long, fruitful journey for Amy Alvey and Mark Kilianski. The duo has toured on foot—gig to gig with backpacks and instrument cases—for weeks at a time; called Asheville, Boston, California, and New Jersey home; and lived in various moving vehicles on the road for the past seven years under different names and incarnations. After all of that, their new self-titled record, Golden Shoals, represents a fresh start for Alvey and Kilianski; one that is more inclusive of the inspirations they've taken in since beginning their musical journey.
GW: Tell us about the journey of Golden Shoals. Can you describe what the last 5 years have brought you through? Any lessons learned? Any standout moments? There was a name change along the way, what is the meaning behind Golden Shoals.
MARK: It's been quite a ride. Amy and I were both introduced to bluegrass, old time, and other traditional fiddle styles in college, at Berklee. Being wide eyed newcomers, we were both timid entering the scene at first, which I think we silently bonded over. After graduating I started a musician house where all the roommates played roots music, and Amy was one of them. The two of us had our own respective projects, both of which kind of crumbled around the same time, so naturally we started gigging together, having played tunes around the house a lot.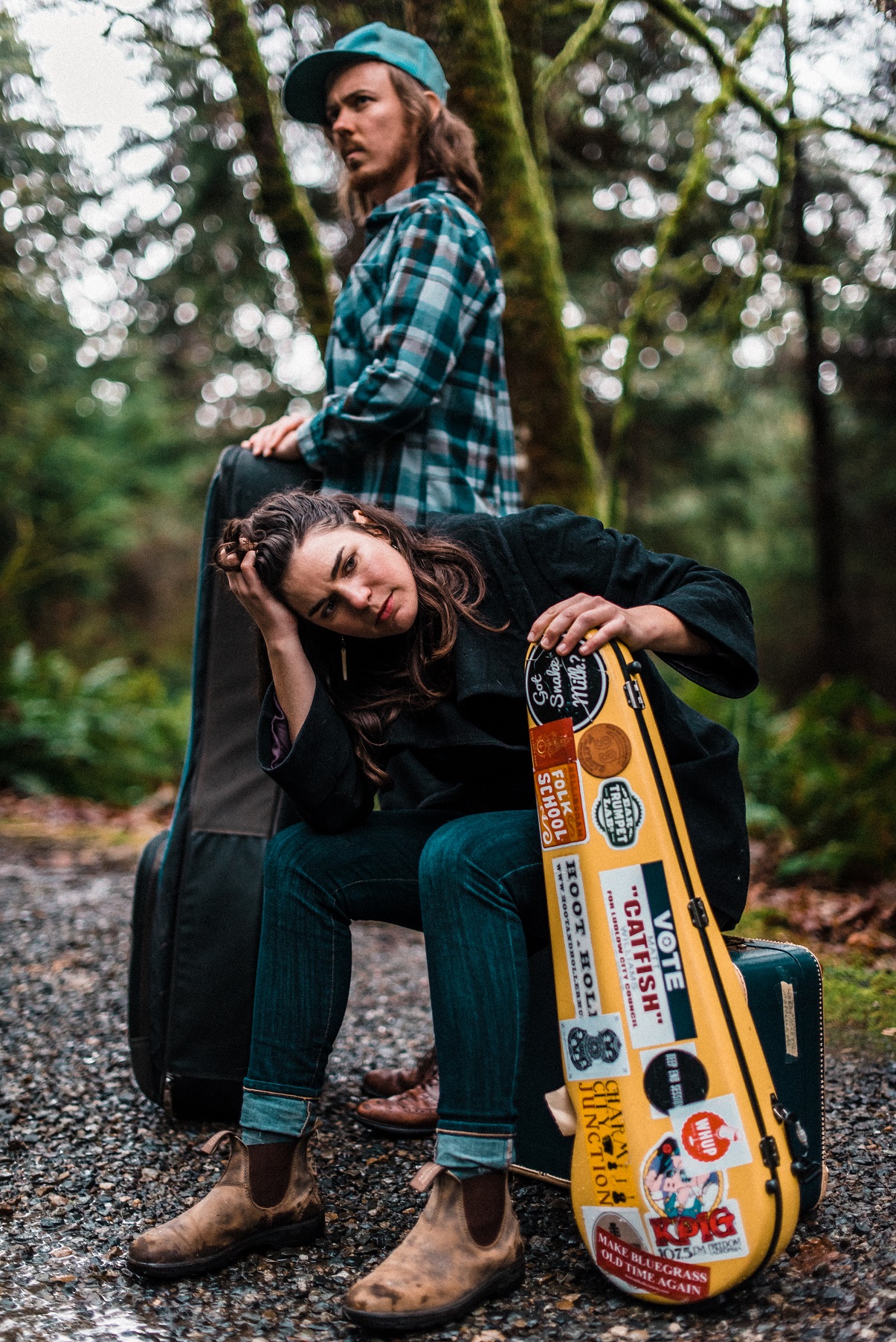 Our first tour together was the Massachusetts Walking Tour - 2 weeks walking to every show, camping, carrying our tents, instruments, and other supplies with us. We ended up returning to do that tour for a total of 7 times annually, partially because of the wacky people we would meet, like Spaghetti Dave. He would come to the potluck at the church we were about to perform at and bring a box of wine in a brown bag with a hole for the spout and tell us it was only for us. He told us he shared a hot tub with Carol King once, rode off on his motorcycle and we never saw him again.
We started touring the west coast in the winters because Boston is miserable that time of year. The musical and professional chemistry were apparent - we both wanted to play string band music and write songs, our voices naturally blended, and we're both relatively considerate and balanced people. We both loved the road and hit it full time in 2016, all across the US. We started basing ourselves in Asheville, NC after that, but kept hitting the road a majority of the time. Over the past few years, we've gotten to tour Australia, UK, and Germany. We got to see all these places and people we never would have encountered otherwise. It's not a very lucrative career, but these experiences are priceless.
We changed our name recently. Our old name was catchy, but we were not the only ones to think of it, not by a long shot. We brainstormed for about a year trying to choose a new name. The two of us approached it from a different angle and each found something to bring to the table. I looked inward, thinking of words to describe us and our music. Amy looked outward, thumbing through books, reading song lyrics, taking note of street signs. Driving through Alabama, I was messing with the word Golden, Amy saw a sign for Muscle Shoals. Golden Shoals. There's actually nothing else with that name, band or otherwise, at least not that we could find on the internet.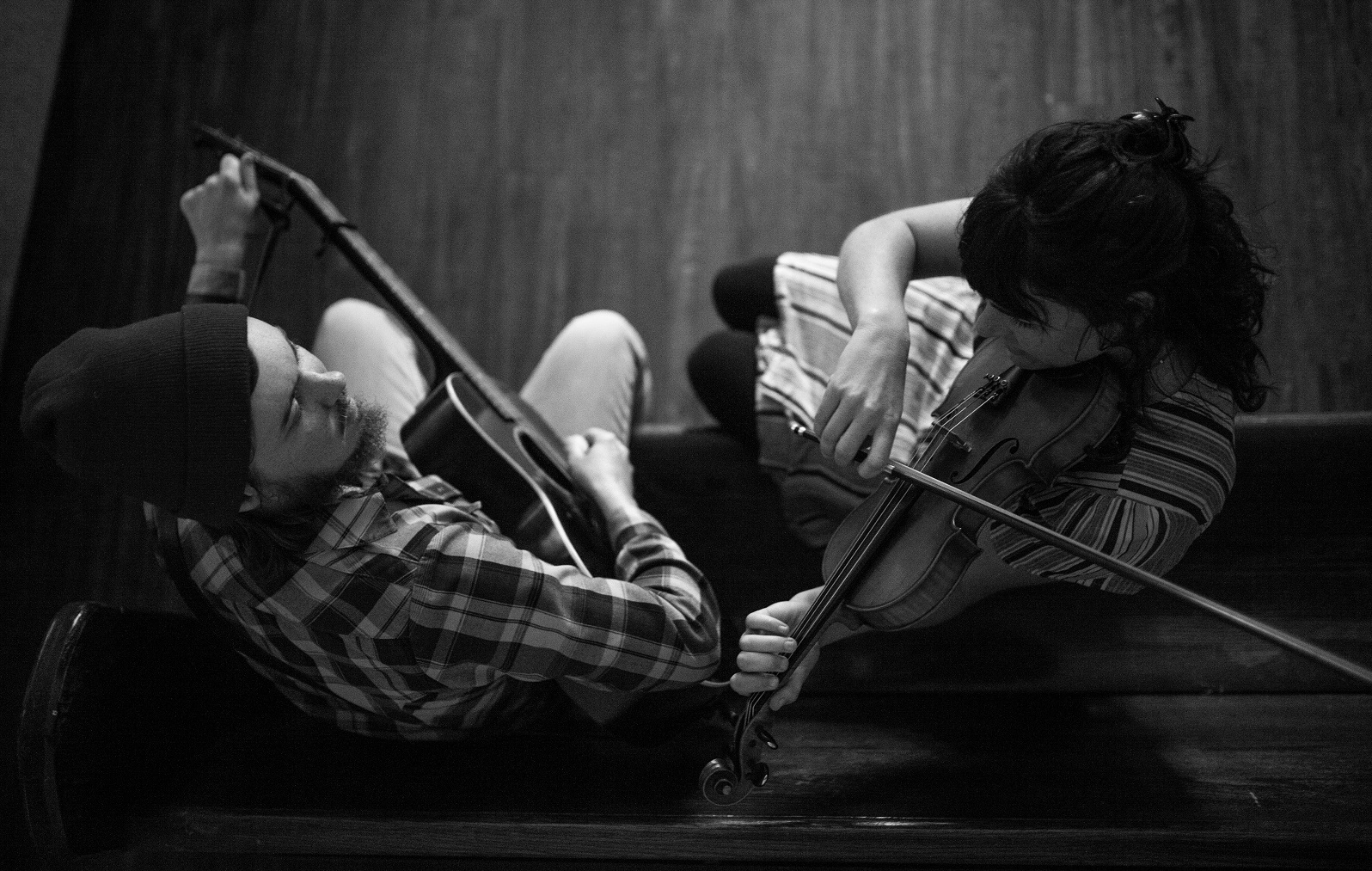 A shoal is a sandy underwater ridge that reaches up near the surface of the water. The basic structure remains intact while the outer composition constantly shifts. A shoal is also a group of fish, all moving individually, but remaining clustered together to prevent vulnerability to predators. This symbology accurately describes us and our music, without pigeonholing us into any specific aesthetic or genre, allowing us and our music to be self-defining.
GW: What are you most proud of about your new self-titled record?
MARK: This album was a departure for us as far as production. We incorporated a lot of our influences outside of roots music. A couple of Amy's songs have bit of an indie vibe. I got to play a lot of electric guitar, which is what I started on when I was learning. Many tracks have bass and a handful have drums, all played by our friend Landon George. Our engineer/producer Matt Lohan helped us get some great sounds and take the arrangements to a new level.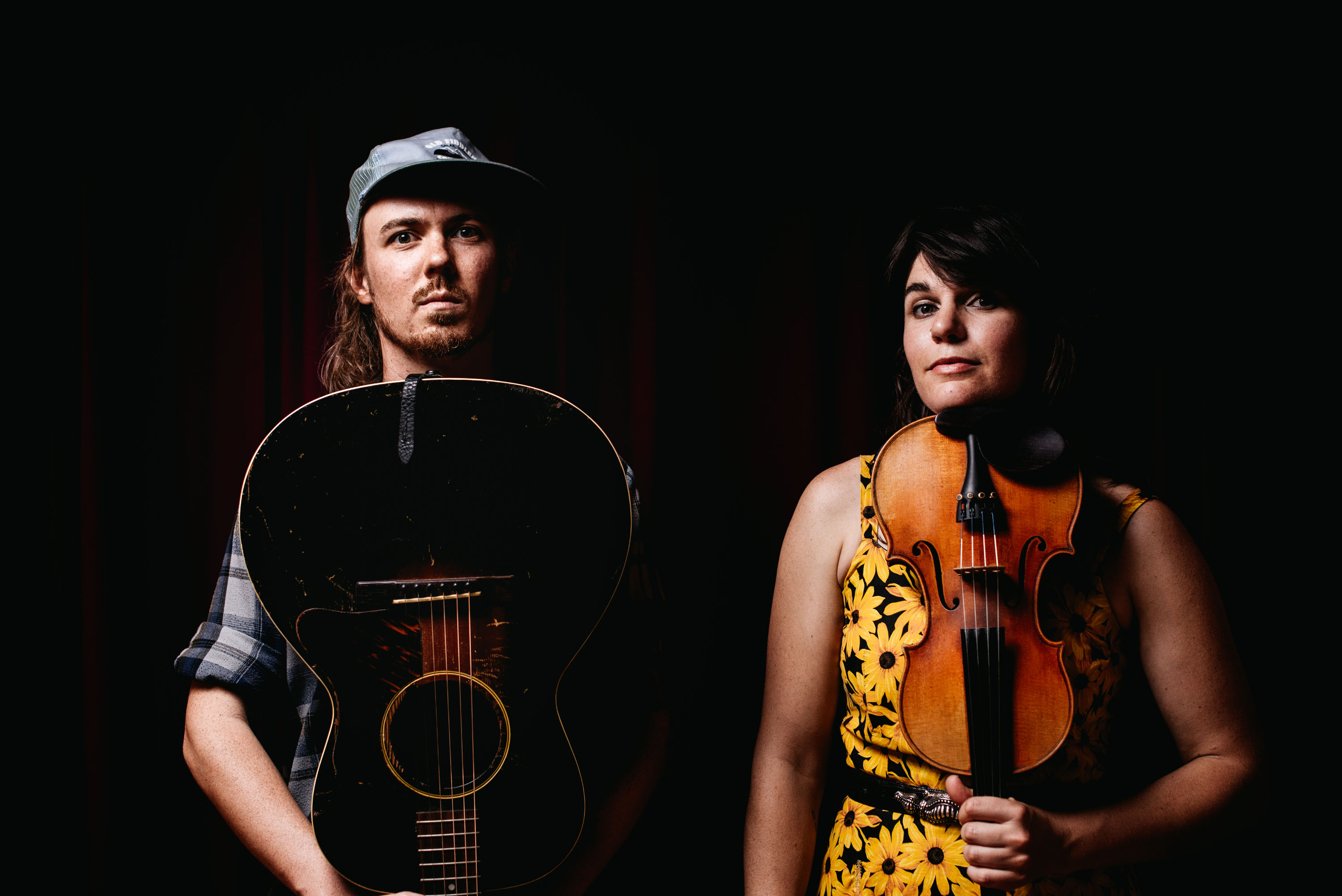 GW: Which song is most fun to play live?
MARK: Well for me, it might be Old Buffalo. We arranged it as a Norman and Nancy Blake style 2 guitar thing with lots of short solo breaks. Whereas usually Amy is playing fiddle and I'm de facto playing a lot of rhythm, I get to take break after break and lean on Amy's rock-solid rhythm playing. I also love singing it. It's got this great blend of fun and poignancy that I think expresses myself more fully than most other songs I've written.
GW: What do you miss most about touring?
MARK: Couldn't pick one thing. I love waking up in a different town every day, the feel of driving down the road, playing music for a live, in person audience every night. Maybe the most pure joy comes from seeing friends. We've made so many friends at fiddlers' conventions that we would get to see once or twice outside of those festivals, when we passed through their hometowns. Or other musicians we would cross paths with in some random town on tour. Being transient was central to how we interacted with our community. Being in one place is ok but takes some getting used to. I find myself driving around just for the sake of driving. It's weird.
GW: How can fans best support you during a time of no touring?
MARK: Obviously buying merch is great. Our album is available for preorder (and out August 7th). We've also got a gorgeous, limited edition letter pressed poster up for sale on our webstore. Taking lessons is great too. That provides us a little bit of steady income we can count on, and gives us structure and routine. We don't have a patreon, at least not yet, but contributing to subscription services like that is a great too.
GW: Who are you listening to? What should WE be listening to?
MARK: Wow. So much. New music first. Twisted Pine is putting out some new stuff. They're good buds from the Boston days, the funkiest string band of all time. Jake Blount put out a great album recently. Amazing banjo player and fiddler. It's a very traditional album, but there are subtle hints of heavy metal in there, which I appreciate as a former metal head.
For old stuff, I've been digging Fela Kuti a lot lately. 70's Revolutionary African Funk. It will get you fired up. I've been getting back into Memphis Minnie lately. She's got this "I don't take shit from anybody" way of singing. Blues music is so ubiquitous here in the US and it's been commercialized to death, so it's easy to overlook, but it's the bedrock of American music. The singing, playing, and storytelling in 20's and 30's Delta Blues is unparalleled. Robert Johnson, Charlie Patton, and Blind Lemon Jefferson are some other favorites. Damn, listen to Charlie Parker too, the genius of Bebop. A better improviser never lived.
It's also worth noting that the music we call country or string band or bluegrass or whatever, was primarily forged by African Americans. But they were largely excluded from the early recording industry, their contributions going largely unnoticed, the effects of which linger to this day. But that doesn't mean there was none recorded. Look up Andrew and Jim Baxter, and Gribbel, Lusk, and York. And this music is alive and well today, living in the work of Jake Blount, Layla McCalla, Hubby Jenkins, and many others.
GW: This record was in part self-produced. Tell us about your time in the studio: stand out moments, what gear you nerded out on, and where you recorded.
AMY: We recorded at a rental space that was turned into a "home studio" behind Harvest Records in Asheville, North Carolina. We brought our producer Matt Lohan into the fold because I had worked with him on another one of my projects and we worked really well together. Matt plays old time and traditional folk music, so he was familiar with that world, but he had produced a bunch of projects that were more along the indie folk vein. We trusted his instincts and we're so proud of where it took us: experimenting with textures and taking our arrangements outside of "our box" while staying true to the songs.
We had a blast playing instruments that we normally didn't have at our disposal: an organ, baritone guitar, drums, rain stick...but in retrospect it was a bit hectic. We were on the road full time but scheduled two weeks to get tracking for 14 songs done. Only when mapping out the arrangements did we realize the amount of work cut out for us in such a short time frame. I wouldn't recommend having such a hard and fast deadline for a recording session! There's one song we recorded that didn't make it on the album, because there was an emptiness to the song that we truly didn't have time to address.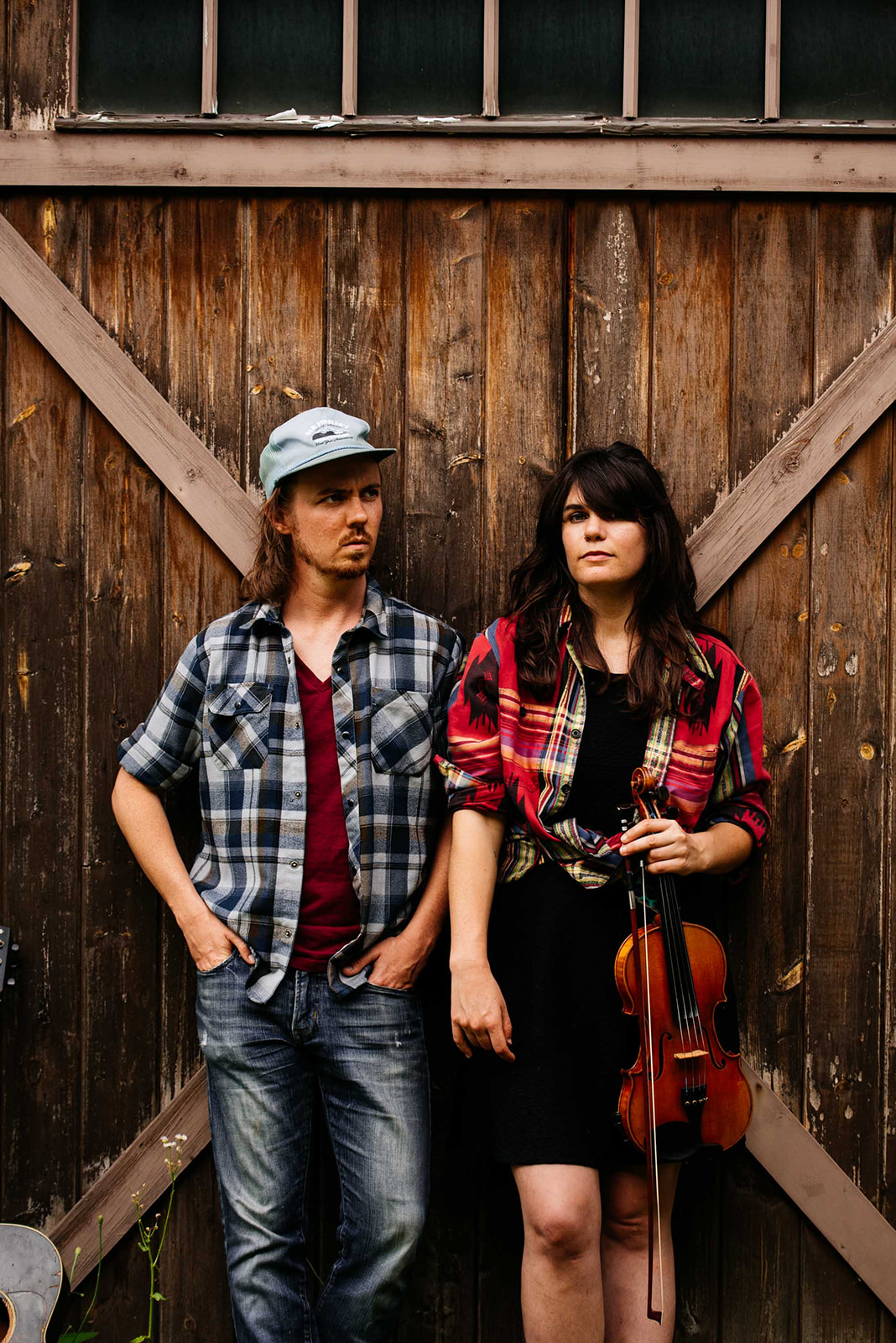 GW: "Sittin' Pretty" sticks out as a really strong track lyrically, tell us about it. What is the backstory and where was your head when writing it?
AMY: The past few years, Mark and I would base out of Asheville in the springs and falls. I remember writing it during one of those chunks of time when we were sticking around town and playing locally. I was living in my van, but a friend let me into his house one day while he was working. It's my direct response to hearing and reading alarming news headlines day in and day out while navigating through the world as a drifter. Despite the freedom of being self-employed on the road, it's a lot to figure out your travel logistics, sleeping arrangements, booking more work; I hardly had any energy left over. I felt detached from it all, and the chorus itself speaks to the guilt of that detachment. The fact that we had no real home base, community, or local politics to engage in made me feel helpless. I think it's something a lot of people can relate to in these times.
GW: Name one or two songs you wish you had written.
AMY: "Pancho and Lefty" by Townes Van Zandt. Not only is the melody beautiful, but the descriptive imagery evoked from the lyrics are truly astounding. I also wish I possessed the skill of writing a compelling story song. It's really hard for me to write about an event or people that I have no personal connection with.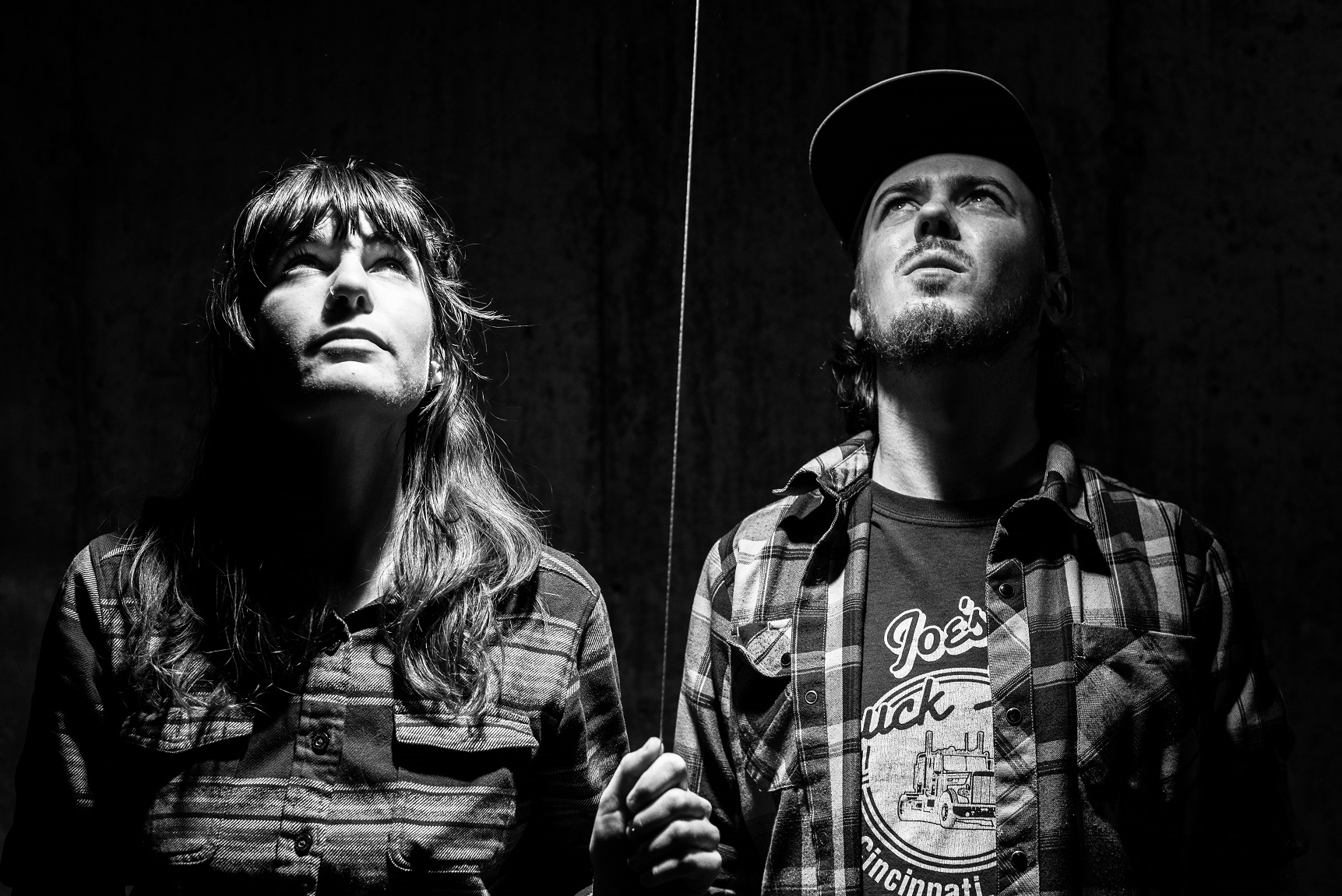 MARK: I usually try to steer clear of anything resembling envy, but since you asked, maybe I'll say "Flag Decal" by John Prine. It's basically a political cartoon in song form. I often strive to have multiple emotional dimensions in a song. Scathing political commentary cut with cartoonish humor is a sure-fire way to my heart.
GW: You've called several places "home". Can you tell us about your relationship with the cities you've lived? Any place in particular that was inspiring, or you drew musical ideas from?
AMY: We formed in Boston in 2013. We went to school together and had been playing in the music scene since 2009 in our separate groups. It still very much feels like a "homecoming" show when we play there. We have a lot of songs that mention different states and cities in passing; much like seeing it out of your car window. The song "Live Easy" on our new album was written right when we landed in Asheville, NC the first time. That song harnessed the excitement of exploring a new town and setting down a little bit of roots. I was definitely feeling a sense of empowerment along with a fresh start.
GW: Your music touches bluegrass and folk traditions. How did you come to love the genres you currently hover around?
AMY: Going to school at Berklee and meeting other fiddle players was huge for both of us. Neither one of us had really heard traditional American folk music until college, and all of a sudden, we had access to ensembles specific to Bluegrass, Old time, Irish, western swing, country. A few people we knew would host "tune swaps" outside of classes, fostering a welcoming community to more about different styles and repertoire. The social aspect definitely drew us in and is still one of our favorite parts to this day. Having friends come together for a pick is more musically fulfilling to us than sitting in a room alone writing nine-part horn arrangements, as what Mark was doing for his Jazz Composition degree.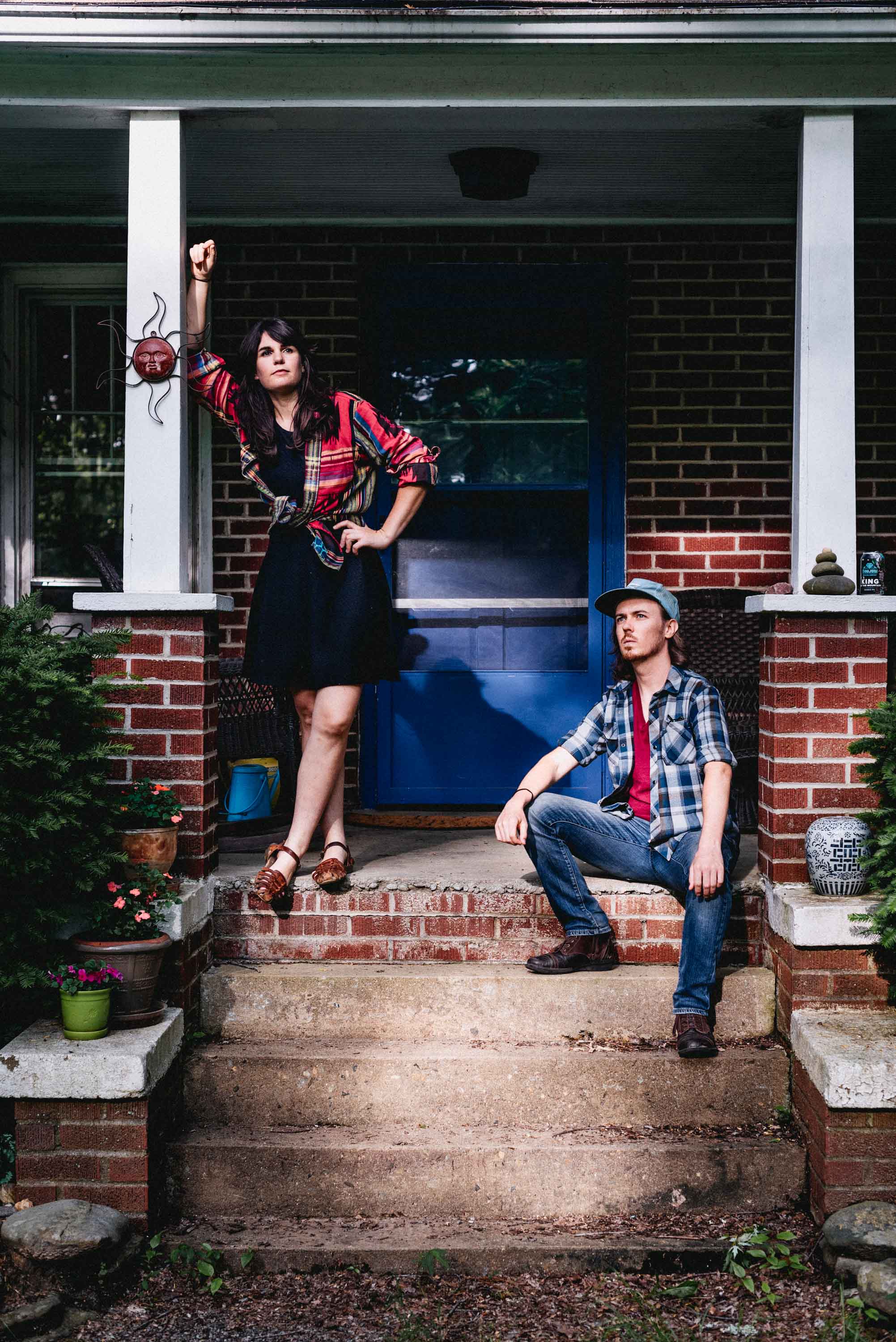 GW: Where are you sheltering in place? and how are you spending your days? Do you have a quarantine garden or an active sourdough starter?
AMY: When COVID-19 broke loose, I was in Southern California and Mark was in Northern New Jersey at our parents' places. What was supposed to be a week off turned into three months apart. On July 1st we met up for the first time in Nashville, TN. It's a lot easier to be a band when you're living in the same town! With the absence of shows we both have a roster of students we teach online and are teaching online workshops through the Handmade Music School (Floyd, VA) and the Old Town School of Folk Music (Chicago, IL). I started a practice resource called "Tune Packs" which are play along tracks geared toward isolated beginner/intermediate old-time instrumentalists. You can find out more at www.amyalvey.bandcamp.com. As cliché as it sounds, I'm cooking a bunch and fermenting as well. I've got kombucha and kimchi going in my cabinet now. I had been looking forward to taking on homesteading type projects after van life, so I'm really leaning in.