Grateful Web recently had a chance to speak with legendary bluegrass mandolinist, Jesse McReynolds. Jesse's use of 'crosspicking', known as the 'McReynolds style' distinguished his picking from Bill Monroe and others. Jesse is a multiple Grammy award winner and in 1993 he was inducted into the Bluegrass Hall of Fame. 
This year also marks Jesse's 50th year playing at the Grand Ole Opry. And next week, Jesse will be playing a Grateful Dead set at the inaugural WyeBrook Farm Bluegrass Festival.
GW: Hi Jesse, thanks for being here.
JM:  Thanks for having me.
GW: Speaking of the Grand Ole Opry, can you tell us some of your favorite moments playing there?
JM: Well, I guess my most favorite moments were, well I guess there a couple of them, I guess when we were guests of the Opry in 1961, and we became members of the Opry in 1964. That was really the highlight of Jim and Jesse's career really. We traveled around the county playing a lot of different radio stations and tv shows and things, until then, but when you get to the Grand Ole Opry as far as country music and bluegrass playing, you know that's about as high as you can go with that type of music, you know
GW:  There was a celebration this past March 1st for your 50th Anniversary at the Grand Ole Opry, how was the experience?
JM: That was really great! You go along for these years and you sort of take things for granted as you work the show every week when you're in town for 50 years, but then you get recognized, it's sort of like starting over again. (laughter). It was really great.
GW:  You also released a 50th Anniversary recording, "Jim & Jesse & the Virginia Boys Radio Shows," can you tell us a little about this?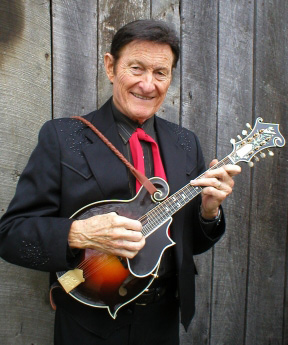 JM: This was a Jim and Jesse recording we did before we came to the Grand Ole Opry, we did a lot of radio shows, sponsored by Martha White, who was our sponsor at that time, that's how we got on the album, because they were one of the main sponsors of the Grand Ole Opry for many years and still are.  So, uh, we did these radio shows and they ran into syndication.  When it was all over, we had tapes of all these shows, so we got those out, and had some people do some re-mastering on them, and put an album out.  It's a little different from the county music that has gone in so many directions and changed a lot, but when backed and put this album the way it was back then.
GW:  On April 26th, you will be playing the inaugural WyeBrook Farm Bluegrass Festival, Jesse will be playing a bluegrass and Grateful Dead set.   Can you tell us your plans for this and how it came to be?
JM: Well basically, I have a bluegrass band, a five piece band. We do pretty much traditional bluegrass, but I did this album with David Nelson and some of the friends of Jerry Garcia. I met a lot of great new fans that I'd had not ever played for by doing this project.  Well, I have been doing quite a few shows since this came out with David Nelson, but this particular show I will be doing with Professor Louie & The Crowmatix from over in Woodstock. He owns a record company that put the project out. So he will be working with me. Grateful Dead music is better if you do it with people who are familiar with.  Louie has a band that really, um, that plays a lot Grateful Dead music, and of course other types too. So I got him to come over and do the Grateful Dead set. It's sort of to close out the show, it's a Bluegrass festival, but we are going to close it out with a Grateful Dead set.
GW: How do you first get involved in Grateful Web music?
JM: Well, actually it came by through the email and the website, I met Sandy Rothman.  He was a friend and traveling companion with Jerry, back before the Grateful Dead.  They used to come to festivals and things and they were Jim & Jesse fans (laughter), which I found out these years later. So Sandy, he came to visit me a couple of times, and asked me if I'd consider doing a tribute album to Jerry. There were a lot of tribute albums to the Grateful Dead music, but I just wanted to recognize Jerry and Robert Hunter as the writers of some great music that they've done.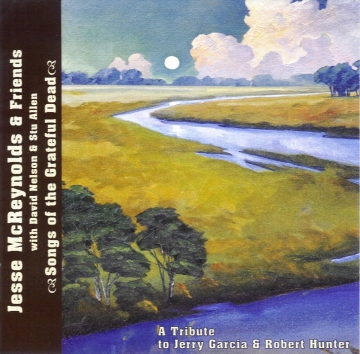 GW: Which of the Hunter/Garcia really speak to you?
JM:  Ah I think the Black Muddy River, that was one of my favorite songs.  And some of the traditional songs, Deep Elem Blues and Going Down the Road Feeling Bad. Standing on the Moon was one of favorite songs and Ripple, and um, Bird Song.  And some of the songs they did back in the early years, that's what I was sort of concentrating on.  That had such a variety of music or songs that'd done or songs that they play, I didn't realize they did so many recordings until I got into it and go to listening.  My wife, she's a Grateful Dead fan, and she helped me through the project to pick out some things that she figured I could do. A lot of the songs a regular bluegrass artists cannot do, compared to regular to Grateful Dead could do, but I tried pick out songs that fitted bluegrass or whatever, you know?.
GW:  What was like to share the stage with Robert Hunter at the Grand Ole Opry?
JM: That was great, that was another highlight for me at the opera. This one happened about, I guess 6 months ago. I had contacted Robert, in fact, I haven't met him really yet in person until we did the thing at the opera. I contacted him by phone and we did have one song we wrote together.  He wrote the words and I put the music to it, and we have it on the album project. But uh, Robert, he's a genius when it comes to poetry or whatever needs to be done as far as writing words for songs. I think they'll never be another team that works together as well as him and Jerry Garcia did.
GW:   In the mid 60's you released "Berry Picking in the Country,' – how did the rise of Chuck Berry and rock-n-roll affect your music?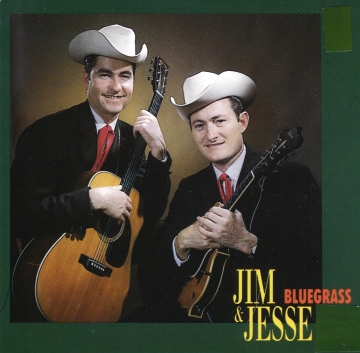 JM: Well, ah, we did that pretty much bluegrass style.  We did some Chuck Berry songs, and ah, it went really well for the time we did it.  The time we did was in the 60's and race relations weren't going too well in the south at the time.  But it was better accepted than we expected.  I think Chuck Berry, he's a great songwriter, the songs he wrote you know, they wasn't just words, they told a story pretty much, you know? We were recording for Epic Records at that time, and the producer Billy Cheryl, he came up with the idea of doing some Chuck Berry songs with a bluegrass band.  I think we were the first to venture down rock-n-roll feel doing it bluegrass style.  I did work earlier with The Doors, I did a song with them on The Soft Parade, but this happened years earlier.  I like all types of music, I don't like to like to say this is only kind of music I will play.
GW:  Did you find contemporaries not want to mix Rock-n-roll with Appalachian music?
JM:  Well a few people back then were purists, like bluegrass fans. They preferred you do straight bluegrass music, like Bill Monroe and Flatts and Scruggs.  Which is great music, but we have so many bands come up since then and done contemporary music or rock-n-roll, it's pretty just music any more, they don't really separate it that much anymore.
GW: On a similar note, how many current younger bands playing bluegrass music do you listen, for instance The Infamous Stringdusters who hail from Virginia?
JM: Yes, there's so many, I can't keep up with them now (laughter).  But I have heard those bands, I have worked festivals with them. But there's so many bands out there now, the new ones that does different types of bluegrass music, I admire all of them.  Because these young musicians, they seem to learn so fast. These young people can they learn more in 6 months, then people like myself of some of the older artists learned in 20 years or more (laughter).  But I like all types of it and I am glad to see it go in different directions.  I like Steve Martin, he's been a great influence. The way he plays, people like that taking interest in Bluegrass music, takes it to people who would never heard it before.
GW:  When you lost your brother, was it difficult to resume playing music after that?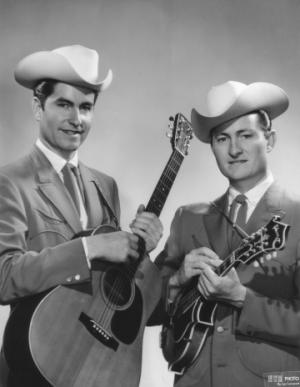 JM: Well, yes it was difficult to wonder which direction to go.  We worked together 55 years as Jim & Jesse and when you break up a group like that or whatever, you wonder which direction to go from here.  When I started resuming my career and carrying on with the band, I just ventured out and wanted to do some different types of things.  And the Grateful Dead project was ah, one of the most successful things I've done really since Jim passed away.  I still do some bluegrass recordings and right now we are reissuing a lot of the Jim & Jesse projects that we done throughout our career together. That's what this new project is about, it's some of things we did when we first started recording.  And ah, it is nice to find a record label, like we're working with now, Rural Rhythm Records, they take an interest in the history of bluegrass music and gospel, and whatever.  And it's nice to find a record company interested in sticking to the tradition and letting people know how it sounded years ago.
GW: Looks like we'll be seeing you a few summer festivals, we'll see you next week in Pennsylvania and in June you'll be playing the annual Bill Monroe Bluegrass Festival. Did you ever get a chance to play with Bill Monroe?
JM: Oh yes, we did some recordings with him together. We worked Big Blossom every year they'd had Big Blossom.  We worked the first one and we were there when he played his part on the last one, and I still do it every year.
GW: Have any interesting Bill Monroe stories?
JM:  Oh yea, there are so many stories about Bill (laughter). He was a different type of person, he was a little hard to get acquainted with. He was with us, you know, we were country people and a little backwards when it comes to meeting each other.  I think Bill's first comment about having met Jim & Jesse was I'm a little hard to get acquainted with.  We were sort of like him, we were more laid back and didn't really try to push yourself on people.
GW:  Thank you for the interview, it was an honor to speak to you.
JM:  Thank you, it's an honor to be with you.