I get asked a lot about the current crop of young (as in, never saw Jerry Garcia live) Dead Heads and whether they're "real."  And no question, they are.  They get the music, the code of ethics behind the music, the reason we do this stuff.  There is, however, one thing that reveals the passage of time.  Many—not all, but quite a few—members of the younger generation suffer from P.D. – Pigpen Deficiency.
This is not true of Chris Mitrovich, the founder of Skull and Roses (at Ventura Fairgrounds April 5-7 this year, and you should buy tickets now – www.skullandroses.com).  When I first met him, I knew I could trust him when he remarked that "Every Dead Head gathering needs some Pigpen."  Which brings us to the story of the Alligators, and Pete Carona.  They are the antidote to P.D., and you're going to want to see them….so let's talk to Pete.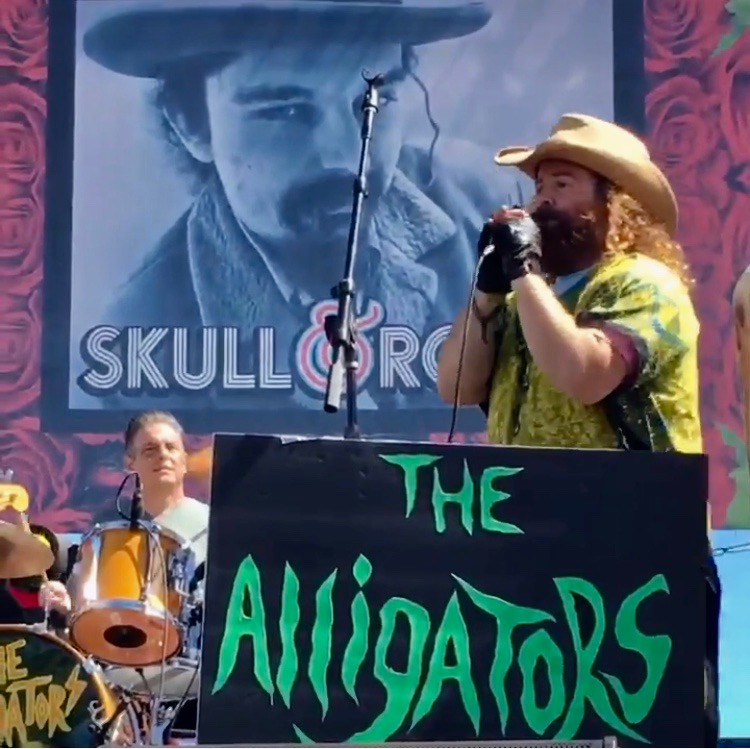 My family moved from New York to the San Gabriel Valley, Southern California, when I was in the 4th grade, and everything changed.  I've been really blessed to come from a really musical family.  My parents and my brothers were real proponents – my Dad was in a doo-wop band in the '50s, in Brooklyn, and my mom loved the band.  She waited on line at a record store where they were doing a signing, and the rest is history.  And I ate it up – from very early on, I listened to everything there was on the radio.  My early favorite band was Kiss, and my father took me to see them at the (Madison Square) Garden when I was nine years old, and it was a life-changing experience; I got a taste of over-the-top rock and roll and never looked back. Then I got to California, and everybody, including me, was nuts for Led Zeppelin.  The Dead came a little later on, in high school, and when it hit, it hit hard.
I don't play an instrument, and I don't claim to be a great vocalist – I've got this gritty Bob Seger/ Lynyrd Skynyrd approach, but my main strength, which I've taken from all these things I've listened to, is performance, putting on a big, high-energy show --- finding individual people in the crowd, tuning into them, locking in to make sure that everyone is grooving on the same page.  I bring the bottle of Jim Beam onto the stage and just go full tilt.  We bring an energy that you don't see in most other bands.  I'm a concert junkie still, I go to two or three shows a week.  All the Dead & Company's, reggae and blues – I just suck it all up as much as I can.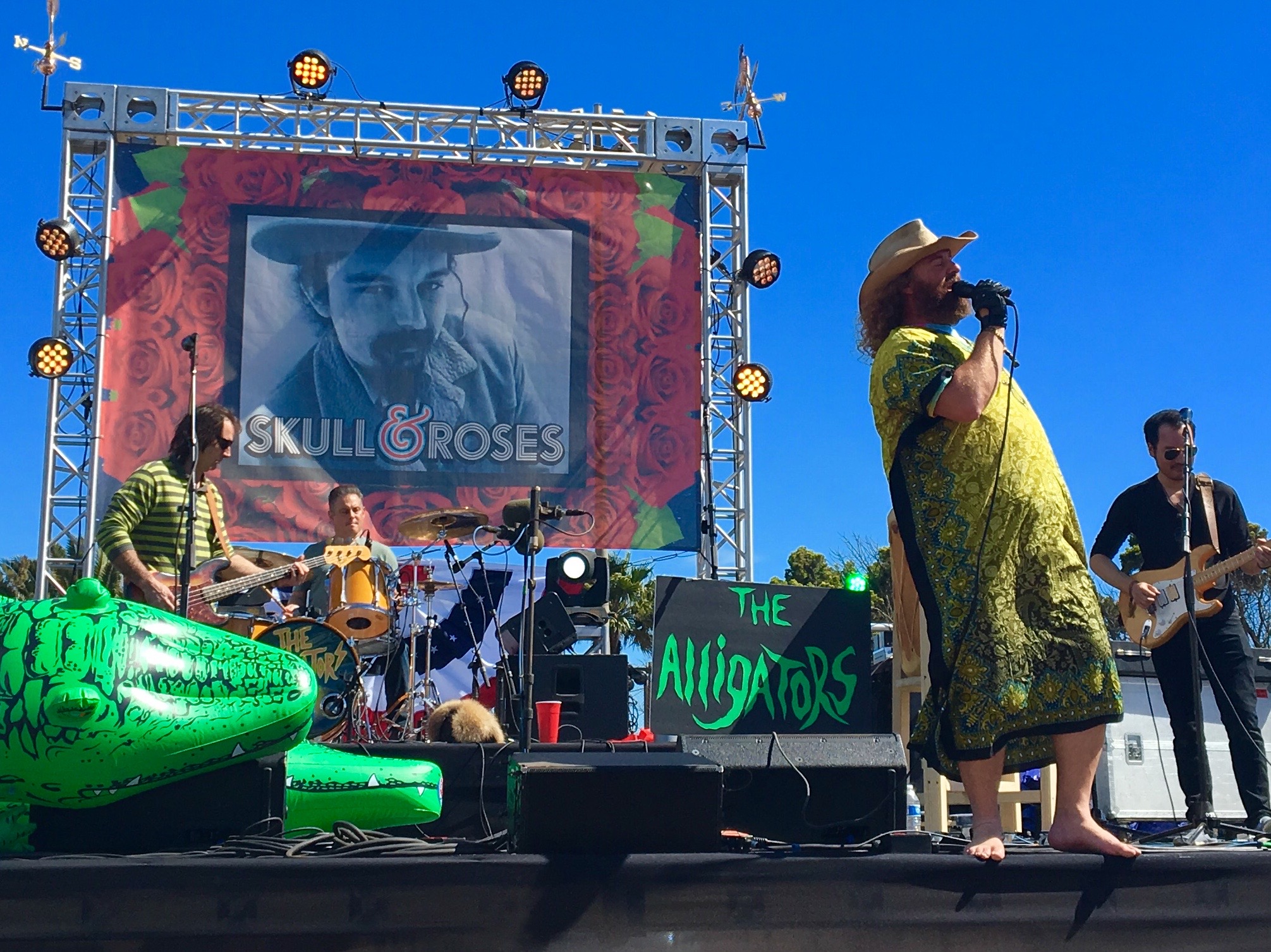 My first band was a punk rock band called Annihilation.  That was in 9th grade.  Then I went to high school, and that's where I met Chris Mitrovich, the founder of Skull and Roses, and we became best of friends to this day.  We started out deep in the punk rock scene.  Within six months we started a punk rock fanzine, we were interviewing bands, then we put on shows…and it reminds me of the Dead scene in certain ways.  It had a real DIY vibe to it, it was all people you knew doing everything.  Along the way, we stumbled in with the stoner music guys at school, and they started sharing tapes with us.  The Dead had been on my radar, but then we met these guys and the tapes…it was kind of game over at that point.  We still loved the punk scene, but once the Dead came in it took us on a whole new journey.  From then on, we started hitting Dead shows in the '80s, and we started bringing more and more friends of ours into our scene – we always had a big scene, the Arcadia/San Gabriel Valley thing, we traveled in packs, 30 or 40 of us, and it just grew.
Irvine was the first one.  Before that, we had been immersing ourselves in the tapes and getting super excited.  There was this Atlanta '85 tape that somebody loaned me – it was the only thing I listened to for days.  They do this "Scarlet"-"Touch of Grey" second set opener – I must have played that thing a billion times and then we were just drooling for a show.  Chris got a head start on me, he went away and caught some show, I'm not sure where, and my band, the Insultors, (still my band after 30 years!)  was playing that night so I couldn't get away – and when he came back, I could just see the glow on him.  So, the first one I got to was Irvine.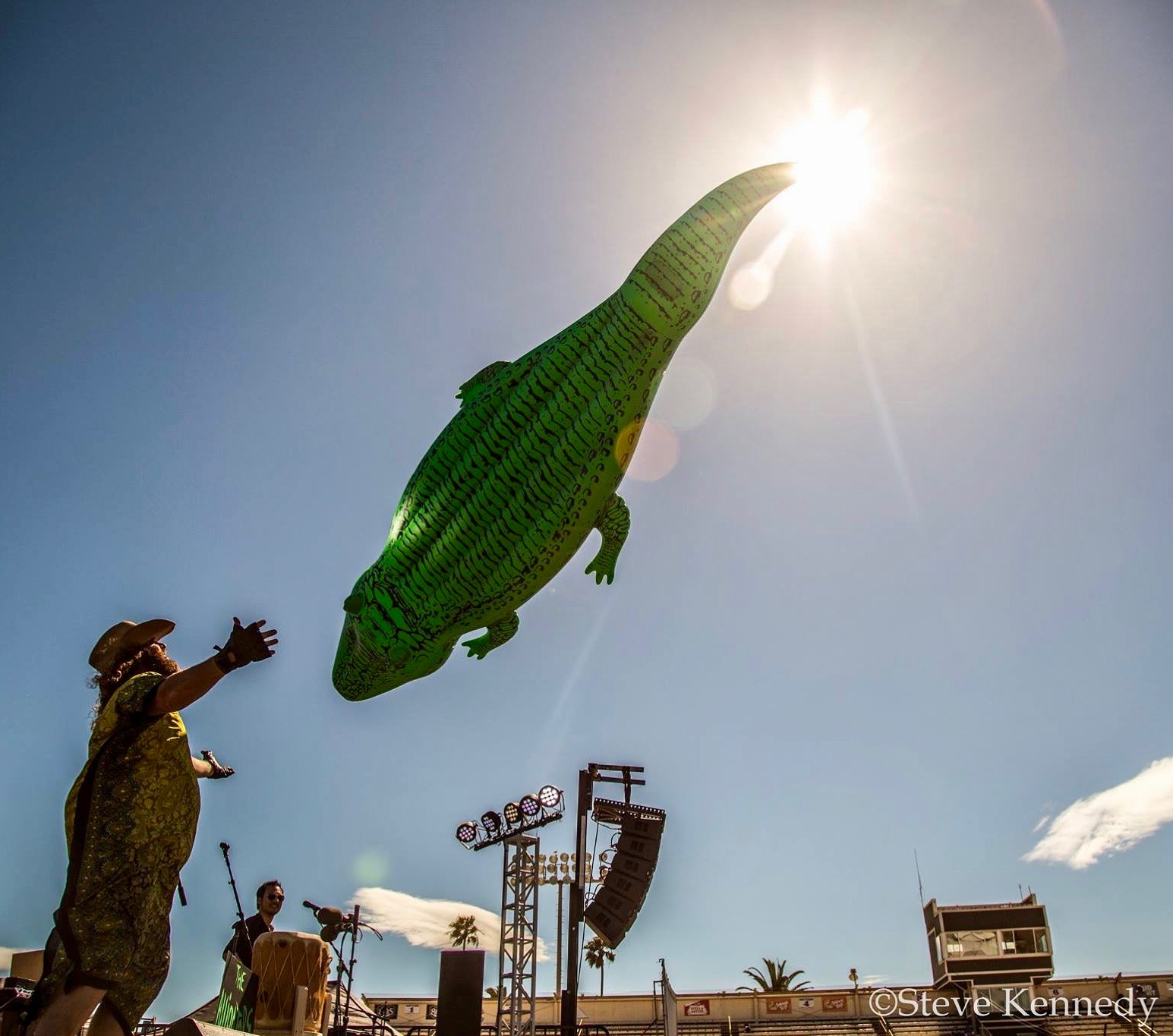 And then I was in the freak show.  Thousands of people camping out, eating, smiling, loving, music from every tape coming from every corner of the parking lot. It was just pure ecstasy.   I remember we pulled our van right in, and I got out and the first person I met, he called himself St. Paul, and he handed me a donut, and then he said, "On the eighth day, God created Jerry Garcia.  Welcome to heaven."  I still get goosebumps…And then the music started!  We were experimenting with psychedelics, which was kind of new to me, because I was always a whiskey guy…and, of course, psychedelics and the Dead kinda go together, the colors, the sights, the sounds...  I remember a "Wharf Rat" from that first show that completely melted me; After the encore, I remember the lights came on, and I had a smile that I just could not get rid of.  And we went back out to the parking lot, and I realized I'd found a new tribe. Most of our friends were all experiencing it for the first time, and we all gelled with it.  At that point, we were off, and then it was show after show.
And then the Europe tour – it was one of the funnest times of my life.  That's always been one of the things I loved most about the band.  Not only are you meeting new people along the way, but you're seeing the world, you're traveling, and what better way to travel than at the end of the day you get to go see your favorite band?  There were six of us that wanted to go, and I couldn't afford to go, really.  So, I hit up a friend of mine who was in business, and he said "Here's $2,000.  Go have fun and represent Arcadia, and you have a year to pay me back."  So I took it.  And four or five months later I paid him back.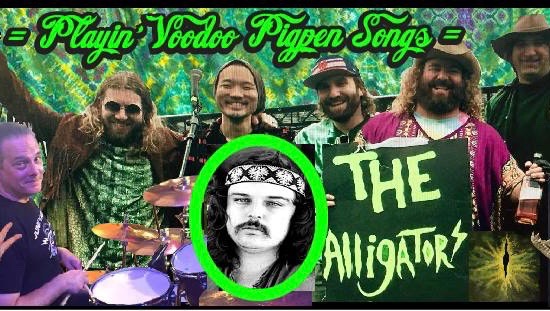 Some nights we camped out in the park, some nights in youth hostels, some nights we threw some money in and stayed at a nice hotel.  And once again, just meeting the European fans – and in some places, the shows seemed really small and intimate.  It was an experience like no other.   There was a certain "Dark Star" there, and it was one of the nights where we got to get up pretty close.  It was getting really spacey, down and deep and dirty, and then Bruce Hornsby got out his accordion and Jerry sort of looked at him...that might just be in our minds, too.
I went to a bunch of colleges—I was never really focused too much—but finally got my degree in communications, and I've been a TV producer for Fox for the last 20 years.  I make 20 and 30-second promo commercials for the station.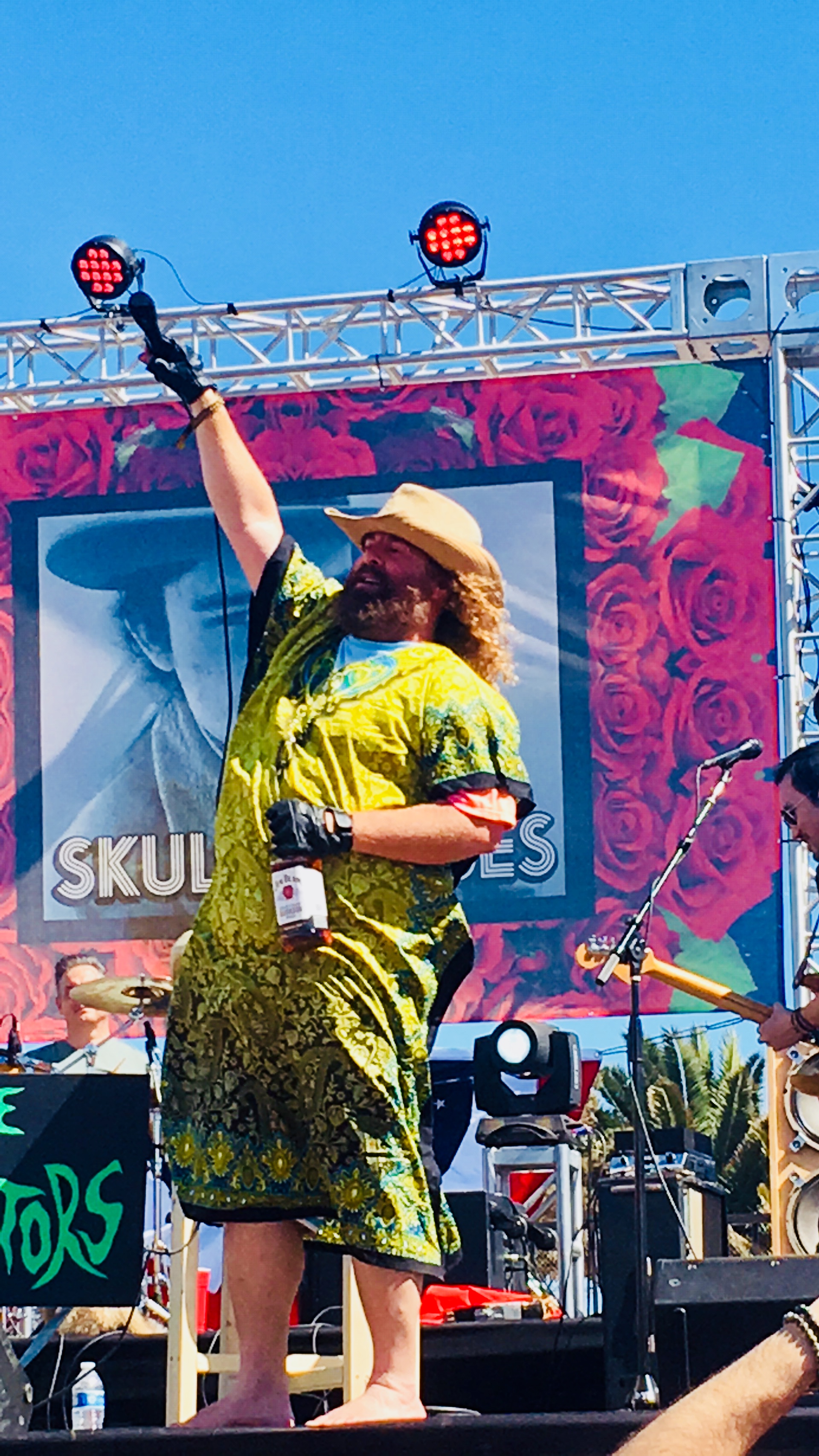 How the Alligators came about is a funny story.  Chris had been coming to see my band for forever, helping out in every way, so when he put together the first Skull and Roses we were behind him 100%.  He had such a great approach to it, and on the banners and ads for the first one, he kept talking about "48 Bands for Three Days."  About three weeks away from the start, somebody couldn't pull it off, so now he only had 47 bands.  And it bothered him; he really wanted to keep it as he'd said, at 48.  He's very attention-to- detail-oriented.  We were talking about it, and we thought, well, we could put a band together, but there's already dozens and dozens of bands playing straight-up Grateful Dead, but we wanted to do something special, and somebody said, "What about Pigpen?"  And I had that whisky rock-and-roller kind of approach, so I said, "We can give that a go."
Me (PetePen) and Jason (J.J. Gator) on bass kind of assembled a bunch of guys from the neighborhood who'd played in a million different bands, and then we found a couple of guys to fill out the lineup with a local Craig's list kind of thing.  We have a real eclectic bunch.  One guy's been in reggae bands his whole life; now he's McSwamp, who does vocals and is our d.j.  Another guy, our percussionist, Tommo, was always an REM-Smiths-alternative college rock kind of guy. Our rhythm guitarist, Stevie Ravioli, comes from a heavy metal, Judas Priest Iron Maiden kind of background. Steve Kim-Chee Warrior came in on lead guitar, Scottie Gator on drums, and Berkee Gator on keys.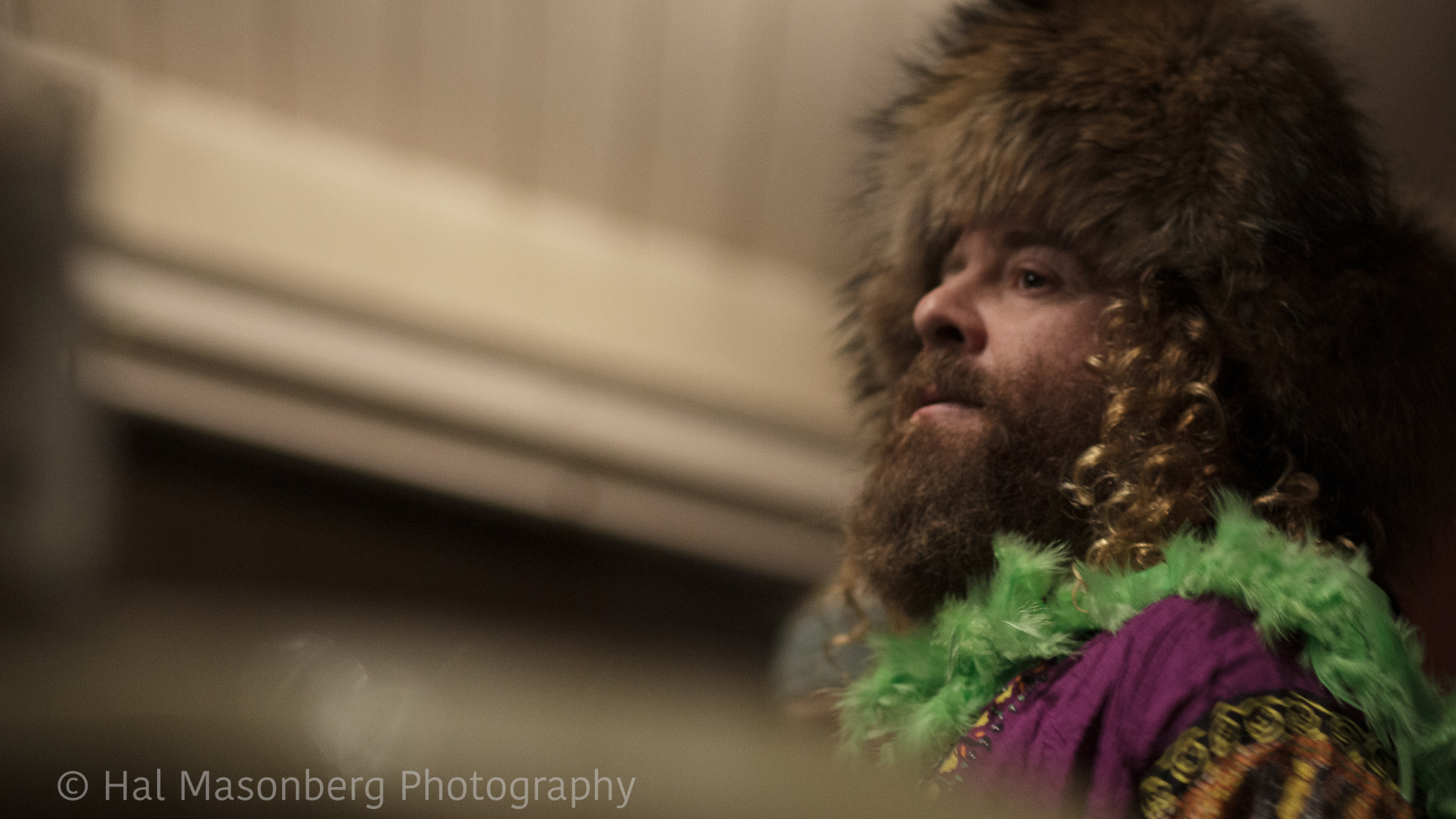 But all of us liked the Dead, it's just our bands weren't always that focused on it.   We put it together strictly to fill that void.  So, we told Chris that we had his 48th band together.  And then he told us our time slot, which caused us to fall on the ground laughing, because he told us the band that had cancelled was due to play at 6 a.m. on Saturday.  "Is anyone going to even be there?"  But of course, we played, and it was unbelievable.  We started off with "Good Morning, Little Schoolgirl," and we did a really long spacey intro to get people up before we kicked into it.  And little by little, people started getting out of their tents and trailers—it wasn't huge, it was like 40 or 50 people. 
But we got mid-way through our set, and we were doing "Smokestack."  And it was misty and cloudy, and right in the middle of the jam, we didn't even notice, but 50 feet behind us were train tracks, and right in the middle of our jam came the morning train, just howling by, and it was just perfect.  And we just got such a wonderful response as we came off the stage, and even though we'd thought of it as a one-off to help Chris, and before you knew it, all the people were saying to us "Where do we see you next?"  So we rolled with it, and every show we play, the crowds keep getting bigger and bigger, and more and more people—not to compare us, but in a strange way it's like a microcosm of the Dead, where they all came from different influences, and we've had people jump on board to fill all the roles—the Owsley role, the crew,  the sound guys, the merch guys.  It's probably like that for all the bands here at Skull and Roses.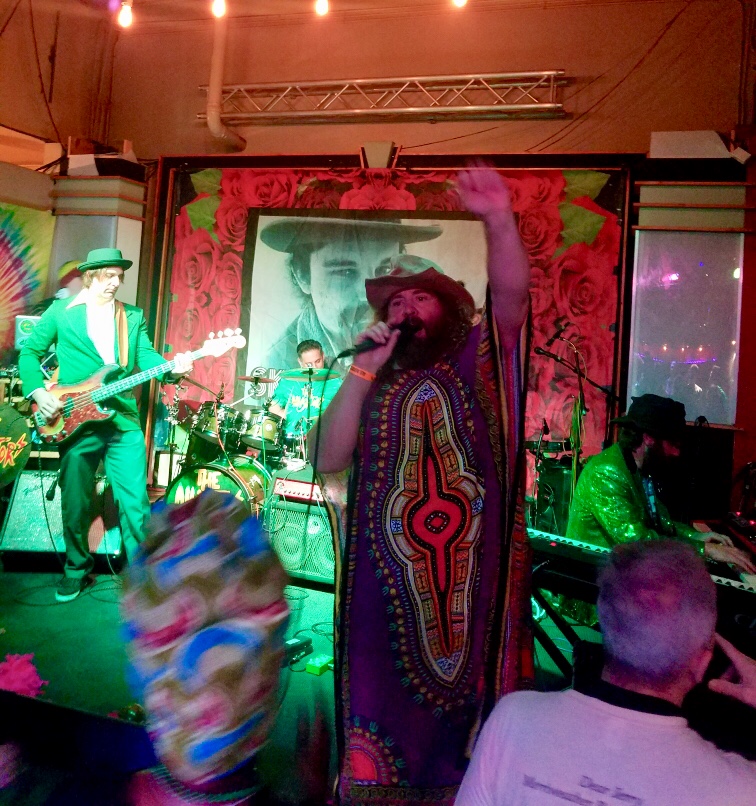 I gotta say that an absolute Pig purist might have reservations about us—I mean, the music is all Pigpen all the time, but we're trying to bring our own trip to it too, so sometimes we'll use their songs as a base, but then we can jam into a "New Speedway" or "Other One" and then bring it back to Pigpen—not lyrically, but musically.  And we really do have a show, it's a party, like Pigpen crossed with Mardi Gras.  And taking the Alligators out and around has been amazing, you really do find out how big a tent the Grateful Dead really is.  People just come out of the woodwork.  It's an honor to tap in to the Dead this way, and all we wanted to do was kick up the party a few notches, and that's what we're doing...
For more on the band, go to www.alligators.love