As the precipitation begins to fall and the temperatures steadily drop here in the Rockies, the boys from Vermont rock band Twiddle have just completed another scorching Colorado run.
The run began with an "altitude affected" first night at The Belly Up in Aspen, with guitarist Mihali Savoulidis experiencing the rough end of about 8,000 ft. elevation. The boys recouped the next night with an extremely hot set in Fort Collins featuring a gigantic "Jamflowman > Frankenfoote" - two of the band's heaviest hitting tunes.
Next up, the boys were met by a sold out crowd at none other than Boulder's Fox Theatre - a show with notable ebb and flow - featuring Twiddle staples as well as a handful of nailed new songs. The band weaved impeccable song selection with huge jams for the Fox crowd including an awesome take on Zdenek Gubb's original song"Doinkinbonk!!!" (complete with a Primus cover sandwiched in the middle) and a wild rendition of "The Box". The band proved their stamina after a marathon 2-hour set, encoring with the extra long and extra rare "Dr. Remidi's Melodium" and a sick guest appearance by Jeremy Schon of Pigeons Playing Ping Pong on Twiddle's staple song "When it Rains it Pours". 
For the next stop on the affectionately titled "Nice Crispy Bacon Tour", the band jaunted up to Breckenridge's 320South for a surprisingly packed crowd. For die hard fans, this evening featured a solid handful of Twiddle rarities - specifically "Bronze Fingers", "Carter Candlestick", and the elusive "Daydream Farmer". Oh, did we forget to mention a 29-minute take on the first Twiddle song ever written "Gatsby the Great"? 
Finally, the band wrapped up another successful CO run with a rowdy 2-set birthday celebration at Denver's new venue "Donkey OT's". This show could've been billed as "Twiddle and friends", with a hearty serving of guest appearances by several Boulder-area musicians. Casey Russell of The Magic Beans added some serious improv to this first set version of "Apples", Taylor Frederick sat in for "Latin Tang" and Jared Guaderrama both from Technicolor Tone Factory lended his playing to a first set closing "Tiberius". Also worth mentioning were appearances by percussive journeyman and Jaden Carlson Band drummer Will Trask, and an impressive sit-in by Jaden herself on Twiddle's "Frankenfoote". 
Fortunately, Grateful Web had the opportunity to sit down for a highly informative interview with all four members of Twiddle. For all you gear-heads out there, we got a comprehensive run down of all the equipment that Mihali (guitar), Ryan (keyboards), Zdenek (bass), and Brook (drums) are using to create some of the most unique music in the jam scene today.

Mihali (Mickey) Savoulidis: check, check, beats – boom boom, are we good?
Grateful Web: We're good! Let me ask - how does it feel to be back in Colorado?
Mihali: It feels great to be back in Colorado. I was just saying like, ten minutes ago, we're about fifty tickets from selling out here at the Fox, and those are all presales. And- you know, this is like our biggest market, I guess. It's the only place we could roll in and do four shows in a row and have incredible attendance, including selling out a theatre like this. I think we'll grow the fastest in Colorado in terms of venues. I'm hoping we'll be able to jump up to the Boulder Theater and maybe Red Rocks one day, probably faster than we would in any other location. So, it's great to be up here, other than the altitude! I gotta get better at that- water- it's important.
GW: I noticed you in the chair the other night, looked like the altitude might have defeated you, thankfully I got some photos of you in the chair, a la Michael Houser.
Mihali: Oh, man, I didn't even think about that. I saw him, my first Panic show he was with the band.
GW: Really? How old did were you then? And when did you get into live music?   
MS: Probably 13, no, no – 14, at least. I started with Dave Matthews, kinda going to his shows, I really liked his music. And, I was pretty set on his music for like three or four years when I was in 7th, 8th, 9th grade. Even in 10th grade, but it was in 10th grade when I went to Gathering of the Vibes, and my first couple festivals. It was kind of a bigger scene. The Dave scene was cool, but it was more like the "frat boy party" scene. When I finally found the "lot" scene, I fell in love with that and got into Phish and String Cheese, started branching out listening to things like moe. It was all from my older brother, Yianni, he was the one that introduced me to all that music and dragged me along to the festivals. So it was really cool, going to Vibes – my first "eye-opener", and then ending up playing there for two years in a row. And then being on the Main Stage this year – total trip.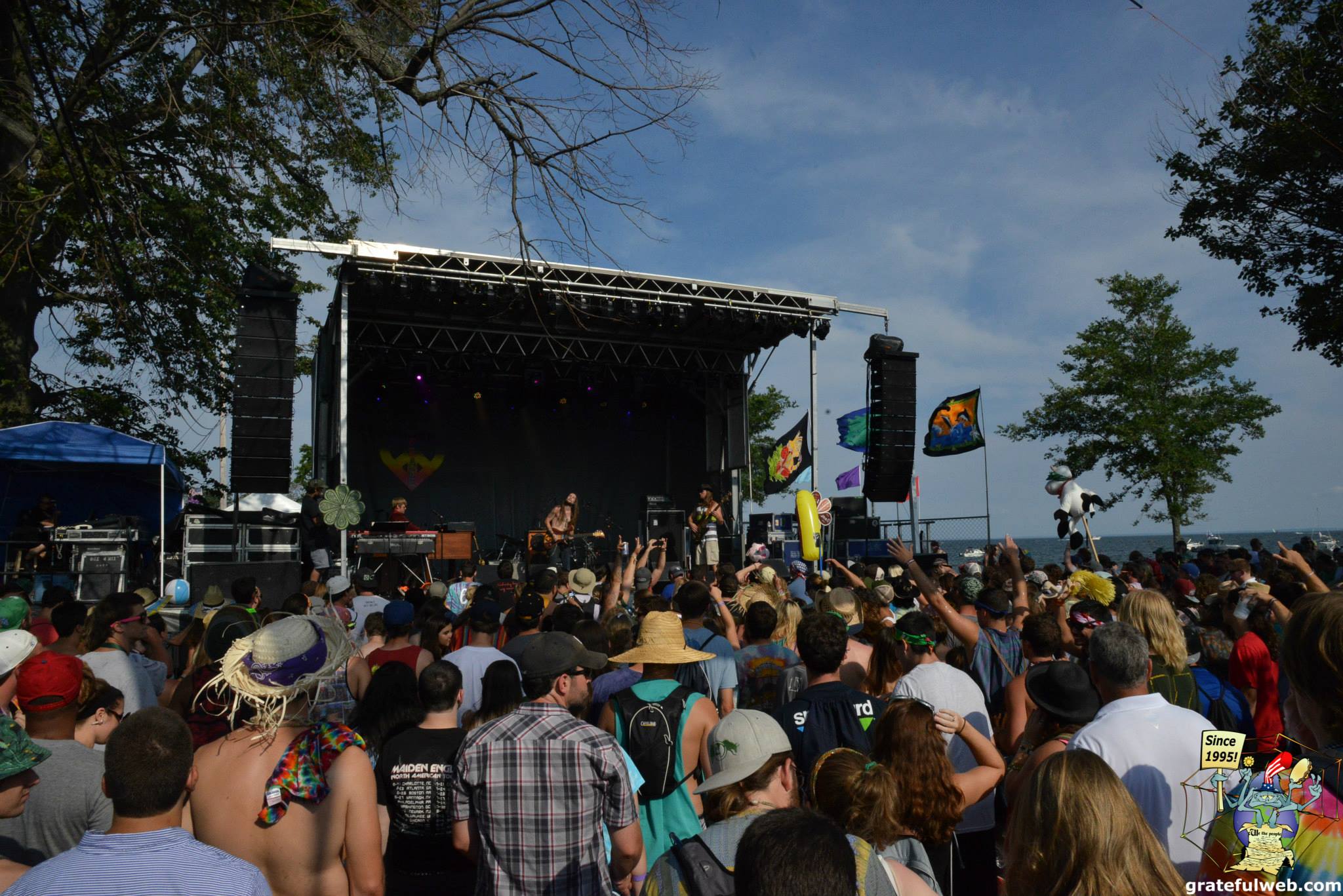 GW: I've noticed a lot of new Twiddle songs lately, could you tell me about those and the process you take in songwriting?
MS: Usually what I do is – I write a song - I'll put it up on Facebook the minute I write it and it's finished, to kind of get some reviews. I will be able to get a feel for how many people like it, how many people share it, whether it is going to be a successful song or not. And then, based on that, I'll start playing it at my solo shows to get a feel for me on how I sing it and the approach I take to it. Then I'll start doing it with Zdenek, with Gubbulidis, our duo. So, he gets to learn it and add his ten cents. Once we've played it a few times and feel people are responding to it, we'll bring it to Twiddle, then Twiddle plays it. Some songs don't make it. It's weird though, because the last four have been huge successes with Twiddle.
GW: Ryan, your keyboardist, mentioned that he helps you with the actual composition of the music, could you tell me about that a little?
MS: Ya, I need Ryan there when I'm writing, he knows theory so well. He knows how things resolve better, you know – stuff like that. But, I've always been a believer, you could write anything – it wouldn't have to make sense theory wise. Like "Beehop" – there's no theory behind it, it's completely random segments of notation. I looked down at the guitar and wrote it through shapes instead of notes.
GW: How'd you write the lyrics to "Beehop"?
MS: The rap part? I wrote that in studio. We were like, "well we gotta have someone spit over this". So, I just wrote that like ten minutes before I sang it. My first rap – it ended up coming out pretty well. If only I could remember the words when we do it live.
GW: How do you feel a third studio album is going to benefit from your growth as a band since the release of "Somewhere on the Mountain"?
MS: Well, we all live right near each other. Ryan and I, pretty much since I met him, we've lived right near each other. The whole band lived together in the beginning, then we kind of separated into town. Brook and Zdenek  have been living together at the band headquarters, in Castleton, where we rehearse and everything. As far as an album goes, we have so many new songs. One of the things I've realized in our successes is the ability to jam and improvise and all that, but it's also to write a great song with good lyrics and good content that people can relate to and grab onto. I think that has been the success for us. So I think this next album is just going to have some really good writing on it, that, you know- may not necessarily be radio material, but I could see some of the songs being more widely accepted than just the jam scene. And that's great – as many people to hear the music as possible is the goal.
GW: Can you run me through your gear setup and effects chain?
MS: Yeah, I think I can do it off the top of my head. Basically, I go from my guitar into my Vox Wah Pedal, into my overdrives – they're both Maxon 808s. From that I go into a Maxon booster, it's got a vintage boost and a modern boost – mainly just to peak over the band 1-2 dB's when it's really loud. It's just a little volume raise. Then, I go from that into an A/B/Y switch, electro-harmonix Switch Blade. That's so when I'm not using the rest of my effects chain my guitar can go straight through my Wah and my Screamers to the amp. So, there's less buffer, if I want more true guitar tone – that's the A channel. Then the B channel is through all my other stuff, which goes into a Line 6 delay pedal, into my Micro Qtron, into the big POG (Polyphonic Octave Generator) from electro-harmonix, an octave pedal, from that I go into a Maxon Chorus pedal which is really beautiful for clean tones. That goes into a delay pedal from Maxon, which has that "tape delay" sound, somewhat similar to MXR's Carbon Copy. It creates this cool palette of sound like a looper, I actually mess with the settings on the pedal while I'm using it. Then, that goes into my Memory Man delay pedal and then out to the amp.
GW: Are there any specific effects you use for certain tunes?
MS: Well, I use my screamers on almost everything I have a lead on. I use my Wah on a few like "Apples" and "Latin Tang" have parts written for the Wah. "Caterpillar" and songs with clean tones I use the chorus pedal a lot and a little delay. The Qtron pedal is all over Brown Chicken, Brown Cow, and I use that when we do funkier things. The delays are depending on the jam, those are more freelance, and the POG too – it'll come into play when I want to get weird or whatever. But, a majority of the show I play with just delay, overdrives, and clean tone. Also the guitar is a Becker Hornet. They were nice enough to hook me up, and they're building me a custom 24-fret acoustic.
GW: Tell me about that, I've never heard of acoustics from Becker…
MS: They just came out with it, it's a brand new prototype. It has full 24 fret access, it rips like an electric, feels like an electric, but sounds and plays like an acoustic. They've got a special system on the back, so that if you're live on stage – acoustics can get a little "woofy", there's a screw on top that you can use to adjust the amount of "woof". They're also building me a custom guitar right now, which I should have by June. It will be like my signature model, which I'm excited about.
GW: What kind of day will that be, when you get your new electric?
MS: Getting the guitar, ahh. I usually sleep with my guitars when I get them, which is a bad idea because you can drop it off the bed if you're not smart, but I do it anyway. I play it, I moreso look at it. And this one I will have my hand in from the beginning to the end. It's the guitar I've been dreaming about since I was tiny. I was supposed to get the acoustic for this leg of the tour, but it won't be done until the second leg. So, I should have the new acoustic by the South run.
GW: When did you actually pick up a guitar?
MS: I was probably, like 13, when I really started trying to get better at the guitar. It wasn't until sophomore or junior year of high school when I started branching out to electric and lead stuff. Up until that point, I just knew every Dave Matthews Band song in the catalog – which was good because he doesn't write very easy stuff. It helped me move around the fret board easier and his rhythm parts gave me a good right hand, which is the key to my playing now.  
GW: Do you play any other instruments?
MS: Not really, I mean I can play the bass obviously. I always wanted to learn the violin. I can take a solo on a mandolin. But no, it's pretty much guitar. I've worked on my voice a lot more – trying to treat it more as an instrument. So, for the last few years the goal has been to just kind of develop my singing. I feel like that was the biggest hurdle for me when the band started, singing properly like using vibrato and all that stuff. Just playing live has helped, I mean I do so many solo show a year. I play something like 280 shows a year; between Twiddle, myself, and the duo act. So, when you sing every night – your voice gets better, that's just the way it is.
GW: Last question – is it true that you are one part Lion?
MS: It is true. One part lion. It's actually ever-evolving. The older I get I seem to get, I seem to get more lion's blood in me, the hair gets longer- I get furrier on my face…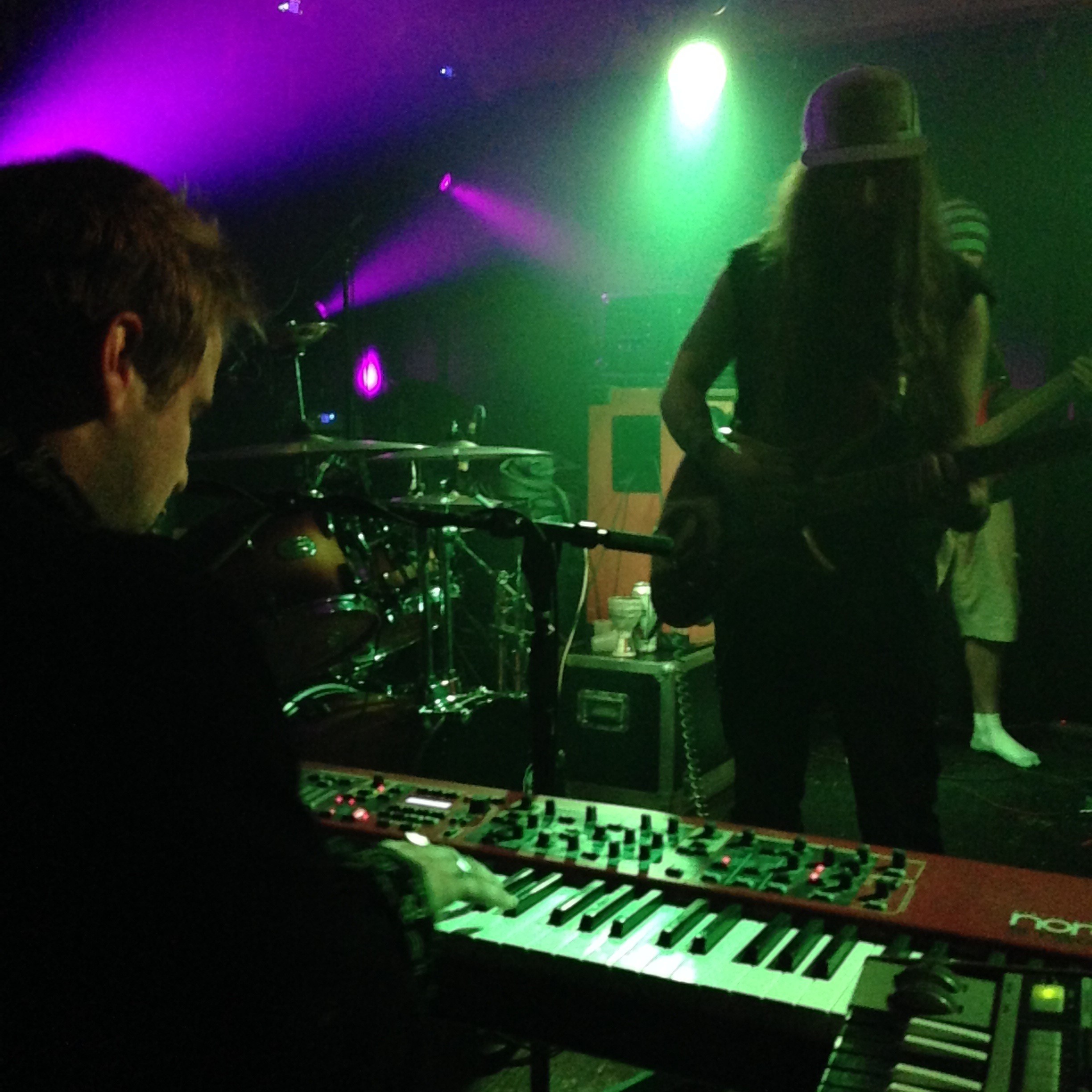 Ryan Dempsey
Grateful Web: How does it feel to be back in Colorado?
Ryan: It feels awesome, I love Colorado. It's a whole different world out here, I don't think you guys quite live in reality out here. It's like Narnia or the Shire. Once you get into the Rockies and you see it rise up, you know, when you're driving out here, it's like – YES! It's Vermont on steroids. It's beautiful, it's great to be back and I love the people out here.
GW: I noticed that you wrote a new Twiddle song, "Cabbage Face", and I've heard several other new songs. Do you guys have a bunch of new songs right now? It seems like there's been a lot of writing happening. How do you write?
RD: Starting out, it was mostly Mickey and I, you know – fifty/fifty. "Cabbage Face" I actually wrote by myself and Mickey helped me work out the kinks. Another new one "Syncopated Healing", I wrote the music and Mickey was like "oh ya, we've got to make that into a song" – so he wrote the lyrics.
GW: Some people have compared the jam segment to Phish's "Reba", do you want to weigh in on that?
RD: It's totally got that "Reba" vibe at the end. It's also because it's in Lydian, which is a scale you use which is a very pretty, almost sad, kind of longing sound. They're both Lydian jams, definitely.
GW: Does Twiddle have any studio plans?
RD: Ya, we're going to go into the studio at the end of the next tour. It should be good, we have enough new music to do two albums.
GW: What do you think this studio album is going to be like?
RD: Well, it depends on whether you're a studio person or a live person. Like, my parents mostly listen to studio albums. For me, I enjoy listening to live concerts, like A Live One (Phish). Or just any of their live shows, 94-95 are my favorite years. I find the live stuff captures a lot more. In the studio, it's like "alright we have this amount of time to do a solo" and we can jam and take a couple takes and see which one we like – but you can always go back and change stuff. So, it's never really live. That's what I love about playing shows. Anything can happen. I look for those moments, it doesn't happen every show, but sometimes you get these moments where everyone is locked in and it just – it gives you shivers, you know?
GW: Could you tell me about your gear setup and effects?
RD: I have a Nord Stage 88 for my main piano, with all the 70s kind of sounds like Rhodes and Wurlitzers and Synths. That one's my baby. I love that one. Then I have a microKorg Analog Synth, it's like a Moog, and it has a Vocoder on it. It's really good for the price you can get it for, it gives you a lot of options, I love that thing. And, I just got a Hammond Organ with a Leslie, which is actually out of commission. It's an A100, it's actually the same model Pink Floyd used in "Live at Pompeii". I have a Korg Trinity at home that I haven't brought on this tour. And I have a Roland XP30, and a little Korg Kaossilater, it's like a little box that has a ton of cool noises.
GW: With all of those psychedelic effects, some people are under the impression that you are from outer space. Is this true?
RD: Oh. Oh man. I could go into a long thing, longer than this could last. I don't even believe that they're technically Aliens. But, um, they've been here longer than us. Whatever they are – we don't have any real understanding. I think it all relates to religion though, and it's kind of a connection between probably every religion on this planet. You hear all these stories about angels and demons in the past, and now in the new age – where are the angels and demons? Back then, anything that happened that looked crazy, there was no science – so it was obviously "Godly" or whatever. Now we see a UFO and we're like – "that's an Alien" because of the technology it has. You know what I mean? So, those things are probably similar to what people encountered in Biblical times. But, that's off topic. (laughs)

GW: When did you start playing music?
RD: I started when I was ten or eleven. I just started learning by ear first. Then my parents let me take lessons for two years, and I learned classical music, you know – the scales and the basics and I played a lot of just Beethoven, Mozart, whatever. Funny story actually – when I first started taking piano lessons, they would try to teach me to read music. And, for my first year I said I wanted to play "Fur Elise" by Beethoven, and she was like "oh, I don't know – it might be too advanced right now". But, we tried it, so she gave me the music and I went home. I came back and had learned the first half, and she thought I was reading – but I'd just go back and learn it by ear. So, for a whole year I got away with pretending I was reading music, and she finally caught me. It wasn't a good thing. She was like "what's the purpose of you coming here every week?" I practiced a lot more of that, sight-reading, in college. I started a band in high school that wasn't anything serious. Then, I met Mickey in college, and we started playing. I wasn't really that good at all then, and he was so good right when I met him, so I had to get my chops up and started practicing a lot more.
GW: How old were you when you met Mihali?
RD: 18. And from that point we started writing actual songs – like our first song – "Gatsby the Great" was the first song that we wrote. But, the big thing that changed my whole view on how to write music and compose pieces was – "Divided Sky" by Phish. Mickey's like, "we're gonna learn this song". And I'm like "No we're not - I'm not good enough to do any of this". We went into the dorm room and learned it section by section. And that's all it is. You write different sections, and that's what Mickey uses me for, you find ways to transpose to the next section. So, he uses me often to connect the dots.
GW: So you follow classical theory in that way?
RD: Yeah, I'm a theory buff. So, I'm always thinking theory. Sometimes I wish I could just get out of my head. I like to sometimes block out the theory that I know, so I'm not thinking so hard.
GW: Do you play any other instruments?
RD: I played bass in high school, and I can play some drums. Xylophones, Accordian.
GW: Is there one you want to conquer?
RD: Drums, definitely.
GW: Final question, did the signature jacket come with a free bowl of soup?
RD: (thinks) Yes
GW: And is it for sale?
RD: Not a chance.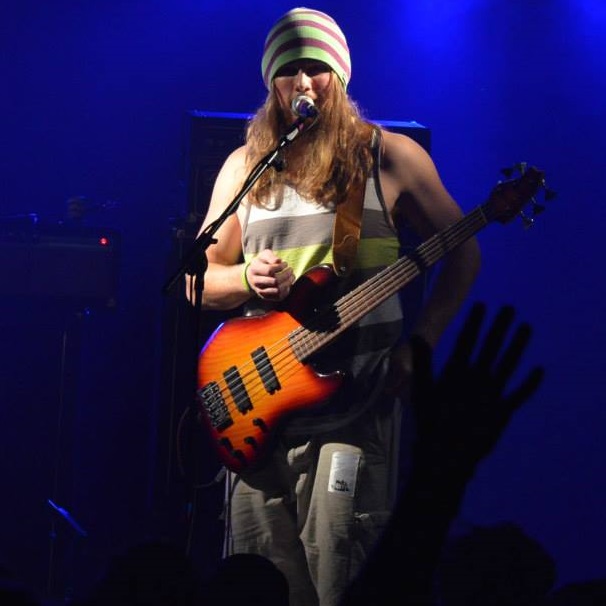 Zdenek Gubb
GW: When did you start playing music?
Zdenek: 5th grade I started the drums. How old were we then? 10? Then the next year my brother started learning bass, and I'm like "why do you want to learn bass?" And then, everything I listened to like Earth, Wind & Fire, Isley Brothers, all that funky music – I'm like "oh, this is why I dance, this is why I like the music"…because I felt it, I didn't really hear it. Then my brother sent me "Sailing the Seas of Cheese" by Primus and I was like "that's a bass? What the fuck? I'm like – I'm learning that". Been doing it ever since.
GW: When is the first time you wrote something?
ZG: First song was probably in high school – like freshman year. And – I haven't been writing too much recently because, I want to write something that – you know like I wrote "Doinkinbonk!!!" it's not like a serious song – it's a fun song. And I think it's important to have the fun songs in there, but considering the reaction that people have gotten from Mickey's lyrics - I want to give people that. And I haven't quite found that lyrically, so I'm still working on that. Otherwise, instrumentally I've got a bunch of material.
GW: Your gear setup looks different than the last time I saw Twiddle – I noticed some new stacks – do you want to tell me about your gear?
ZG: Yeah, the 8 x 10 Ampeg – I've been trying to get one of those for a long time – actually it's lent to me by a friend. It's crazy because I've always had a very little amount of money, like my first bass cost about $120 bucks. So a lot of my gear that I have has been given to me from people who were like "I love your style – you're getting the best you can out of it – but you need something better". So a lot of basses I've gotten have been that. The rig I have now, we're renting the head, which is an Ampeg SVT Classic, it sounds great altogether – it's not my favorite rig that I've ever played out of but it's one of the best that I've had. It's fat and punchy. My other rig was Genz Benz – and it was like crystal clear, beautiful sounding but not good for gigs like tonight at the Fox. I need something punchy, fat, and big – and that's what the Ampeg is.
GW: The last couple nights I've noticed a lot of interval signaling, specifically with you and Ryan – where you guys signal and make these huge changes in the jams. Can you explain that the best you can?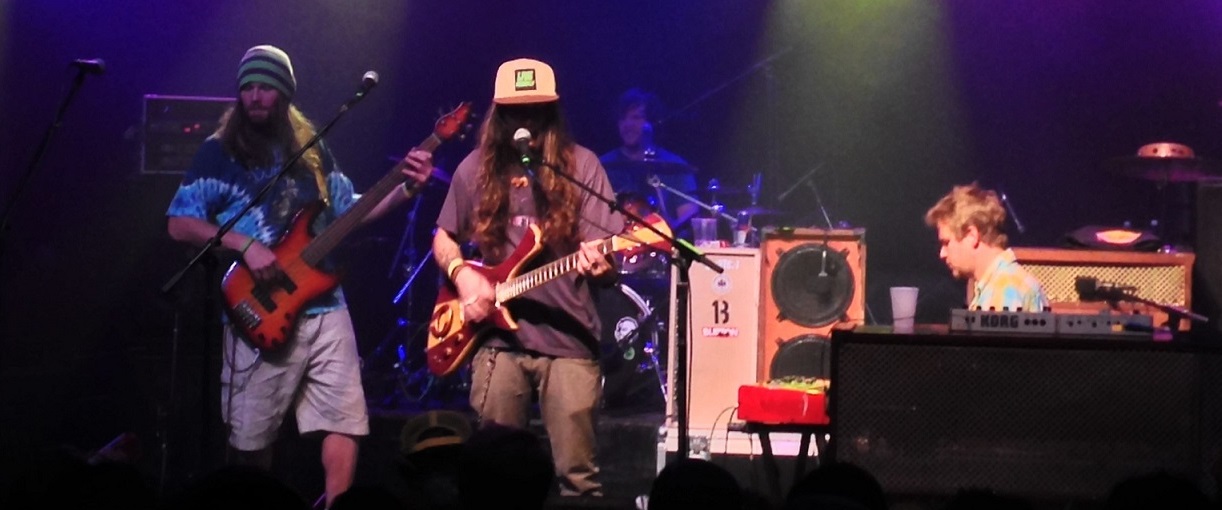 ZG: Ya, so Ryan and I both studied theory. He did it in college and I did it in high school. So we both have a similar understanding of theory. The way we break it down for ourselves is there are intervals between every key. And whether we're in minor or major or a certain type of mode – let's say like Dorian or something like that – all you have to say is 2, or 3, or 4, and so on. And if I play that on the bottom – it changes everything going on. Mickey doesn't even need to pay attention, he's got a good enough ear that once I lay down to the 4 chord or something like that he just does something pretty. Then I go to the 6 and he does something even prettier. A lot of other bands do hand signals and all it is with us is just numbers – play by numbers.
GW: What is your heritage? I heard a rumbling in the crowd that the other 3 band members kidnapped you from a Viking tribe as a child.
ZG: Yes – but it's not actually a Viking tribe, it's a Czecherican tribe. Because my tribe is Czechoslovakian and Puerto Rican. Did they tell you how I actually got in the band?
GW: Actually no, could you?
ZG: So, I was a fan of the band because what happened was, one of my friends saw Twiddle and he was like "they're awesome – their bass player looks just like you". So I checked them out, and they were all so fucking cool, it was awesome. Then Mickey picked me out of a crowd when I saw him standing at a festival, and he was like "our bass player just left and we were thinking about you – because we heard you were a good bass player". And I never would've said something about me playing bass – I'm too shy usually to tell people I play bass or talk about it. So I owe a lot of credit to those friends who told Mickey I could play. It's all them, really. Mickey then, eventually called me and asked to jam. I went up to his house, we played, I could tell Mickey and Ryan liked it, Brook was a little hurt from the last guy leaving, so they didn't want to let me in immediately. But, they didn't do anything to get another bassist - they stuck with me.
GW: And – I presume the rest was history?
ZG: (laughs) …the rest was history.
Brook Jordan
GW: How are you doing today, Brook?
Brook Jordan: I feel great, it's so welcoming out here, I wish we could move here…it's just not the right time for the band. It always feels good to be in Colorado, very welcoming – we have so many friends out here. Also, we've already almost sold out the Fox tonight – it's pretty crazy. I mean – we played in Kansas on the first tour stop to like fifteen people. It's probably been like two years since we've played in front of that few people.
GW: People seem to "get" you out here – then?
BJ: The response out here is amazing, I guess they do. It's fuckin' sick – I'm excited for tonight.
GW: When did you personally start playing music?
BJ: Umm, I got my drum set when I was 10 – so that's when I started playing drum set. But I think I did snare drum briefly before that, just messing around. It's basically just progressed from me getting my first set.
GW: Some of your originals, like "Wildfire", "Atlantic Mocean", and "Second Wind" suggest that you play another instrument – do you?
BJ: Yeah, I play guitar. I wrote all of those on guitar, "Atlantic Mocean" is an instrumental. I've also written some other songs, too, we had another one we haven't played in a while I think we're going to bring back. I'm thankful enough – grateful to be in a band where they accept my ideas on a different instrument. You know, they're not just like – "you're the drummer" – which is pretty cool. Also, I guess my ideas are good enough, which is good.
GW: I see you've assembled a pretty big kit, do you want to run me through your kit setup?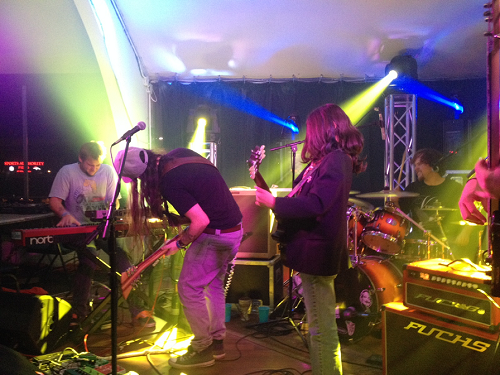 BJ: Absolutely. I have 3 Pearl kits. I have a Masters Custom set up in my basement all the time, it's like a half-finished basement – so it's pretty well taken care of. But, I play live with a Pearl Session Studio kit, it's mostly Birch. It's a 20" kick drum, and I have a 10", 12", 14", 16" – 2 rack, 2 floor toms. Then I have an SPD-SX pad – a digital pad. Actually I have some stuff I've written on there on GarageBand – kind of like "dubstep-y" music and stuff. You can assign it to different pads, so I can cut the song up into parts – so I can put parts in and out. You hit a pad and an effect or part of a song comes through, if I hit it again it turns it off. So I can, like, change up the song. I haven't really incorporated that live yet, but that's a pretty cool piece of equipment. I still haven't full explored it enough, honestly. I need a new Mac to work with it, really.
GW: So, I hear a wide array of influence in your playing. Could you explain how you drew influence from several different genres?
BJ: Well, when I was younger I was really into skateboarding. So, being at the skate park, and around that whole scene I was listening to punk music and hardcore, and whatever else – you know, metal and stuff like that. Then, I must've been like 16, and I heard Phish and The Grateful Dead and stuff. I heard both of those at pretty much the same time. It was the summer between Sophomore and Junior year, in high school. A friend of mine – his parents had a shed, like out to the side of his house. And we – you know – dug power under his driveway, and we cleaned this thing out, and we painted it on the inside – and we made it our hangout for the summer. We called it the "shack". And we got so high. (laughs) You know – because I was like 16 smoking weed for the first time. And just listening to Phish, and my buddy had gone to prep school – he brought back Europe '72. I totally fell in love with that, I heard "Brown-Eyed Women" – that was the first song I heard, and I just sang it all day. Then my buddy Sam, who's actually coming to the show tonight – he lives in Boulder. His older stepbrother got him into Phish and he brought over Story of the Ghost. So we were playing Europe '72 and Story of the Ghost while were cleaning this shack out and getting it ready for the summer. And – listening to Phish changed the way I thought about drumming. Just going from punk music – like straight ahead beats – to Phish and Fishman made me realize the possibilities. Like taking a 4/4 beat and knowing you can do anything you want inside that beat. As long as you get back to the downbeat, you can be as melodic as you want.
GW: How do you keep time behind the kit for prolonged periods of time?
BJ: Well, you've got to have rhythm, obviously. You either have it or you don't – you know you can't really teach inner rhythm to somebody. So it's getting through and staying focused on the songs I like to call "marathon songs", like "Frend's Theme" and "Jamflowman -> Frankenfoote" (in reference to the previous night's set). Ya know –  get prepared and try not to drink too much – so you're on your game.
GW: What instrument do you want to learn?
BJ: Piano, definitely. I feel like that would open up my songwriting ability a lot more than guitar. Because most of the time I can write riffs on guitar, but I'm not necessarily good enough to do them the exact way that I would want – and as cleanly and smoothly. So I write it as well as I can, then I sing it to the guys. Guitar is a much harder instrument, so I need to work on piano.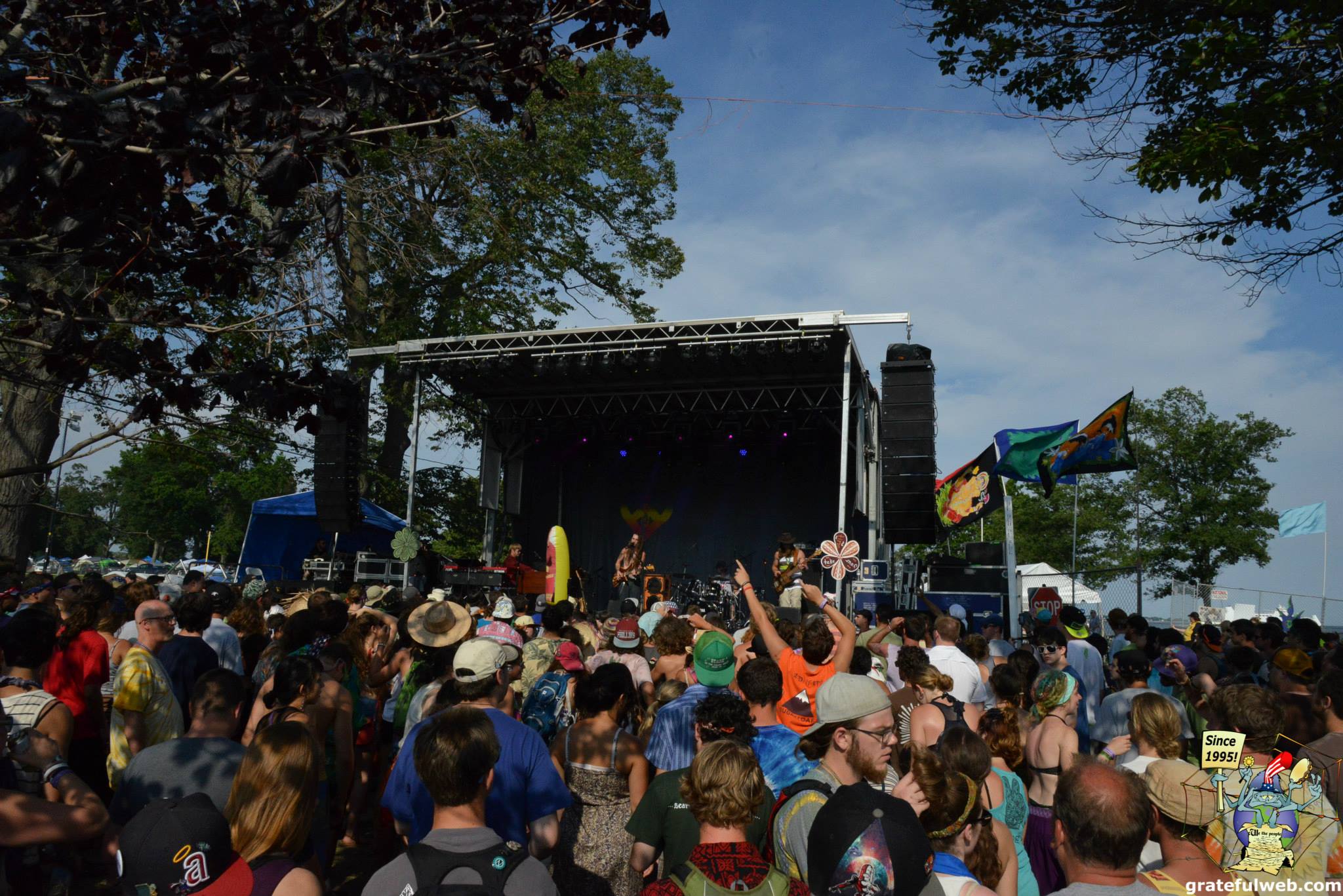 GW: Any relation to Jon Bonham?
BJ: (laughs) No, no.
GW: Thor, perhaps? I notice you hammering on the drums a lot.
BJ: Zdenek is Thor, definitely.