The Great South Bay Music Festival - Long Islands longest running, and largest 4 day, all ages Music & Arts Festival, returns to the picturesque waterfront at Shorefront Park in Patchogue Village from Thursday, July 12 through Sunday, July 15th.
Celebrating its 12th year, the festival will feature over 65 performers in classic and contemporary rock, jam-band, folk, blues, reggae, and punk genres, on three stages, plus an educational KidZone Children's Stage.
The fest will boast three craft beer tents, wine garden, an artisan and craft market, and food court offering a diverse gourmet menu.
Great South Bay Music Festival is well known for presenting a musically varied and eclectic lineup of headline as well as emerging original artists. Legends and icons, performing alongside cutting edge rising stars is what the fest has been about since its inception twelve years ago.
"I believe we are the true definition of an organic, community, independent, family-run festival," states festival founder and producer, Jim Faith. "We are not a large fest coming to a community, ... we are our community! Growing up in Brooklyn, I spent many hours in Central Park at the concerts on the Great Lawn, or band-shell. What was different about those shows was the un-mistakeable amount of families. That's what I wanted to bring to Great South Bay. A family friendly, high quality music fest, featuring name artists and emerging original artists in a safe and positive environment".
Thursday will kick off the fest with nine bands including headliners: The Front Bottoms. Fans of the genre will enjoy a full day of hard driving, rabid rock to include Thrice, The Get Up Kids and native Long Islanders: Envy on the Coast.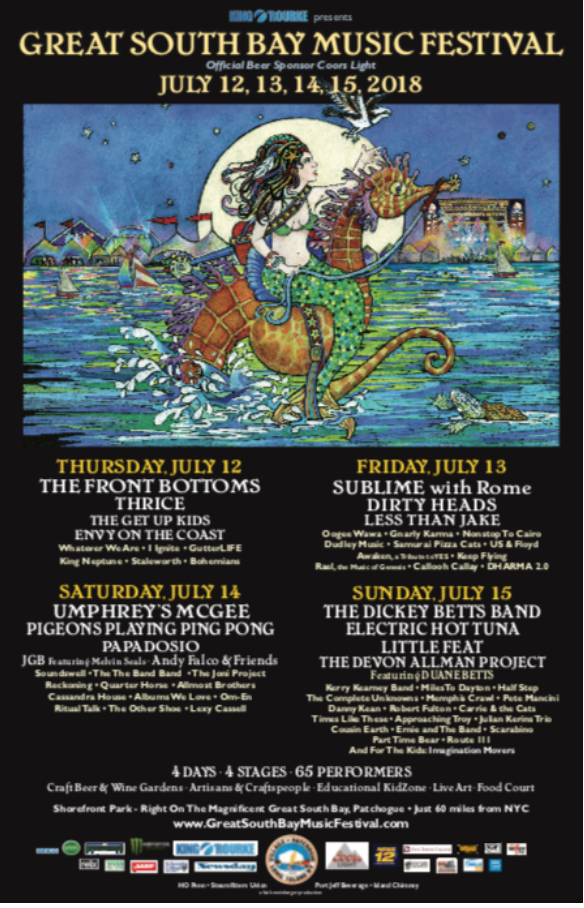 Friday: Three Stages: Headlining the main Stage the festival is excited to present Alternative Reggae Rockers Sublime with Rome, plus Dirty Heads, and Less Than Jake. Over 14 artists on three stages.
Saturday is always "Jam-Rock Day" at Great South Bay. Headlining this year and returning for their third visit are Masters of the genre: Umphrey's McGee, plus Pigeons Playing Ping Pong, Papadosio, and Grateful Dead "Keepers of the Flame" JGB Feat.Ex-Jerry Garcia band-mate Melvin Seals. Also appearing is Grammy nominated Infamous Stringdusters member, and local guitar phenom, Andy Falco, & Friends.
Sunday - legends and more legends...
Great South Bay is honored and excited to present Allman Brothers Founding Member, singer-songwriter and guitarist: Dickie Betts and his Band. Betts will perform a night of Allman Classics, as well as a heartfelt tribute to Gregg Allman.
In addition, on the Main Stage: legendary rockers Little Feat, and returning for their fourth time, (and now considered Great South Bay "family",) Electric Hot Tuna. Plus, the Devon Allman Project featuring Duane Betts. (sons of Gregg Allman and Dickie Betts), with nineteen artists' performing throughout the day.
And for the annual special Sunday Morning Kids Concert, Great South Bay is excited to bring back Disney's: Imagination Movers. They will perform at noon. A full menu of educational children's performers to appear all day Saturday & Sunday.
Regarding Great South Bay's commitment to present local and emerging artists, they are thrilled to also present Keep Flying, Cassandra House, I Ignite, Gutterlife, King Neptune, Miles To Dayton, Times Like These, Approaching Troy, Kerry Kearney Band, Quarter Horse, Part Time Bear, Robert Fulton Band, the Om-en, Whatever We Are, Bohemians, Pete Mancini, Ernie & the Band, Samurai Pizza Cats, Dudley Music, Gnarly Karma, Scarabino, and so many more.
Dates/Times:
Thursday, July 12: Doors 3PM to 10PM
Friday, July 13: Doors 3pm to 11PM
Saturday, July 14: Doors 1PM to 11PM
Sunday, July 15th: 11:00am doors for Imagination Movers Kids Concert
Sunday Regular Fest Ticket holders: Doors 1:30PM to 10:00PM.
Shorefront Park is located just a few miles south of LIE, exit 63S.
Ticket price includes all concerts and entertainment. Food & beverages not included. Single day passes and full weekend passes are offered. Children ten and under are free, except for the Imagination Movers concert. To purchase tickets, please visit: http://www.greatsouthbaymusicfestival.com/tickets
An important dimension of Great South Bay is their commitment to community and giving back. Since their very first year, they've used the festival as a tool to help raise funds for needy organizations. A list of those who benefit can be found below.
Stony Brook Hospital Cancer Center
One dollar from each ticket purchase will be donated to Stony Brook Hospital Cancer Center. Along with The Sticky Finger Bike Run that Great South Bay Festival ran for the past 11 years, they have raised over a quarter of a million dollars to fight breast cancer.
The GSB - Stony Brook Cancer Fund
One dollar from every ticket purchased will go to the Stony Brook Cancer Center specifically to fight children's cancers.
Long Island Cares: The Harry Chapin Foodbank
In addition to collecting non-perishable food items, LI Cares will again staff one of their beer tents and together we will donate all salaries and tips to their organization.
The Long Island Music Hall of Fame
The organization was created to preserve and promote the history of LI's rich musical history, as well as award scholarships, nurture LI's young talent, and finally build its museum home on LI.
Maureen's Haven Homeless Outreach Program
GSB is proud to support this organization that provides shelter and compassionate services to the homeless on Long Island.
Suffolk Action For Empowering Resiliency (SAFER)
SAFER provides resources on community mental health agencies, and educational materials for parents and families.
PAWS United
PAWS United finds homes for homeless animals.
For more information
Website: www.greatsouthbaymusicfestival.com
Facebook: www.facebook.com/GreatSouthBayMusicFestival
Twitter: @GSBMFestival
Instagram: www.instagram.com/greatsouthbaymusicfestival