Halloween looms, and while most avid local music-goers are planning extravagant costumes for the Hallow's Eve bash of their choice; last weekend the Fox Theatre hosted a rousing 2-night stand by growing "newgrass" favorites Greensky Bluegrass. Hailing from Michigan, these guys throw a range of soulful bluegrass originals, standards, and playful classic covers out on any given night. Featuring Dave Bruzza on guitar, Anders Beck on the dobro, Mike Devol on standup bass, Mike Bont on Banjo, and Paul Hoffman on mandolin, this band has been mixing it up throughout the U.S., gaining steam just in time to pay us Colorado folks a visit.  
Thursday night packed an attentive crowd into the house, and the band opened with a new tune from 2012, "Worried About The Weather" sung by guitarist Dave Bruzza. The band then jumped into a tune off their first album Less Than Supper (2004), "Through the Trees", this tune sung gracefully by mandolin player Paul Hoffman. Next up was a pacey new number called "Leap Year" with Hoffman handling the vocals again. This tune got the feet moving, featuring some weaving quick banjo and mando lines, not to mention some bluesy and self-reflective lyrics on what a year can bring. Next up were a couple more familiar tunes (at leas to this reviewer), "Lose My Way" off their latest album Handguns (2011), and then a personal favorite – "Just to Lie", off of their 2008 album Five Interstates. The band brought out Joe Lessard from Ft. Collins favorites Head For the Hills to heat it up with the fiddle on the traditional tunes "Let it Ride" and a romping rendition of "Eat My Dust". Next up, they wrapped up the set with another familiar tune "Can't Stop Now" – another familiar bluegrass number.
Set 2 was highlighted with a huge horn appearance from Lech Wierzynski and Johnny Bones from the awesome opening act The California Honeydrops. These guys added their brasswind flourishes to awesome versions of "Jaywalking" and "I'd Probably Kill You (also off Handguns) and Paul Simon's "Gumboots" The real meat of the set took place in the set closer, "Break Mountain Brokedown", which explored the "spacegrass" that Greensky has become known to play before transitioning into Radiohead original "High and Dry" and wrapping up an almost 15-minute rendition of "Break Mountain". The band closed the evening with a nice version of the bluegrass traditional "Clinch Mountain Backstep" and got the whole crowd singing along for a nice send-up to the Grateful Dead with "Mr. Charlie".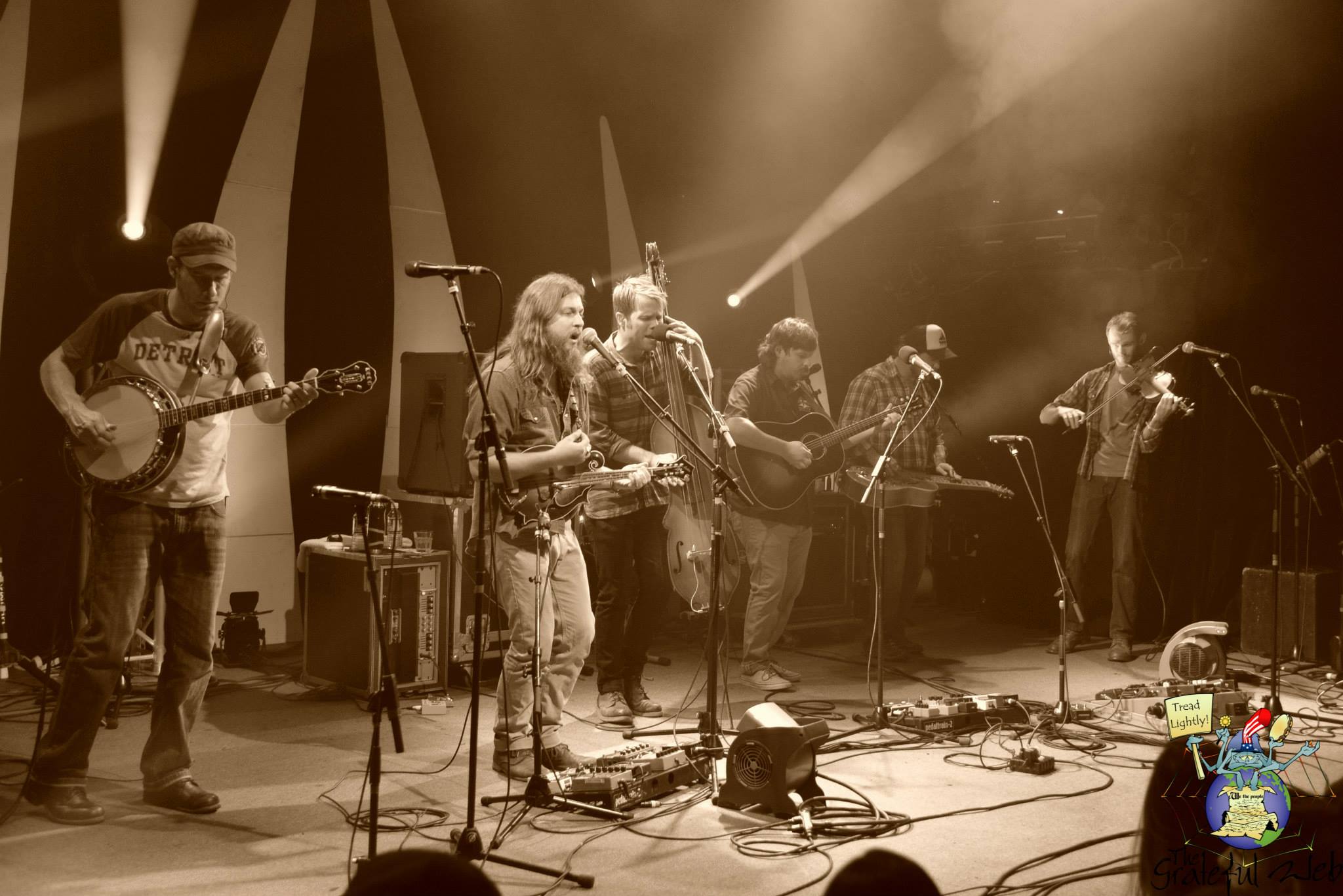 Night 2 picked up seamlessly where the first show left off with another cover, this time the crowd favorite, Bruce Springsteen's "Atlantic City". The band then rattled through a Hoffman tune – "Tied Down" (off Tuesday Letter). Hoffman's ode to Michigan alluded to the Great Lakes and the endearing nature of home, hitting home for the Midwest contingent in the packed Friday night crowd. Next up was the unreleased "Kerosene", a folky bluegrass tune featuring some nice call-and-response lines between Bont and Beck. The band slowed it down gracefully with a vocally impeccable performance of "Nine Days" by Hoffman off the album Five Interstates – produced by Railroad Earth's Tim Carbone. Greensky then plucked their way to outer space with a long version of their jam-vehicle "Tarpology", and wrapped up the set with a hot version of the Anders Beck and Benny Galloway song "Train Junkie" – also off Five Interstates, doused with a nice serving of lighting fast string lines.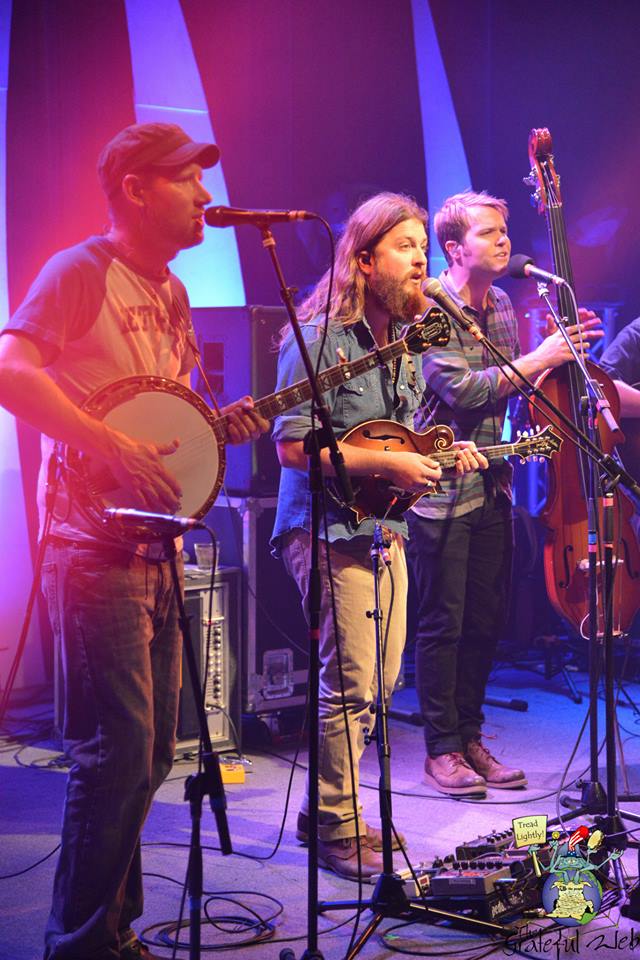 Set 2 opened with the Dave Bruzza original "Radio Blues", a tune about the woes of a struggling musician with dreams of being on the radio. It's hard not to see the irony in this one, as these guys are making their mark on the touring circuit in a big way. Next up saw the Hoffman tune "Windshield" – which I personally cannot wait to hear come out of a studio album. Hoffman's vocals were on showcase, letting his heart and soul shine brightly through the room – effectively quieting the rambunctious Friday night crowd. "Windshield" gave way to some playful jamming into another crowd pleaser, Bob Marley's "Could You Be Loved". Keeping with the "love" motif, the guys picked up with another Colorado favorite "How Mountain Girls Can Love". The boys took a little breather, and kept the crowd on its toes with the opening track, "Old Barns" off my personal favorite album thus far – Five Interstates­ – a song that breathes hope and joy into even the toughest of days or nights. To wrap up another solid set at the Fox, the band sandwiched their staple "Don't Lie" off 2011's release Handguns with another Springsteen tune – "Dancing in the Dark". The guys saved arguably their most thought-provoking lyrics for last, wrapping up "Don't Lie" and calling it a set. Finally, Bruzza and Hoffman came out alone for a version of Gillian Welch's "I Want to Sing That Rock n' Roll" and wrapped it up with the full band for an awesome rendition of the Allman Brothers' "Midnight Rider".
Those who showed up for either night or both were treated to some of the most energetic and fresh bluegrass on the scene right now. And – if you haven't checked these guys out – definitely give them a chance, you are sure to hear something that strikes your heart.