Whose Hat Is This?, a collaboration of Tedeschi Trucks Band members Tim Lefebvre, Tyler "Falcon" Greenwell, J.J. Johnson, and Kebbi Williams, are dropping their second album, Everything's OK (Featuring Kokayi), on November 16 via Ropeadope. The band combines meteoric musical heights with outlandish grooves. It's free-jazz you can dance to. Cecil Taylor could never say that. Whose Hat Is This? picks up the improvisational gauntlet thrown by the "jam band" scene and goes gonzo, applying rhythmic muscle, experimental funk and wry humor to musical precincts where they are often sorely lacking. Tim Lefebvre on bass brings an eclectic bottom that he's honed with a diverse array of artists from Wayne Krantz to David Bowie ("BLACKSTAR.") The double drum-set attack of Tyler "Falcon" Greenwell (Susan Tedeschi, Col. Bruce Hampton) and J.J. Johnson (John Mayer, Gary Clark Jr.) are the perfect trampoline for Kebbi Williams' tenor saxophone flights. If the sound of four tour-ravaged lunatics playing without-a-net sounds appealing, that's because it is. Today, we spoke with Tyler Greenwell from the band about touring, a new single, and what's next. Listen to the premiere of "Down," a track from the new record below.
GW: You all have performed with iconic blues rockers, Tedeschi Trucks Band, for years. Four members of the band came together to form side project now known as Whose Hat Is This? How do your WHIT crowds differ from TTB's?
Hat: Part A- that's correct, Kebbi Williams (sax), JJ Johnson (drums), Tim Lefevbre (bass), and Myself (Tyler Greenwell accordion) had a day off in Berlin a few years ago, It was Tim's idea to find a club grab a few of the lads and go do a night of improv. It made sense to us; we had already been developing a musical language and improv abilities as a unit by backing up Derek Trucks (of Tedeschi Trucks Brand) night after night. Everyone was comfortable with the idea of it either completely bombing or being a radical success, it was probably somewhere in between, depending on which audience member you may have asked, ha, it's not for everyone, especially those lights out missionary style triad loving motherfuckers!
Part B- In any group/gathering of people you run the gauntlet from completely sane high functioning individuals to the absolutely bat shit crazy, I guess if I'm being completely honest we attract what we are.... the latter. TTB appeals to all people, which is the hardest thing to do in music in my opinion, the ability to appeal to a wide audience while still being true to yourself. Derek (Trucks) & Susan (Tedeschi) stay true to their vision and themselves as artists, the members of WHIT are a part of that vision although along the way there may have been some unintended consequences..... through Derek and Sue's vision birthed this mongoloid of music called Whose Hat is this? Buyer beware.
GW: Your shows are entirely improvisonal. Do you have any stories of any shows/songs that didn't connect the way you wanted it to?
Hat: By virtue of each show being a completely improvised event, a stream of consciousness, there are moments for each member at different points to where you feel as if it's not connecting, not happening, absolutely bombing, just serving up improv shit sandwiches. Those moments seem to be the the more chaotic moments, where we're dancing around each other waiting to latch on to the next idea, but as any musician knows those moments usually end up being some of the most compelling moments once you hear the recording. There's something magical that happens musically when you feel completely fucked.... it's the moments in music when you feel most confident and in control that end up being the big lie, and sounding the most uninspired. I guess what I'm trying to say is that every performance has flowers and garbage, I like the smell of both.
GW: The feel (and even genre) of your sound differs every night. One show could be electronica, the next show jazz, the next funk. Where do you guys get your inspiration each night? Do you have a secret for the seamless connection you guys seem to possess so naturally?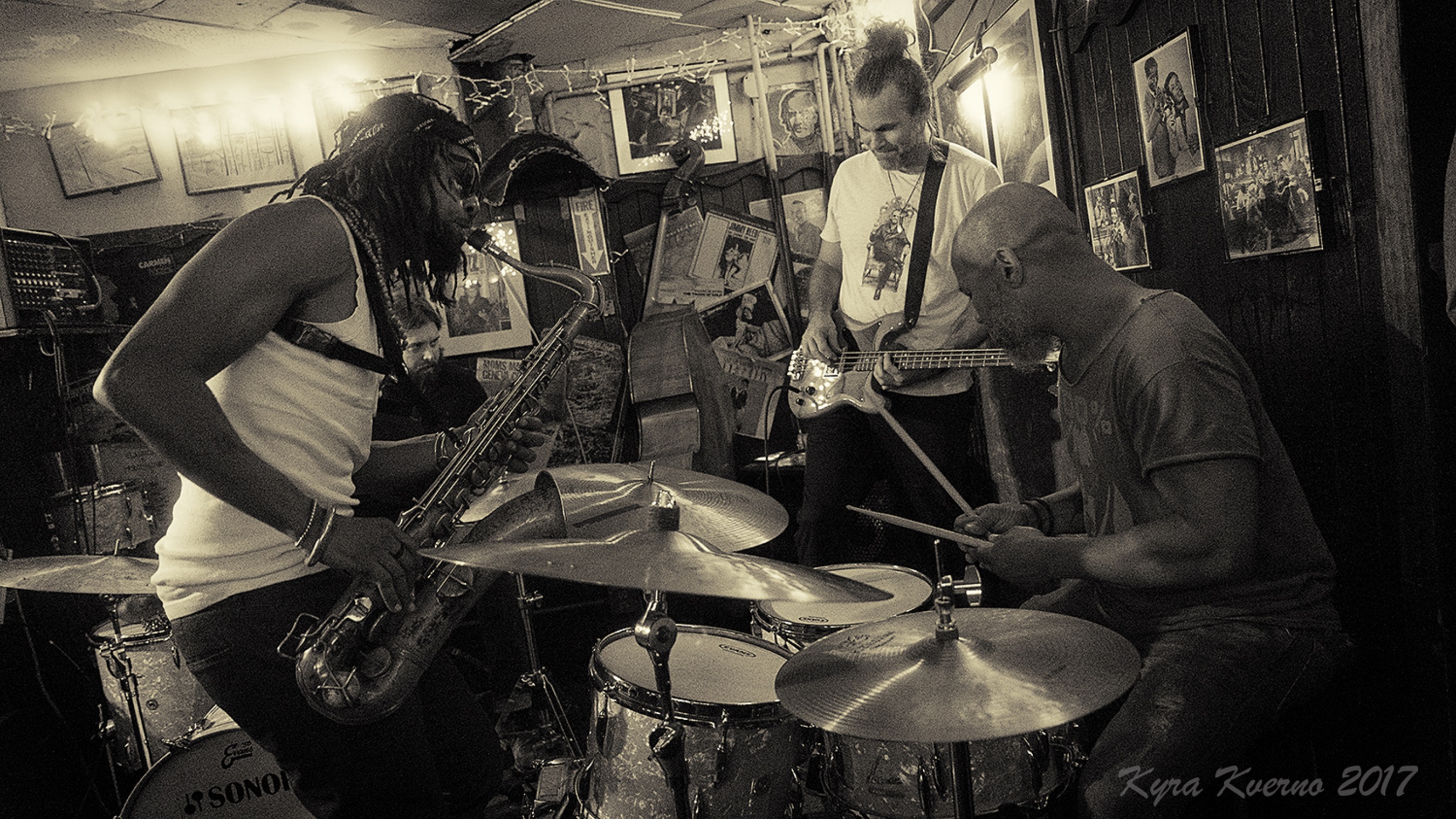 Hat: Part A - To me, inspiration is a tricky word that's used in creating... inspiration can be anything right? Most folks hear that word and probably think of something positive and uplifting, but that's not how it is most of time whether it be for painters, actors, comics, magicians .... a lot of times the expression comes from a place of darkness, deep depression, desperation, anxiety, insecurity.... searching for the light. Speaking for myself, my "inspiration" comes from the darkness, using musical expression is a way to heal the metaphysical wounds. I need music more than it needs me and I'm thankful it lets me be a part of the club.
Part B- Jameson, Patron, trusting in your fellow musicians, and just not giving a fuck what anyone thinks? Ha! ... Probably more than any of that its time spent together on and off stage.
GW: Do you guys have any pre-show rituals?
Hat: This interview is being distributed to Deadheads correct? I'll leave that to the imagination of your listeners:) God bless ye' old deadheads!
GW: You collaborated with hip hop producer/artist Kokayi for the vocals on your forthcoming album, Everything's OK. What's the story around his addition?
Hat: I believe Kokayi and Tim had done some work together previously. I'm pretty sure it went down with WHIT playing D.C. at a Sofar Sounds gig in an old abandoned subway tunnel. Tim reached out and invited him to sing. Well that pretty much ruined us all. Kokayi is a fucking genius. Absolutely brilliant. His abilities to improv lyrical ideas gave the band another dimension another identity entirely. He was able to put form to chaos and make it palatable to the listeners. The human voice is a powerful instrument and he wields it like few others are able to. Thank you, Kokayi.
GW: What do you expect people to be doing when listening to this album? Did you guys design it in a way for people to listen in certain places/situations?
Hat: Part A- You'll wanna put this album on when you're ready for people to leave the party, once the dust settles and you see who's left standing ready for the HAT. Those are your motherfuckers, those are the real party people!
Part B- We didn't design the record in any particular way, it's the full show from start to finish. Please be gentle we don't take criticism well. We can dish it, we just can't take it.
GW: What goes through your head when you're performing with WHIT?
Hat: I can't speak for any of the other lads, but for me, hopefully as little as possible. I want my contribution to be completely reactionary and instinctual. Occasionally, a recipe from the great Milk Street food magazine floats by and I think about how I can't wait to try my hand at a lemon curd tart or Mongolian beef stew. Or I forgot to call Ted back, those sorts of things. If music enters the the mind, that's when I start tanking.
GW: You're on tour in support of this new record? Got any dream cities/venues in mind?
Hat: Oh man, any venue crazy enough to have WHIT is a dream gig, any club owner that's had us back for a second time, they're approaching sainthood.
GW: We're premiering this new song, "Down," today. What's the inspiration/story around this one?
Hat: Man, I wish I had some deep shit to say about this tune, but I don't. We're all just reacting as one, listening, vessels. We're not in control, show me someone that claims they're in control and I'll tell them to fuck off..... back to the song at hand "Down" I think it's a beautiful moment on the record, hypnotic, the softer side of WHIT.
GW: What's on the horizon for you guys? Future plans?
Hat: We're going to tour as much as our schedule allows. We're in the process of mixing 2 new records each with a different engineer. We're introducing new instrumentation and sonic possibilities to the group. Everyone is working hard to keep the modes of expression fresh and challenging. WHIT has some big changes coming, some exciting collaborative efforts in the works. We're gonna keep it going until we run out of ideas, which could be tomorrow?