The Hangout Festival in Gulf Shores, Alabama this past weekend has officially cemented itself among the heavy-hitting top-notch summer festivals of the year, both in terms of musical content and festavarian (read: festival-goers) satisfaction. In only it's second year of operation, a STOUT line-up including Foo Fighters, Paul Simon, Widespread Panic, The Black Keys, My Morning Jacket, Primus and The Flaming Lips helped to sell out the 35,000 capacity venue and lock it in on the list of "not to be missed" summer music festivals.
Foo Fighter's Dave Grohl called it "perhaps the most fucking fun festival" that he's played in his 20-plus years of touring. Grohl can eloquently add the adjective "fuckin" to any and every statement, and he stated his regard for Hangout more than once throughout the weekend.
Festival-goers donned their beach attire, put their bare feet in the white, sugar sand of the Gulf Coast and cut loose to the eclectic sounds of over 60 musical acts spread out through six stages. The weather was absolutely perfect, the local southern hospitality grooved flawlessly with the out-of-town attendees, and it was virtually impossible to find an act that were less than 110% fired up to take the stage and deliver.
Before going into the descriptions of individual acts, it is important to note, as Michael Franti did during his performance on Sunday, that the absolute highlight of the weekend was the victory won by Gulf Coast organizers and residents, as made obvious by the glory of this festival. Despite setbacks, environmental and economic, endured by the people of this fine southern region in the recent past (BP oil spill, Tornadoes), the success attained, and the smiles and happiness in existence due to this festival happening are a testament to the positive ethic and perseverance of the locals. Some of the finest folk in this great country of ours may get pushed, and may momentarily scramble, but they will sure as fuck jump back to their feet, stand tall, get straight and throw a party to rival all parties. Bless these folk, all they have endured, their ongoing strength, and their hospitality!
Friday:
Umphrey's McGee fired up opening day on the main "Hangout" stage with their special brand of prog-jam that was technically proficient enough to make the late Frank Zappa proud. They spoke very little and let their time signature changes and musical prowess do the talking.
Across the beach on the Surf Style Stage, the gorgeous and nonetheless musically talented Grace Potter shook it hard, thrashing around the stage, tossing her hair in the Alabama sunshine, running side to side on the stage, from the piano to her Flying-V guitar while her backing band, The Nocturnals laid a solid foundation. The heavy touring outfit never fails to please, and Friday was no exception.
The angelic Warren Haynes, always a pleasure and an honor, graced festival-goers with his latest incarnation, the Warren Haynes Band, and slayed it with a more soulful, R&B tinged sound. Grace Potter joined Warren on stage for a killer cover of "Honky Tonk Women" by The Rolling Stones.
Jim James and My Morning Jacket took to the stage, clearly on a mission. The Louisville band has roots in these parts and performed like they were in their hometown. With their latest release, Orbital, due out at the end of May, the crowd heard previews of new songs as well as classics "Off the Record," "Highly Suspicious,"  "I'm Amazed" and "Gideon." James jumped around like a bucking bronco with an SP 404SX sampler strung around his neck and swapped it for his acoustic and electric axes, throwing down in every which way.
Widespread Panic drew the largest crowd on Friday, due to their enormous, cult-like following, which is especially strong down south (as they are Atlanta-based).  The organizers at Hangout knew they'd best leave plenty of room for the jam band tour de force to do their thing, and Panic grouted the gaps solid. This was also the opening night of Panic's spring tour, and they carried the crowd strong and steady through the evening. Their grooves, percussion and guitar heavy, were the meat and potatoes on Friday, and with a guest appearance by Warren Haynes, the evening was capped ever so sweetly.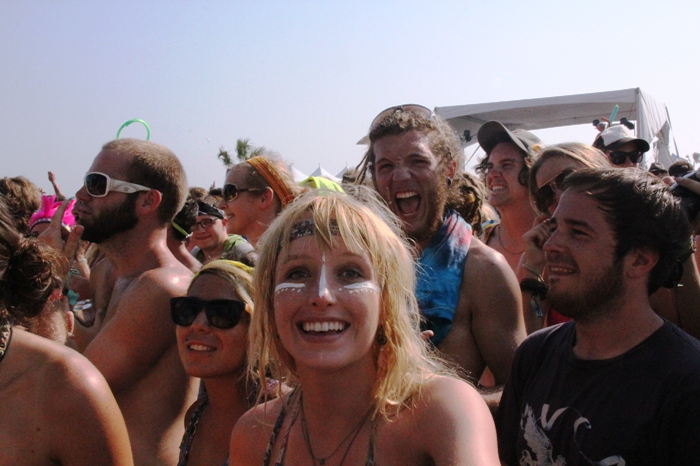 Saturday:
Xavier Rudd can work a stage like a champ, shifting from Weissenborn lap steel to a drum kit with two didgeridoos mounted through the center toms. His delicate style was the perfect prequel for Paul Simon's Sunday night set, as well as a refreshing so start off day two at Hangout. The elbow-to-elbow crowd clapped along religiously to his light-hearted, yet poignant stage show. His organically produced rhythms rivaled the bass lines of the weekend's electronic artists.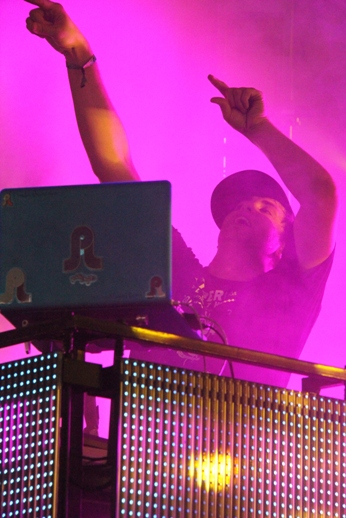 On that note, Pretty Lights lit up the Boom Boom tent with tremendous gusto--crowd bouncing, super heavy bass, and blinking LCD lights. It was hard to get a glimpse of the mastermind Derek Smith behind the laptop, but the tent was a sardine can full of tightly packed, writhing, pulsating late teen to 20 somethings.
Cee-Lo Green was next up on the main stage, a mainstream music crown jewel for Hangout. It was around 20 or so minutes past the time he was scheduled to start, and many goers perhaps thought he was going to pull a Coachella (this year at the Coachella Festival in California, Green took to the stage 45 minutes late, and had some less than choice words to convey to the crowd about the festival organizers). Instrument techs busied about the stage, and as there were three guitar stations, something seemed odd. Festival goers were patient, and suddenly a gentleman approached the center mic. He announced that Cee-Lo was having some issues and would not be able to make his performance. The man's next line was the punch: "Ladies and gentlemen, the Foo Fighters." Grohl and company emerged amidst an insanely roaring crowd (the Foos were slotted for the 9-11 PM time that evening), and launched into a cover of Alice Cooper's "School's Out," followed by "Breakdown" by Tom Petty, then on to "Tie Your Mother Down" by Queen. The scene was pretty rock and roll ballistic by this point as it was easy to say most folks weren't sure what just happened or why, but were nonetheless ecstatic. Grohl approached the mic and expressed his regret regarding Green's not making the show. "We'd like to dedicate this next song to Cee-Lo. We know if he was here, he would come out and help us sing," Grohl said, and began playing "Darling Nikki." About two minutes into the number, a large brown skinned man walked out to center stage, with a pearly-white, shit-eating grin stretched across his face that screamed "the joke's on you, motherfuckers," and the one and only Cee-Lo Green took over on vocals and brought the Foo's forth tune full circle. Dave and Co left the stage and Green proceeded with his performance, after partaking in the crown-jewel collaboration of the entire weekend.
Col. Les Claypool and his nest egg, Primus began their set across the beach as the final notes of Green's performance were sounding out. Despite all of Claypool's musical brain-children (Oysterhead, Flying Frog Brigade, etc.), Primus put him on the map, and remains perhaps his most noteworthy accomplishment. Larry Lemonde, Jay Lane and Claypool pushed "Groundhog Day" out the speakers, for starters, before debuting a new, yet unreleased song followed by a slew of classics including "Tommy the Cat," "My Name is Mud," and "Harold of the Rocks." Les still has the high-speed banter, as demonstrated during a random ramble describing Lemonde's clothing for the evening. "Primus Sucks!" They still do. Killed it!
The Avett Brothers unleashed their organic harmonies as the southern sun was setting behind them in a hazy evening sky. "Brooklyn, Brooklyn Take Me In" and "Head Full of Doubt, Road Full of Promise" highlighted an evening of banjo and guitar driven folk intensity.
Can The Flaming Lips ever do any wrong live? "Do You Realize" opened the set as a genuine affirmation of how beautiful a mere moment in time can be, and surely confirmed many audience member's notion that indeed, everything was in it's right place on this particular weekend. On a staged flanked by groups of folks dress in Wizard of Oz costumes (Dorothys, Tin-men, Scarecrows, and Cowardly lions), and raining in confetti and smoke, the Lips shut it down with an acoustic "Yoshimi Battles the Pink Robots," "The Yeah, Yeah, Yeah Song" and an "Is David Bowie Dying" featuring the multi-instrumental ace Steven Drozd playing an Iphone. Just when you'd thought they'd already thoroughly blown your mind....
Saturday closed out with raw intensity. The Foo Fighters took to the stage around 9pm, and over did it. Opening with "Bridge Burning" off of Wasting Light, then on to "My Hero," "Learn to Fly," "White Limo," "One By One," "Hey, Johnny Park," "Stacked Actors," they whipped through their catalog. Two and a half hours of non-stop, ass-kicking rock and roll. They were pretty much insane, hardly taking a break besides Grohl's between song banter.
"I picked up the paper today and read that today was going to be the last day of the fucking world. What better place to be for the end of the fucking world," Grohl remarked. "Best of You," a cover of Mose Allison's "Young Man Blues" (sung back and forth between the crowd and Grohl), and "Everlong" brought the epic set to a close. A fireworks display eased the crowd into their exodus from the venue. Minds blown--hands down.
So the world ended up not ending on Saturday. Old Crow Medicine Show were likely psyched, as they had a performance in store for the Boom Boom Tent on Sunday, complete with a gospel tune to help all of the partiers repent their booze-soaked sins from the weekend. OCMS are true southern-style bluegrass gents, with personality and skills, taking the audience on a traditional string ride through the Deep South.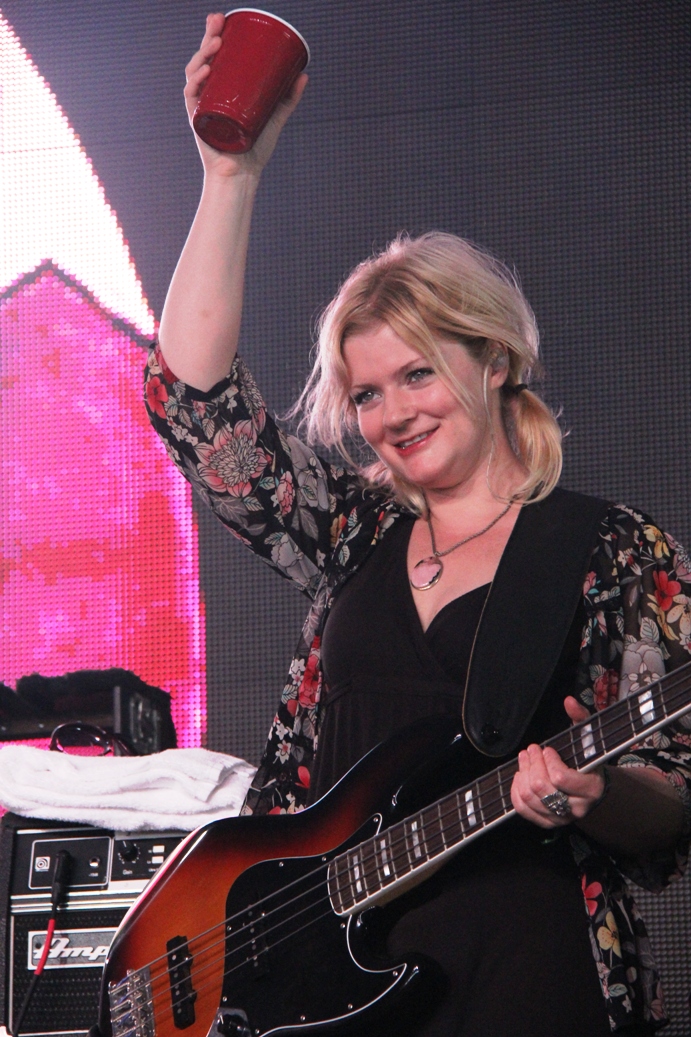 Another force of the south, the Drive-By Truckers immediately proved that they could over-capacitate the tent space of the Boom Boom Room, and should have played one of the two larger stages. Regardless, their blend of twangy story-telling narratives coupled with smooth southern harmonies, pedal steel and a trio of electric guitar insanity, left nothing to be desired. Bassist Shana Tucker was all smiles, and Patterson Hood honored his roots with a song dedicated to his sister and her family. Church—straight up.  DBT on Sunday, yessir.
Reggae force Matisyahu bounced around the Surf Style stage donning a bushy beard and aviator shades, throwing well crafted vocals over the grooves of his hard-hitting backing band. The audience kicked up sand, dancing around to the rhythms. Let's face it, there's nothing like kicking it seaside to some great reggae.
The experimental sounds of Ween were brought to the masses at Hangout on Sunday afternoon. Dedicated fans sang along to their unique brand of odd-rock, while first time listeners got initiated. The band was simply a solid block of entertainment for all.
No summer festival would be complete without this next act. Michael Franti and Spearhead took over the main stage, shining down with songs of positivity, camaraderie, and the overall joys of life. Franti spent ample time blurring the line between audience and performer as he danced among the crowd, singing and strumming his acoustic guitar to a wide eyed crowd full of smiles.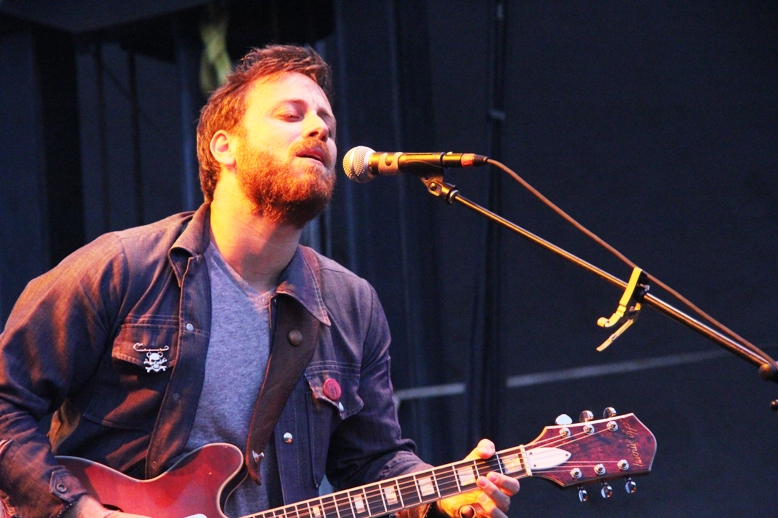 The Black Keys have come a long way in the last few years. Their performance on Sunday showed a musically mature duo at their finest. The energy and connection between Dan Auerbach and Patrick Carney was quite apparent as the two unleashed a raw, blues-based rock and roll show that was one of Hangout's paramount sets.
A king was present throughout all of the madness of the weekend. Amidst the rock and roll, the indie presence, the DJ sets, the bluegrass, there was a subtle, yet culminating power ready to even out minds before the weekend was up—a small man with a large mind from the great state of New Jersey.  Hangout had done everyone right up to this point, but saved something particularly special to close out the whole weekend. Around 9pm the songwriting master Paul Simon took the stage, and delivered. At a mere 70 years young, Simon rocked the crowd, in his delicate, yet striking manner, and left all jaws dropped into the sand. New songs, "50 Ways," "Late in the Evening," "Slip Sliding Away," "Mystery Train," and "Still Crazy," complete with a horn section extravaganza and an acoustic "Sound of Silence" took the audience anywhere they had not been that weekend, and was Hangout's special way of bidding a surely satiated audience good night.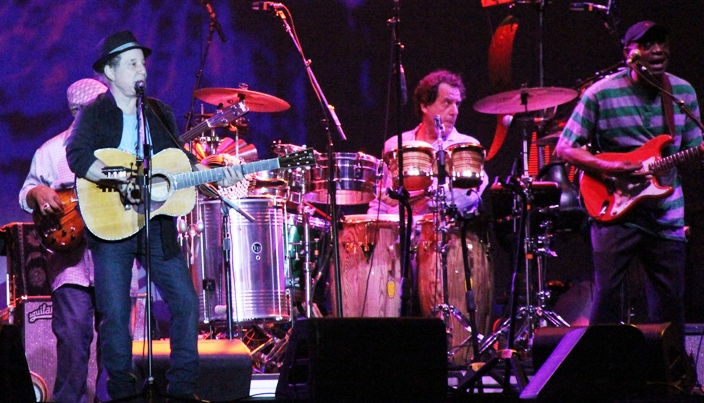 Check out more photos from Hangout Festival.