Dobro, mandolin, guitar, musical exaltations and vocal flourishes – and much more – lilted through the autumn-painted trees and into the ears and souls of some colorful attendees at the fairgrounds in the Sierra Nevada foothill town of Placerville, California, at the ninth annual Hangtown Music Festival (formerly the Hangtown Halloween Ball).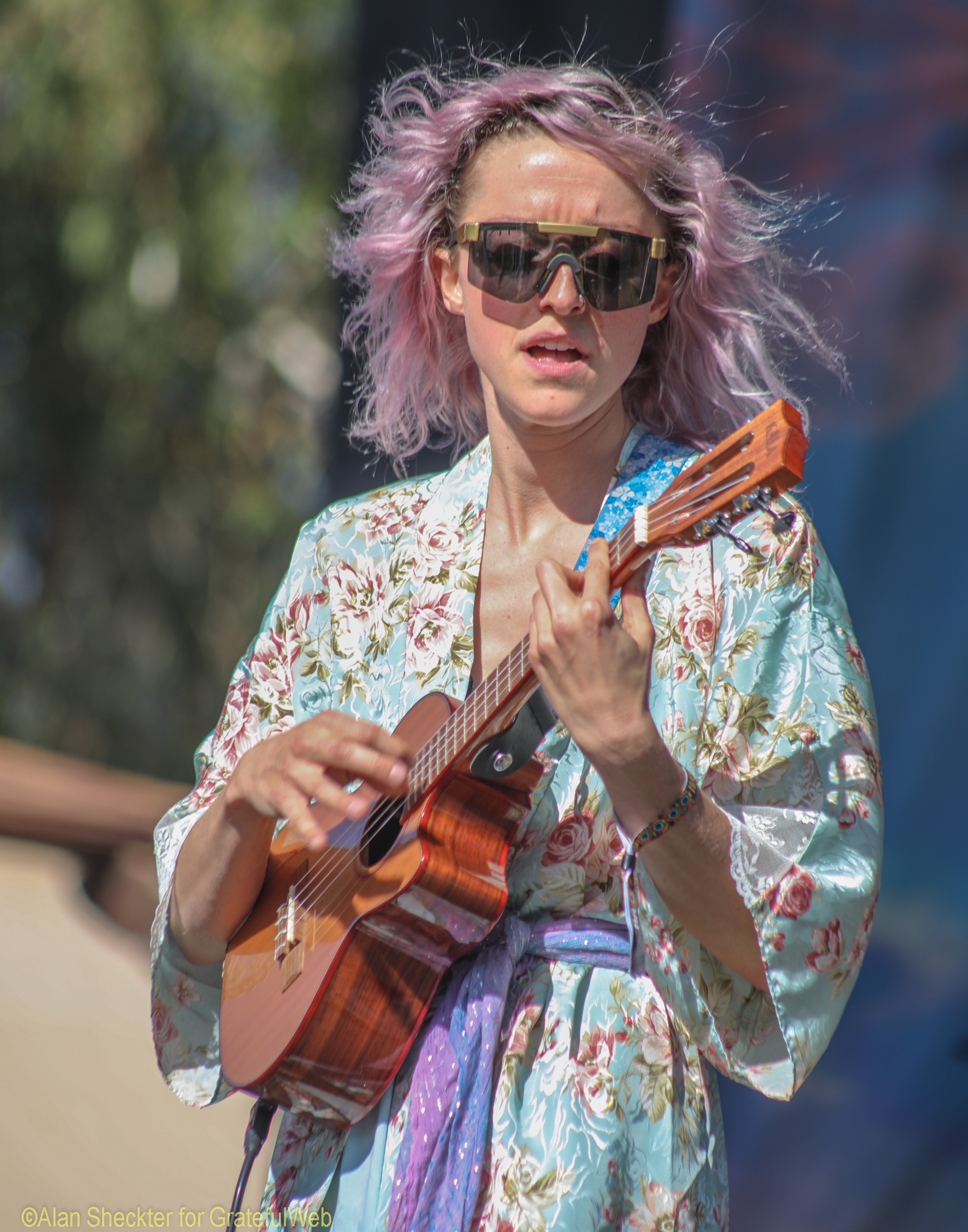 Summing it all up, Katia "Pixie" Racine, frontwoman of Pixie & the Partygrass Boys reflected: "Bouncing around the stage singing my face off while my friends play their faces off alongside a giant crowd of people dancing their faces off is kind of my definition of heaven."
Fueling some of the fun were 1) stunning light shows; the three giant main-stage screens were illuminated in the evenings with visually enchanting liquid light shows supplied by Mad Alchemy and by Jonathan Singer; 2) costume themes for each day: Thursday – Hakuna Matata, Friday –Let's Get Funky, Saturday – Pajama Party, and Sunday – Fantasy Realm; 3) the Sunday afternoon parade led by the Big Fun Circus and their stilt walkers; and 4) a kids arts, crafts, and music workshop area that was busy all weekend.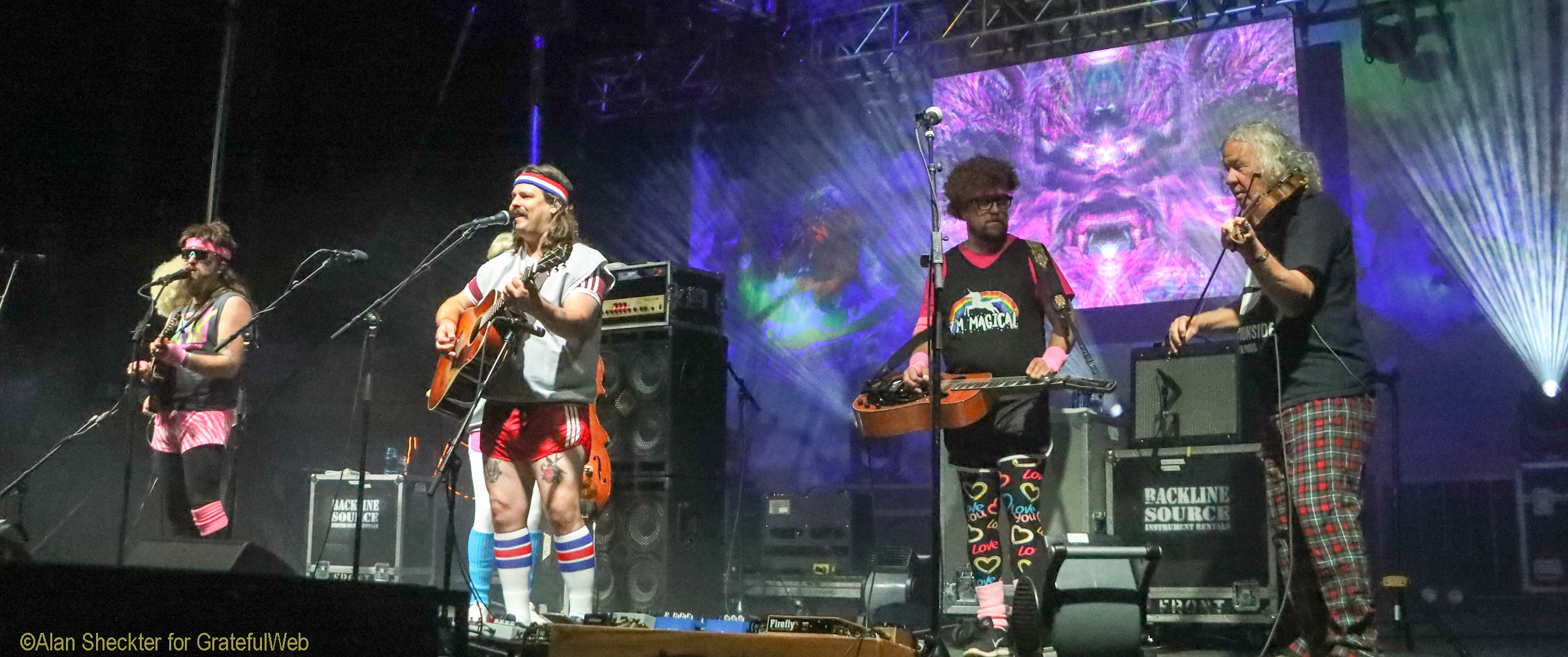 Oddly enough, the hypothetical Most Valuable Player was not a member of headliners Railroad Earth, Dark Star Orchestra, or Greensky Bluegrass, all of who carried the day with fine shows. Instead, such acclaim should go to the skilled folks that linked up alternative power to the whole festival with generator-juiced lights just moments after a regional blackout on Saturday night and all day/night Sunday. At about 7:30 p.m. Saturday, smack-dab in the middle of Greensky Bluegrass's set, Pacific Gas and Electric Company (PG&E) implemented one of its so-called "Public Safety Power Shutoffs" as a preventive measure in the face of fire danger caused by super-dry vegetation, low humidity, and forecast strong winds. The stage show went on without a hitch as both festival stages were, as commonly done, powered by generators all along. But in one moment, the rest of fairgrounds, including vendors booths, attendee VIP area, backstage buildings, etc., went dark. Though it was not unexpected, a behind-the-scenes little network of techs with flashlights and extension cords quickly made alternative power connections, all within about 30 minutes.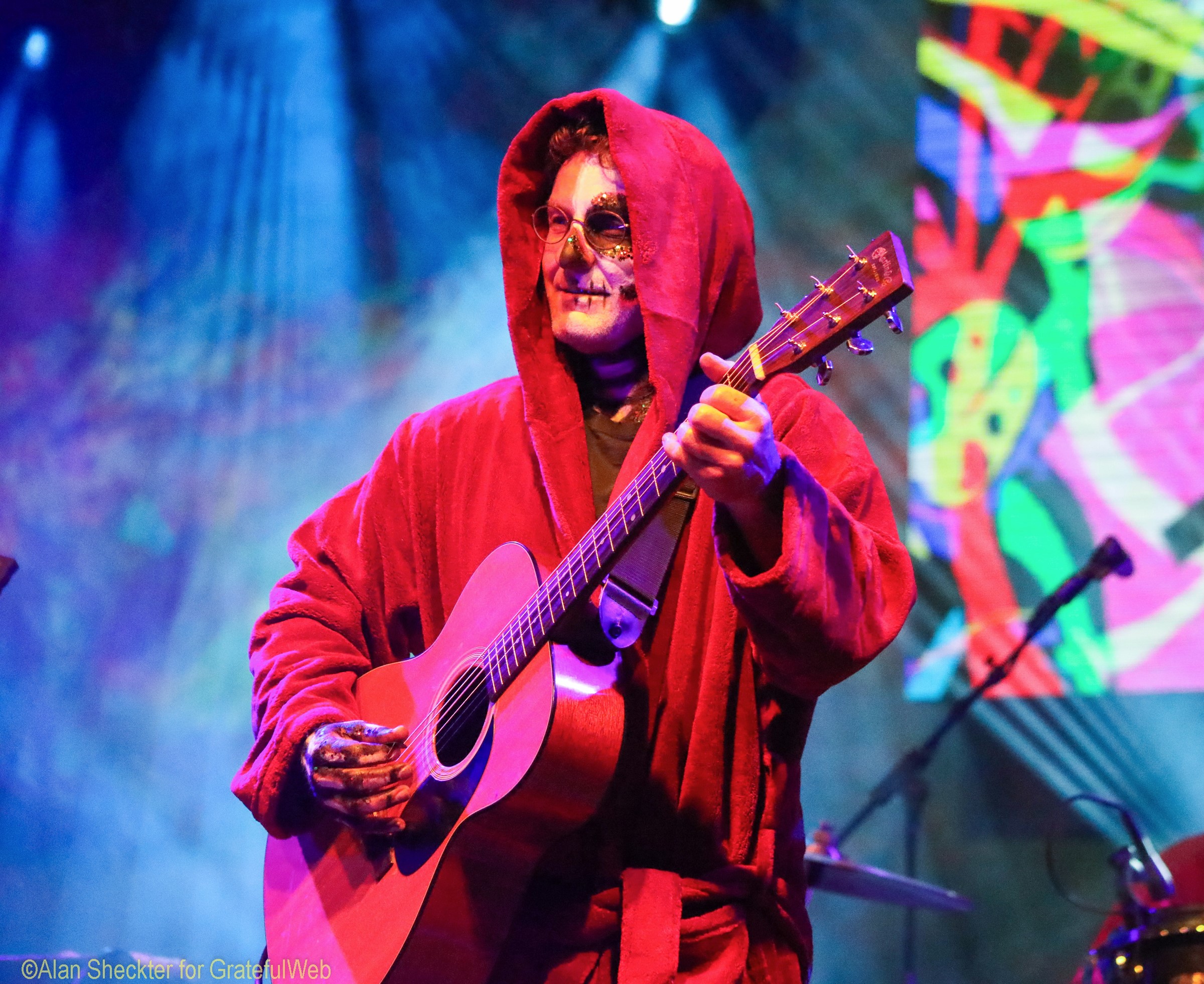 Back to the music: To the visual and aural delight of the attendees all weekend-long, the rootsy, folky, bluegrassy Railroad Earth superbly weaved songs and jams that produced waves of joy and freeform dance. As they did in 2018, the band, sporting different costumes and makeup each night, headlined Thursday's, Saturday's, and Sunday's proceedings, with Dark Star Orchestra closing out Friday night's festivities. From Tom Waits' "Cold Water" opener on Thursday through "The Great Divide," the first single from their next album that closed out the festival on Sunday night, Railroad Earth – Todd Sheaffer, Tim Carbone, John Skehan, Carey Harmon, and Andrew Altman, along with Matt Slocum and Mike Robinson – did not repeat a song. On Saturday, the band delivered a nice, long "Hangtown Ball," a location-fitting ode to lawbreakers whose fates ended with their heads in a noose. That set also featured a first-time-ever cover of The Beatles' "I'm So Tired," sung by Carbone, and a sit-in by Fruition's Mimi Naja on vocals for "Hard Livin'."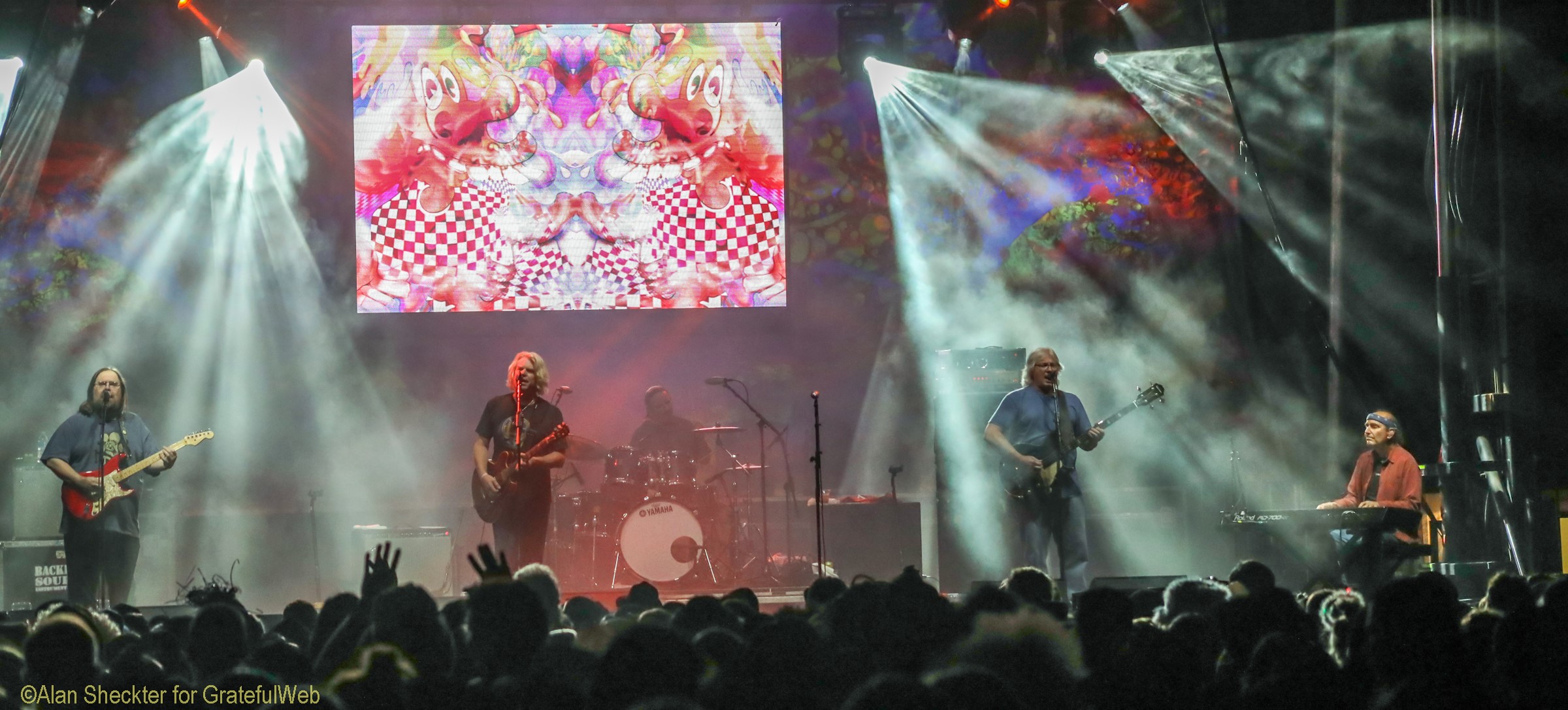 Dark Star Orchestra, who've made a living for more than 20 years recreating Grateful Dead concerts, verbatim, picked a good one on Friday night. They played a full two sets – the weekend's only such main, El Dorado Stage performance – offering a live rendering of The Grateful Dead's show at San Francisco's Winterland, on October 9, 1972. DSO gave nice treatments to that show's big numbers, including "Box of Rain," "China Cat Sunflower" > "I Know You Rider," "Playin' in the Band," and "The Other One" > "Wharf Rat."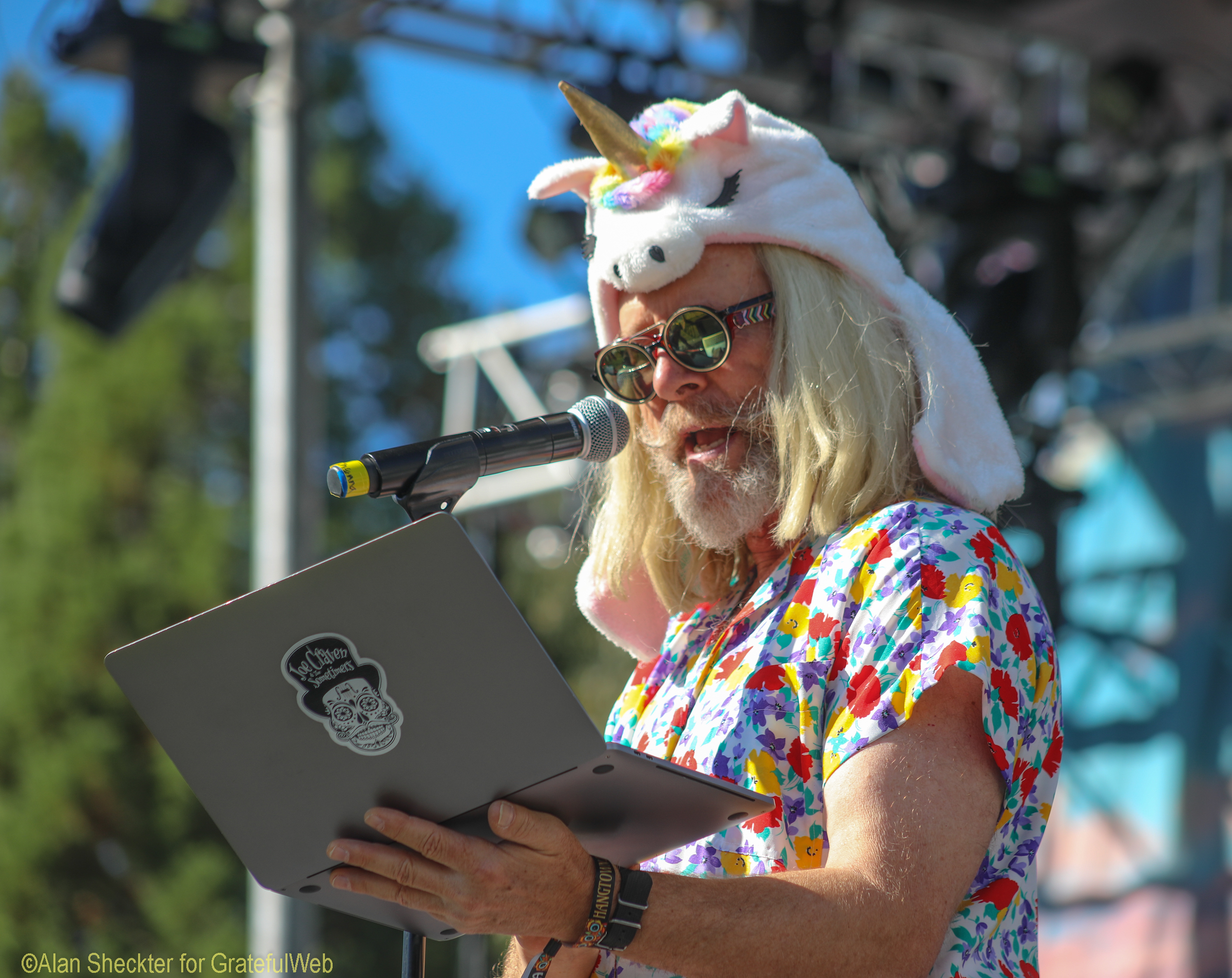 In addition to band performances, Emcee Joe Craven's prophetic band intro sage wisdom and colorful costumery were also a major component of the weekend's happenings. This was, by his recollection. Craven's fifth Hangtown Fest. A massively talented multi-instrumentalist and music scholar who has assumed the role of Master of Ceremonies at 13 different music festivals across the country over the past 22 years, a better emcee for such an affair you'll never find.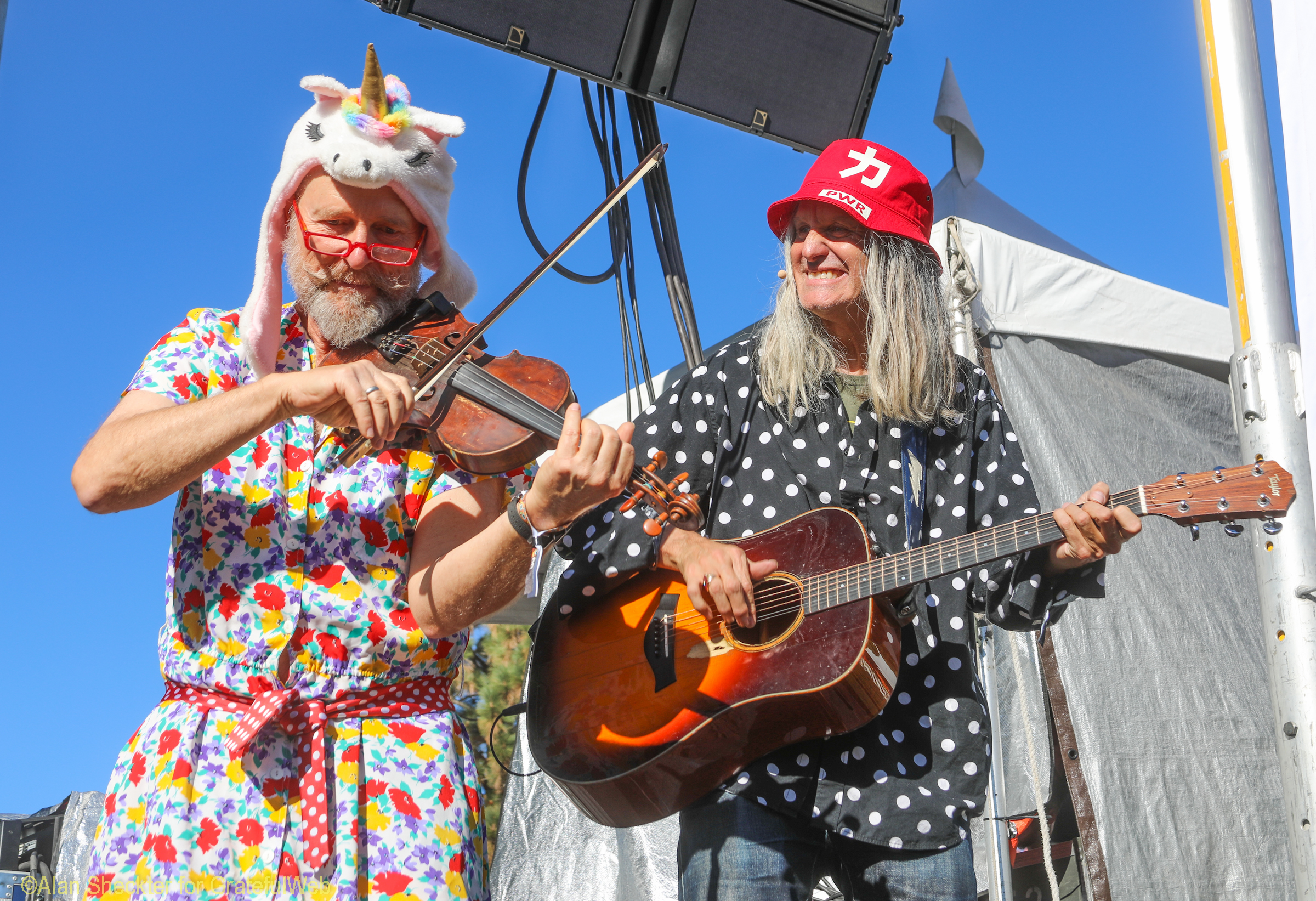 An addition, with an impressive musical pedigree including a stint playing in the band during Jerry Garcia and David Grisman's Grateful Dawg days, Craven also led his band, Joe Craven & the Sometimers in spirited performances on Sunday.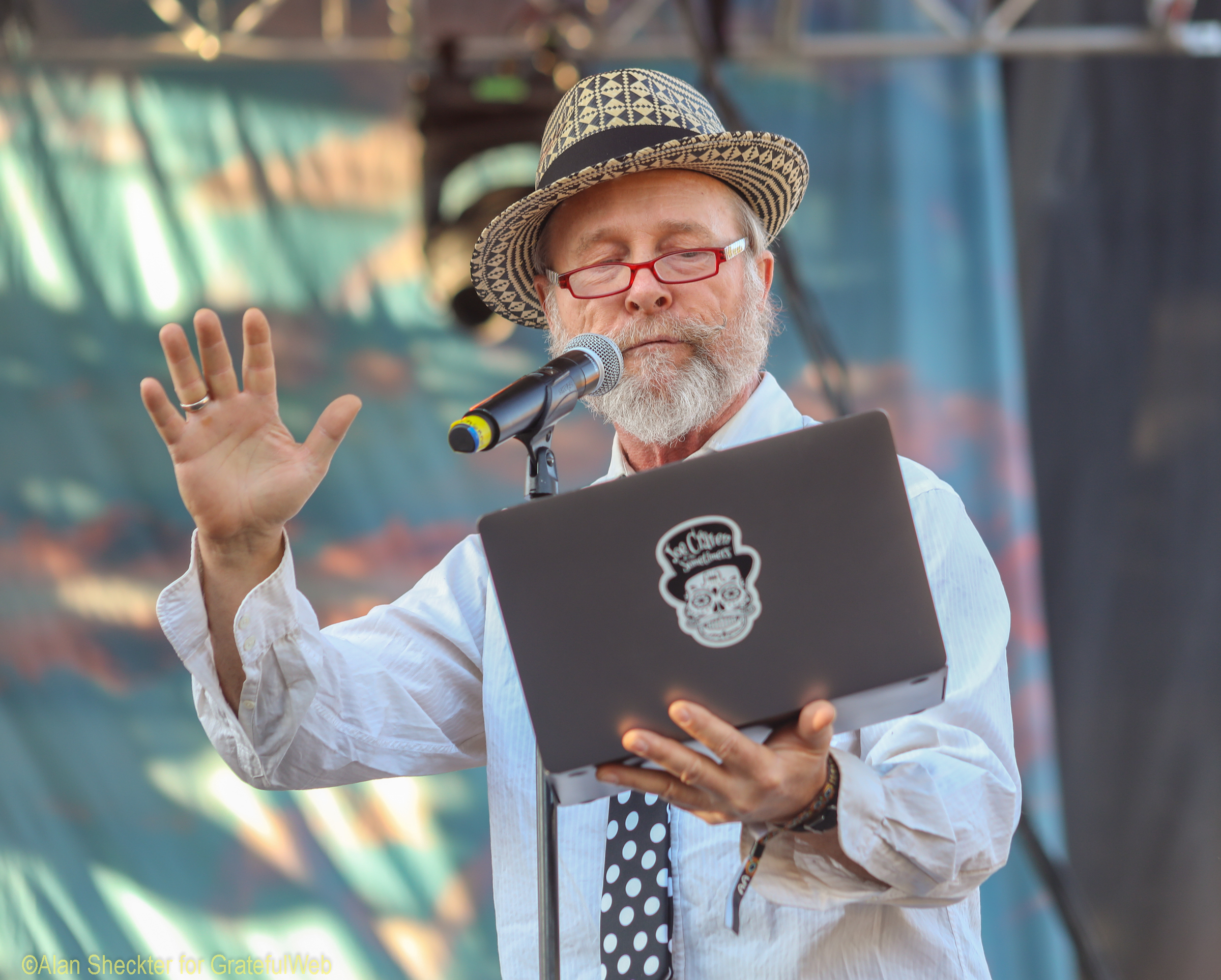 Craven's approach, in his own words: "As an artist who performs at many of the festivals I have been an Emcee at, I gift creative writing in the form of prose and poetry for my colleagues who are about to gift the audiences with their art. I don't offer regurgitated 'data' from artist websites, but rather offer my feelings about what they are – and offer – as artists to the world."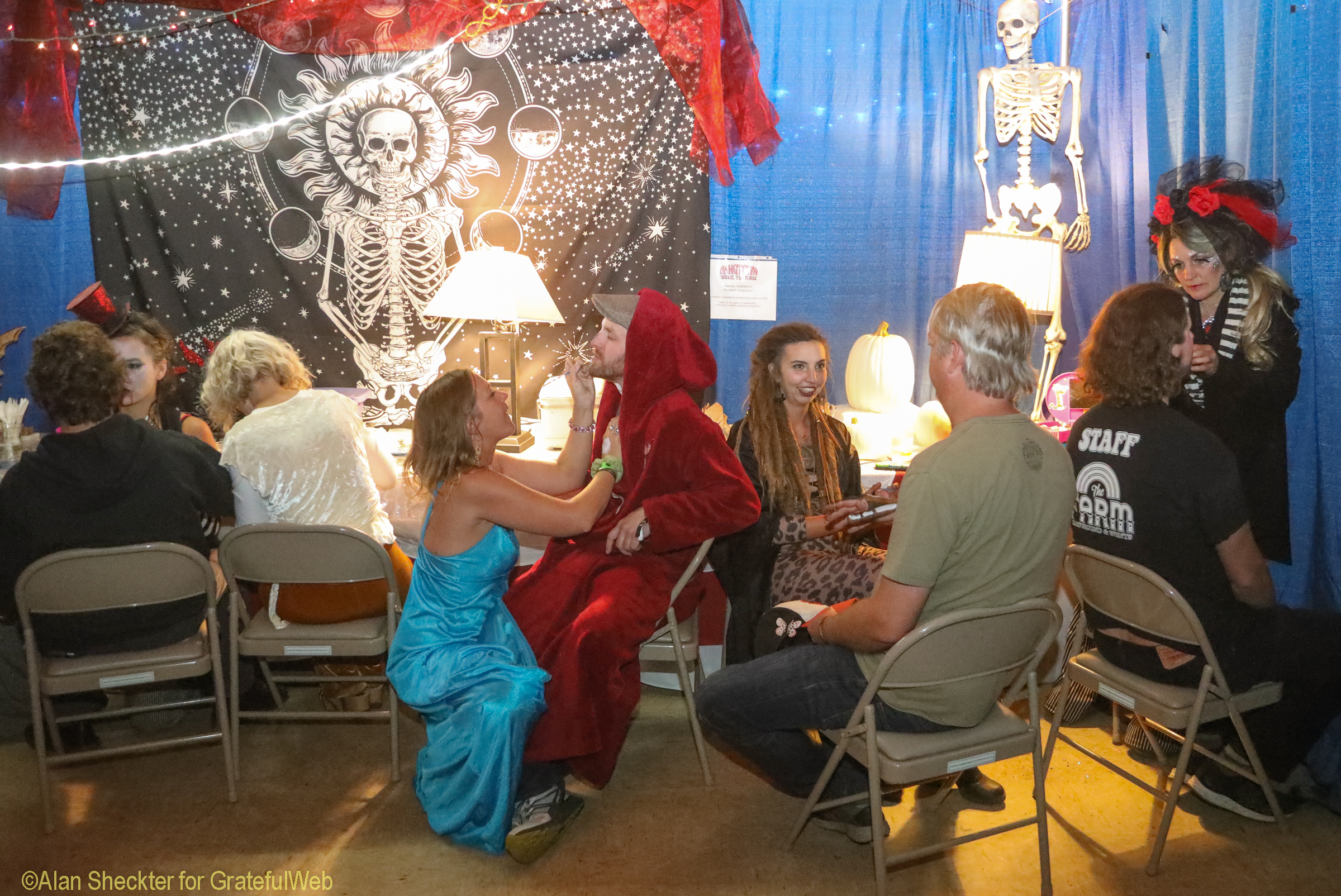 Regarding his Hangtown stage apparel, for which much square footage of he and his band's dressing room was devoted to his inspiring collection of colorful tops and bottoms, and more than a dozen pairs of footwear and hats: "Sometimes I'll dress to a theme that the artists themselves are going for," Craven said, "or I'll present a sharp contrast to their appearance. Hangtown celebrates, and gives permission to, expression with theatrical costuming to all who attend – on and off the stage. It's all part of a longstanding multicultural tradition of individual and collective unity in artful living."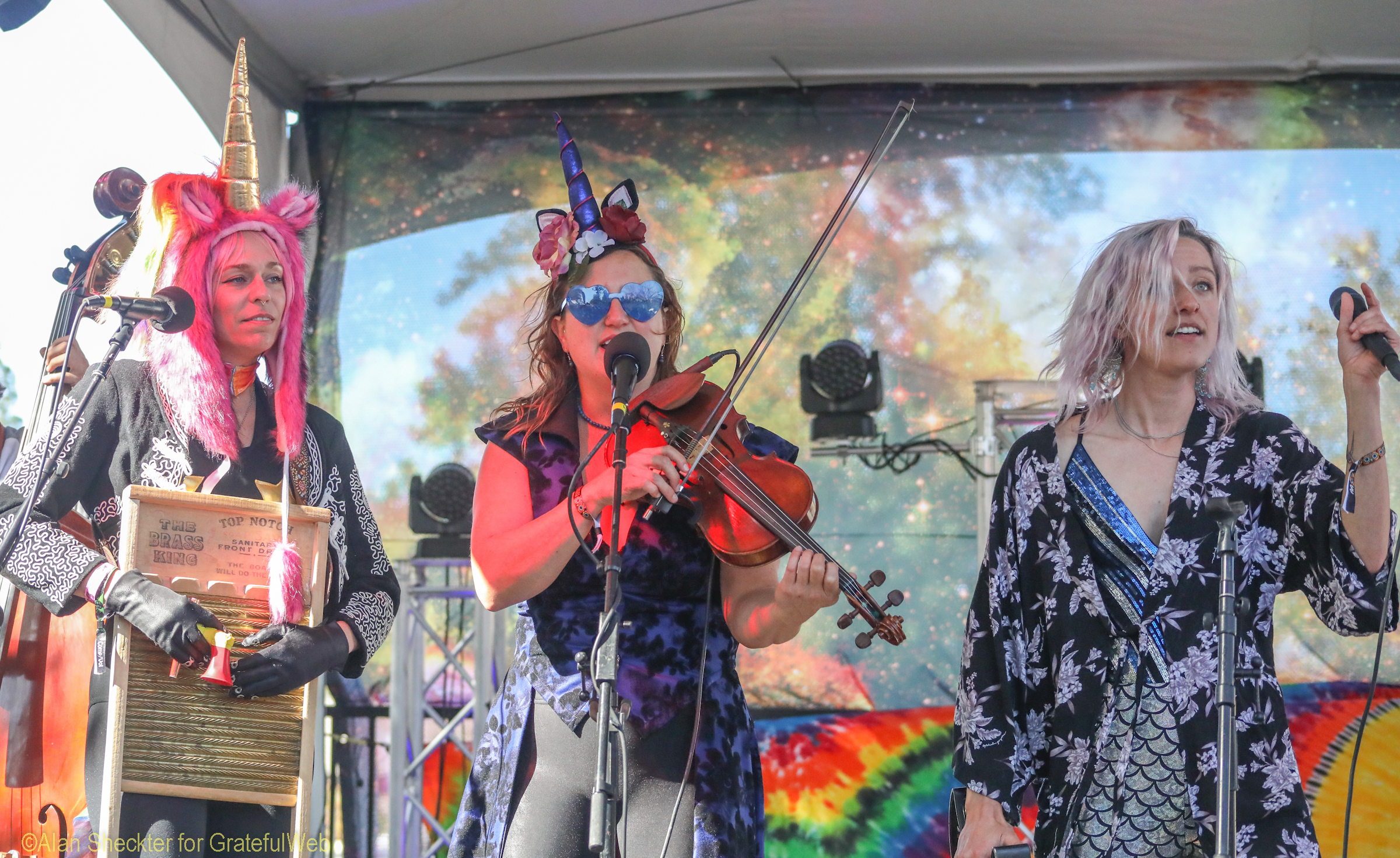 Some of Hangtown's biggest fun also came from folks whose names appeared in smaller type, a little further down the festival announcements/posters. Pixie & the Partygrass Boys, for example, created several such moments. Buoyed by charisma, onstage joy and effervescence, and bluegrass prowess, Racine and musical crew (Amanda P. Grapes, Zach Downes, Ben Weiss, and Andrew Nelson), painted smiles on lots of faces during their three performances, including an off-the-hook collaborative set on Sunday with singer-songwriter Melanie Frances Sponselee (formerly of The Sweet Lilies) and members of World Finest, who played early Friday morning, as well as an under-a-gazebo set to serenade adult and kid pumpkin carvers, who prepared jack-o'-lanterns that were placed on the stage Saturday night and Sunday.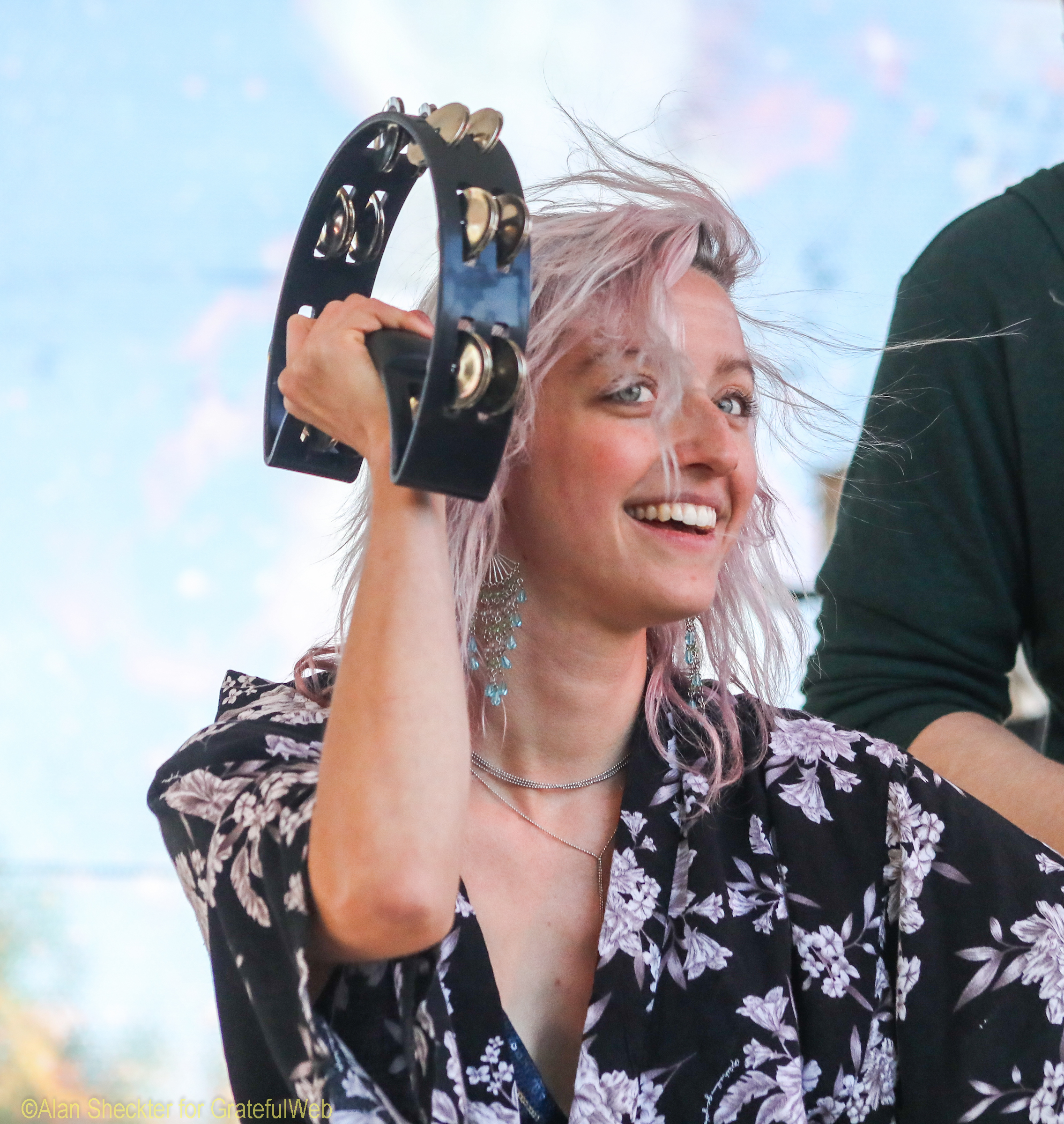 "My personal favorite thing about Hangtown was the sense of collaboration and community," Racine said after the fest." My favorite moment was for sure the Sunday guest jam session. A close second favorite thing was probably the meditation garden area. A place of calming respite during a festival, which can otherwise be so overwhelming, is such a fantastic surprise."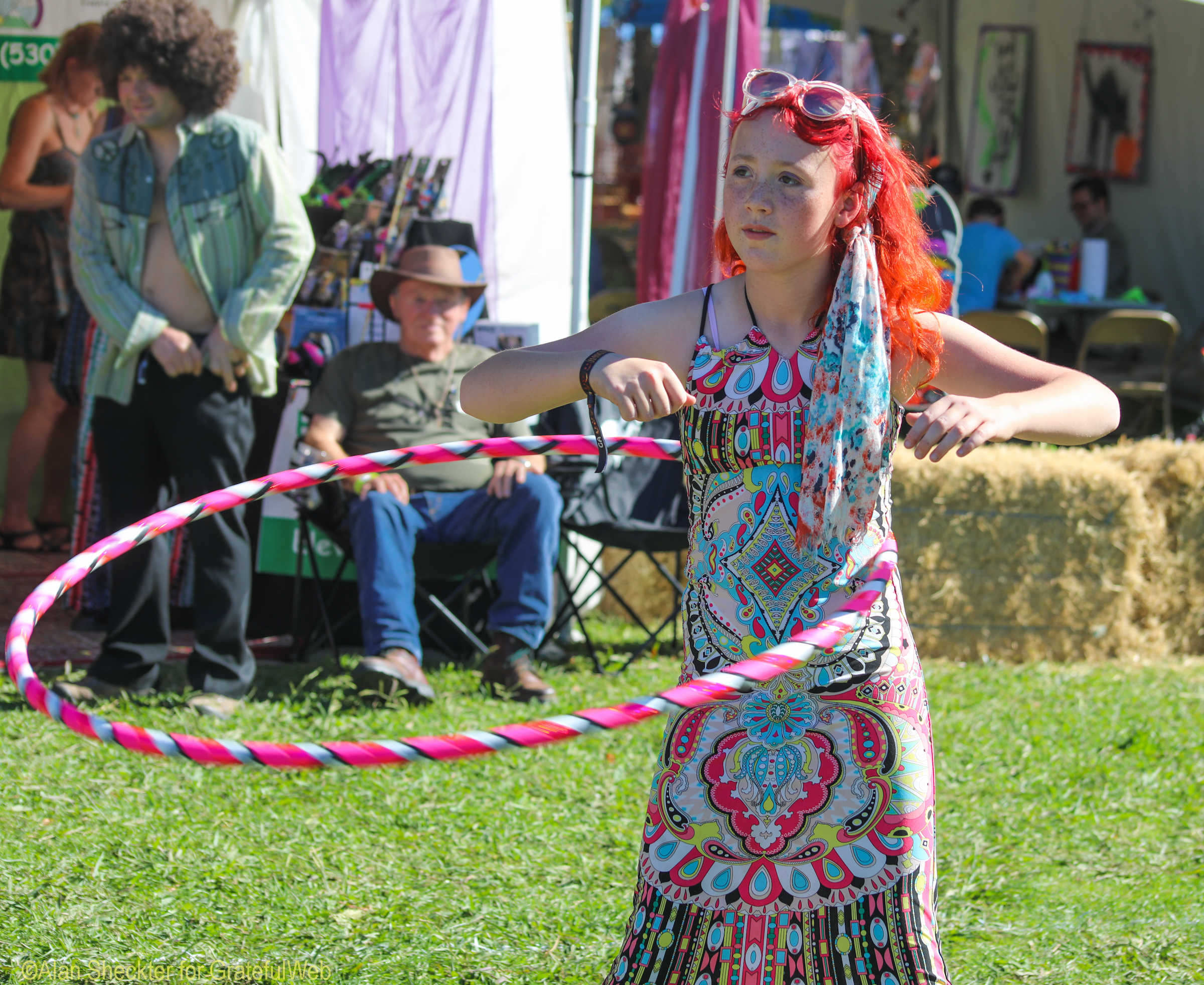 Pixie and the Partygrass Boys covered a lot of musical ground over the weekend, including "The Devil Went Down To Georgia" (Charlie Daniels Band), "My Church" (Maren Morris), "Mama Knows" (Sister Sparrow). As for their own tunes, "We actually leaned mostly on unreleased music!" Racine said. "We have spent so much time on the road in the last year that we haven't found much time to get into the studio. We're spending the winter focusing on getting more of that material out!"
In reference to Sunday's jam-session set, which included washboard, kazoo, and costumes as the ensemble touched on a bunch of wide-ranging material that included "Proud Mary" (Creedence Clearwater Revival) and Respect (Aretha Franklin), Racine said, "That sort of moment is what we live for. We've always been a fan of Partygrass plus horns, and we not-so-jokingly talk about our dreams of performing shows with The Partygrass Orchestra. … For me, that was one of those magical moments in music that so many of us live for - when everyone onstage and in the audience shows up, fully present, and lets the magic of life channel through us all. (Yes, I'm the dirty hippie of the band.)"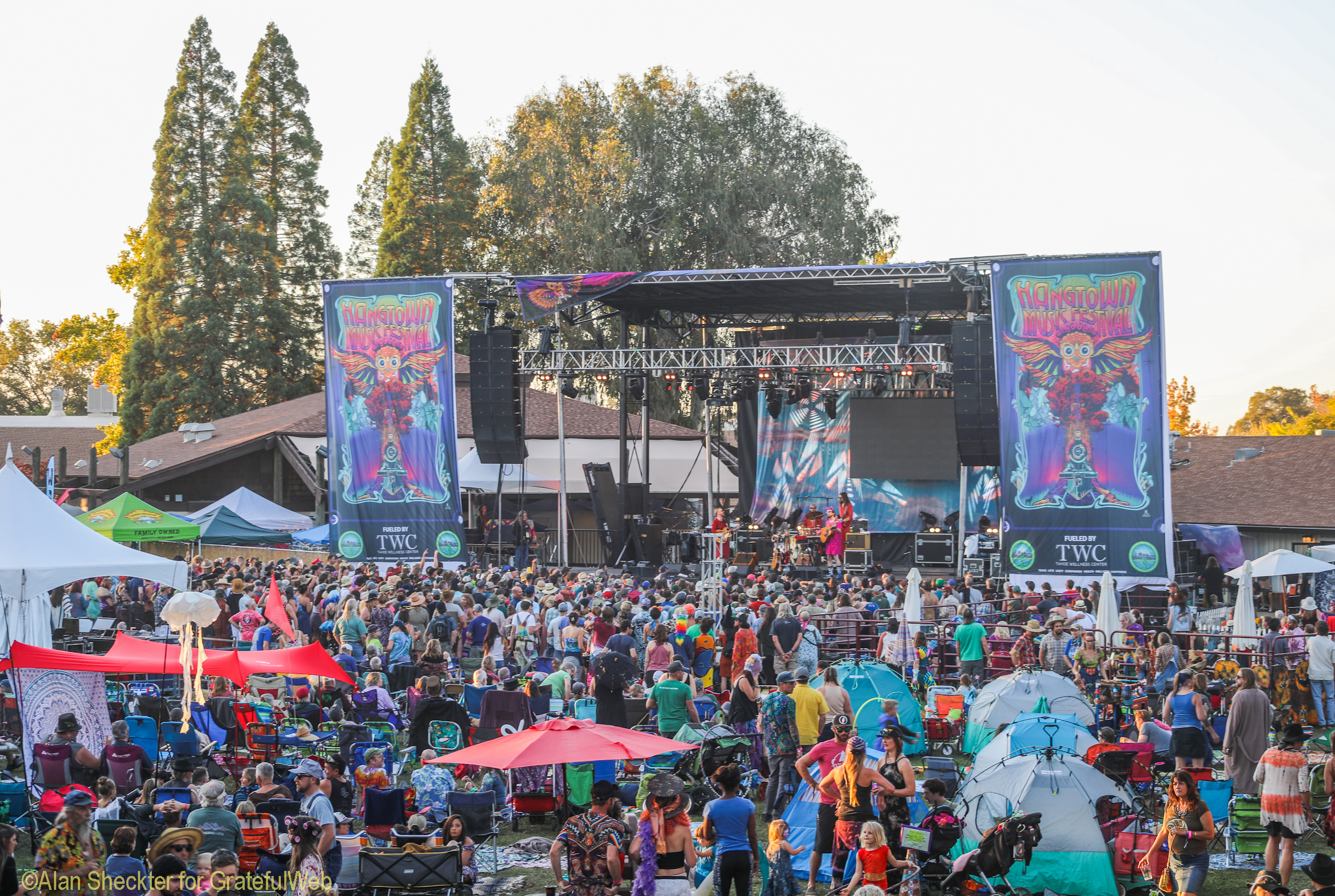 With two stages of performances (there used to be three at this fest) that never overlapped, no one had to make choices whether they wanted to see Band A or Band B, both of which would be playing at the same time. The music schedule allowed attendees to catch every set.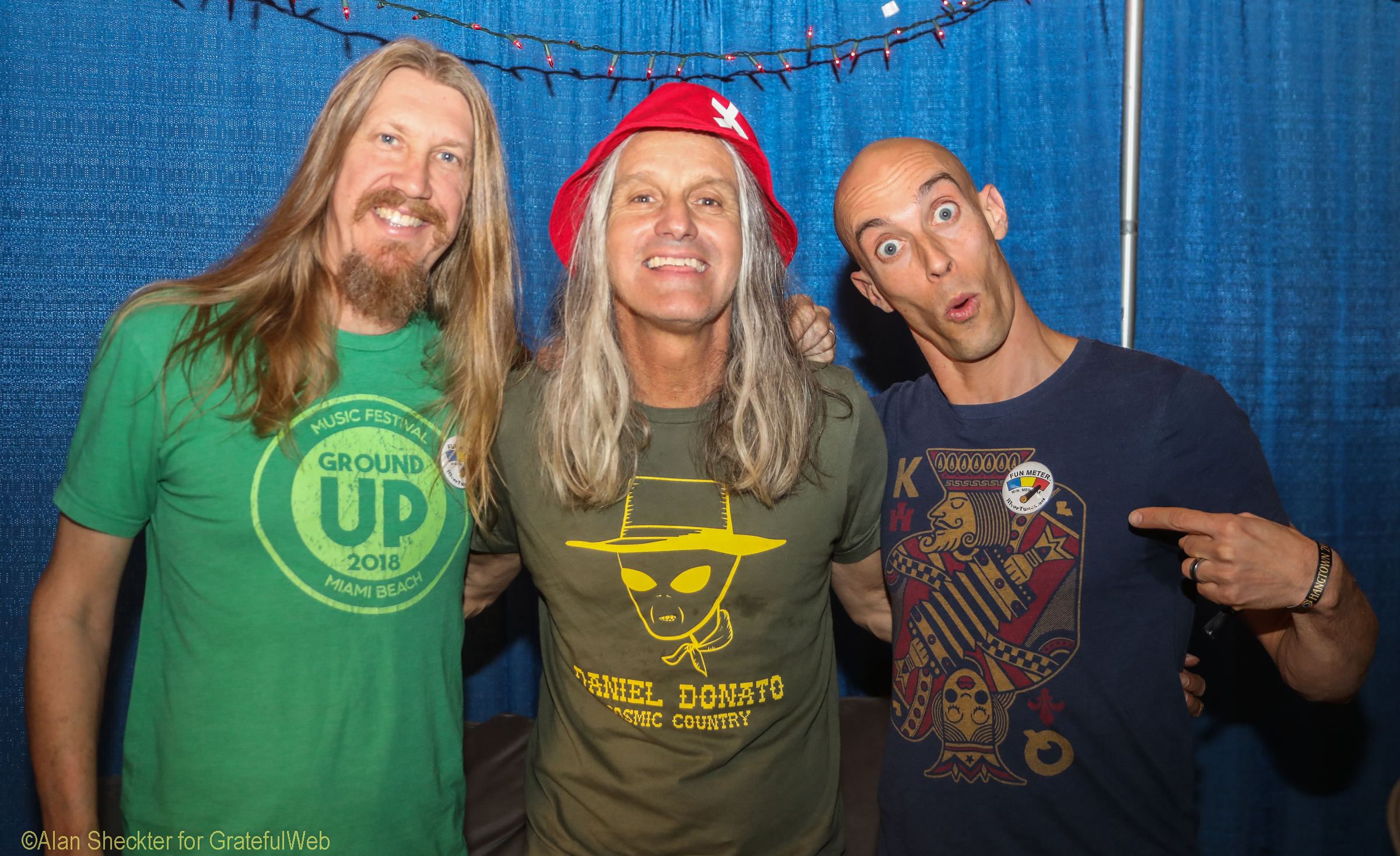 After Organ Freeman and his three-piece jazz-funk combo opened the El Dorado Stage entertainment early on Friday, things got weird, funny, and uber-awesome with solo performer Steve Poltz, who has the knack of putting the audience in the palm of his hand with his banter, witticisms, self-effacing manner, and comedic timing. At one point, The Wood Brothers joined him as they all sang around one mic for a spirited version of Southern gospel artists Albert E. Brumley's "Turn Your Radio On." Poltz closed the set out in the field with the audience with a sing-along (with adlibs) version of Bob Dylan's, "Forever Young." On Saturday night over at the smaller naturally tiered Gallows Stage, Poltz made up a song on the spot, "Cantaloupe Can't Elope," sung directly to Jacob and Veronica, a couple that he said he actually married earlier in the weekend.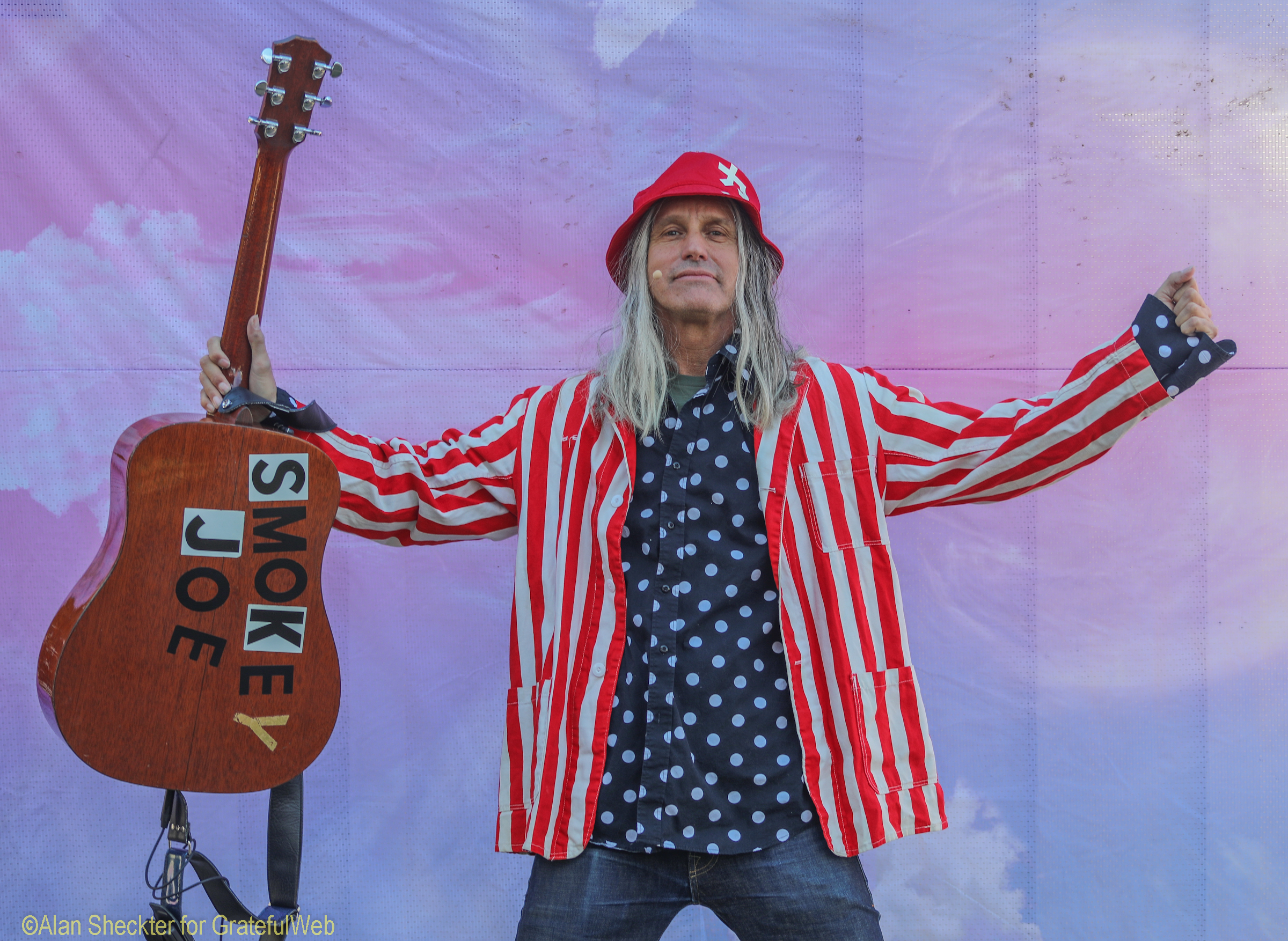 With a main-stage set late Friday afternoon and two small-stage performances on Saturday, singer-songwriter-guitarist Lindsay Lou and her three accompanying players covered a lot of music ground over the weekend. Playing all different stuff in each set, She and her skilled accompanists performed several selections from her "Southland" (2018) and "Ionia" (2015) projects, as well as songs she recently released on streaming platforms as singles and EPs.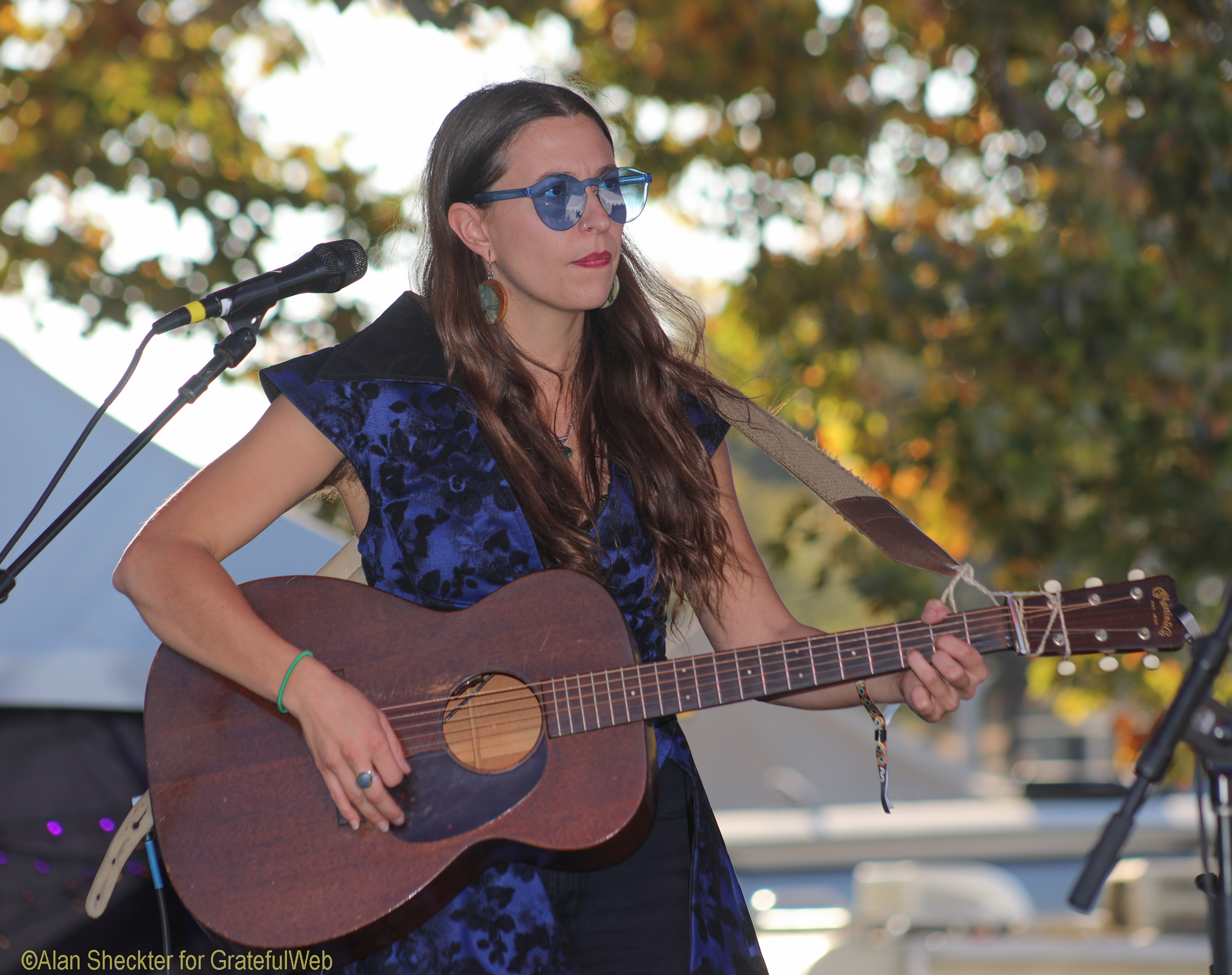 In addition to the many, many originals, Lindsay Lou also offered up a dynamic collection of covers including, "Althea" (Grateful Dead), "I Wish You Well" (Bill Withers), "Two Hands" (Townes Van Zandt),  "Street People" and "Long Face" (Louisiana swamp-pop songwriting legend Bobby Charles), "Oval Room" (country/blues singer-songwriter Blaze Foley),  "Show Me A Brick Wall" (Country/rockabilly/swing singer Carl Smith).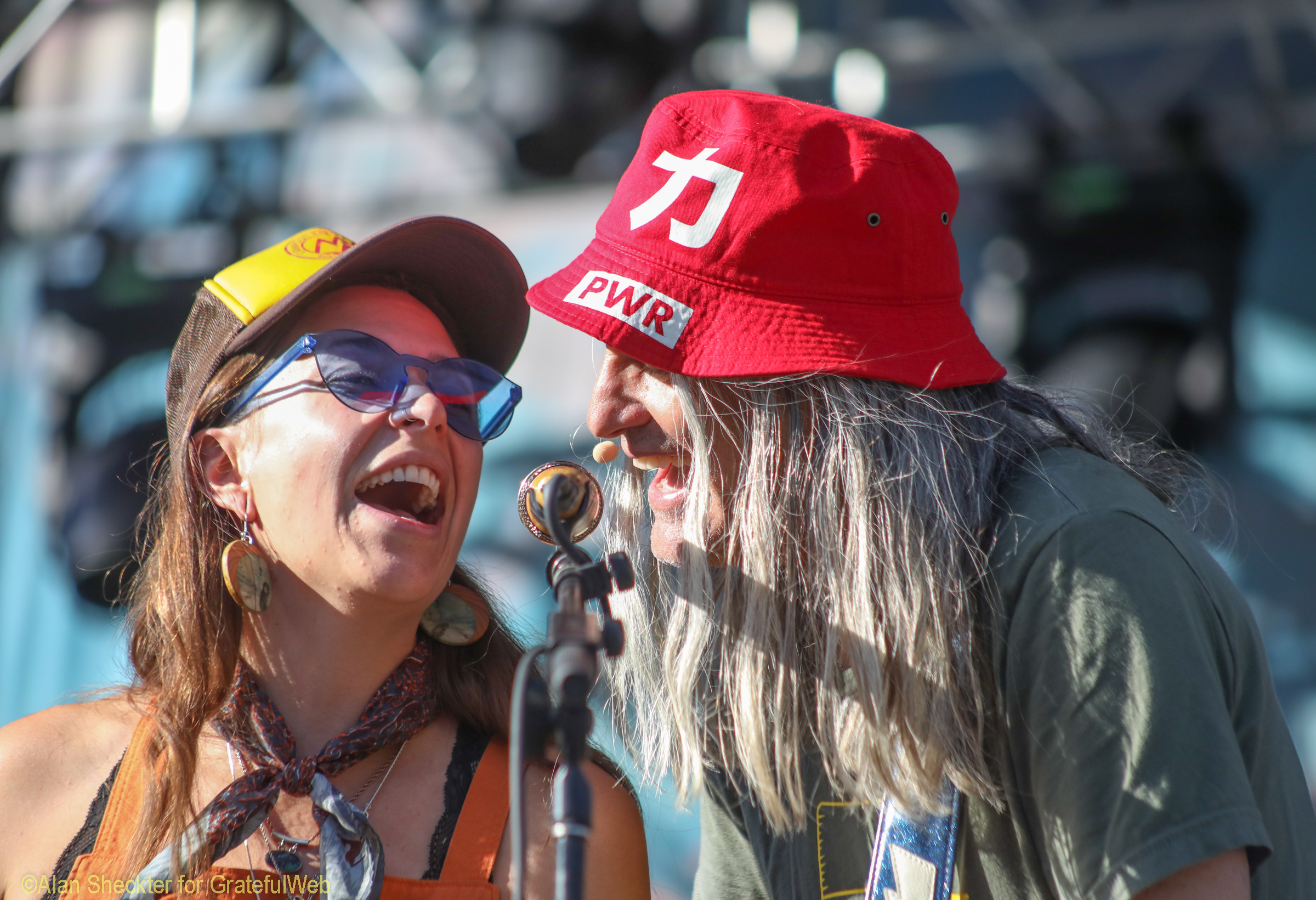 Lindsay Lou also did a sit in during Stave Poltz's main stage set, but the most fun came on Saturday night. " I sang 'The Chain' by Fleetwood Mac with Greensky as the last song of their set," she recalled. "I was dressed as a hot pink psychedelic monkey wearing entirely things lent to me by the super cool vendors at the fest."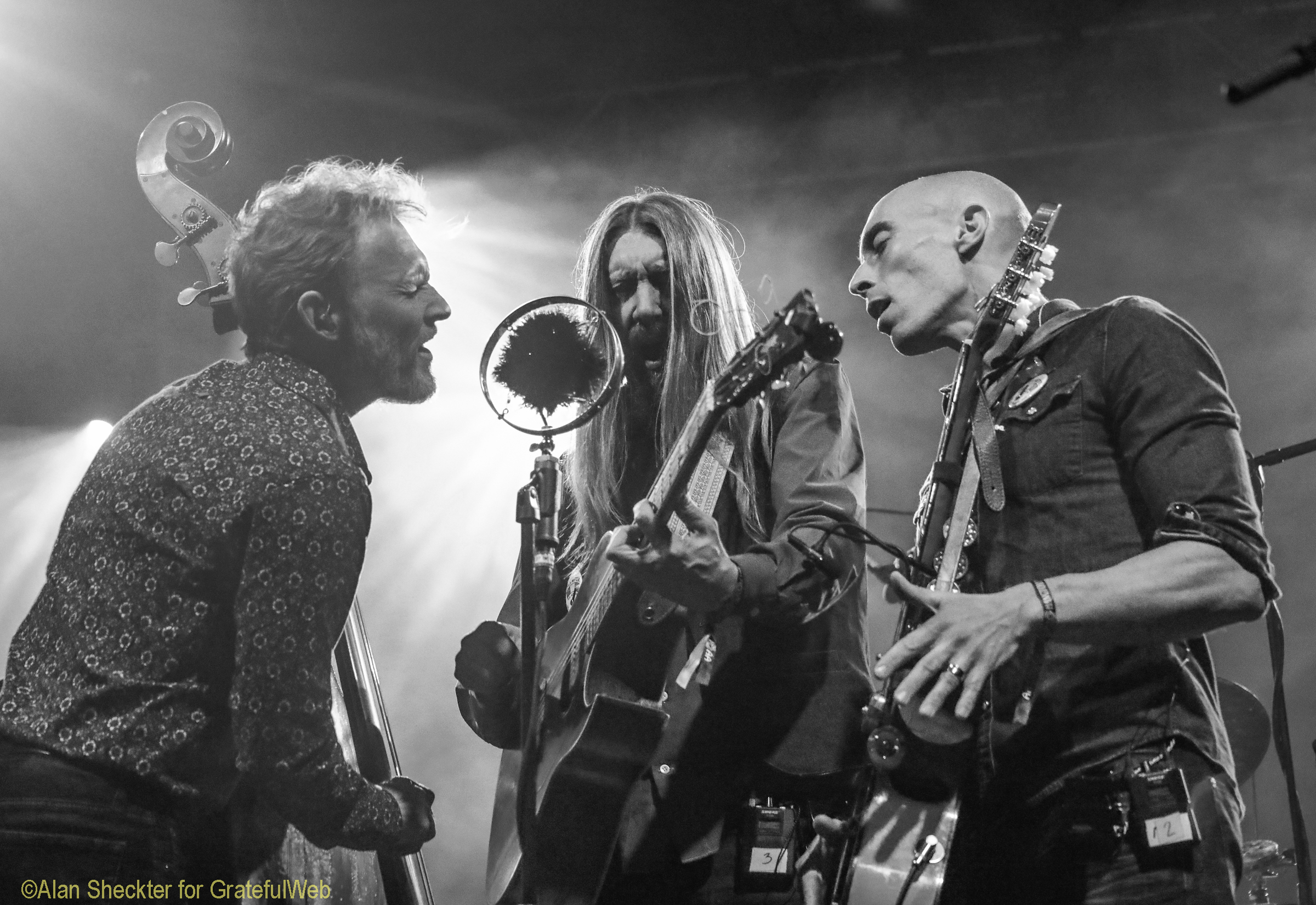 The Wood Brothers, Oliver and Chris Wood along with Jano Rix, are fine songwriters who nicely deliver live renderings of their studio tunes. Their alt-country, folk and blues set included such faves as opener "Postcards from Hell," as well as "Atlas," "Snake Eyes," and closer "Luckiest Man." The trio also invited Poltz onto the stage for a fun version of TLC's 90's pop hit, "Waterfall."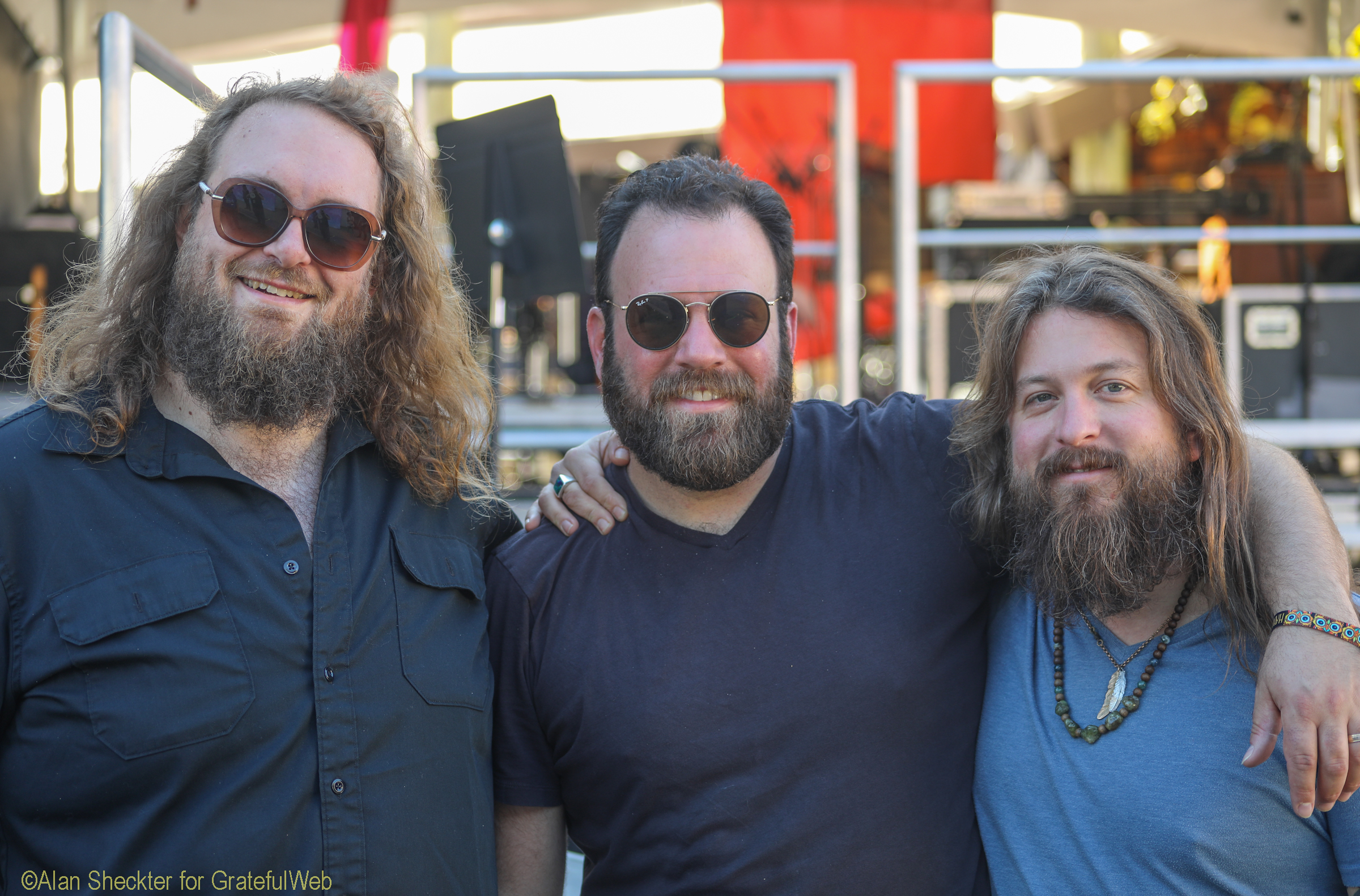 Singer-songwriter Cris Jacobs and his three bandmates performed an inspiring early afternoon good-timey main-stage set that included components of alt-country/rock, roots, and Americana. The Baltimore-based Jacobs, who has a smooth, soulful voice, and who has been festival-ubiquitous of late and has played a bunch of gigs with Phi Lesh & Terrapin Family Band as well as Midnight North, started off seated while playing lap-style a cigar-box (Grand Puro brand to be exact) guitar before wailing on a Fender electric.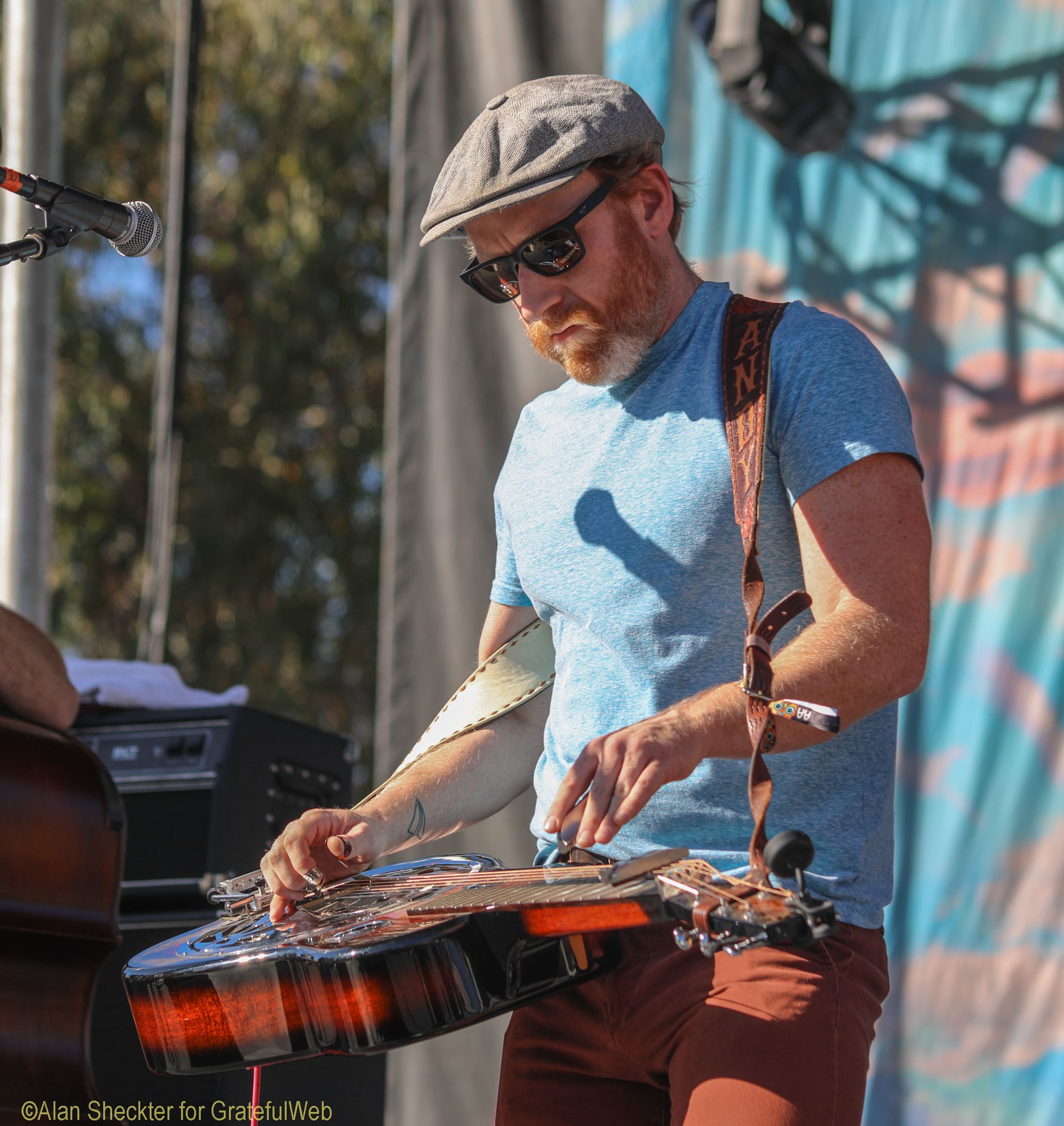 The Lil Smokies, whose classic bluegrass essence is most aurally defined by Andy Dunnigan's euphonious dobro flourishes, followed the Cris Jacobs Band, providing a virtuosic set of progressive bluegrass thanks to skilled players on five string instruments: dobro, guitar, fiddle, stand-up bass, and banjo.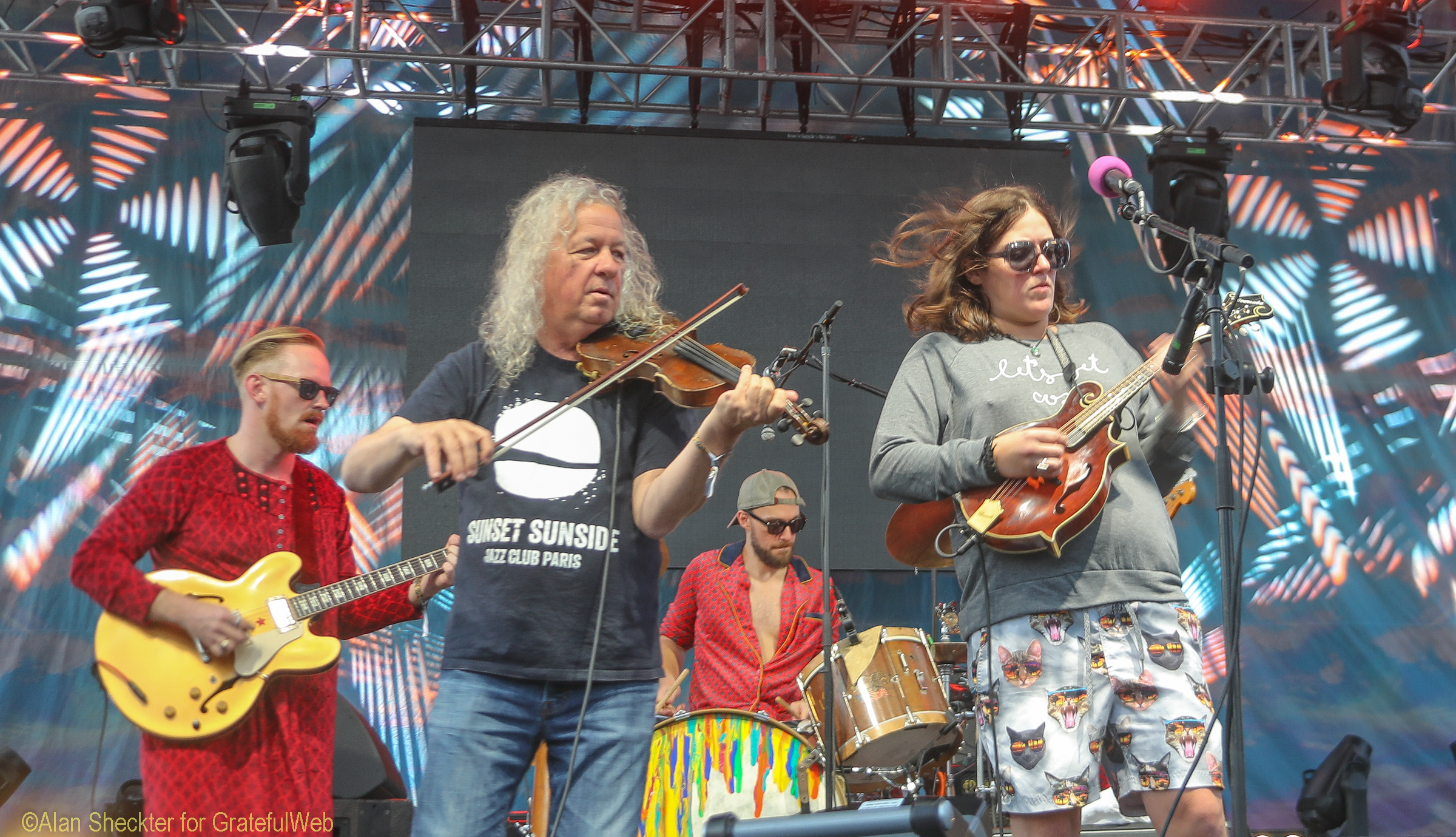 Fruition, which combines an amalgamation of genres into its rock 'n' party essence performed an exciting main-stage set early Saturday evening, with Mimi Naja, Jay Cobb Anderson, and Kellen Asebroek's animated stage presence helping turn up the heat. The set included a trio of songs with Railroad Earth's Tim Carbone on fiddle – "I Should Be (On Top Of The World)," "Death Don't Come Knockin'," and "Mountain Annie." The set also included "Labor of Love," "There She Was," and closer "I Don't Mind," as well as a couple of tunes from the band's recent 7-inch-vinyl series. Fruition's new album, "Wild as the Night," is set for a November 8 release, but the band's Hangtown set did not touch on the new record.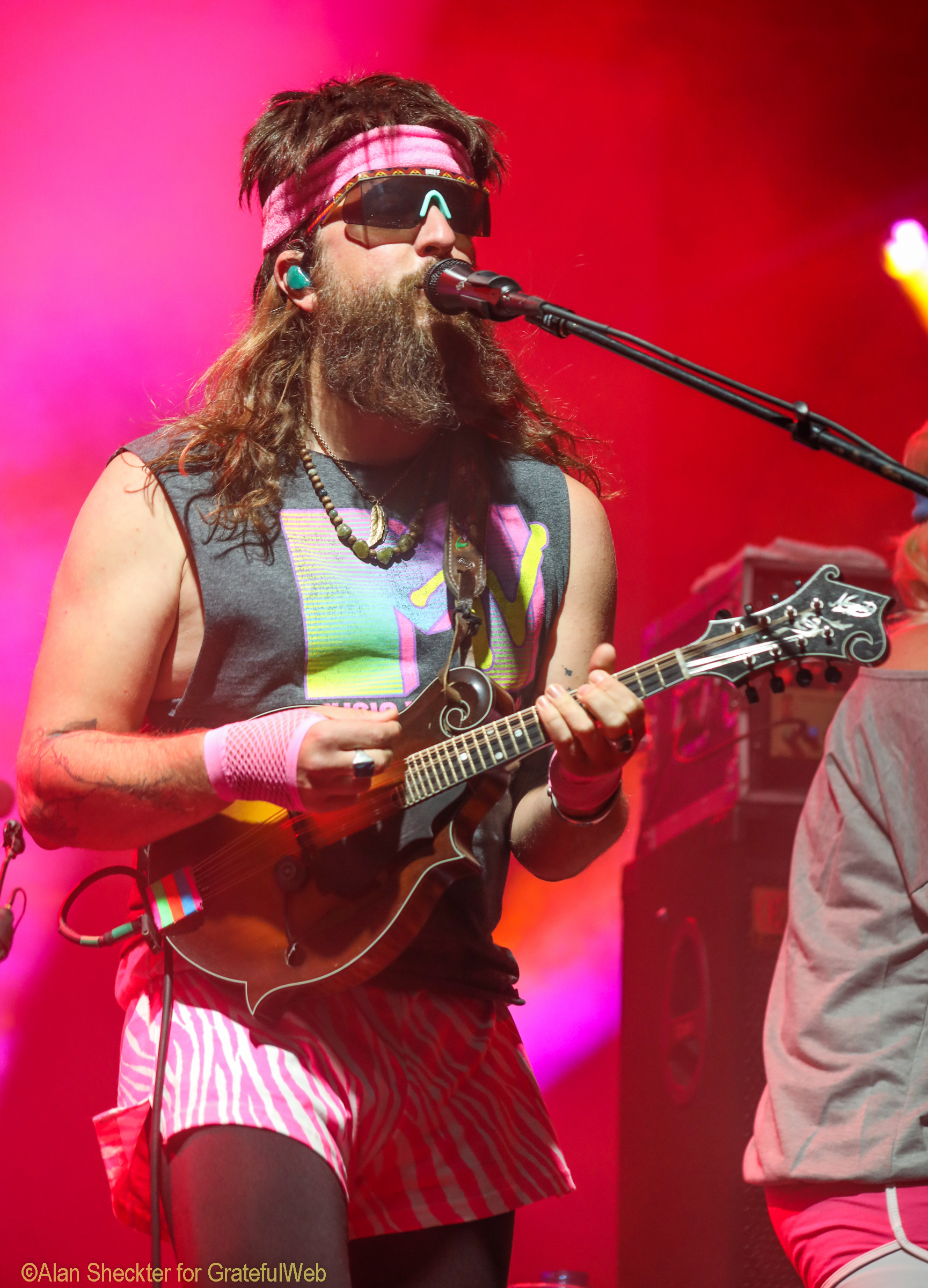 Arguably the quintessential progressive bluegrass outfit on the circuit, with a jam band mentality in their DNA, Greensky Bluegrass fired on all cylinders during their Saturday early-evening set. Their 1980s-Jazzercise gear, including frontman Paul Hoffman's pink-and-white zebra shorts (over black tights), pink headband, and MTV muscle shirt, added to the merriment. Utilizing the same classic instrumental lineup as by the Lil Smokies, excepting Hoffman's mandolin instead of the fiddle employed by the Smokies, the band's charismatic personalities, songs, and sweet instrumentals were sublime. In addition to performing favorites such as "Demons" and "Past My Prime," and several pieces of music from their new record, "All for Money," such as "Courage for the Road" > "It's Not Mine Anymore" > "Courage for the Road," Greensky's set also included several guests. Tim Carbone played fiddle during "I'd Probably Kill You" and "All Four," Railroad Earth's John Skehan played mandolin on "Burn Them," playing face-to-face with Hoffman and his mandolin," and Lindsay Lou provided lead vocals on the set-closing version of Fleetwood Mac's, "The Chain."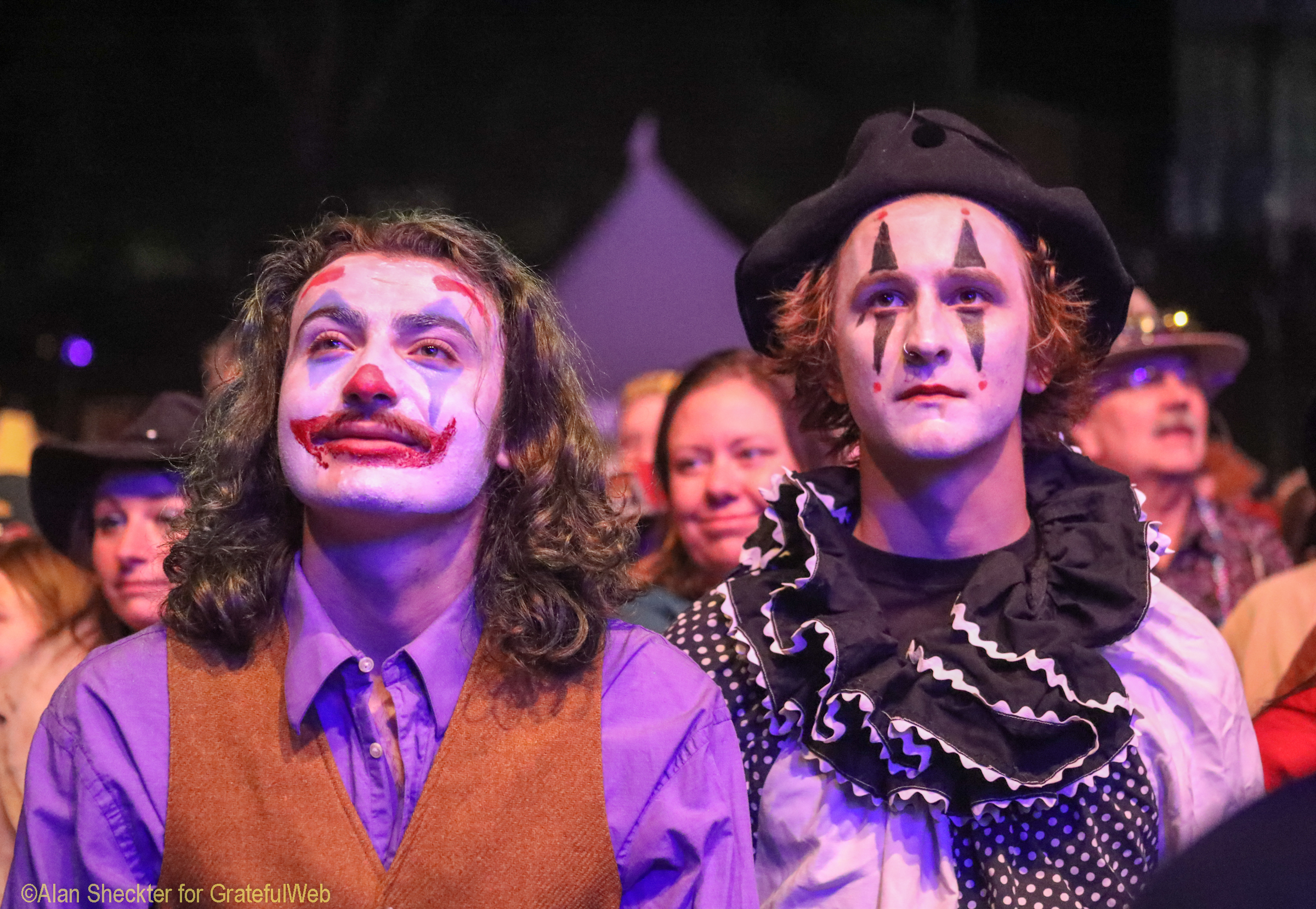 Toward the end of the set, Greensky's dobro player, Anders Beck, spoke to the crowd about the power outage: "If you look around folks, it's very dark, dark. That's because PG&E has shut off the power to everywhere around here, except our festival. …There's no power anywhere, and everybody <in the Placerville area> is looking at these fucking lights shining around here and hearing the music and they're like, 'What the fuck; what the heck!' What is going on over there and how are they so lucky to be having a festival, when there's no power anywhere? And the question is: How? And the answer is: Amazing people that throw this festival. Let's don't forget it! Everybody make a shitload of noise for the people who put on this festival because we have power, and nobody else does! C'mon!"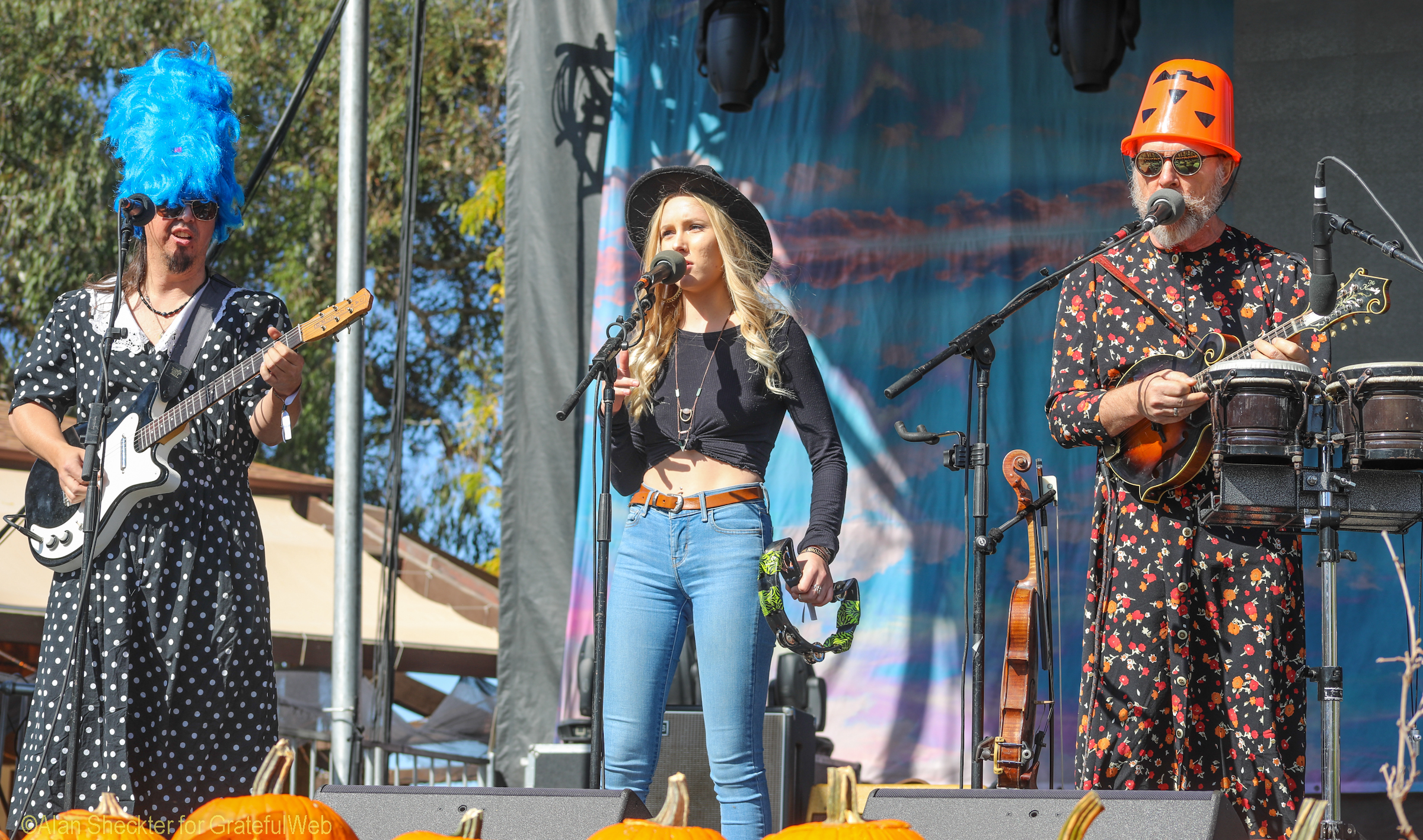 Sunday's festivities took place in decidedly cooler and windier conditions, with temperatures in the 50s, a far cry from Friday's highs in the 80s. But brilliant sunshine and continued good vibes did not diminish the good general joviality. First up on the main stage were the all-female jamgrass trio, The Sweet Lilies, followed by the previously mentioned Joe Craven & the Sometimers. Performing a set that leaned on their recent "Garcia Songbook" project, the band turned a lot of heads with their unique  – rather than copycat – arrangements of such classics as "Scarlet Begonias," "Franklin's Tower," and "Friend of the Devil," with fine players Bruce MacMillen on guitar and vocals, Jonathan Stoyanoff on bass and vocals, Barry Eldridge on drums, Craven on bongos, fiddle, and mouth percussion, and Hattie Craven on vocals.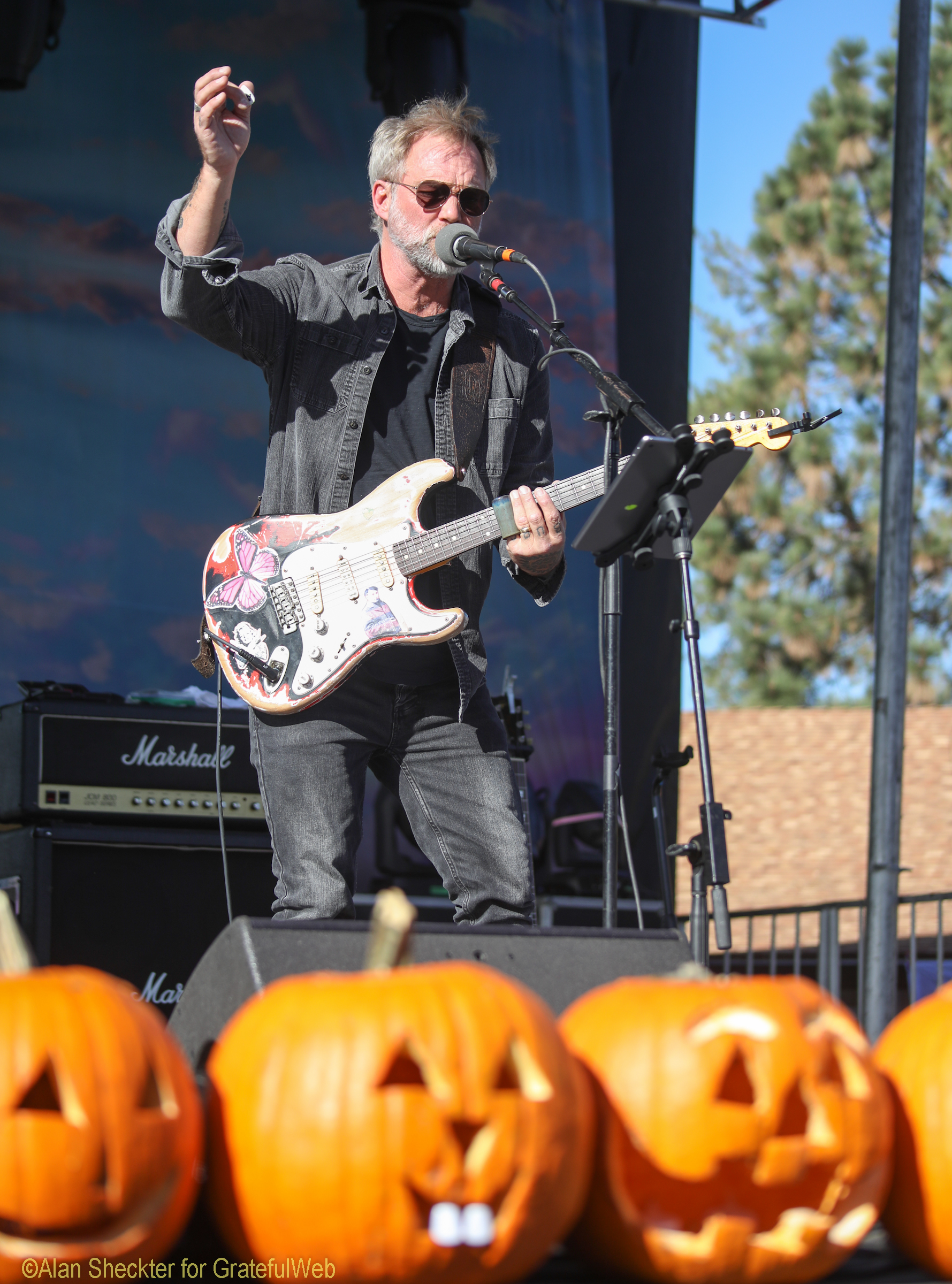 Anders Osborne and his band were next, delivering a raucous set that showcased both his song craftsmanship and roadhouse-rocking guitar jams. Osborne's band of four included throughout Jonathan Sloane from the Cris Jacobs Band. Osborne, who just a couple of months ago declared that a bunch of his guitars were stolen, and who he reported from the Hangtown stage that there was a fire in his previous night's hotel room which cause him to scramble to save his guitar, visibly impressed both old and new fans. In one of the weekend's phenomenal moments, The Motet's Lyle Divinsky came out to sing lead on the final song, a righteous bass-backboned version of Little Feat's "Spanish Moon" to honor that band's Paul Barerre, who passed away over the weekend.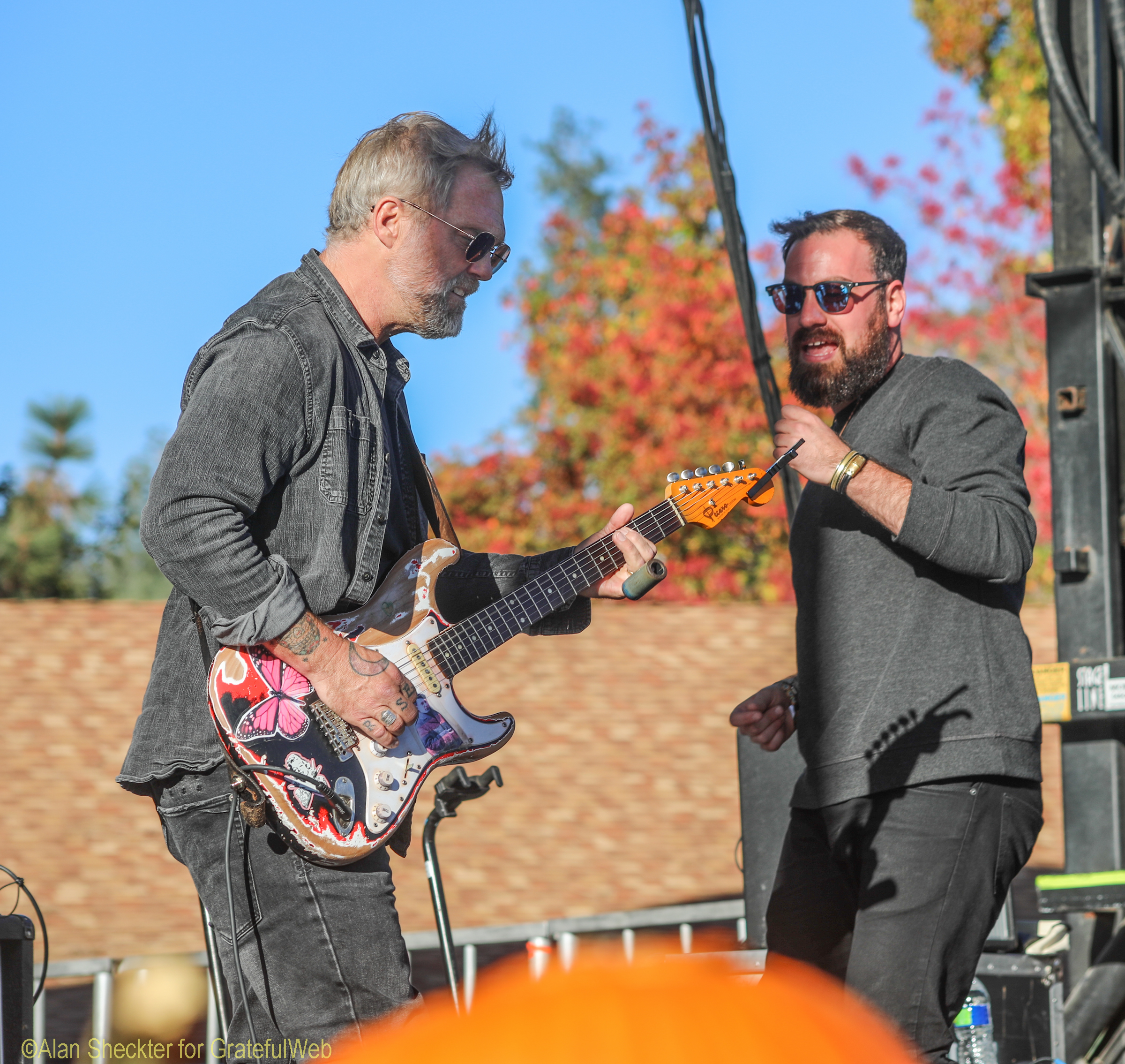 Divinsky and his Motet ensemble followed with the festival's penultimate main stage performance. The seven-piece laid down an impressive, much of it instrumental pieces of music,  of 70s'-style funk updated toward more complex 2019 sensibilities, with components of hip-hop, world beats and improvisational jamming.  Some of The Motet's imaginative funk 'n' groove jams would work well as compelling big-screen movie scores.
Many main-stage acts also played sets on the small, Gallows stage. But some great music came from bands who triumphed on the small stage only.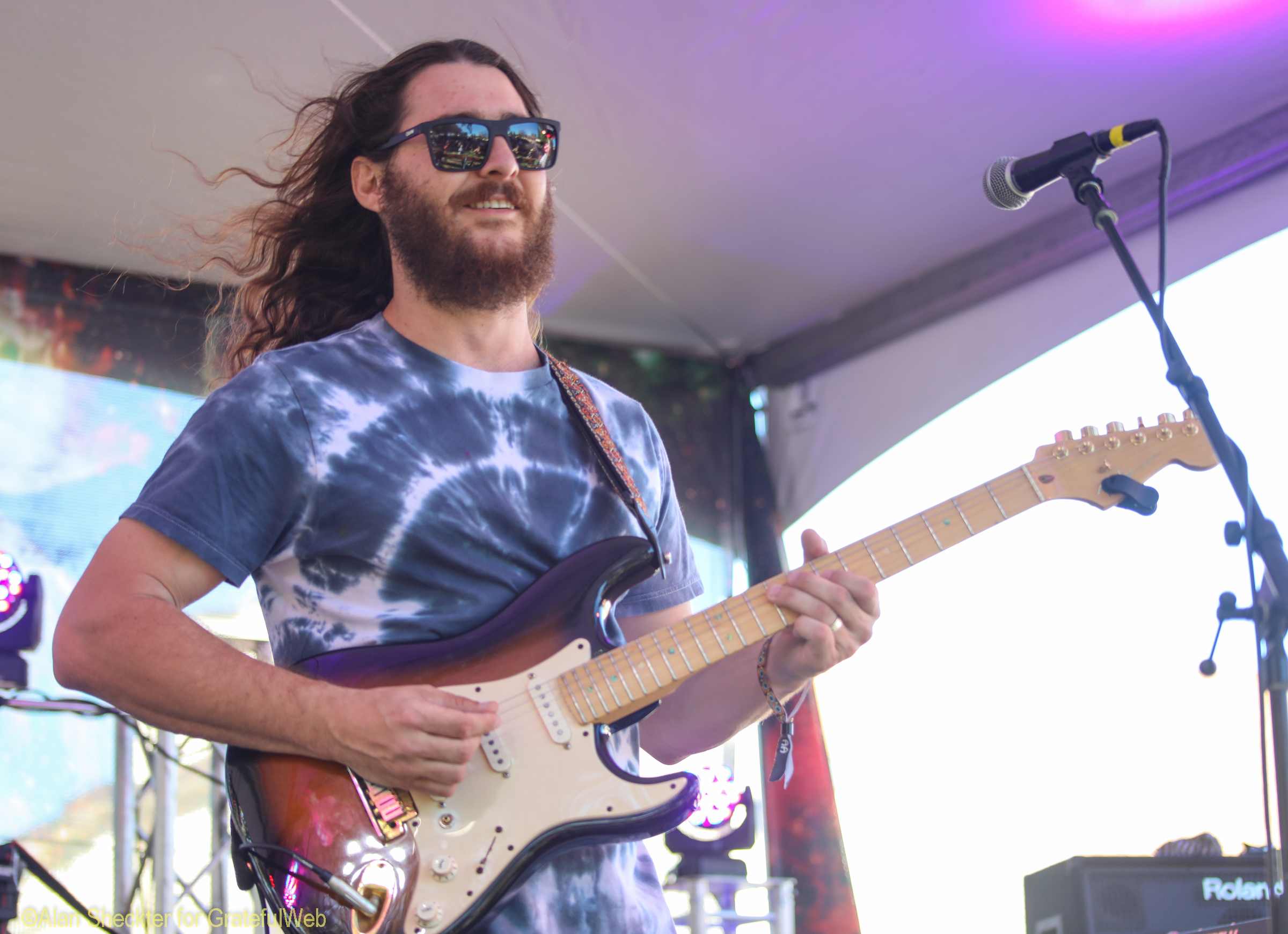 Take The Higgs for example. The inventive Los Angeles-based four-piece have been garnering national attention as of late, and Friday at Hangtown, judging by the freeform dancers in the audience, The Higgs made a big splash for existing fans and those who were previously uninitiated to their psychedelia-flavored brand of audio delights. Higgs magic was fueled, during their two sets, through Jesse Jennings soaring keyboard passages and John Lovelo's dexterous guitar, which glided nicely over steady bass (David Barsky) and drums (Garrett Morris).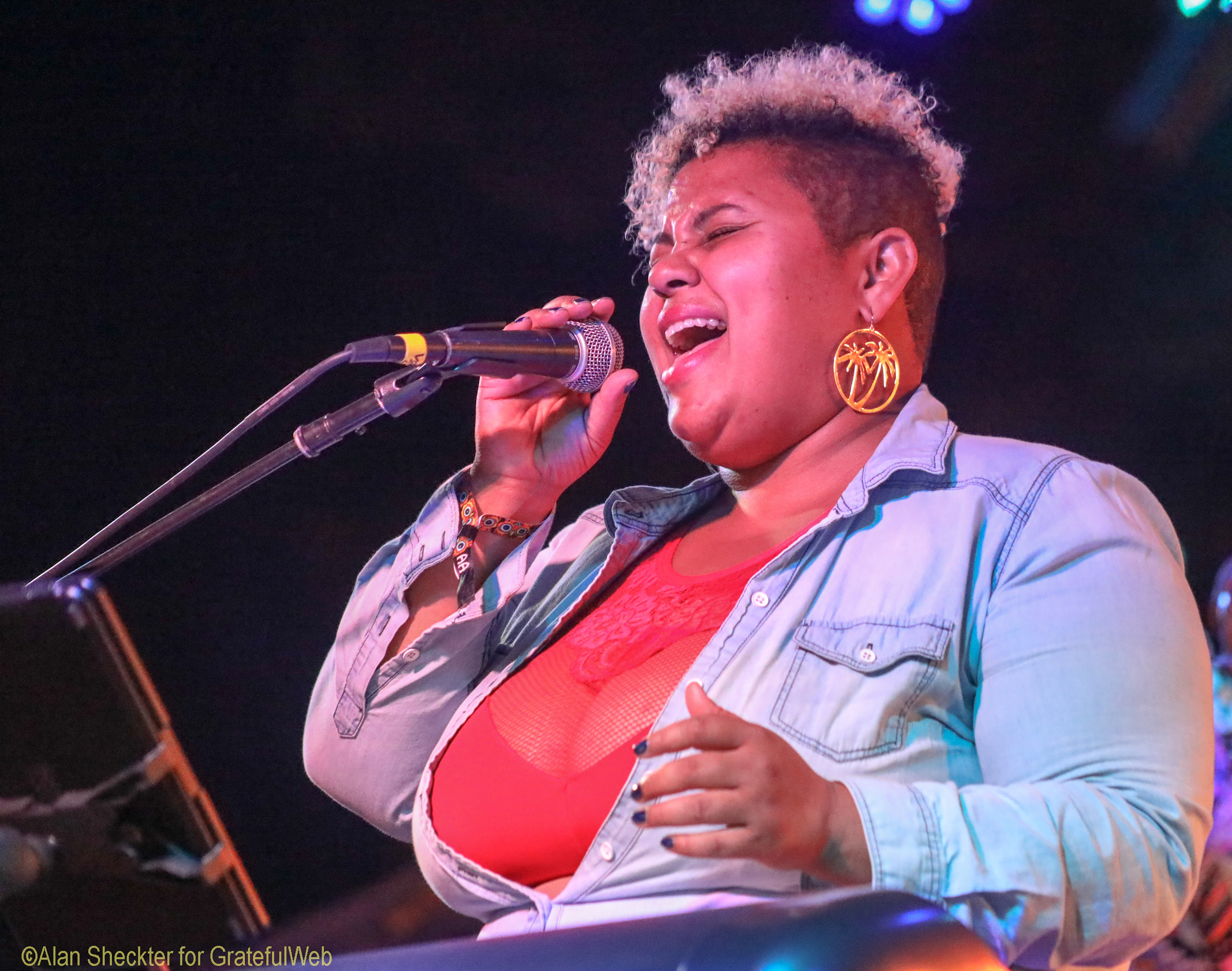 Dirty Revival, a seven-piece Portland, Oregon-based soul outfit led by the powerful, soulful vocals of frontwoman Sarah Clarke, along with commanding rhythms and beats, kicked up the dust at the small, Gallows stage on Saturday. Their two early-evening sets, which they categorize as "Vibrant Neo-Soul for a Dirty Nation" bookended the Wood Brothers' big-stage appearance.
Sacramento's Golden Cadillacs also played two Gallows Stage sets, Sunday afternoon before and after Anders Osborne's performance. The talented rock/country-rock sextet, led by a front line of Jeremy Plog (Jackie Greene Band, Nicki Bluhm & the Gramblers), Jillian Secor (MerryGold), Nick Swimley (Dead Winter Carpenters) and Adam Wade dressed up as "Alice in Wonderland" characters for their second set, which included Tom Petty's "Don't Come Around Here No More," and featured Secor's powerful vocal treatments on Jefferson Airplane's "White Rabbit."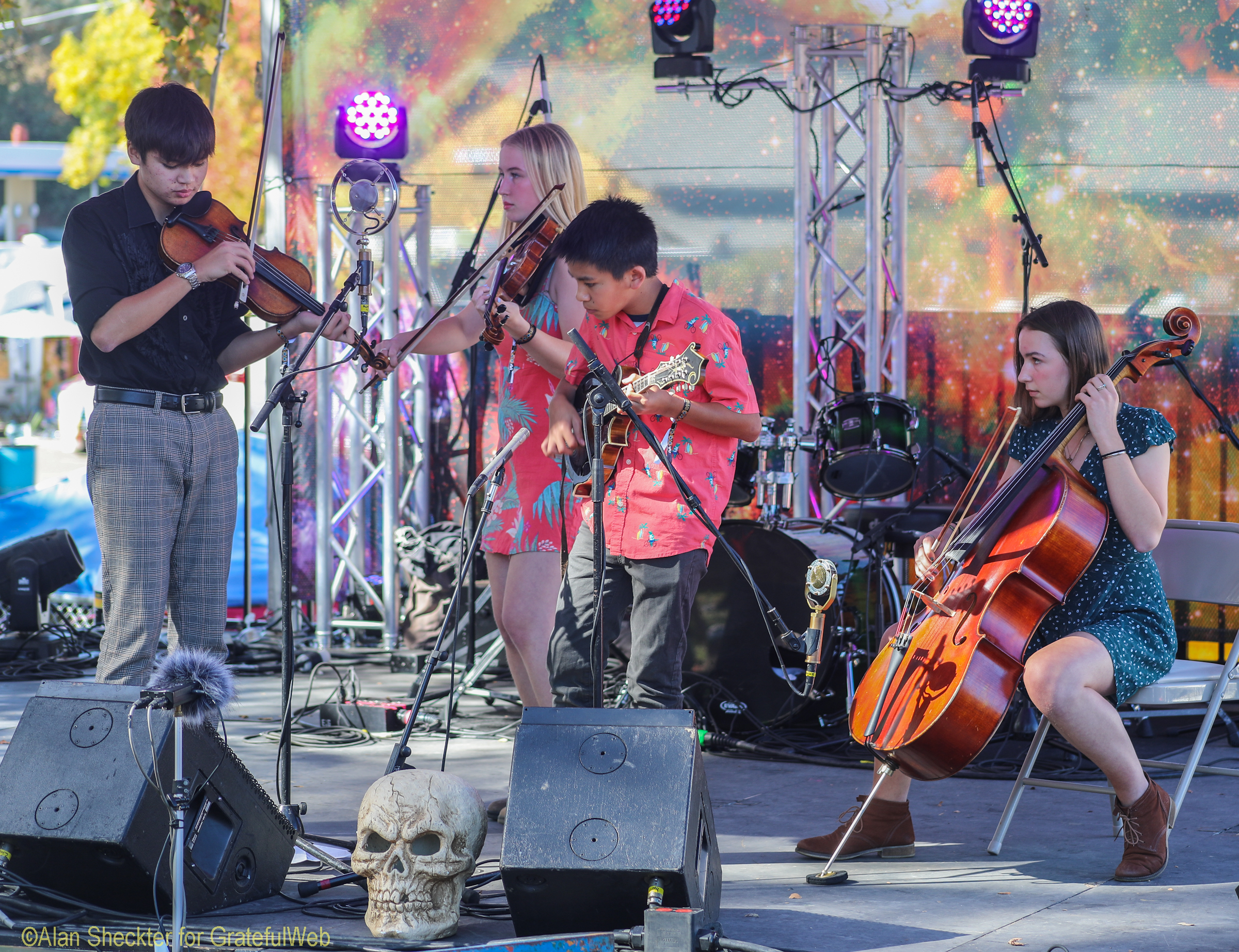 Jubilee, a youth bluegrass band of four – two girls and two boys – consisting of two sets of siblings between the ages of 11 and 14 on mandolin, cello, and a pair of fiddles, surprised and delighted the audience early Saturday with their traditional bluegrass acumen.
Late-night shows in the Hangin' Hall kept the music alive between midnight and 4 a.m. – a little earlier on Sunday night – with Fruition and The Higgs (Friday night), The Motet and Dirty Revival (Saturday), Cris Jacobs and Lil Smokies (Sunday) and Cory Wong (Thursday night).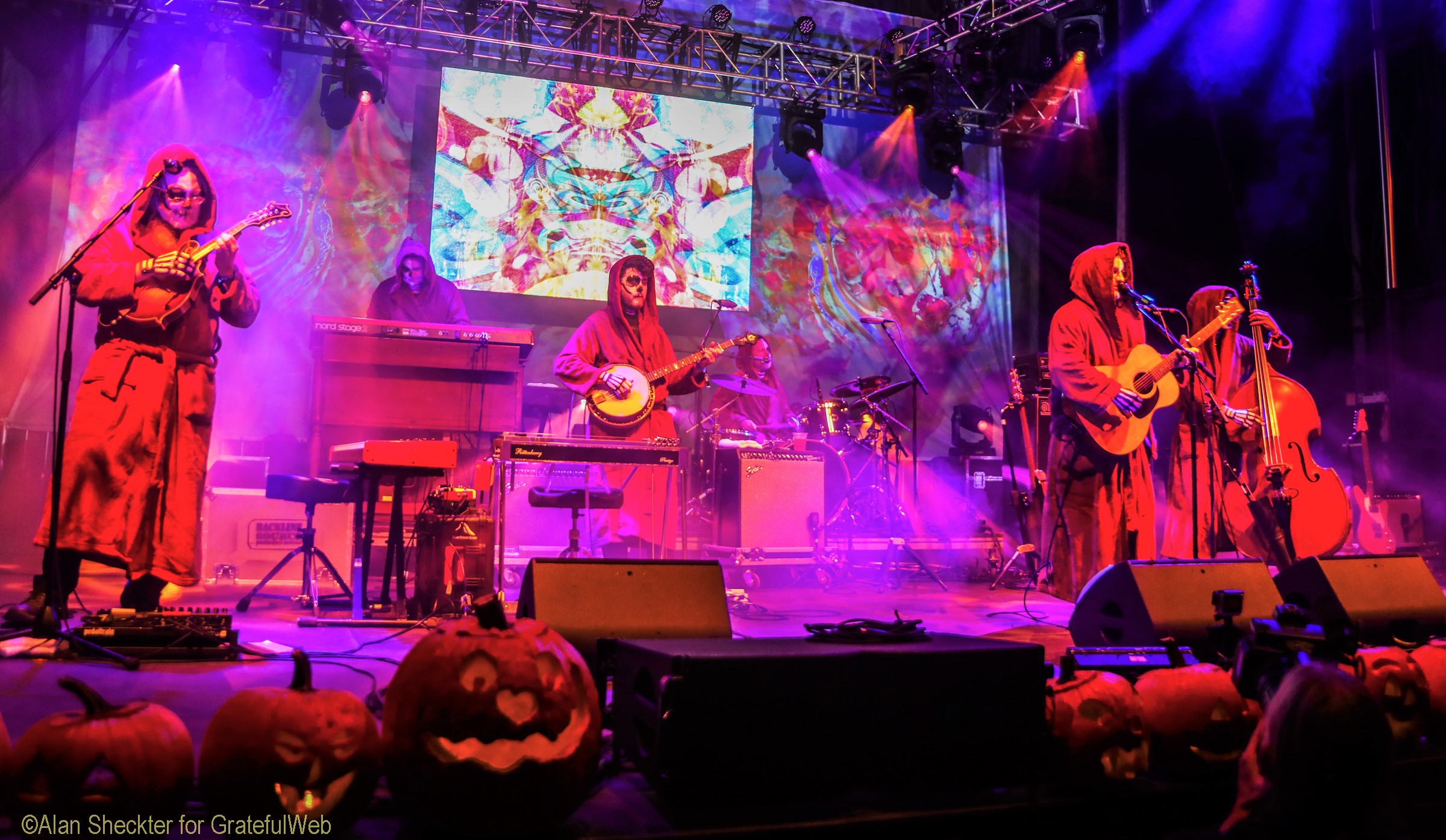 Craven's most poignant pre-performance presentation came before Railroad Earth's final set, giving some thought-provoking words and sage advice as everyone was about to embark on their journey's home. He said, in part:
"Always pray to be able to see the best in people," Craven offered. "A heart that forgives the worst, a mind that can forgive the bad, and a soul that never loses faith in the idea of play.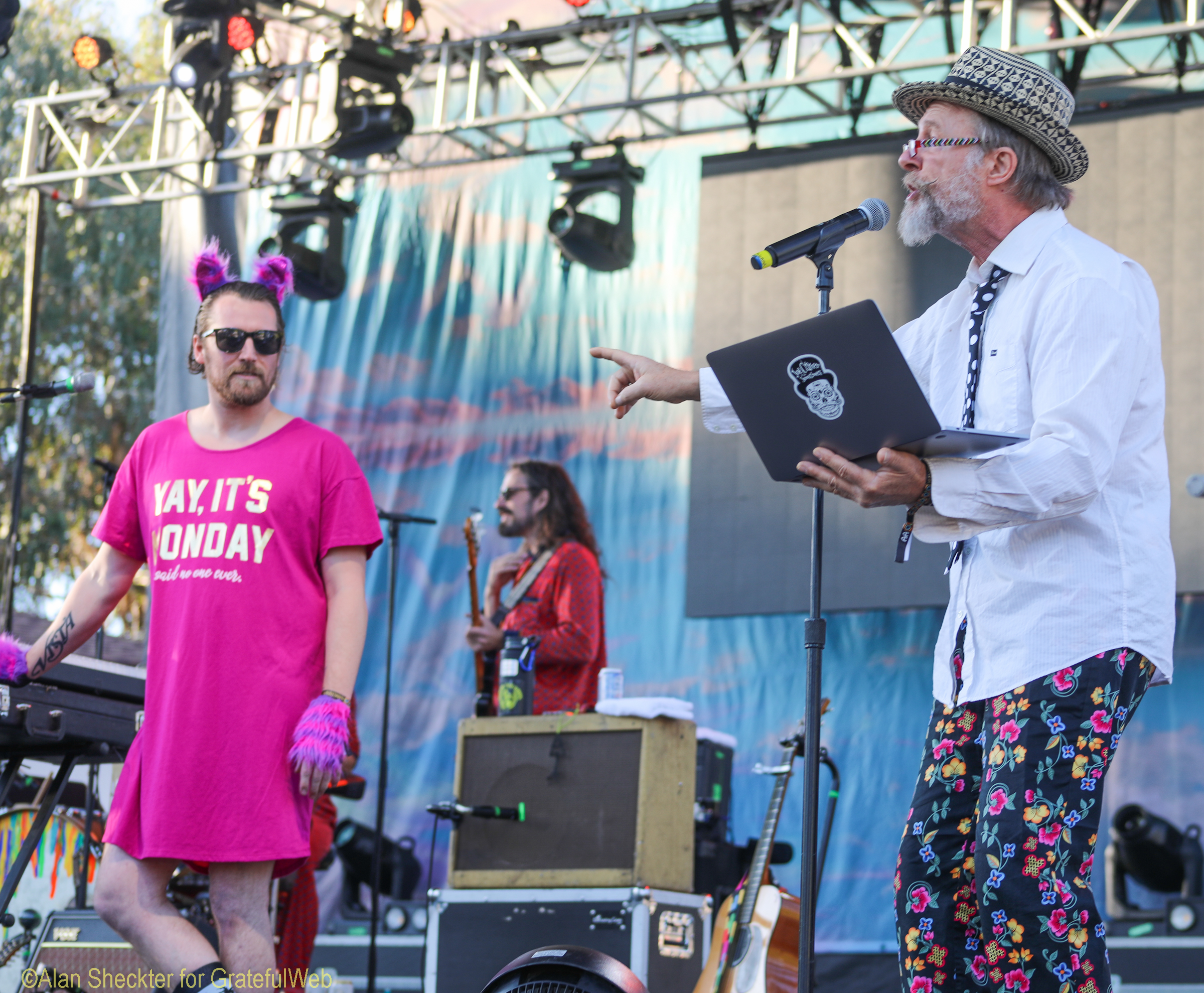 "Consider 'the happiness of pursuit' as an alternate to the 'the pursuit of happiness,' and that instead of 'Success being the key to happiness,' that 'Happiness is the Key to Success.'
"Be well and write down your stories. Work hard, play deeply, stay curious and be honest with yourself. Because – If the fiddle string felt no more strokes, If the old skinhead on that banjo broke, If no one sang or cracked a joke, Then where's the good in living?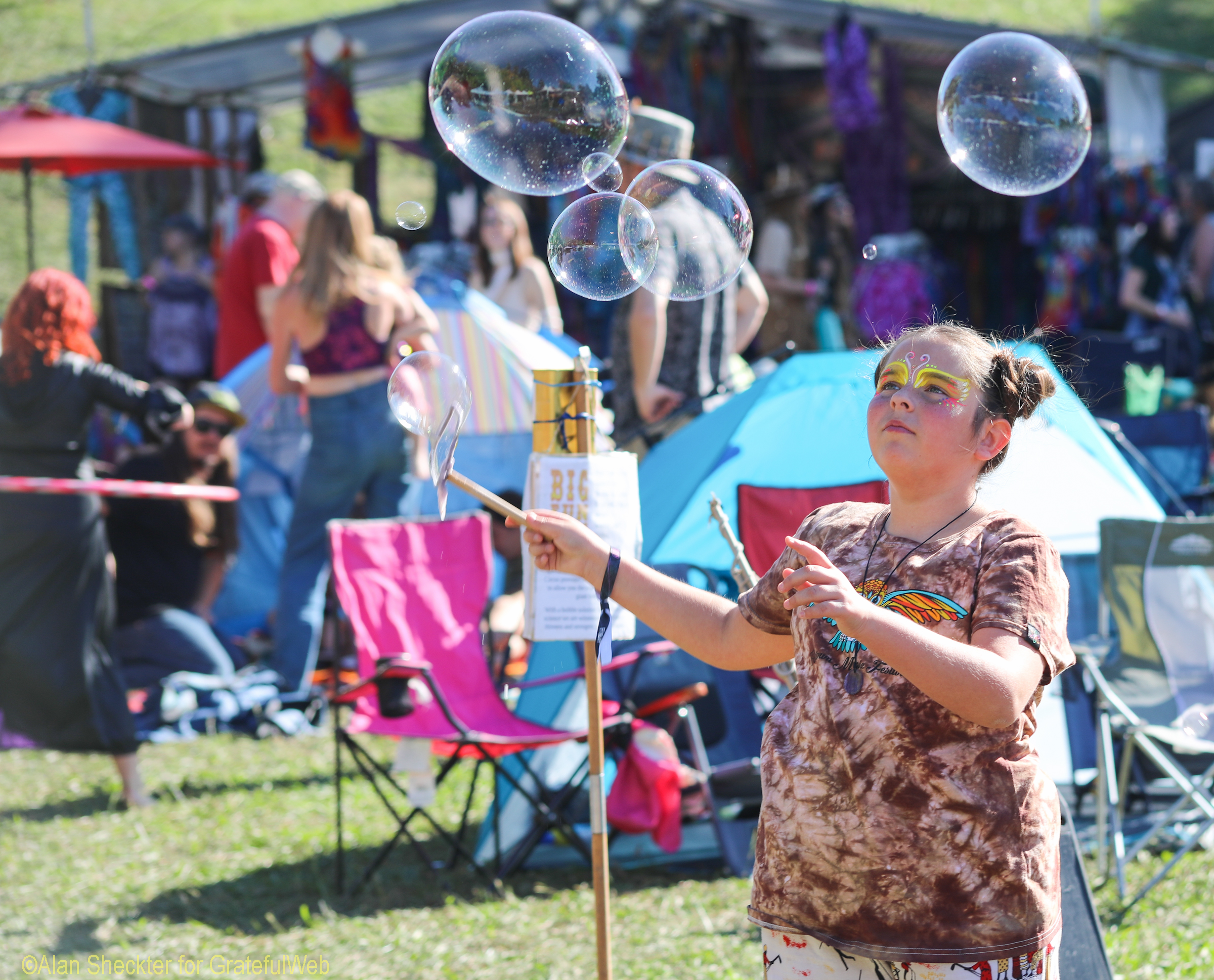 "For all of life plays like a tune.  It sounds so sweet….and ends too soon. So go on - rosin up your bow...before it's time to go."