Once again, paths to music, wonder, and joyful celebration converged in early July at the four-day High Sierra Music Festival in the small mountain town of Quincy, California, where the elevation is twice the number of the population. Headlined by Sturgill Simpson, The String Cheese Incident, Chris Robinson Brotherhood, Grace Potter, George Porter Jr., Melvin Seals and more, this was the 28th High Sierra Fest. and the 20th at the county fairgrounds in Quincy.
One of the biggest, most prominent festivals in Northern California, the goings-on were rousing and dazzling, with its wide array of jam-happy funk, rock, alt-country, roots (and more) acts playing to a particularly colorful, free-spirited audience of several thousand each day. As usual, unscripted side shows and surprise moments containing all sorts of artistic self-expression broke out constantly as the audience is just as big a part of the festivals as the bands themselves.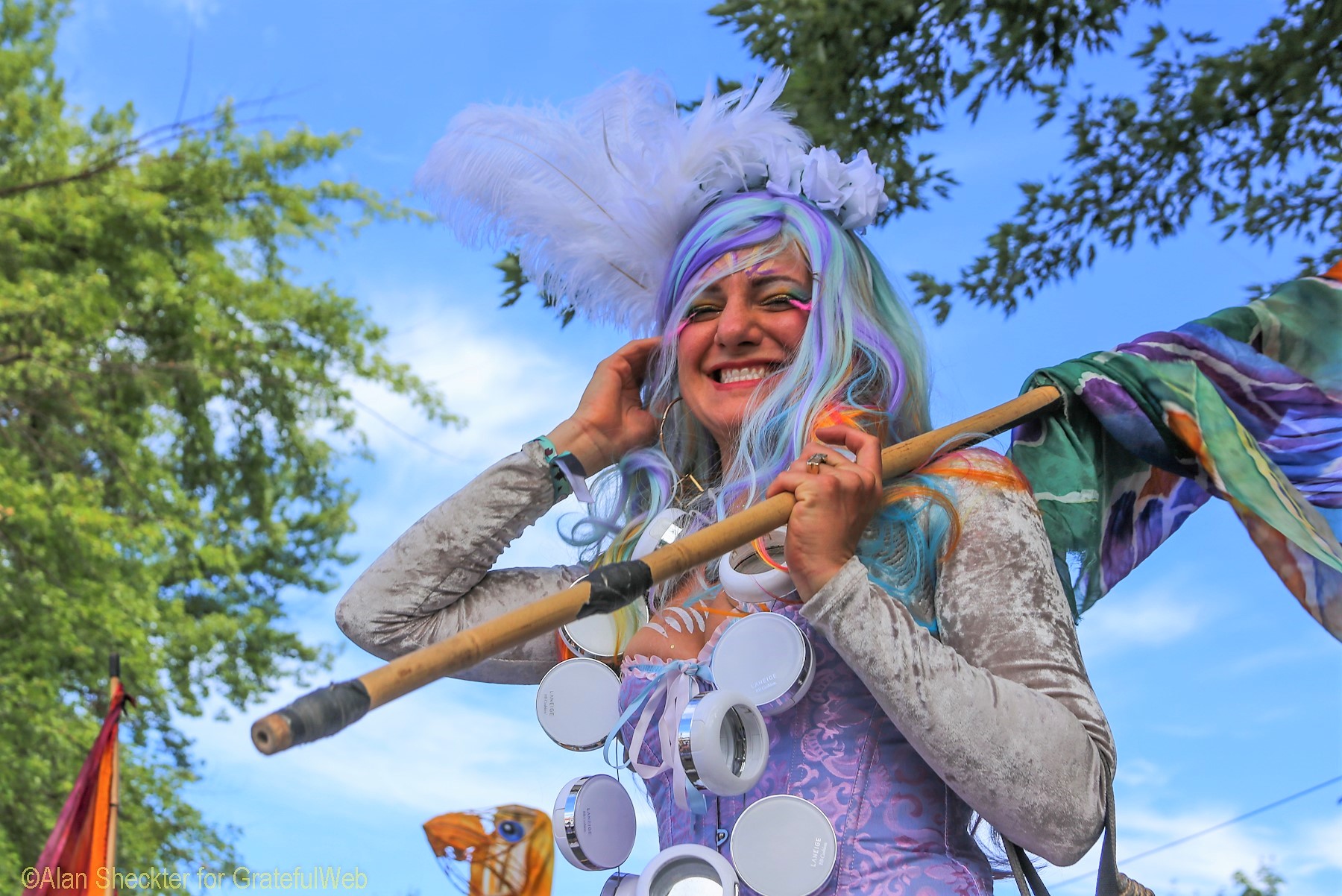 Another distinct part of the charm in addition to the pleasing landscapes, both mountainous and musical, was the ambiance, as well as production-team proficiency of all festival details. In addition to the three main outdoors stages, the festival utilizes several fairground buildings both large and small for additional themed musical "playshops," often delivered by one-time combinations of musicians whose paths rarely cross while they are on the road. Fairground buildings were also suitable settings for late-night shows, both acoustic and amplified.
The wide acreage of campgrounds, at which musical performances could be piped in courtesy of Grizzly Radio broadcasts, were again host to lots of colorful home sites, some minimalist, some decorated and stocked to the highest degree. Other interesting accouterments included "the lawn," always a magnet for fun, which hosted yoga and other movement playshops, slackline balancing, a ZEROdB Silent Disco, hoop dancing, fire dancing, etc. High Sierra also hosted a Shabbat tent, a giant community "Magic Foam" tub, and family village for all things kids-related, and several social justice information tables. Food, artisan booths, and a wide selection of craft beers were plentiful along the outdoor food court, the lawn, and in a ring around the main stage's meadow.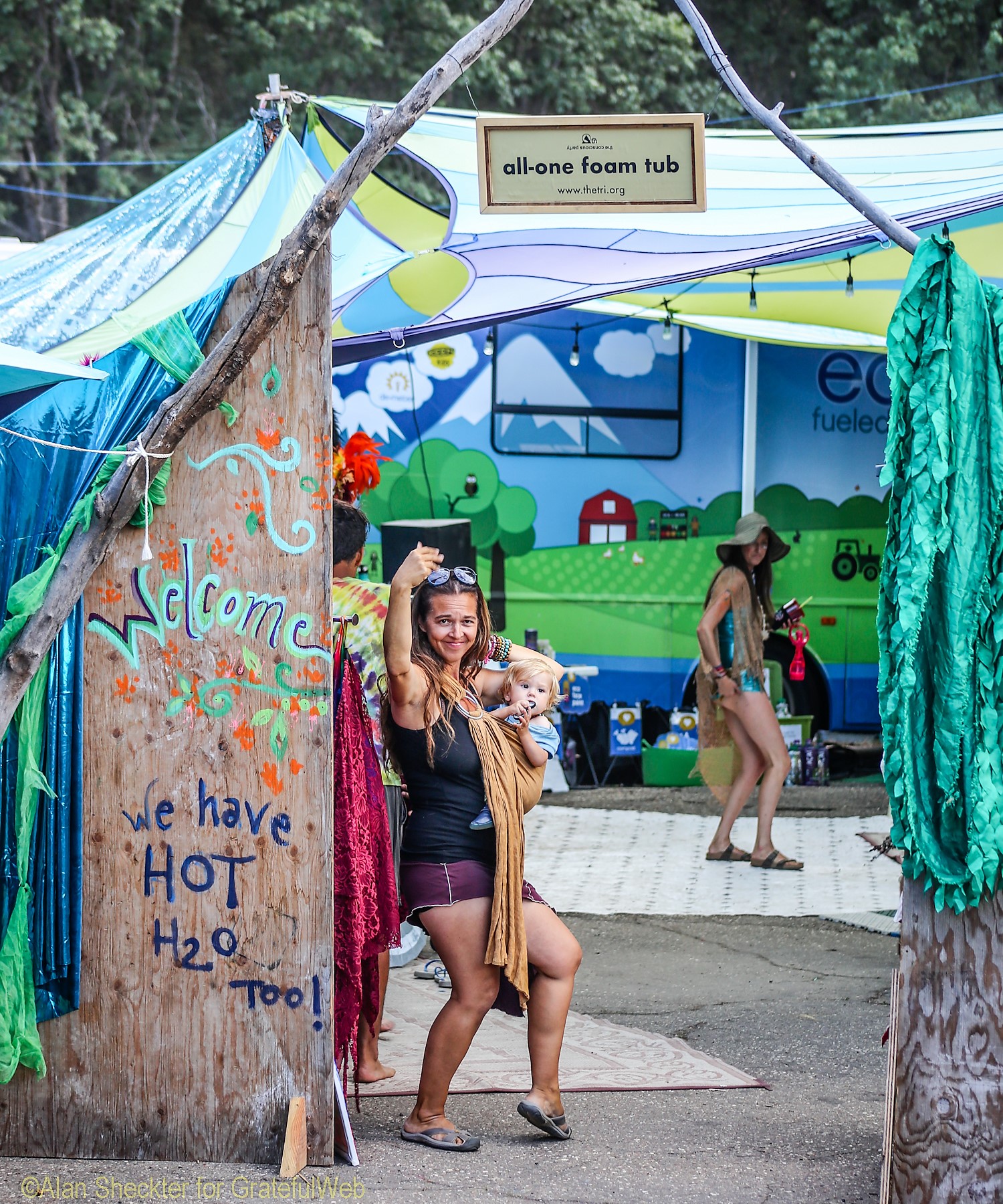 Grateful Web took in the action on Friday and Saturday. One of the most satisfying sets occurred during mid-afternoon on Friday on the main, Grandstand Stage. There, lead guitarist Dan "Lebo" Lebowitz & Friends' set was epic as it was funky, with a one-time, all-star band that included Melvin Seals (keyboards, JGB), George Porter Jr. (bass, The Meters, 7 Walkers, Runnin' Pardners), Jay Lane (drums, RatDog, more), Jennifer Hartswick and Natalie Cressman (horns, Trey Anastasio Band), and Skerik (horns).
Their amazing retro set included fresh, wonderful versions of "What's Goin' On" (Lebo and Hartswick on vocals, Marvin Gaye), "Piece of My Heart," (Hartswick on vocals, Janis Joplin), "They Love Each Other," (Porter Jr. on vocals, Jerry Garcia), and "Have a Cigar" (Lebo and Hartswick on vocals, Pink Floyd).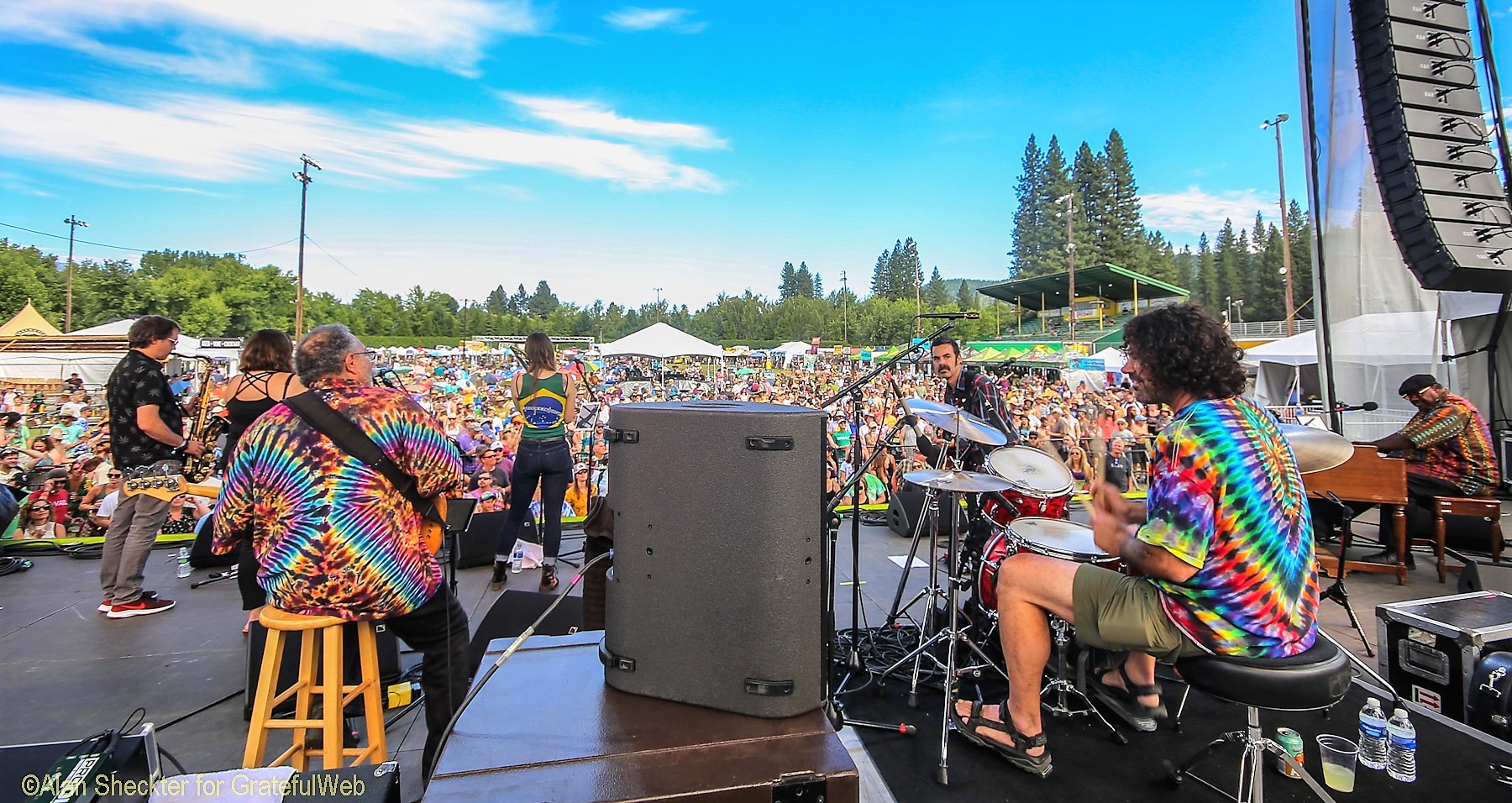 After the fest, Lebo posted on social media, summing up nicely what makes High Sierra special. "It's such an honor to be surrounded by so many amazing and inspiring musicians – both players, songwriters, and everything in between!!," Lebo stated. "Big thanks to all the greats that joined me during my sets, as well as those that had me on theirs! And thanks to the behind the scenes folks that tirelessly work to make everything run so smoothly for all of us!! This year marked my 19th year in a row that I was fortunate enough to be at this magical festival, and I'm just so moved and grateful for this community of music lovers!! Viva High Sierra!!!!"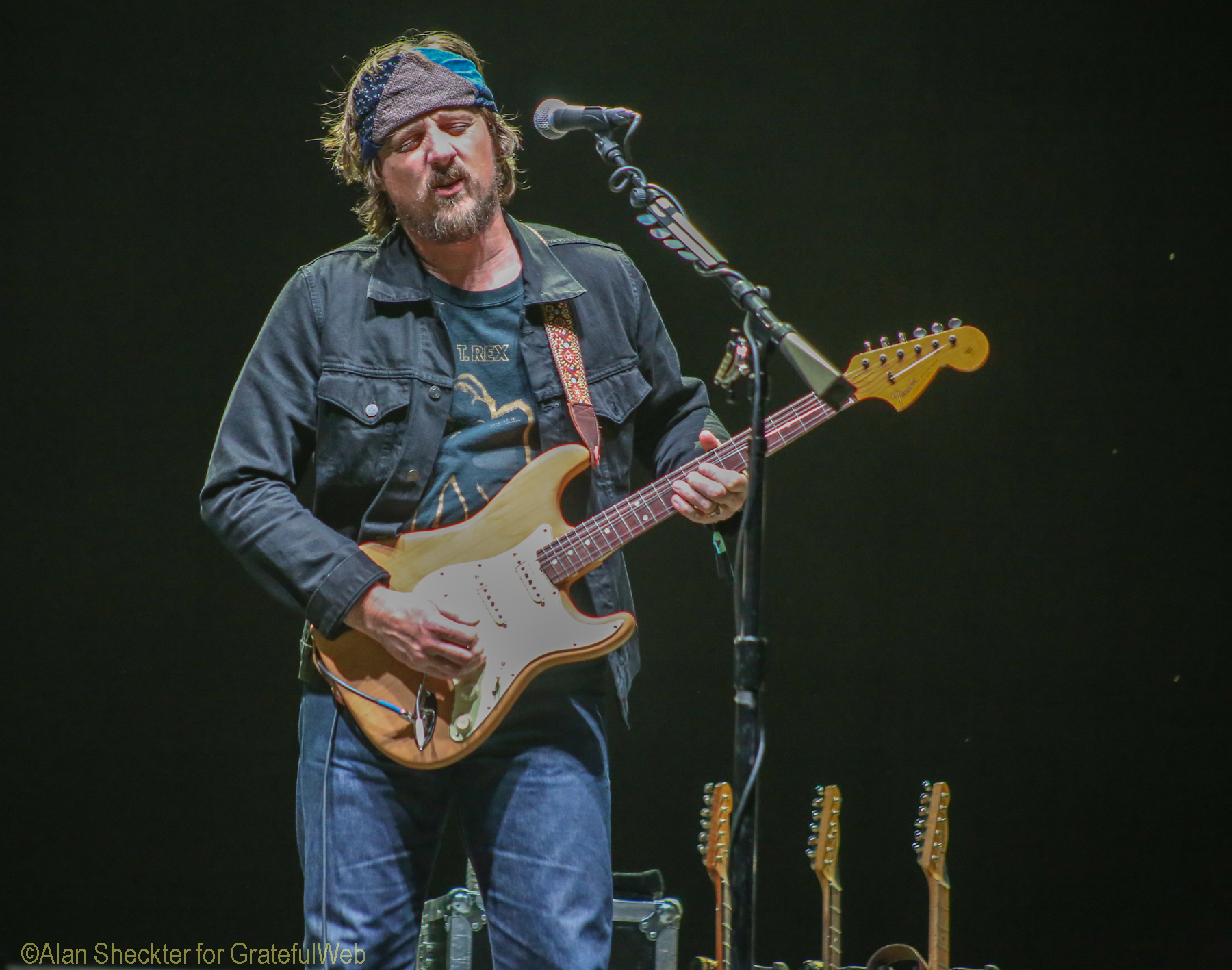 Outlaw Country/Americana/roots-rocking singer-songwriter Sturgill Simpson returned to High Sierra a much bigger star than when he played there in 2014. His four-piece band headlined Saturday night with a powerful performance on the Grandstand Stage. Off the stage, the Kentucky-born Simpson, who won a Grammy Award for Best Country Album in 2017, was in early 2018 named a Kentucky Colonel, which is the highest honor someone can receive from the governor.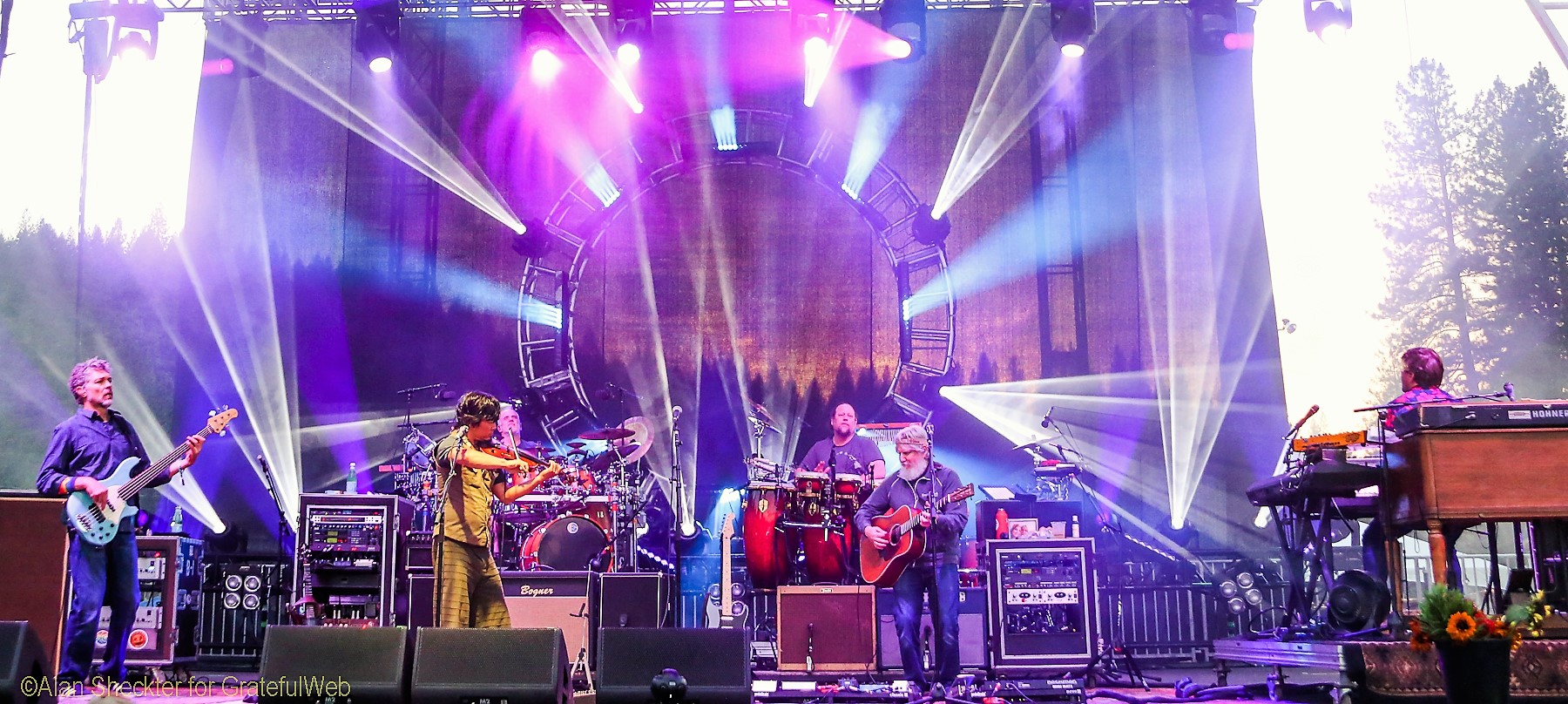 The String Cheese Incident, who first performed at High Sierra in 1997, headlined Thursday's and Friday's festivities. The still-thriving group, one of the first so-called "jam bands," carried out two sets each night, offering a meaty performance on Friday that began with an epic sequence of "Birdland," the jazz instrumental made famous by Weather Report in the '70s that segued into Bill Monroe's bluegrass-turned-jamgrass "Wheel Hoss," and then back into "Birdland." The show ended more than three hours later with a riveting version of "Don't Let Go," recorded by scores of artists since Roy Hamilton's 1958 version, most notably for this crowd, the Jerry Garcia Band.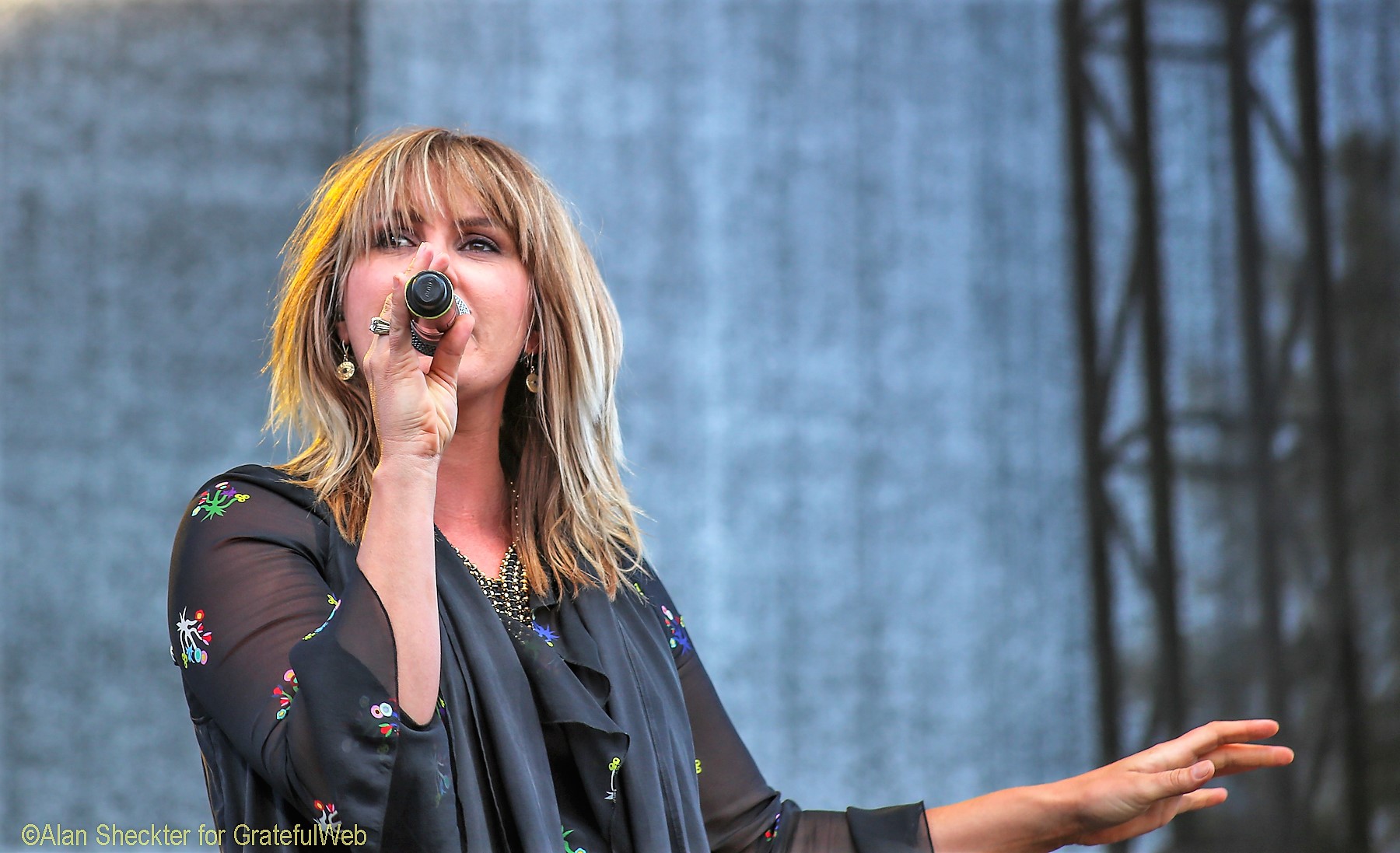 Performing at High Sierra for the first time in more than a decade, the charismatic and powerful Grace Potter and her more than capable band – though no longer The Nocturnals – delivered an exhilarating set of rock and blues in which she dazzled the crowd on guitar, keyboards, and powerful vocals. She first played the festival in 2005.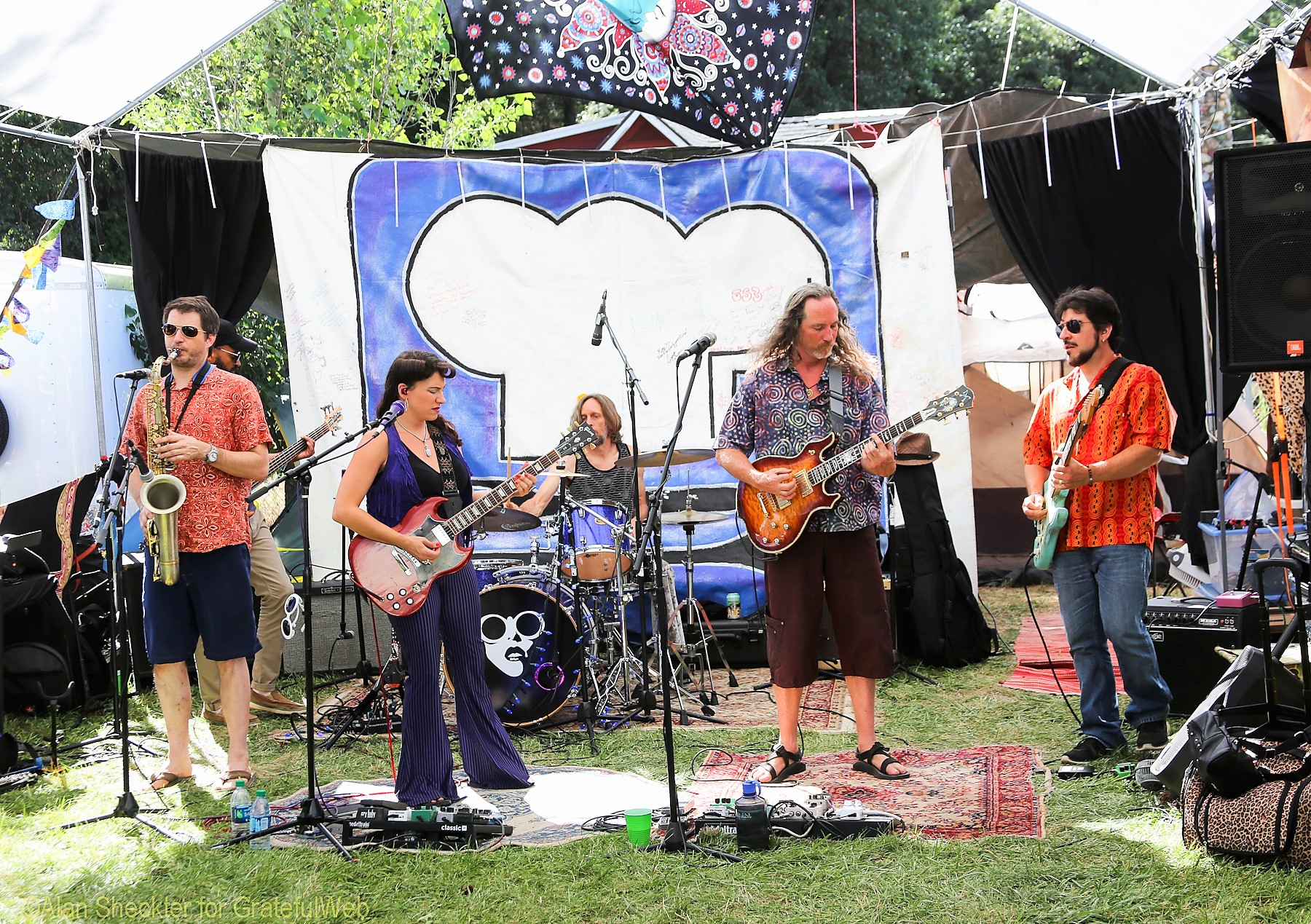 San Francisco-based rocker Pamela Parker and her Fantastic Machine, along with New Monsoon's Jeff Miller performed one of the musical sets on Saturday at Camp Bitchin' Kitchen, an unofficial yet very real facet of the festival. Each year, the large campsite is host to a massive group meal at which prominent festival musicians sing and play for their supper. Four years after the camp's "Chef Larry" Bressler and his wife were killed, their loving presence was discernably felt.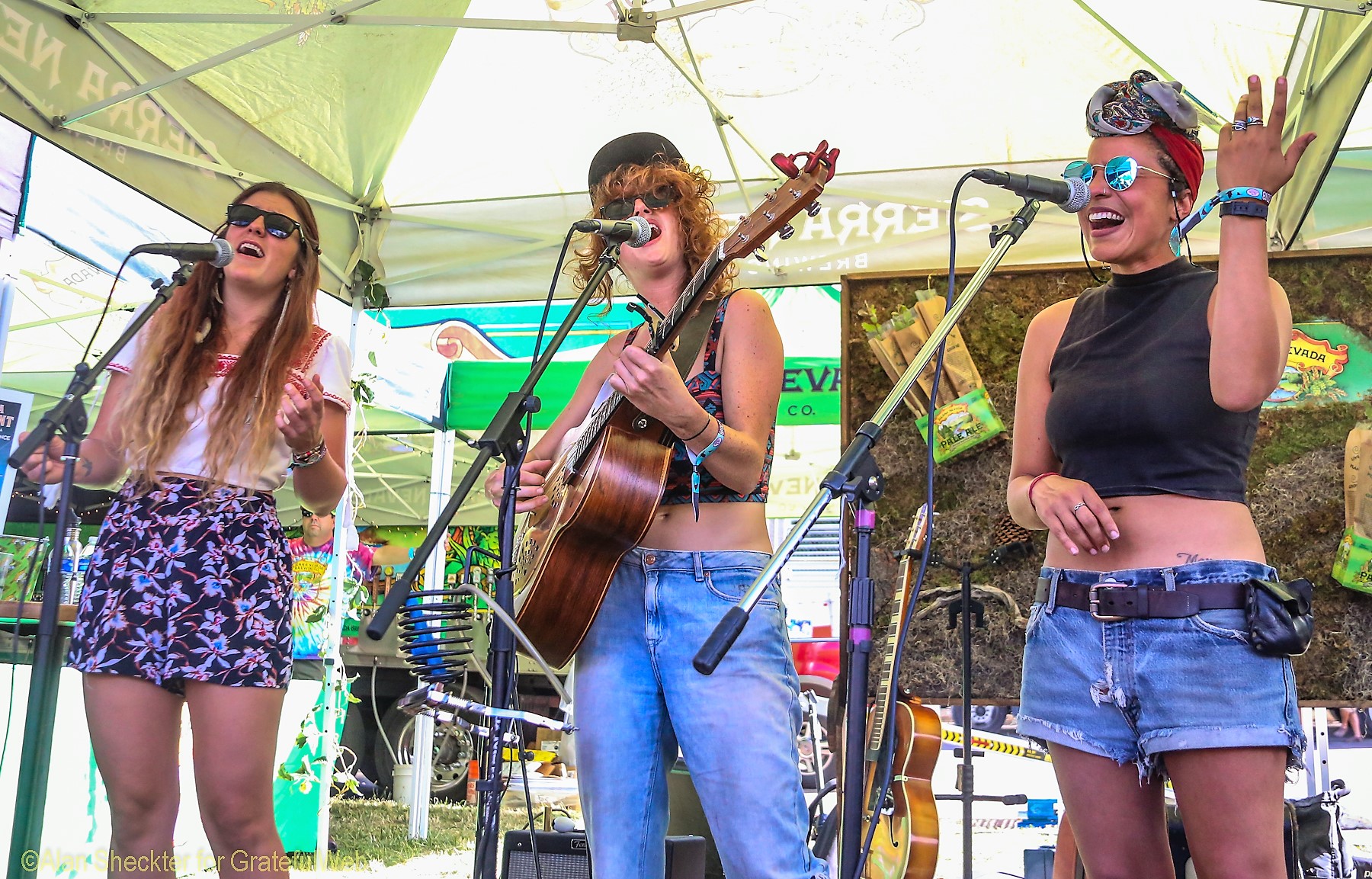 Another unscheduled bit of fun came when The Rainbow Girls performed a sweet 'tweener set late Friday afternoon at the Sierra Nevada Brewery beer booth, between Lebo & Friends' and Turkuaz's Grandstand Stage sets.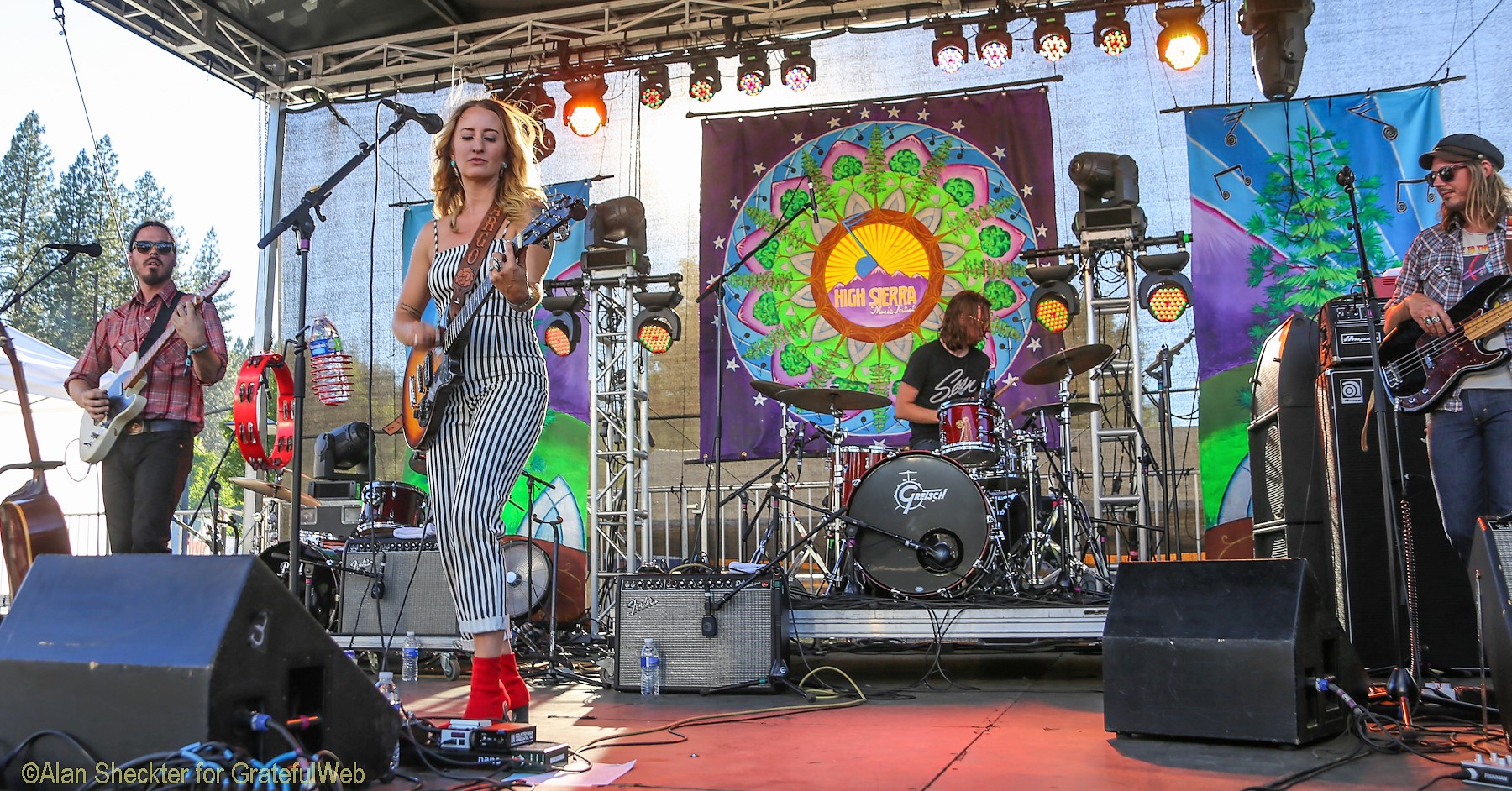 Adept on the drums and vocals as she was on guitar and vocals, up-and-coming alt-country/roadhouse rocker Margo Price and her band held spellbound a packed crowd at the Big Meadow Stage on Saturday.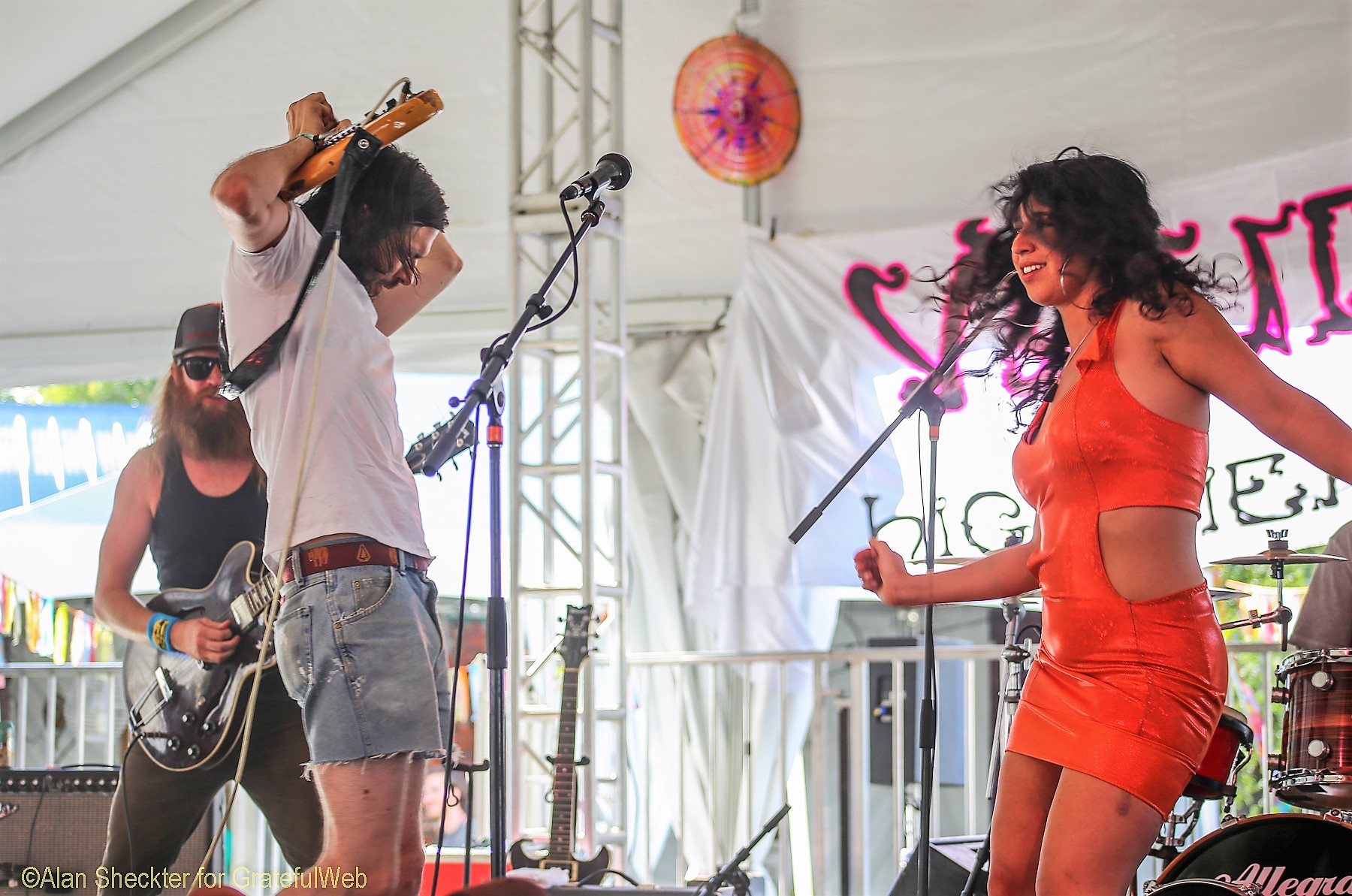 With support from guitar powerhouse Scott Pemberton and vocalist/dancer Megan Martinez, Portland, Oregon-based The Quick & Easy Boys' brand of balls-to-the-wall rock 'n' roll wowed the Vaudeville Stage audience on Saturday.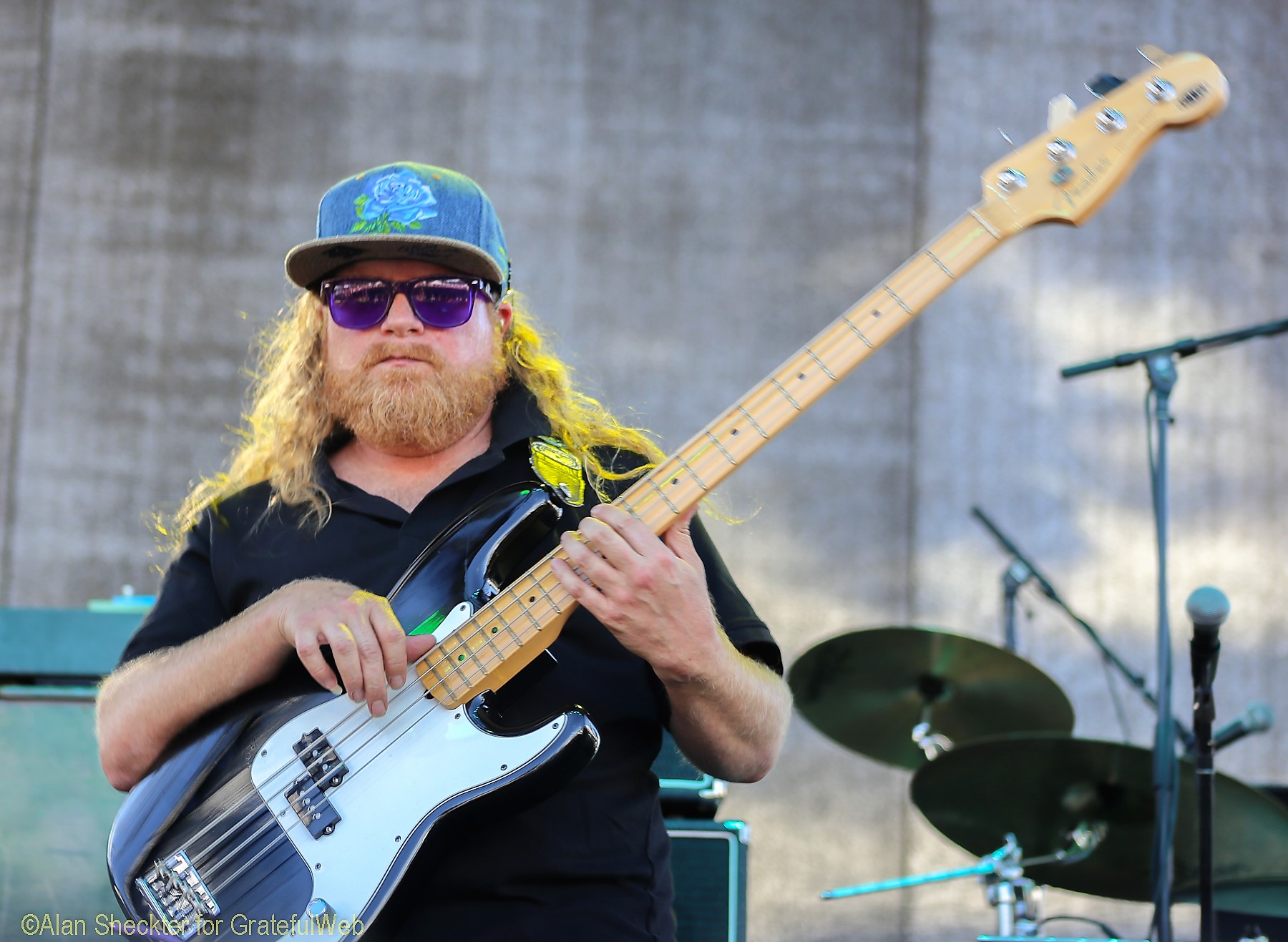 Led at center stage by bass player Erick (Jesus) Coomes, veteran jam band Lettuce, who also played the festival in 2012, 2014, and 2016, mesmerized the main stage on Saturday, with an endless instrumental jamboree of crafty funk, rock, and hip-hop grooves. Lettuce is not to be confused with Lotus, another instrumental outfit that also appeared at High Sierra.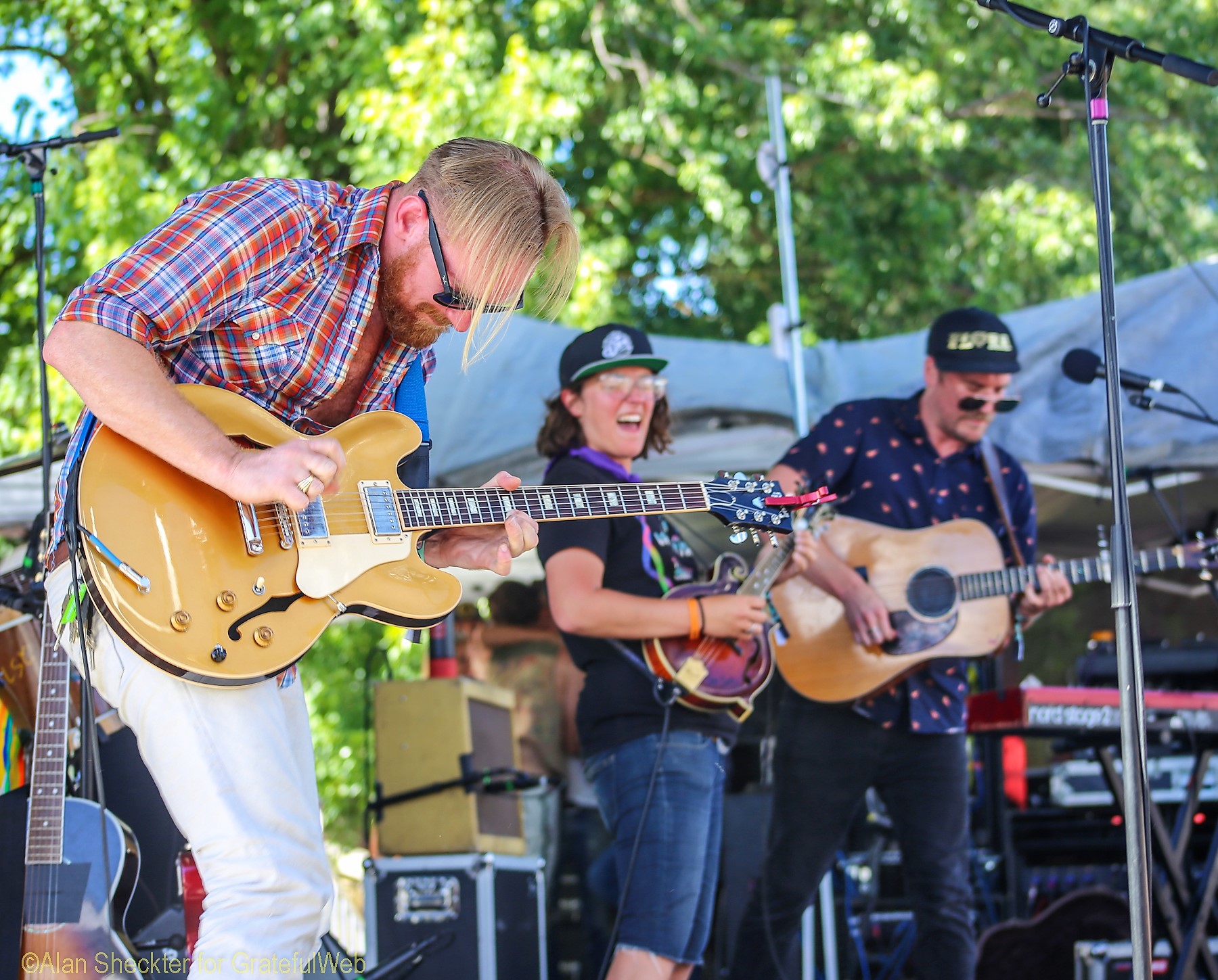 Fruition, and which combines an amalgamation of genres into its rock 'n' party essence, and played several times over the weekend, performed an exciting set on the Big Meadow stage on Saturday afternoon, with Mimi Naja, Jay Cobb Anderson, and Kellen Asebroek's animated stage presence helping turn up the heat.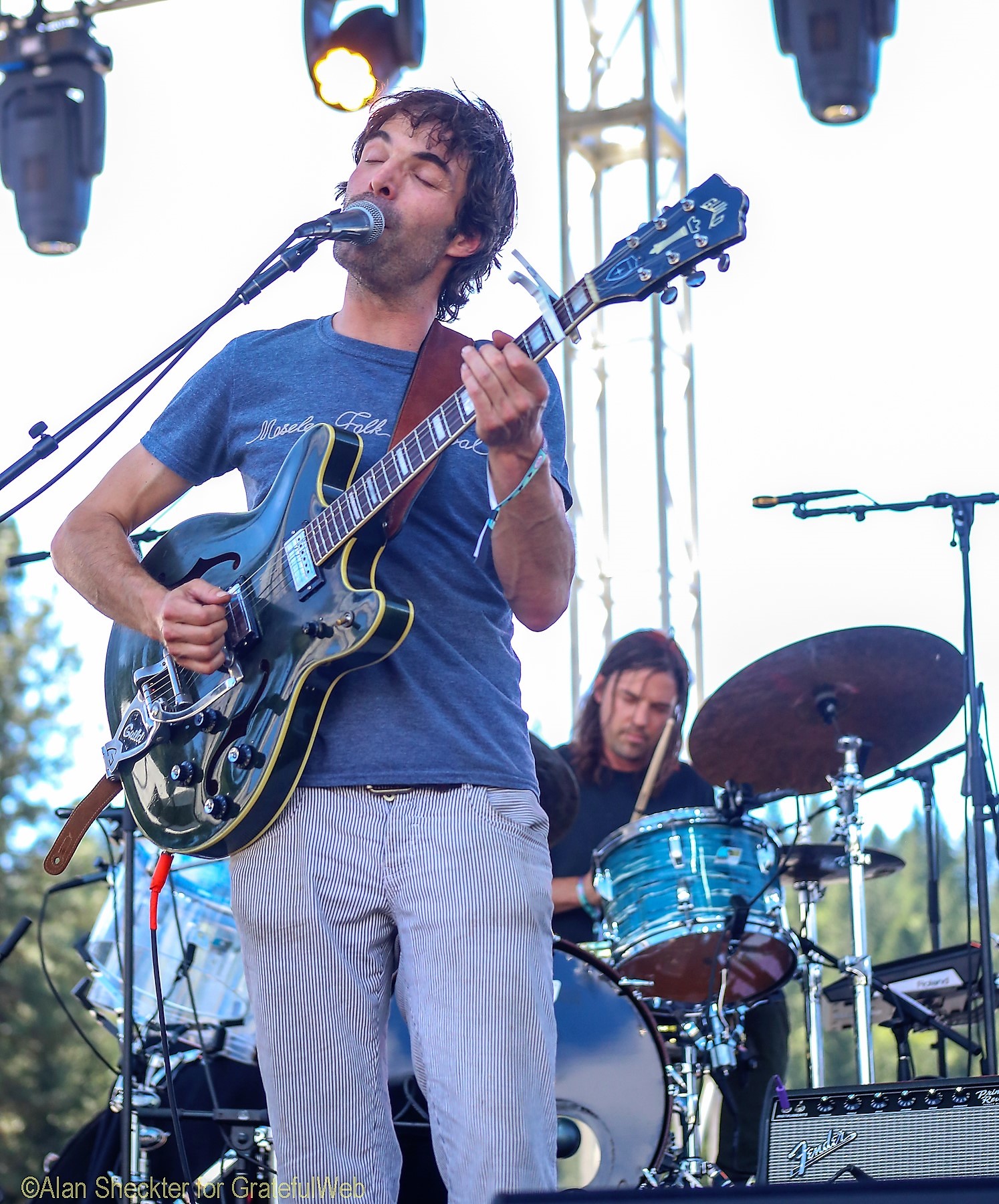 Led by Brad Barr and Andrew Barr, who you may know from The Slip, The Barr Brothers returned to High Sierra for a compelling Saturday afternoon main stage set of eclectic alt-pop/rock. Though they added horns for their Friday night Big Meadow stage performance, the main-stage band setup was an unusually bare-bones four-piece affair, as experimental-harp player Lisa Iwanycki-Moore was unable to perform at High Sierra due to a scheduling conflict.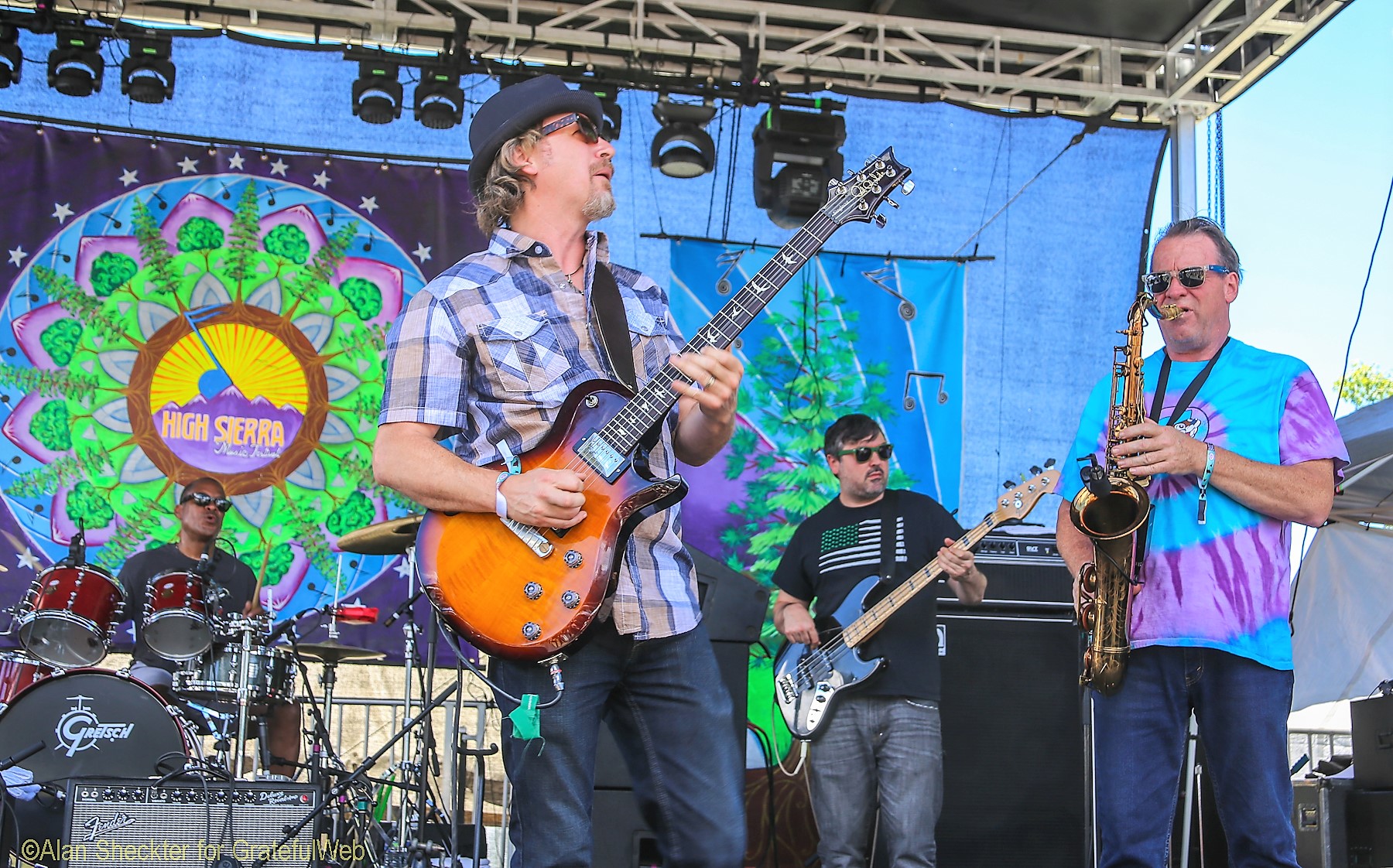 New Orleans Suspects, who performed three times over the weekend, delivered a powerful, horn-driven set of Cajun-flavored funk and soul on Saturday afternoon on the Big Meadow stage.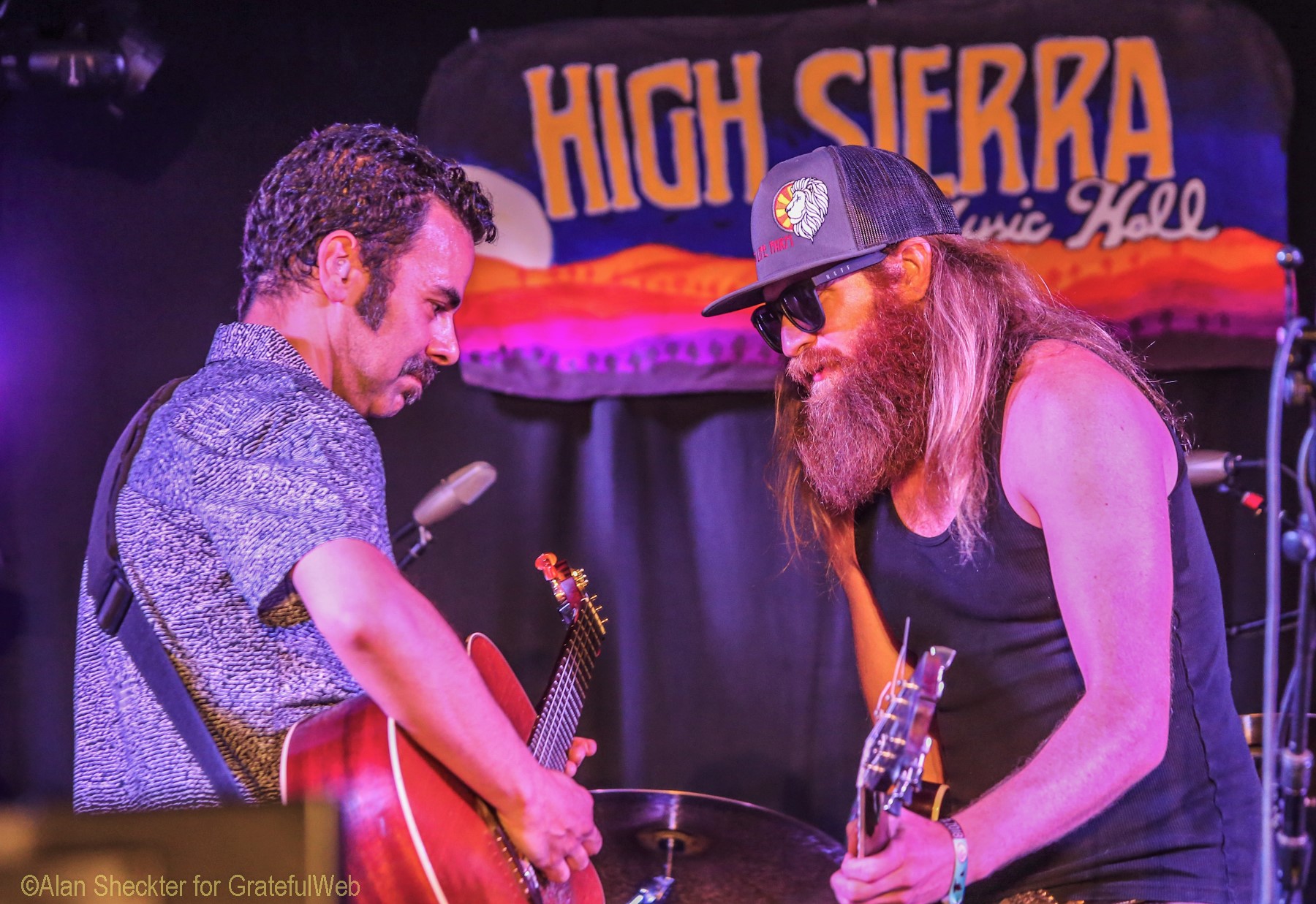 Artist-at-large Lebo led a gang of players for a set of important pieces of music from 1968, officially titled, "Lebo's High Sierra Ramble: 50 in the Rearview." Including contributions from George Porter Jr., Scott Pemberton, Chris Jacobs, Steve Adams and Ezra Lipp (ALO/Magic in The Other), Johnny Bones (California Honeydrops), Natalie Cressman, Bo Carper (New Monsoon), Ben and Alex Morrison (Brothers Comatose), and Nat Keefe (Hot Buttered Rum). Crowd-pleasing selections included "Suzie Q" (Creedence Clearwater Revival), "Voodoo Child" (Jimi Hendrix), "The Hawaii Five-O Theme" (The Ventures), "Hold Me Tight" (Johnny Nash), and "(Sittin' On) The Dock of the Bay" (Otis Redding).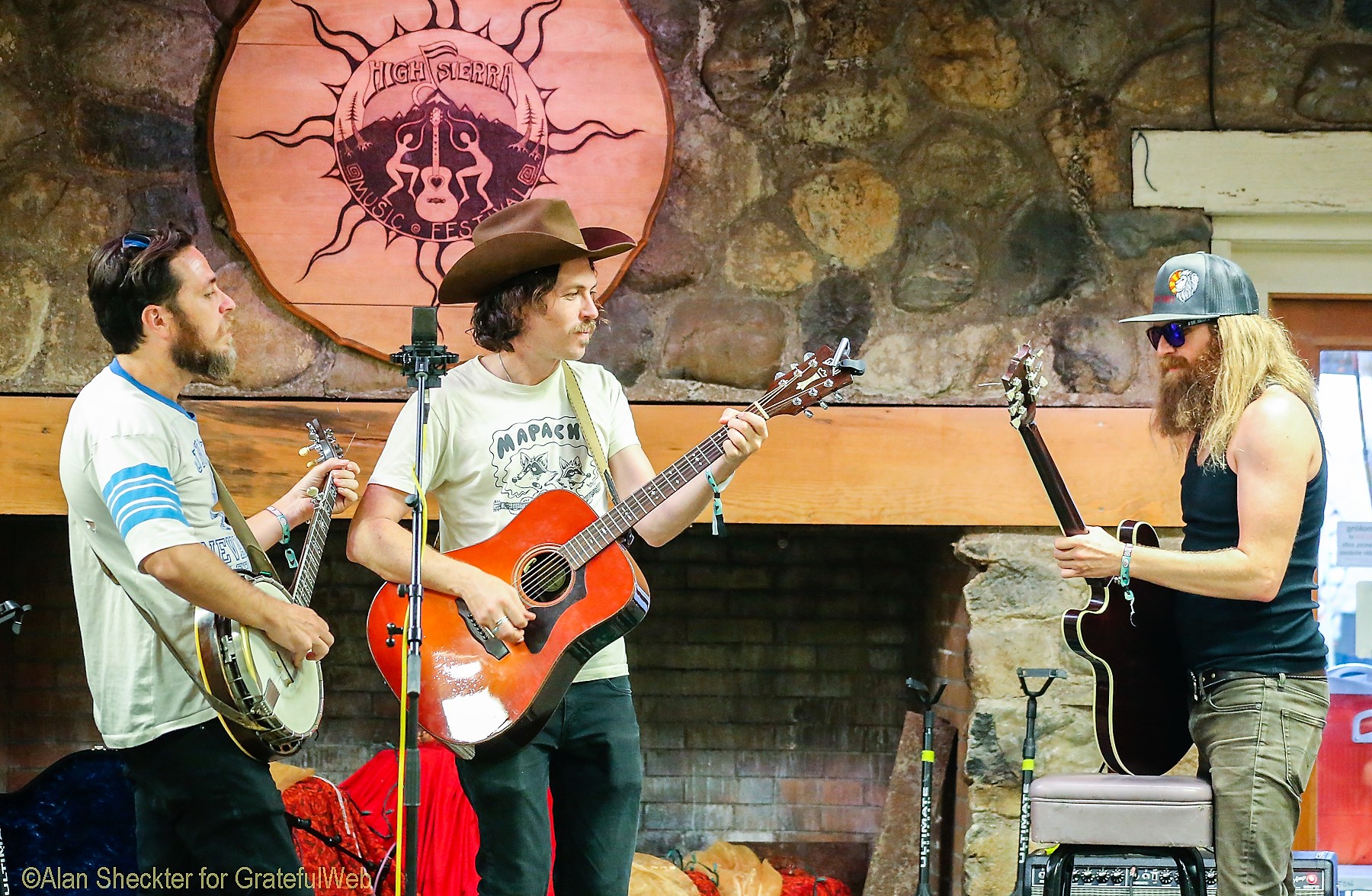 A new body-movement concept, the High Sierra Music Fest Stretch Salon, hosted in the intimate Mineral Building, offered folks the opportunity to do yoga – or not, as yoga mats, etc., were offered but with no instructor. But what was offered were acoustic serenades, which on Friday included Alex and Ben Morrison, flanked by John Craigie and Scott Pemberton.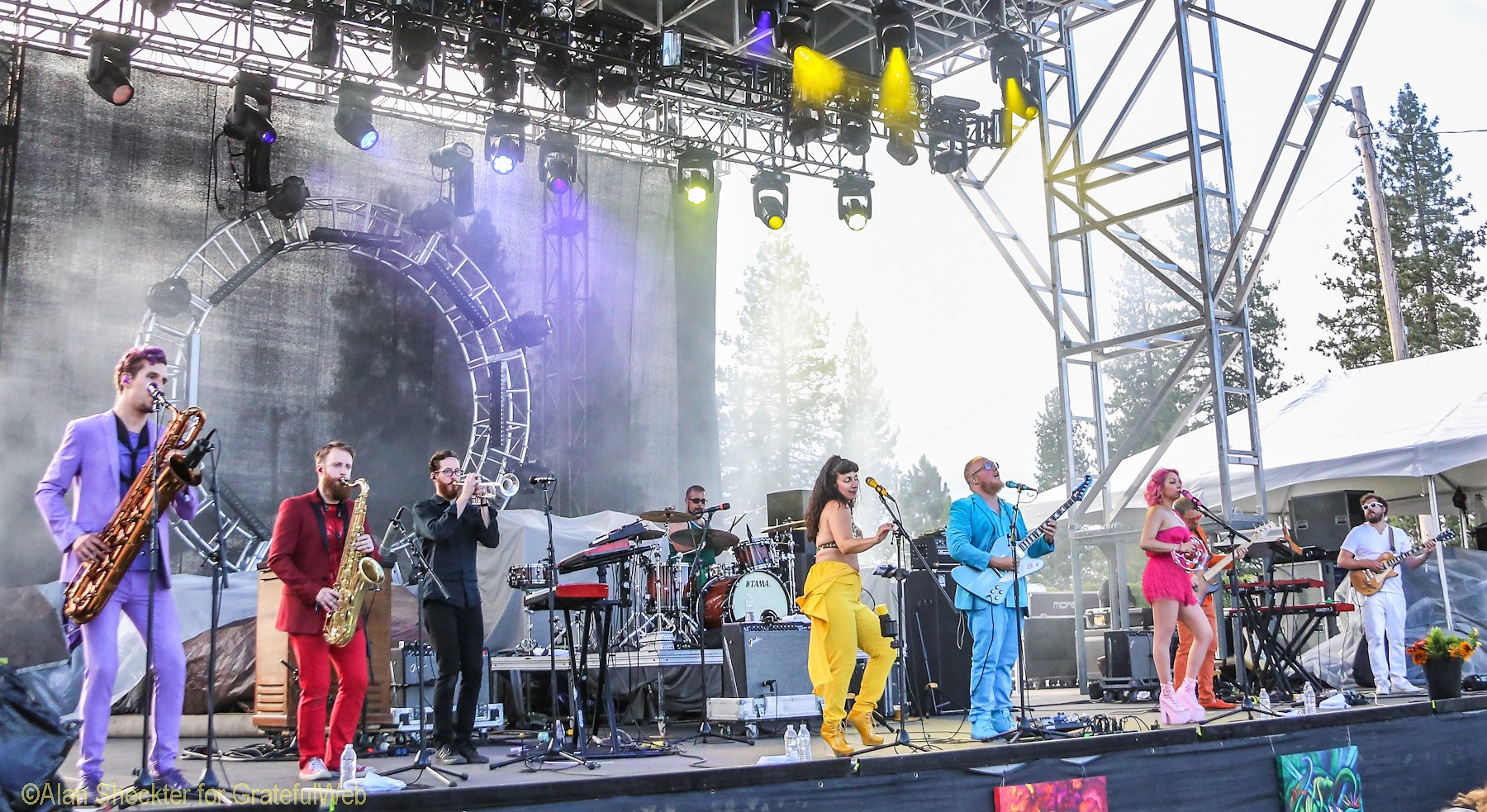 Turkuaz's main stage show early Friday evening was a musical and fashion kaleidoscope as the whole band donned pastel-colored outfits rather than just two female vocalists as had been their pattern. The colorful, horn-enhanced party band pleased the large main stage crowd with contemporary powerfunk, soul, and seemingly endless grooves.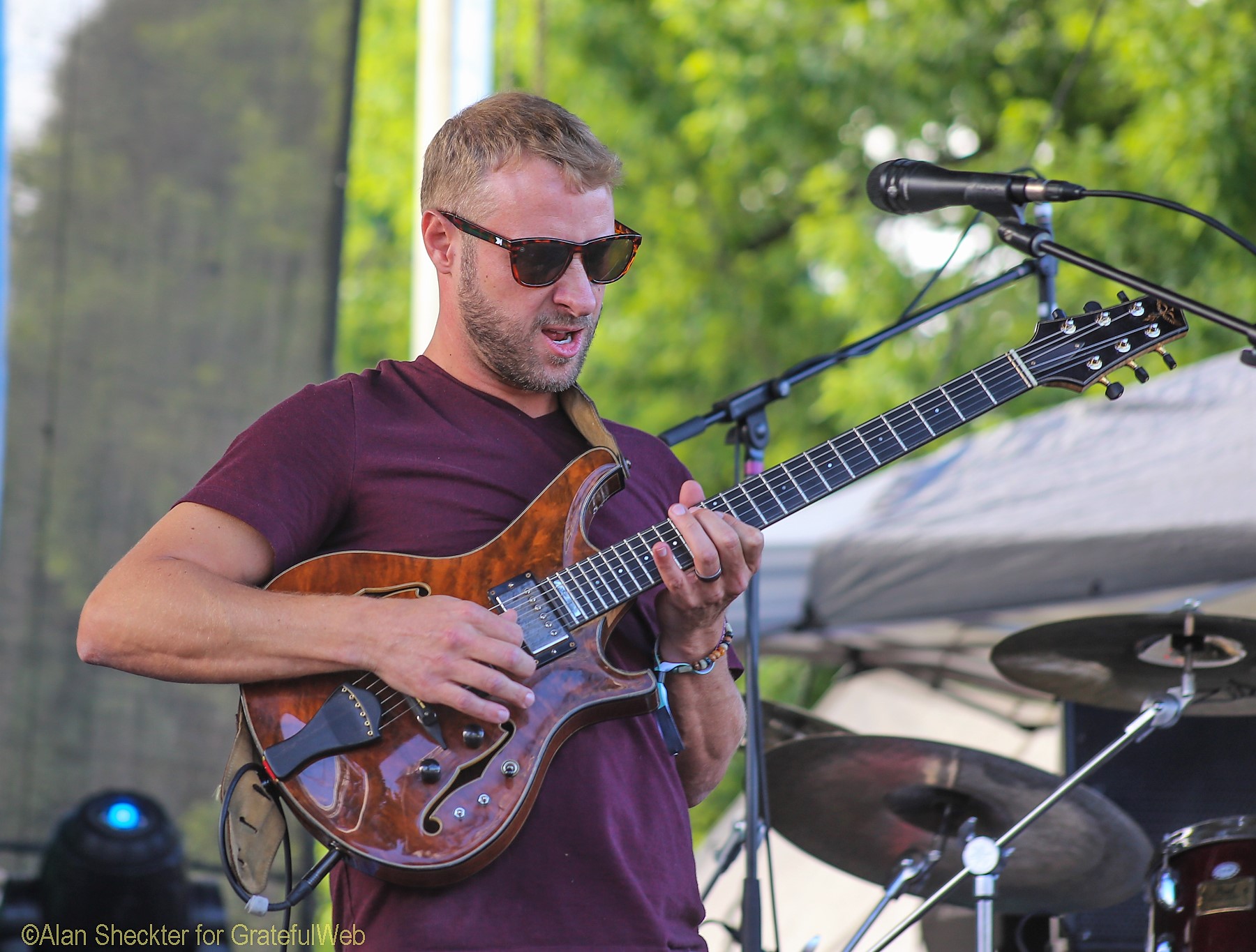 Spafford's kinetic jams inspired and united the audience into vigorous dance at the Big Meadow stage Friday afternoon. This was the improvisational musical conjurers' first High Sierra appearance.

At the same time, over on the Vaudeville Tent Stage, Ghost Light, featuring classically trained and raised-on-Phish keyboardist Holly Bowling and guitarist Tom Hamilton, who also plays guitar and sings with Joe Russo's Almost Dead made their High Sierra debut.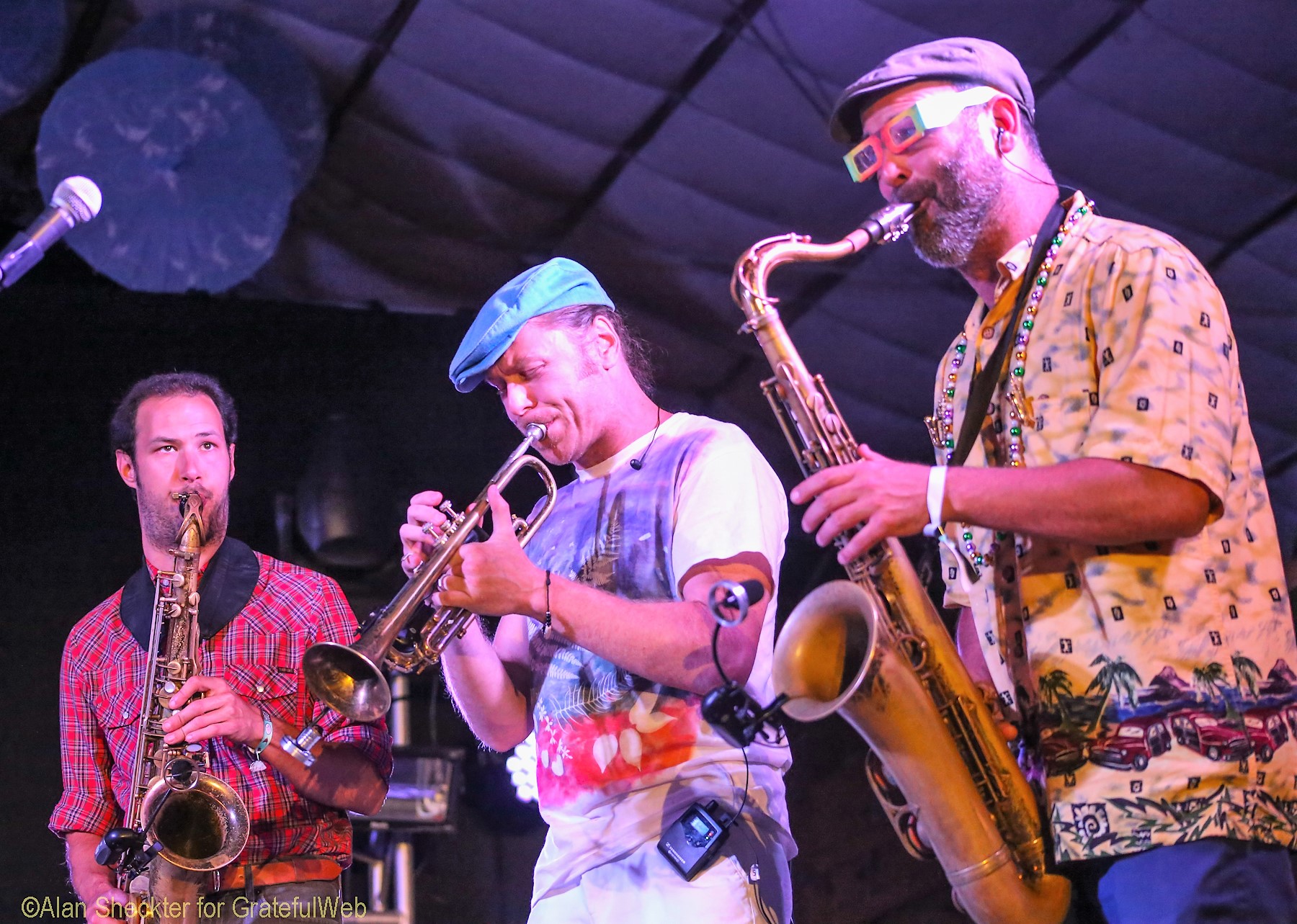 The always festive California Honeydrops, who performed on the main stage and elsewhere during the weekend, also performed at a playshop dubbed, "Drinking from the Well," early Friday evening, in which they shared some of the songs and sounds that were harbingers of the band's sound.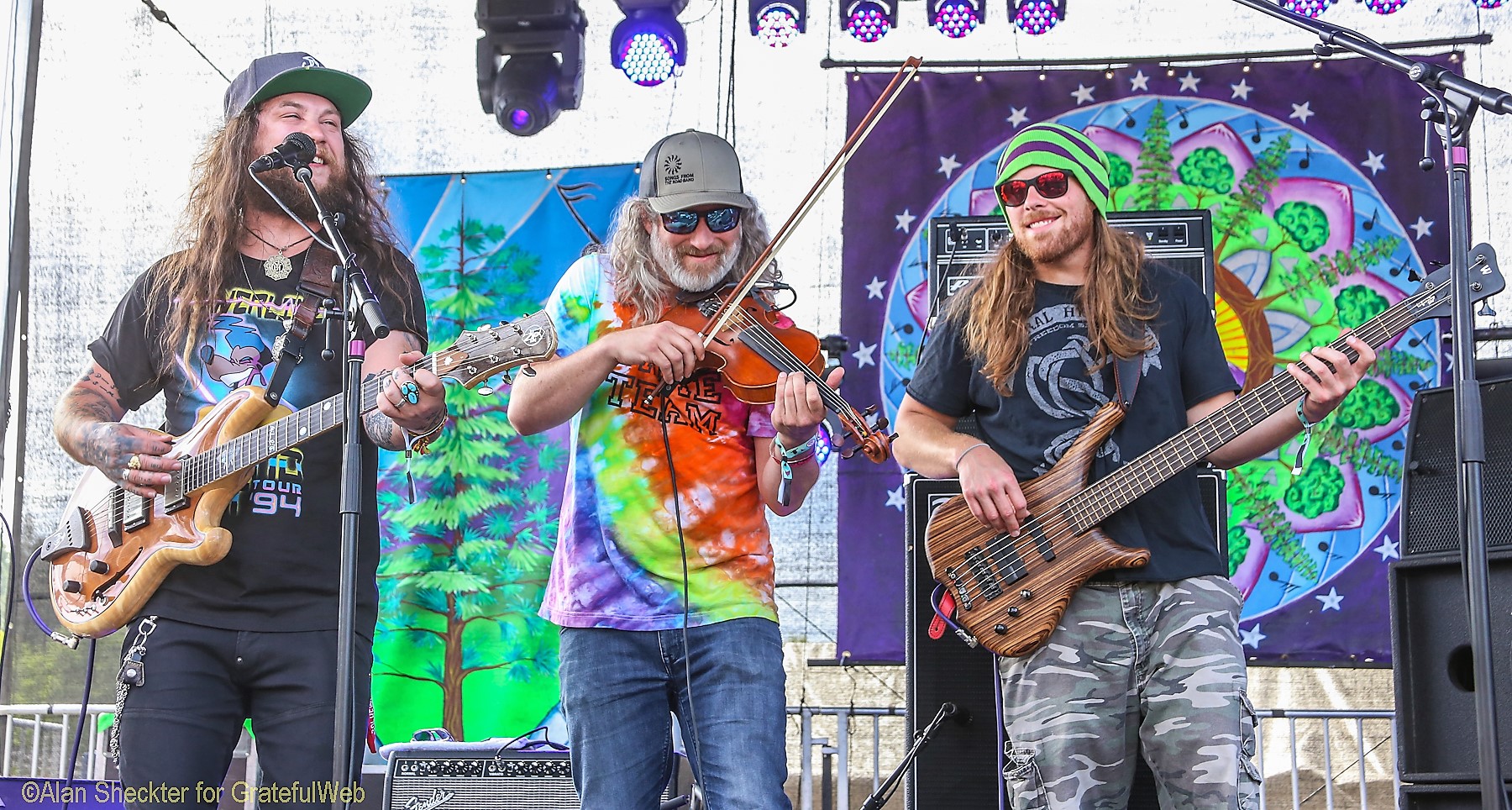 Led by the talented and inimitable guitarist Mihali Savoulidis, Vermont's Twiddle delivered fine songs and jamming during a Friday afternoon appearance on the Big Meadow stage. Fiddler Zebulon Bowles from Hot Buttered Rum added some excellent musical flourishes in a special guest role.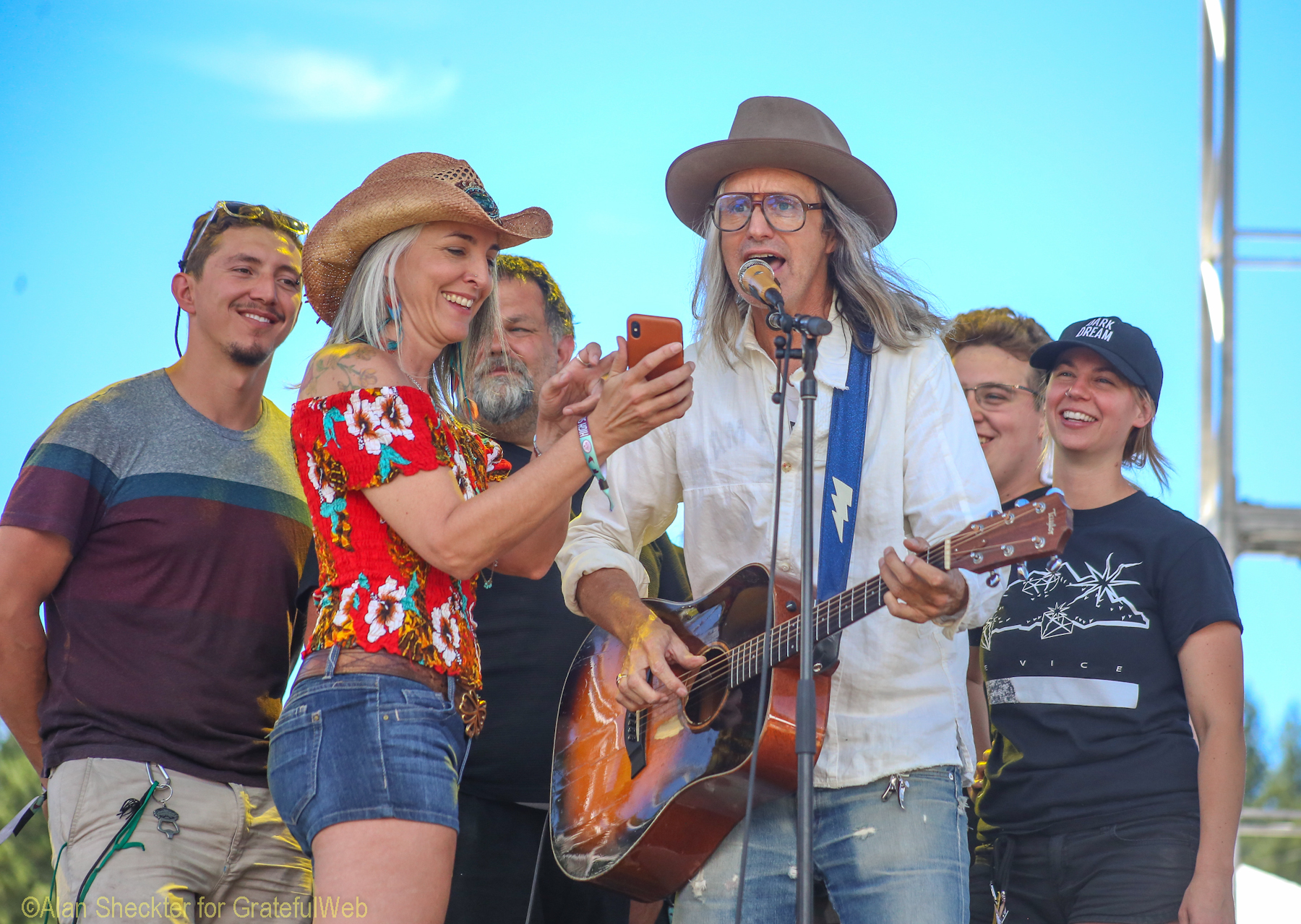 And finally, Steve Poltz, the clown prince of festival unorthodoxy, was a common site all over the festival. On the Grandstand Stage on Saturday, his set began as a giant chocolate sculpture was released to the audience to devour, moved through a lot of laughs, and included a lovely support song for his sister who has cancer, a unique version of The Grateful Dead's "Brokedown Palace," a duet with Bay Area singer-songwriter Paige Clem, and a song in which he invited the several of the stage crew onstage to participate. Which is to say, it was a typically normal Steve Poltz concert.