We young people tend, for whatever reason, to badmouth those who are significantly older than us. Maybe it's a fear of getting old ourselves that elicits this response, maybe it's a feeling of self-righteous know-it-all-ism, but what we tend to forget is that a great many things in this life get better with age. Wine does, some cheese does, canned tuna does not, but Hot Tuna certainly does.
Jorma Kaukonen and Jack Casady, the founders and heart and soul of Hot Tuna, have developed between them the sort of rapport and artistry that only a lifetime of collaboration could produce. Widely regarded as some of the most talented instrumentalists in Rock and Roll history, this legendary duo is currently touring is honor of their 50 plus years of music and friendship. And even if it hadn't been 50 years, they'd probably still be touring, just for fun.
Thursday, May 8th found Hot Tuna playing at the Fox Theatre in Boulder, CO. Jorma and Jack were joined by Erik Diaz on Drums and Barry Mitterhoff on a suite of tiny guitar-like instruments. It takes some serious talent to stand out in a room with Jorma and Jack, but Erik and Barry, regulars now in the Hot Tuna show, are guys who can pull it off. Billed originally as an acoustic and electric concert, the guys dropped the acoustics completely in favor of two solid sets of pure electric rock and blues, and clearly had a great time dishing it out. I don't think anybody minded the change. To the disappointment of the wasted, toothless guy yelling in the corner, they did not perform Death Don't Have No Mercy, but they did encore with Water Song to huge applause. I was disappointed, however, with the distinct lack of young people in the crowd; I may have been the youngest by about 5 years. It's a shame too, because good rock should know no age limits.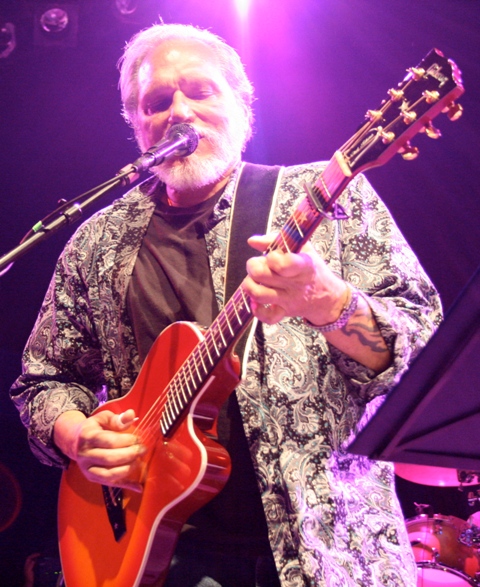 Though the famed days of six -hour performances are over, Jorma and Jack sound as good ever. Granted, I wasn't alive for the first 25 years of Jorma and Jack's career, and for many of those years I was too young to have good taste in music, but Thursday night's show would have been difficult to beat in any era of music history. I stood right against the stage where I could hear the music coming straight out of the amplifiers instead of through the house system. Not that the Fox has poor sound, quite the contrary, but it was the sort of raw music that deserves to be listened to as naturally as possible. Jorma, Jack and Barry play with very few effects pedals, their music centering around the basic but rich sounds produced strictly by their instrument and amplifier combinations. Some music doesn't need to be dressed up. Jorma's famous finger picking and Jack's melodic and heavy bass work were just enough.
There was no opening act, Jorma, Jack, Barry, and Erik attract a crowd all on their own, and played enough to make up for the solo billing. It shouldn't be a surprise anymore, given the plethora of actively touring and recording "classic" rockers, but older people can still tear it up with the best. And if you dabble in the creation of music like I do, there is possibly no better school of craft in guitar and bass than a Hot Tuna show. If you can't see them perform live, than pick up one of their albums; they've got about a hundred to choose from.
Over the next month, Hot Tuna will be making stops in Arizona, California, Nevada, Oregon, Washington and Alaska (that's right, Alaska), with more dates following in August. Check out www.hottuna.com for more information and tour dates.
To see more photos from this show, please visit the Gallery.