Minneapolis based, indie folk artist, Humbird releases their new album, Still Life, to the world today. Siri Undlin, the singer-songwriter behind the Humbird moniker, has creatively collaborated with producer Adelyn (Addie) Strei and longtime bandmates Pete Quirsfeld and Pat Keen on their beautifully reflective, sophomore, full length record.
Still Life was created during the long months of 2020 – a time of isolation, and unrest in many forms in the outside world. Still Life is about a house – each song a different room where ordinary things happen, where the quiet moments of our lives unfold. Still Life is also about what happens outside of a house. It weaves through the rippling events that took place in Minneapolis, Minnesota in 2020 – a chronicle of a city reckoning with anger, grief, and white supremacy while our society watched.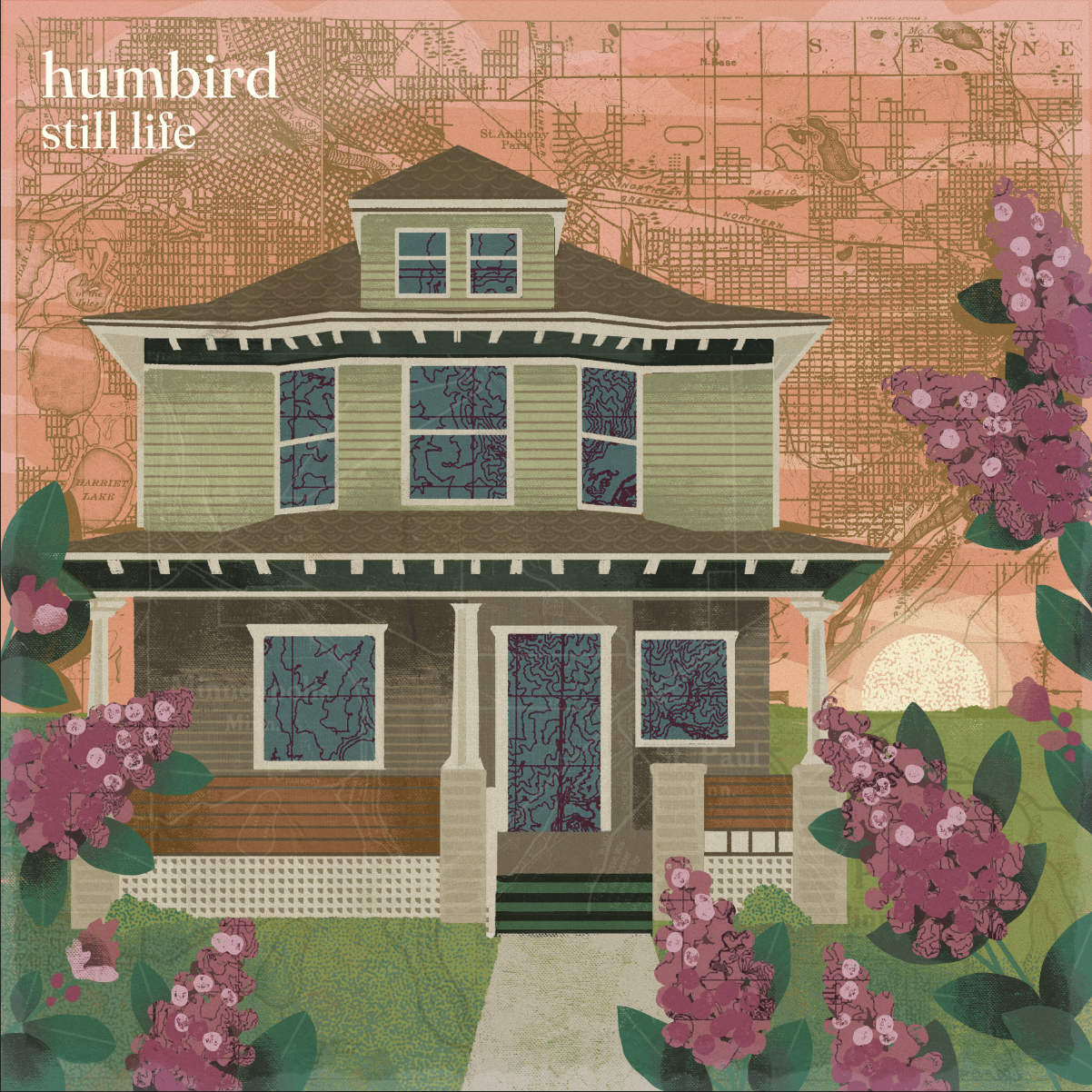 Still Life is also an accident – a collection of songs that exist together to reflect a particular moment and a specific place. It is about survival and kitchen utensils, broken hearts and taco trucks. It's about a pink bicycle strewn on the sidewalk. It is a letter to the future. Inside this record, Humbird wants you to smell the lilacs in the front yard and the tear gas in the streets. Humbird wants you to hear how hope is actually a verb. Humbird believes this record is grounded in the charms and tribulations of the domestic, but travels the whims of imagination into the strange and infinite abyss of inner realms, too. 
 
More tangibly, Siri Undli wrote Still Life in her yellow bedroom. And then she walked across the hallway to her friend and producer, Addie Strei's yellow bedroom, where she recorded and produced the songs. Experimenting with synth sounds, arrangements, and sonic worlds to create a safe and honest place for the songs to exist. They wanted to invite people into the house, into the home of their own bodies, where they spent so much time.
Music in Minnesota eloquently states, "Still Life is a wishing well that is constructed for everyone to gather around and toss your penny in. Each song became a residence for stories to be heard and for burdens to be lifted. Now being released from its four walls, the album is a reflection of deep friendships, artistic respect, and a love of togetherness."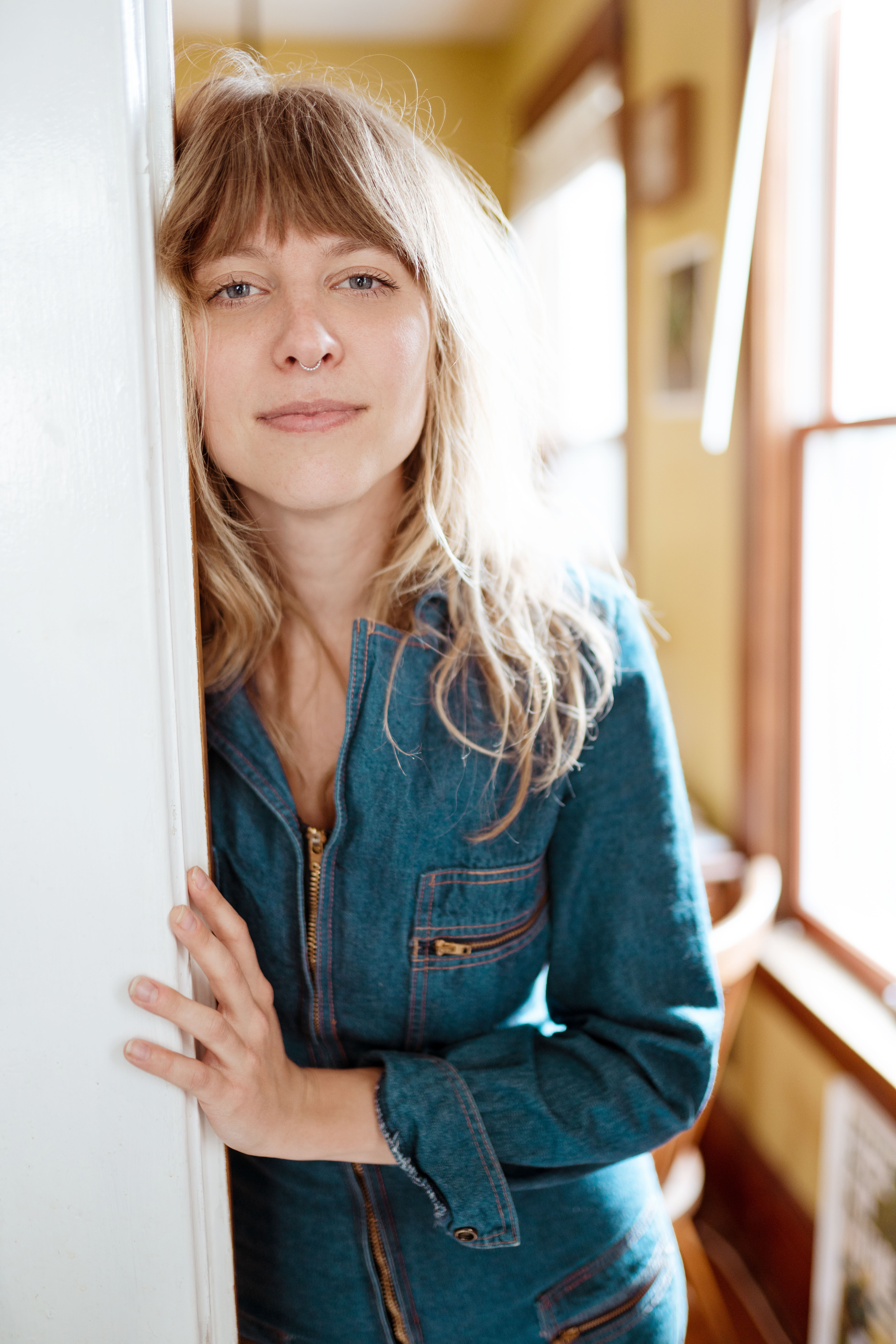 Still Life has already received enthusiastic praise from within the folk world – awarded as a 2021 Kerrville Folk Fest's New Folk Winners, where Humbird performed at the Kerrville Folk Festival in September, 2021.
With No Depression highlighting Humbird's Still Life, as one of the top album releases the week of October 15, 2021.
The Current 89.FM, featured the single track, Plum Sky as the "Song of the Day", claiming "the song as a new step for the singer-songwriter, with her vocals accompanied by big, brooding drums."
"Still Life offers a delicate balance – a yin and yang – with soothing, meditative instrumentation paired with more pressing, thought-provoking lyrics, layered on top. Each song on the album melts into the next seamlessly, and captures your attention. The album offers a sense of tranquility and a simultaneous sense of change and urgency. Still Life forces you to listen and really hear." – Music Mecca
"Humbird's music is warm and dynamic. Siri Undlin's soothing vocals and engaging lyrics sit perfectly on top of a lush, sonic landscape that speaks for itself with feeling and atmosphere." – The Homegrown Show / BOBFM
Catch Humbird On Tour:
October 22 – The Mabel Tainter Theater – Menomonie, Wisconsin
November 3 – Artist in Residence – The Icehouse – Minneapolis, Minnesota
November 10 – Artist in Residence – The Icehouse – Minneapolis, Minnesota
November 11 – The Bur Oak – Madison, Wisconsin
November 12 – Bishop Hill Creative Commons – Bishop Hill, Illinois
November 13 – Old Town School of Folk Music – Chicago, Illinois
November 14 – Linneman's Riverwest Inn – Milwaukee, Wisconsin
November 17 – Artist in Residence – The Icehouse – Minneapolis, Minnesota
November 24 – Artist in Residence – The Icehouse – Minneapolis, Minnesota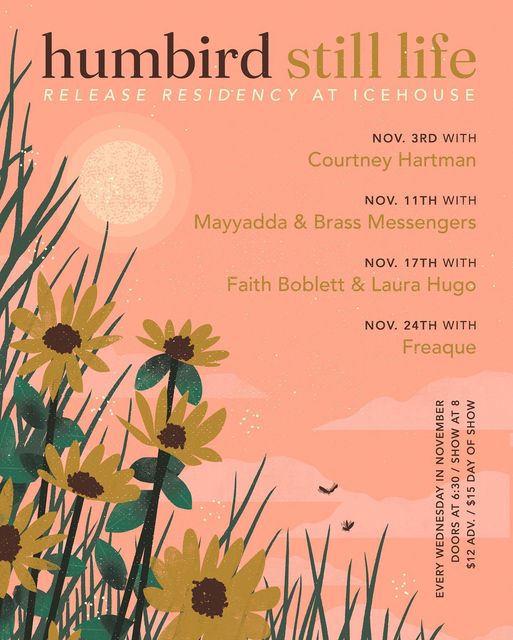 Still Life can be streamed or purchased on Amazon Music, Apple Music, Bandcamp, Google Play, iTunes, Pandora, and Spotify – CDs and LPs on Amazon.com and www.humbirdmusic.com
Still Life Track Listing:
Hymn For Whom
Summer Storm For Charlotte
May
Plum Sky
Heavy
Standing In The Way
Stone Giant
Pink Moon For John Prine
My Pillow Is A River
On The Day We Are Together Again