Dave Stewart — the highly acclaimed Rock & Roll Hall of Famer, Songwriter Hall of Famer, UK Music Hall of Famer, GRAMMY Award, Brit Award and Ivor Novello Award-winning musician — has released Cloud Walking. The nine-song cool jazz / jazz blues album was co-written and co-produced between Stewart and pianist Hannah Koppenburg, and features additional top-flight musicians. The album is available now digitally across DSPs and will see a subsequent limited vinyl release (details TBA). Listen to Cloud Walking here.
"I love jamming with Hannah," shares Eurythmics co-founder Dave Stewart. "We turned a couple of our jam sessions into these jazz/bluesy tunes and decided we loved them. This turned into a lot of fun working with great horn players and writing melodies that lend themselves to improvisation. It really was a joy to make this album."
"I loved working on this album with Dave, we just got together in the studio with no plans and started jamming," says Hannah Koppenburg. "Once we had our ideas recorded we had these incredible horn players coming in who started improvising over it. Those were some of my favorite studio days because it all just came together so spontaneously and easy. Also the music is so uplifting, so we were all just in such a good mood the whole time. The title track is my favorite track of the album. I remember I was at the studio a little before Dave and just started playing on the piano in the corner. Eventually I came up with that little piano melody. Dave had the idea of 'cloud walking' which is such a great concept and perfectly describes the entire album: abstract, fun and light."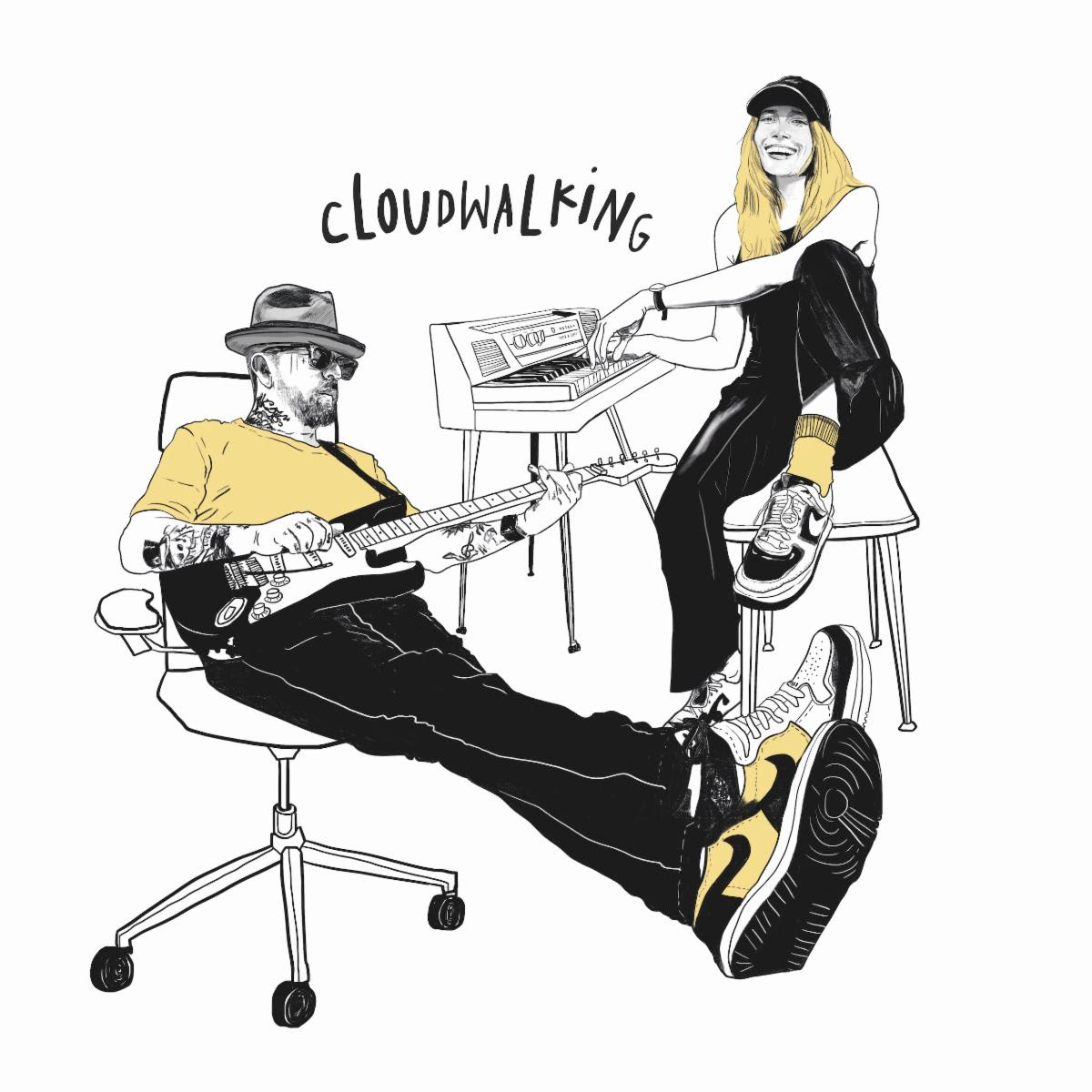 Directly on the heels of his well-received modern rock opera album, WHO TO LOVE, and its companion film (which premiered at the Rome Film Festival last month), Stewart just saw the debut of his musical, The Time Traveler's Wife, in London.
Currently, Stewart is captivating audiences across Europe on his "Eurythmics Songbook: Sweet Dreams 40th Anniversary Tour." Marking the first time in more than 23 years fans can see a touring show of Eurythmics hits, the tour features Dave alongside an all-female band of virtuoso singers and musicians; the tour promises to take fans on a nostalgic and electrifying musical journey spanning four decades of the iconic musical partnership's groundbreaking hits. Additionally, Stewart will be taking Eurythmics Songbook on the road opening for Bryan Adams in 2024. Click here for all tour dates and to purchase tickets.
CLOUD WALKING TRACK LISTING:
"Cloud Walking"
"Echoes of You"
"Speechless"
"Soho Secrets"
"Bar Italia Blues"
"Wandering Down Wardour Street"
"Dean Street Swinger"
"Drury Lane"
"Closer To You"
ABOUT DAVE STEWART:
With a career spanning four decades and over 100M album sales worldwide, award-winning singer, songwriter, musician, producer and Eurythmics co-founder Dave Stewart is among the most respected and accomplished talents in popular music history. Stewart co-wrote and produced each Eurythmics album in his world-famous duo with Annie Lennox. He has also produced albums and co-written songs with Bob Dylan, Mick Jagger, Tom Petty, Gwen Stefani, Damian Marley, Stevie Nicks, Daryl Hall, Bryan Ferry, A.R. Rahman, Katy Perry, Sinead O'Connor, Aretha Franklin, Al Green, and Joss Stone, and many others. In 2022 Dave Stewart released Ebony McQueen, one of his most ambitious and autobiographical works of his remarkable life and landmark career.
His wide-ranging work has earned Stewart a long list of prestigious honors, including over fifty ASCAP and BMI Awards, four Ivor Novello Awards for "Best Songwriter," four BRIT Awards for"Best Producer" (including a Lifetime Achievement Award), a Golden Globe Award, and a GRAMMY® Award. "Sweet Dreams (Are Made Of This)" by Eurythmics was recently inducted into the GRAMMY Hall of Fame® and U.S. Library of Congress National Recording Registry, in recognition of its qualitative and historical significance. Dave Stewart and Annie Lennox were among the 2020 inductees into the Songwriters Hall of Fame, inducted by St. Vincent, with the ceremony taking place in 2022. Also in 2022, with an inspired induction by U2's The Edge, the Rock & Roll Hall of Fame Foundation welcomed Eurythmics as inductees for their profound impact on music.
Stewart is also a renowned film and TV producer (including NBC's hit songwriting competition series, Songland), author, photographer, public speaker, and entrepreneur. In 2010, Stewart established Dave Stewart Entertainment (DSE), linking creative ideas to a host of projects in music, film, television, books, theatre, and new media.