I woke up in Grand Teton National Park to the sounds of crazy mountain birds, and was glad not to have been eaten by bears or wolves during the night. The festival itself provides no camping but there is plenty to be found in the park and in the surrounding forests. On the drive to the festival grounds, I saw a moose, and nearly 30 people taking a picture of it. There was a lot to look forward to, and anyway I've seen moose before, so I didn't stop until I hit Teton Village.
Saturday at Jackson Hole had been a blast, but Sunday would prove to be a wild party. If you had to choose a single day, and fortunately I didn't, Sunday would have been it, and everybody seemed to know it. Even at the start of the day the hillside was crowded, and blanket space was vanishing fast. Anticipation was in the air, and everyone I talked to seemed to be there to see his or her favorite band. That's the thing about festivals, it seems like everyone playing is somebody's favorite. That kind of enthusiasm adds to the energy of the event as a whole, making every musical peak that much more intense and every pause that much more suspenseful. The bands consume this energy as well, creating a feedback loop that builds upon itself, making every moment a little more exciting than the last. A good crowd can make all the difference, and this was definitely a good crowd.
Sunday morning kicked into high gear right off the bat, with a fascinating set of music by the Avett Brothers, music that I can only describe as Blue Country Punk. Seth and Scott Avett front the band, and trade around instruments and vocal duties. Bearded and, well, Amish-looking, the Avett Brothers scream out fast paced defiant lyrics to the strings of not quite traditional Bluegrass, Honky-tonk and folk tunes. The brothers are joined on stage and in the studio by Bob Crawford on the standup bass, and Joe Kwan on the cello. I found myself not quite sure whether I should slap my knee or bang my head and shake my hair around.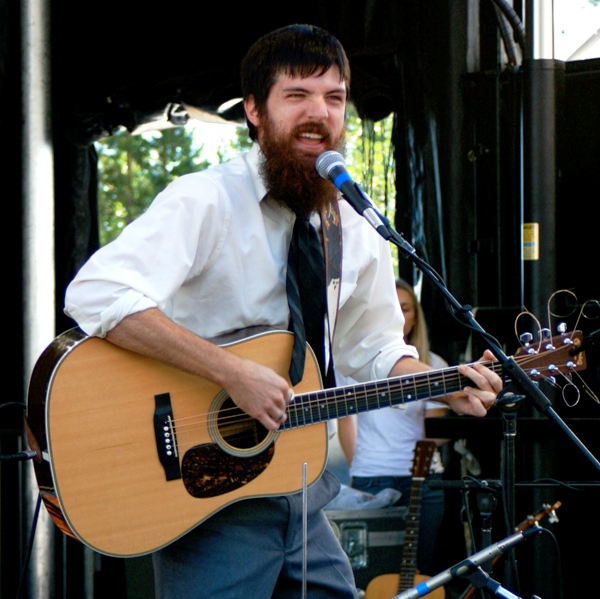 The crowd around the stage was much denser than it had been this time the day before, a sea of the young and the animated. The Avett's reputation had apparently preceded them, and I saw several brand new Avett Bros. tee shirts floating around in the audience. Moreover, I heard whispers and exclamations from a fair few people of wonder and interest in the band's style that defied categorization. Playing banjo, drums, keys, and guitar between them, The Avett Bros. played their way through a varied set ranging from minimalist and impassioned to catchy and carefree to aggressive and forceful. I love seeing something I've never seen before, and these guys fit that bill for sure.
The Miller Sisters kept the mood alive, and set the stage for a country-fried afternoon. Next up was Son Volt, and band that I vaguely remember from my youth. Son Volt is another one of those "not quite this, not quite that" bands, blending together pop rock and alt country. On this occasion, they leaned more to the cowboy hat side of things. Jay Farrar, lead man of the band, and Jeff Tweedy of Wilco used to play together in a band called Uncle Tupelo, and rumor has it, and when I say that, I mean according the guy pontificating in front of me, Jay and Jeff had a falling out over the band, and aren't on speaking terms, ruining this guy's hopes for a Farrar and Tweedy, Uncle Tupelo reunion. Those bastards. Son Volt mellowed things out a bit, but played their share of bar band style rockers too. The venue was pretty much full by now, and the happy people swayed and shook in the sun. The only thing that was lacking was a blistering guitar solo care of Chris Masterson, the guitarist with the dark sunglasses, the black hair with bleach blonde bangs and the shiny mother or pearl Les Paul, after all he looked the part. But alas. There were many unquestionably hot licks, but blistering? I dunno.
Before long, the church of rock was in session. Robert Randolph and the Family Band took the stage to enormous applause, and kicked it straight into high gear. Master of the "sacred steel" (look it up on Wikipedia), Robert Randolph makes the strings wail like a gospel choir, almost like he's created another voice on stage. Backed by two additional lap steels, some damn funky bass, standard electric guitar, drums, and pretty much everyone's voice, there are enough sounds acting in chorus behind and wround Robert Randolph that the effect is actually very much like a choir. Makes sense, given that Robert Randolph learned to play the pedal steel in church as a young man. Now he uses the instrument as the foremost voice of his blend of old soul, rock and roll and quasi-gospel. This performance might have been the highlight of the festival for me.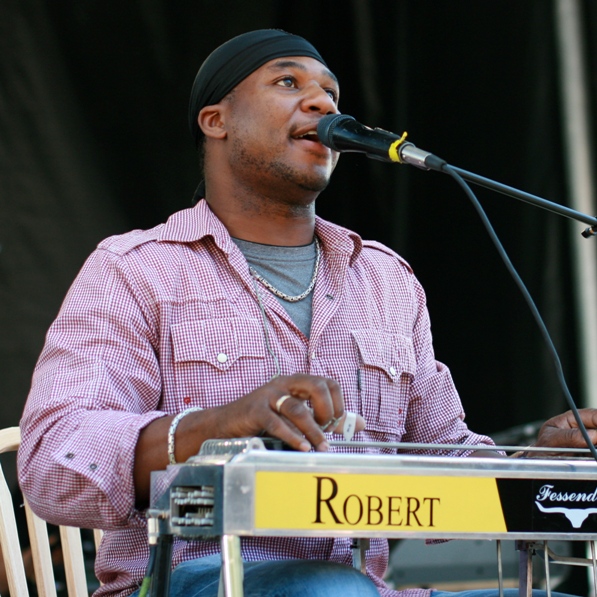 After a powerful opening, in which Robert Randolph at one point leapt into the air, snatching up the microphone and jumping back from his instrument to dance and shuffle around the stage before diving back into a mean solo on the steel, the Family band kept the energy high. Putting his whole body into his playing, and glancing back and forth at his family and band mates who surround him, Robert Randolph was all smiles. Crowd favorites "I Need More Love," "Thrill of It," and "Ain't Nothing Wrong With That" all made the set list, as well as extended sessions of improvisation and funkadelic jams. Robert Randolph hasn't really been on the scene all that long, but because of his soulful sound and unique talent on the highly refined instrument that is the pedal steel, he is attracting some pretty serious enthusiasts. There is an optimism in his songs that is appealing as well, and it puts me in the mood. Sometimes, you just can't help but get up and move when you hear a little music that really gets inside you, and this was a ton of music. They played late, played a savage encore, and I guarantee that everyone was impressed. It was an eye-opening performance for quite a few people who weren't familiar with the Family Band, and quite a few others were blown away by the live Robert Randolph experience.
Since the Family Band played late, the betweener act was scrapped, and I had an opportunity to wander the grounds. The place was packed, and it was a serious feat just to walk up the hill to the water truck. I almost took a turn in the bouncy castle, but there were too many kids in line for me to justify waiting. It occurred to me what a family affair the place had turned out to be. Hippie mom's in homemade skirts, and bearded, tanned, and sandaled dads. Little kids, really little kids and not so little kids, some getting more out of the fest than others, hopped about or lay under umbrellas and towel forts trying to catch some relief from the heat. At one tent, free wool socks were being given away, and at another, Paste Magazine was doing a "pay what you want" subscription deal. Behind the merchants, a gathering of people was playing Frisbee, or hackey-sack and a ton of folks were sitting in the shade of the barrier fence and the water truck to wait out the last of the sun. It had been a hot day so far, and wasn't going to cool down for a few hours yet.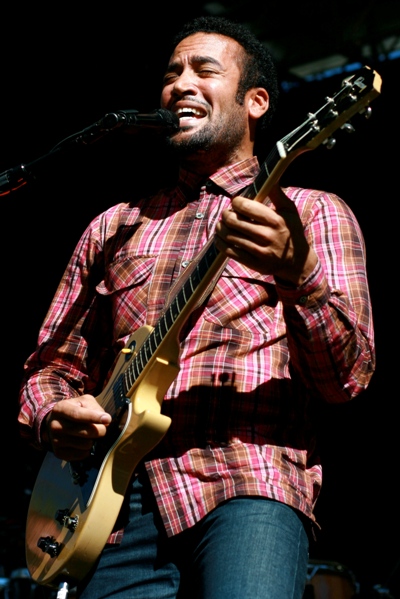 The crowd began to yell for Ben Harper, and when Juan Nelson walked out on stage and started tapping the bass, they nearly lost it. "Juan Nelson and NO innocent criminals!" one guys yelled, and I think, although if it existed at all, it was nearly imperceptible, that Juan smiled. One by one the rest of the Innocent Criminals came out on stage. Ben Harper, who is probably most known for his skill with the Weissenborn, a wood sided slide guitar that lies across your lap, went for the standard electric for the first several tracks. Ben Harper's politicism, take no shit attitude and soulful, emotive voice, as well as the lap slide, are staples in the Innocent Criminal's arsenal of intellectual rhythm and blues. Most similar perhaps to Bob Marley in the way he uses song as a form of protest, Ben Harper's music has an empowering effect on an audience. Maybe it's because Ben Harper is so passionate in his approach, embodying every note and word, and belting out his message in a voice that drips with emotion, that he is able to so strongly inspire a crowd. He makes you feel righteous, in a way, and indignant at being anything less than we as a species deserve. Plus, he plays a wicked slide guitar (did I mention that?). Even after a heavy dose of Robert Randolph brand slide, I was in the mood for more, and Ben Harper has never let me down before. Whereas Robert Randolph makes his guitar wail, Ben Harper makes his roar. The raw and primal sound forged by the heavily distorted Weissenborn, is about pleasingly harsh as you can get, without crossing over into the realm of sheer noise. You can see why I dreamed the two artists might get together to play a few tracks.
The Innocent Criminals pulled off raging renditions of songs from all eras of their illustrious career, opening with "Jah Work," and "Glory and Consequence." "Diamonds on the Inside," "With My Own Two Hands," "From the Ground on Down," and festival favorite "Burn One Down," were all called up from albums long past. "Better Way," "Black Rain", "In the Colors" and "Fight Outta You" from more recent albums also made it in to the rotation. These last two are off Ben Harper's newest, Lifeline, written on the road and recorded in Paris while the band was on tour in Europe. From what I hear, it was recorded live as well, that is, everyone in the studio at once, playing as if to a crowd, but really only to a soundboard. As unextraordinary as this might seem, it is a practice that many contemporary musicians have abandoned in favor of recording songs one part at a time to achieve the cleanest cut. Of course, it's hard to tell by listening to an album which path was taken during the recording process, but it reflects well on the inner harmony of the Innocent Criminals that they are able to record an album in real time.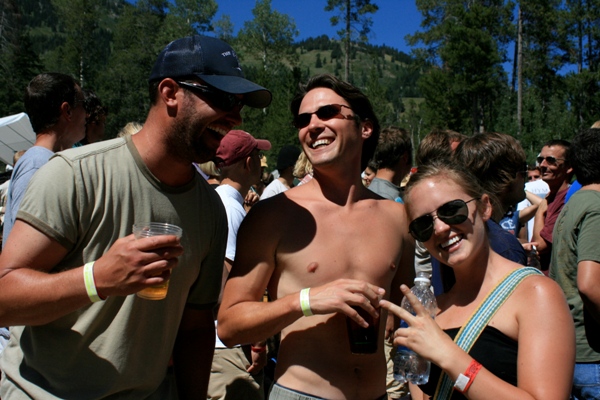 This same harmony is evident on stage, and the Innocent Criminals consistently perform beyond the sum of their parts. At one point, while the band rocked out, and Juan Nelson plowed his way through a thunderous bass solo, Ben Harper jumped over to the percussion kit to play around with Leon Mobley. The set climaxed with "Better Way," followed by "With My Own Two Hands," a hugely inspirational and optimistic pairing, powerfully and passionately presented. These days hope and a better way of living seem to be what a lot of people crave, even the normally out of touch politicians in Washington are catching on to that, but credit must be given to Ben Harper for singing on these topics since before it became politically fashionable to do so. And of course these days, when Ben Harper plays his heart out on one of his hopeful rockers, the crowd goes ape shit. The applause at the end of their set was monstrous, and I think we were all a little disappointed that the Innocent Criminals didn't come out to do an encore.
The sun had just gone behind the mountain when the Black Crowes took the stage. The blast of cool air was refreshing and people were still riding the high dished out by the Innocent Criminals. I saw the Black Crowes about a month ago at the Mile High Music Festival, but I could immediately tell there was something different about them. I am now convinced that headlining a show brings out the best in the Crowes, and as good as they were at Mile High, they were easily twice that at Jackson Hole. Really into it and having a great time themselves, the Crowes put on a raucous performance that kept most people on their feet and clapping. Chris Robinson, singer and lyricist for the band, bantered with the crowd, joking about the forest gnomes who got to hear the show for free. "That's the thing about being a supernatural being living in these woods, I guess." Brother and co-founder of the group Rich Robinson sung a song as well, and new lead guitar man Luther Dickinson (of the North Mississippi Allstars, and yet another of Rolling Stone Mag's "New Guitar Gods") shredded up a storm on the slide guitar, making the afternoon and evening a perfect threesome of slide guitar genius.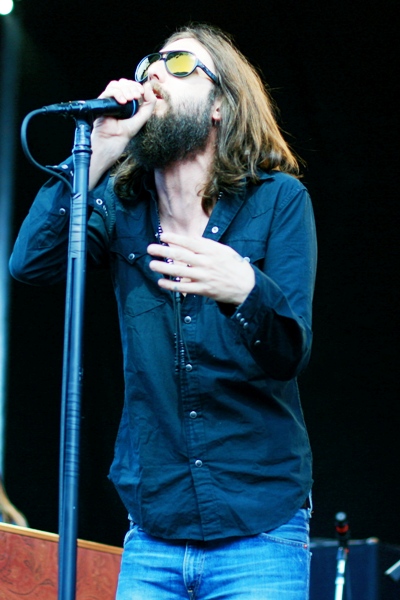 Earlier in the day I'd had a conversation with a guy who'd driven down from Montana, mostly to see Robert Randolph, but also excited to see the Black Crowes for the second time. "Here's what I've noticed about them though," he said to me. "They don't play anything you've ever heard. They come out and play 'Hard to Handle' and a bunch of other stuff you don't recognize." I'd noticed this about the band too, from watching them at Mile High, and I can see where my new friend is coming from. I like to sing along at a show, I like to know the words, and I like to be able to remember the songs that were played so that I can tell other people about them and I can't do that when the songs are unfamiliar. But, and this is a huge 'but,' I also appreciate when a band that has been around for as long as the Black Crowes have has the guts to play more than just their radio hits and "best of's." I mean ultimately, who wants to hear just the same songs over and over again, and never hear anything new?
On this occasion, the Crowes' set list did include "Hard to Handle," as well as "Jealous Again" and "Remedy," but everything else was fresh, and pulled from deeper in their musical library. A highlight was the song "God's Got It," originally written by Rev. Charlie Jackson, featuring the heavy driving rhythm of a massive over-the-shoulder bass drum donned by drummer Steve Gorman, with a George W. Bush face painted on the side. Ever notice how much the pres. looks like Alfred E. Neuman? Another song had Gorman out on the edge of the stage beating on a set of hand drums, I guess it was his lucky day (it was in fact his birthday, and Chris Robinson asked us all to wish him a happy one). Several other songs were pulled off the band's newest album Warpaint, released earlier this year and also featuring Luther Dickinson on lead guitar, including "Goodbye daughters of the Revolution," "Wee Who See the Deep," "Whoa Mule," and "Wounded Bird".
The Crowes kept things upbeat and thumping for a good long time, and came back out to play an extended version of "Cold Rain and Snow" for an encore, much to the consternation of the damage control personnel I'm sure, who probably worried we all break our necks walking out in the dark. The band played well past dusk and into the dim hours of night, and most people stuck around until the end. It was indeed difficult to see on the dusty path out of the grounds as there were no lights in place to see our way by, but I don't believe anyone was hurt. In celebratory spirits, one man ran across the roofs of the port-a-potties, and although I could easily envision the whole line of them falling to the ground like dominoes, no such disgusting thing occurred, and as the man jumped down into the dust at the end of the line, he got several cheers from the passing crowd. A nearly full moon was starting to poke out above the mountains to the east and the stars were shining brightly in the sky.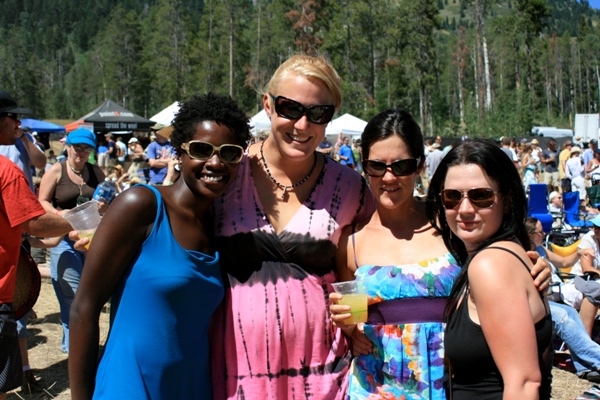 Summer isn't quite over yet, but had it been done and gone as of Monday morning, I couldn't have imagined a better way to celebrate the last of the season than by spending it in Jackson Hole. While people funneled out of the venue, the festival's organizers thanked everyone, gently chiding us to clean up after ourselves, and expressed the hope that this small festival would turn into an annual event. I hope it does, too!