Like every good Deadhead, sometimes I've tried to imagine what it must have been like back in 1964 when Mother McCree's Uptown Jug Champions played at the Top of the Tangent coffee house in Palo Alto.  As most Deadheads know, it was Mother McCree's, a band steeped in traditional folk and bluegrass influence, that birthed the band we've come to know as the Grateful Dead.  Back then, I don't think anyone could have imagined that the sprawling lawns of the Sonoma County Fairgrounds, blanketed in dancing rainbows and Coconut Bliss, would be the setting for a day and evening that would have made Jerry Garcia proud.
So there was a certain poetic symmetry at the Harmony Festival on Friday afternoon, June 10 at the Sonoma County Fairgrounds (California) when David Nelson and Jesse McReynolds, an American bluegrass legend, took the stage as part of a tribute to Jerry Garcia and Owsley "Bear" Stanley.
After a rousing opening set by David Nelson, longtime friend of the Dead and front man for the New Riders of the Purple Sage, he called Jesse to the stage.  Jesse McReyonlds is a master mandolin player, a Grand Ole Opry member for more than 45 years, and multiple Grammy award nominee and winner.  Nelson told us that Jesse "invented McReynolds picking, which has made its way around the world."  And it was easy to see why.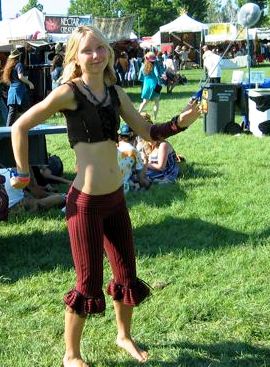 Jesse opened his set with a sweet rendition of Ripple, one of the songs from his newly released album, Songs of the Grateful Dead: A Tribute to Jerry Garcia and Robert Hunter (Jesse McReynolds & Friends, with David Nelson and Stu Allen on Woodstock Records).  It didn't take long to realize why Jesse is a lauded treasure and legend.  It was as though Ripple were written for the exquisite twang of his mandolin.  Likewise, Jesse's vocal rendition would have made Jerry smile.  After more than 45 years performing, Jesse's voice is strong and clear, rich and melodic, transcending genre.  From Ripple, he went into a gutsy, earthy rendition of Deep Elem Blues, another song that stands as a highlight on the recorded album.  He mentioned that the next song he got from David Grisman, and we instantly recognized the opening chime of Franklin's Tower.
And suddenly, it was a though we really hadn't strayed that far at all from the Top of the Tangent Coffee House, another time's forgotten space.  One thing for sure, though, Jesse McReynolds' renditions of Dead songs won't ever be forgotten.
Check out a few more photos from Harmony Festival.