"This song is about interracial sex!" – That's the raunchy greeting Karl Denson gave to the Boulder Theater crowd on this Halloween weekend. Denson's Tiny Universe then immediately launched into the Rolling Stones' 'Brown Sugar,' which was just as raunchy as Denson's intro. Karl Denson's Tiny Universe is on tour covering The Stones' 11th release and arguably their best album, Sticky Fingers (Exile on Main Street would be the obvious other) .
Sticking with the raunchy theme, KDTU was accompanied by Swedish born Anders Osborne, whose thick tone on the guitar, rough around the edges appearance, and soulful vocals really helped bring Sticky Fingers to life.
Karl Denson, who got his start on Lenny Kravitz's classic album, Let Love Rule, has done anything but remain a back-up musician. After 5 years in Kravtiz's band, Denson spent the next five years working with funk trumpet legend, funky Fred Wesley. Denson and Wesley put out 5 mostly traditional jazz releases, and spent a lot time touring through Europe. Next for Denson and really showcasing his dynamic musical tastes, he began his collaboration with Acid/Jazz DJ Greyboy, and in 1993 the two formed The Greyboy Allstars. The next evolution for Denson and his current endeavor, Karl Denson's Tiny Universe, has more of an emphasis on vocals, R&B and hip-hop, though still staying true to his jazz, funk and rock-n-roll beginnings.
But last night was about rock-n-roll and Denson prooved on this night in Boulder he knows rock-n-roll just as well as he knows jazz. His current line-up, which includes: DJ Williams on guitar (who made playing a Sierra Nevada beer bottle in lieu of an actual slide on his guitar about effortless as it was for him to breath), keyboardist David Veith, drummer John Staten, trumpet player Chris Littlefied and what I thought was one of the better bassist's I've heard in while, Chris Stillwell (seemingly very humble to-boot).
In addition to guest guitarist Anders Osborne, KDTU welcomed local rock-n-roller, Daniel Sproul, from Rose Hill Drive. Sadly, during "Can't You Hear Me Knocking," Daniel's guitar did not really come through the mix. Denson even motioned to Daniel to turn his fender up – I don't think Daniel realized initially was Denson was referring to – but a few minutes later Sproul cranked up his fender & the folks handing the mix had Daniel's guitar raging.
KDTU finished off the rest of Sticky Fingers in style, including sharing vocals with Anders during two of the greatest Stones' songs, 'Wild Horses' and 'Dead Flowers.'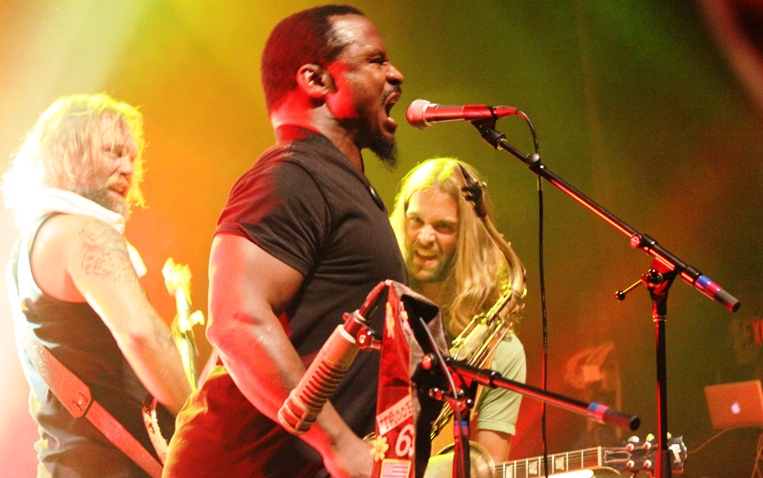 After a short break, KDTU came back for another 90+ set or their unique blend of 'West Coast Boogaloo' – Catch Karl Denson's Tiny Universe on tour now! He'll be in Telluride tonight and back in Denver (with Rose Hill Drive as openers) for Halloween.
As always, a special thanks to the folks at the Boulder Theater for their continued hospitality. And be sure to check more pictures and a few video snippets from the show.