For nearly three decades, Karl Denson has been rocking stages around the globe. Now, aided by his longstanding band of brothers, the Tiny Universe, he unleashes his most potent arsenal to date with the band's fourth album New Ammo set for release February 4, 2014 on Stoopid Records. Always a formidable unit, the band is bolstered by the doubling of its already raucous horn frontline, and an invigorated orchestral approach inspired by the gritty, funk-fueled soundtracks of 1970s' cinema.

On New Ammo, Karl Denson's Tiny Universe is comprised of Chris Stilwell (bass), David Veith (organ, Rhodes), Chris Littlefield (trumpet), DJ Williams (guitar) and John Staten (drums), supplemented by Andy Geib (trombone) and Daniel De La Cruz (baritone saxophone). In addition, the album features a number of special guests, including frequent Denson collaborators Robert Walter on keyboards and Mike Dillon on vibes and percussion, Anthony Smith on vibes, and singer Nicki Bluhm on the album's first single, "My Baby," premiered by Paste Magazine: http://www.pastemagazine.com/blogs/av/2013/12/song-premiere-karl-denson-feat-nicki-bluhm---my-ba.html

This latest effort is a marked departure from the more roots-oriented feel of its predecessor, 2009's Brother's Keeper, both revisiting the classic swagger of earlier Tiny Universe albums while moving forward into a more expansive, full-throttle rock sound. The album spotlights the irresistible melodies, infectious choruses, and relentless grooves that have established Denson's reputation as a modern music icon.

"My approach has always been that we're a dance band that dips into the jazz realm," Denson says. "It's pretty much still the same, but things change as you listen to more music which changes your artistic outlook on things. So along with our regular funk fare, we're trying to orchestrate up a bit, with music, art and thought being our new ammunition."

New Ammo arrives on the heels of a handful of tributes that Denson has spearheaded over the last few years, including a tour that re-imagined The Rolling Stones' Sticky Fingers as well as this past year's U.S. jaunt dubbed, "A Ray Charles Boogaloo Dance Party." Another recent tribute, that celebrating the music of the Beastie Boys, was realized in part by Denson's current roll as saxophonist for the San Diego reggae-rock band Slightly Stoopid. In 2012, the Tiny Universe and Slightly Stoopid joined forces for a number of shows that dug deep into the Beasties' repertoire. The connection between the two was so deep and resounding that Slightly Stoopid insisted upon releasing Denson's latest album on their record label, Stoopid Records.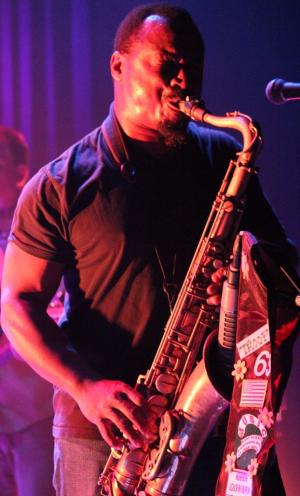 "It's a fun job and I get to hang out with cool people," Denson says of his stints with Slightly Stoopid. "We're making strides from both sides - I'm helping them grow musically and they're helping me grow artistically. And obviously, the benefit of having a label where people believe in you is always a good thing."

Carried over from the Beasties' tribute tour and into the recording sessions for New Ammo was the classic "Sure Shot." Taken from the 1994 album Ill Communication, it becomes a flute showcase for Denson. As in the Tiny Universe's tribute shows, all of the samples and loops are recreated using live instruments. It's one of three pop covers on New Ammo, which also includes a searing take on Cold War Kids' "Hang Me Up to Dry" and a groove-heavy rendition of The White Stripes' "Seven Nation Army."

In Winter 2014, Denson and his Tiny Universe take New Ammo on the road for a 20-date plus tour that hits both coasts, including a three-night stand at Brooklyn Bowl, the Jungle Jam festival in Costa Rica and a co-bill with moe. in York, PA.
From his early days as a member of Lenny Kravitz's band to his critically acclaimed work as a founder of boogaloo revivalists The Greyboy Allstars, as the saxophonist for Slightly Stoopid straight through to his primary creative vehicle, the Tiny Universe, Denson has slowly and steadily built a reputation that now verges on legendary status. With the latest addition to his oeuvre—the relentless 13-track dance floor grenade, New Ammo—2014 will find him adding yet another compelling chapter to this legacy.  

"We've finally figured out how to capture in the studio what the Tiny Universe does live," Denson concludes. "We move around a lot musically, but this record reflects who we are as a band and where we're headed with our music."

KARL DENSON'S TINY UNIVERSE TOUR DATES:
December 31 - Chicago, IL - Park West ^
January 4-9 – Miami, FL – Jam Cruise
January 16-18 - Costa Rica - Jungle Jam
January 23-25 - Brooklyn, NY - Brooklyn Bowl
January 26 - York, PA - Strand Capital ^^
January 28 - Portland, ME - Port City Music Hall ^^^
January 29 - Cambridge, MA – The Sinclair ^^^
January 30 - Philadelphia, PA – Theatre of Living Arts ^^^
January 31 - Washington, DC - 9:30 Club ^^^
February 1 - Westbury, NY – The Space at Westbury ^^^
February 13 – Sacramento, CA – Ace of Spades
February 14 – Ashland, OR – Ashland Armory
February 15 – Portland, OR – Crystal Ballroom *
February 16 - Seattle, WA - The Neptune *
February 18 - Missoula, MT - Top Hat
February 21 - Salt Lake City, UT - The Depot
February 22 – Boulder, CO – Boulder Theater **
February 23 – Aspen CO – Belly Up Tavern ***
March 7 – San Diego, CA – Belly Up

^ w/ Robert Walter's 20th Congress
^^ w/ moe.
^^^ w/ Tauk
* w/ Dirty Dozen Brass Band
** A Ray Charles Boogaloo Dance Party with Zach Deputy
*** A Ray Charles Boogaloo Dance Party with Nicki Bluhm & The Gramblers and Zach Deputy