Creating music seems innate for Kendall Street Company, a burgeoning jam-alt act composed of five immensely creative artists. Be it a collective commitment to improvement, an inescapable penchant for humor, or a flair for the dramatic, forthcoming studio EP Untitled California Project encapsulates the ineffable charm exuded by the hard-touring musicians. A release that pairs dynamic musicianship with ingenious storytelling, the album is a tongue-in-cheek rock opera inspired by both the culture and natural beauty of America's golden coast. Arriving on June 24th, the project heralds the band's long-awaited inaugural visit to the west - an inescapable destiny, manifested.
"I'm so happy we're able to share [this] story through a visionary piece on the state of California," explained multi-instrumentalist Jake Vanaman. "The project details a journeyman's loss of innocence, and follows his epic jaunt through the heartland of America. Think of it like a musical theatre show."
Kendall Street Company announces the project with a SNL-style introduction video, shot by director Cal Ries. Set to the EP's opening tune "California #1," the visual captures each band member preparing to depart Virginia for an epic voyage west. 
WATCH - "California #1" Official Music Video
The band enlisted the support of veteran producer Joe Pisapia (David Crosby, The Monkees), for the EP's forthcoming singles. With genre-bending performance on full display, the trunk-shaking, lowrider groove "California #24" sits aside "Crab Surprise," a cheeky ballad complete with buttery harmonies sure to elicit a smile.
In mid-June, the band will kick off the ten-show run in colorful Colorado, appearing in Denver at Cervantes' Other Side (June 10) and 830 North in Fort Collins (June 11). June 16 will see the band at Market on Main in Heber City, UT, before a pair of plays in the Pacific Northwest at Seattle's High Dive (June 18) and The Dough Fir in Portland (June 19). Slo Brew Live in San Luis Obispo will host the band's inaugural California show (June 24), before a pair of sets at the legendary High Sierra Music Festival (June 30, July 1). Tour concludes with a show at Moe's Alley in Santa Cruz on July 3rd.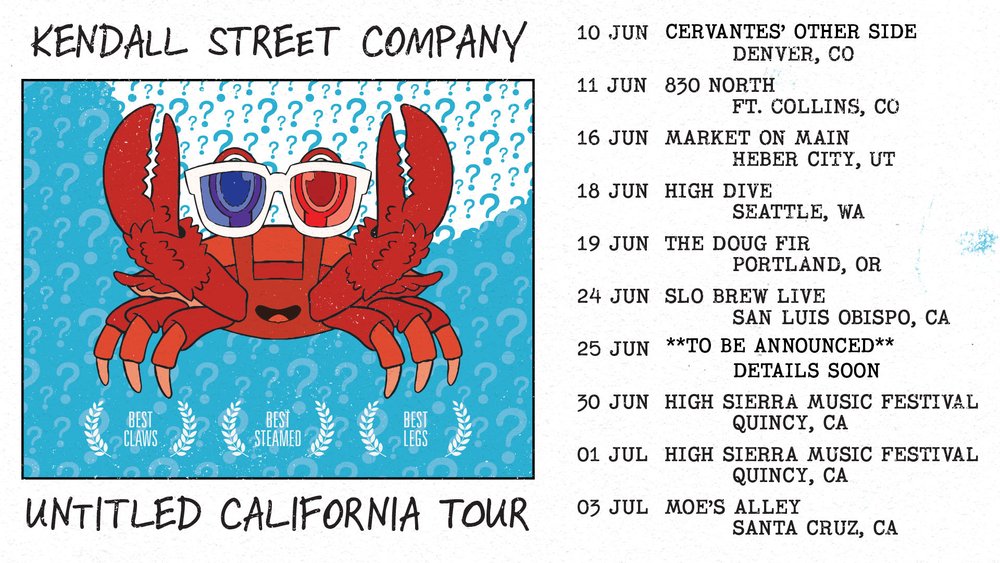 For more information, and to purchase tickets, visit www.kendallstreetcompany.com