Kentucky storyteller Ian Noe releases his sophomore album River Fools & Mountain Saints, a stunning collection of roadhouse rockers and Applachian ballads that chronicles life in contemporary Kentucky, depicting natural disasters, heartbreak and loss with a mythical lyricism and warm analog sound that invokes the storytelling troubadour sound of John Prine and Steve Goodman. Listen to the album here:  https://orcd.co/riverfools
Rolling Stone described the songs on River Fools & Mountain Saints as "bleak and brutal narratives that are disguised within an irresistible melody." On his sophomore effort, Noe sought out a more optimistic tone by creating a bigger and brighter sound as a backdrop for his homespun observations, local stories, and personal heartbreak. Across twelve tracks, Noe tells the story of a devastating flood that hit Kentucky in 2020, the loss of his grandfather, and character studies of local figures from Noe's hometown.
River Saints & Mountain Fools was recorded on reel-to-reel tapes in short spurts over the course of two years, without the pressure of time, which enabled a wider range of experimentations, collaborations, and sounds. As a result, it switches from rocking like Creedence Clearwater Revival to intoning like John Prine or Tom T. Hall; it swaggers with keys on songs like "Pine Grove (Madhouse)," bursts with French horn bombast "One More Night," and swells with orchestrated strings on the gutting closing ballad, "Road May Flood/It's A Heartache."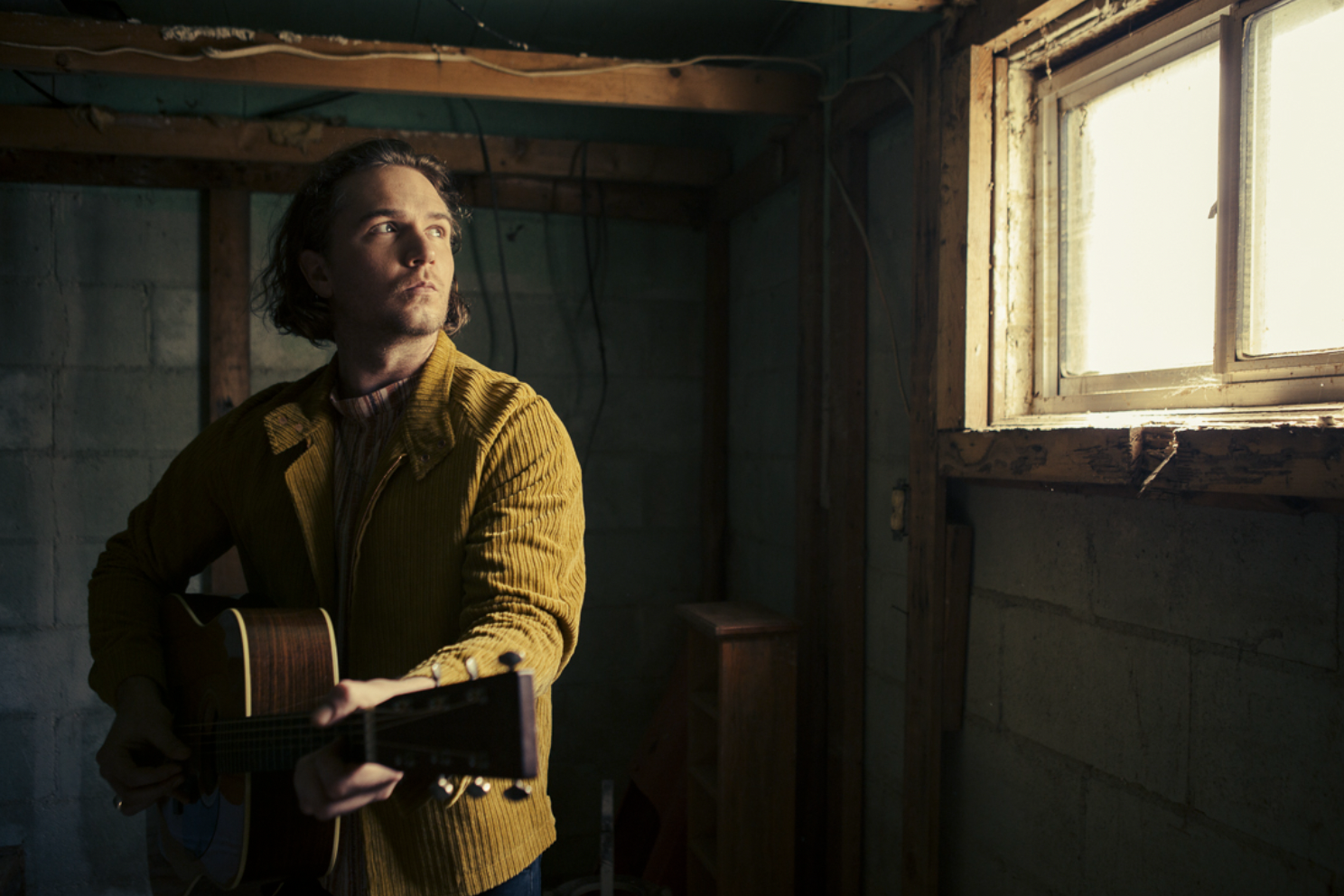 The title of River Fools & Mountain Saints came to Noe before any of the songs, serving as a concept and a guiding principle. "That landscape and that geography of growing up in Lee County, Kentucky," he begins, "I've got so much material I can write about, of stories of all these people and just life in general, growing up there. You think about the river? It's down here, it's  low. And then you got the mountains up high. You can go all over the place with that type of landscape, and that's how the writing starts." Noe indeed explores everywhere between the poles of the mountain and the river: from character studies on "Mountain Saint," to honoring the Indigeous people of the region on "Burning Down The Prairie," to the many veterans of his town on "POW Blues," to the landscape and natural disasters beautifully depicted in "Appalachian Haze" and "Road May Flood/It's A Heartache," which interpolates Bonnie Tyler's classic 80's love song.
To that end, musically, Noe looked to a wide array of influences for this record, from Bruce Springsteen, Neil Young, and John Prine to M.I.A. and Courtney  Barnett . Noe cites Alabama Shakes' self-titled debut and Margo Price's records as sounds that led him to work with producer Andrija Tokic in Nashville. "The fact that I got to work with him is surreal to me after all these years later…romanticizing the sound he's getting here and the name of the place — The Bomb Shelter," he exudes. Noe also expanded his sound with the help of band members including "Little" Jack Lawrence (The Raconteurs) on bass and Derry deBorja (Jason Isbell & the 400 Unit) on keys.
Despite being written in quarantine and in the wake of natural disasters, River Fools and Mountain Saints remains a positive record. Noe maintains it's about good moments growing up in a hard place. But most importantly, it's about music as redemption, romanticism, and release.
River Fools & Mountain Saints Track List
01. Pine Grove (Madhouse)
02. River Fool
03. Lonesome As It Gets
04. Strip Job Blues 1984
05. Tom Barrett
06. Ballad of a Retired Man
07. Mountain Saint
08. One More Night
09. POW Blues
10. Burning Down the Prairie
11. Appalachia Haze
12. Road May Flood
U.S. Tour Dates:
3/25 - Lexington, KY - The Burl
3/26 - Lexington, KY - The Burl
3/31 - Nashville, TN - The Basement East
4/1 - Athens, GA - The Lewis Room at Tweed Recording
4/2 - Charlotte, NC - Neighborhood Theatre
4/7 - Macon, GA  - Grant's Lounge
4/8 - Birmingham, AL - Saturn
4/9 - Asheville, NC - The Grey Eagle
4/19 - Richmond, KY - EKU Center For The Arts
4/22 - Denver, CO - Globe Hall
4/23 - Salt Lake City, UT - The State Room
4/30 - Indio, CA - Stagecoach Music Festival