Ahead of a jam-packed cross-country summer tour that includes festivals and concerts, Kitchen Dwellers released their latest album, Wise River, on Friday, April 29.
The quartet - Shawn Swain (Mandolin). Torrin Daniels (Banjo), Joe Funk (Upright Bass), and Max Davies (Acoustic Guitar) - twist bluegrass, folk, and rock through a kaleidoscope of homegrown stories, rich mythology, American west wanderlust, and psychedelic hues. 
Produced by Cory Wong (Vulfpeck) and recorded in Minneapolis, the whole project was recorded in just four days. Despite knowing that the songs on this album were recorded in a high-tech recording studio with all the bells and whistles that come along with it, the music evokes a sense of wide open skies while the natural Montana landscape permeates through the tracks. It is a big sound that encompasses the big sky country from which it hails.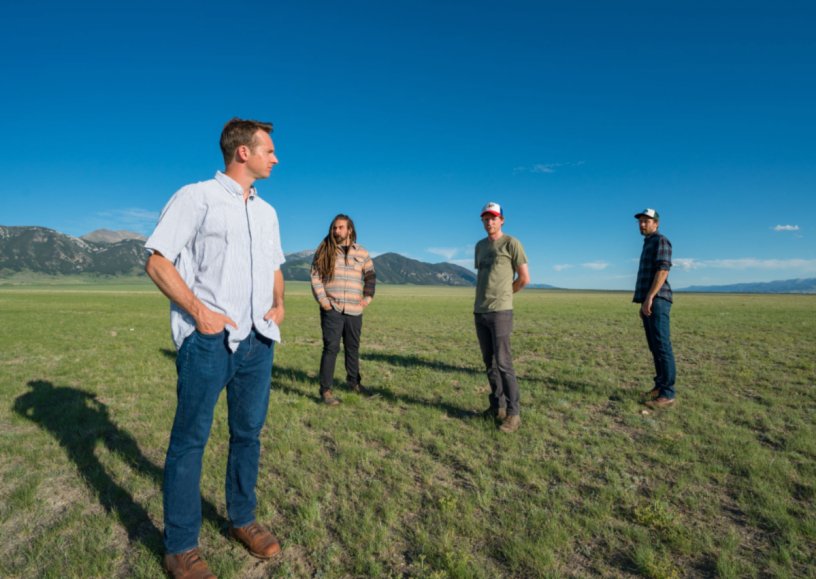 The album's name itself comes from a real place in the Montana wilderness. Wise River is located in the southwestern region of the state, only 2 hours from Bozeman, where the Kitchen Dwellers are based. 
"Drowning…(again)" is a personal track that touches themes of friendship, loss, and addiction, while connecting with the listeners through the familiar strings that give Kitchen Dwellers their signature sound. 
The vocal capabilities of the entire band are on display during "Stand At Ease", a song that you'd be hard pressed to find somebody who hated. 
Songs like "Sundown" are what remind listeners that Kitchen Dwellers are more than just a four piece string band from Montana. This heavy hitting and hard driving style is notably present in their live performances, but until this point in the album, they've refrained from tapping into it. This will surely be one to watch as it transforms and evolves live on stage in the future. 
"I had been working on this riff for quite a while in a sort of banjo-metal fashion," Torrin Daniels said. "I wrote the lyrics during those 'peak quarantine' days in the springs of 2020, and the verses definitely reflect my mental state at the time. The phrases about time receding and the hourglass running slowly reference the elasticity of time, and how our minds can warp when we're confined to one space physically. I think almost everyone can relate to that now."
Straying the furthest from their stringband roots, Sundown is the culmination of a unique type of experimentation and exploration that gives Kitchen Dwellers their own musical lane to drive in.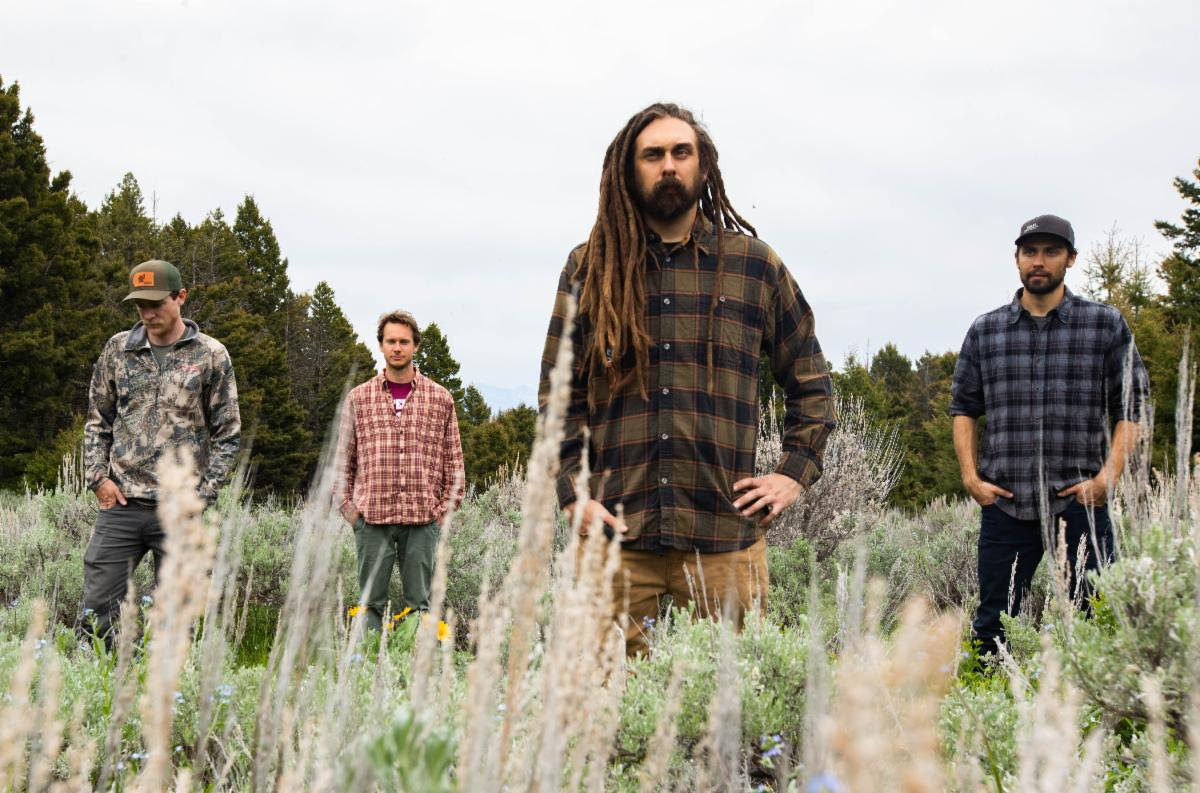 "What it Takes" is a song about long distance love and the struggles it puts on one's heart. It is reminiscent of old school honky-tonk country songs and is quite possibly the most emotional and vulnerable track on the album. 
Personal struggles with relationships, stories of redemption, and self reflection are all present throughout the lyrics in this album. Themes of wanderlust, folklore, and the American dream are all portrayed through a storyteller style of songwriting that meshes perfectly with the band's instrumentation. 
In support of the new record, the band will embark on a nationwide tour which will include their first appearance at the iconic Telluride Bluegrass Festival as well as appearances at venues and festivals across the country including WinterWonderGrass, Sweetwater 420 Fest, Tuck Fest, Bear Shadow, Domefest, Summer Camp Music Festival, Electric Forest, Northwest String Summit, FloydFest, RiverWonderGrass, and many more to be announced. 
You can catch Kitchen Dwellers this summer at one of the many show dates listed below. Make sure to follow them on social media and wherever you stream your music!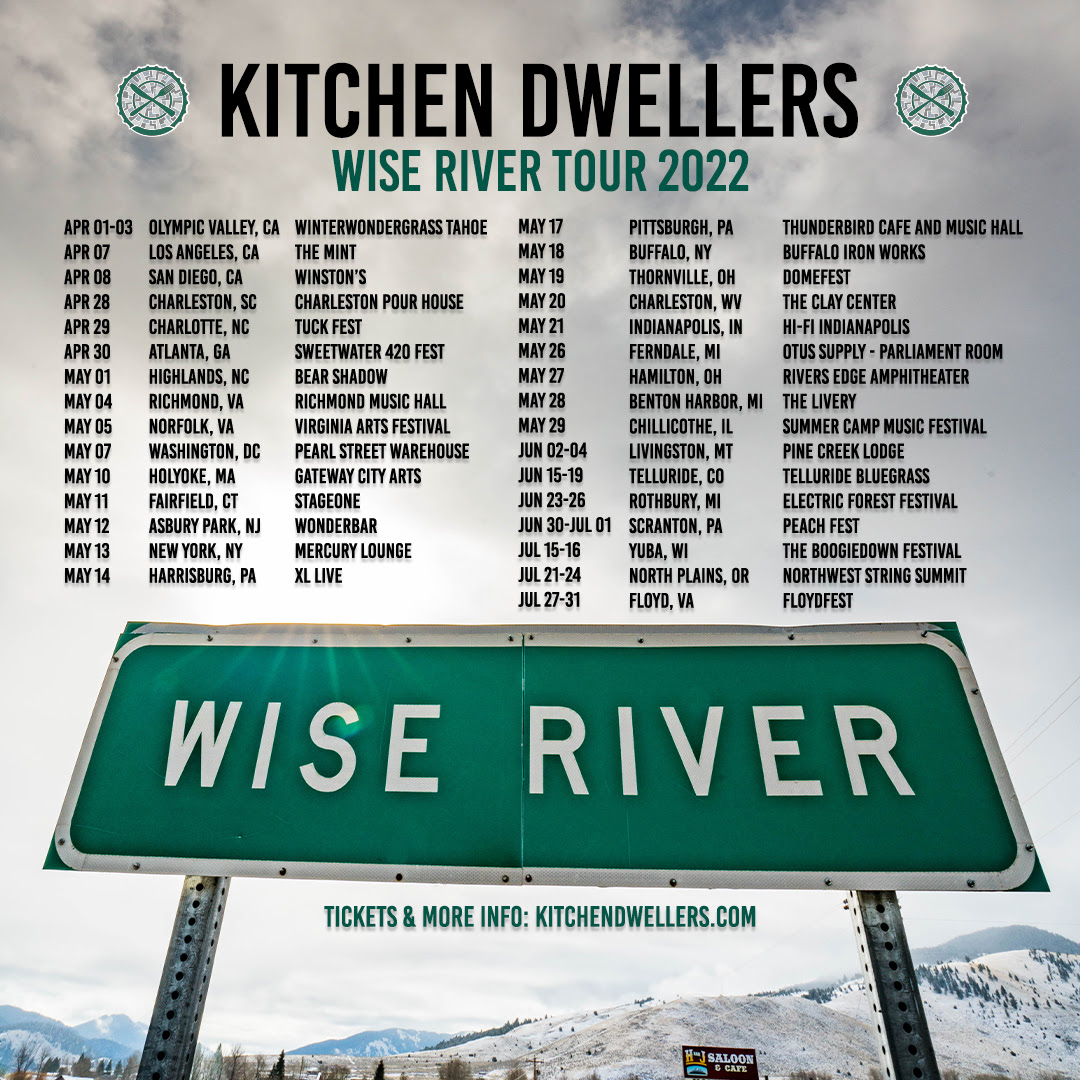 KITCHEN DWELLERS ON TOUR
May 1 @ Bear Shadow | Highlands, NC
May 4 @ Richmond Music Hall | Richmond, VA
May 5 @ Virginia Arts Festival | Norfolk, VA
May 7 @ Pearl Street Warehouse | Washington, DC
May 10 @ Gateway City Arts | Holyoke, MA
May 11 @ Stageone | Fairfield, CT
May 12 @ Wonder Bar | Asbury Park, NJ
May 13 @ Mercury Lounge | New York, NY
May 14 @ XL Live | Harrisburg, PA
May 17 @ Thunderbird Cafe and Music Hall | Pittsburgh, PA
May 18 @ Buffalo Iron Works | Buffalo, NY
May 19 @ Domefest | Thornville, OH
May 20 @ The Clay Center | Charleston, WV
May 21 @ Hi-Fi | Indianapolis, IN
May 26 @ Otus Supply - Parliament Room | Ferndale, MI
May 27 @ Rivers Edge Amphitheater | Hamilton, OH
May 28 @ The Livery | Benton Harbor, MI
May 29 @ Summer Camp Music Festival | Chillicothe, IL 
June 2-4 @ Pine Creek Lodge | Livingston, MT
June 15-19 @ Telluride Bluegrass Festival | Telluride, CO
June 23-26 @ Electric Forest Festival | Rothbury, MI
June 30-July 1 @ Peach Fest | Scranton, PA
July 15-16 @ The Boogiedown Music Festival | Yuba, WI
July 21-24 @ Northwest String Summit | North Plains, OR
July 27-31 @ FloydFest | Floyd, VA
Aug 1-4 @ RiverWonderGrass | Jensen, UT