LIFT Festival, the two-day elevated music experience, has confirmed the first round of performers for LIFT Fest at Whaleback Mountain in the heart of New Hampshire's Ski Country, March 16-17, 2012. Featuring slope-side, outdoor music, the inaugural LIFT Festival offers patrons the unique opportunity to enjoy first-class live music in a picturesque setting - hand in hand with their favorite winter sports.
The festival lineup includes: Ghostland Observatory, Conspirator, Paper Diamond, Orchard Lounge, Danger, Break Science, The Indobox, Alpha Data, AIMES, and the McLovins. Additional artist announcements are forthcoming.
All ticketing options include two days of music and Whaleback lift tickets, and are available now.
Tickets begin at $150 for a 2-day music and ski pass. 2-day VIP music and ski tickets are available for $225, and include: indoor lounge access, access to a private cash bar, VIP-only music sets, a VIP-only viewing area, a limited edition festival poster, VIP laminate, and complimentary shuttle access.
The LIFT Festival will be held at Whaleback Mountain, conveniently located alongside Interstate 89 in Enfield, NH. Whaleback Mountain is 2 hours from Boston, 1.5 from Burlington, VT, 5 hours from New York City, and is just 15 minutes from White River Junction, VT where 89 meets Interstate 91.
Travel and shuttle packages from CID Entertainment will be announced soon!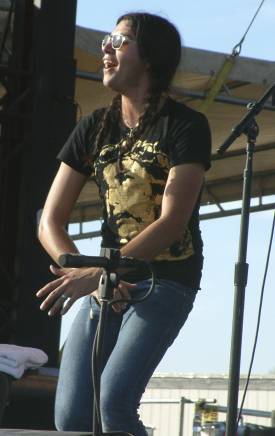 Stay tuned to www.LIFTfest.net for more exciting announcements about the Harpoon Beer Garden and more up until the festival.
Confirmed LIFT Festival Artists
Ghostland Observatory
Conspirator
Paper Diamond
Orchard Lounge
Danger
Break Science
The Indobox
Alpha Data
AIMES
McLovins
About LIFT Festival
The 2012 LIFT Festival is your first taste of a brand new, two-day, elevated music experience in the heart of New Hampshire Ski Country. Its founders and organizers are a friendly team of veteran music fans at heart. LIFT Festival organizers have attended every major U.S. festival as both patrons and staff members, and are dedicated to delivering a welcoming, unique winter music experience that they'll love just as much as you do.
About Whaleback Mountain
Whaleback Mountain is intertwined with the proud tradition of New England skiing that dates back a hundred years, with New Hampshire being called the cradle of U.S. Alpine skiing. Whaleback Mountain LLC was created in 2005 by Evan Dybvig, Frank Sparrow, and Dylan Goodspeed, with the mission to create a year round action sports facility. In the winter, Whaleback is a ski & snowboard resort, with classic New England skiing and riding mixed with action sports features.  In the summer, Whaleback hosts a wide variety of sports and camps for paintball, inline skating, skateboarding, pit bikes, BMX, mountain bikes and a skate park in Hartford, VT.