The great thing about a small venue like the Bluebird is you can literally feel the music.  You can feel the floor shaking to the beat as people dance and jump about.  You can feel the bass and kick drum in your chest. You can talk to the artist on stage, and they'll talk back.  It's an intimate experience, which is a good thing for a band like Lucero.
Lucero is a punk/southern rock, alt. country band out of Memphis, Tennessee.  They've been playing since 1998, and have added pieces to the group along the way.  The members of Lucero are Roy Berry (drums), John C. Stubblefield (bass), Brian Venable (guitar), and Ben Nichols (guitar & vocals), and occasionally Rick Steff (piano, organ, accordion).  There's also a horns section in a few of their songs.
Lucero played three packed nights at the Bluebird Theater on Colfax 4/20 weekend.  Friday's sold out show had the crowd spilling out over the aisles and crammed into the front rows.  These fans are diverse, to say the least, ranging from 16-year-old girls to 40-year-old men (not together, I don't think).  I met a couple from Philly, a group of guys from Wyoming, and a girl from South Carolina.  It was funny to hear the Wyoming boys singing at the top of their lungs "I'm just another southern boy" in "Tears Don't Matter Much."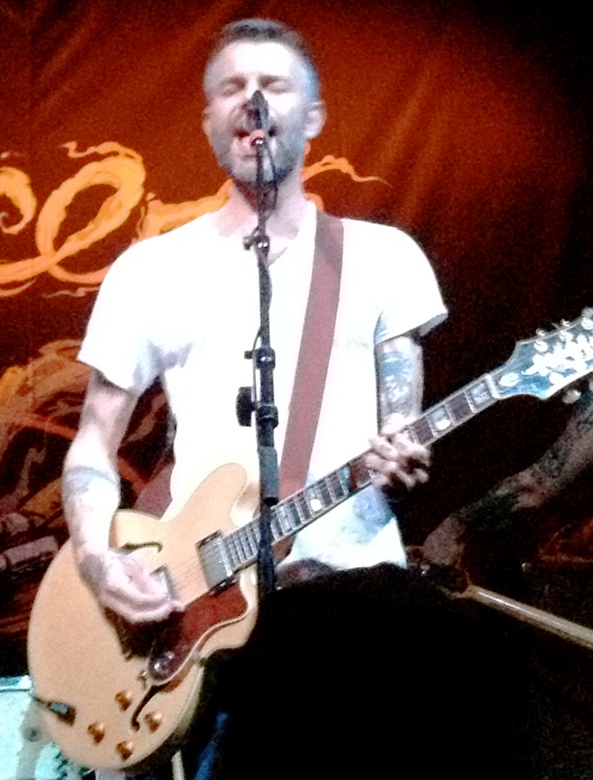 If you've ever listened to Lucero, there are a couple of themes that run through their songs:  alcohol and women.  Frontman Ben Nichols started off the show asking the crowd "are you as hung over as I am?"  In "I ain't so Lonely," Nichols sings "Been awhile since I've seen myself act like such a fool," then adds "about 24 hours."  Then in "Downtown" the frontman promises he'll behave, to which guitarist, Brian Venable shakes his head.  All the while, Ben is taking crowd-bought shots.
To understand the "type" of music Lucero plays… it would help to know a little bit about Memphis, Tennessee.  Memphis is the New Orleans of Tennessee.  A southern city with delta influences.  Lucero comes from punk roots, mixing heavy guitar, and rock beats with a horns section and an accordion, making for a sound as unique as Memphis.
Ben Nichols voice is as grizzled as he is, and as sexy too.  Nichols flirts with his fans from stage, sometimes decades younger than him; the girls don't seem to mind a bit of gray hair on the frontman. Nichols is constantly tuning his guitar while he's singing.  It reminds me of Bob Dylan tuning the guitar to match his voice, since Nichols' voice is never really quite on pitch.
It seems the band loves another thing as much as they do alcohol and the ladies, and that is tattoos.  Nichols and both the bassist and guitarist have arms covered in ink.  Both Stubblefield and Venable were sporting tattoo parlor t-shirts.  Stubblefield even gave a shout-out to a Denver tattoo shop, saying they had fresh ink done while they were in town.  Ben's new tattoo:  "Hey" on one arm "Baby" on the other.  Did I mention he's kind of a flirt?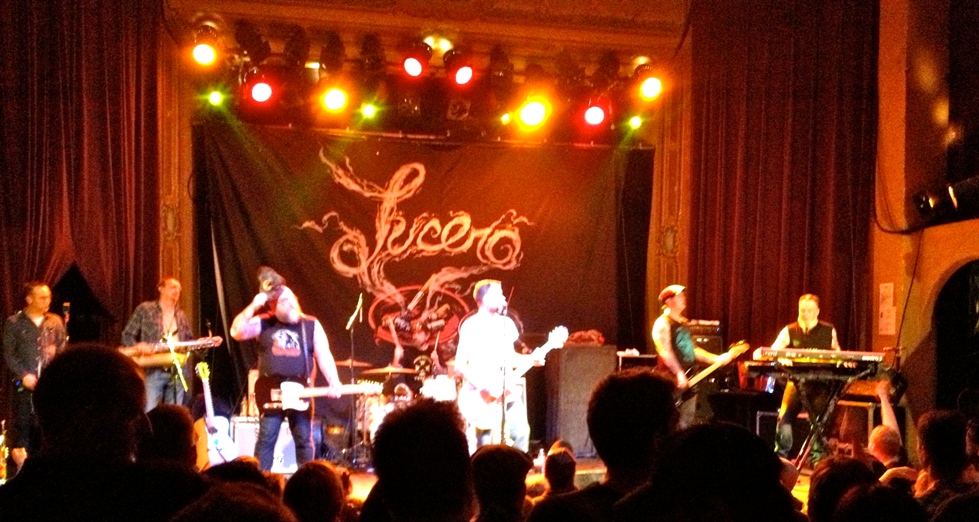 My only complaint:  The show was 16+ and you could tell.  The band left the stage at one point, leaving Nichols to do a solo acoustic set.  The songs were some of Lucero's quieter, darker, more solemn songs.  There were girls talking loudly with no regard for the talent on stage or the devoted fans around them.  Then in the middle of a heartfelt song to his mother, "Mom," two guys broke out into a fight.  That's when I saw something I've never seen at a show before.  Nichols stopped the song midway through, and scolded the two young men from stage saying "I don't care who's right or wrong, you don't fight during "Mom."  He then picked back up and finished the song.
The acoustic set was a nice changeup in the middle of the show, slowing things down.  One girl yelled "boring."  And though Nichols apologized for the slow set, he quickly followed up that apology by saying that the slow ones are some of his favorite (mine too), so he played more.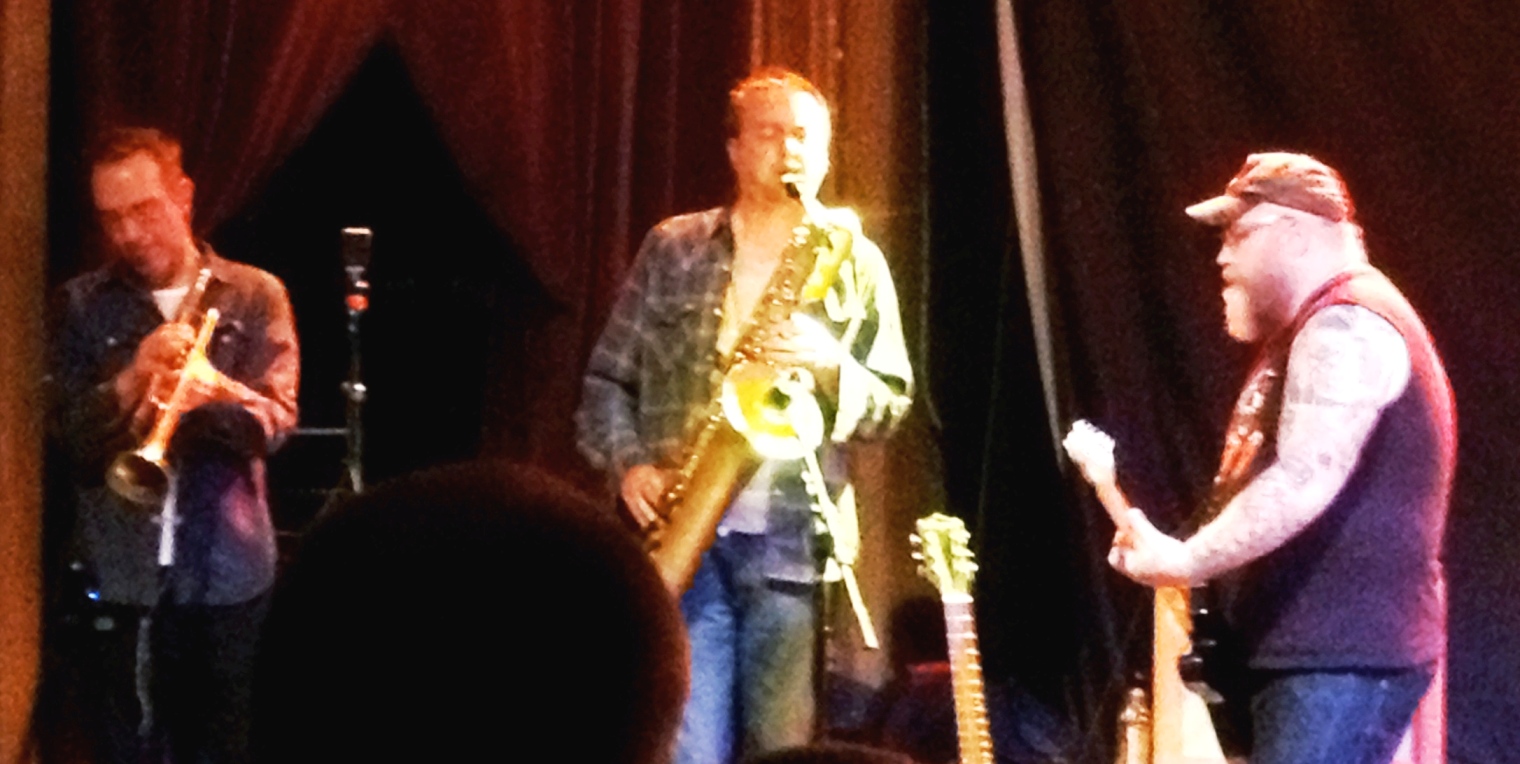 Highlights for me:  The Townes Van Zandt "Colorado Girl" cover, "Slow Dancing," "Nights Like These," and "I Ain't so Lonely"
Another highlight:  the opening group Langhorne Slim and the Law.  The sleeveless storyteller seriously amped up the crowd.  And we were in for a treat:  blues musician, Otis Taylor joined Langhorne and the Law on stage to do a rendition of "Hey Joe."
Lucero just released a 4-song EP this week, more songs about booze, ladies and the south.