It was some lucky night. I got to see M. Ward perform at the Boulder Theatre. He has a new album out, A Wasteland Companion. It's safe to say that Ward is devoted to his craft. Wasteland is Ward's seventh studio LP since 1999. Some of Ward's other work includes a successful side project, She & Him, with Zooey Deschanel on vocals. She & Him has so far produced two LPs and a Christmas album. She & Him sounds like sweet 60's pop, full of heartache and sunshine. Furthermore, Ward is one of the members from the super-group Monsters of Folk, which includes Jim James of My Morning Jacket and members of Bright Eyes.
I don't want to get caught up in stupid categorizations, but most would agree that Ward is in love with American Rock n' Roll pioneers, musicians like Buddy Holly and Chuck Berry. (Ward has, for example, covered Berry's "Roll Over Beethoven.") And this may not be what you think of when you hear "Chuck Berry," but Ward's albums have a soft tender quality, full of haunting melodies. At times, it's as if he's whispering sad lullabies in your ear. It's personal, confessional and emotional. He's a notably talented and sincere songwriter; and, in addition to that, his guitar work is outstanding –excellent. The body of work is loaded with real musicianship. The songs are subtly and superbly orchestrated. And it's varied, both steeped in Americana and universal –from western roots to modern soaring skies.
The theatre was of course filled with eager fans, but it was not ridiculously crowded. The crowd was youngish to about middle aged. They were good normal folks and true music fans. First, the night began with an interesting and somewhat eclectic opener called Princess Music. Along with the front man on guitar and the drummer and bass player, there was a cellist and violinist. They had good musical energy. The singer (clearly skilled on lead guitar) worked hard up there and did a good job delivering to the crowd.
Then, what we've been waiting for, Ward took the stage. His band came out first: bass, drums, keys, and rhythm guitar. Ward immediately followed wearing a casual black, collared shirt. Cheers were coming from the crowd. Ward got his guitar ready, and he got right to business.
The first song was "Post-War" from the 2006 album of the same name. This quiet opener was just Ward on guitar while the drummer provided a soothing beat. The song goes, "I know when everything feels wrong. I got some hard, hard proof in this song. I'll know when everything feels right, some lucky night –some lucky night." It's an aching and nostalgic song. The audience was totally engaged and would remain that way for the whole evening.
The second song, the first with the whole band, was "Paul's Song" from 2005's Transistor Radio.  It's such a lonesome song. I picture an empty Hank Williams bar in some lost nameless town on the road. The country twang of the guitar cries in the background while Ward sings about the sky falling and a heart left out in the pouring rain.
After that, Ward strummed his guitar as he went into "Clean Slate," i.e., the opening track from A Wasteland Companion –a slick, shadowy, and hopeful song.
The first three songs were wonderful, but it started to pick up more with a song called "Watch the Show" from Wasteland. The song is heavier, and it moved forward like a mean mid-tempo locomotive. The lyrics have a dark and desperate theme that has to do with media, reminding me of films like Videodrome and Network, which portray sleaze-balls, cutthroats and mass manipulation –stories where the individual trying to hold onto his soul is coldly left behind and lost.
"To Save Me" from Hold Time (2009) pounded, and people were swaying and dancing. Then Ward played "Four Hours in Washington" from Transistor Radio. I felt better listening to "Four Hours" because I've been battling something like insomnia recently; the song describes a restless night that sounds too familiar to me. Ward, soon after, went into "Poison Cup," a favorite from Post-War. "Poison Cup" was strong live, delivered with a boiling gusto. We heard "Sad, Sad Song" from 2003's Transfiguration of Vincent. "Sad, Sad Song" demands as much from its listeners as an old blues song does. And there was "I Get Ideas" from Wasteland, which is actually a jazz standard performed by greats like Louis Armstrong.
Ward's guitar began erupting more and more. And, even though the same aggressive, gritty, soaring and almost distorted guitar happens on recordings like "Me and My Shadow," this sort of instrumentation is what really made the live experience worthwhile. Forget about a slickly produced CD –this folk-rock show did get dirty, and it was pretty awesome.
Other great songs we heard were "Helicopter" from Transformation of Vincent. (The percussion sounds like W. S. "Fluke" Holland – i.e., Johnny Cash's drummer – is playing it.) And there was "Requiem" and "Rollercoaster," both from Post-War.
After "Rollercoaster," Ward stopped to say hello and mention this was his first time playing in Boulder. He stood up there with his black wavy hair, shocked with gray on the sides, discussing the area's beauty. It was a cool little moment between Ward and the crowd.
Ward then played Buddy Holly's "Rave On," which is a track on Hold Time. And, from Post-War, "Chinese Translation," I can still hear the song in my head… "What do you do with the pieces of a broken heart?" And then there was "Never Had Nobody Like You" from Hold Time. Lastly, before the encore, Ward finished with "Primitive Girl" –the melodic single from Wasteland shimmered.
The first encore was just Ward on an acoustic guitar, sublimely strumming and slapping and shredding it up like a madman, hypnotizing the crowd for what had to be at least 5 to 10 minutes.
The second and last encore was with the whole lineup, but Ward jumped on the keys this time, and they played "Big Boat" from Transistor Radio. Ward pounded away on the keyboard, and the place was rocking; the theatre rocked back and forth, and it was "enough to bring the party down."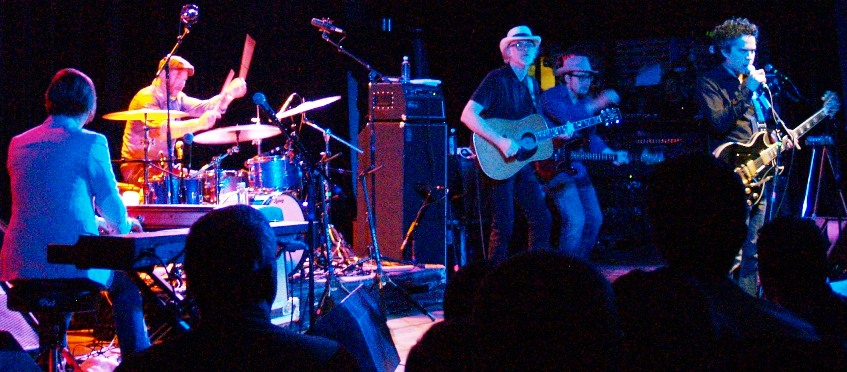 The lights came on and everybody exited the theatre. People gathered outside under the marquee, and then they eventually began to disperse under the starry nighttime sky. They went home or off to an early morning adventure knowing that they just experienced a fine and true performance –good stuff. And everybody felt and knew that it was a night well spent, a lucky night, with M. Ward at the Boulder Theatre.