Northeast rock quartet Marble Eyes, the collective that has been captivating audiences with their unique blend of "rock & roll for the soul," is thrilled to announce the release of their second single, "It's Your World (We're Just Livin' In It)," from their much-anticipated sophomore album, Hunting with Comets.
"It's Your World" is a buoyant and uplifting track that showcases the versatility and talent of the band, featuring world music influences, including a calypso drum beat that is sure to inspire listeners to hit the dance floor. The song blends bright, harmonic interplay between Max Chase (keys) and Mike Carter (guitar) atop Eric Gould's sprightly bass riffs. Renowned drummer Adrian Tramontano enhances the song's vibrant energy with an impressive suite of layered, syncopated percussion.
"We tracked this song at a Summer Camp. It was such a fun experience as we all spent a day playing around in camp world," explained Eric Gould. "The secret sauce was Adrian, he walked around the camp fully inspired and found a whole bunch of percussive ideas. Then he came back and laid down a bunch of awesome layers."
LISTEN | It's Your World (We're Just Livin' In It)
"It's Your World" is a testament to the band's evolution and commitment to creating music that connects souls. Born out of a virtual residency held during the pandemic, the album features over 70 songs penned together by the band, showcasing their ability to create compelling narratives through music.
"I use the expression 'it's your world' a lot when I'm talking. It's not a negative thing, I just think everyone has a very specific energy. Lyrically, one verse is about romance with a strong personality and another is about someone specific in the music scene. He always makes sure all of his people are taken care of. It's just in his nature!" Gould adds.
In recent months, Marble Eyes has continued to be a beacon of creativity, proving the resilience of music in even the most challenging times. With members hailing from acclaimed touring acts such as Pink Talking Fish, Twiddle, Kung Fu, Particle, and The Indobox, Marble Eyes offers a unique blend of musical prowess that resonates with fans nationwide.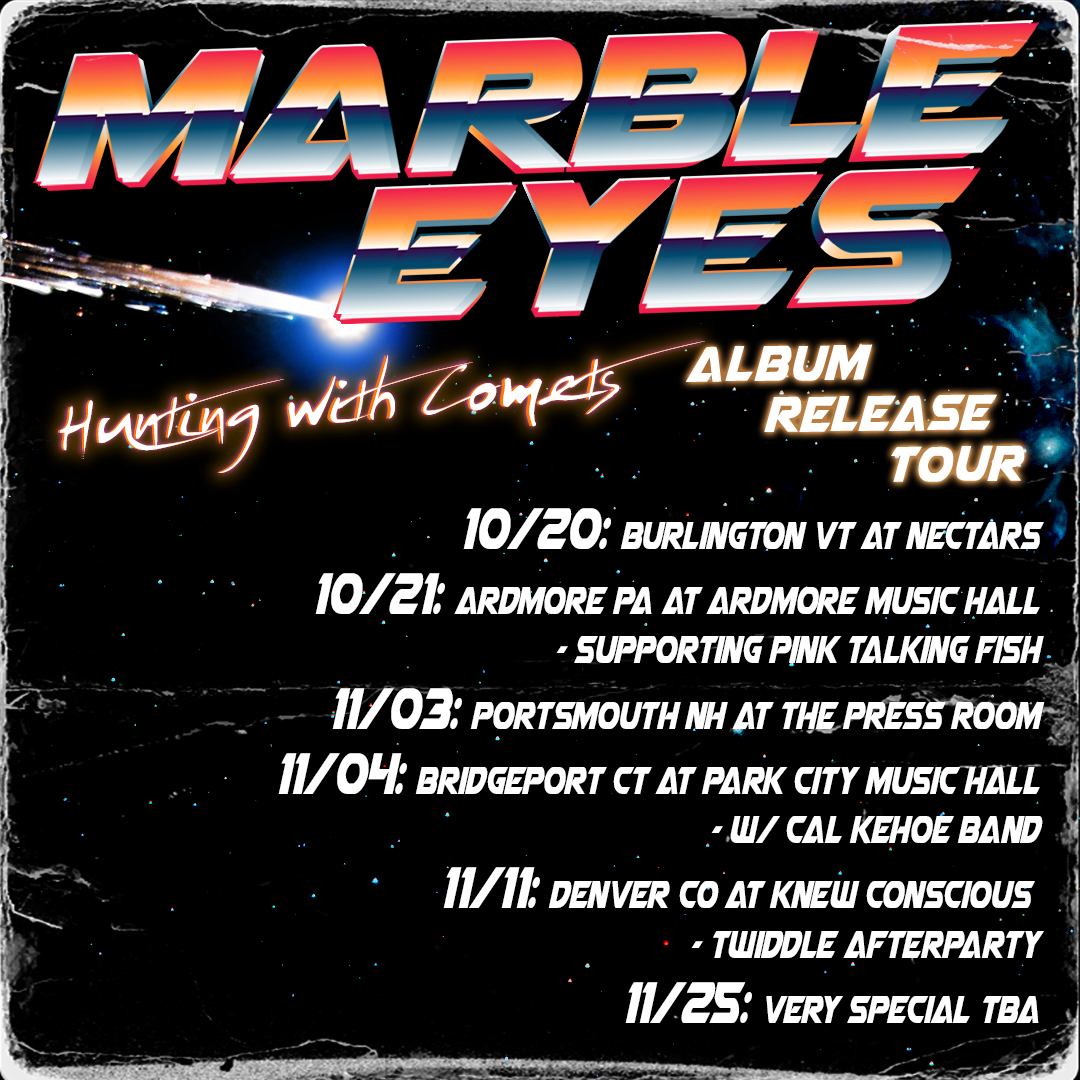 Listeners can look forward to experiencing "It's Your World" and other tracks from Hunting with Comets live this fall, as Marble Eyes embarks on their tour across the East Coast and Colorado. The tour will feature performances in Burlington VT, Ardmore PA, Portsmouth NH, Bridgeport CT, Denver CO, and more cities yet to be announced.