Over the years I have always thought of Mark Knopfler as one of my favorite guitar players and I always regretted missing him play live. Last night I figured out why. He was awesome. I was not quite sure what to expect – which was kind of nice for a change. Too many times I know what I am in for and I get just that. But, I have never seen MK and this was going to be a first time for me.
When we arrived at Red Rocks I could not help but notice all the fancy cars. Not quite what I would expect for fans of MK (But, what the hell do I know). The crowd varied from Colorado Republicans to Mike Moran (of course, he is in a category all by himself) But, he did have a great deal of commercial success – Money for Nothing (which I still think is one of  Rock n Roll's greatest guitar riffs – Dave & Helena both saying it is a crappy tune – Bull shit. Some people just don't like anything with commercial success  - Dave). This was my only show for the year (one show per year = 16 month old) so I was determined to do some tailgating before the show. Mike Moran (Grateful Web president and incredibly lucky bastard) was able to get a 13th row ticket for 30 bucks when pulling into the lot.
Back to the show – Mark was simply just a master. The thing that I liked most about Mark (besides the fact that some of the guitar solos were just mind boggling) was the interesting range of his repertoire. And, the varying tempo changes from tune to tune. Mark obviously has musical roots from Americana to Celtic to Rock 'n' Roll. He developed a uniquely MK style of playing that stemmed from years of listening to some of the greats – Chet Atkins, John Lee Hooker, Dylan. He played a soft ballad – Romeo and Juliet to Sailing to Philadelphia to Telegraph Road (absolutely rockin last night by the way). The guitar playing had moments of utter sweetness to totally rockin depending on the mood of the song. The one crucial element for any guitar player is emotion. And, emotion flowed through MK and his hands the entire night. He played so many ranges and just mastered them all – Sultans of Swing. –Incredibly flawless solo that just took me on a journey.
Of course, MK had a sweet band playing with him. They of course deserve credit. Piano – Hammond organ- guitar-bass-drums. I don't know names of the band members.  – Remember, I am just a novice at reviewing music and I am just trying to help out the family business by writing something since I was at the show.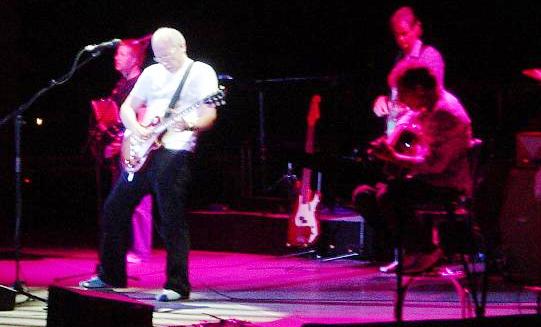 The show was sweet. The tunes were sweet. They kept the show interesting by varying the tempo. The guitar playing of MK took me on a journey which I find to be more and more rare these days. When I see live music I want to be taken on a journey that leads me through peaks and valleys and leaves me in a place where I always want more. At the end, I wanted more.