Some things never change.
It's already out that Mazzy Star's Seasons of Your Day—their first album in some seventeen-odd years—is a lark's call back to '82 and the Paisley Underground, boasting the same beautiful shoegaze melodies behind She Hangs Brightly and So Tonight That I Might See that so endeared singer Hope Sandoval, guitarist David Roback and company within their underground circles in their heyday.
Mazzy Star's current tour in support of Seasons finds the band quite comfortable in that old form—Sandoval's voice is just as haunting; Roback still orchestrates his minimalist band with quiet mastery—and the duo's following is strong as ever (don't get me started on how near-impossible it was to nab a pair of tickets to the tour's Boston leg...)
On that note, actually, let me just say I was quite surprised to see a Mazzy Star date in Boston at all—apparently, their last time through the Paradise was a borderline-toasty brouhaha amongst the crowd. Thankfully, this evening's audience was categorically respect, a dyed-in-the-wool collective of early-Nineties children out for a Thursday throwback—needless to say, there was plenty of plaid and broken-in denim in attendance—and, aside from a few stray flashes and cat calls, the show went along incident-free. From a venue that I've seen turn into a drunken ruckus when Blind Pilot and the Low Anthem came to town, that's saying somethin'.
Let me also mention for a minute here why any of that's significant—you see, Ms. Sandoval's got something of a complex when it comes to performing in front of an audience, and she's not exactly known for well-faring when a crowd turns rowdy. Still, for such a notoriously stage-averse performer, she sure can command a room—when the girl opens up and sings, it's almost mesmerizing—even standing perfectly still in the grey and blue.
Mazzy Star's set design goes right along with their lead singer's stage disposition—the dim room was illuminated only by a few candles, while subtly shifting imagery played across a backing canvas—dark, minimalist psychedelia. For a while, I felt like I was on a trip to '67.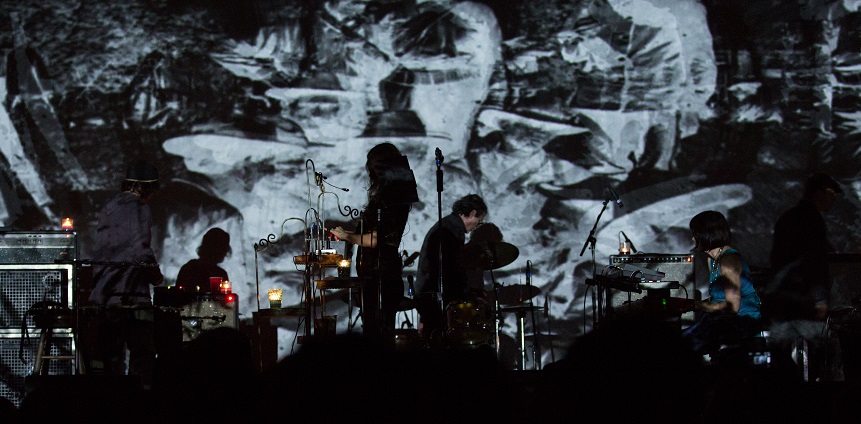 Now, as for the performance itself...
First off, the important thing to remember is, what you're getting with Mazzy Star is a true-to-form rendition of their studio material, no more or less—on this night, Sandoval said precious little between songs (though she did keep on about how cold Boston is in winter), while Roback and the others remained silent throughout—their brand of live show is certainly at a far end of the spectrum, and it won't appeal to concert-goers seeking any sort of pomp and flare. But, for the rest of us, damned if the band can't play on the spot.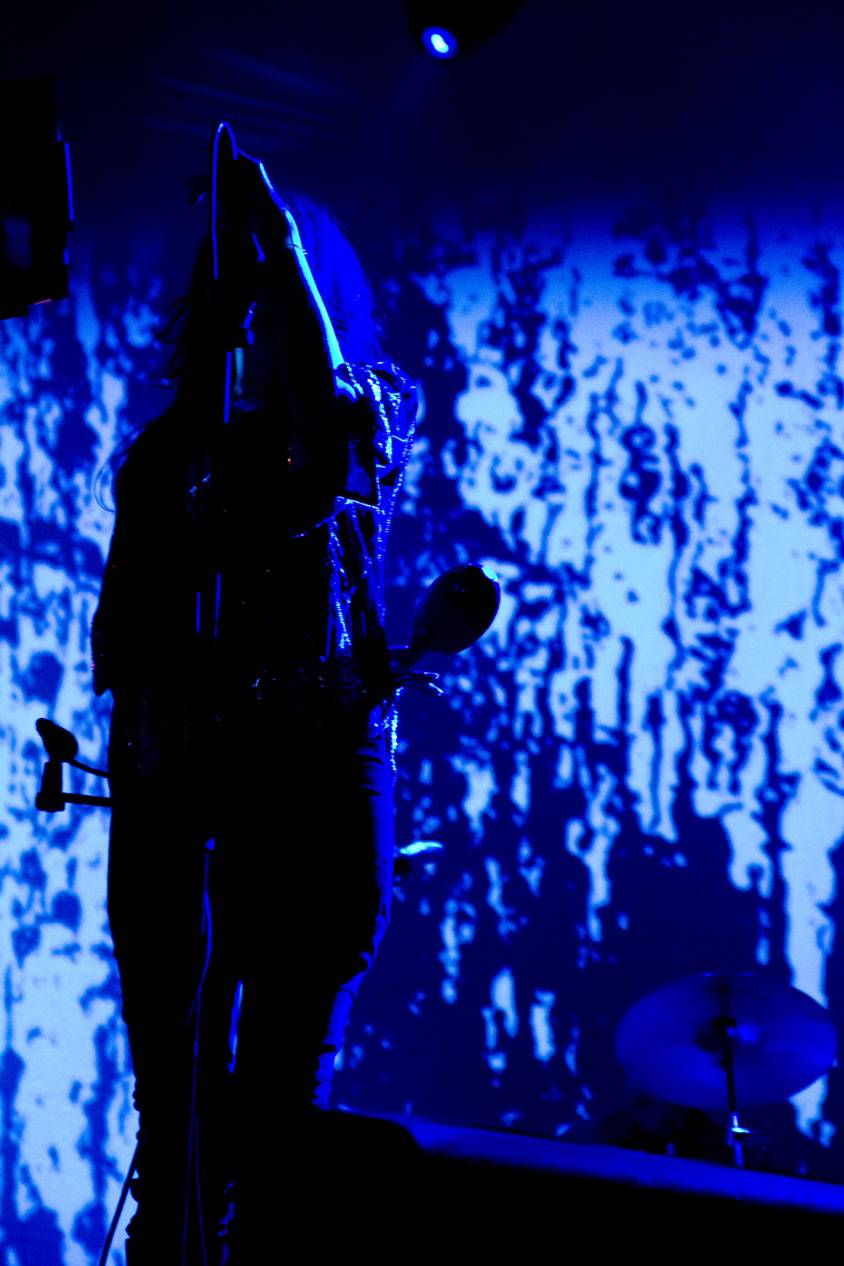 For a band that survives on sparse, hushed arrangements, Mazzy Star's live sound actually filled the room at the Paradise quite nicely, if I'm saying so me-self. The night's set featured a healthy balance between stripped acoustic numbers—where Sandoval's voice came off particularly affecting in echoes over David Roback's lonesome guitar—and classic full-band psychedelics, replete with keys, strings, and tight drum breaks to keep it all in line. Old standards were pulled alongside tracks from Seasons, each and every one to short, appreciative applause. The scene reminded me of the classic Unplugged showcases that used to air with the likes of Alice in Chains and Nirvana, back when everyone and Kurt Loder were wearing flannel.
Much of Mazzy Star's appeal comes from their faithfulness to genre and the cohesive nature of their live set list. To be sure, classic tracks like "Fade into You" could've been written a day before the closing "California." Even the psychedelic acid-tinged freak-out that ended the first encore (yes, there were two), which saw Roback and his backing band exploding with a sound that'd make ya feel like you should dig in for some tantric sex and start worshiping Satan while Sandoval riffed on lines straight from the Lizard King's mouth, fit in just fine with the rest of the more subdued offerings.
In the end, I've really got nothin' to say about Mazzy that isn't already common knowledge amongst the initiated—I'm just glad our girl Hope decided to brave the Boston winter and show-stopping heathens so's I could see what all the fuss was about with my own specks.