The venue's Velvet Jones, a small-to-medium set in downtown Santa Barbara with Zion-I headlining—my first California show. Born and bred in New England, I had zero idea what I should be expecting from the Friday night gig out here on the western coast.
I arrived early to a long line out the door. The crowd was a mixture of flannel-sporting college'ers and local twenty-somethings looking like they'd only just transplanted the few miles south from Isla Vista and traded in their hoodies for button-downs over the summer—something similar to what I've come to expect in Boston somewhere like Brighton or the Paradise, albeit with that quintessential Cali touch tossed in.
The real difference here came out with the openers—Vancouver's Aileron offered borderline mainstream pop-hop with some residual underground flair, MkSmth (jockey Mike Smith) lent an electric trap breakdown midway through that hit me wholly unprepared (like a strong kick to the head—I still haven't shaken the set), and Sol's introspective, lyrical verses provided an ideal transition to headliner MC Zumbi's same-tribe style—yes, I'll admit this was a laundry list of unknowns to me at the time, but those in the audience knew every line, every drop. Or at least they were feeling them—this was simply one of the most enthusiastic audiences I'd come across in a long time, regardless of who climbed on stage next. An eclectic set, sure, but hell did they take it all in stride.
The crowd sufficiently prepped, Zion-I emerged. Theirs was a veteran set—as expected—running the crowd through old tracks circa Mind Over Matter and beyond, radio-friendlies like "Coastin'" and its ilk, and then of course a handful of tracks from their newly-minted Masters of Ceremony extended play, all met with the same enthusiastic rolling and bobbing throng facing the stage. Far as my opinion matters, there wasn't a weak link in the bunch.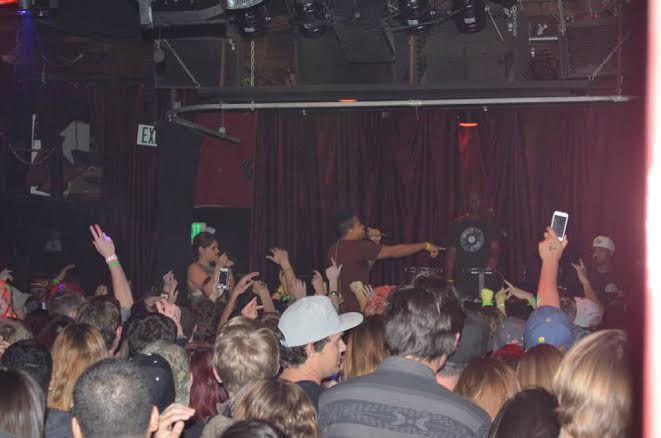 It's a heady feat to fly through a decade-plus worth of material and still have everyone tagging along right there with you, enjoying the ride, but that's precisely what we had here. Not a flinching moment from the masterful Zumbi, and Amp Live's turntables were on point. Factor in the duo playing for their West Coast home base, and there's that little extra special sauce to really make this one a solid entry in Velvet's log.