I have to admit, when I heard several months ago that the Mile High Music Festival would be recycling headliners, and only a few years into its tenure on the festival scene, I rolled my eyes and considered skipping the whole thing this year.  I mean, Dave Matthews is only one of thousands of musicians suitable for headlining a festival with Mile High's demographics, and for a festival trying to establish itself as a player on the scene, having essentially the same lineup year after year seems like a bad decision.  Let's face it, Dave Matthews, Jack Johnson, Tom Petty, and The Fray can be generally lumped into the same category of music – unassuming, radio-friendly pop rock.  The only exception to this three-year trend of fun-for-the-whole-family headliners was Tool, who picked up the Saturday night headlining spot last year.  A bold choice for a family-friendly festival, but one that brought in far more revenue than The Fray did on the following night.
Granted, I may be a little bias.  I would rather see My Morning Jacket than Jack Johnson any day of the week, and I'm pretty sure that Phoenix's Thomas Mars is no less than 30 times cooler than The Fray's Isaac Slade, but recycling headliners?  Really?  Three years in and you can't think of anyone more interesting than someone we've already seen?
Okay, so the headliners were not what you would call innovative choices, but I'm prepared to eat my words in many other ways.  Here are the highlights: fake mustaches, seven-foot dreadlocks, eight-foot bongs, Space Cowboys, manic harmonicas, rock and roll's coolest couple, and a funky-fresh salsa-rap chorus line.  All and all, not bad for a weekend in the Mile High city!
The weather gods were particularly kind to the good people of Denver on Saturday.  August in Colorado is usually a pretty wretched month heat-wise, but the temperature never climbed above 70.  And yet, the sun was shining and the clouds were few.  Weird thought the weather was, it was possibly the most awesome thing ever, because a field full of music-loving hippies and hipsters being beaten on by the harsh summer sun starts to smell pretty bad by about two in the afternoon.  But by the time Donovan Frankenreiter took the main stage, right at about the stinky hour, the crowd was still springtime fresh.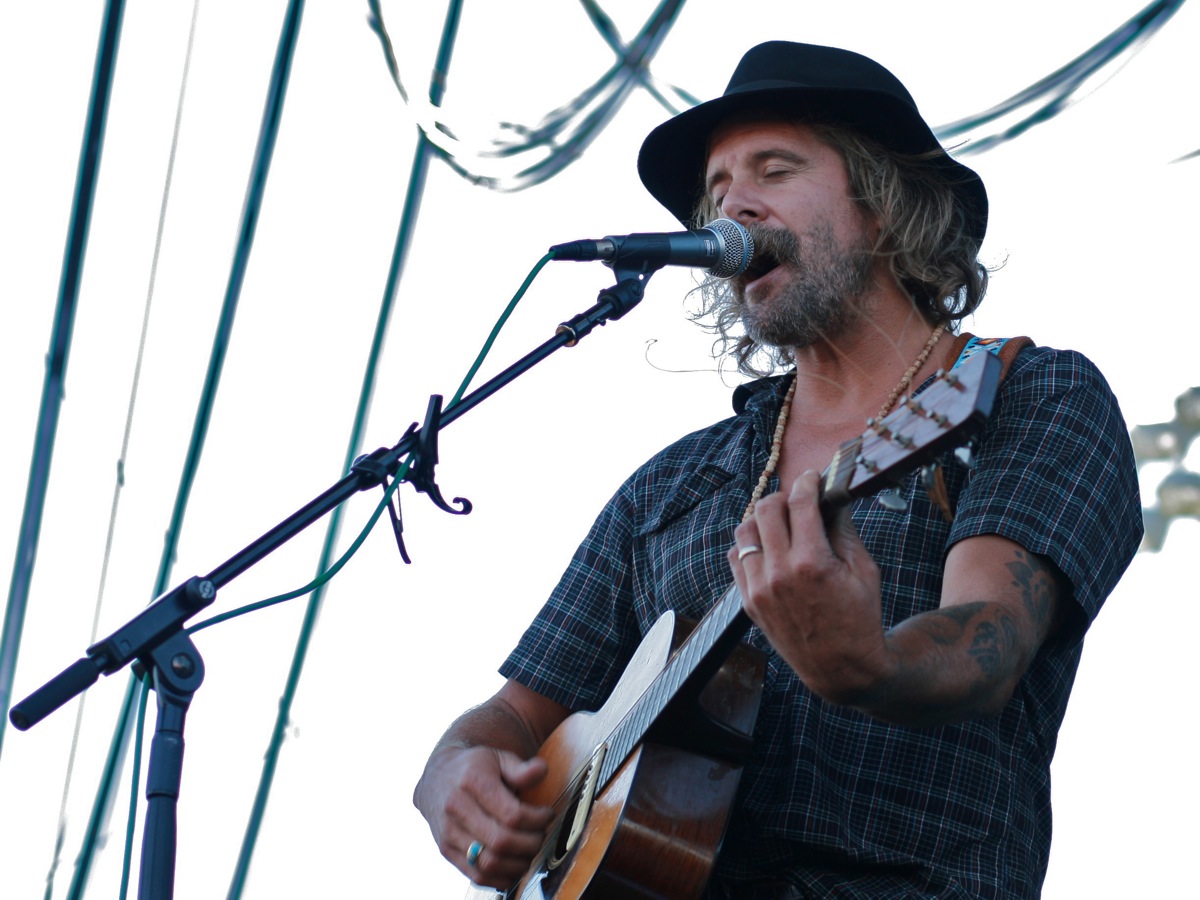 They were looking pretty good too!  Someone was handing out Donovan Frankenreiter mustaches, and guys and girls alike were sporting the facial finery with pride.  Frankenreiter's good-timey rock and roll was a nice little middle of the day boost – carefree and easy going, the sound of summer time!  During his set, Frankenreiter covered Tom Petty's American Girl, and got the crowd singing along to last summer's hit Life, Love, and Laughter.
I wandered across the grounds, in the general direction of where the recently reunited Samples where about to start playing.  I stopped by Amos Lee's tent for a few minutes, to soak up a little rhythm and blues.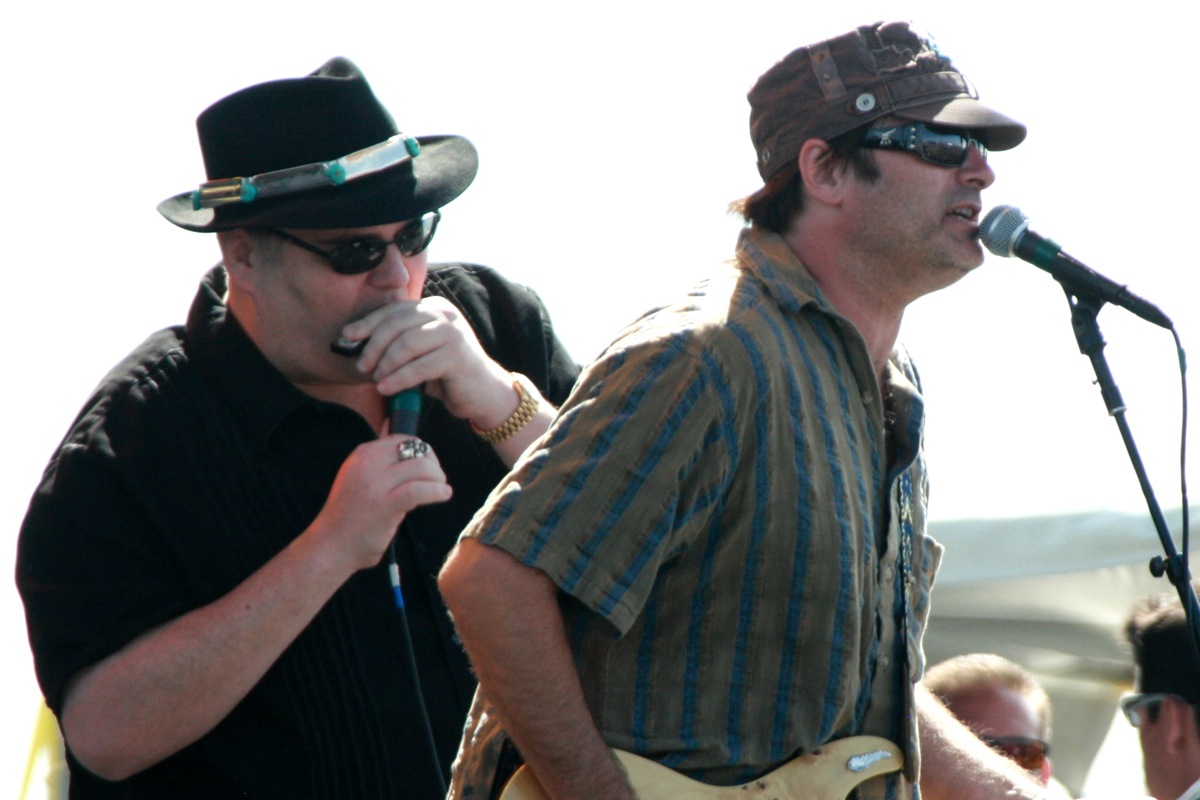 The Samples, I'm told, were kind of a big deal at one point.  The crowd was out in full force for these hometown heroes from Boulder, CO, playing together again with all of the original members for the first time in something like 17 years.  The length of their hiatus made the decision to play a set filled with many of their lesser know tracks even more ballsy.  I'm not sure that the crowd entirely appreciated it.  Although they were actually pretty boring to look at, when The Samples found their groove, the reggae-pop got downright hypnotic.  The highlight of their set was an appearance by John Popper of Blues Traveler, rocking the harmonica so hard that most normal people would have passed out from lack of oxygen.  It was the coolest thing to happen to the Samples in 17 years.
The reggae, or some fashion of it, was about to continue across the grounds at the main stage.  Nas and Damian Marley, and their fusion of hip-hop and reggae music, were drawing a serious crowd of people from all walks of life, from real life Rastafaris to rap loving frat boys.  But that's kind of the point behind this particular act.  Touring in support of their latest collaboration, Distant Relatives, Nas and Damian Marley have received wide praise for their bold yet unpretentious hybrid – born of two greats in their own genres, each a front man worthy of his own spotlight, coming together to make music bigger than either one of them.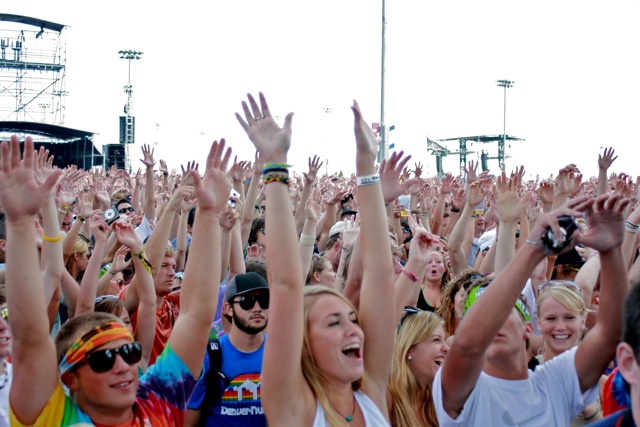 The show opened with a DJ, warming up the crowd and switching back and forth between hip-hop, reggae, and dance remixes.  "The forecast in Nas and Damian Marley's trailer is 100% cloudly!" he bragged as he introduced the main event, referencing the duo's fondness for herb, a fondness shared by about 90% of the audience.  While these two Distant Relatives spat rhymes against the backdrop of the Lion of Judah, the backup band put the audience in a dancing fever with pounding bass, island rhythms, and scorching guitars.  The juxtaposition of Nas's black leather, ball cap, and dark sunglasses, and Damian Marley's 7-foot dreads, scraggly beard and perma-casual clothing matched the juxtaposition of each artist's musical style, and the end product was something exciting to behold.
Elsewhere on the grounds hip-hoppers Cypress Hill were getting ready to get faded.  At one point, the horn players from Slightly Stoopid came out and rocked a track with Cypress Hill, and soon after, they covered Snoop Dog.  Dressed all in black, B-Real and Sen Dog paraded up and down the front of the stage, busting out favorites like Insane In The Brain, How I Could Just Kill a Man, Dr. Greenthumb, and Hits From the Bong.  Then, to no one's surprise, they got out the giant bong, nearly 8 feet tall as close as I could tell.  Drummer/percussionist Eric Bobo took the full brunt of B-Real and Sen Dog's forest fire of a light-up, and somehow managed not to pass out.  The cloud of smoke was epic.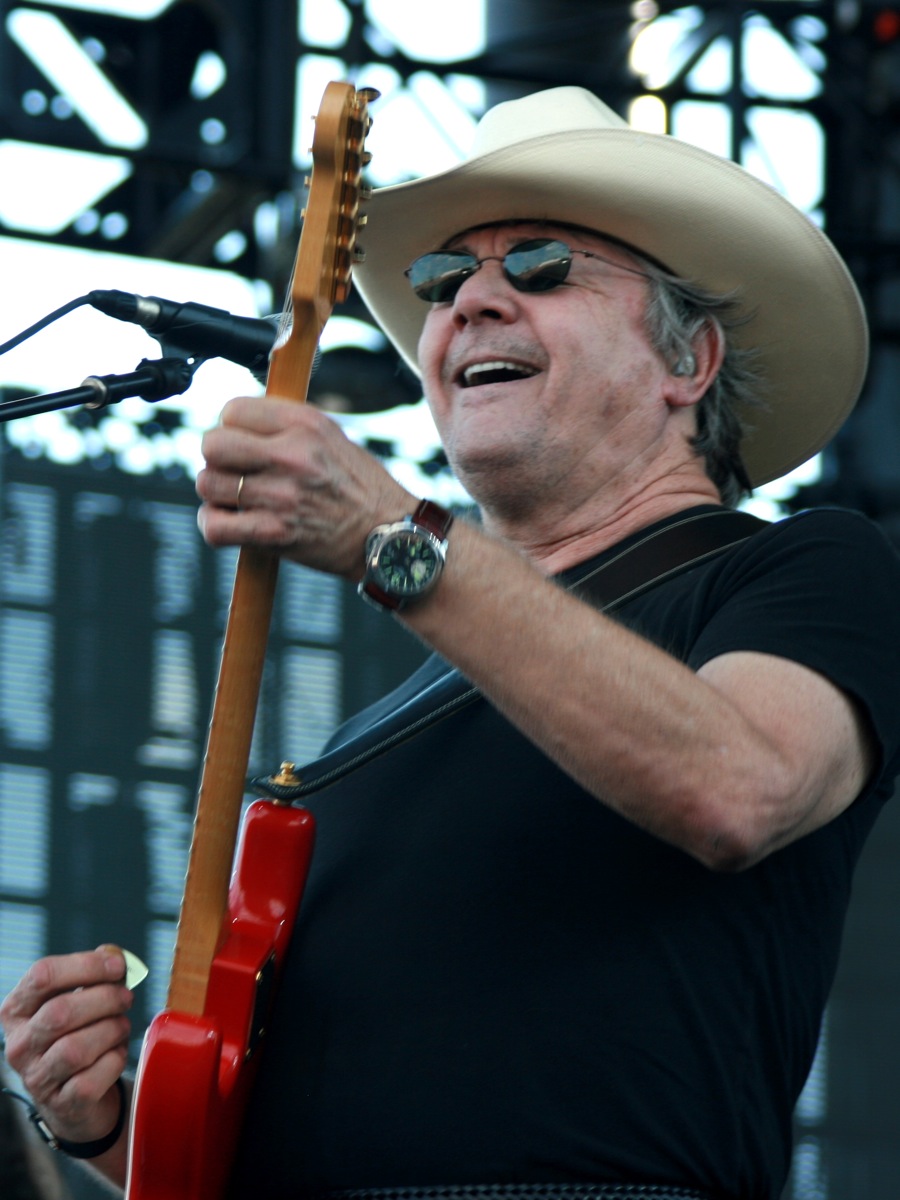 Comparatively, the Steve Miller Band seemed tame, even old-fogy by comparison.  But the Space Cowboy can still play guitar, no question.  John Oats, of Hall and Oats, joined the Steve Miller Band on guitar, and I'm told that Jack Johnson came out and joined Steve Miller for a song near the end of his set, but I wasn't there, so I don't know for certain.
Phoenix, Slightly Stoopid, and the Derek Trucks and Susan Tedeschi Band were all playing the same time slot.  Clearly, no one had consulted me on this, because I found this to be a personally offensive overlap.  In the end, however, I saw all three.  I hit the tent where Phoenix was playing first.  These French electro-pop-rockers had cornered the market on the younger members of the day's attendants.  Fuzzy guitars, psychedelic synths, and Thomas Mars' high pitched sexy French man growl blend together some of the best elements of dance club pop, and hip Indie rock.
They opened strong with Lisztomania off of Wolfgang Amadeus Phoenix (the album that allowed Phoenix to break into the US market), and ran right into a five-song pause-free run.  The band didn't say much of anything while I was around, and got a little spaced out somewhere in the middle of their set with long, drawn out silences, pulsing flashes of light, and droning guitars overlaid with the hum of electronics.  That's about when I left to check out Slightly Stoopid.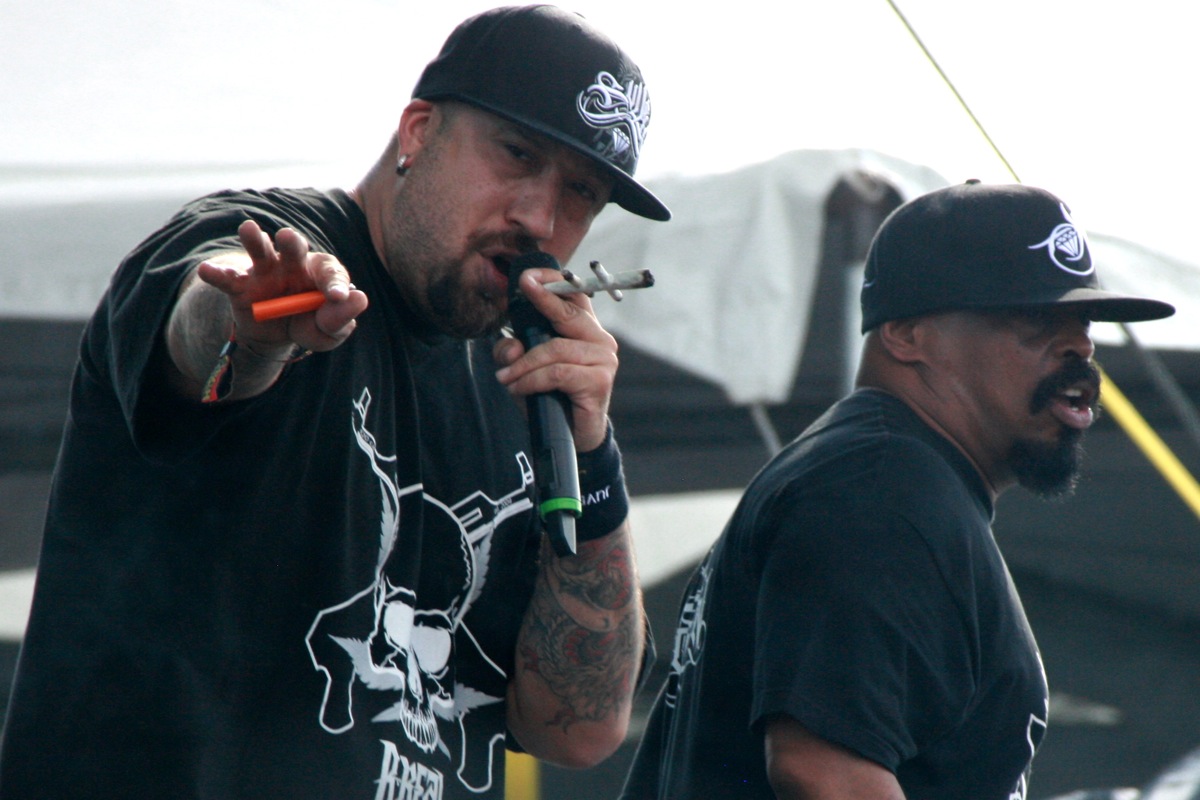 When I got there, singer/guitarist Miles Doughty was out on the edge of the speaker platform, only a few feet from the folks in the front row, and silhouetted by the setting sun over the Rocky Mountains.  Herb-loving, freak-flag-flying, easy-going purveyors of SoCal dub, reggae, and punky-ska jams, Slightly Stoopid had the audience in a good mood.  But part of that could also be attributed to the steady dose of pro-pot music these fans had been receiving at this particular stage.  Cypress Hill's set was followed, appropriately enough, by Jimmy Jon's sub shop's sub making and eating contest (anyone got the munchies?), which was followed by Slightly Stoopid's adamantly stoner friendly jams and visuals – we're talking 10 foot screens featuring images of some of the dankest looking bud you ever saw.
I didn't stay too long.  Derek Trucks and Susan Tedeschi – by far the coolest couple in rock and roll – were on just a few stages over, and I wasn't about to miss it.  Featuring the best female rock and blues vocalist in (possibly) the history of time, and one of the best slide guitarists ever born, the Derek Trucks and Susan Tedeschi Band rocked it louder than anyone else on the grounds that day.  The sun was still setting, and the band was backed by a steely blue sky.  Against this dramatic background Susan Tedeschi's powerful pipes carried her soulful wail far across the grounds while Derek Trucks' guitar took on the role of second voice in the band – sometimes haunting and spooky, and sometimes eerily close to that of human, and as passionate as that of his romantic counterpart.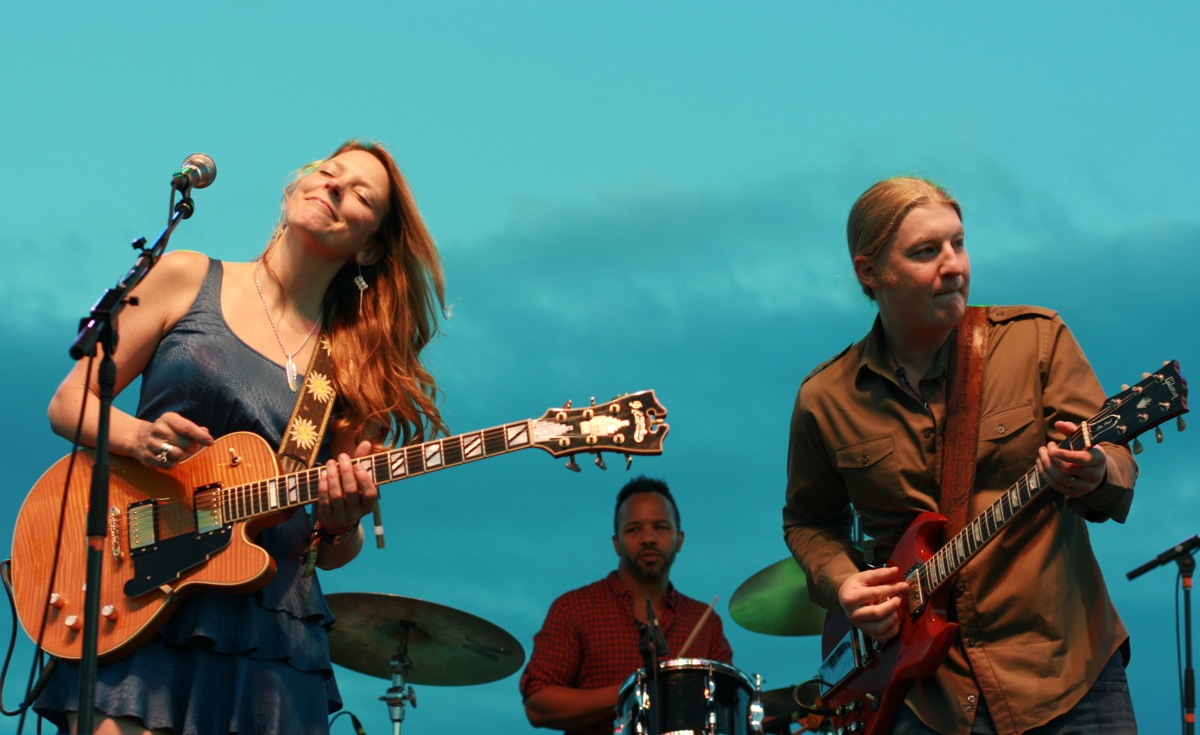 Derek Trucks Band vocalist Mike Mattison joined the pair for a take on the Derek Trucks Band track Blind, Crippled, and Crazy, with Susan Tedeschi and Mike Mattison sharing singing duties.  Also covering the Beatles, as well as extensive works by each of these two dynamos in their own projects, the Susan Tedeschi and Derek Trucks collaboration was a high point of the festival – straight-up, unadulterated, no frills attached rock and roll.  In many ways, this performance was for me the climax of the evening, and Jack Johnson would be the gentle comedown.
Don't get me wrong, I like Jack Johnson a lot.  I find his music to be very listenable, pleasant, and even relaxing.  But Jack Johnson, for all his fame and fortune, is really more of a coffee shop musician, a middle of the day musician, an out-on-the-beach-in-bare-feet-and-board-shorts musician.  However, the roll of headlining festival musician is a title a little too big for someone like Jack Johnson.  The headlining act should be a spectacle, with big sounds, big energy, and big entertainment value.  Dave Matthews is this kind of headliner.  Tool was this kind of headliner.  My Morning Jacket could have been this kind of headliner.  But Jack Johnson's idea of big energy is a soothing ocean waves video montage and playing electric guitar for two songs at the beginning of the set.
Jack Johnson's set was mellow.  It wasn't bad, it was just mellow.  It was however, packed with classics – from Bubbly Toes, to Breakdown with Donovan Frankenreiter, to Girl, I Wanna Lay You Down with ALO frontman Zach Gill.  There is something to be said for lying in the cool grass and looking at the stars, and Jack Johnson provided the perfect atmosphere for just such an endeavor.
*   *   *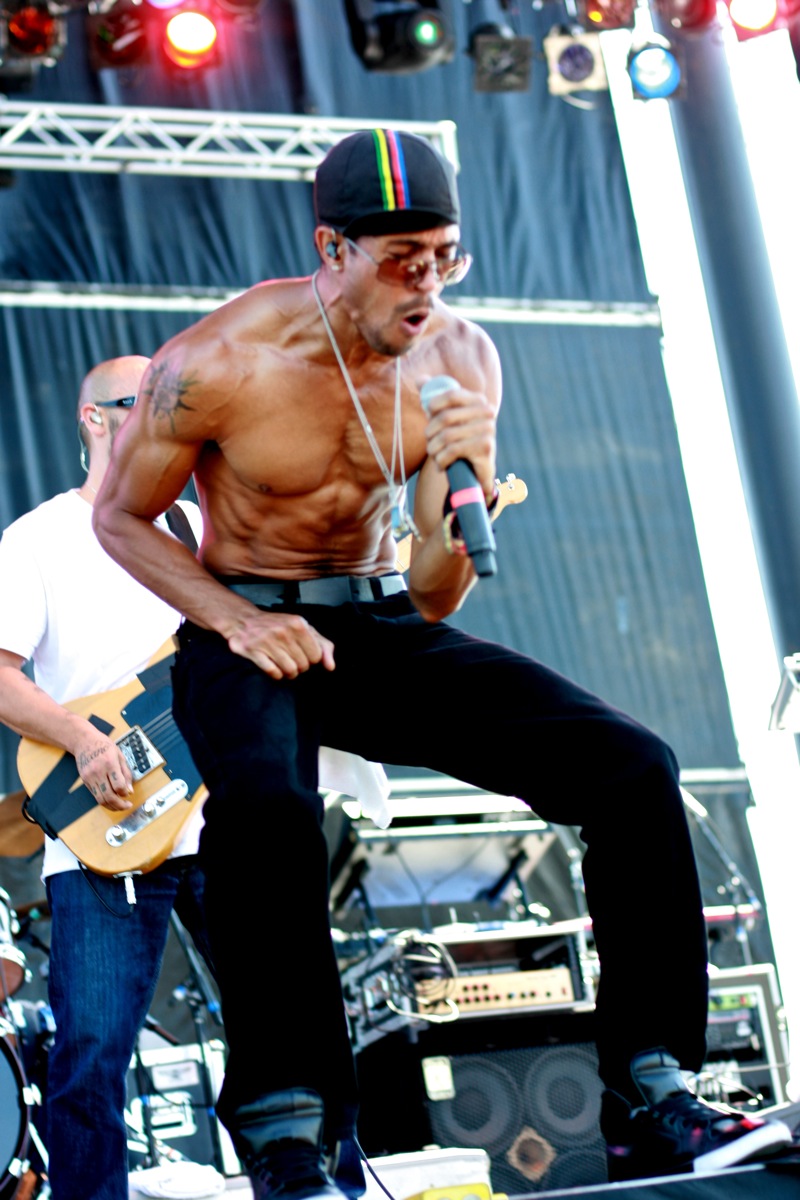 The next day, Drive-By Truckers were playing the main stage in the same spot occupied by Donovan Frankenreiter the day before.  The contrast between these two acts was mirrored by the change in the overall atmosphere of the festival.  The heat was back, and it's amazing how a little sweat and grime makes everything feel a little grittier, and a little less civilized.  Drive-By Truckers, and their crunchy rock and blues, was to this hot and dusty summer afternoon what Frankenreiter's laid back easy-going grooves were to the cool spring-like weather the day before.  Something about the mood set by each was entirely appropriate, and purely coincidental.  Weird…
All over the grounds the energy was turned up to match the heat.  Ozomatli, the anything goes fusion act that defies traditional characterization, were jumping around like a bunch of crazy people. Incorporating elements of everything from hip-hop to salsa to funk and straight-up rock and roll chops, this big band comes with even bigger energy.  This was an exciting act to watch, and a difficult one to follow (their energy is nearly impossible to match).  Trading duties on vocals, frontmen Asdru Sierra, Raul Pacheco, and Justin Poree each bring their own flavor to center stage, and because the band is so large, and so dynamic, they are as fun to watch as they are to listen to.  Sometimes the three frontmen are chorus lining their way across the stage, and sometimes they are running, jumping, and juggling various percussive instruments.  Whatever they're doing at any given moment, you can almost be sure that if you blink you're going to miss something cool.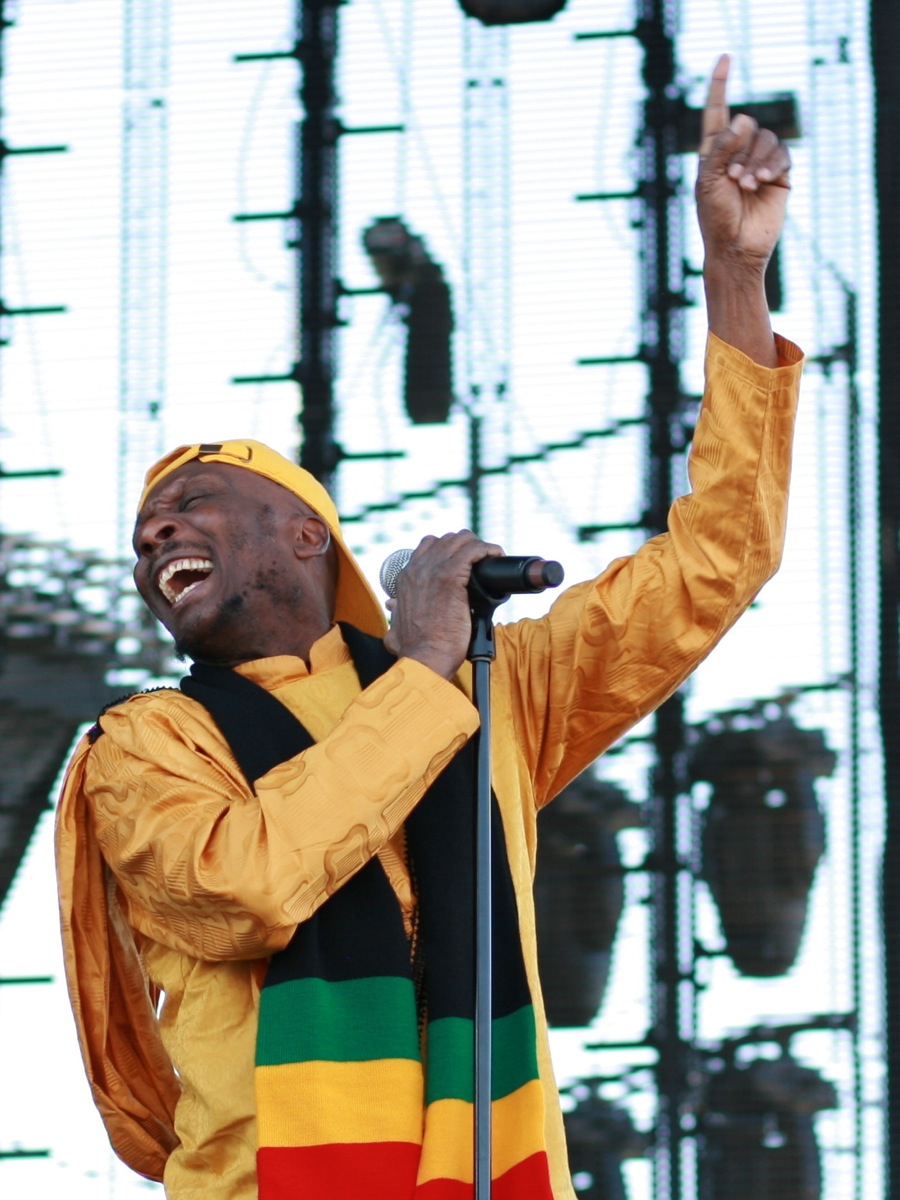 Reggae legend Jimmy Cliff played the main stage later in the afternoon.  It's always amazing to me how well sunshine and reggae music go together.  It's almost as if this music was invented on some sunny tropical island somewhere, and exported around the world just to make people feel good (wink)!
Although he's getting up there in years, Jimmy Cliff still plays with passion and joy, evident by the look of elation that is omnipresent across his face.  Dressed in striking yellow, with a Jamaican tricolor scarf, Jimmy Cliff looked like a bright and shining ray of sunshine against the black backdrop that was the main stage.  Incorporating into his set list classic tunes like You Can Get It If You Really Want, The Harder They Come, and I Can See Clearly Now, Jimmy Cliff was out to make the world feel right, and he was doing a damn good job.
Youngster Trevor Hall carried on the relaxed vibe at the next stage over.  Dreadlocked and strumming an acoustic guitar, this kids wore a grin to rival Jimmy Cliffs, and was clearly someone who was happy to be doing what he was doing.  A little hypnotic at times, Trevor Hall's semi-psychedelic grooves, tribal beats, and echoing vocals made the field feel like the desert out of some 60's era acid-rock video.  Since the grass below our feet was rapidly being eaten up by the pounding feet of several thousand people, and the sun was beating down on us from above, the psychedelic desert vibe felt right at home.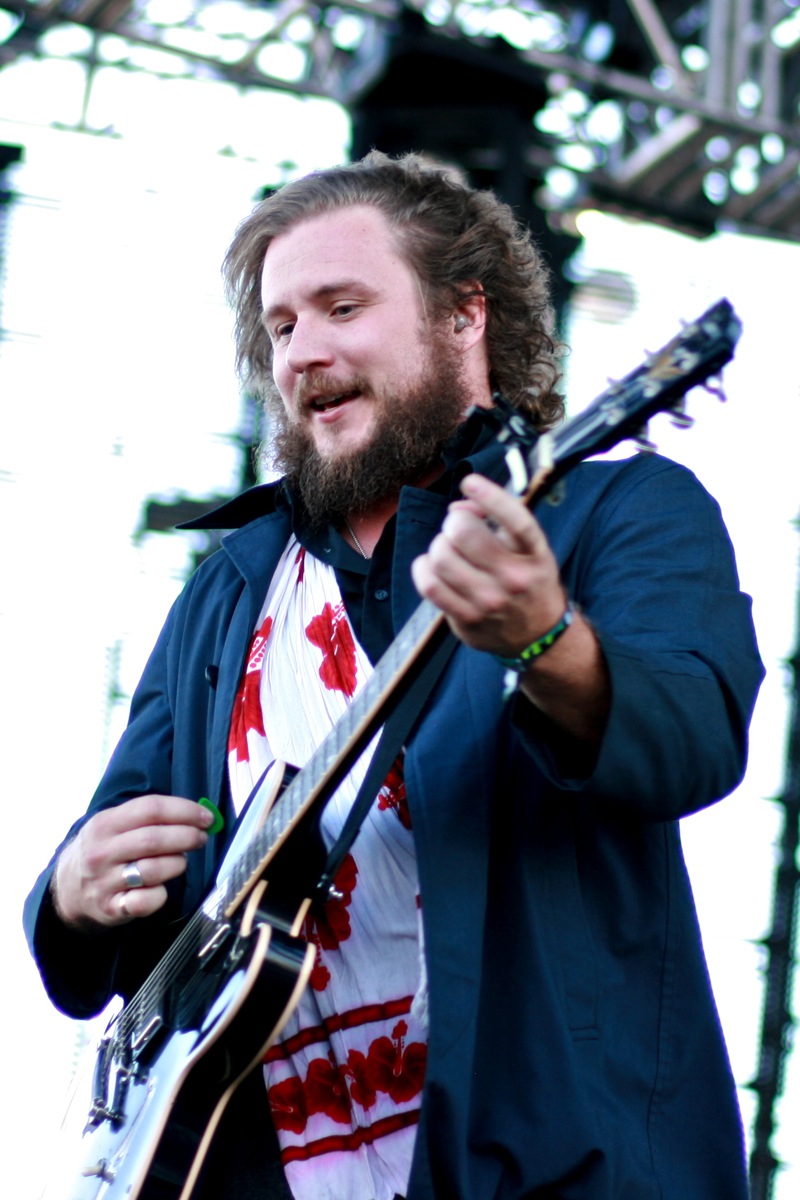 Next up was the biggest reason I decided to give year 3 of Mile High a chance this year – My Morning Jacket was about to play on the main stage.  As mentioned previously, I was disappointed to see them relegated to an afternoon time slot.  I've seen this exciting band before, and they are more than capable of capturing the attention of the audience from the headlining spot.  As it was, the sun hadn't even gone down, precluding the band from something they do quite well after dark – an explosive light show.
Even without lights, MMJ certainly did not disappoint.  They started a little slowly, opting for a gradual build-up to peak excitement rather than jumping in head first, but by the time Jim James and Carl Broemel were killing the dueling guitar solo in Highly Suspicious, the band was going full force, and no amount of wind (which had picked up gradually over the last half hour), could kill the sound of Jim James' primal animal screams, and Carl Broemel's fierce lead guitar.  Of course, when he's not screaming like a beast, James is melting hearts, giving the impression that each song is written just for you (there is a hilarious episode of American Dad that deals with this subject).  Newer tracks like I'm Amazed, Touch Me I'm Going To Scream parts 1 and 2, and Smokin' From Shootin' all the made the set list, as well as older favorites like Off The Record, Gideon, and Mahgeetah.
A big sound like that of My Morning Jacket was exactly what I had wanted more of the night before.  But My Morning Jacket isn't for everyone.  A bit eccentric, and more than a little weird, My Morning Jacket is one of those bands that challenges you to listen to them more than once.  And if you're like me, every time you do you find a new little nugget of gold buried in the rich fabric that is this band.  If you want to hear something new and interesting, something challenging and out of the ordinary, listen to My Morning Jacket.  If you want to hear something unassuming, something comfortable, and easy to get along with, listen to Jack Johnson.  I get it, but I don't have to like it.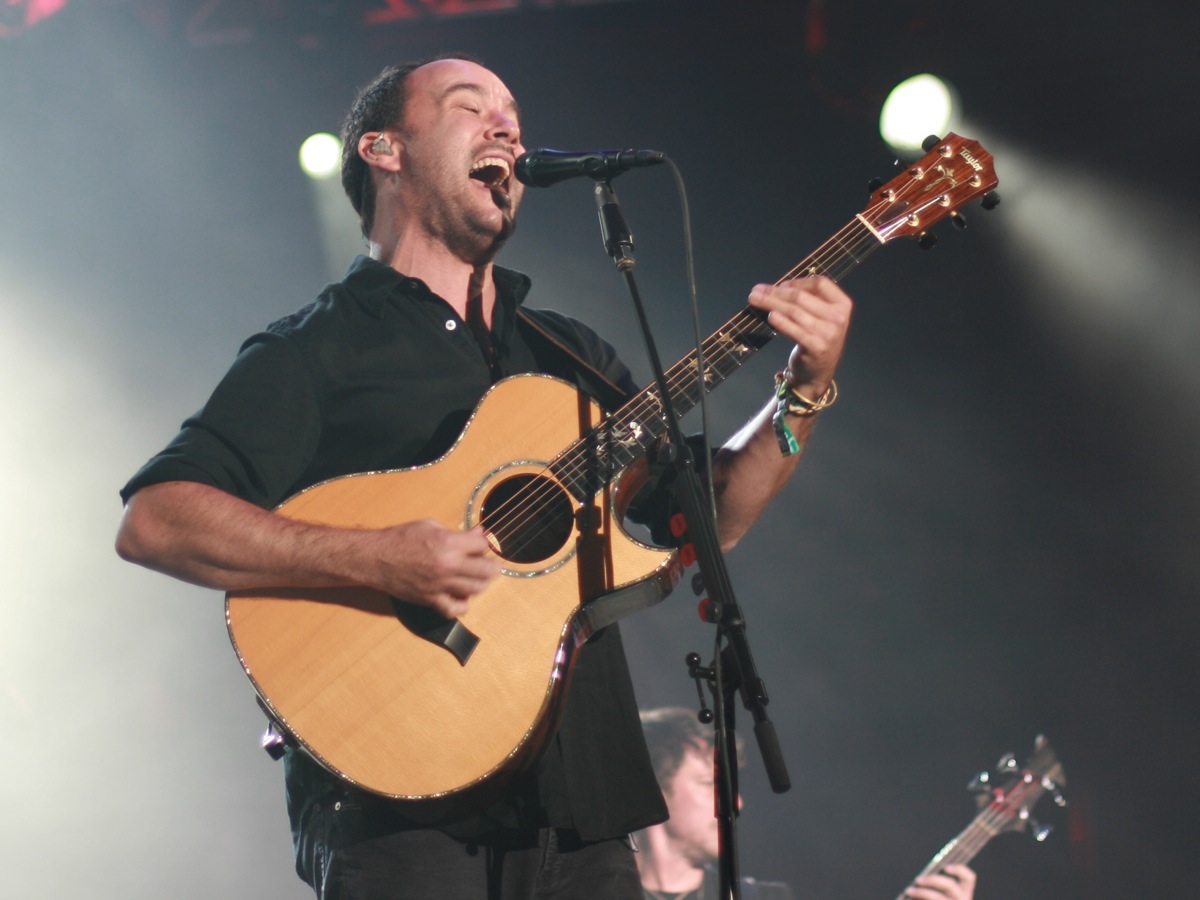 Before Dave Matthews made his second appearance at the Mile High Music Festival, I decided to catch the end of Weezer's set which was about to wrap up at the far end of the festival grounds.  Weezer is one of those bands you either love or you hate.  Personally, I fall into the second category, but I can see why they are so popular, and I can definitely see why people could fall in love with a band like this.  And I will admit, live Weezer was an experience above and beyond what I would have expected, so much better than I would have thought possible from a band who caught my attention with songs like My Name Is Jonas, Buddy Holly, and Say it Ain't So, only to disappoint me to the Nth degree with tracks like Beverley Hills.
When, near the end of his set, Rivers Cuomo came out in a platinum blonde wig to do a mash-up cover of Kids by MGMT and Pokerface by Lady Gaga, I relented, and allowed my self to admit that, alright, this was pretty cool after all.  If nothing else, Weezer knows how to entertain, and what else is there really?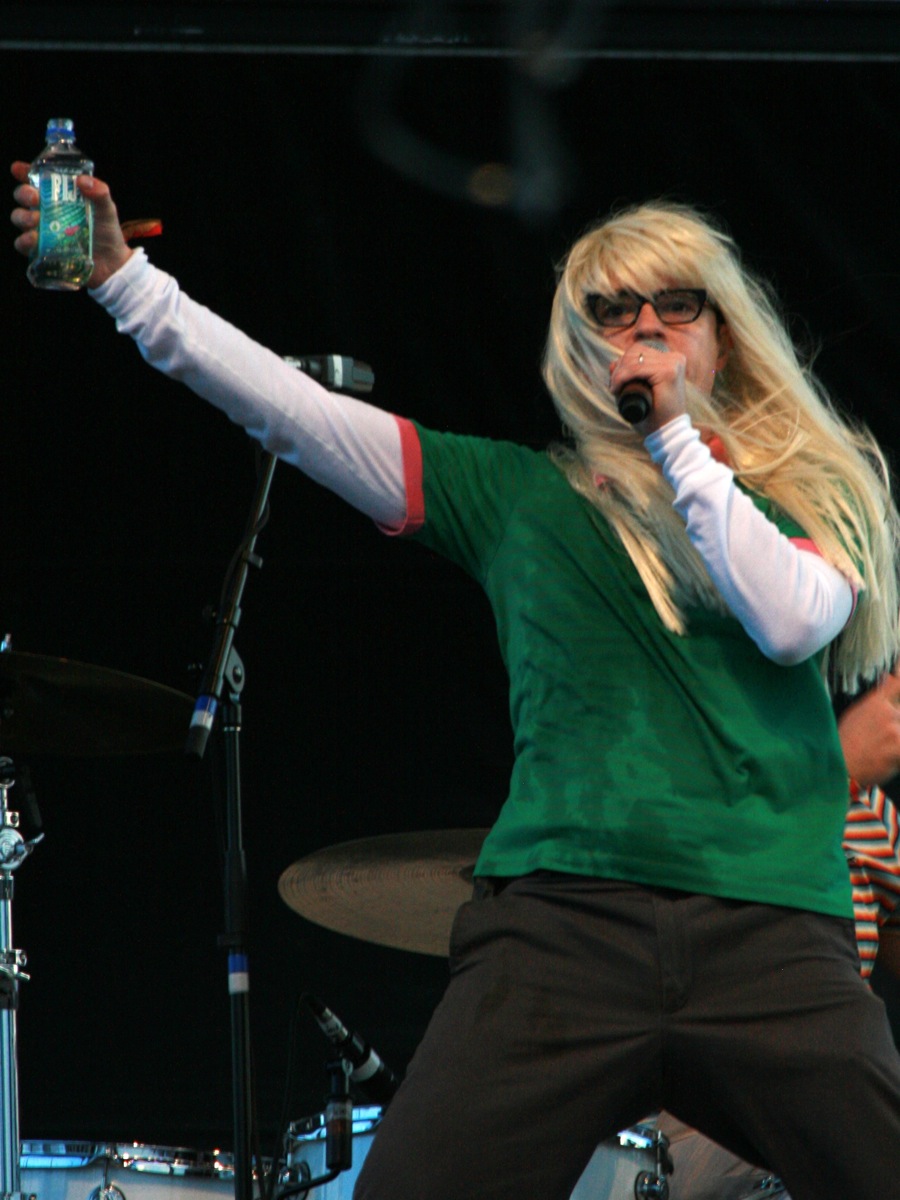 Speaking of entertainment value, Dave Matthews is pretty hilarious guy.  He makes funny faces, talks in funny voices, and has a way of saying "Rocky Mountain High" that makes you think he might just be.  That kind of congeniality and presence goes along way in front of a crowd, and is why someone like Dave Matthews has continued to recruit new fans year after year.  After all, few things are worse that seeing an act you've only ever heard before and being bored to tears by shoddy stage presence.  That's one thing the Dave Matthews Band will never have to worry about.
When it comes to Dave Matthews, personally I can either take him or leave him.  But he knows how to give an audience what they want, and how to entertain a massive crowd of people.  With lights visible from outer space, and a high-energy set packed with favorites old and new, like You Might Die Trying, Ants Marching, Funny The Way It Is, and Crush.  The Dave Matthews Band lit up the night, and gave the crowd one last reason to celebrate, and more than enough reason to show up late for work the next morning.  Never did a 10-minute fiddle solo sound so good!
After three years, it looks like the Mile High Music Festival is here to stay.  And luckily for the Mile High City, they're keeping it interesting year after year.  This year the festival featured a giant statue of the Egyptian mythological figure Anubis, the "Hand of Man" – a mechanical hand that destroyed entire cars, and the Beta Beach – an all day dance club experience in the center of the festival grounds.  Toyota even had a booth where you could generate energy by riding a seesaw.  That, plus local artists hawking their wares, and two days of tunes and sunshine - what a perfect way to close out the summer!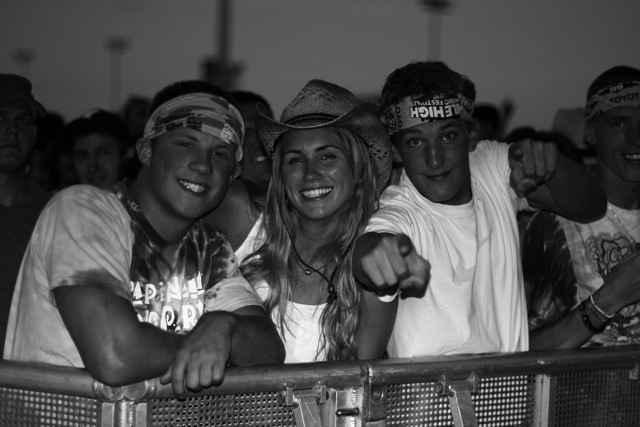 To see more photos from the 3rd Annual Mile High Music Festival, please visit the Gallery.