Buffalo, NY's moe. returned to the Brooklyn Bowl in Brooklyn, NY on May 18, 2023 for the first time in four years to kick off a rare three night run at the storied venue. This band has seen their ups and downs lately, particularly with the untimely medical hiatus of guitarist Chuck Garvey after suffering a stroke in 2021. Thankfully Garvey has recovered, and the band is on the upswing having just wrapped up a stacked Spring tour. They were all smiles while delivering moe. classics, along with some well placed teases, rare covers and a special guest appearance by guitarist Tim Palmieri.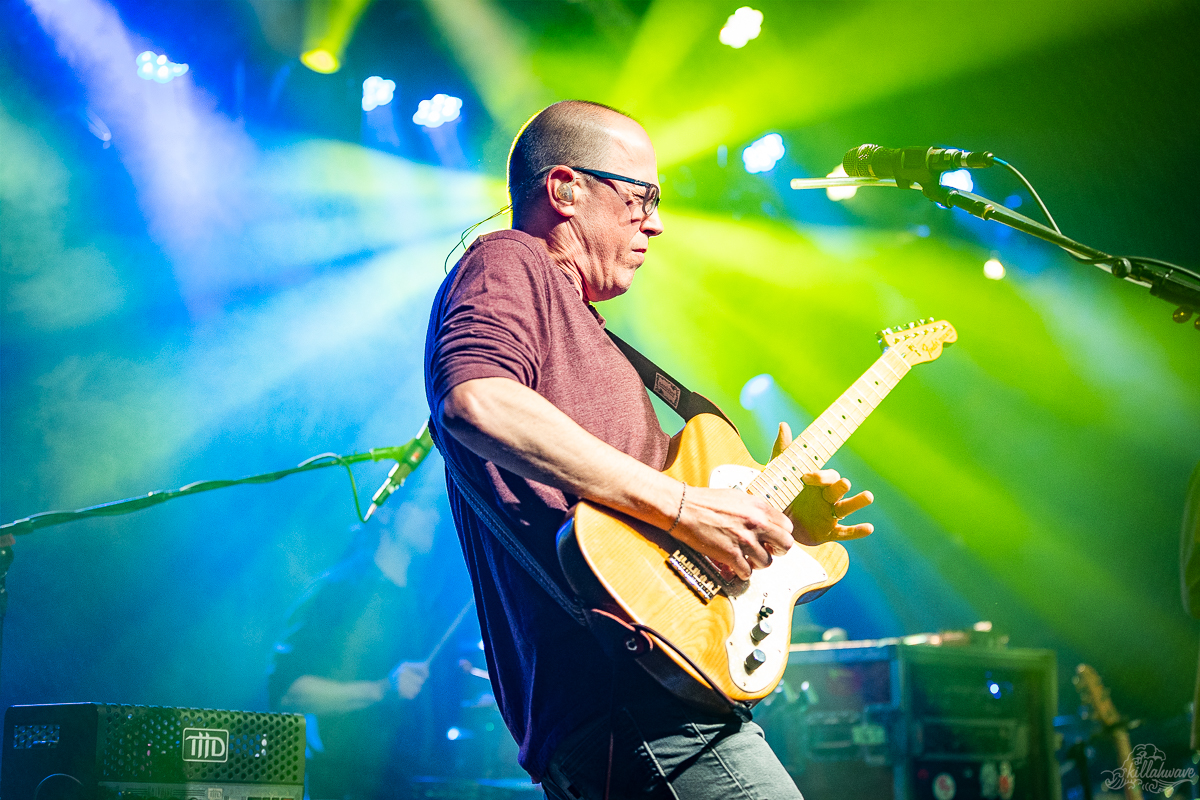 The first set was immediately off to the races with "The Man in Me" by Bob Dylan. This soulful cover was played for the third time ever, and last played on November 7, 2014 at the Belly Up Tavern in Solana Beach, CA. After a subtle transition, "Seat of My Pants," from their 1996 release Loaf, followed. The band dove into multiple jazzy mini jams that included an "On Broadway" tease. The audience joined in the second time by singing "On Broadway." Guitarist Al Schnier was in the pocket and the band was feeling it early. They veered into a dark, racing "Sensory Deprivation Bank" fake out, pivoted magically back into "Seat of My Pants," and landed squarely in "LL3." Bassist Rob Derhak provided vocals, and a funky bass line during this newer tune. The jam that followed really had it all, from jazzy moments to raging guitar jams. This was ushered by the one two punch of drummer Jim Loughlin and percussionist Vinnie Amico, who drove the fast pace. The music eventually shifted into the prog rock "Tailspin," before the band finally stopped for a breath of air.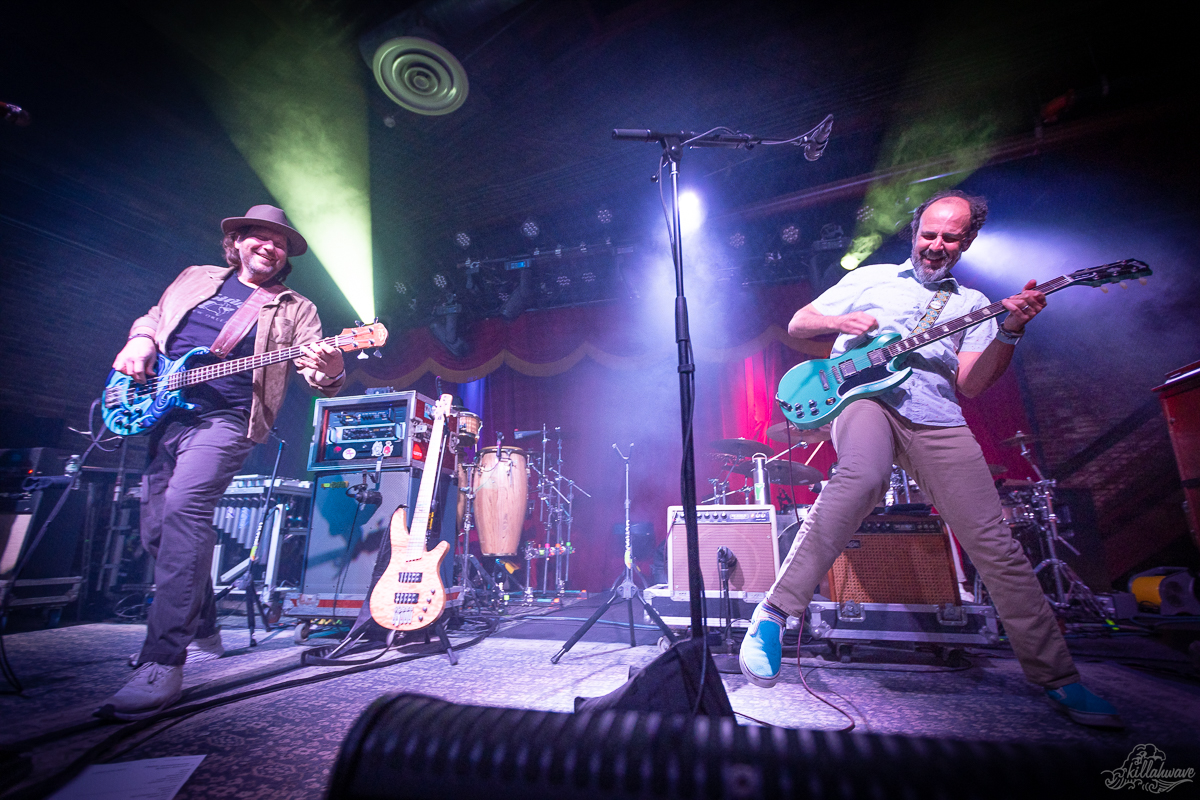 The newer, instrumental "Jazz Cigarette" was up next. Schnier declared that his weekends "are only Tuesday at this point. And even that is negotiable," before the band slid into the bouncy "Spine of a Dog." From their 1999 release Fatboy, this version included plenty of percussive muscle, and a feel good jam with notable contributions by keyboardist and new comer Nate Wilson. Derhak stepped in for lead vocal duties as well. Another on point transition flowed into the equally happy, prog rock delight "Buster." The band slayed the composed section, while Garvey brought the music home during the tasty exploratory jam that followed, and ended this high flying set.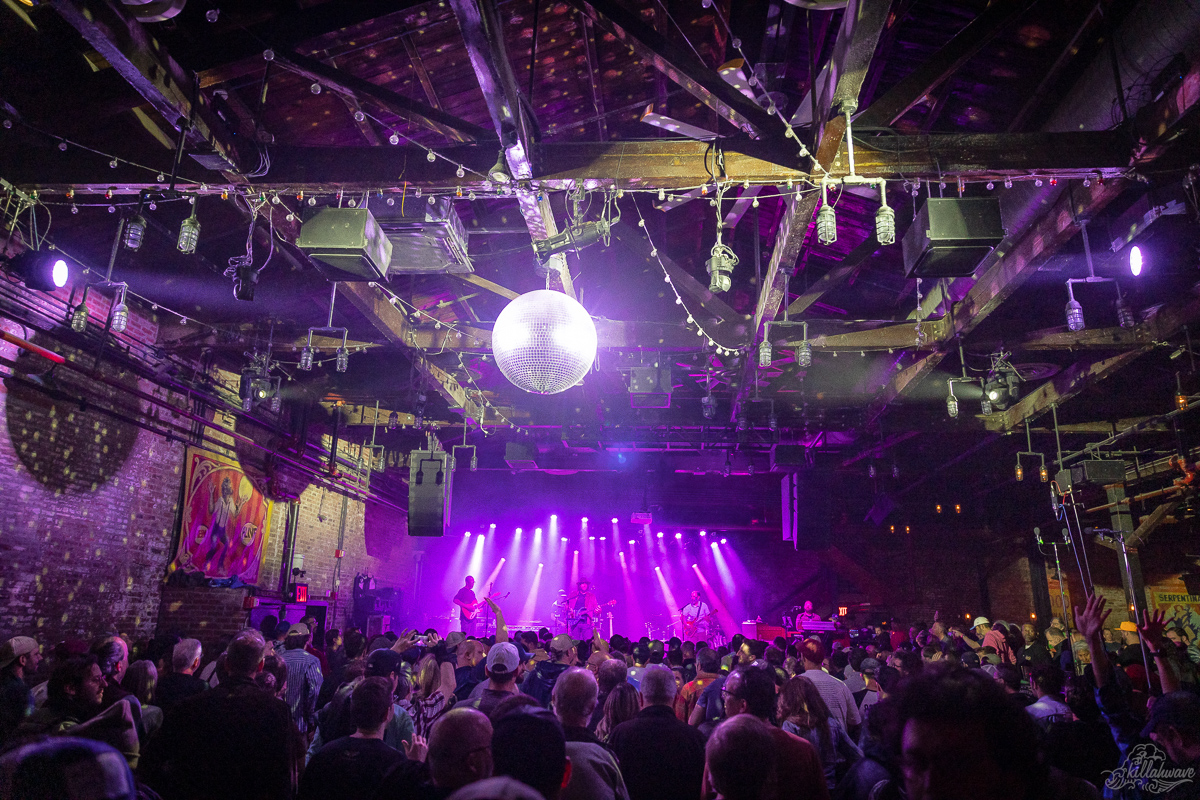 The sextet was energized after the set break, emerged from the green room, and leapt into the vintage "Kyle's Song." A dark and guitar driven jam got things heated up quickly. A melodic transition into "Livin' Again" proceeded, which was last played on July 25, 2021 at the Loft Nightclub in Oak Bluffs, MA. This roughly fourteen minute version did not disappoint, and skillfully moved into "Down Boy."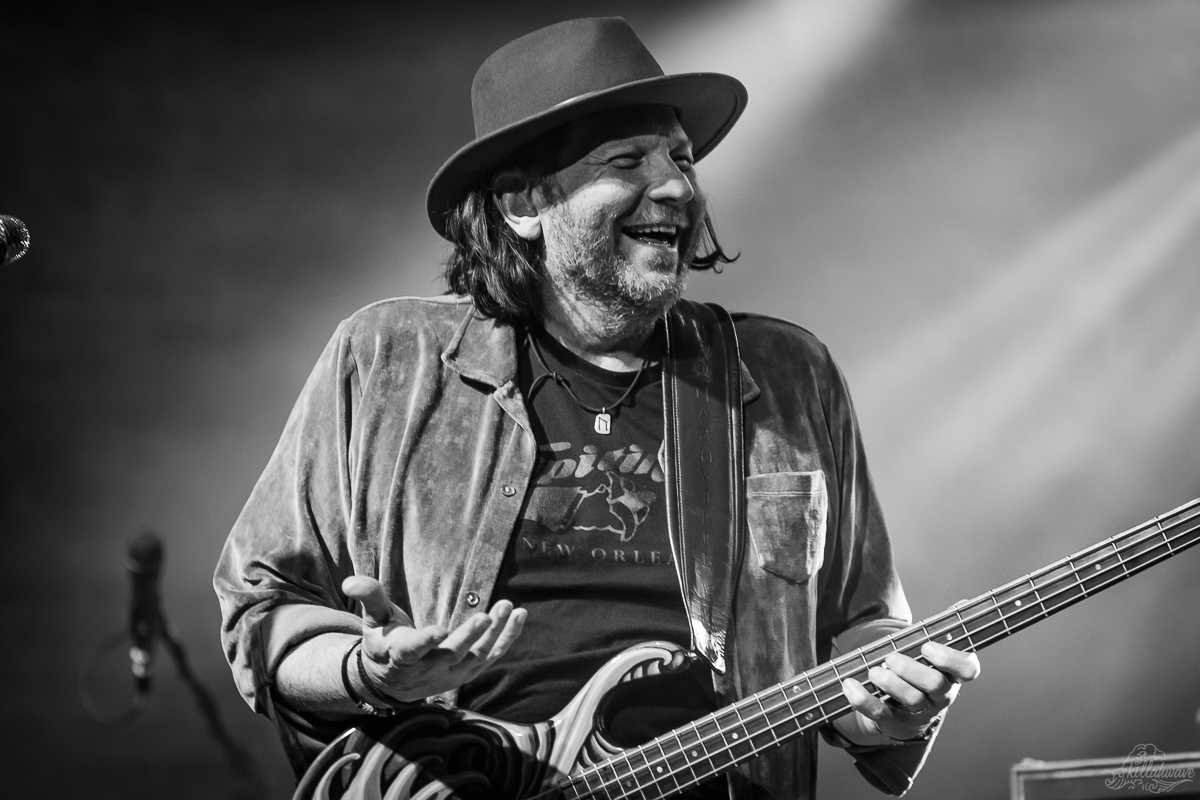 Jam vehicle "McBain" was up next, and the band unfurled a well executed jam rock sequence, from within every layer of the music. Amico stood out with more of his euphonious xylophone goodness, as well as the disco funk fury lead by Derhak that dashed into a "Crosseyed and Painless" tease. This jam shows that not only does a band who formed in 1989 still "got it," along with working through Garvey's recent hiatus from a stroke, but they are also fostering fresh jams and taking the music to new places.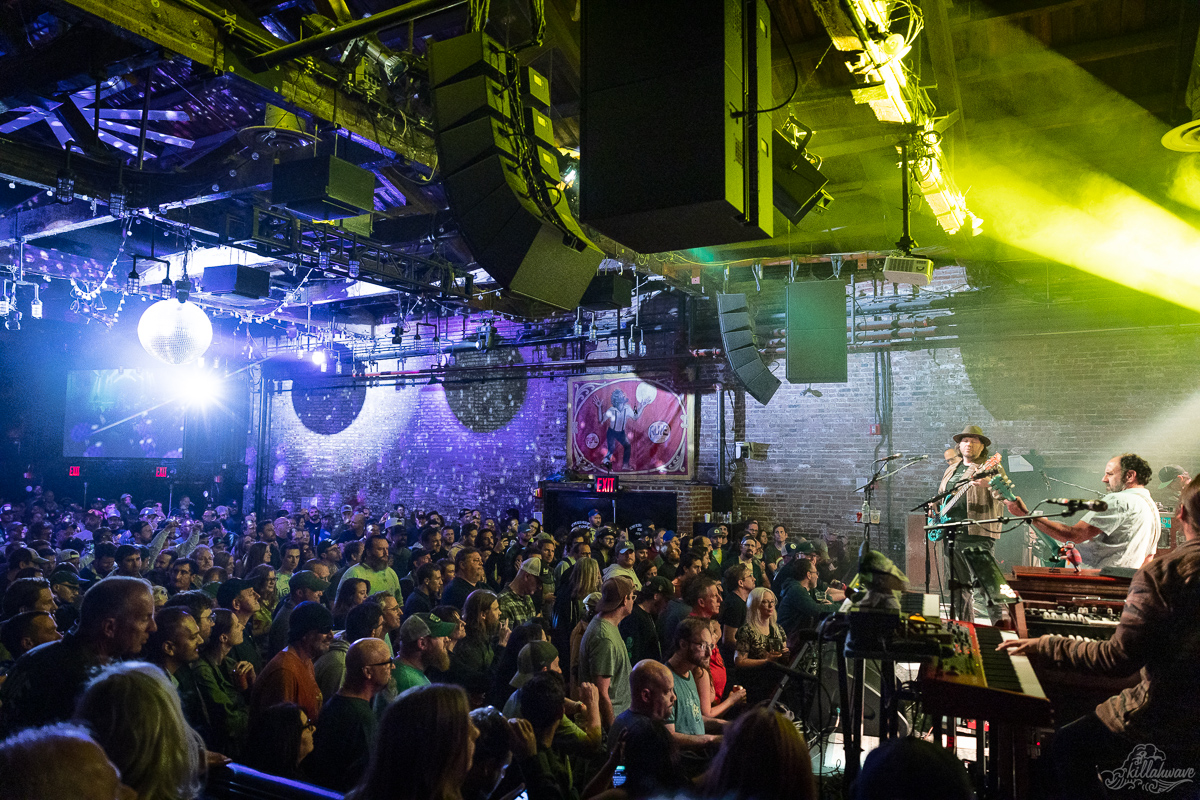 Another Fatboy tune made it into the set list with "Sensory Deprivation Bank." Amico and Loughlin showed their skills as they went in and out of composed and jazz improvisation. A vibrant jazz guitar solo showed the band's range, as well as more niceties from Wilson on keys. This melded together, and ultimately glided into "Bring You Down," from their album No Doy. The tempo for the jam was slightly more chill in comparison to prior songs, but eventually built back up with a fiery prog rock progression to end the second set.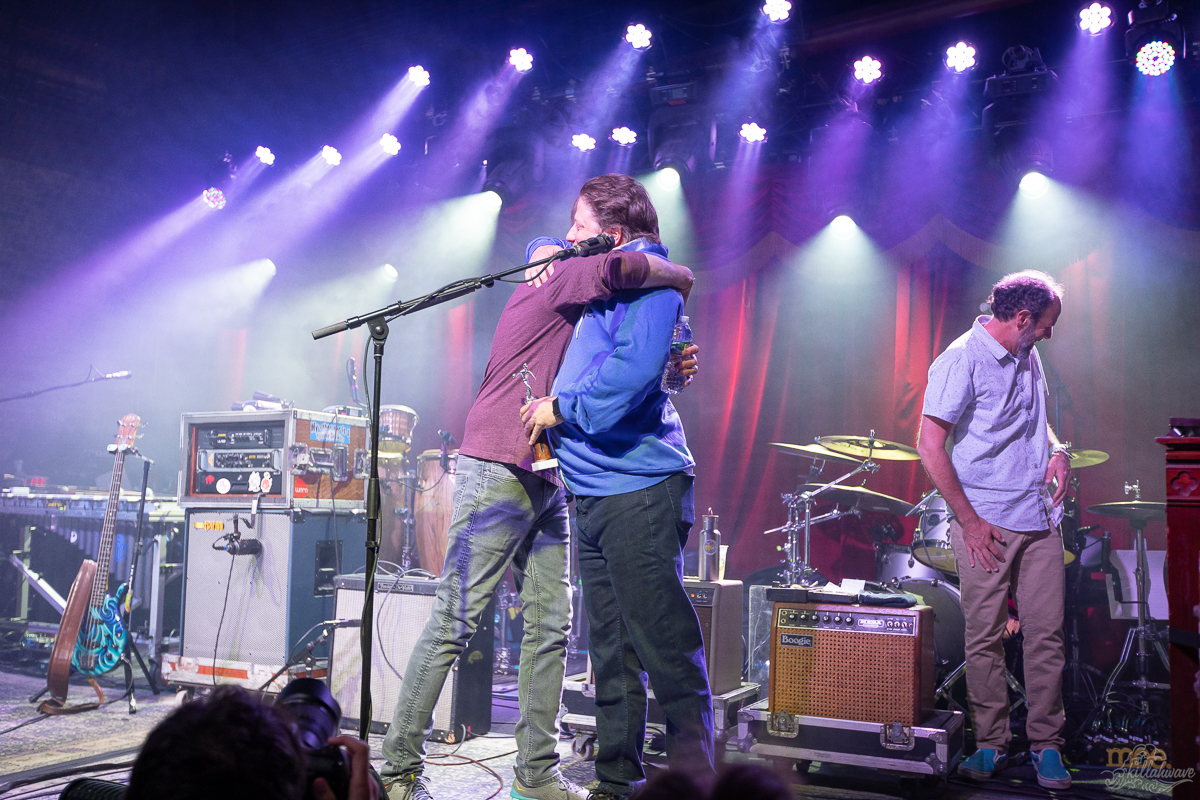 The band stepped off stage. As they slowly returned, Brooklyn Bowl owner and jam band enthusiast Peter Shapiro grabbed the microphone to express his excitement that "moe. is back." He also addressed the impressive recovery that was made by Garvey, and also the desire to give him an award for his efforts. He brought forth a trophy that had been on display at the Bowl since opening, and has been present for every show. He added that "Chuck Garvey is about the only person that we'd give this trophy to." Shapiro and an all smiles Garvey embraced, followed by Garvey raising the trophy in the air for an emotional display of gratitude regarding his recovery. The band also joked that "no one has seen him bowl."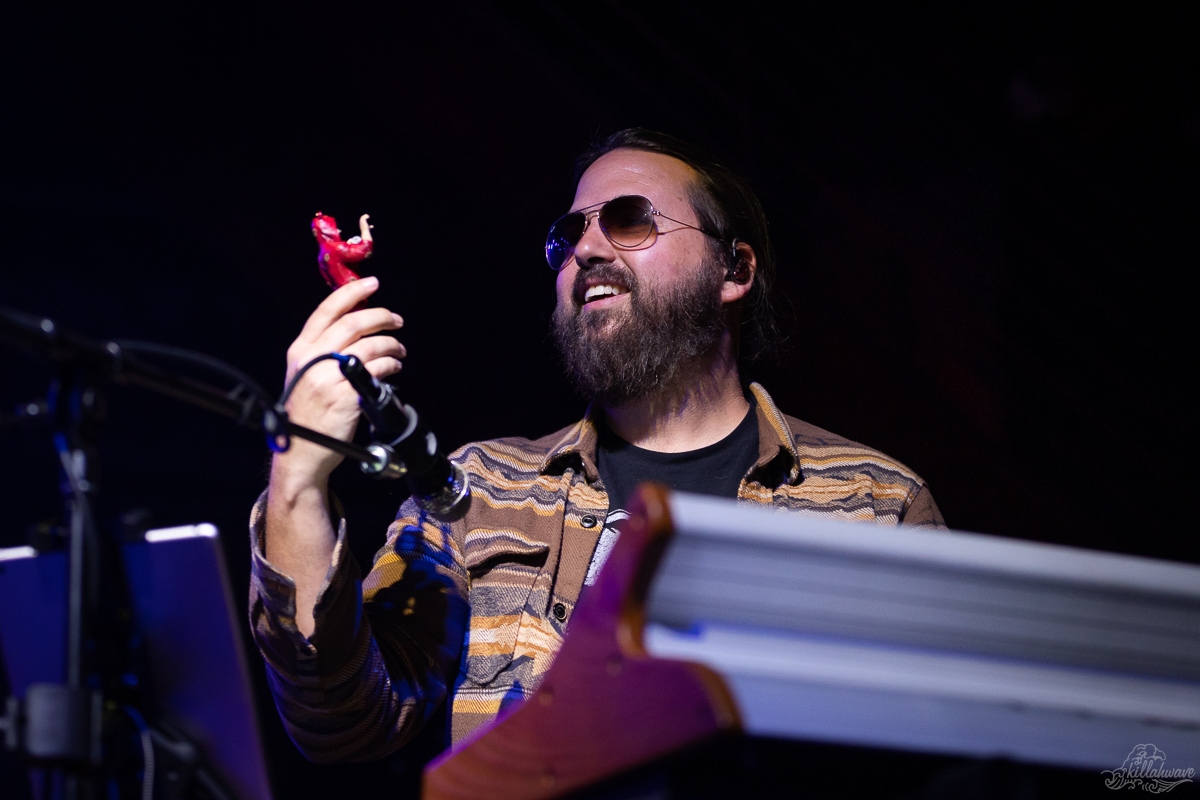 Schnier made his usual "al.nouncements" regarding fan milestones and events. The band then started to play "Letter Home", but abruptly stopped, and Derhak asked if there was a tiny bowling trophy that could be given to Nate. A miniature action figure appeared, and was presented to Wilson, which he received with much delight. The band finished this short but sweet tune, and invited Tim Palmeri from Lotus and Kung Fu on stage for a face melting rendition of "Immigrant Song" by Led Zeppelin. This turned into a raging, three way guitar collaboration via Palmeri, Garvey and Schnier, that included bluesy and jazz inspired elements. The music flawlessly shifted back into "Immigrant Song," and ended this outstanding show.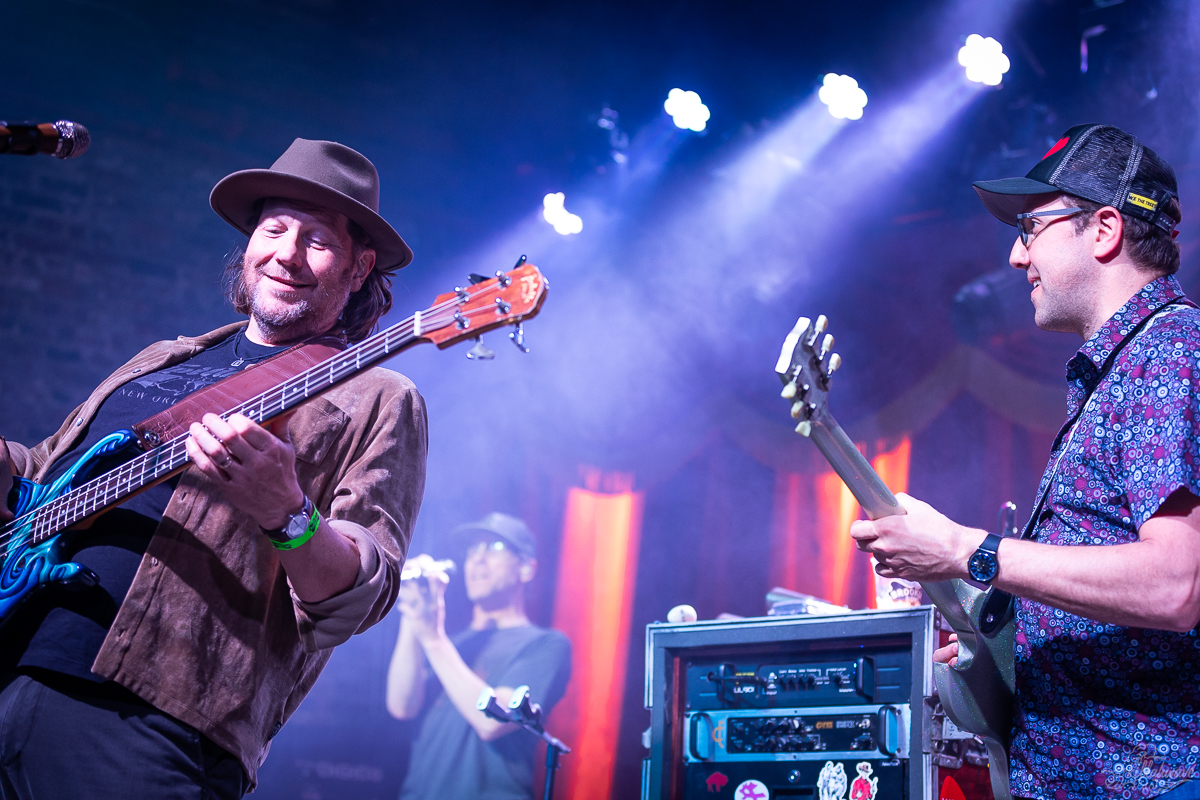 moe. is back and playing better than ever. They are performing next at the Summer Camp Festival in Chillicothe, IL, and a two night stand in their home territory at the Sarinac Brewery in Utica, NY. Hop on over to their tour page for more details about these dates and the rest of the tour.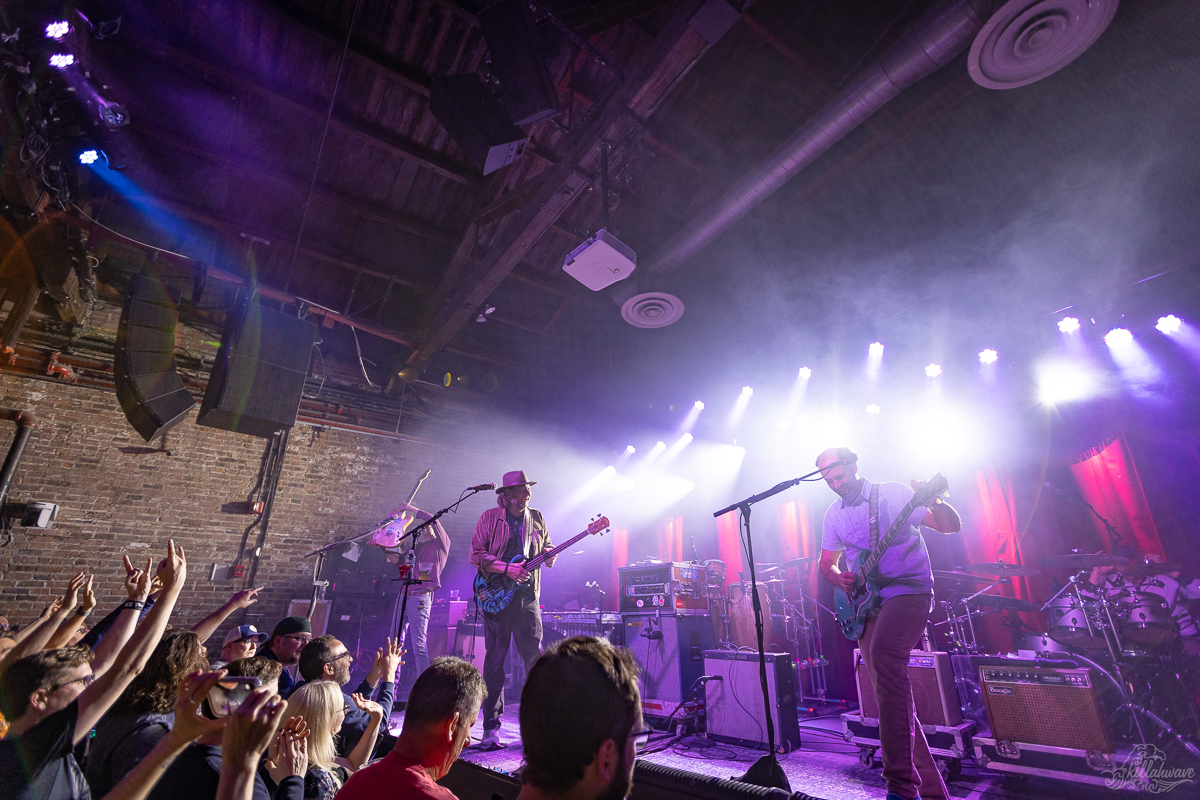 Check out more photos from the show!
Set One: The Man In Me1, Seat Of My Pants23 > LL3 > Tailspin, Jazz Cigarette, Spine Of A Dog4 > Buster
Set Two: Kyle's Song > Livin' Again > Down Boy, McBain5, Sensory Deprivation Bank > Bring You Down
Encore: Al.nouncements6, Letter Home, Immigrant Song78
Notes:
1. Bob Dylan cover
2. Segue from SOMP > LL3 included a SDB fakeout.
3. On Broadway tease
4. Rob on lead vocals.
5. Crosseyed and Painless tease
6. Peter shapiro presents a trophy to Chuck Garvey prior to al.nouncements
7. With Tim Palmieri on guitar
8. Led Zeppelin cover