Dressed in custom black suits, Nathaniel Rateliff & The Night Sweats delivered a golden performance of their knockout single "Survivor" and "Baby I Got Your Number" on "The Tonight Show Starring Jimmy Fallon." Last night's appearance follows the release of the band's third studio album, The Future, which is out now on Stax Records to widespread critical praise. 
Upon its release, "Survivor" moved quickly into the #1 slot at Triple A radio and debuted in the Top 25 on the Alternative Chart. The song is currently #2 on the Americana Singles Chart while The Future remains #1 on the Non-Comm Albums Chart for the sixth consecutive week.
Rateliff & The Night Sweats are also set to appear on "CBS This Morning: Saturday" this Saturday, November 13.
In addition, the band will perform at New Orleans' Tipitina's for SiriusXM and Pandora's "Small Stage Series" later this week. Further 2022 dates to be announced soon, while current tour routing can be found below.
Recorded at Rateliff's own Broken Creek Studio outside of Denver, The Future was produced by Bradley Cook (Bon Iver, Kevin Morby, The War on Drugs) and R.M.B.—the production trio of Rateliff, Patrick Meese (The Night Sweats) and James Barone (Beach House)—who were the team behind Rateliff's acclaimed 2020 solo album And It's Still Alright. Additional production was added by musician, engineer and producer Elijah Thompson (Father John Misty, Richard Swift) while Jenny Lewis, Jess Wolfe and Amelia Meath(Sylvan Esso) contributed backing vocals. 
Earlier this year, Rateliff and the band made their debut on "Saturday Night Live" featuring the premiere performance of "Redemption", written for and featured in the film Palmer starring Justin Timberlake. In addition, the group appeared on "CMT Crossroads" with country singer/songwriter Margo Price while Rateliff's "Tiny Desk (Home) Concert" recently premiered at NPR Music. Following these career milestones, Rateliff released a new live album, Red Rocks 2020, which was recorded at Red Rocks Amphitheatre during Rateliff's mid-September run of socially distanced shows. You can pick that up HERE.
CRITICAL PRAISE FOR NATHANIEL RATELIFF & THE NIGHT SWEATS' THE FUTURE:
"Nathaniel Rateliff & The Night Sweats' glorious new vintage R&B album,
bursting at the seams with fresh coolness. It has a sound grounded in the past but not
mimicking it, a fresh, modern-retro vibe that makes sense once you listen." - AP
"That mix of Sixties groove workouts and Seventies singer-songwriter truth-seeking pays off on their third album, The Future. The title track kicks off sounding like the Bob Dylan of Desire if he'd recorded that album at Muscle Shoals." - Rolling Stone
"…a giant leap forwards…" - MOJO
"The Future goes wider stylistically and deeper thematically, embedding Rateliff's devastating lyrics in taut arrangements that stand alongside their sources of inspiration...Instant Classic" - UNCUT
"The Future showcases Rateliff and The Night Sweats playing at the top of their game with a blend of passionate songwriting, raw and towering vocals, and infectious soul rock vibes." - NO DEPRESSION
"Nathaniel Rateliff has become a consistently shining purveyor of classic tunes." - San Francisco Chronicle
"...a style that brings to mind the vintage sounds of the '60s and '70s as generated from such diverse locales as Woodstock, Stax, and Muscle Shoals…while still sophisticated enough to make an emphatic impression."
- American Songwriter
"The Future effectively combines provocative lyrics married to the Sweats'
trademarked attack; one that's successful, even triumphant, and paves the way for
more of the same in forthcoming endeavors." - Holler.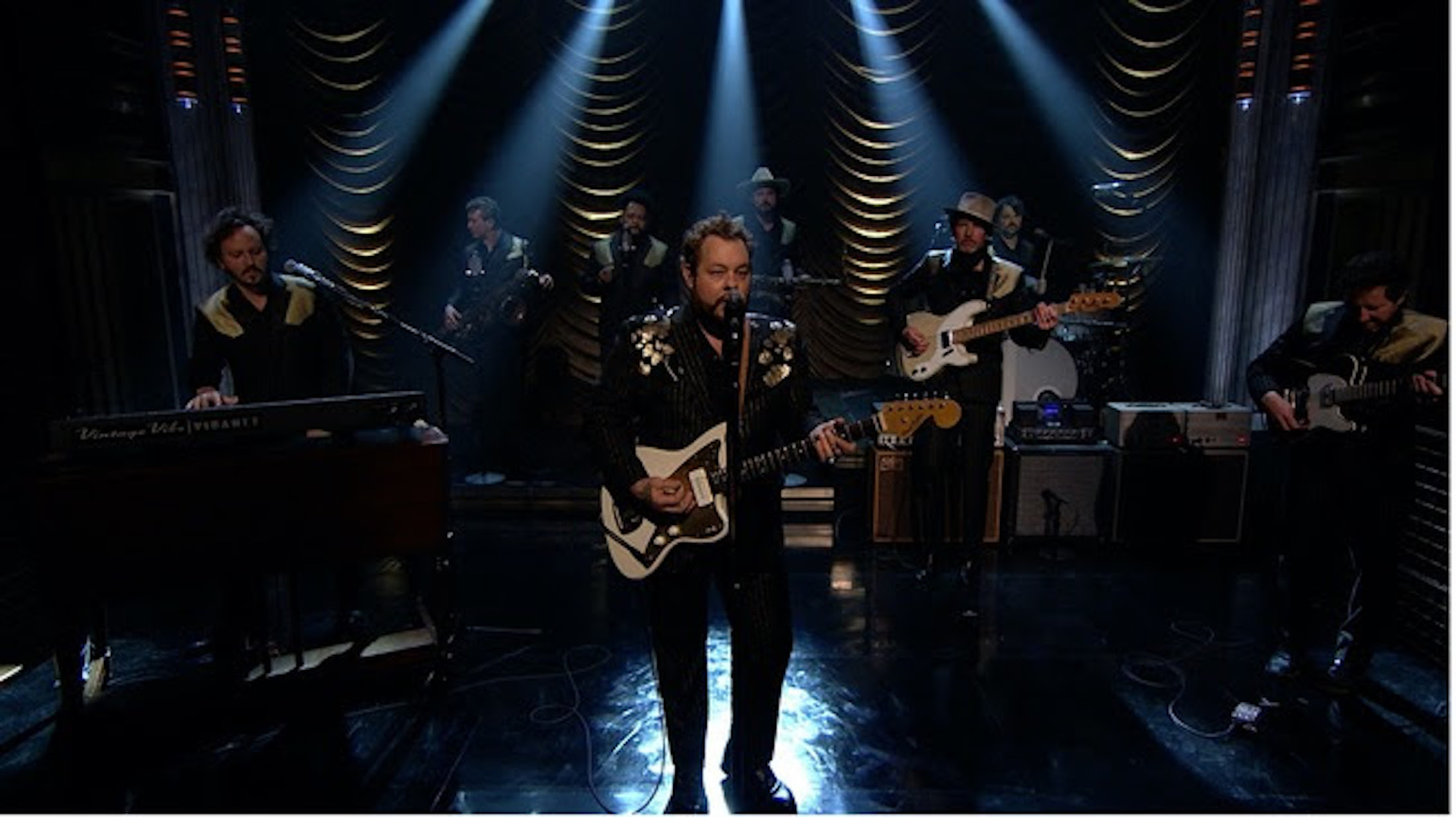 NATHANIEL RATELIFF & THE NIGHT SWEATS
THE FUTURE
1. The Future
2. Survivor
3. Face Down In The Moment
4. Something Ain't Right
5. Love Me Till I'm Gone
6. Baby I Got Your Number
7. What If I
8. I'm On Your Side
9. So Put Out
10. Oh, I
11. Love Don't
NATHANIEL RATELIFF & THE NIGHT SWEATS LIVE
November 13—New Orleans, LA—Tipitina's
December 3—Vail, CO—Vail Snow Days
December 16—Denver, CO—The Mission Ballroom*
December 17—Denver, CO—The Mission Ballroom*
*with Preservation Hall Jazz Band
BOLD—Sold out