Bluegrass/Americana band Nefesh Mountain announced today the release date of their much-anticipated upcoming album. Songs For The Sparrows, on Eden Sky Records, will be available through all platforms on June 11. The record is the follow-up to their previous releases, Beneath the Open Sky (2018) and Nefesh Mountain (2016). Recorded at Nashville's historic Sound Emporium, Songs For The Sparrows was produced by band founders, husband and wife team, Eric Lindberg and Doni Zasloff.
Since their arrival on the scene in 2015, Nefesh Mountain has been hailed as one of today's formative boundary-pushing bluegrass Americana bands. They're among the first to truly give voice and openly represent Jewish American culture, tradition, values and spirituality in the world of American roots music. In a testament to the unbridled imagination and extraordinary grace of their musicianship, each track on Songs for the Sparrows ineffably evokes the sensation of roaming through the unknown. True to the album's spirit of loving inclusivity, Lindberg and Zasloff have created an elegantly wayward sound by melding elements of everything from Americana and Appalachian bluegrass to Celtic folk and Eastern European music. Not only a reflection of their vast musical knowledge, that open-hearted embracing of so many eclectic genres also speaks to the joyful curiosity that animates every aspect of their artistry.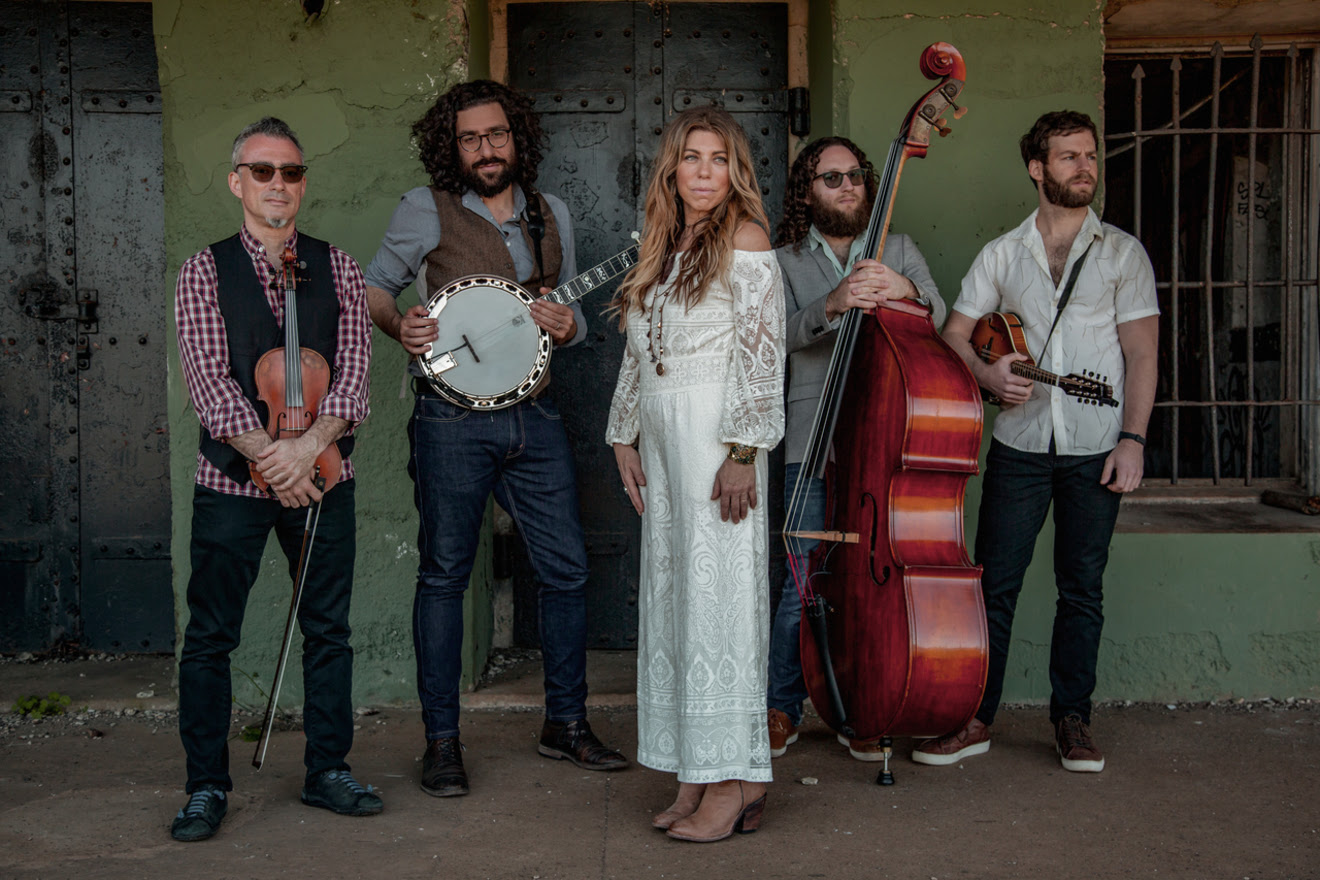 Writing 13 of the 14 tracks, the duo looked back on a life-changing trip to Eastern Europe in 2018. "We tracked down the towns where our families are from, and it was devastating to see the destruction of the Holocaust firsthand, and to know that we're not so far removed from that time," says Lindberg. "Songs For The Sparrows ultimately came from that experience, and from thinking about the many groups of people who are horribly discriminated against in the U.S." Zasloff adds, "To us, sparrows represent a small but mighty voice. That's why we chose to name the album for them—they're often overlooked, but they're beautiful and everywhere." Lindberg and Zasloff are the heart of this eclectic band, alongside longtime bandmate and fiddle player Alan Grubner, David Goldenberg on mandolin, and Max Johnson on bass.
In addition to the core band, the album also features an all-star lineup of musicians including Jerry Douglas (Dobro), Sam Bush (mandolin), and Bryan Sutton (guitar). "Jerry and Sam are part of this amazing group of bluegrass musicians who really blew the doors off the whole genre back in the '70s and '80s, and paved the way for folks like us to bring in all kinds of influences," says Lindberg. "So, while this record is in many ways a celebration of American music, it's also our attempt to introduce some otherworldly elements that you may not get from pure Americana."
In that spirit, Lindberg and Zasloff brought aboard Celtic phenoms John Doyle (guitar/bouzouki) and Mike McGoldrick (whistles) to help achieve this global sound. "Celtic music is such an integral part of our lives as American roots musicians" says Lindberg. "We wanted to share our love of Scots-Irish music in a number of these songs as a way to bring in a European influence, and for us was such an honor to record and collaborate with two of our favorites, John and Mike"
Additionally, the album features stellar players Jeff Taylor (accordion, piano, dulceola), Wes Corbett (banjo), and John Mock (bodhran).
Nefesh Mountain amps up to the release of Songs For the Sparrows with the majestic lead single and video titled "Wanderlust"—a gloriously cascading tale of two perpetual travelers setting out on a new voyage, slightly wary but unshakably determined. "We wrote this song as a reflection of our lives as touring musicians out on the road, and the trials of being away from home so often," explains Lindberg. 'Wanderlust' also draws inspiration from the ancient words of 'Traveler's Prayer' which were said by our ancestors—a prayer offering protection for the journey ahead."
Both native New Yorkers with a lifelong affinity for bluegrass, Lindberg and Zasloff founded Nefesh Mountain in 2014 and released their self-titled debut in 2016. "Bluegrass and acoustic music have always spoken to us—something about the sound of acoustic instruments creates the perfect landscape for very truthful storytelling," says Lindberg. Through the years, they've built a devoted following on the strength of that storytelling and their spirited live show
"This album is very much a celebration; it's about adventure and endurance and pushing through the difficult times," says Zasloff. "We're looking at some painful things in these songs, but it always comes back to the idea of persevering and letting love be your fuel."