The revival of the venerable Newport Folk Festival continued with a very strong roster of artists this year that expanded once again the boundaries of what is "folk music." Folk purists – the kind of people who booed Dylan when he went electric at the 1965 festival (this year was the 50th anniversary of that iconic set) – would probably have seen their heads explode if they caught My Morning Jacket's surprise set on first night of this year's gathering. Now MMJ does play some acoustic tunes, but much of their hour-long set was electric, and at volume 11. Other artists across the three-day fest have strands of folk in their DNA, but could more accurately be described as rock, soul, indie or alternative acts. But current fans of Newport seem to have little problem with how the festival has evolved, and its growing popularity is testament to the winning formula NFF organizer Jay Sweet has landed upon. The festival sold out this year 48 hours after tickets went on sale – and before a single artist had been announced. That's the faith that regular attendees put in Newport's ability to give them their money's worth.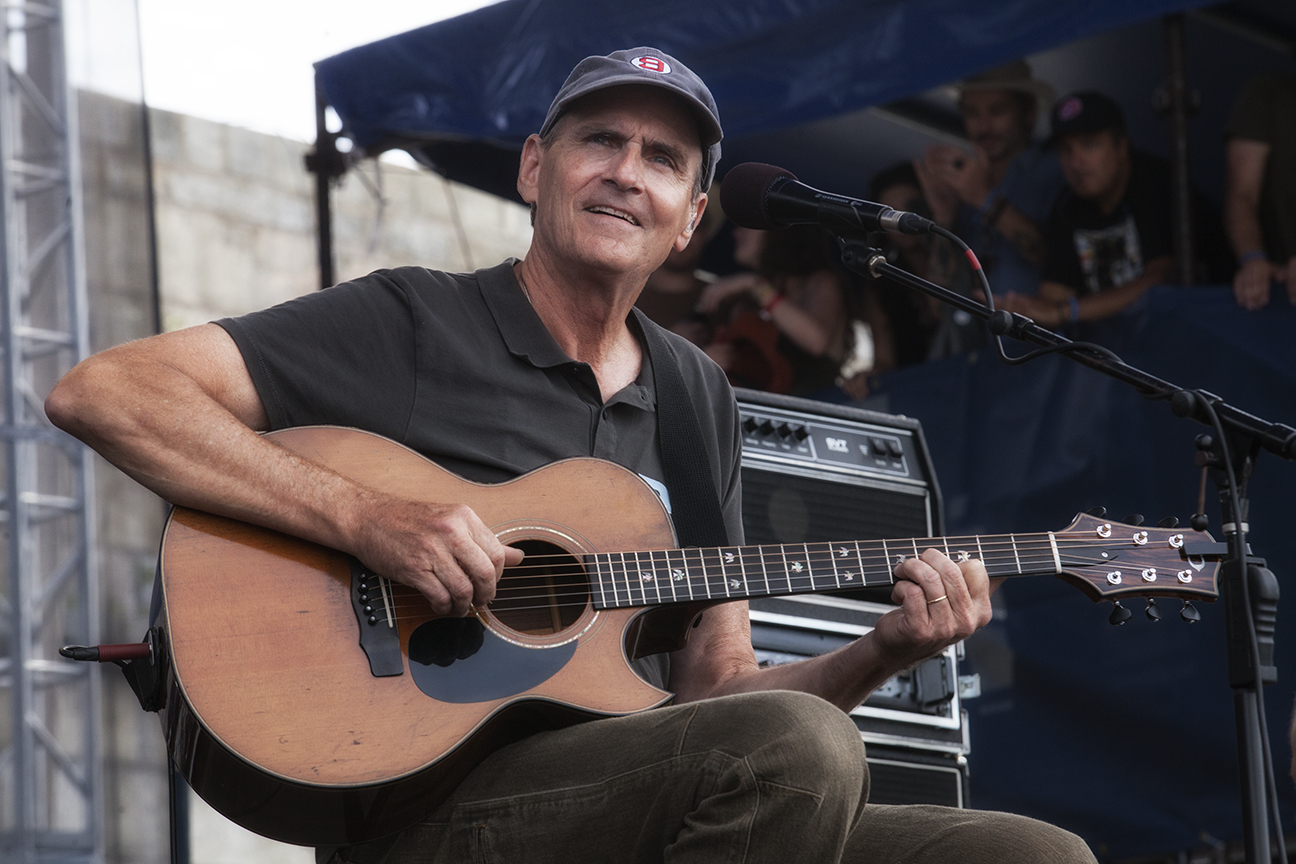 This year's event saw the return of James Taylor to Newport 46 years after his first appearance at the festival had to be cut short because of the Apollo 11 moon landings. There were other highlights aplenty, but five sets that really stood out included: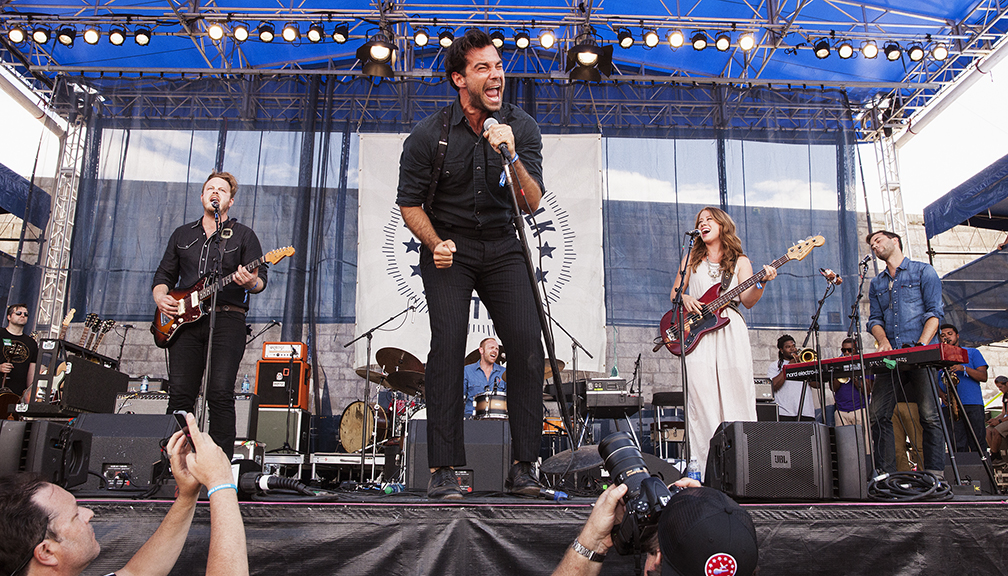 1. The Lone Bellow – I've been a proselytizer for The Lone Bellow since their first album came out a couple of years ago, and have caught numerous sets of theirs at various festivals, clubs and even a New Hampshire church since then. Their concerts are a reaffirmation of the power of live music. They appeared on Newport's main stage for the first time this year, and delivered a joyous hour of music, from gospel-tinged set opener "Then Came the Morning" to a rollicking "The One You Should Have Let Go" at the close. They were joined by Leon Bridges on "Watch Over Us"; by Lucius on a cover of the Everly Brothers' (or Linda Ronstadt's) "When Will I Be Loved"; and Sara Watkins on the beautiful ballad "Call to War."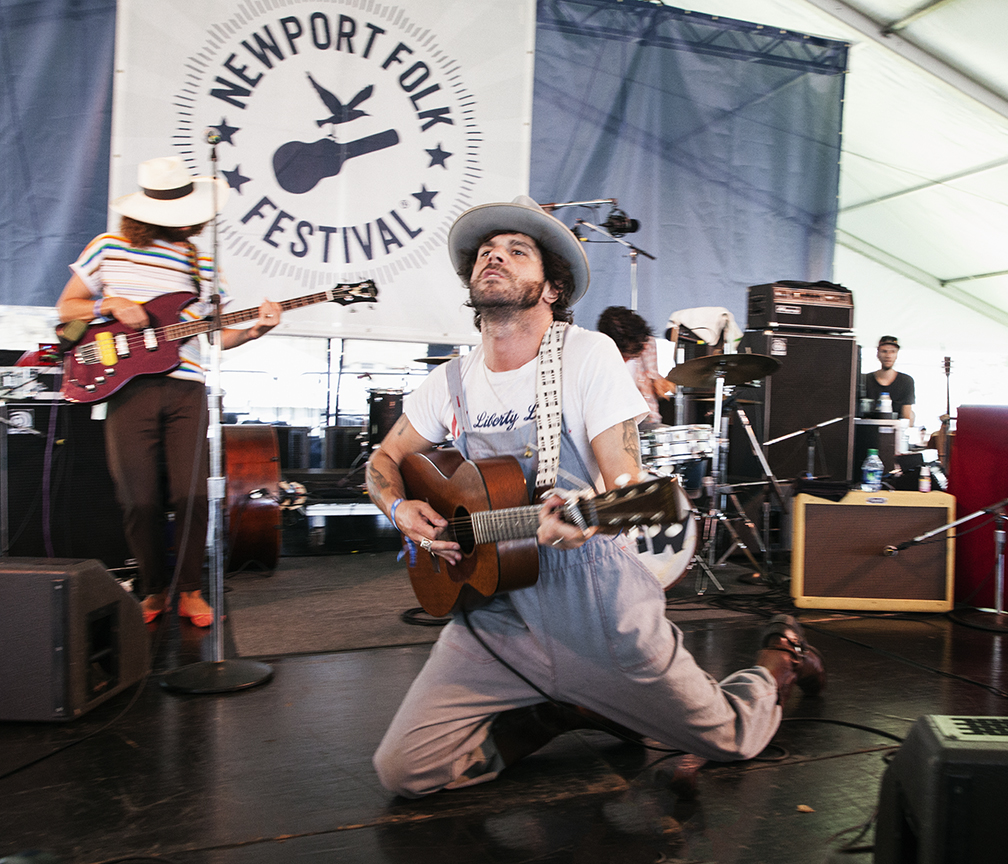 2. Langhorne Slim – Despite the fact that Langhorne Slim has been touring for the better part of the last 10 years, his Newport set was the first time I had ever seen him. And yowza was it a treat. This is what festivals are good for – discovering a new (or not so new) artist that you were completely unfamiliar with. After photographing the first few songs of his set, I was going to head to another stage but couldn't get out of his force field. He had the crowd jumping, dancing and swaying for his entire set. Highly recommended.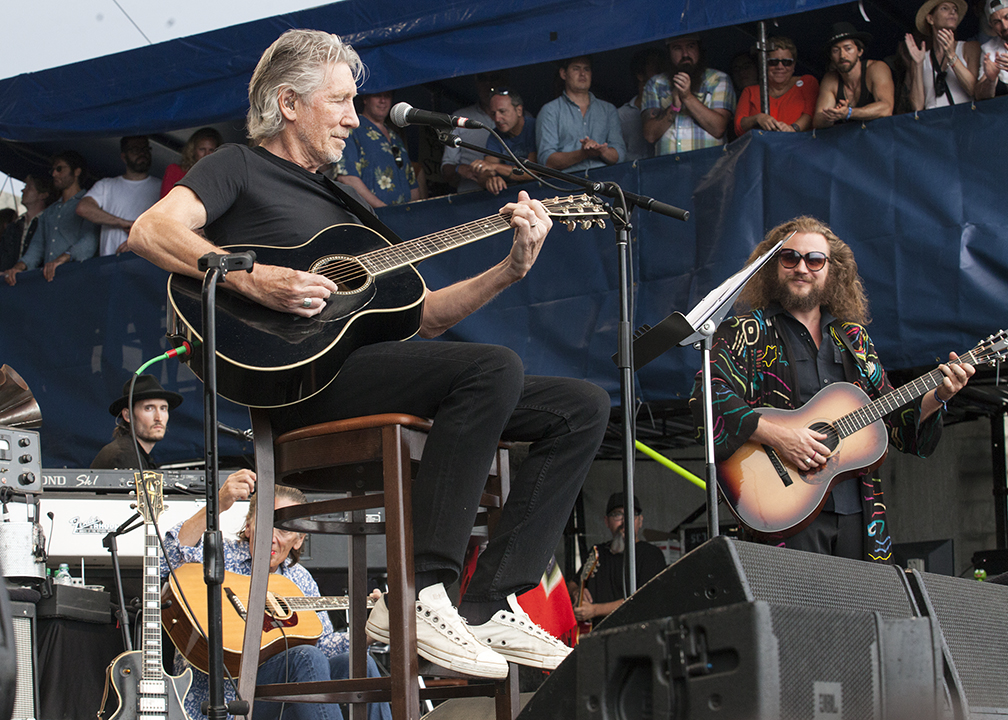 3. Roger Waters with My Morning Jacket – As noted above, My Morning Jacket showed up for an unannounced set late on the festival's first day, and stuck around to serve as backing band for Roger Waters' headlining set. The booking of the Pink Floyd co-founder to headline one of the days at the festival was an inspired choice, another example of the "new" Newport Folk Fest. Along with MMJ, Waters was joined on stage by guitarist G.E. Smith, Sara Watkins on fiddle, and Lucius' Jess Wolfe and Holly Laessig on backing vocals. His 10-song set was masterful. After opening at the piano to debut a new song, "Crystal Clear Brooks," Waters stepped to center stage, strapped on his black Martin acoustic and launched into "Mother." When he reached the line "Mother, should I trust the government," the crowd roared back its answer: "No!" What else did he play? Floyd classics "Wish You Were Here," "Brain Damage" and "Eclipse," as well as a couple of his solo tunes: "The Bravery of Being Out of Range" and "Amused to Death." He also covered John Prine's "Hello in There," Buddy Miller's "Wide River to Cross" (which he dedicated to Levon Helm, and on which he was joined by the late drummer's daughter, Amy Helm) and Dylan's "Forever Young."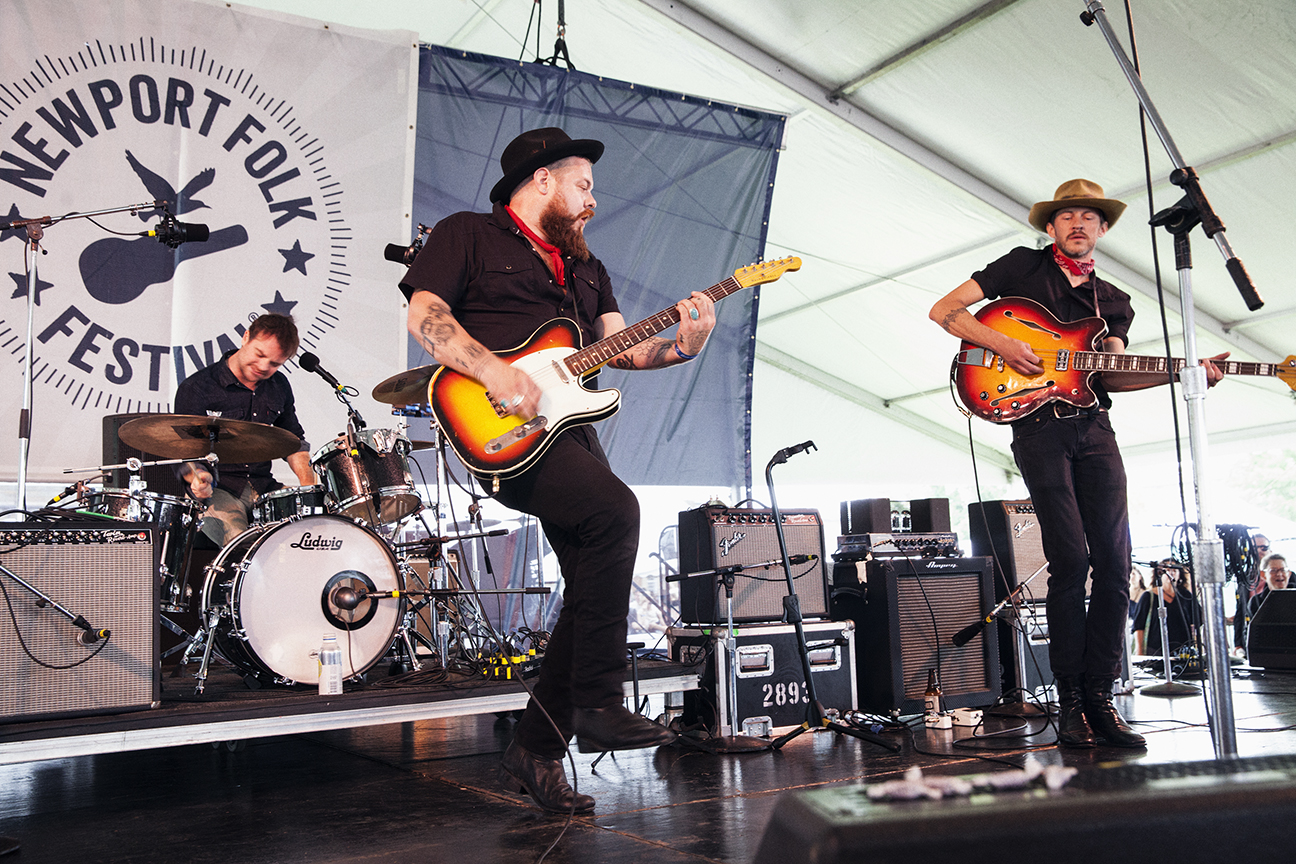 4. Nathaniel Rateliff and the Night Sweats – Festivals are great places for new bands to grab some exposure a few levels above what they can get on their own. Nathaniel Rateliff and the Night Sweats took advantage of that opportunity to wow an audience of several thousand who crammed one of the festival's secondary stages on Sunday afternoon. Newport's Jay Sweet was quoted in Rolling Stone describing Rateliff as "the Blues Brothers meet Johnny Cash At Folsom Prison. Within 30 seconds of listening to his new album, I knew, and we made the offer." The opening track of that as-yet-unreleased album (it comes out Aug. 21st) is a rowdy song titled "S.O.B." Here's a few lines: "Son of a bitch/give me a drink/one more night/this can't be me/son of a bitch/if I can't get clean/I'm gonna drink my life away." Rateliff and his band closed their too-short set with a medley that sandwiched the opening and closing parts of "S.O.B." around a spot-on cover of The Band's "The Shape I'm In." This band is too good to miss if they come by your neck of woods anytime soon.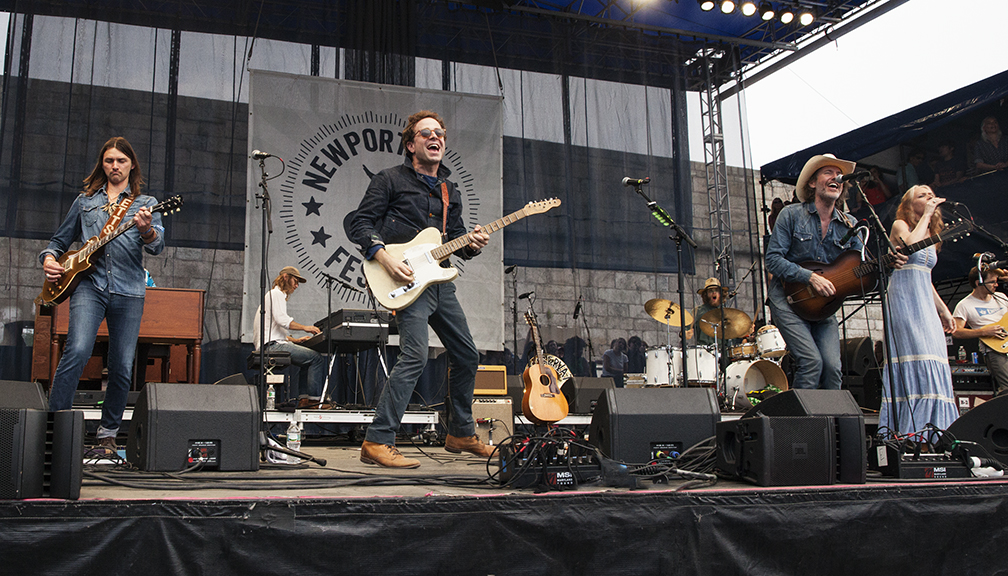 5. Dylan '65 Revisited – Newport could not lure Bob Dylan back to mark the 50th anniversary of his electric set, but they did get his guitar. The singer's 1964 Sunburst Fender Stratocaster – which was sold at auction two years ago for $965,000 – was brought back to the festival as part of a set dubbed "Dylan '65 Revisited." The set, which closed out the festival Sunday evening, featured a host of current artists covering classic Dylan tunes. Taylor Goldsmith and the other four members of Dawes served as house band, along with folk duo Dave Rawlings and Gillian Welch. Al Kooper, who played with Dylan at the '65 show, sat in on organ. They were joined by a roving cast of others, including Hozier, Deer Tick's Ian McCarthy, Willie Watson, Robyn Hitchcock, Blake Mills and First Aid Kit's Klara Söderberg. Among the songs covered were "Maggie's Farm," "Just Like a Woman," "Just Like Tom Thumb's Blues," "Visions of Johanna" "It's All Over Now Baby Blue" and of course, "Like a Rolling Stone." They closed the show not with any obvious choice – such as "I Shall Be Released" – but with a rollicking sing-along of "Rainy Day Women #12 and 35."